NEWS
Jim Glaser (1937-2019)
Jim Glaser, the originator of the Marty Robbins harmony sound, died April 6 at his Nashville home at age 81. While on tour near Spalding, Nebraska, in 1957, Marty hired the Glaser Brothers (Tom, Chuck, and Jim) after their father brought them to his dressing room. The trio toured and recorded with Marty for almost five years. "The western songs were three-part harmony," Jim once explained. "I laid out those harmonies pretty much the way I laid out the Glaser Brothers harmony, which turned out to be a little bit of a bugaboo for us, because the Glaser Brothers began to sound like we were copying Marty." They became known as Tompall and the Glaser Brothers because, Jim said, "Marty and company felt it would be better if we had a single name up front. We actually left because we felt we were beginning to damage our own careers." Later hits for Tompall and the Glaser Brothers included "Gone, On the Other Hand," "Rings," and "Loving Her was Easier (Than Anything I'll Ever Do Again)." They also recorded as solo acts. Jim had their only number one Billboard hit, "You're Gettin' To Me Again." The three brothers owned and operated Glaser Sound Studios at 916 19th Avenue South, just off Music Row. Jim attended my book release party for Twentieth Century Drifter: The Life of Marty Robbins in 2012. During the show, he and Joe Babcock sang backup harmony for Ronny Robbins on "El Paso." It was the first time the pair had sung together in fifty years. Following Jim's death, the family held a public Celebration of Life in Murfreesboro, Tennessee. In lieu of flowers, donations to the American Humane Society were requested.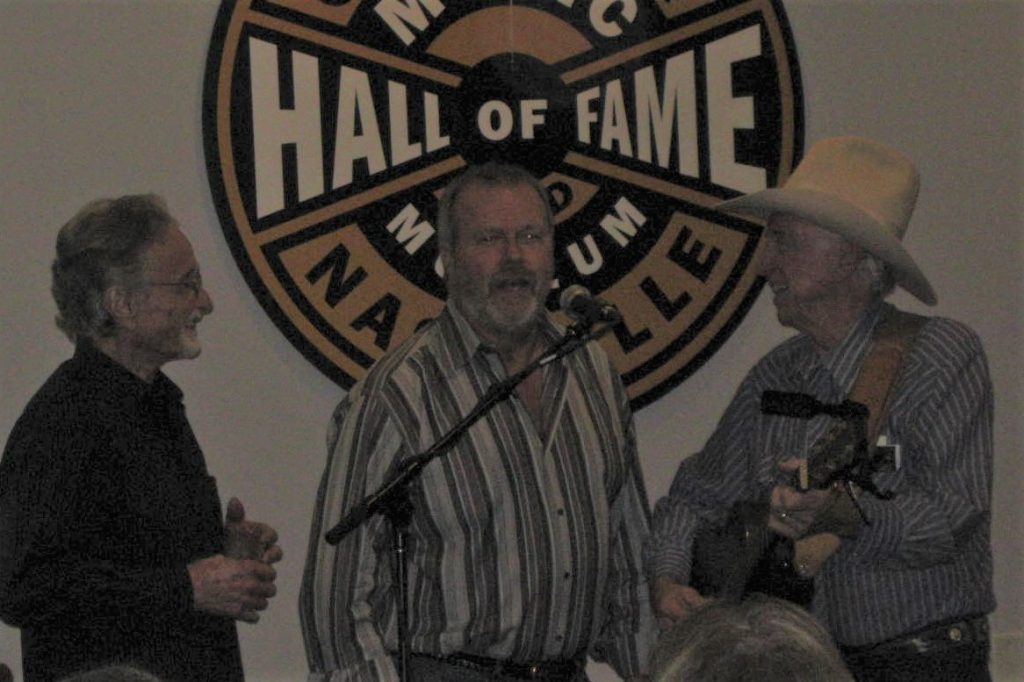 Earl Thomas Conley (1941-2019)
Known as the singer who scored 18 No. 1 country hits in the decade of the 1980s, Earl Thomas Conley, 77, died April 10 in Nashville. Suffering from dementia, he had been in hospice care for several months. He stopped touring two years ago due to health issues. The Portsmouth, Ohio, native fell in love with country music during his time in the Army, The Tennessean reports. His number ones included "Fire and Smoke," "I Can't Win for Losin' You," "Once in a Blue Moon," and "Nobody Falls Like a Fool." He did not want a funeral. His body was donated to Vanderbilt University Medical Center.
The Tennessee Historical Commission held a dedication ceremony March 26 at the Sumner County Tourism office to announce the placement of two historical markers to commemorate the former homes of Johnny Cash and Roy Orbison on Caudill Drive in Hendersonville. According to the Hendersonville Standard, attendees included Joanne Cash Yates, sister of Johnny, the Hendersonville and Gallatin mayors, and Marty Stuart and Connie Smith. After Roy's house burned in 1968 and his two young sons died in the fire, Roy deeded his property to Johnny, who planted an orchard and promised to never again build on the property. When he died in 2003, Marty Stuart bought the property and maintained the orchard. Johnny's house at 200 Caudill Drive burned in 2007. The orchard is now owned by an international businessman who has committed to keeping Johnny's promise to his friend.
Andrea Ketchum, wife of Hal Ketchum, posted Sunday on Facebook: "Hal is suffering from Alzheimer's/Dementia. He has been battling this for some time now, but because of his love for his fans, he continued performing as long as it was possible. Dementia is an exhausting and confusing illness and now it's time for Hal to stay home with loved ones. Hal is otherwise healthy and happy, enjoying time with his family and friends."
Kelsea Ballerini has been welcomed as the Grand Ole Opry's 67th living member. "She joins a cast spanning from 1956 inductee Stonewall Jackson to such peers as Chris Young, Chris Janson and Dustin Lynch," reports Sounds Like Nashville. At age 25, Kelsea will be the youngest member. Jan Howard, 90, is the oldest.
A groundbreaking ceremony was held last week for The Store, a free grocery store to support needy families in Nashville. It is the result of a partnership between Brad Paisley and his alma mater, Belmont University. Construction should be completed later this year. Brad took the controls of a backhoe to dig the first hole in the designated spot on Belmont's campus. He and his wife, actress Kimberly Williams-Paisley, got the idea after volunteering with their kids at a similar store in California. "The store will operate like a real grocery store so that people can go shopping through the aisles and Belmont students and other volunteers will scan their items," The Tennessean reports, "but no money will change hands." Brad hopes to take away "the sting of embarrassment" for parents who can't feed their kids.
John Paul White, formerly of a duo called The Civil Wars, has a new album, The Hurting Kind, that sounds as if it came from Music Row in the 1960s, reports The Tennessean. White wanted to "write with my heroes," he said.
So he looked up their phone numbers and called Bill Anderson and Bobby Braddock. Both agreed to write songs with him.
The Bob Kingsley Living Legend Award was presented to country radio executive Lon Helton at the Grand Ole Opry House last week. "I'm not a fan of surprises," Helton told The Tennessean. "But I'll make an exception for this one." Best known for the show, Country Countdown USA, Helton began his career at country radio in 1971. He has been named National Personality of the Year nine times for the CMA and four times for the ACM. He was inducted into the Country Radio DJ Hall of Fame in 2006. A show followed the dinner for 200, with performers such as Garth Brooks, Vince Gill, and Dierks Bentley. Steve Wariner had been the first co-host of Country Countdown USA. Randy Travis, who once had a job cleaning Helton's office, presented his former boss with a framed copy of the last check he received, $30 for two weeks of work. The evening's proceeds will go to the Opry Trust Fund, which has supported needy members of the country music community for five decades. The five previous recipients of the Bob Kingsley Living Legend Award were Kingsley, Joe Galante, Jim Ed Norman, Lorianne Crook and Charlie Chase (together), and Clarence Spalding. In those five years, the event raised more than $350,000 for the Opry Trust Fund.
The Saskatchewan Country Music Association celebrated its 30th anniversary last weekend, reports CBC News (Canada's publicly owned news and information service). The Hunter Brothers from Shaunavon, Saskatchewan, won four awards out of five nominations. They won Group of the Year, Single of the Year, Video of the Year, and Interactive Artist or Group of the Year. Luke Hunter won Bass Player of the Year. The five brothers recently finished a cross-country tour with Paul Brandt and Moskaluke. They also sang the national anthem at the home opener for the Toronto Blue Jays. "Lost," the first single from their State of Mind album, is currently number one on Canadian country music radio.
Country Music Nation reports Keith Urban telling the story of jumping out of the cake at Loretta Lynn's 87th birthday party. Before the event, George Strait had said, "I can't believe you're jumping out of a cake!" Keith told George he'd do the same for him on his 87th birthday. George replied, "I think I'll have Lee Ann Womack do it, but thank you." We'll have to wait twenty years to see that.
Craig Morgan recently completed his 11th USO tour, which spanned seven days and five countries: Germany, Afghanistan, Qatar, Iraq, and Italy. Nash Country Daily reports Craig has visited 15 countries and entertained more than 45,000 service members since his first USO Tour in 2002. He was awarded the Army's Outstanding Civilian Service Medal in 2018, in recognition of his dedication to entertaining troops and their families around the world. Craig spent 10 years on active duty in the U.S. Army's 101st and 82nd Airborne Divisions, along with more than six years in the Army Reserve.
Nash Country Daily published an open letter from Tanya Tucker, in partnership with the Animal Legal Defense Fund, that detailed the abuse and neglect she saw at the Special Memories Zoo in Greenville, Wisconsin. Her letter described filthy enclosures, lack of decent food and water, and possibly injured animals. "I am now urging the U.S. Department of Agriculture (USDA) to investigate the conditions at the Special Memories Zoo–and take action to ensure the animals get the diet and veterinary care they require," she wrote. "I am a singer. I am just one voice. I am using that voice to speak up for these animals."
Race fans at Bristol Motor Speedway saw a pink Dolly Parton car during NASCAR's Alsco 300 on April 6. It was driver Tyler Reddick's No. 2 Chevy Camaro. Nash Country Daily reports, "In addition to Dolly's image on the hood, the white and pink car features the Dollywood theme park logo on the rear quarter panels, with the DollyParton.com website across the rear roof." The car also contained logos of various Dollywood attractions.
When Billboard removed "Old Town Road," a major-label debut by rapper Lil Nas X, from its Hot Country Songs chart several weeks ago, the fur started flying, mostly along the lines of whether this was a racist decision. "Old Town Road," a song that mixes country and hip-hop, landed on both the country and rap charts in March. Billboard removed it from the country chart for failing to "embrace enough elements of today's country music to chart in its current version," Rolling Stone reports. After that action, the song shot to Number One on the all-genre Billboard Hot 100. Keith Urban posted his own acoustic version, with six-string banjo, on Twitter. Billy Ray Cyrus joined Lil Nas X on an official "Old Town Road" remix, after which Billboard issued a new statement, saying, "Billboard welcomes the excitement created by genre-blending tracks such as Lil Nas X's 'Old Town Road' and will continue to monitor how it is marketed and how fans respond. Our initial decision to remove 'Old Town Road' from the Hot Country Songs chart could be revisited as these factors evolve." Saving Country Music weighs in to say, "The crux of the argument of why it was racist for Billboard to remove Lil Nas X from the country charts is based around the idea that no other artist has been removed from the country charts before. . . Then when an artist was removed, it happened to be a black man, which is how you get to the claims of racism." Saving Country Music continues, "In 2016 Green River Ordinance was refused inclusion on the Billboard Country Albums chart, even though more country than many of the chart's current entries. . .. So it was not an African American artist who was first refused to be included on Billboard's country charts, it was a string band full of white guys from Texas."
The Secret History of Country Music is a new weekly series hosted by Taste of Country News host Ania Hammar. On the first show, guest Dolly Parton talked about her tattoos. "I have some tattoos that I started doing just to cover up some scarring," she said. Her tattoos cover up keloid scarring, a raised scar that occurs on the skin after an injury, surgery or other trauma to the skin. Her tattoos are mostly butterflies and angels.
Arkansas Governor Asa Hutchinson has signed a bill to place a statue of Johnny Cash in the Capitol's National Statuary Hall Collection in Washington, D.C. According to Saving Country Music, "Each state gets to pick two figures they believe best represent their region's contributions to America, and for Arkansas, that's Dyess native Johnny Cash. Civil Rights icon Daisy Bates was also selected for a new statue to replace two former politicians from the state whose statues currently reside in the hall." Rosanne Cash was present for the signing ceremony and press conference, during which Governor Hutchinson said, "We want our memories, through our statues, to tell the story of Arkansas. I believe our story is well represented by these two historic figures." Fundraising will be the first step in making the new statues a reality.
Following a serious car crash on March 31, Lindsay Sizemore admitted on Twitter that she was not wearing a seatbelt, which resulted in a broken back, neck, leg, finger and 11 broken ribs. When a floral arrangement arrived in her hospital room, she was shocked to find a handwritten letter from Taylor Swift: "Hi buddy, I'm so sorry to hear about the accident. My heart aches knowing that such a wonderful person is having to go through this. I hope these flowers brighten your day. You're gonna rock that neck brace and soon we'll all be bopping at shows together again. Give hugs to your family for me. I'm so happy you're okay. Love, Taylor." Sizemore later told E! News, "I never in a million years expected to receive flowers from her. I don't know how she even knew of me or me being in a neck brace or a bad car accident. She's like a magical fairy godmother."
A press release from Country Rewind Records announces three new albums containing music by Jeannie C. Riley, Johnny Russell and Carl Smith. The tracks, recorded in Nashville for broadcast use only, were never commercially released and have not been heard for decades. The original authentic sound has been supplemented with updated instruments and background vocals. Thomas Gramuglia, founder of Country Rewind Records, rescued the master tapes, which had been in storage for nearly 50 years. He "obtained a treasure chest of unreleased recordings from recruitment radio shows from the '60s and '70s," the press release says. The collection of original master recordings contains music from more than 100 country singers.
LETTERS
Bill Anderson writes from Nashville, "In your last newsletter you had a couple of letters from people wanting more information about the children and grandchildren of country music artists. I thought you and they might want to check out two sets of television shows we recorded for our Country's Family Reunion series. The first one…done years ago…featured Dean Miller (Roger); Georgette Jones (George & Tammy); Jett Williams (Hank Sr.); Michael Twitty (Conway); Robyn Young (Faron); and Ronny Robbins (Marty); among others. The second set was called Second Generations, (we are so clever with our titles) and included many of the above as well as Hawkshaw Hawkins, Jr.; Rex Allen, Jr.; Charlie Rich, Jr.; George Hamilton V; Shelly West (Dottie); Johnny Russell, Jr.; Melissa Luman (Bob); Chrystie Wooley (Sheb); along with Wil and Langdon Reid, sons of Harold and Don Reid of the Statler Brothers. These DVDs are in stock and can be ordered from the Country's Family Reunion website: www.cfrvideos.com. I hope this helps. Still reading and enjoying your newsletters every month."
Diane: It's great to hear from you, Bill. Thanks for the information.
Lou Elliott in Las Vegas, Nevada, says, "I enjoy your newsletter each month, as well as the ones from Bill Anderson and Doug Davis. All three of you write about what I consider to be Country Music. What they play on the radio today is definitely not Country Music, at least not here in Las Vegas. I don't travel anymore so I don't know what the rest of the country is doing. As for the ACM Entertainer of the Decade going to Jason Aldean, I am 82 years old and I have never seen such a wrong choice in my lifetime. I have been listening to Country Music since I was 5, and playing it since I was 12. I never made it above the honky-tonks, but I enjoyed every minute of it until I had a stroke at age 39 that ended it. TV shows like Country's Family Reunion and Larry's Country Diner feature the real Country musicians. I have apps for Country Roads TV and RFD-TV where I can watch these shows, as well as others that feature actual Country Music. You keep writing about good Country Music, and I'll keep reading about it. I sure don't hear much of it anymore."
Jon Philibert writes from the United Kingdom, "I always enjoy the newsletters as you know. Could you add my friend British songwriter Roger Rounce to your list of subscribers. I don't know whether your readers would be interested, but in the 1946 film, The Strange Love Of Martha Ivers, which I watched recently, the character played by actor Lizabeth Scott speaks the line 'I'm so lonesome I'd liked to have died', and I was wondering if Hank Williams (or Paul Gilley depending on whether you believe Gilley wrote the song) might have heard that line and used it for the inspiration of 'I'm So Lonesome I Could Cry'. Probably just coincidence but interesting none the less."
Les Leverett writes from Nashville, "As usual, your last newsletter filled the bill. You provide a great service to the likes of me."
Gerald Walton in Oklahoma City says, "Enjoy your newsletter thanks for the update on Wanda Jackson. I have been a fan of hers since 1954."
Dominique "Imperial" Anglares writes from France, "Thank you very much for that great newsletter and to have carried the news about the passing of my dear friend Margaret Lewis Warwick. It was a real shock for all of us and it is hard to imagine Shreveport's musical future without her strong work supported by her husband Alton. Margaret was a gifted songwriter and a talented artist. She was the sparkle on many projects being a real dynamo, always on the go, ready for new projects and musical challenges. She worked hard to reach her goal and to give a new life to Shreveport as a musical city. Her last months were very happy with the success earned by the At The Louisiana Hayride box set (Bear Family records) and by The Green Book movie. Most of all she was a precious friend to many. We will have to live without her presence, words and laughs but her songs will be still heard for many years from now. I want to thank Jenny Jones for her words and memories about Billy Walker, Ace Ball, Jimmy & Dorothy Blakley. It seems Dorothy Blakley passed from cancer in 1983 and Jimmy Blakley in 1996. Also, I am on Facebook as Anglares Dominique."
Byron Fay in Canton, Ohio, says, "Love your newsletter. Could you please add me to your subscription list?"
Ellie Mechels in Sioux Falls writes, "Thanks for another great newsletter. Some of the kids of the country stars that are recording or appearing out there are Marty, Ben and Noel Haggard, Ronny Robbins, Michael Twitty, Georgette Jones, and Tre Twitty teams up with Tayla Lynn, who is Loretta's granddaughter on some of the famous duets by Conway and Loretta. I know there are probably a few more of the kids of the county stars out there as well. Also, did you happen to hear Jeannie Seely's latest song, 'Anyone Who Knows What Love Is'? Really pretty song and she does a wonderful job singing it."
Erv Niehaus comments, "Being a steel guitar player, I really enjoyed reading about your interview with Jack Evins."
Mike Johnson of Roughshod Records says, "Sherwin Linton sent me an email announcing his music video about two weeks ago. We've known each other since the 1999 Old Time Country Music Festival in Avoca, Iowa. Truly a great entertainer, but more importantly, a very warm and engaging person. His Pamela, Terry Smith, and I were inducted into America's Old Time Country Music Hall of Fame in 2002. Your Newsletter sometimes makes me miss publishing my Top-Rail Chatter Independent Country Music Magazine [1995-2003] and all the wonderful and talented people I've met across this country, and the friendships that developed from it. Not to mention the memories your Newsletter stirs up when you mention someone I've met along my country music journey, like Bill Johnson. Thanks for sharing that with your readers."
Stella Peterka in Deuel County wonders, "Do you know if Loretta's birthday party and songs will be televised?"
Diane: Not that I have heard.
David Markham writes from the United Kingdom, "Thank you for your interesting News Letter. I love your newsletters, my life was a country music promoter since my friendship with Jim and Mary Reeves. 1964 up until Mary died. Oh yes I wasn't just a Promoter. I got involved with a lot of artists. Once again, thank you for a good read from you and my country singer from Texas Kim Carson."
Howard Traxler says, "Thank you very much for your newsletter. I've enjoyed it for some time now. I've just finished reading Live Fast, Love Hard and I'd like to personally thank you and your publisher for making it available (via the National Library Service for the Blind and Physically Handicapped) to me and other blind country music lovers. It was a very enjoyable read. Very much looking forward to your other works."

Mary Mitchell asks, "Do you know anything about Mike Johnson? The great steel player. He was with Bill Anderson. I heard he had or has cancer and where was it. I met him when I was a REP for Bill many years ago. Marty Robbins can never be replaced."
Diane: I think he was on a recent livestreamed show with Mo Pitney and Rhonda Vincent.
Alan Potter writes from the United Kingdom, "Thank you for another mine of information on the stars past and present…you are a Godsend to both the country radio DJs and the fans."
Bob Rudy writes from Lancaster, Pennsylvania, "I am so glad we connected last year when I interviewed you on my radio show "The Time Machine" on WIOV-FM when I featured the music of Marty Robbins that particular night. I discovered you as a result of your book on Marty Robbins. I've been getting your newsletter ever since, and it is so well-written and up-to-date on the latest in Classic Country news, I sincerely appreciate getting it every month. I've had a station on the Internet for the last 7 years called "Pet Guardians Radio", named after my wife's pet rescue organization, and rebranded as "Time Machine Radio": www.mypetradio.com. I play a variety of rock, pop, soul, oldies and country 24/7. I do my (former) radio show on my Internet station every Saturday night from 6:00-Midnight…"Time Machine Radio", ALL Classic Country, from the earliest recordings up to the early 2000s. Whatever my listeners want to hear, if I can find it, I'll play it. While most Internet stations stream at 32k, I stream at 128k. I've often thought about including your newsletter on my show, reading one section at a time, followed by some of the songs listed in your stories. Would you be interested in recording your newsletter? We could use this as a way for those who love reading your newsletters, to actually hear YOU telling the stories and hearing the music associated with them. The live streaming link is http://player.streamlicensing.com/petguardiansradio?l"
Diane: Sounds great. Let's give it a try.

IN THEIR OWN WORDS
The phone interview quoted below occurred in late 2000, when I was just getting acquainted with Glenn Sutton. I first met him at Tillman Franks's birthday party in Shreveport, Louisiana. Over the next few years, he became a friend we would visit on every Nashville research trip. He invited us to his house so my daughters could swim in his pool. By that time, he had long been divorced from Lynn Anderson and no longer worked with Billy Sherrill or wrote hit songs. He once told me about writing "What's Made Milwaukee Famous Made a Loser Out of Me." He was supposed to provide a song for a Jerry Lee Lewis recording session, and he received a phone call one morning reminding him the session was scheduled for that evening and did he have a song? Well, he didn't. He glanced around the office and noticed the morning newspaper lying on the floor. An ad about "the beer that made Milwaukee famous" caught his attention. He told the caller he had a song. Then he hung up the phone and wrote Jerry Lee's next hit. Glenn stopped by our hotel to visit my sister, Kayo, and me at the end of one trip, and we exchanged emails over the weekend. He died of a heart attack the following Tuesday, April 17, 2007, at age 69. Today we remember Glenn Sutton on the twelfth anniversary of his death.
I met Faron in a club. I think at Nelson Gann's club is where I first met him. I'd just see him in the club every now and then. We'd drink together. I'd see him with Merle every now and then. That's where we became friends mainly, was just seeing each other in there. That was awful long ago, it's almost forty years.
The song "I Might as Well Be Here Alone" was written by me alone. Merle Kilgore was managing Al Gallico Music at the time and pitched it to Faron. He told Faron he could have half to record it. I would have given it anyway. I was just happy at the time to get the cut. When Merle pitched him the song, I assume Faron said he would cut it for half. And Merle knew I would give it because in those days I had not had many cuts. This practice has gone on since the '40s and is still in effect today and will be until the end of time. In my opinion a songwriter has to do whatever he can to get established. After he has a few hits then he can cut out all the middle men if he chooses to do so. I didn't mind that I lost half of that. It was okay with me, I didn't care–if he wanted to cut something that he liked.
I never really pitched Faron any songs. I worked for Epic and Columbia for nine years. Everything I wrote went through all the people on my label. Faron and I were good friends, but after that first one, if you wanted to pitch him anything, you had to give him half the damn publishing and half writer and all that, so I didn't fool with it. Not Faron necessarily himself, but I know personally that they would look at it in a lot different light if you said the publishing's open. But I was a signed writer. The main reason I didn't pitch him is because I just didn't have any songs for him, I had them all already going. At that time, I was a hundred percent recorded at all times, because everything I wrote got recorded. In those days you could do that, because there wasn't a million writers.
I did a song on Bob Luman one time called "The Gun." A couple years later, he said, "Before I cut that, I shoulda used a gun on you."
They were arguing about who made the most money. Faron was playing the pinball machine. The bulldozer operator, whoever the guy was, said, "Well, hell, at least I don't put all my money in a pinball machine." Faron said, "How do we know you got any money to put in it?" He was just a smart aleck anyway, and he was drinking, and he said, "Hell, I make more money in a goddamn minute than you do in a year." "Oh, yeah, you make a lot of money. Who gives a &*#?" One thing led to another and the guy took the cue ball and popped him. That had to be in '67 or 8, the best I can tell.
My office was next door to the Professional Club. It was owned by Dottie Swan–Radio Dot Smoky. It was one of two places after 5 or 6 o'clock most of the people would come to if they were on the Row recording or fooling around from their office. I played the pinball machine a lot. I would go in there, and Faron would be in there two or three nights a week. Jones would be in there. There was a place across the street, The Clubhouse, run by Nelson Gann. I went in there a hell of a lot more than I did in Dottie's place, except Dottie's I'd go in during the day and have lunch. Jack Johnson spent every dime he got a hold of, when he was working at Cedarwood, in the pinball machines. Before he managed Charley Pride, how far back that was, so it had to be '65-6. The Professional Club was right next to where Buddy Lee's office is now, that big red-looking building. Both buildings are gone. Right next to 812 Sixteenth Avenue South, where Al Gallico Music was, me and Merle had an office. Right across the street from where Cedarwood was. Cedarwood is no longer there. Columbia is still where it was, the next building is where Buddy Lee is, then the next building was where the Professional Club was, and then the next was 812.
[At a BMI dinner] they served the usual roast beef. When they brought his, he cut into and it was real red. Faron said, "If this was a little rarer, I could screw it." I don't know if you want to put that in the book or not. I guess he was trying to be funny. Cuz everybody was talking about the food. Somebody said, "Oh my god, roast beef again." Every dinner here in the '60s was roast beef. Always, it was roast beef. You might have got corn on the cob with it, but that was it. My wife at the time was Lynn–I guess she was with me. I don't know if Hilda was there or not, she probably was.
To summarize Faron, he was one of the sweetest most generous men I ever knew. He was also his own worst enemy. He was one of the best singers that ever came down the road. And I think he will be remembered for that more than all the crazy things he did. I am glad to see someone is doing a book on Faron. He deserves one. Good luck with your project and I wish you much happiness on the rest of life's journey.