Media Room
MARTY ROBBINS SONG INTROS 
APRIL 21, 2018: I was a telephone guest of Bob Rudy, DJ at WIOV-FM in Pennsylvania, when he hosted his Classic Country internet show, "The Time Machine," with Marty Robbins as his featured artist.
SOUTH DAKOTA STATE FAIR WITH SHERWIN LINTON
September 3, 2016: I was Sherwin Linton's guest on his 2:00 show Sunday afternoon,  on the Centennial Stage at the South Dakota State Fair in Huron. Before the show, at 1:30, I talked about my journey of becoming a biographer.
SOUTH DAKOTA STATE FAIR WITH SHERWIN LINTON
August 31,  2014 – Sherwin Linton invited me to be his guest at the South Dakota State Fair in Huron again this year. Before the 2:00 show, I talked about my Faron and Marty biographies, and Sherwin and I discussed the books during his 4:00 show. Complete with background fair noises, here's my 15-minute speech:
Here's my conversation with Sherwin:
SOUTH DAKOTA STATE FAIR WITH SHERWIN LINTON
August 30,  2013 – I was a guest of Sherwin Linton at the state fair in Huron during his Friday shows on the Centennial Stage. I talked about A Farm in the Hidewood and Navy Greenshirt at 10:45, Live Fast, Love Hard: The Faron Young Story at 1:45, and Twentieth Century Drifter: The Life of Marty Robbins at 3:45. It was a great day.  Here are my three speeches, although somewhat difficult to hear because of background noise from the fair:
talking about myself
Talking about Faron Young
Talking about Marty Robbins
AMERICA'S OLD TIME COUNTRY MUSIC HALL OF FAME
August 28, 2013 – At the 38th annual Old Time Country Music Festival in LeMars, Iowa, I was inducted as the first biographer in the hall of fame there. Sherwin Linton nominated me, and here's a photo of Sherwin and me with my award: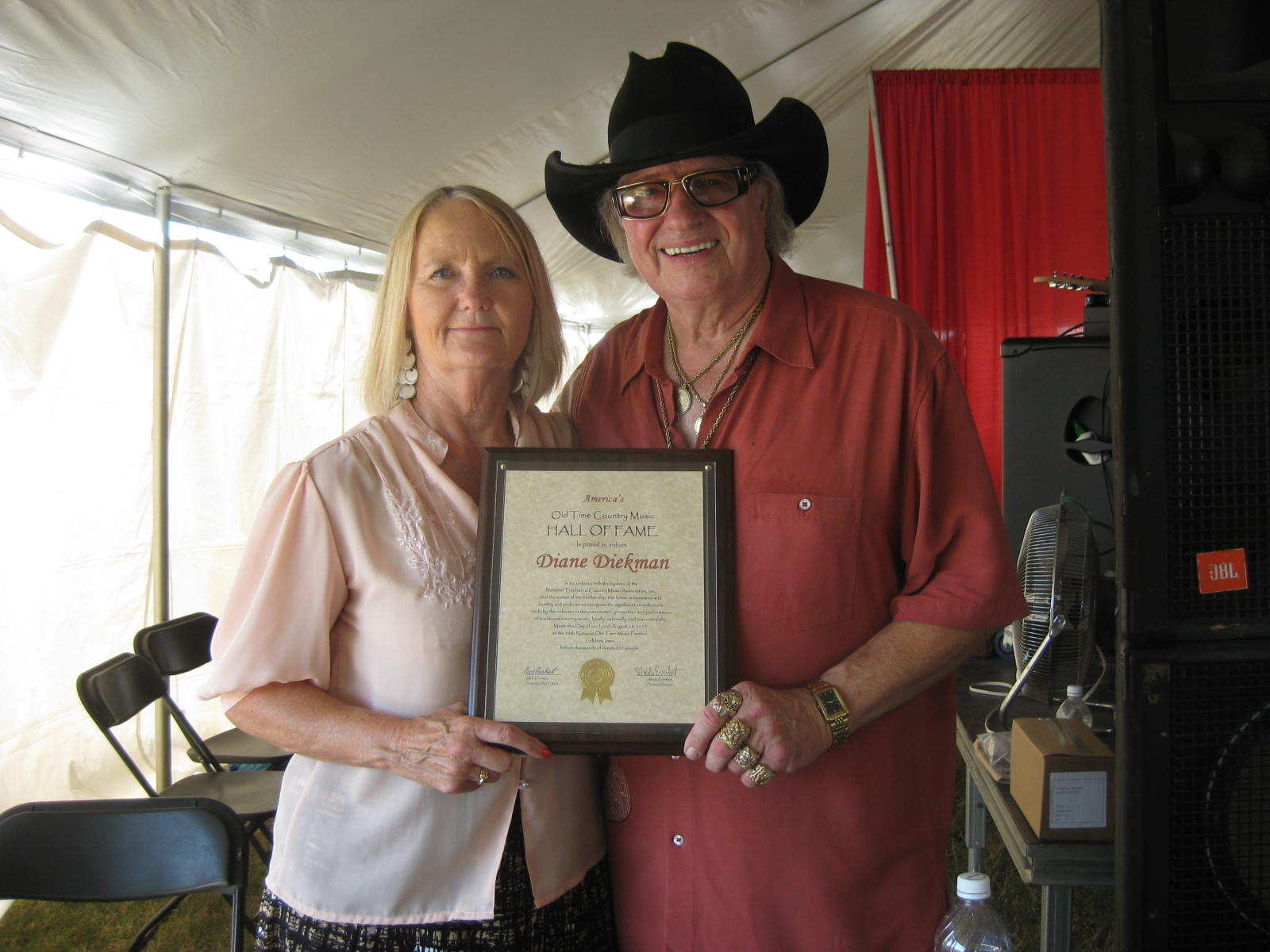 DAKOTA MIDDAY ON SOUTH DAKOTA PUBLIC RADIO
August 26,  2013 – I visited with Karl Gehrke, host of Dakota Midday, on South Dakota Public radio. http://listen.sdpb.org/post/marty-robbins-faron-young-biographer is the link to hear the interview. The moment of silence near the beginning is because "It's Four in the Morning" didn't get on the recording.
BELMONT AWARD FOR BEST COUNTRY MUSIC BOOK OF 2012
May 24, 2013 – Twentieth Century Drifter: The Life of Marty Robbins won the "2013 Best Book on Country Music Award" from Belmont University and the Mike Curb College of Entertainment and Music Business. The award was presented to me at a luncheon during the International Country Music Conference at Belmont University in Nashville, Tennessee. Click on Belmont Country Music Book of the Year award to see a video of the presentation.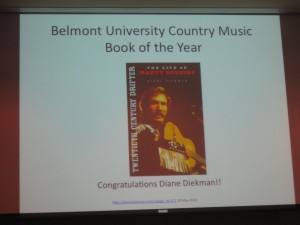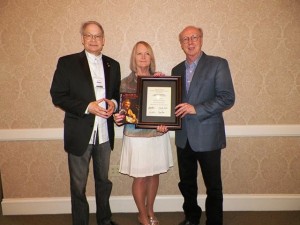 Perry Steilow and I were guests of Jeannie Seely backstage at the Grand Ole Opry on Saturday, May 25, 2013. We didn't get our photo taken with her, though.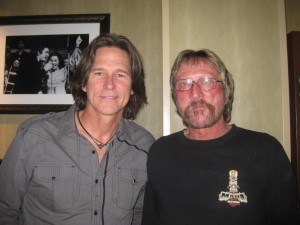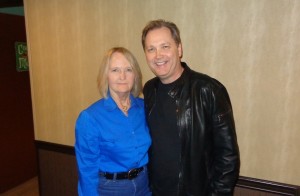 VIETNAM VETERANS OF AMERICA SPEECH
June 18, 2013 – The members of Chapter 959 of the Vietnam Veterans of America held their annual dinner in Sioux Falls, South Dakota, and invited me as the guest speaker. I was asked to talk about the transition from active duty life in Washington DC to retirement in Sioux Falls, and also about my books. Here's a somewhat muffled recording of my 14-minute speech: VietnamVets 6-18-13
BOOKS AND BEYOND — INTERVIEW ON INTERNET TALK SHOW
March 13, 2013 – 7:00 pm Central – Bonnie Blose interviewed me on her Internet talk show, Books And Beyond. The edited interview is 58 minutes: BooksandBeyond-3-13-13
AMERICAN LEGION BIRTHDAY DINNER
March 10, 2013 – I gave the after dinner speech at the birthday dinner for American Legion Post 15 in Sioux Falls, South Dakota: Legion3-10-13
ARTICLE IN SIOUX FALLS ARGUS LEADER
April 22, 2012 – "The Navy was just the beginning"
MARTY ROBBINS BOOK RELEASE EVENTS
Book signing at Prairie Pages Bookseller, Pierre, South Dakota
May 17, 2012 – 3-5 pm at Prairie Pages Bookseller at 321 Pierre Street. Doreen Foster on KGFX 1060 AM interviewed me the day before the book event.
Country Music Hall of Fame in Nashville
March 31, 2012 –We had a great time at our Country Music Hall of Fame event.  The one-hour show began with my introduction of Twentieth Century Drifter  and ended with Joe Babcock and Jim Glaser harmonizing with Ronny Robbins on "El Paso." Here are a few photos:
WAKM Radio Interview in Franklin TN
March 30, 2012 – Hudson Alexander interviewed me in the room in which a young Ralph Emery interviewed a young Marty Robbins when the station was called WAGG Radio.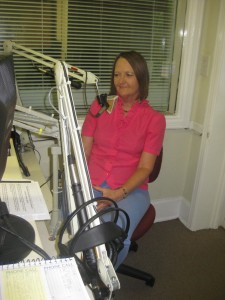 WSM Radio Appearance
March 28, 2012 — I was a guest on the Eddie Stubbs show on AM 650 in Nashville.
Celebration in Marty's hometown
March 17, 2012 – The music began at 1:00 PM at A SHOT OF JAVA on Marty Robbins Plaza at 7003 N 58th Avenue in Glendale, Arizona. I talked briefly about Martin David Robinson growing up in Glendale, and I read a few excepts from Twentieth Century Drifter.  I autographed about 20 books.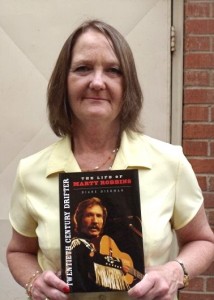 WTSB Radio Interview
March 13, 2012 – Carl Lamb called from 1090 AM in North Carolina for an on-air interview. We talked about Marty's music and childhood and about Faron Young.  We did a second interview  on Thursday, April 5, and our topics included Marty's NASCAR racing and more about Faron.
KXRB Radio Interview
April 2, 2012 – Here is my 15-minute interview with Jerry Dahmen on his monthly radio show: Jerry Dahmen Presents
Online Reviews and Interviews
Authorscoop.com – 5 Minutes Alone… With Diane Diekman
Racin' Today.com – Marty Robbins Book Brings Back Memories
MusicRow.com – New Biography Tells The Story of Marty Robbins
The Daily Journal –20th Century Drifter
Stockcar.Racersreunion.com – Marty Robbins Book Brings Back Memories
AmericanProfile.com – 'The Life of Marty Robbins' Book Review
PopMatters blog – Hits and Misses on Marty Robbins' Biography, 'Twentieth Century Drifter'
CMT.com – Memoirs From Loretta Lynn, Ricky Skaggs Make the Spring and Summer Reading List
Country Music Radio – Loretta Lynn, Ricky Skaggs Must Reads For The Spring & Summer
Brilliant Disguise Books – REVIEW: 'Twentieth Century Drifter'
Cowboys & Indians – Marty Robbins: Biography Of A Balladeer
The Country Angel – TWENTIETH CENTURY DRIFTER: The Life of Marty Robbins
Music Tomes – Diane Diekman Talks Country Legends
Church video – 10/11/2013:
U. S. NAVY MEMORIAL BLESSING OF THE FLEETS
April 4, 2009 – I gave a speech about my Navy career and my book, Navy Greenshirt,  at the Navy Memorial Blessing of the Fleets. The Navy Memorial is located at 701 Pennsylvania Ave NW in Washington, D.C.
THE AUTHORS SHOW
February 11, 2009 – My telephone interview with Don McCauley on The Author's Show:  "Live Fast, Love Hard: The Faron Young Story"
EVENT AT A SHOT OF JAVA IN GLENDALE, ARIZONA
October 1, 2008 – I met Marty Robbins fans, talked about Live Fast, Love Hard: The Faron Young Story, and answered questions about writing the biographies of Marty and Faron. This took place at A Shot of Java Coffee Shop at 7003 North 58 Avenue in Glendale.
WEB REVIEW
Sam Houston: http://bookchase.blogspot.com:80/2008/08/live-fast-love-hard-faron-young-story.html
JODY NIX CONCERT
June 25, 2008 – I'm introduced at 14:54 minutes into this show by Jody Nix and the Texas Cowboys at the Kennedy Center: http://www.kennedy-center.org/programs/millennium/schedule.html. Type in Jody Nix under the Archives search section.
ON-LINE INTERVIEW
June 11, 2008 – I did an interview with Norm Goldman, publisher and editor of Bookpleasures.com, at http://tinyurl.com/3zteyj
Or here: http://www.americanchronicle.com/articles/64754
WEB REVIEWS
Here are the links to several book reviews:
John R. Clark for TCM Review — http://tcm-ca.com/reviews/2344.html
Susan Helene Gottfried for Front Street Reviews — http://www.frontstreetreviews.com/Live%20Fast.html
Simon Barrett for Blogger News Network — http://www.bloggernews.net:80/114915
Kim Hayden for Line Out — http://lineout.thestranger.com:80/2008/01/live_fast_love_hard
INTERNATIONAL COUNTRY MUSIC CONFERENCE
May 24, 2008 – Belmont University hosted the International Country Music Conference in Nashville, Tennessee. I gave a presentation titled "Faron Young and Marty Robbins–A Comparison of Two Country Legends." Here are the slides:
SOUTHERN KENTUCKY BOOK FEST
April 19, 2008 – I was one of the authors at the 10th annual Southern Kentucky Book Fest at the Sloan Convention Center in Bowling Green. I read an excerpt from Live Fast, Love Hard: The Faron Young Story during the panel on "Tradition, Legends, Troubadours: Music of the American South." The conference Web site is www.sokybookfest.org.
BOOK SIGNING IN SHREVEPORT
February 24, 2008 – I sold and signed Live Fast, Love Hard: The Faron Young Story at the Municipal Auditorium in Shreveport, Louisiana, on Sunday afternoon. It was exciting to commemorate Faron's birthday at the home of the Louisiana Hayride and to attend Claude King's 85th birthday concert.
BILL ANDERSON VISITS WITH THE LEGENDS ON XM RADIO
November 12, 2007 – Bill Anderson interviewed Darrell McCall and me in his XM studio. We talked about Live Fast, Love Hard: The Faron Young Story, as well as Faron's music. Jeannie Seely and Robyn Young were telephone guests. The show later aired on XM channel 2 and XM channel 10.
BOOK RELEASE PARTY IN NASHVILLE, TENNESSEE
November 10, 2007 – The Ernest Tubb Record Shop hosted the official release of Live Fast, Love Hard: The Faron Young Story. On Saturday afternoon I signed books at the shop on Broadway Avenue. The evening at the Texas Troubadour Theatre in Music Valley began with a Faron Young tribute. Robyn Young and his band, NEXTAKYN, opened the show, followed by a reunion of the Country Deputies, with Darrell McCall. The Deputies and Darrell then hosted the Ernest Tubb Midnite Jamboree (http://etrecordshop.com/mj.htm). What made it so unusual was that the musicians on stage covered several generations of the band. I called the roll of 59 Deputies from 1954-1993. Thirteen of the 40 living members were present.
Faron Young Biography Written By Clear Lake Native
Photos from Midnite Jamboree — 11/10//07
SOUTHERN FESTIVAL OF BOOKS
October 12, 2007 – The Southern Festival of Books in Nashville was my first experience as an author at a book festival. Bob Cox and I presented "From the Hills to the Honky Tonks: Two Country Legends." He talked about Fiddlin' Charlie Bowman from East Tennessee, and I talked about Faron's life and influence in Nashville and how I came to write his biography. That afternoon I met songwriter Bobby Braddock, author of Down in Orburndale. We bought each other's books and exchanged autographs.
EDDIE STUBBS WSM RADIO SHOW
October 10, 2007 – Eddie Stubbs invited me to be a guest on his WSM radio show when the book came out. We spent an enjoyable three hours Thursday evening talking about Faron and playing his music.