IN THE SPOTLIGHT – T. GRAHAM BROWN
When the 90s Country Rewind Tour comes to Sioux Falls on June 25, I will be in the front row at the South Dakota Military Heritage Alliance to welcome T. Graham Brown, Doug Stone, and Terry McBride. I recently spoke on the phone with T. Graham Brown. He said he'll be flying in the day of the show and flying out the next morning, so he couldn't accept my invitation for a tour of the Battleship South Dakota Memorial while he's here.
He is writing his autobiography, I Tell It Like It Used To Be, and expects to have it published later this year. The chapter he's currently working on is about the sports figures he's known over the years, along with numerous sports-related things he's done, such as singing the National Anthem at various championship games. The publisher has a printing backlog due to supply chain issues, so the printing might take extra time.
"Sheila and I have been together forty-three years," he says about his wife. "I've been using her memory, because my memory is pretty terrible. Back then, when we were hitting, it was such a blur. I was gone 300 days a year." They met while attending college in their home state of Georgia. They moved to Nashville after college so he could pursue his singing career.
"I Tell It Like It Used To Be" was the title song of his debut album in 1985. It went to #7 on Billboard, giving him his first hit. A year later, he had his first #1, "Hell and High Water." One of his best-known songs is 1998's "Wine Into Water," which he cowrote while struggling to overcome his drinking and drug problem. "I would get on the horse and ride a while, fall off, get on the horse and ride a while, fall off," he says. "It took me several tries to get straight. Boy, I'll tell you, life sure is a lot better when you're aware of what's going on." The song is a prayer to get sober. "People have used that song for all different kinds of problems," he states. "People get addicted to all kinds of stuff."
When I asked what he uses as a first name, he said, "Everybody around Nashville and in the music business call me T or T. Graham. My name's Anthony Graham Brown." His family calls him Tony.
He believes he and fellow entertainers such as Randy Travis and Keith Whitley "came out at a really good time in country music, where we were able to work with all our heroes and get to know them and tour with them." When I mentioned how many musicians have told me they don't have any photos of their days on the road, he said, "I don't have nearly the number of pictures I wish I did. I didn't get any autographs back then, either. I wish I'd gotten my heroes to sign some stuff."
At age 67, T. Graham isn't slowing down. "We'll probably do 70 to 80 shows this year," he tells me. "People can go to tgrahambrown.com and check our schedule. Shows are coming in every week. We're going to be working a lot this summer." He is also recording a soul album with artists such as Sam Moore, Tanya Tucker, and Wynonna Judd. It should be out this fall.
He and his fellow artists are thankful for the support from fans and classic country radio. "We're still out there working, and people are still coming to see us, so it's a lot of fun," he says. "We appreciate every little bit of help we get."
I'm looking forward to meeting T. Graham Brown at the Alliance in June. "We'll probably be in the lobby signing autographs," he says. "Just come up and introduce yourself."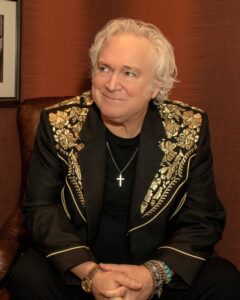 NEWS
Ronald Lee DeMoor, 66, better known as Johnny Counterfit, died April 6 at Vanderbilt Wilson County Hospital in Lebanon, Tennessee. Born in Omaha, Nebraska, in 1956, he grew up in Portland, Oregon. According to the Sellars Funeral Home obituary, he began impersonating cartoon characters as a child and expanded his repertoire to over 150 voices, including Johnny Cash, Hank Williams, and Frank Sinatra. An impressionist, singer, comedian, and actor, he moved to Nashville in 1993 and began appearing on The Nashville Network. During his 40-year career, he performed around the world, including on the White House lawn in 2000. He did television and radio commercials and appeared in various TV shows, as well as performing on the Grand Ole Opry.
Four names were added to the Music City Walk of Fame on April 5. Bobby Bare, Keb' Mo', Connie Smith, and Dierks Bentley received stars in a ceremony at the Walk of Fame Park, located between the Hilton and the Country Music Hall of Fame in Nashville. Buddy Cannon presented Bobby's star, Clint Black presented one to Keb' Mo', and Marty Stuart presented stars to his wife, Connie, and to Dierks. According to the press release, The Music City Walk of Fame contains permanent sidewalk medallions with the names of inductees displayed in a star design. The Walk was created in 2006 on Nashville's Music Mile, a roughly one-mile stretch that connects downtown to Music Row.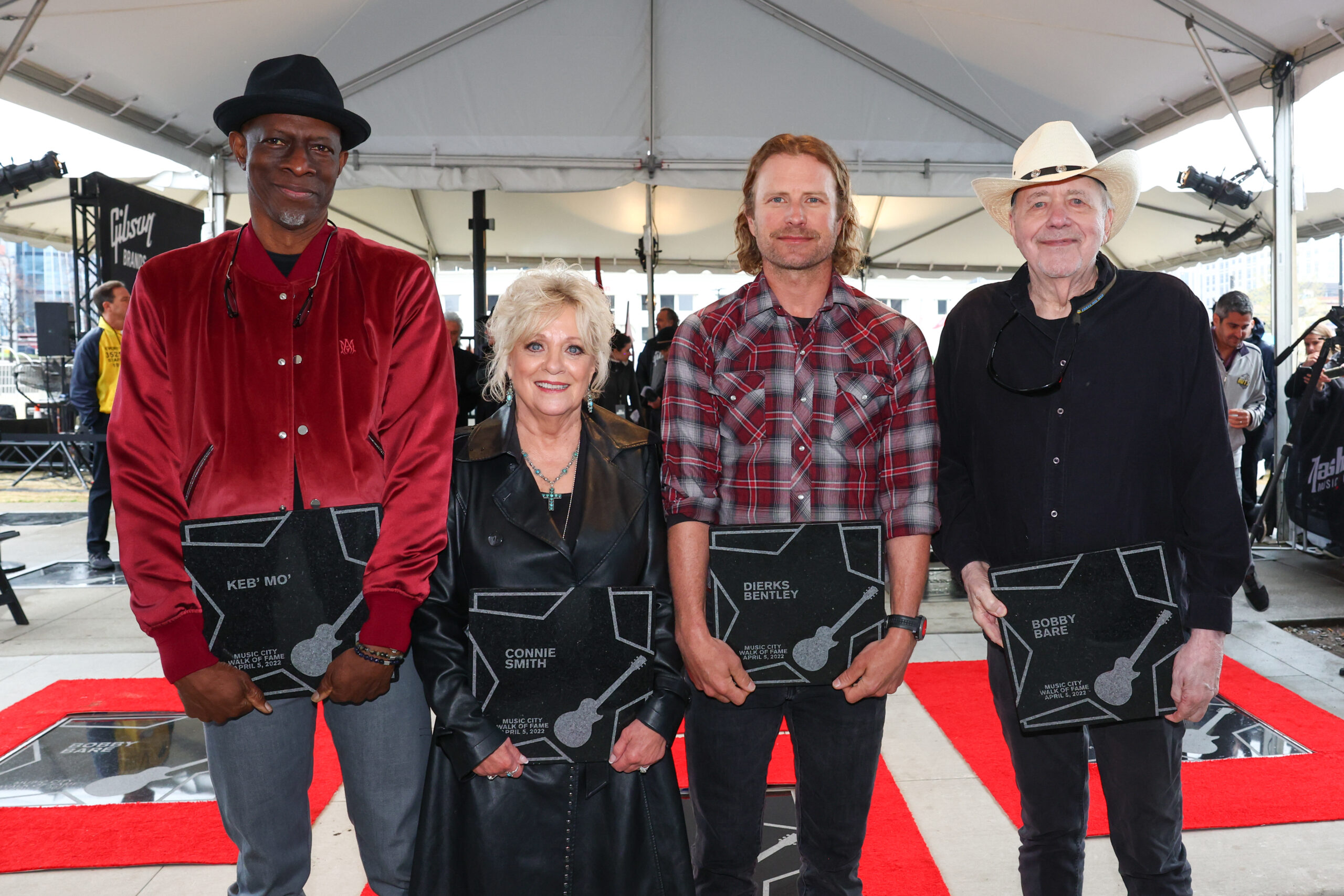 The oldest and last remaining sibling of rock-and-roll legend Buddy Holly died April 7 in Lubbock at age 96, reports the Lubbock Avalanche-Journal. Larry Holley was born in Lubbock in 1925 and spent most of his life there, other than while he was a U.S. Marine in the Pacific theater at the end of World War II. A talented musician (guitar, violin, mandolin, banjo, harmonica, and keyboards) and singer, he was a mentor to Buddy and helped him start his musical career. Buddy, who died in a 1959 plane crash, spelled his surname as Holly, after Decca Records misspelled his name on an early record release. Larry owned Holley Tile Company and provided ceramic tile for many Lubbock buildings into his 80s.
After 28 years of marriage, Tish Cyrus has filed for divorce from Billy Ray Cyrus for irreconcilable differences. They have five adult children. In divorce documents obtained by TMZ, Tish says they haven't lived together for more than two years. She is asking for equal distribution of all marital assets. This is the third time they have filed for divorce. Billy Ray filed in 2010 and Tish filed in 2013. Both filings were canceled a short time later. Tish and Billy Ray were married in 1993 in their living room in Franklin, Tennessee. Their daughter, Miley, married Liam Hemsworth in the same spot in 2018; they divorced in 2020. Tish and Billy Ray issued a joint statement exclusively to PEOPLE, saying they've decided to go their separate ways "after 30 years, five amazing children and a lifetime of memories." They are doing this, "not with sadness, but with love in our hearts." The statement says, "We will always be family and look forward to a continued and loving shared experience as friends and parents. We have not come to this decision lightly or quickly."
Martha Moore sends a press release on Pete Drake, who will soon make history as the first steel guitarist to be inducted into the Country Music Hall of Fame. He and drummer Eddie Bayers will be inducted in the Recording and/or Touring Musician category on May 1, alongside additional honorees Ray Charles and The Judds. Pete was once featured on 59 of the 75 songs on Billboard's Top Country Hits chart. He played steel on countless country hits, including those by Marty Robbins, Bobby Bare, Johnny Cash, The Louvin Brothers, Dolly Parton, Porter Wagoner, Jerry Lee Lewis, Reba McEntire, Charley Pride, Tammy Wynette, Charlie Rich, George Jones, Kenny Rogers, and Lynn Anderson. Pete pioneered the use of steel guitar in Rock and Pop, performing on recordings by Buddy Holly, The Everly Brothers, Carl Perkins, Elvis Presley, Perry Como, Neil Young, Joan Baez, Bob Dylan, and George Harrison. He also enjoyed success as a producer, publisher, record label founder, and recording artist. In the late 1960s, he was booked on three sessions a day and was producing several acts. As a solo recording artist, he made famous the "talking steel guitar." Pete died in 1988 at age 55, as the result of emphysema.
Zach Farnum sends a press release to announce the Randy Travis More Life documentary will be shown on YouTube in a seven-part series beginning April 14 and rolling out every two weeks until July 7. The premier on Circle Network was so highly praised that Randy teamed with Warner Music Nashville and YouTube to bring it to the YouTube platform. The full documentary is also available for purchase on iTunes. Both links are available at https://wmna.sh/morelife. More Life started in 2011 as an intimate concert special to honor the 25th anniversary of Randy's debut album, Storms of Life. No one could imagine how significant that film footage would become. The film was being finalized in 2013 when Randy unexpectedly became ill and suffered a massive stroke.
During the recent CMT Music Awards show, The Judds made their first awards show appearance in over 20 years. Now Naomi and Wynonna are planning their first tour in more than a decade. CMT News reports the ten-date schedule of arena shows, The Final Tour, begins September 30 in Grand Rapids, Michigan, and concludes October 28 at Bridgestone Arena in Nashville. They will be at the Denny Sanford Premier Center in Sioux Falls on October 7.
Many celebrities are targeted with online harassment in today's cultural climate. Mickey Guyton, 38, decided to do something about it. Tired of being attacked for the color of her skin and being told she doesn't have a place in country music, she now shares those posts. "When I post it, some people might think I'm looking for this sympathy that I'm not looking for at all," she tells PEOPLE. "What I'm doing is, people need to know this is happening. For so long, people were able to get away with being racist. My thinking is, we have to call this out." She explains, "This is bullying. This is something we were taught when we were five that you don't do. And you have adults bullying people and saying these horrible things behind their computers. I don't care who you are, where you're from, what color your skin — it has to stop." She says it took a long time for her to be comfortable with herself. "Being one of the few [Black people] in a predominantly white space, I felt like I needed to alter and change who I am in order to fit in," she admits. "Then I realized exactly who I am is enough. And it started with that." About the comments on her social media sites, she says, "When someone wants to blatantly show their racism to me, I will gladly give them the platform to do so. They can show off their bullying and hate and racism. It could be shown to all the world to see, and it stays there." She adds, "People have to understand we have screenshots. You might want to stop doing that." Following the release of her critically acclaimed debut album, Remember Her Name, she was nominated for four Grammys. Mickey sang the National Anthem at the Super Bowl in February.
Loretta Lynn celebrated her 90th birthday on April 14. Her musician friends teamed up to record a special video filled with good wishes. Participants included Dolly Parton, Carrie Underwood, Faith Hill and Tim McGraw, Garth Brooks, Alan Jackson, Reba McEntire, Martina McBride, Tanya Tucker, and more. Alan toasted her in his clip, because "it's always 5 o'clock somewhere." Dolly closed the tribute by singing "Happy Birthday." Sony Music Entertainment dedicated a blossoming magnolia tree that sits outside the Frist Learning Center in Nashville. It carries a plaque that reads, "Loretta Lynn (b. April 14, 1932) / Coal Miner's Daughter / Music Icon / Celebrating Her 90th Birthday." She is commemorating her birthday by donating several personal items to the Smithsonian Museum of American History. They include the yellow gingham dress she sewed for herself in the 1960s, original handwritten lyrics for "Fist City," and first edition copies of her autobiographies. "As a little girl, I could never have imagined I'd write books and wear dresses that would wind up in the Smithsonian," she said in a statement.
Guitars, Cadillacs, Etc. Etc. is available once again through streaming services such as Spotify, Apple Music, and Amazon Music, reports Saving Country Music. In February 2021, Dwight Yoakam sued the Warner Music Group for failing to return his song copyrights per Section 203 of the Copyright Act, which says authors can cancel copyright grants signed away to others and reclaim them for themselves after 35 years. In response to the lawsuit, Warner Music Group pulled the album from music streaming and download services. After a yearlong lawsuit, the matter was resolved in February, but with no terms released and no songs available for download. On April 15, the album finally reappeared on all streaming services.
The dream home of Patsy Cline in the Nashville suburb of Goodlettsville has been sold. It went on the market in November for an asking price of $549,900, and the sale closed December 29 for $540,000. Taste of Country reports the 2,770-square-foot, 4-bedroom, 3-bathroom home has been restored to original condition, including the bar counter emblazoned with "Patsy & Charlie." Patsy purchased the house with the money from her string of hits, which included "Walking After Midnight," "I Fall to Pieces," and "Crazy." Purchasing the house achieved one of Patsy's biggest lifetime goals, and it became a gathering place for many of country music's top stars.
I just saw on Facebook that one of my longtime newsletter subscribers and Facebook friends has died. Dr. Bobby Joe Jones, 85, died April 16, at his home in Michigan. Our connection began when I was working on Faron's biography. Bobby was founder, president and member of the Faron Young Fan Club. We only talked about music, and I had no idea of his many accomplishments as listed in his obituary. He was a dentist, with a master's degree from the University of Detroit Mercy in Orthodontics. He was a captain in the Army Medical Service Corps, president or member of many boards, inducted as a member of the Northeastern Michigan Baseball Hall of Fame, and a celebrated hunter who traveled all over North America and filled his living room with a collection of big and small game.
LETTERS
Robert MacMillan writes from Arisaig, Inverness-shire, Scotland, "Many thanks for compiling/sending out your monthly newsletter – it's always appreciated. Thanks also for enabling me to hear the audio version of Live Fast, Love Hard – your book on Faron Young – which I greatly enjoyed. It was my first ever audio book 'read' and I enjoyed the experience, and the writing of course. I only saw Faron perform once – a show in Glasgow co-starring Bill Anderson way, way back, sometime in the '70s. Unfortunately, the sound system didn't suit the venue so I was a bit disappointed in the overall show however I do remember Faron inviting a young girl up on stage for 'This Little Girl Of Mine'. Could you ask Ronny Robbins if he has ever thought of obtaining his father's Wembley BBC Radio Show – it would make an excellent live recording release and it would include 'Back Home Again' – a song Marty never released. Marty did tell me he had been in the studio recording new songs including 'Back Home Again' but it seems that it can't be tracked down. A great pity!"
Diane: I'm glad you enjoyed the audiobook, Robert. I forwarded your note to Ronny.
Ronny Robbins responds: "Interesting idea about the radio show, although I wouldn't have the slightest idea where to start. I doubt the BBC is very lax in licensing their programming and would expect advertising, distribution, etc., to be provided by us. Time-Life could do something like that but we're just too small, unfortunately. Anyway, thanks for the input and for the great job you do every two weeks."
Carol Grace Anderson writes from Nashville, "Thanks for keeping me updated on Nashville… my home city. You sure get the facts! Solid writing."
Bobby Fischer says, "Always amazed how you're able to report all the latest news on the country music scene current. I'm in Nashville and don't hear that much. It's great to hear about the people livin' or dyin' that have touched our lives in our journey through the music we love. Thanks a bunch."
Diane: I never expected to be in a position where'd I'd be delivering news. Now that I'm here, I enjoy doing it. Thanks for enjoying reading it.
Beverly Gray writes from Los Angeles, California, "I read your Faron Young book a while back, and finally found a way to work your accomplishments into my Beverly in Movieland blog. I hope you all enjoy this post about Robert Duvall's Oscar-winning film, Tender Mercies."
Lenore Koszalinski writes from Texas, "Keep up the great work. I really enjoy your magazine. I send it to many others."
Janet Jeffries says, "Thank you! I enjoy your newsletter."
Martha E. Moore, of so much MOORE media, writes, "I am so embarrassed that it took me so long to listen to your book on Faron. It was my first audio book. I absolutely adored Live Fast, Love Hard. Learned so very much more about him than I ever knew. The narrator was a perfect choice. I got to work with Faron briefly at MCA. I remember the 'whoopee' pillows he gave all the female employees at the label for Christmas. What a prankster! Also, I am working PR for Rose Drake around Pete's CMHOF induction coming up May 1. Have attached the press release in case you have room in your newsletter."
Carolyn Berry in Charlottesville, Virginia, says, "This newsletter is sad with so many people passing away. However, it is to be expected because our good country singers are getting old. I love reading the newsletters. Do you send out any more during the month? If so, I would like to receive anything you send out. Thanks for all your hard work."
Dominique 'Imperial' Anglares writes from France, "Thank you for that welcome newsletter and for the space given to my words about my late friend Glen Glenn. Wishing you and all your readers all the best."
David Markham writes from Great Britain, "Hope you're in good health and thank you for your hard work writing the Newsletters For us Country Music Fans. You deserve to go into The Grand Ole Opry Knighthood after the way you've kept us country music fans up to date with what's going on in country music and artists. I'm still quite ill and I've asked Country Music Artist Joni Harms to pray for me. She's a longtime friend and she's keeping me close to God. I was very close to Pee Wee King and the Collins sisters. Thought I'd let you know who my friends were from long ago."
Harris Spracher says, "I very much enjoy the newsletter. You have a way with words that most of us lack."
Jim Manheim requests, "Please add me to the mailing list for your country music newsletter."
Don Holland writes from Kissimmee, Florida, "I bet you have not seen this great African country music performer. I am impressed.  I bet you will be, too."