We remember Marty Robbins on September 26, the 92nd anniversary of his birth.
CONCERT REVIEW – GARTH BROOOKS
My first memory of Garth Brooks is 1990. When I moved to Jacksonville, Florida, from Guam, the radio airwaves and nightclubs were filled with the sounds of his wonderful music. I bought his first two CDs, Garth Brooks and No Fences. The songs on them are still as familiar as 27 years ago. Some of his music since then I haven't cared for, but if you want to attract the size of crowds he attracts, you have to cover a wide variety. It seems he always has another "Beaches of Cheyenne" in the wings, to counteract the non-country stuff. I've consistently admired him for trying so hard to fight scalpers and keep his tickets affordable. He could easily increase his bottom line by charging more than $78. He impresses me as a humble person who truly appreciates his fans.
With all the blurbs I've posted about the Garth Brooks World Tour in the past three years, I never dreamed I'd one day be vying to buy tickets myself. The news that he was coming to Sioux Falls thrilled me as much as it did thousands of others. My tickets were for opening night on Friday, which was the first show added after the initial Saturday show sold out.
The Denny Sanford Premier Center did a great job of preparing for the onslaught of people. I left my house at 6 pm to drive to the fairgrounds to catch the free shuttle. I boarded the shuttle at 6:15 and was in the lobby by 6:30. It was wall-to-wall people, shuffling slowly forward. We moved through the security booths, and I wondered where the ticket takers were in the crowd. They appeared, standing with wands to zap our ticket bar codes as we walked past and headed up the escalators (or stairs, in my case). Then through the crowds and halfway around the building to Section 114. By 7:50, I was in my seat.
Mitch Rossell opened the show and sang for 20 minutes. Garth later did a song he'd written, "Ask Me How I Know." Then came Karyn Rochelle and her band, for another 20 minutes. Then came intermission to allow time for beer sales; there was no band setup. The announcer said, "We only have one rule. Don't stand on your chairs. But you are welcome to stand." He started a countdown and by 30 seconds, everyone was standing and yelling. With all the lights flashing on stage, it was hard to figure out what was happening. When Garth finally appeared at 8:20, he came out of a large blue Christmas tree globe. Actually, it was the drummer's cage.
Garth kicked off with a newer song, "Baby, Let's Lay Down and Dance," followed by "Rodeo" and "Two Of a Kind (Workin' On a Full House)." He told us, "This won't be the first time I'll remind you this is opening night." He expressed amazement that there were nine sold-out shows in Sioux Falls. My favorite parts were when he walked around with his guitar, such as during "Unanswered Prayers," instead of running and the band blasting.
He always acted blown away whenever the crowd sang the lyrics–as if he hadn't seen that before! He held contests to see which section could yell the loudest when he pointed at them. He often just stood and basked in the cheering, shaking his head in supposed amazement at the adulation. He's a master showman who knows how to control his audience. Most of the crowd stood for the entire show. I sat down after about an hour.
When Garth started singing "In Another's Eyes" at 9:15, Trisha Yearwood appeared and they sang together. Then Garth disappeared, and she did a 20-minute show. She introduced her "Wall of Sound" backup singers, Karyn Rochelle and lead player Johnny Garcia. She said they had been with her for over 20 years. When she disappeared and Garth returned at 9:40, he completed the introductions. Vicki Hampton and Robert Bailey were part of the "Wall of Sound" vocals. Garth called Jimmy Mattingly his "rookie," with 23 years on fiddle and guitar. Bruce Bouton played steel, Mark Greenwood was on bass, Mike Palmer on drums, and Dave Gant the band leader. Garth said Trisha was his first ever opening act, and he had been the first headliner she opened for. They've been working together since the early 1990s, and they combined their bands. Garth said, "There's one person here who has been to more Garth Brooks concerts than anyone–me."
Hearing the first notes of "Friends In Low Places," I thought that might be the final song. But it wasn't. He then went into "The Dance" and that was the final song. But not so fast. He and the band didn't actually leave. I learned later that Garth traditionally does an encore of songs that people hold up signs to request. This night he did seven songs in his encore, some with the band and some solo with his guitar. I would have been disappointed not to hear "Much Too Young (Too Feel This Damn Old)." He finished "Standing Outside the Fire" at 10:40 and the show was over.
NEWS 
Fans and friends last Saturday helped Jeannie Seely celebrate her fiftieth anniversary as a member of the Grand Ole Opry. Bill Anderson hosted the celebratory segment. "The Opry has been a way of life for me, and one that I am so delighted I've been able to live," Jeannie told The Tennessean. "It's been a wonderful ride." She began listening to the show as a four-year-old in northwest Pennsylvania. One of the performers on the show, Elizabeth Cook, sang "Sometimes It Takes Balls to Be a Woman" in Jeannie's honor. The song was previously banned from the Opry stage. "Elizabeth can get away with a lot of things nobody else can, but they told me I did, too," Jeannie said. Her tiffs with management included wearing a miniskirt onstage and being the first woman to host an Opry segment. She wrapped up the celebration by hosting the Ernest Tubb Record Shop's Midnite Jamboree at the Texas Troubadour Theatre.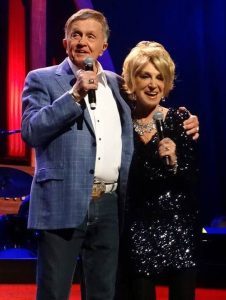 Bill Anderson and Jeannie Seely
On Friday night, Reba McEntire celebrated the 40th anniversary of her Grand Ole Opry debut. Carrie Underwood joined her to sing "Does He Love You." Dolly Parton made a surprise appearance and helped present a three-tier cake to celebrate the event. Dolly was there forty years ago, too. Reba reminisced to The Tennessean, "She had just come in the parking lot and they said, 'Reba, we're going to have to take one of your songs (for Dolly).' I said, 'It's okay with me. Can I meet her?' I was thrilled to death." Reba posted this Friday night photo of three Okies and one Tennessean on Facebook: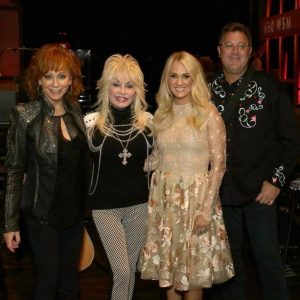 Reba McEntire, Dolly Parton, Carrie Underwood, Vince Gill
Rodney Crowell posted on Facebook last week: "Regretfully, I must cancel the remainder of the 2017 tour schedule. An impressive team of doctors have confirmed what for the past year I've instinctively known: dealing with the root cause of my health issues requires complete rest. For the foreseeable future, with expert medical guidance, my work will consist of quietly encouraging my body to return to its natural state." Taste of Country reports Rodney's song, "It Ain't Over Yet," recently received Song of the Year at the Americana Honors and Awards. Rodney's health prevented him from being present to accept the award. He also canceled his headliner slot at the Bristol Rhythm and Roots Festival.
A memorial service for Don Williams is being held today in the CMA Theater at the Country Music Hall of Fame in Nashville. Music industry personnel, friends, and family are invited. Music Row reports that, in lieu of flowers, donations are requested for MusiCares, Music Health Alliance, "or a charity of your choice."
Taste of Country reports Scotty McCreery fulfilled a career dream when he acted as surprise opener for Garth Brooks on September 22. His appearance at the Denny Sanford Premier Center in Sioux Falls was kept a secret until he went onstage for a 30-minute set, playing to the audience of 13,000. The North American leg of the Garth Brooks World Tour, which began in Chicago in 2014, will end in December. Garth and Trisha are scheduled to perform at the Houston Livestock Show and Rodeo in 2018.
For the second time, Carrie Underwood is being sued for copyright infringement. She and Brad Paisley won the lawsuit against them last year for the song, "Remind Me." This time, the song is "Something in the Water." The Tennessean reports Carrie and her co-writers are being sued in federal court for song theft. Canadian songwriters Ron McNeill and Georgia Lyons say they pitched their song to Carrie's producer in 2014. They never received a response, but Carrie recorded a song by that name the next year. "Something in the Water" won a Grammy for best country song performance. "The hook on the infringing work, as released on the album, is structurally and lyrically identical, and substantially similar melodically to plaintiffs' composition of the same title," the lawsuit argues. Carrie's spokesperson stated, "This is a deeply personal song regarding Carrie's faith and she is saddened that anyone would attempt to challenge that for financial gain. Neither Carrie nor any of her co-writers ever received or heard the plaintiffs' song."
At the Emmy Awards, Dolly Parton reunited with Jane Fonda and Lily Tomlin to present the award for Outstanding Supporting Actor in a miniseries. The three had starred in the 1980 movie 9 to 5. In obviously scripted remarks, Fonda said, "In that movie, we refused to be controlled by a sexist, egotistical, lying, hypocritical bigot." Tomlin added, "And in 2017, we still refuse to be controlled by a sexist, egotistical, lying, hypocritical bigot." Dolly's eyes widened as if she was surprised. In reference to the award they were presenting, she jumped in to say, "I know about support. If it wasn't for support, shock and awe here would be more like Floppsy and Droopy. I think Lily was talking about Mr. Hart. He's still up to his no good stuff, right? How about a shout out for Dabney Coleman out there? I'm just here to have a good time tonight." (Dabney Coleman played their boss in 9 to 5.) Many of Dolly's fans are complaining on Facebook about her apparent support of such an anti-Trump remark. She hasn't commented.
New signs to honor Randy Travis in his hometown of Marshville, North Carolina, were officially unveiled on September 15. Randy was present for the ceremony, along with his wife, Mary, and his brother, Ricky Traywick. The new signs read "Town of Marshville … Home of Randy Travis." They will sit next to the "Welcome to Marshville, North Carolina" signs at either end of town, The Boot reports. The previous welcome signs that carried his name were removed in 2014, causing many people to complain the hometown boy was being rejected due to his legal and personal battles. Not so, said town officials. "The sign was in disrepair, so we had to take it down," the mayor explained during the ceremony. He joked, "I didn't know so many people from all over the country could find my phone number!"
The Marty Stuart Show won't be returning to RFD-TV. The sixth season ended in July 2014 with the promise of a seventh. The show's 150,000 viewers are still waiting. Billboard reports that Marty Stuart has been saying in recent interviews that the show is over. He and his band, The Fabulous Superlatives, are busy touring. RFD-TV is fending off angry comments from fans who feel misled.
The Association for Recorded Sound Collections has announced its award for "Best Historical Research In Recorded Country Music" will go to Bill Anderson and Peter Cooper for Whisperin' Bill Anderson: An Unprecedented Life In Country Music. The award will be presented at a ceremony on May 12, 2018, during ARSC's annual conference.
Jesse McReynolds "spent a fairly good night last night," according to a Facebook post on September 23. "He slept comfortably for the most part. The doctor told us his healing procedure is going to take a long time. What Jesse went through with this ruptured aneurysm was like being hit by a train & surviving: he's very tender & sore & has bruises all over his body. He's on breathing treatments & has gotten rid of that wheeze. He can't have visitors at this time."
The Record Searchlight announces the Merle Haggard Memorial Overpass, a newly designated stretch of freeway through Redding, California. State Senator Ted Gaines sponsored the Senate Concurrent Resolution to honor Merle Haggard by designating the Interstate 5-Highway 44 interchange in Redding the Merle Haggard Memorial Overpass. To get money for signs, Q97 FM radio personalities Billy and Patrick of the Billy and Patrick Mornings show started a campaign to sell T-shirts. Lulu's Eating & Drinking Establishment, which was the Hag's favorite breakfast stop in Redding, paid for the shirts. The community raised $2,500 for two signs. Caltrans has already installed them, and they will be dedicated in a ceremony on October 25.
After losing three rounds in the state courts, the most recent being the Texas Supreme Court in June, Randy Travis has turned to the federal courts. The American-Statesman reports a lawsuit filed in the U.S. District Court in Austin, Texas, to block release of a police video showing Randy's 2012 arrest. The lawsuit argues that making the video public would violate federal disability and medical privacy laws. His lawyer says it would amount to public disclosure of private medical and mental health conditions. As media outlets are making Freedom of Information Act requests for the footage, The Boot and Taste of Country have both decided to not run the video if it is released. Their editors say "the video footage of Travis' 2012 DWI arrest does not add to the known details of the incident."
On September 21, Loretta Lynn called WSM 650 radio to share how she's feeling. "You know I'm feeling good," she said. "I feel better than I should really." She talked about the upcoming motorcycle festival at her ranch and stated, "I'm gonna ride in on a motorcycle." She told the deejays that these past few months of rest have helped her get better. "I know everybody's hollering about me being off so much, but you know, I just got lazy," she joked.
George Strait appeared with Governor Greg Abbott at an Ace Hardware store in Rockport, Texas, last week to let residents know he is committed to getting the town back on its feet. He and his wife, Norma, have been longtime residents of Rockport, reports Taste of Country. "We're going to keep a light shining right here on this area," George said. "We like it just the way it was and we want to get it back there." On September 12, he closed the nationwide Hand in Hand benefit concert from the Majestic Theatre in San Antonio. Miranda Lambert, Chris Stapleton, Lyle Lovett and Robert Earl Keen joined him in singing two songs. The telethon raised $44 million for hurricane victims in Texas, Florida and the Caribbean islands.
LETTERS
Jeannie Seely says, "Thank you for the mention….I'll give you a review after it's over if you want it….if I make through it!! I'm thrilled that so many want to celebrate with me!"
Bill Anderson responds to my comment about a young singer making "You Lied To Me" a hit today: "I'd like to see that, too, since I wrote the song!! You're right about the Charlie Walker version. In fact, I wrote the B-side to two of Charley's biggest hits. 'Two Empty Arms' was the B-side of '"Pick Me Up On Your Way Down' and 'You Lied To Me'" was the B-side of '"Don't Squeeze My Sharmon.' Tracy Byrd cut 'You Lied To Me' on one of his early albums, spent over $75,000 filming a video, and was then told by the record company that it was 'too country' for them to release. Thank goodness it wasn't 'too country' for Charley Pride, though, as he has a great version of it on his new CD. Have you recovered from our 'Wild Weekend' yet? I'm ready for some more of that good prime rib!"
Helen Thiel writes from Arizona, "Thank you for your fantastic 'newsy' newsletter. Thanks, also, for including my note to you and your comment about the Remembering Marty Robbins newsletter. On the first day your newsletter was published, I received requests from Scotland, England, North Carolina, New York State, Nevada, to name a few. Wow! you must have a huge following. How do you find time to get such interesting and up-to-date information on the entertainers?"
Douglas Lippert says, "Thank you so much for keeping us informed of our uniquely American music. News of Troy Gentry's tragic death compelled me to text my adult daughter, now living in Scotland, as she and I attended a Montgomery-Gentry concert in the old Roberts Stadium, now gone, in Evansville, Indiana, many years ago. Eddie and Troy opened for Kenny Chesney and absolutely knocked the socks off everyone with their enthusiasm and genuine love for what they did. I am approaching 'old man' status and the memory of attending this concert with a then-teenage daughter is now held all the more dear. May he Rest In Peace."
Jean Earle writes from England, "Thank you for your latest newsletter. Thank you also for finding the space to include my little tribute to the wonderful Don Williams. I must have slipped in some extra letters and it ended up instead of 'Wife and Family'…the name Emily appears. Back in the 1980s, I enjoyed making drawings of some of the Country artists. Then I would hopefully meet them…show them my efforts and ask for their autographs…..this was successful, sometimes. One lovely gentleman that I spoke to was Don Williams. This morning I took out my old sketch pad and to my delight I found several drawings I had completely forgotten about…some of Don. He kindly autographed the pictures …so they are very precious."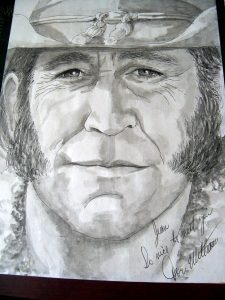 Dean Mann in Sioux Falls says, "Another great newsletter. I, too, don't know how you keep up with all this news with everything else you are involved in. I went last Friday to see Kathy Mattea at WJ Ranch in Nebraska. What a great performance! There was just Kathy and her guitar player of 27 years. You could tell they just loved what they are doing. She has a great personality and got with it with the audience. It was a long show, over an hour and a half, but the audience was loving it and gave her a standing ovation at the end. She came back for a couple of encores. During the show she played four different guitars and a banjo and her friend played three different guitars. What talent! I have tickets for Jeannie Seely in Sisseton. Looking forward to seeing her again."
John Krebs writes from Houston, Texas, "I was wondering if you have any Faron books left. Mine was swamped in the flood, along with autographed books from Kitty Wells, Charley Pride, Mel Tillis, Johnny Bush,,,,,,,,,,,,,,,, and etc…….. sigh………. I'd like to purchase an autographed copy from you if possible. I'm getting to that point where I'm ready to read it again. I still have the house and it's torn to hell but livable. Only had about 7″ of water so compared to many of my friends and fellow Houstonians I got lucky. If old country music fans could see the amazing records that were destroyed they'd be sick. House was built in 1961 and water never even got close before,,,,,  and of course NO flood insurance…Oh well, starting fresh now and that part of it feels nice when I can remember to set my brain on positive."
Ron Reagan requests, "Since you seem to know Bill Anderson, tell him how much I love his Christmas LP that came out in the early '70s. Christmas will be here in just a few months, and if Bill or anyone else has any connections, it's time for that LP to be on CD. He has a Christmas CD, but the songs are remakes of the originals."
Al Couch writes from Kempner, Texas, "I enjoy each issue of Country Music Newsletter. I was very saddened to hear of Don Williams passing. I have been a big fan of Don's since the early 1970s. I was fortunate enough to see him in concert one time in Germany in the 1970s. This was before he started using a full band to back him on his tours. He only brought his lead guitar player and bass player with him, but what a fantastic show. Don once said his favorite kind of picking was Living Room Pickin' and that's what his concerts were like. He always believed the singer's voice should be heard above the music and always made sure his vocals were not covered up by loud music. Don Williams fans went to his concerts not only to see him perform live but to also hear his fantastic voice. I got to meet Don at the concert I attended and truly enjoyed talking with him for a few minutes. What an incredibly humble man and one of the truly nicest Country Music performers I have ever met, and I have met a bunch of them over the years. I lived in Germany for a total of 18 years. Part of it was while serving in the US Army and part of it was as a Defense Contractor. During the entire 18 years I had a band and we played all of the Army & Air Force clubs over there. My band got to open for many of the Country Music Artists and got the opportunity to back a number of the solo artists who came to Germany to entertain the US Military personnel and their families. Don Williams' music will live on in the hearts of Country Music fans and Country Musicians everywhere. He will be missed dearly. Thank you for providing such a wonderful Country Music Newsletter."
Paul Nail at the University of Central Arkansas in Conway, Arkansas, requests, "Please add me to your list to receive Diane's Country Music Newsletter."
Moragh Carter writes from the United Kingdom, "Just thought you'd like to know Jack Blanchard and Misty Morgan came through Hurricane Irma unscathed. After eight days sheltering in a hotel, they returned to their home on September 18. Their home sustained some damage, mainly to the screened porch, but is livable while they await the repairs to be done. They are just glad to be home again. Thanks again for another info-packed newsletter."
Barbara Cabrera says, "Thank you for answering my question about Ray Griff. Cannot understand how there is not more information about this talented artist."
Donald Phillips in Sioux Falls says, "Thank you for being part of the Color Guard at the Senior Games banquet at the VFW. I enjoy your very informative email letter on the country music community."
Sue Lovrek requests, "Please send me your wonderful country music paper."
Gerald Walton writes from Oklahoma City, "Glad to hear of Wanda Jackson's book. I have been a fan of hers since the '50s when she was with Hank Thompson in Oklahoma City."
Priscilla McPheeters in Lawrence, Kansas, says, "This is great as always, my friend! I also enjoy reading the letters at the bottom. Hope all is well with you and your lovely daughters."
Larry Delaney (Cancountry) writes from Ottawa, Canada, "Just for the record Bill Anderson's great song 'You Lied To Me' has been recorded by several artists, long after Charlie Walker's original cut in 1967. Tracy Byrd included a marvelous rendition of the song on his 1995 album Love Lessons; Texas indie artist Rick Robledo included the song on his 1999 album Lost In The Shuffle and Johnny Bush included the song on his 2009 Texas Legends duo album with Johnny Rodriguez. Just recently Charley Pride included a super cut of the song on his 2017 album Music In My Heart.
Diane: Maybe the next person who records it will release it as a single. A hit would show today's songwriters and music producers what good (and timeless) music is. They should be embarrassed by lyrics such as "turn you on like a fire alarmer," "Who's your John Deere, who's your cold beer," "I'm a mama's boy I'm a fist fight," "I can slick it up I guess that's why she can't get enough." Would you believe, those are today's hit songs?
Aileen Arledge says, "I'm so thrilled to be able to receive your wonderful newsletter as I want to keep up with the various artists since I no longer manage and book acts. It's so great to read about all the various artists and what they are doing lately and sad to hear of the ones who have passed on. The great ones are leaving us and much too soon. Young and old it doesn't matter. I hate to see it. I also just heard about a young lady from Michigan who moved to Tennessee and working on Christian music She was quite the star here in Michigan and I heard that she passed recently. Did you hear about her, Cecelia Lee? I can't find any more info on it. She was quite known here in Michigan. Also, I want you to know my artist Tracey Lynne is now working for the Lord. She is Youth Director and assistant choir director of her local church and she loves it. Thank you for your newsletter. I spread the word to all I can."
Dominique "Imperial" Anglares writes from France, "Thanks for that great newsletter and for the nice words spread about the recent deceased artists. Keep the great work going on."
COUNTRY MUSIC HALL OF FAME – 1989
Three men were inducted into the Country Music Hall of Fame in 1989. First was Nashville native Jack Stapp, long-time program director of WSM Radio (1939-1957) and founder of Tree Publishing Company. He supervised NBC's half-hour Prince Albert Show on the Grand Ole Opry, produced network shows, and brought new talent to the station and the Opry (including Faron Young). During World War II, he joined the US Army's psychological warfare branch, moving to London to broadcast Allied propaganda in the European theater. In 1951, he cofounded Tree Publishing (now Sony / ATV Tree), which gained prominence when Elvis Presley recorded "Heartbreak Hotel." He began working fulltime at Tree in 1964. His hitmaking songwriters included Roger Miller, Curly Putman, Bobby Braddock, and Sonny Throckmorton. When he bought Pamper Music in 1969, Tree's catalog doubled in size–adding songs by Willie Nelson, Hank Cochran, and Harlan Howard. In 1974, he turned over leadership of Tree to Buddy Killen. Jack Stapp died in 1980 at age 68.
One of the most instrumental players in building the country music industry in Los Angeles was Californian Cliffie Stone, who spent sixty years in the music business. He served on both the entertainer and business sides, beginning his musical career as a bass player and comic with Stuart Hamblen in 1935, at age 18. He started a record production company, Lariat Records, which led to employment with Capitol Records in 1945. He co-wrote Merle Travis hits such as "Divorce Me C.O.D." (1946) and "So Round! So Firm! So Fully Packed!" (1947). He brought Tennessee Ernie Ford to stardom and served as his personal manager. He operated the West Coast song publishing company Central Songs, which he owned along with Lee Gillette and Ken Nelson. They sold it to Capitol Records in 1969. Cliffie Stone died in 1998, at age 80, of a heart attack while at home in Saugus, California.
When Hank Thompson graduated from high school in his hometown of Waco, Texas, he already had a sponsored radio show. But it was 1943 and a war was on. He enlisted in the US Navy, playing music whenever possible, in San Diego clubs and onboard ship. While in the South Pacific, he broadcast over a network of small military stations. He studied electrical engineering while in the Navy, and considered an engineering career after his discharge. When "Whoa Sailor" became a hit, he chose the music route. Tex Ritter helped him get a Capitol Records contract. "The Wild Side of Life" in 1952 was his first number one, a song answered by Kitty Wells with "It Wasn't God Who Made Honky-Tonk Angels." Hank was one of the first country singers to perform in Las Vegas, and he recorded an early live album, Live at the Golden Nugget. His Brazos Valley Boys were Billboard's top-ranked band from 1953 to 1965. Elected to the Country Music Hall of Fame (1989) and the Nashville Songwriters Hall of Fame (1997), Hank Thompson died of lung cancer in 2007, at home in Keller, Texas. He was 85.