NEWS 
One of Faron Young's Country Deputies, Dave Hall, died on January 19. He was 76. Dave played bass and served as frontman from 1969-72. After leaving the music business, he worked with Royalty Department and Creative Team at HoriPro. I met him in Canby, Minnesota, in 1970 and saw him again when I held a reunion of the Deputies in 2000. He wrote two of the songs on Faron's 1971 It's Four In the Morning album: "It's Not the Miles" and "Night Coach Out Of Dallas." Dave told me he gave co-writer credit to bus driver Lewis Redding, because, "He and I rode down the road a lot at night, me with a guitar in my hand." Graveside services for Dave were held January 27 at Mt. Juliet Memorial Gardens.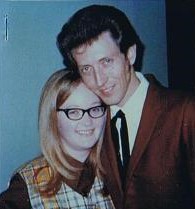 Another of the Country Deputies has recently moved into hospice care. Stu Basore, the final steel player in the band, was admitted to TriStar Summit Medical Center in Hermitage, Tennessee, on January 14. His daughter, Kelly, reported he had "severe UTI and tested positive for flu." She called him "a very sick man right now, and we are taking one step at a time." She sent this sad update on January 23: "Today he was discharged home with hospice care. Continued thoughts and prayers are appreciated as we go through this leg of the journey. Visitors are welcome to stop by…share stories, laughs, and memories. As we prepare, we're asking for those who know Dad to send a particular memory or story of him for us to compile and share. Please send to: milamkelly@hotmail.com"
The widow of Jerry Clower has died. Doris Homerline Wells Clower, 91, of Liberty, Mississippi, passed away on January 20 at her residence. She was born March 8, 1926, in Liberty and was a long-time member of First Baptist Church Yazoo, Mississippi, and later East Fork Baptist Church, where she served as a Sunday School teacher and also financial secretary for 25 years.
Lari White (1965-2018)
The 1988 winner of TNN's You Can Be a Star, Lari White, died of peritoneal cancer on January 23. She was 52. The Dunedin, Florida, native had studied voice at the University of Miami before moving to Nashville in 1988. She co-produced albums for Toby Keith and Billy Dean, appeared with Tom Hanks in Cast Away, and had three Top 10 singles as a country artist: "That's My Baby," "Now I Know," and "That's How You Know (When You're in Love)."
The Sheridan County Historical Society and Museum in Sheridan, Wyoming, celebrated its Sheridan County Museum Gala with the help of Michael Martin Murphy on January 25. "Wildfire" and "Cherokee Fiddle" are two of his songs over the years that helped bring about a resurgence of cowboy songs. He has earned five awards from the Western Heritage Museum (National Cowboy Hall of Fame).
This Friday night, Eddie Montgomery will kick off the Here's To You tour by performing on the Grand Ole Opry as Montgomery Gentry. When he walks on stage, he will stand next to his former partner's mike stand and guitar. He and Troy Gentry had recorded the album and planned a tour to mark their 20th anniversary as a duo. After Gentry's death in a September helicopter crash, Montgomery struggled to decide whether to continue. "We actually had a talk about it back in the day when we put this together," he told USA Today Network. "When we got our record deal we told each other that if anything ever happened to one of us, we wanted Montgomery Gentry to keep on going and the other one to keep rocking."
Everly June Van Valkenburg was born to Jenny Gill and husband Josh Van Valkenburg on January 12. The couple has a three-year-old son named Wyatt. Grandparents are Vince Gill and Janis Oliver. Taste of Country reports the childhood friends were married in 2010 at the home of Vince and his wife, Amy Grant.
The 2018 edition of the Guinness World Records includes two achievements by Dolly Parton: Most Decades with a Top 20 Hit on Billboard's Hot Country Songs Chart, and Most Hits on Billboard's Hot Country Songs Chart by a Female Artist. "To receive these two Guinness World Records is so great!" Dolly said in a statement. "You never know when you start out with your work how it's going to turn out, but to have these two world records makes me feel very humbled and blessed!"
Sanford Brokaw, longtime publicist for Glen Campbell, has been subpoenaed to testify about Glen's competence when he signed his 2006 will. The publicist is scheduled to appear in court February 20 to "provide proof of the decedent's capacity since 2002." The Tennessean reports the three children by Glen's second wife are challenging the will that denies them an inheritance. He had eight children over four marriages. Kimberly, the fourth wife, filed the will for the $50 million estate. Glen's eldest daughter and son earlier won a case to force Kim to let them visit their father.
The 2008 Motor Coach Industries tour bus previously owned by Merle Haggard will be sold at auction on February 10 in New Braunfels, Texas. The Austin American-Statesman lists features such as "a vintage train horn, a Santa Fe Super Chief insignia, a master bedroom, four bunks and a lounge area."
KFC's new Colonel Sanders is Reba McEntire. The first woman in that role, she will sing in the commercials and appear as the Colonel through April. Which is more than long enough, if the other commercials are as bad as the first one. It's awful on so many levels. It reminds me of the mandatory straw bales and red handkerchiefs whenever a country singer appeared on the Lawrence Welk Show. Her degrading yee-haw, boot-stompin' portrayal of country music feels like betrayal. And what does Reba's ongoing inside joke with the drag queen community have to do with KFC chicken?  Who knows. Well, anyway, she and KFC are apparently both happy.
The Bluebird Café in Nashville is finishing its 25th year of using January to raise money for Alive Hospice, in which performers donate their proceeds to the nonprofit organization that supports terminally ill patients and their families. When Garth Brooks headlines the final evening, on February 1, he will be joined by his cowriter of the song that launched the careers of both. The Tennessean describes how songwriter Kent Blazy met with an unknown Garth Brooks in 1988 for a songwriting session. When the Bluebird offered Garth a one-song slot to replace a no-show artist, he chose the song they'd written in honor of their wives, "If Tomorrow Never Comes." Music Row had already repeatedly turned down the song, but a producer heard it that night and agreed to record it. "If Tomorrow Never Comes" was released on Garth's debut album. Blazy started performing at the January sessions nine years ago, not knowing the event would become personal. His wife, Sharon, was diagnosed with brain cancer five years ago. Alive Hospice helped her die the way she wanted–at home. The guitar Blazy used to write the song is displayed at the Country Music Hall of Fame. He plans to borrow it for the performance, when he and Garth sing, "So tell that someone that you love Just what you're thinking of If tomorrow never comes."
LETTERS
Mary Mitchell writes, "Thanks for the info on Johnny Bush. He sings REAL COUNTRY which we don't hear much these days. Sorry to hear of his problems. Just hang in there Johnny. We, Country need to hear more of you. May God Bless."
Alan Potter in Great Britain writes, "Your articles just get better & better & more informative. A real boost to us DJs. I celebrate 50 years of radio djeying this year."
Jackie Allen Thomas says, "Another great one, please keep it up and keep well!"
Lee Rector asks, "Did you cease publication of your newsletter? I haven't been receiving it of late, and I'm wondering if you are still putting it out. I enjoy your newsletter. You are the only one reporting on so many of the people I knew during my years in Nashville."
Diane: I hope we've solved your spam issue, Lee.
Maheen Wick says, "I absolutely adore your newsletters so much, and yet again had to update my email address. If you can please add this to your newsletters in the near future that would be wonderful! Also I'd like to ask if you or Marty's fans know this, I would appreciate hearing from anyone. There is a 2 CD set that came out, called 20th Century Drifter. It contains all his MCA recordings. My question is this, since I'm visually impaired, I was reading a review on Amazon and it stated that Marty recorded some more songs for MCA, but they were not included on this 2 CD set of his MCA years and is shelved. Does anyone know if these are online and what songs they are? Or are these bootlegs and will be released in the near future? I love Marty so much, his singing has helped me get through many hard times. What a legend! Thanks so much Diane for what you do for us country music fans. Keep up the excellent, fantastic work."
Sue Zeune writes from Pataskala, Ohio, "Thank you for this newsletter, I always look forward to getting it. You always have something interesting and informative. I love country music, western swing and bluegrass. My favorite of all time is Waylon Jennings and Marty Robbins. One of my greatest treasures is the original Gunfighter Ballads vinyl album. Keep up the good work!"
Al Townley requests, "Please sign me up for your newsletter."
Jody Ewing writes, "Diane, congratulations on your essay being posted to the Library of Congress website! My late father was a huge Marty Robbins fan and I wish he were alive to read this. You conveyed such a sense of place — walking home from the movies in the dark amidst scorpions, sidewinders and … eww! … rattlesnakes! … and that kind of determination couldn't help but lead to his sensational success. I loved that you included his favorite recording; it's always fascinating learning the reasons why singers favor one of their songs over all others. Well done and a pleasure to read!"
COUNTRY MUSIC HALL OF FAME – 2000
Two friends were elected to the Country Music Hall of Fame in 2000, one posthumously and one who is still going strong. Born and raised on cotton farm near Sledge, Mississippi, Charley Pride bought his first guitar in 1948, at age 14, with money he'd earned picking cotton. He grew up with country music because his father enjoyed the Grand Ole Opry out of Nashville and disapproved of the blues music that came from the Memphis radio stations. At 16, Charley became a professional baseball player in the Negro American League. His baseball career was interrupted for two years when the U.S. Army drafted him in 1956. It ended when he injured his throwing arm. He was singing in a club in Helena, Montana, when Red Sovine and Red Foley discovered him in 1962. They encouraged him to move to Nashville. There he met producer Jack Clement and was signed in 1965 by Chet Atkins at RCA Records. Charley was told he'd have to be accepted by Faron Young before he would be welcomed in Nashville. When he finally met Faron, the two became lifelong friends. Most fans didn't realize Charley was black until they saw the cover of his first album, Country Charley Pride. He was named CMA Entertainer of the Year in 1971. North Dallas, Texas, has been home for many years for Charley and wife Rozene. The 83-year old singer recently released a new album, Music in My Heart. His website is http://www.charleypride.com.
When Charley moved to Nashville, Faron Young was one of the biggest stars in the business. By that time, Faron had been on the Grand Ole Opry for a dozen years, had starred in several movies, started the influential Music City News magazine, and invested in various Nashville businesses. Born in 1932 in Shreveport, Louisiana, Faron was the son of a penniless dairy farmer. As a teenager, he met Webb Pierce and became a regular performer on the Louisiana Hayride. Shortly after signing with Capitol Records and moving to Nashville in 1952, he was drafted into the U.S. Army. "Goin' Steady" climbed the charts while he was in basic training. He led the Third Army recruiting band, Faron Young and the Circle 'A' Wranglers, during his two-year enlistment. After his discharge, he became the Young Sheriff and named his band the Country Deputies. Two things kept him from being as big a star as he could have been—alcoholism and a commitment to be loyal to his fans by staying in his music niche. He retired from performing in 1993. He died December 10, 1996, from a self-inflicted gunshot wound to the head. It's been erroneously reported that he shot himself because he felt forgotten by the music industry, or because of health reasons. While writing Live Fast, Love Hard: The Faron Young Story, I came to the conclusion he'd suffered from depression for many years. His suicide was the result of that illness. Read his biography for the whole story.