FEATURED ARTIST – JAN HOWARD 
"If it sounds like fun, I'll do it. If it doesn't, I won't." That is the philosophy of Jan Howard, 83, who lives contentedly in her Nashville condo. "I'm thankful for every morning I wake up," she told me when I called her the other day. "I've lost so many friends. I cherish every day." She still appears on the Grand Ole Opry, about twice a month, and she'll be back to playing golf once her sprained wrist heals. She twisted it while positioning an ill relative in her tiny sports car.
Jan's current focus is on her writing. She has a collection of poetry, short stories, personal memories, and three unfinished novels. "I write all the time and don't do anything with it," she says. "I want to put it together in a project." She doesn't know what form this "work in progress" will take, except that it will be "a collage of my life." It's been almost thirty years since her autobiography, Sunshine and Shadow: My Story, so I'd say it's time for another book.
She called Tom T. Hall one day and said, "I have a problem with my novels. All my characters keep dying." He told her, "That means you're a writer. They have their own personalities." She thinks her novels might end up as short stories.
Jan, Porter Wagoner, and Dick Van Dyke were all born and raised in West Plains, Missouri. Jan was instrumental in getting a museum added to the city's welcome center, and she–along with Porter's children–attended the grand opening. Dick Van Dyke, 89, has just written a book, and Jan is looking forward to what she can learn from him by reading Keep Moving: And Other Tips and Truths About Aging.
After attending six funerals in two weeks, Jan emphasizes, "Cherish every moment–that's what I try to do." She illustrates the point with a favorite saying: "Yesterday is a canceled check. You can't write it again. Tomorrow is a promissory note. The only cash on hand is today. Spend it wisely."
At Bobby Braddock's book signing, she told her long-time friend she'll have to take a week's vacation to read his 390-page Bobby Braddock: A Life on Nashville's Music Row. With her many years in Nashville, Jan knows everybody and often runs into old friends. She told me about the Medallion Ceremony for the Country Music Hall of Fame and how great Jimmy Fortune and Charlie McCoy sounded while performing at a symphony.
When interviewed for a Ken Burns documentary on country music, Jan was asked to describe a country song. She replied, "Life set to music." The planned release date is 2019, and Jan says, "It's great to be a part of history before I am history."
"But they're tearing down the buildings that I watched them build" is a line in the Shel Silverstein song, "Time," as sung by Bobby Bare. Jan says there are no truer words in Nashville because that's what is happening on Music Row.
Jan told me she loves my newsletters, adding, "I read every one, and I read the comments from people." After reminiscences about Faron Young and Webb Pierce, we wrapped up the call. "Check on me every now and then," Jan told me, "and see how my work in progress is doing."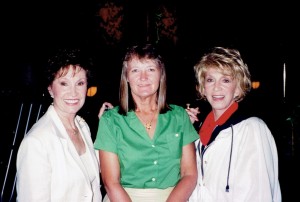 Jan Howard, me, Jeannie Seely–meeting for lunch in 2000
NEWS
ASCAP held its annual country music awards ceremony at the Omni Nashville Hotel on November 2. A surprise guest was former President Jimmy Carter, 91, who presented Trisha Yearwood with the Voice of Music trophy. CMT News reports, "The crowd leaped up almost as one when President Carter came out, and they stood cheering him until he beckoned them to sit down. Carter is currently being treated for brain cancer." Earlier that day, Trisha and her husband, Garth Brooks, were in Memphis to help the former President work on a Habitat for Humanity project. They have been connected with him through Habitat for Humanity for about 10 years.
Tug McGraw was a relief pitcher for the New York Mets and part of the 1969 championship team. He died in 2004 due to a brain tumor. His son, Tim McGraw, threw the ceremonial first pitch at Game 4 of the World Series on October 31. Wearing jersey No. 45 in honor of his father, Tim was introduced as "Tug's son." Tim told ET, "I have a '69 Mercedes that my dad bought with his bonus check that he got from the '69 Mets, and I still have that. My little brother Mark had it. We fixed it up, and now I'm driving it."
Joey Feek has ceased treatments for her Stage IV cervical cancer, after undergoing a CT scan in preparation for more chemotherapy. Taste of Country reports, "Two tumors in areas that have already received extensive radiation and chemo have already returned, and more tumors are visible throughout the abdominal region. Joey's cancer is spreading aggressively despite the punishing treatments she's received." Joey + Rory have canceled the five Farmhouse Concert dates scheduled for the concert hall on their Columbia, Tennessee, farm. Rory Feek announced on his blog that they have stopped all medical treatments and returned to their Tennessee farm. They are holding a prayer vigil on November 5. Rory asks that everyone pray or take a moment of silence at 8 pm CST to pray "for a miracle . . . and even more so, for peace with His decision."
The Charlie Daniels birthday bash was held October 27 at The Palm restaurant in downtown Nashville, with 290 guests purchasing tables and raising over $100,000 for Charlie's non-profit organization. The Journey Home Project assists other non-profits in funding causes that benefit of the U. S. Armed Forces veterans and their families. Brenda Lee surprised her friend by showing up to thank Charlie for what he does for the troops and to sing "Happy Birthday."
The Country Music Hall of Fame held its Medallion Ceremony on October 25, 2015. The official induction of new Hall of Fame members honored Jim Ed Brown and The Browns, studio musician Grady Martin, and the Oak Ridge Boys. Pete Wade played Grady Martin's legendary Gibson ES 355 "Big Red."
It's been a month since Sara Evans fell down the steps of her tour bus and injured her knee. She was on crutches for a while but managed to do her next show without them. She is now preparing for her upcoming November-December tour.
Bill Anderson reports: "Two days after my final cataract procedure, I was scheduled to go into a local clinic for some routine tests totally unrelated to my eyes. . . . By early evening, I was extremely ill, and shortly after midnight was in the hospital emergency room being told that I had some nasty little bacteria making themselves at home in my blood stream. I ended up spending five days in the hospital then being sent home with something called a Picc Line which continues to pump antibiotics into my body 24-7. I'm feeling fine, but my mobility is extremely limited. That's why I had to cancel my appearance at the Hall of Fame Medallion Ceremony where I was scheduled to induct The Browns. That's also why I have not been on the Opry and won't be until after Nov. 11th when, hopefully, they unplug me from all the tubes and wires."
LETTERS
Robert MacMillan writes from Scotland, "Sad to report the news that Bill Hulme, one of Marty's biggest fans, recently passed away. I know Bill had corresponded with you and sent you some recorded interviews when you were compiling information for your book on Marty. For many years Bill operated 'Marty Robbins Remembered,' actively sending out newsletters and information on Marty, to other equally minded country music fans here in the UK, who thought Marty was 'simply the best'!"
Diane: I'm so sorry to hear that. Yes, the interviews and concert tapes Bill sent me helped immensely.
Michael Roux at the University of Illinois Press says, "I remember the beginning!"
Diane: I guess you do. Thanks for being my publicist and sending out all those review copies and setting up interviews.
PJ Steelman writes, "I have been with you for a long time. Although I don't respond to your newsletter very often, I look forward to and read everyone. I appreciate the newsletters and your books. I have the Marty and Faron books. Thank you so much for all of the time you put in on your work."
Jean Earle writes from England, "Thank you ONCE again for your always interesting newsletters. For many years I have kept diaries…so today I have looked up one from 2005 to find our first contact with you. I believe March 2005 was when we started corresponding. I do not remember how I found your email address…must have been while looking through some of the Country Magazines as I was always wanting to read more about our lovely friend FARON. We have enjoyed your newsletters for the last 10 years. So do we qualify as some of your oldest, loyalist readers? In your reply to my first enquiry you mentioned a Faron's song 'Time is the only thing I'm after" and you said it was from a film. Would you believe…just recently Alan was searching through Faron's list of film clips and there was Faron singing that very song. Wonderful! Thank you Diane you have been a treasure of information. P.S. Do hope Willie is making a good recovery."
Harris Spracher says, "Not sure when I started but I sure have enjoyed this newsletter. Probably at least seven or eight years ago? Thanks for all that you do."
Ross in Tennessee says, "I've been with you about 1 year prior to the Marty Robbins bio's initiation. Does that help give you a specific date? I have also wondered if you ever considered doing a book on 'The Coffee-Drinkin' Nighthawk.' Lee Moore was a night-shift DJ in West Virginia. I learnt my guitar skills from playing along with his pickin' and grinnin' during summer months. Whether or not, I'm sure there are more musicians out there whose story is worth tellin' to the outside world."
Jeanette Creamer writes from Jacksonville, Florida, "I remember when Faron had his show at the Gator bowl, many years ago. He was good, but my favorite was Marty Robbins and his song, 'A white sport coat and a pink carnation.' They don't make singers like that anymore."
Elroy Severson says, "Thanks for the Newsletter, and Congratulations on 10 years. Although I've received and enjoyed your Newsletter for much less than 10 years, I'm sure many others thank you as well for providing all the happenings and updates within the Country Music field."
Mike Johnson writes, "Thank you for mentioning my friend Virgie Warren. I'll really miss her."
Kathy Thomas says, "I am finally in Nashville for a two week vacation. Got to meet up with my friend Smiley Roberts this week and had a fantastic time hopefully I will get to hear him and his band play this weekend. I love your newsletter and look forward to getting it. Keep up the awesome job!"
Hailey Westrich of Branson Terry Music Awards reports, "The 2015 Branson Terry Music Awards was one of the biggest nights in Branson so far this year. Sunday, October 11, 2015, marked the 2nd annual awards show in Branson, Missouri. Almost every show in town was represented and the theatre was packed with numerous Branson entertainers, show managers, and audience members. Mike Patrick, Jamie Haage, and Chuck Hancock were the emcees and they did a phenomenal job. The Grand Band, from Grand Country Music Hall, kept the evening running smoothly with their outstanding musical transitions and performances. Chisai Childs, the producer of the awards show, did an incredible job orchestrating the entire program. Two college scholarships were given out to two deserving students."
Lawrence Cohn requests, "Kindly add me to your newsletter list."
Paul Millman in Sioux Falls says, "Thank you for all the info and the newsletter……….very interesting reading."
Gary White writes from North Little Rock, Arkansas, "I always thought Stan Hitchcock had the best voice or one of the best voices in country music. His gospel albums are the best and his song 'I Never Knew You' still brings tears to your eyes. I don't know what happened to him but we have most of his records. I have some of his old albums now on CDs and play them in my car."
Diane: Stan is alive and well and has a website.
Pamela Rader writes from Louisville, Kentucky, "I just read your latest newsletter and one of the emails caught my eye with a big smile. Lee Shannon, who just signed up for your newsletter, a retired DJ was someone I used to listen to back when he worked at WIRE in Indianapolis. I met him in person once at a Bobby Bare concert when I was 9, and I used to talk to him on the phone. He used to play my Dave & Sugar requests and was always very kind to me way back when. I am now an Internet broadcaster and would love to get in touch with Mr. Shannon and of course, would be honored if he could listen to my show, The Legend Country Club at www.legendoldies.com. My show airs Friday nights from 6-9 PM Eastern. I don't know if he'll remember me, but it never hurts to ask. I realize you can't give out his email address, but if you could pass on my info to him, that would be wonderful. I'm signed up as Pam Stevens (my radio name), but he would have known me as Pam Rader from Richmond, Indiana. I often think of those guys fondly and recently wondered if he was still alive. Well, this newsletter has at least answered that question. Thanks for your newsletter."
Lee Shannon of Port Charlotte, Florida, responds, "Thanks for passing along the Pam Stevens (Rader) email about me. I remember that sweet little girl from Richmond, Indiana, while at WIRE in Indy back in the '70s. As best I can recall, she never requested ANY record except Dave and Sugar and now she's a broadcaster herself. Made me wonder if I inspired her to get into the business. I wonder if she gets requests for Dave & Sugar on her show."
And from Pamela Rader again: "Thanks for putting me in touch with one of the voices from my past. I had the pleasure of speaking with Mr. Shannon this afternoon and am very surprised that he still remembers who I am. At the time when I knew him, I was only 10. I didn't yet know I wanted to be a broadcaster, but it wasn't long after that, when I began to get the dream. It all played a special part. I'd like to think the guys at WIRE Radio did inspire me. Lee Shannon is definitely one of the best to learn from. And yes, I've had one request for Dave & Sugar in the 6 months I've been broadcasting. I still love the old classics. They are the best. Thanks for helping me get in touch, which allowed me to thank him."
Dominique "Imperial" ANGLARES writes from France, "I am glad to write today because I think I have found a great picture showing our late friend Carol Ann Blair. That picture was taken in Nashville very probably November 13-14, 1959, at the 8th Annual National Country Music Festival. Carol graduated from Lew Wallace High School in Gary, Indiana, the very same year. I know Carol travelled to Nashville and visited Faron Young's home and office. She later ran a Sonny James Fan Club. I never had information about Carol from her daughter Michelle (Shelli) and still don't know the date of her passing. Very sad! Let me know what you think about that pic. It could be nice to make a little post on the newsletter."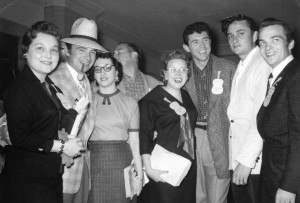 Teddy Wilburn, Sonny James, Carol Blair, Johnny Cash, Doyle Wilburn
SONG OF THE WEEK
One of my favorite songs is the 1987 Randy Travis hit, "Forever and Ever, Amen," written by Paul Overstreet and Don Schlitz. I've watched Randy Travis – Forever And Ever, Amen (Official Video)  many times. But even after I met Ray Emmett, Faron Young's frontman, in 2000, I never knew Ray was one of the musicians in the video. Not until his granddaughter, Angela Broach, posted this note on Facebook: "Ray Emmett my grandpa at 1:02 he's the one sitting to the right of Randy at 1:37 the kid walks up to my grandpa and at 2:59 the men line up he's the one on the left in the middle."
QUESTION OF THE WEEK
Should the Country Music Hall of Fame have a catch-up year, as in 2001 when twelve members were inducted? No women, of course, but there were five groups, three producers, and these four: Bill Anderson, Waylon Jennings, Don Gibson, and Webb Pierce.
BOOK REVIEW – SUNSHINE AND SHADOW: MY STORY BY JAN HOWARD
I talked about Jan Howard's 1987 autobiography a year ago, and now seems like a good time to mention it again. Jan wrote the entire 490-page book, Sunshine and Shadow: My Story, without the cowriters most celebrities use. It's hard to believe this classy lady with her great sense of humor had such a difficult life. She survived abuse and betrayal and the death of two sons in her first forty years. It's a story of determination and survival and overcoming heartbreak. She has my admiration and respect. "Sometimes I write too personal," she told me. But that's what makes a good story.