IN THE SPOTLIGHT – MOE BANDY
When I called Moe Bandy to ask if he had time for a conversation, he was in the middle of a family Christmas party at his home in Branson, Missouri. Still, he took a few minutes to talk to me. He had just returned from Las Vegas, where he'd played four different events during the National Finals Rodeo. "I've just been running up and down the road, doing a lot of dates," he told me. "I enjoy it as much now as I ever did."
In addition to his own gigs, he and Joe Stampley are on a Good Ol' Boys reunion tour, commemorating the 40th anniversary of their Moe and Joe notoriety. They will be at the Sugar Creek Casino in Hinton, Oklahoma, this Saturday night. Then Moe heads out the next weekend for his eight-day Moe Bandy Cruise. Check his website at https://moebandy.com/moe-on-tour for details.
Moe is proud of the success of his autobiography, Lucky Me, cowritten with Scot England, who talked him into doing the book. "We're in our second printing and going on the third," Moe says. "I was so flattered that Barbara Bush wrote the foreword. I've been doing some book signing things. We're selling it at the venues, too, where I play. It's really amazing."
His current exciting news is the upcoming release of a new CD, A Love Like That. "I went in and recorded brand new songs," he says, "and Jimmy Capps produced it. We tried to record stuff like I used to record, with more of a modern technology to it." Bill Anderson wrote four of the songs, including the title cut, "A Love Like That," cowritten with Mo Pitney.
Moe was happy to hear I'm writing the biography of Randy Travis. "I love Randy," he told me. "I met him in Charlotte, North Carolina. Libby was trying to get him going. I remember him pitching me songs. . .. Next thing I know, I look up and, god, he's a superstar. He deserved it. A great singer, and I'm sure glad you're doing the biography."
He says he's a fan of my newsletter. He reads and enjoys it. "I'm very happy about you keeping traditional country music alive," he told me. "Y'know, nothing wrong with the music nowadays–it's not my cup of tea, but–we sure need to preserve our older music. And there's still some of us around that are out there doing it."
Moe appreciates the "bunch of fans out there. I see them all the time on the road."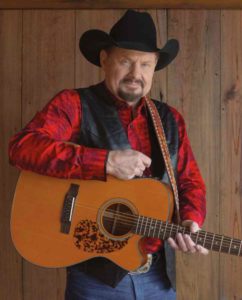 NEWS
"It's a very Merry Christmas in the Pitney family this year!" Mo Pitney posted on Facebook. "Evie will be getting promoted to big sister next Summer." He and wife Emily are expecting a baby on July 9. "We are building a new home, and we had our whole family over two days after the drywall was put up for a little celebration," Mo tells Taste of Country in describing an October event. "That was the same day Emily took the pregnancy test, and that was the same day we ended up telling everyone." Three-year-old Evelyne Nadine "already loves the baby," Mo says.
KOCO News in Beggs, Oklahoma, reports on an Oklahoma teenager who got a birthday surprise of a lifetime. Cassidy Lamborn came home last week to find Randy Travis in the house. Her mother had written to ask if he would stop in Beggs on the way to Nashville. She said, "If you know Cassidy, you know her first love is Jesus, her second love is her daddy, and her third, Randy Travis." Every Christmas, Cassidy bakes two cakes, one for Jesus and one for Randy. The Lamborn family hosted Randy and Mary Travis for dinner and an evening visit.
Independence, Kansas, recently honored its hometown hero, Jim Halsey, be renaming the 2,000-seat auditorium inside Memorial Hall as the Jim Halsey Auditorium. Jim, 89, booked hundreds of acts at the venue since he began in 1949. "This honor means more to me than anything else in my life," he said in a press release. "To be recognized in my hometown that I love dearly is the best thing to ever happen to me." He guided the careers of numerous country music legends, especially Roy Clark. He led the Jim Halsey Company to become the biggest Country Music agency in the world.
Sleepy LaBeef, 84, died December 26 at home, surrounded by his family. The cause of death was lung cancer. The veteran rockabilly performer kept a busy touring schedule until recently, reports Rolling Stone. He played roots-music festivals in Europe and the United States. Born in Smackover, Arkansas, in 1935, Thomas Paulsley LaBeff was raised on a farm growing watermelons and cotton. He earned the nickname "Sleepy" because of the appearance of his eyes, and he began recording rockabilly music in the late 1950s.
The 42nd Annual Kennedy Center Honors aired December 15, reports CMT News, with Linda Ronstadt as the first honoree. Don Henley (a 2016 honoree) presented her award. Carrie Underwood sang "Blue Bayou" and "When Will I Be Loved." Emmylou Harris told her story of meeting Linda. Trisha Yearwood sang "You're No Good" and then joined Aaron Neville to sing the 1989 Ronstadt/Neville hit, "Don't Know Much." Other honorees were Earth, Wind & Fire, Sally Field, Michael Tilson Thomas, and Sesame Street. The 50-year-old TV show received a musical tribute from country singer Thomas Rhett.
The Mississippi Country Music Trail, which recognizes the state's contributions to country music, now has a marker at The Lewis Ranch near Nesbit, Mississippi. The Trail's 34th marker was presented to Jerry Lee Lewis, 84, in a ceremony at his home on December 19. His wife, Judith, and son Jerry Lee Lewis III were with him. The Commercial Appeal reports it was his first public appearance since suffering a minor stroke in March. Mississippi Governor Phil Bryant attended the ceremony, as did Marty Stuart and Connie Smith. Jerry Lee joined Marty in singing an acoustic rendition of "Touching Home." He has lived at the Nesbit ranch since 1973. Located at 1595 Malone Road, it is open for tours by appointment.
CALIA is an activewear fitness line founded by Carrie Underwood, 36. While celebrating the label's new winter collection, Carrie told PEOPLE, "It's fun being creative and it's fun making clothes that I love to wear," adding that she enjoys seeing people "taking ownership over their health and feeling better about themselves." CALIA offers trendy and affordable pieces in sizes XS-XXXL, to provide activewear options for all stages of a fitness journey. "We're not all size zeros," Carrie says. "We're different shapes, sizes, ages. It's important to encourage people and be a part of people's journeys." She tells PEOPLE she had to remind herself of that message after the birth of her second son, when she felt societal pressures to "bounce back" right away.
Carrie Underwood announced on Instagram that she will not host next year's CMA Awards show. After 12 years, she writes, "It's hard to imagine topping what we have accomplished together, so I've decided it's time to pass the hosting torch (at least for now!)." She adds, "I've got so many exciting things coming in the new year and beyond, and I can't wait to see what the future has in store for all of us."
Rolling Stone Country reports John Prine has been named as a recipient of the Recording Academy's 2020 Lifetime Achievement Awards. Others include Chicago, Roberta Flack, Isaac Hayes, and Sister Rosetta Tharpe. They will be honored at a special award presentation April 18 in Pasadena, California. Emmylou Harris received a Grammy Lifetime Achievement award in 2018, with Charley Pride and Jimmie Rodgers awarded in 2017, Linda Ronstadt in 2016, the Louvin Brothers in 2015, and Kris Kristofferson in 2014. The first-ever Grammy Lifetime Achievement Award went to Bing Crosby in 1963.
When Amy Grant and Vince Gill perform their holiday concert at the Ryman Auditorium this year, there is a third verse to "Go Rest High on That Mountain." Vince, 62, tells PEOPLE he has lost count of how many times he's sung the song at "every hillbilly singer's and friend's funeral" since its debut in 1994. He eventually came to feel something was missing. "As I looked at it as a piece of work," he says, "I thought it was unfinished in a way that a song should close the door and have an end and tell the whole story." He considers the longer version the official one now, although he has no plans to rerecord the song with the third verse. Still, he says, "I'm going to start singing that last verse because I think it makes the song a lot better." The new verse: "You're safely home in the arms of Jesus / Eternal life, my brother's found / The day will come I know I'll see him / In that sacred place, on that holy ground."
Find Your Path is the title of an inspirational memoir by Carrie Underwood, to be released March 3. Taste of Country describes Carrie's first book as "a fitness book that will go deep into her personal journey for overall wellness." It will explore her youthful passion for sports and the pressure to look perfect today. It promotes her Fit52 lifestyle, about which she writes, "This philosophy is a year-round common-sense approach to health and fitness that involves doing your best most of the time — and by that I don't mean being naughty for three days and good for four. I mean doing your absolute best most of the time during every week, 52 weeks of the year."
The top-selling country touring artist of 2019 was Garth Brooks. He ranked No. 24 on Pollstar's year-end list of top tours worldwide: https://www.pollstar.com/Chart/2019/12/Top100%20WorldwideTours_790.pdf. The Boot calls the ranking "especially impressive" because Garth played just 13 shows across 10 cities. His ticket prices were lower than those of most higher-ranking acts.
Charlie Daniels will headline his next Volunteer Jam on September 15 at Bridgestone Arena in Nashville. Guest artists will be announced in February. "We play over one hundred cities every year and they're all special in their own way," he says in a statement, "but when you get a chance to bring it all back home, especially when so many of your friends are joining you, it don't get much better than that." The first Volunteer Jam was held in 1974 at the War Memorial Auditorium.
For my Canadian readers, the Charley Pride: I'm Just Me documentary is debuting on CBC's documentary Channel on New Year's Day. It will repeat on February 2. Telling the story of Charley Pride from sharecropper's son to Negro League baseball player to country music superstar, the show is narrated by Tanya Tucker. Charley will be touring in Canada in April: https://www.charleypride.com/tour.
The Tennessean reminds us we lost four Country Music Hall of Famers in 2019. Maxine Brown Russell of The Browns (inducted 2015) died January 21 at age 87. Harold Bradley (2006) died January 31 at age 93. Monument Records founder Fred Foster (2016) died February 20 at age 87. Mac Wiseman (2014) died February 24 at age 93.
LETTERS
Dallas Wayne of SiriusXM writes from Austin, Texas, "Once again, a great newsletter. I'm so glad you gave a shout out to Redd Volkaert. He is embarking on a big adventure with his wife Kathleen and I am truly happy for them both. That being said, I will miss my friend's talent, heart and good humor that was on display every time Heybale hit the stage. He is the most giving musician I have ever known. I am proud to call him my friend. Also, heartbroken about Bill Mack. Talked to Billy this week."
Lee Shannon in Florida says, "So sorry to read about our ol' D.J. buddy, Bill Mack. Over his outstanding radio career he did so much for Country Music. God Bless you, Bill, from your fellow Country Music D.J. Hall of Famer."
Janet McBride writes, "I just read the Bill Mack News in your December Newsletter. Yes, I am also in shock. Everyone will have some great Bill Mack Memories and I am no different. My friendship with Bill began with my first 1960 recordings but it was my first 'live' performance in 1964 on 'The Big D Jamboree' show in Dallas where I first met Bill in person. Bill was doing his broadcast that day from inside the building. What a thrill it was to actually be talking with him in person and that 'friendship' continues even today. Bill played my first recordings in the '60s and with my return to making records in the 1980s, it was Bill Mack and Larry Scott and their late night 'Truck Driving Shows' (playing my records again) that brought my name and my music back to life. My thoughts and prayers go out to Bill's family. This diagnosis is so unfair and very hard to understand. Thank You Bill."
Eric Calhoun writes, "Bill, we love you, our brother in country music. God bless you! Diane, I'm looking forward to the Circle Country Cable Network's debut launch; is there a website?"
Diane: https://inthecircle.com/about/
Elliot McLanahan says, "I was sorry to hear about Bill Mack being in poor health. He may have been one of the best DJs in the business ever. Billy has a program on Hank FM here. I hear it's him, but I cannot find a website or an app. Sometimes my Siri takes dictation wrong. I hear it but cannot find a website or an app for my iPhone. Enjoy the newsletter as always; and I appreciate you adding me to the list."
Dominique 'Imperial' Anglares writes from France, "You make me wrong with my previous message it was not the last newsletter for 2019. I am glad to have that one to end the year and to be able to send my best wishes to all your readers for a peaceful and prosperous New Year. I am sorry to learn about Vivian Gilley's passing and deeply hurt to discover about Bill Mack's condition. I first heard Bill Mack in 1978 when I discovered his '50s Imperial boogie/hillbilly sides and I was lucky to be able to write him in 2004. He kindly sent me his book, Memories from the Trenches of Broadcasting, with a nice autograph. A great book every Country music fan should have. I was since years following his posts on Facebook and I have noticed about these posts being just a few until the one dated October 28th. If Bill was too busy it was just fine with me. The real situation was quite different and even if it hurt I better like to know the truth. Thanks to Bill's son for the info. Let know the old broadcaster and promoter how much we care for him."
Carolyn Berry comments from Charlottesville, Virginia, "Galax is a great place and the surrounding area is beautiful. I love Blue Grass."
Jeannie Seely in Nashville says, "Great newsletter again Diane…thank you for including me. I'm so very honored with my Doctorate Degree as this was something above and beyond any of my dreams. Folks might remember that LMU also gave Dr. Ralph Stanley and Dr. Steve Gulley the Honorary Doctorates of Music several years ago. I feel like I'm in great company."
Diane Jordan in Nashville says, "I just read your newsletter and was interested to hear that Mom Upchurch's house is for sale. My late husband, Larry Fullam, lived there for about a year and a half after moving to Nashville in December of 1965 upon his discharge from the Army. 'Mom' loved to fish and Larry used to take her to Carl Smith's Franklin ranch to go fishing. Larry used to give 'Mom' his Top Value trading stamps, until he started dating me. I always enjoy your news."
David Corne in England reminisces, "Just a few lines to wish you a very happy Christmas and New Year and to thank you for the newsletters you send on such a regular basis. It keeps people like me informed and up to date with this great genre of music, a music that I have deeply loved since my elder brother brought some records of Hank Williams and Marty Robbins back from Germany where he was serving with the British Forces and where he was exposed to the American Forces Network. I still recall the thrill I used to get when I knew Marty would be featured live on the Opry and how I used to keep my fingers crossed that the reception over the airwaves would not oscillate as my Grundig reel to reel tape recorder couldn't (like me!) stand the strain! Once again a big thank you from the U.K."
Sue Zeune writes from Ohio, "As always a great newsletter. I would like to share a Marty Robbins memory. Many years ago I went with friends to see his show and it was wonderful. When it was over there were several encores, but Marty was not done yet. He kept playing and singing. The announcer said it's over folks but Marty kept going. They turned the house lights on but Marty kept going. Some people started leaving, they started taking things off the stage, turned off the stage lights but he wasn't done! When we left he was still standing there waving and shouting goodnight. It was awesome!"
Doreen Brown in Canada says, "It is such a pleasure to have sat beside you at the Fremont, Nebraska, Awards Show and receive your newsletters; they are most informative and just love my country music and all those who entertain and support it; just received a book on the hx of Toronto's well known Horseshoe Tavern, where numerous American/Canadian artists performed over the years; several years ago worked for a lawyer close by, so know the area well; got my two Awards framed and so honoured. In Apr/May issue of Our Canada: magazine, comes out Mar l6 will be showcased. Country music is such a big part of my life and it's wonderful friends, like you, that enrich our lives. Wishing you and yours a wonderful holiday season and may it be the best ever, Canadian Country Cheers."
Alan and Jean Earle write from England, "Thank you for all your hard work for the newsletter. We very much appreciate all the 'News' items you discover for us. For a few months we were lucky enough to have a television channel that played Country for us…..but it has now shut down. Thank goodness for our local 'Radio Tees' and our D.J…Colin Bunyan who somehow manages to slip Country Music into his much loved, 3-hour BBC Radio programme every Sunday. Best wishes for Christmas and much happiness for 2020."
Ginger Bleckeberg asks, "Can you send info as to how to get your newsletter?"
Jenny Jones in Texas says, "I have been meaning to write for some time, but with the Holidays and etc., am just now getting this note off to you. I am gradually recuperating, but wanted you to know how much the Newsletter meant to Me, and to Thank you for taking time out of your busy schedule to keep us up to date. I was sorry to hear about Bill Mack, and his health of developing dementia. He has always put so much time and love into his DJ work and all the COUNTRY MUSIC Artists. Could you do a favor along for me, to Dominique? I have not heard from him in quite some time. I would like to hear that all is well going with him. I sent him a short email recently but have no reply from him. I would be most grateful for a brief note to him."
Arie den Dulk writes from The Netherlands, "You mentioned Bill Anderson and Jan Howard in your latest newsletter. Recently I listened to some very old reel audio tapes my wife recorded from Dutch radio in 1970. She'd been to a concert by MCA artists Jan Howard, Bill Anderson, Loretta Lynn and Conway Twitty at the famous concert building in Amsterdam on May 22,1970. The show ran for nearly 2 hours and commenced just after midnight. Dutch radio broadcast 50 minutes of highlights in June. That was a very nice and wonderful show. What is the address of Bill Anderson or his fan club, please?"
Diane: https://billanderson.com/wired/
Blake Brannon says, "I spent a couple of weeks with Kenny Sears this past October. He showed me your newsletter and I would really appreciate getting it in my mailbox. It was a great read and I really enjoyed it. Texas is my home state but I come to Tennessee once a year to visit and enjoy the Time Jumpers and Jeanne Seely at the Opry and the musicians' benefit. I really was impressed with Tess, Kenny's daughter. The apple didn't fall far from the tree. She is talented."
IN THEIR OWN WORDS
Wayne Jackson played trumpet with Marty Robbins for three years. I called him in 2006 for an interview about his memories of working with Marty. Wayne died of congestive heart failure ten years later, at age 74, while in the Methodist University Hospital in Memphis, Tennessee.
I moved to Nashville in 1977. I was a pretty famous trumpet player and had been in some bigtime rock 'n' roll bands and bigtime blues bands–Otis Redding, Sam & Dave, Rufus Thomas. I was with the Mar-Keys on the Stax label and had a number one record in 1961, called "Last Night." Then I started working with rock 'n' roll bands. First was Stephen Stills, then the Doobie Brothers, then Rod Stewart. We made records with lots of other people at the same time, and we toured with those three bands. I got really tired of rock 'n' roll, and kinda burned out with the whole thing, and I moved to Nashville.
Keep in mind I was flying in jets and being carried everywhere in a limousine, and I was making a lot of money. So that's who I was when I came to Nashville, Tennessee. And in Nashville, I was nothing. I'd begun playing in a little band we called the Equal Opportunity Unemployment Band. A bunch of songwriters–and I'm a songwriter. Everybody was out of work and knocking around. I had spent most of my money on divorce and stuff like that. So I was playing trumpet behind other people, and I was playing piano and singing songs I had written. I can play songs I write, but I can't play anybody else's songs. Never played piano in a band. But one or two of Marty's band members were there, and they saw me playing piano and singing, and playing a trumpet behind other people. They assumed I was a piano player who played a little trumpet. Which was exactly wrong. They had just lost a guy that was playing piano and playing trumpet. So they needed a new guy. They went and told Marty that they saw this guy that played piano and sang great, but he played trumpet, too.
So Marty Robbins called me up one morning, cold, out of the blue. I'm woke up at ten o'clock in the morning by the phone; it's Marty Robbins. He says, "Hey, Wayne. I heard that you're a great musician. Would you like to work in my band?" Well, I wasn't doing anything. And I couldn't believe that Marty Robbins was calling me. I'd always loved him so much and was a fan of his. So it was like a dream. He said, "Get on down here and talk to me." So I did. I got up and I went down there, and he talked to me. I said, "Marty, I'm not a piano player. I'm a trumpet player. And I play a little piano." He said, "Oh, everybody told me about you. I ain't worried about your piano playing. I know you're a great piano player." He said, "If you want to join the band, suit up." So he fixed me up with a couple of tuxedos. He gave me some black patent leather cowboy boots that were too little for him. And they were too little for me, too, but I wore them anyway. Because I wanted those cowboy boots. They're beautiful. He paid $400 for them, and that was in the '70s.
So suddenly I had a tuxedo and patent leather cowboy boots, and I'm playing for Marty Robbins. We went out and played a few dates. I'm not a piano player, so I was having to watch Larry Hunt's hands to see where he was going, and I would try to match him on the chords. After a while I learned to play the chords in all his songs; that wasn't any problem.
Then I was onstage at the Grand Ole Opry, in a tuxedo, playing piano with Marty Robbins. After being a star in rock 'n' roll, and making 8000 a week, I was making 200 a day. Instead of flying in a private jet, I was driving in a bus, an old bus. Instead of fine hotels with all these sumptuous meals, I'm staying at the Holiday Inn and getting no per diem. We had to pay for our own meals out of that $200 a day, and then they took taxes out of it. So it was hard for us to get home with $100 a day, and we only got paid on our working days. We might be off a day out there, two days. So it wasn't a very good paying job, in retrospect. But it was a job, and so I took it, and I enjoyed myself very much. Every show I did with Marty Robbins was like I had the best seat in the house, every night, because he was so wonderful. I viewed myself as very lucky.
My grandmother took me to the Grand Ole Opry when I was a little boy, at the Ryman, and I'm sure that was in the early '50s. Suddenly in my mind, putting it together from a little boy to a grown man, on the Grand Ole Opry, standing there next to Little Jimmy Dickens, and Dolly Parton, and those people. I had a heck of a good time. I did a lot of television shows with him, and we toured 200 days–we were on that bus 225 days a year. And I did it as long as I could do it. Of course, my youth was fading away. I was already 36 when I joined him, but I remember looking at 39, and thinking 40 was coming, and I still had a life and a career of my own that I was anxious to get back to.
It was New Year's Eve, we went to Evansville, Kentucky, and we played three shows that night. Three different venues, three shows, one night. Marty was worn out when it was over, and he had a heart problem. So on the way home, I said, "Marty, you're pushing yourself pretty hard here, pal. When you gonna lighten up?" He just laughed and looked at me. So I lingered awhile, and before the next season started, I went to him and told him I was sorry and reluctant, but I had to go on and try to get my own life going, that I couldn't live his life anymore. I had to lead my own. He understood, and wished me luck. I turned my tuxedos in, and that was it. But he was wonderful, and it was a wonderful experience. I wouldn't trade anything for one show with Marty. He died shortly after I left. I was a pallbearer at the funeral.
I told him I wasn't a piano player and he poo-poo-ed me. Then after three months he said, "Son, you really can't play that, can you? I'll get another guy and you just play the trumpet." About three months later, maybe four, he hired Conrad Noddin. Piano and a little trumpet. Opposite of what I did.
Sometimes we'd have to sit on the bus for two or three hours while Marty would be sitting on the side of the stage after a show. He would shake every man's hand and kiss every woman on the cheek. They would be lined up around the auditorium. He would speak to them. He wouldn't just sign an autograph and push them off. He would talk to every one of them. And they all thought they knew him personally. And they did. Because he did that for years. He was the epitome of how to treat fans. You treat them with love and kindness because they're the reason you got the Cadillac and the farm. And he knew that. He knew that in a supreme manner. He sure was good to them.
Sometimes I couldn't sleep and I'd sit up in the front of the bus with Okie Jones, through the whole night, just sit up there and me and Okie would talk. One night Marty–I heard his little guitar going–and he came up and sat down on the step right beside me and sang for several–however many songs he sang. He sang a lot of those western songs while he was sitting there. That's a whole lot like riding a bicycle. You have to ride a bicycle to have the strength in your legs to keep riding, and as a singer you have to exercise. That was his way of exercising his voice and his lungs. Of course, I felt like I had the best seat in the house all the time. To think that I'm sitting there and Marty Robbins is crooning to me was quite a thrill for me.
SONG OF THE WEEK
Here's the final story from Glenn Sutton's 1993 book, Crazy Verse, where he talked about some of the songs he'd written: "Billy Sherrill was putting together an album on Tammy Wynette of songs about kids their dogs and their parents and etc. He wanted to call the album Kids Say the Darndest Things but since Art Linkletter had a show by the same name he didn't know if that was possible. He called Legal Affairs in New York and they told him what was music to our ears–only if you have a song in the album called 'Kids Say the Darndest Things.' No problem, Billy said!"