IN THE SPOTLIGHT – JOE STAMPLEY
It's been almost four years since I featured Joe Stampley in this newsletter. shortly after his heart bypass surgery (https://dianediekman.com/dianes-country-music-newsletter-10-february-2016). When I called him for an update, he told me he feels good. "The thing that hurt me more than anything," he said, "four months after my bypass surgery, my gallbladder ruptured." He spent 18 days in the hospital, while the poison was removed from his system. "That was when I was SICK," he explains. "That will make you sick, let me tell you. But other than that, I'm feeling great."
Joe and his wife live south of Nashville, on a ten-acre stretch of land between two small farms. "It's in the woods," he says. "Got a lot of deer out here. Turkey, bobcats, coyotes, every kind of animal you want to see."
He has just finished fixing up his deer stand, getting ready for the muzzle loader season opening the weekend we talked. He answered my question about bow hunting by saying, "I've got a bow and all that stuff. The only thing I've killed with it so far is a coyote. Didn't get a shot at a deer."
He and Moe Bandy have several forty-year reunion dates scheduled. "Moe and Joe are still alive and well," he says. "We've already played about ten dates, and the next date coming up is in Bossier City, Louisiana, at the Margaritaville Casino." That will be December 29, followed by a show on January 4 at the Sugar Creek Casino near Oklahoma City. "We have done some festival-type things, but most of them are casinos," Joe says. "Every one we've worked so far has been sold out. We're tickled about that. We played that big casino up in Minnesota back about two months ago. It's about eighty miles from the Canadian border, right north of St. Cloud. It was packed out. We had a great crowd."
Joe is thinking about recording again, something he hasn't done in a while. "I had planned to retire," he told me. "Sold my bus about six years ago, did a few individual shows, with a band out of Texas. So then I decided, well, I was going to retire, and then Moe called me and said, 'Hey, it's been forty years since "Just Good Old Boys." You want to try to do some dates?' And I said, 'I'd love to.'"
They have Moe and Joe merchandise–t-shirts, ball caps, and a new CD called Greatest Hits: Moe and Joe. The 20 songs on the CD are the original recordings. "They sound better now than they did back when we cut them, to me," Joe says. Fans can go to either website: http://joestampley.com or https://moebandy.com.
When I asked if Joe has a message for my readers, he said, "I'm alive and well and I just turned 76 years old, and I can still sing, and I still love music." He was heading out the next day with a Nashville buddy on a fishing trip to Percy Priest Lake, hoping to catch some crappie.
"The secret to life," says Joe Stampley, "is you got to keep moving. Absolutely."
NEWS
MusicRow magazine reports the death of Joe Sun, 76, on October 25, following a stroke. Born James Joseph Paulson in 1943 in Rochester, Minnesota, he served in the U.S. Air Force in Vietnam before studying radio broadcasting in Minneapolis and moving in 1967 to his first on-air job at a rock station in Key West, Florida. His first single and biggest hit was "Old Flames Can't Hold a Candle to You" in 1978; it later became a No. 1 country song for Dolly Parton. Joe placed 15 songs on the country charts and became popular in Europe. He toured extensively overseas, especially in Sweden, France and Austria. He starred in his own special on German television in 1989. Joe had been living in recent years in Merritt Island, Florida.
Vivian Gilley, 80, wife of Mickey Gilley, 83, died December 13 in Pasadena, Texas. According to a press release, the former Vivian McDonald married Mickey Gilley in 1962. She helped manage her husband's career as he rose to country music stardom. She also helped manage Gilley's, the honky-tonk the couple opened in Pasadena and which was featured in the 1980 movie Urban Cowboy. After being diagnosed with Alzheimer's disease, Vivian was moved in 2018 to an assisted living home. Private services will be held at a later date.
Rosanne Cash recently visited Jan Howard, according to Ron Harmon, who posted on Facebook on December 8: "Rosanne lived with Jan while she was attending Vanderbilt, and they visited the Holy Land together. . .. Rosanne said she definitely wanted to see Jan as soon as possible, and asked if I'd meet her the next time she flew into Nashville from her home in New York. We made arrangements, and this evening Jan and Rosanne had a long visit, sharing many stories and memories."
A guitarist who played on 28 number-one songs, played in Charley Pride's band, and signed Reba McEntire to her first contract, has died. Glenn Keener, 78, known as one of Nashville's Super Pickers, died December 5 in Paris, Texas. He toured with Bob Hope's USO Tour and appeared many times on national TV shows, including Ralph Emery's Pop Goes the Country. While working at Mercury Records as a producer, he signed Reba and produced her first album.
Bluegrass Today reports the death of Lamar Grier, banjo player with Bill Monroe's Blue Grass Boys. He died December 10 at age 81. The Washington DC native was a talented Scruggs-style banjo picker. During his two years with Bill Monroe (1965-67), the celebrated Blue Grass Boy line-up included Peter Rowan, Richard Greene, and James Monroe. Lamar participated in five recording sessions and traveled with the band on Bill's first overseas tour in May 1966. During the early 1980s, he played in DC area bluegrass clubs and at concerts and festivals across the mid-Atlantic region. He stopped playing the banjo in 1984 and retired from a US Government job in 1998.
Bill Anderson announced in his latest Fan Club newsletter that he will be honored in 2020 with an exhibit at the Country Music Hall of Fame. It will run from November 20 through September 2021. Bill reports, "I've been told that folks from the Museum will be coming soon to invade my closets, my storerooms, my scrapbooks, photo albums, etc., to begin sorting out and putting together an exhibit that will speak to my 60-plus years as both a songwriter and a performer in country music." He adds, "I grew up dreaming of my ball glove being on display someday in the Baseball Hall of Fame…but having my musical instruments and costumes and song lyrics on display in the Country Music Hall of Fame will fulfill an even bigger dream." Two other exhibits next year will showcase Chris Stapleton (opening June 26) and Martina McBride (opening August 21).
The charges against Raleigh Davis Beougher, 23, stepson of Randy Travis, were dismissed December 12 in Davidson County General Sessions Court. He had been arrested for assaulting his girlfriend. According to Stacy's Music Row Report, the charges remain on his record until he requests to have them removed.
If you missed the Brad Paisley TV show Brad Paisley Thinks He's Special on December 3, you'll get another chance on December 28 when ABC airs the variety special again. Nash Country Daily reports 6.3 million viewers watched the initial broadcast. The one-hour special with Brad and his friends (Carrie Underwood, Tim McGraw, Darius Rucker, Kelsea Ballerini, Hootie & the Blowfish, and more) was filmed at the War Memorial Auditorium in Nashville.
MuttNation Foundation, founded by Miranda Lambert and her mother in 2009 to raise money for animal shelters and pet adoption, is $105,166 richer. That's how much Miranda raised through her 18-day eBay charity auction. She curated the auction and sold more than 400 lots of her clothes, jewelry, and other possessions. She told Nash Country Daily, "It just means so much that we're able to help so many more rescues and shelter pets, especially at this time of year. I'm incredibly grateful to my fans for making this auction such a great success. It almost makes me want to clean out my closet more often!"
Redd Volkaert, whom I profiled five years ago in this newsletter (https://dianediekman.com/dianes-country-music-newsletter-5-november-2014), is leaving Austin, Texas. He posted on Facebook on November 21: "Kathleen and I have decided to make a life changing move. We're headed to Galax Virginia. A gorgeous place in the Blue Ridge Mountains, just north of Mt Airy NC (Andy Griffith). We'll start there in the new year. For me it's just time for a change & new chapter. I've been in Austin 20 years, longer than anywhere I've ever lived, so it's time to move along. Kathleen has retired and will have lotsa room for her animals, hiking & riding trails, equestrian folks & fishing. Austin has been an awesome music/people place. After all its where I met my wonderful wife." Once a member of Merle Haggard's band, The Strangers, Redd currently plays every Sunday with the group Heybale! at Austin's Continental Club. Saving Country Music reports he's trading one music town for another: "Galax, Virginia is considered an epicenter of old-time music, and has hosted the Old Fiddler's Convention since 1935. There's also multiple instrument makers in town, and many part-time and permanent residents who consider music their primary occupation."
The Moody Theater, home to Austin City Limits since 2011, has been sold to a Nashville entity. Ryman Hospitality Properties, which owns the Grand Ole Opry and the Ryman Auditorium, paid $275 million for Block 21, a 37-story mixed-use complex in downtown Austin. Covering an entire city block, the property includes a hotel, numerous businesses and restaurants, commercial offices, and the Moody Theater. "The Grand Ole Opry and the Ryman Auditorium are the cornerstone properties of Nashville music culture, similar to how Austin City Limits and the Moody Theater are the cornerstones of the Austin music culture," opines Saving Country Music. "Putting them all under the same ownership is a potentially significant move in the continuing homogenization of American music. Similar to how many point to the consolidation of ownership in radio stations for robbing music of regional diversity, this sale could have a similar effect."
"I don't smoke anymore – take better care of myself," Willie Nelson, 86, recently told KSAT-TV. "I have abused my lungs quite a bit in the past, so breathing is a little more difficult these days and I have to be careful." He adds, "I started smoking cedar bark, went from that to cigarettes to whatever. And that almost killed me." Although he has given up marijuana, he won't give up touring. He considers his performances an energy exchange with his audience. "They give me a lot of positive energy and I hope to give them a lot of positive energy," he says. "For an hour they get away from everything they don't like."
"Ask Sonny Anything" is a recurring feature in Bluegrass Today where readers can ask questions to Sonny Osborne, who has dedicated his life to bluegrass music and the five-string banjo. He and brother Bobby toured for 50 years as The Osborne Brothers. He retired in 2005 but remains active with the manufacture and distribution of his Chief banjos. Anyone interested is encouraged to send questions about "his history in the music, his wealth of banjo knowledge, or regarding any life advice you might be needing."
Benchmark Realty LLC has listed the former Mom Upchurch's Boarding House for sale. The East Nashville home on Boscobel Street was once the home of Carl Smith, Faron Young, Gordon Terry, and many other young musicians in the early 1950s.
Gray News has announced the 16-show lineup for its new country music network, Circle, which debuts on New Year's Day as a partnership between Gray Television and Opry Entertainment Group. There will be "Backstage at the Opry," "Bluebird Café Sessions," and "Opry Debut." Artists who have their own shows are Craig Morgan, Dailey & Vincent, and Phil Vassar. "Family Traditions" follows later generations of stars such as Hank Williams and Glen Campbell, while "Opry Docs" is a series of documentaries on country greats. "Better Half" is about larger-than-life spouses. "The Write Stuff" discusses country music's greatest songs. "Stand Up Nashville!" is a live comedy show. "Fandom" describes the artist-fan relationship, "Southern Weekend" highlights great attractions of the South, and "Authentic America" takes viewers along backroads and rural routes. "Upstream" checks out fishing locations with special guests. "Opry Live" begins in February, providing a compilation of the week's Grand Ole Opry performances. "Hee Haw" reruns will also be back on the air.
Lincoln Memorial University in Harrogate, Tennessee, honored Jeannie Seely on December 14 with an Honorary Doctor of Arts degree. According to a press release, the recognition acknowledges "her many groundbreaking accomplishments in the music industry, as well as her support and encouragement of new talent." Jeannie's husband, Gene Ward, is an LMU alumnus and a member of the LMU Professional Hall of Fame. He retired as Vice President and Legal Counsel for Nashville Electric Service. To acknowledge him, she accepted the honor as Jeannie Seely-Ward.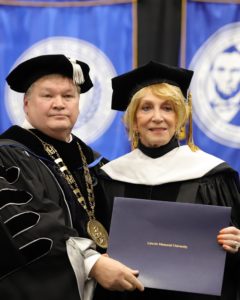 This is hard to write because it's unbelievable. I'm in shock. Billy Mack Smith, son of Bill Mack, posted on Facebook on Saturday: "Want to thank everyone for the messages asking about my dad. Unfortunately, he was diagnosed with dementia two months ago and is receiving the best treatment available. We were with him today and he appreciates everyone thinking about him. He's a tough man and is fighting this cruel disease like a champ." Bill himself last posted on Facebook on October 28: "I haven't forgotten you folks, just been busy!"
LETTERS
John Mogen in Sioux Falls writes, "Thanks for your review of the Kris Kristofferson concert. Liked the way you stated the facts–what he played and when he played it. So many reviewers try to pass judgement on the singing and playing. Appreciate your straight-forward words."
Mylan Ray says, "Awesome write up on Kris! Felt like I was there. I missed it, but your story fills the hole a little. Thanks."
Byron Fay writes from Canton, Ohio, "As always, I enjoy your newsletter. Great information. When you had mentioned last month that you were going to see Kris Kristofferson, I was looking forward to what you thought of his show as we saw Kris on November 17 at the MGM Northfield, just outside of Cleveland. It sounds like the show you saw was a carbon copy of our show with the exception that he said 'thank you Northfield' instead of Sioux Falls. I thought the show was very good and the crowd was enthusiastic and respectful. But a couple of thoughts I had. First, when it was advertised as Kris being with Merle Haggard's Strangers, I thought it would have been more than 3, as if I remember correctly, Merle toured with a big group. Secondly, from my seat, it appeared that Kris was reading the words to his songs from a teleprompter that was sitting on stage. He kept looking down and to his left and appeared to be reading while singing. I know Kris has had a few health issues and this took nothing away from his show, but just something I noticed. You also mentioned, if I remember right, that you tried to get an interview with Kris and could not. Same here. The Cleveland paper mentioned in their article on the show that Kris was not making himself available for interviews. By the way, the MGM Center Stage holds about 1800 and I would estimate that it was 90% full. A good crowd for a Sunday night at the casino. Again, thanks for your newsletter and I look forward to reading it each month."
Ron Reagan writes, "With regards to the 'new' Hank Williams release, they were released in their entirety already on a 14-CD/1-DVD set in 2011. They have been piecemealed out on various compilations since then, but they are already available in their entirety. The 'new' set appears to be just Hank singing without the commercials, songs with Audrey, instrumentals by the band, etc. The only thing new is the pictures. If someone has differing information, I am completely open to revising what I'm saying. There is an alternate Aunt Jemima show with Minnie Pearl that did not get released with the prior Mother's Best collection. The CMHOF website has TONS of recordings that Hank did for Johnny Fair Syrup that have never been released. My YouTube page, Hankfan Hankfan, has his WSFA recordings that have never been released on CD or any other modern format. Universal/Mercury/BMG or whatever conglomerate is controlling the Hank Williams catalog should really think about releasing something that hasn't been released before for a change. They've been doing this since the '80s-releasing and re-releasing, acting like they're doing something astounding each time."
Dominique 'Imperial' Anglares writes from France, "Thanks for that newsletter, probably the last one for 2019. Keep these coming all through 2020. Thanks to have included Tillman Franks' memories and to know you attended the book release party. That book is a very important one for everybody who likes the Louisiana Hayride and all the artists who came in Shreveport and too often moved to Nashville joining The Grand Ole Opry. Tillman handled so many things in the music business and so many artists then troubles and arguments with a few artists were just inevitable. Sometime Tillman may have been as wrong as the artists, everybody having his temper and ways. That's what happens in everybody's life."
Andy Williford, Faron Young's boyhood friend, says, "I take exception to Tillman Franks saying he knew more than anyone else alive about Faron. Not true."
Lee Rector writes about the death of Joe Sun: "This one really hurts. Joe and I have been close friends since 1973 when he came to the Music City News office to sell me some comics that he drew up. Over the years we spent many great times together and he recorded several times at the little studio I had at my home in Nashville. As I'm sure you know, Joe had the first hit with 'Old Flames Can't Hold A Candle To You.' There is some Joe Sun stuff up on YouTube, including a video I shot at Brown's Diner in Nashville circa 2005 (a one-man production with two cameras; Brent is such a sweet guitar player), and I have a closeup personal type interview I did around the same time in Nashville: https://www.youtube.com/watch?v=0bgxbP-tY7Q. I read the obits in your newsletter and reflect. Some are harder than others … this is one of those. I'm 72 now myself. At least 2/3 of the people I knew through my Nashville days have passed. Joe said in his last note to me that he had a walker and a scooter. I just didn't see that as the end game. He had bladder cancer 20 years ago, and survived that through the miracles of the VA hospital. We had a lot of fun. I loved the guy." In that last July 30 note to Lee, Joe said, "Moved from Merritt Island to Cocoa to a GOV fixed income living apartment complex. . .. My book of memoirs is coming out in August."
Elliott McLanahan asks, "Would you please add me to your newsletter? I sure appreciate it. A couple of friends of mine sent me several copies of your newsletter. I enjoyed it very much."
Karen Dunham in Sioux Falls requests, "Please add John LaBrune to your email list for your newsletter. I forwarded my copy to him and he really enjoyed it."
Erv Niehaus writes, "Although I now live in Minnesota, my roots are in New Mexico. I was born in Albuquerque and brought up living all over the state. I have played steel guitar all these years and, in my youth, usually had a radio program and fronted a group. My cousin and I played guitar together and once when we were in Albuquerque we appeared on the Dick Bills show. He had a band in Albuquerque called Dick Bills and the Sandia Mountain Boys. In fact, Glenn Campbell was a performer with his band and his first wife was Dick Bills's daughter. Keep up the good work."
Gwen Stites requests, "Sure wish you would give our dearly loved Moe Bandy a shout out once in a while. We love him! He is a great, down to earth gentleman with a heart of gold."
Diane: Thanks, Gwen, for connecting me with Moe. He will be In the Spotlight in my next newsletter.
IN THEIR OWN WORDS
Someone put me in touch with steel player Bud Isaacs in 2008, and I called him at his home in Arizona. He was 80 years old and in poor health, but he was willing to talk about meeting Marty Robbins in Phoenix in 1951. Bud was playing in Little Jimmy Dickens's band when they went to see Marty, after which Jimmy got Marty a recording contract. Bud died September 4, 2016, after a long illness.
It was at Kares–a place called Fred Kares. I was with Jimmy Dickens then. We played the Madison Square Garden–I don't think it's there anymore–on Seventh Avenue. Anyway, they was telling us about a singer, that was actually good, y'know. So we got interested. We got off kind of early, and we decided to go out and hear him. He sung Jimmy a bunch of his songs that he'd wrote. Jimmy really liked him. He said, "Do you record with anyone?" Marty said, "No." He said, "Well, do you want to?" He said, "I'd love to." So Jimmy Dickens got some stuff on him, and he got with Don Law, who was Columbia's A&R man. They listened to Marty, from the tapes he had, and they liked him so well they signed him right up.
He came to Nashville, and I was already there. He didn't know anyone there and he about went crazy cuz there was no mountains around, and you couldn't see no distance at all; it was just trees. Marty wasn't used to that. He said, "Man, what kind of country is this? No mountains around; it's all trees; I can't see anything." I said, "Well, it's Tennessee."
I worked quite a bit with Marty. I done a CBS show with him for a while, for Whitey Ford (the Duke of Paducah) on the Opry. We done that show for quite a while together. Marty was the singer–the only singer we had on the show. It wasn't an Opry segment; it was a different thing, from WSM radio studio. He was a pretty fun guy, and Marty worked on that show for quite a while. I done several shows on the road with Marty, just working out with him. He'd pick up musicians.
He was always nervous, y'know, and sort of backward. He couldn't emcee a show hardly at all; that's why he never did have much of a show of his own. He hated to talk; he always said the wrong thing. He was always nervous. He'd start laughing at the band and talk to the guys in the band–turn his back on the people. He done that all the time. He was a good singer, though.
I left Nashville with Red Foley. We moved to Springfield, Missouri, for the Ozark Jubilee. I just sort of lost track of Marty, y'know, not being around Nashville very much. I'd go down there once in a while to record with people, but I never did see Marty anymore.
I got drafted in the Army when I was on Red Foley's show. They give me a deferment because I wanted to move. I was quitting the show, our transcribed shows. We just did one show a week; it didn't pay that much money, to make a living. So I left and went to Arizona. I'd been to Arizona a couple of times before and sort of liked it. I went in the Army two years; I got a deferment for ninety days. They finally got me.
The last time I saw Marty was in Nashville at the deejay convention. Marty was standing by the door. He had a great big mustache and a beard–not a very long one; he just needed to shave, I guess. He said, "Ain't you speaking?" I got him by the mustache and I said, "You down in there, Marty?" He said yeah. He said, "I can't stay very long. I gotta get going–gotta go to Daytona for a race." He showed me his chest. It'd been operated on, open heart surgery, and it was all red. It looked like they just had done it. He said, "I gotta get going. I gotta go all the way to Daytona." He never did fly anywhere, that I know of. So he drove. That's a long haul. I said, "Marty, you're crazy–to go in your shape, that far, and then race a car." But he did. I don't think he done any good with it. I don't think he felt like it after he got there. That last time I seen him was in Columbia's suite at the deejay convention. But it was quite a while after that when he died.
SONG OF THE WEEK
Another story from Glenn Sutton's 1993 book, Crazy Verse: Don't Wish Me Merry Christmas. "This song is one I wrote when I was a senior in high school, to sing at chapel on the annual Christmas program–that was in 1955. I never had any idea that 15 years later I would record it on Lynn Anderson, who at the time I was married to."
MERRY CHRISTMAS! HAPPY NEW YEAR!