FEATURED ARTIST – JODY NIX
I met Jody Nix and his Texas Cowboys in July 2008, when they came to Washington, D.C., to represent the state of Texas at the Smithsonian Folklife Festival. I'd been listening to them for a while by then, on XM Radio. When I called Jody last week at his home in Big Spring, I caught him on the eve of his 63rd birthday. He says there's no retirement in sight. "I know I won't last forever," he told me. "I might slow down some day." Next month he celebrates 55 years as a fulltime musician.
Jody, son of fiddler Hoyle Nix, received his first set of drums at age four, and Bob Wills let the four-year-old sit in with the Texas Playboys. Jody was eight when he joined his dad's band, The West Texas Cowboys, in July 1960 as the drummer. He played five nights a week throughout elementary school, high school, and two years of college. His Christmas present in 1963 was a fiddle. Big brother Larry helped him learn "Faded Love" and he debuted as a fiddle player a week later, on New Year's Eve, at age eleven. He started singing regularly at age sixteen.
While in college, Jody received offers to play fiddle with Faron Young, Tony Douglas, and Johnny Bush, as well as being asked by Ernest Tubb's Texas Troubadours to be their drummer. Jody chose to stay on as drummer with Hoyle Nix and the West Texas Cowboys, his role for 25 years.
Then, in August 1985, Hoyle suffered a massive heart attack and died at home. Jody had to decide what to do about the band–whether to try to keep it going, or let it go. "I knew what I wanted to do," he says, and one week after Hoyle's death, "I came to the front." He found another drummer, and he fronted the band as lead singer and fiddle player." Today, Jody Nix and the Texas Cowboys are members of the Western Swing Society Hall of Fame in Sacramento, California, and the Texas Western Swing Hall Of Fame in San Marcos, Texas.
Jody has played the Bob Wills Day Celebration in Turkey, Texas, the "Super Bowl of Western Swing," for 40 years. (Turkey swells from a population of 600 to a crowd of 10-15,000 during that week.) He brought his band to Washington, D.C., in 1989 to play the Black Tie and Boots Ball, one of the inaugural balls for President George H. W. Bush. A highlight of his life occurred in 1973, when Bob Wills invited him, Hoyle, and Merle Haggard to be guest artists on a farewell album, Bob Wills and His Texas Playboys For the Last Time. Jody says, "I'd worked with Bob Wills many times over the years, but that album was a dream come true."
Jody hosts a Sunday night online radio show from 7-9 pm Central time at www.kbygradio.com. I encourage you to tune in for some classic country music. He makes a point of playing Marty Robbins and Faron Young on every show. Jody has recorded eleven albums, which are available on his website at www.jodynix.com. He is working on three new ones. You can contact him on Facebook.
"I enjoy reading your newsletter," he told me. "You do a great job promoting real country music. I really appreciate what you do." Well, I think Jody Nix does a great job of playing western swing dance music. Someday I'm going to make it to Texas for one of his dances.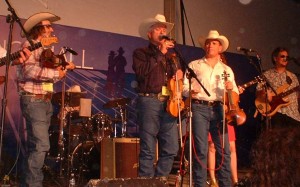 Jody Nix with Asleep At the Wheel, 2008
NEWS
Family and friends of June Carter Cash gathered at the Johnny Cash Museum on her birthday to dedicate the Wildwood Flower Garden. It had been a weed patch behind the museum and is now "a downtown refuge filled with colorful blooms," according to the Tennessean. June 23 would have been June's 86th birthday. John Carter Cash called on Tommy Cash and other Carter and Cash family members to lead the crowd in singing Happy Birthday.
ABC has announced its hit TV series Nashville will return for a fourth season of being filmed in Nashville, thanks to a $10 million incentive package to keep it there. The Tennessean reports that comes from $8 million in the Tennessee state budget, $875,000 from Nashville's Metro budget, and the remainder from tourism organizations. Now that a fourth season is confirmed, AXS TV has acquired exclusive syndication rights for past seasons.
USA Today reports that Garth Brooks and Trisha Yearwood made a surprise appearance at the Friday night Grand Ole Opry. Vince Gill introduced Trisha, and she said, "I didn't have a chance to bring my band or call them or anything, but luckily, I live with a Grand Ole Opry member, so if you all would welcome my guitar player tonight, my husband, Mr. Garth Brooks." They performed a medley of classic country duets. Both are Opry members, although Garth hasn't performed there in nearly 10 years.
The new Hank Williams movie, I Saw the Light, will be released November 27. It was filmed in Shreveport last October, starring Tom Hiddleston as Hank and Elizabeth Olsen as Audrey. Being released on Thanksgiving weekend gives the film an extra push during awards season and possible Oscar contention.
Dwight Yoakam was honored at the 41st annual Country Radio Hall of Fame Dinner and Awards ceremony when he received the Career Achievement Award for his contributions to country radio. His first hit was "Honky Tonk Man" in 1986.
Dolly Parton is playing her first full Nashville show in 12 years. The July 31 show at the Ryman Auditorium, called Dolly: Pure and Simple, is a benefit for the W. O. Smith Music School in Nashville. It sold out immediately, says Taste of Country, and a second show was added for the next day. That one will benefit the Opry Trust Fund, which helps individuals in the country music industry who are suffering financial catastrophes.
LETTERS
Johnny Seay says, "Thank so much for mentioning my daughter Mary in your last newsletter. I'm happy to report Mary is doing great. We have her at home. The hospital wanted us to send her to a care facility but my wife said no, we will take care of her. She is still somewhat confused about many things but is eating good and sleeping a lot. She is a bit shaky when walking but I think she is happy to be with us. I'm sure she will recover. The tube in her stomach will have to say for a few weeks but the tracheotomy is out. Thanks to everyone for the good thoughts and prayers over the past five weeks."
Carol (Kokes) Babcock writes, "I'm an old Navy friend of Kayo and would sure like to be added to your email newsletter list. You do a great job of writing accurate relevant news for the industry. Thank you!"
Mary Knapp writes, "I just found your newsletter site. Wish I'd known about it years back. Surely enjoy the read. Please add me to your newsletter. Have been a country music fan always and love meeting all musicians. I love the information you provide."
Tillie Brown requests, "Please add my email address. I would love to receive copies of your country newsletters. Being from Texas I grew up with country and I dearly love it. Thank you so much."
Moragh Carter writes from the UK, "I was so sorry to hear of the death of Jim Ed Brown. The last time I spoke to him he was hopeful he'd beaten the lung cancer. I only met him twice, but on each occasion he spent about 3/4 hour with me. He was such a nice man. I missed seeing him in May 2014, apart from at a distance, when I saw him perform at the Opry, as on the day we were supposed to meet up he wasn't well, having caught a bug of some description. I had hoped to meet him again this coming September, when I plan to be in Nashville again, but it is sadly not to be."
Jean Earle also writes from the UK, "Can I ask about Ed Bruce? Well-known film star, country singer, and interesting gentleman……we always enjoy his records…but have not heard anything about him in many months. Sadly, so many of the country artists that we love have been leaving us and I am almost scared to ask about anyone anymore! Thank you for your time. We do appreciate all that you do for your newsletter….always interesting reading."
Diane: If anyone can put me in touch with Ed Bruce, I'd love to feature him.
Jud McCarthy in Boca Raton, Florida, wonders, "Who is this masked hombre Wayne from Oklahoma City? Please be aware I did not pay him to send in his two cents concerning my absolute favorite, Don Williams. I have been a serious country music fan since listening to the Opry with my grandfather in the early 1940s, and I believe Don is up with the best of them. I first saw Don perform in 1990 at the Crazy Horse Salon in Costa Mesa, California. I have since traveled to see him in Nashville twice, Killarney, Ireland, Durham, NC, Ft. Lauderdale, FL, and Daytona Beach, FL. I am currently hoping to see Don's health improve and continue his 2015 tour in October at Branson, MO and/or again at Durham, NC. My favorite song is 'Country Boy,' and it is in my Will & Trust to be played at my wake when I pass on."
Wayne Loudermilk writes from Oklahoma City, "The Kathy Clague who wanted to be added to your list lives in St. Albans, England. I sent your last letter to her and she said she enjoyed it. Being a Greenshirt means you were a carrier person, I forget what the green shirts do. And as I understand it you went on to be a Captain, pretty high leap, I too was a Captain on the Oklahoma City Fire Department. I served aboard the USS Ticonderoga CVA 14 for about 42 months. My favorites are of course Don Williams, next would be Vince Gill (grew up in the 2700 block of NW 23rd in Oklahoma City 4 miles east of where I live), then there would be Ray Price, George and on and on."
Linda Elliott Clark says, "I was sad to hear about Jim Ed Brown's passing. He had such a gentle voice. I remember seeing him at the Stardust in Maryland in the '60s. He came over and sat down at our table during a break, and we had such a nice talk with him. I know he has a special place in heaven. My sympathies to his family. Time is marching on, so we should enjoy every day we have. Thanks for keeping us updated."
Rose Frisbee states, "In answer to Curtis's letter about Marty Robbins that is very unlikely that Marty would act that way. He was the most friendly and kind entertainer I ever met. There must be something more to this. As most of Marty's Army will attribute to."
Dominique "Imperial" ANGLARES writes from France, "Thank you very much for that new issue of your fine newsletter. Regarding Jim Ed Brown, another great voice has gone and will be remembered. I wonder why many newspapers just forget to mention Jim Ed and Maxine Brown's work as Louisiana Hayriders long before they ever played the Grand Ole Opry. They started on KLRA, Little Rock – Arkansas – before joining the Louisiana Hayride in 1954 after 'Looking Back To See' took off like a rocket. They played that show before Elvis and toured with him in 1955. Just a reminder how the Louisiana Hayride helped some artists to take off."
Mike Johnson says, "Another wonderful edition. And to answer Moragh Carter's question, the Terry Smith I was talking is the author of the song 'Far Side Banks of Jordan.' I've spent considerable time at Terry's home, and the only brother I'm aware of is Tim, who passed away quite some time ago. Janet McBride and I have been friends since 1999, when we were on Sonny Rodgers's Yodelers Paradise Show at the Old Time Country Music Festival in Avoca, Iowa. Rodgers who passed away in 2001 was the last living relative of Jimmie Rodgers and a mighty fine man."
Helmuth Schumacher reports from Germany: "At the moment I am reading High Lonesome–The American Culture Of Country Music by Cecelia Tichi. Very high intellectual level. Before that it was the book Saturday Nights With Daddy At The Opry by Libby Leverett-Crew (her dad had been the official staff photographer of the Opry in days when the Opry was the Opry). It is great to learn how thankful and recognizing she is to have had the chance to be there from her life's early conscious days. In January of this year there came the Jean Shepard bio over the big blue pond to my home (Down Through The Years). We met her somewhere in the '90s. We saw her in a German hamlet restaurant & inn, spent the night at the same spot. The next morning all folks had a great breakfast time for she was talking about the music, the experiences of her life in music. You oughta know I am one of the great real Western Swing aficionados (the music of the '30s & '40s, and of course the classic, vintage straight country music of the late '40s and '50s with its fiddle, steel music, dobro, honky tonk and such). Back to books. There had been Don't Get Above Your Raisin' by Bill C. Malone, Smile When You Call Me A Hillbilly — Country Music's Struggle For Respectability by Jeffrey J. Lange, and Creating Country Music — Fabricating Authenticity by Richard A. Peterson. Besides not to forget to mention your Marty and your Faron books. I know them both. Especially the one on Faron I love. Because of your writing, because of this great person, wish I could have met him in person. To close means to thank you for your books and your periodic newsletter to go back to musical years that had been. All worth to be read."
Alan Potter of ukcountryradio.com says, "My prayers are with the Seay, Beene & Brown families. I did a tribute radio show to Jim Ed on Sunday 21 June."
Pamela Stevens in Louisville, Kentucky, writes, "I'm looking forward to your newsletter. I downloaded the Faron Young book but haven't started reading it yet. I keep hoping we'll have access to the Marty Robins book, someday, because I am a huge Marty Robins fan. Do you know who played fiddle on 'Knee Deep In the Blues?' BTW: I don't think I mentioned our show, but I'm on Friday nights from 6 to 9 PM Eastern. You can listen at www.legendoldies.com. I started on March 20 and it's a lot of fun. One of my listeners forwarded your newsletter. I'm no Edwina Stubbs, LOL, but I love country music–especially, the older stuff."
Diane: It was Shorty Lavender on fiddle.
Tracy Pitcox announces, "The Heart of Texas Roadshow will be staged at the Texas Troubadour Theater at 2416 Music Valley Drive in Nashville, on Saturday, July 18. The show begins at 2:00 PM and admission is $15 per person. The entertainment this year will be full of Traditional Country Music legends including Darrell McCall, Tony Booth, Amber Digby, Curtis Potter, George Hamilton V, Diane McCall, Frankie Miller, Bobby G. Rice, Mona McCall, Bobby Lewis, Rance Norton and Johnny Moore. For more information about the Heart of Texas Country Music Association, log on to www.heartoftexascountry.com."
QUESTION OF THE WEEK
How far have you traveled to see a band?