FEATURED ARTIST – TEEA GOANS
Teea Goans has a mission. She wants to give a gift to people who love traditional country music and are searching for it. She wants to bring an awareness to the new generation of country music fans who are not familiar with the classics. I wanted to make my newsletter readers aware of Teea Goans, if they aren't already, and so I called her for an interview. "It's all I know," she says about her style of music. "It comes natural. My grandmother was a singer and a big Loretta Lynn fan. This is the music I grew up with, and I love it."
Teea had always listened to WSM and the Opry, and when she moved to Nashville in 2006, she attended a WSM Radio remote. She told the announcer, "I would work for free–just to say I worked at WSM." Several months later she was offered a part-time job in the promotion department, and that led to the "Intimate Evening With Eddie Stubbs" show. Once she learned about radio production, she was offered a job producing Keith Bilbrey's Opry warmup show. But, she was told, she'd have to "commit to being backstage at the Opry every Saturday night." Not a tough commitment to make. That's where she became friends with all the Opry stars.
Although she played gigs out in town, she didn't want to mix the two, and she didn't tell the Opry crowd she was a singer. One night she sat in with the Time Jumpers, and when Terry Choate heard her sing, he told her, "We need to make a record." She said okay. The song he pitched from her debut CD in 2010, The Way I Remember It, was Bill Anderson's "Walk Out Backwards." The reaction of the Opry stars was, "The girl at the radio station is the girl singing this song?" Teea is grateful she already had her friendships established and didn't have to toot her own horn. "God opens doors that I never knocked on," she says.
When Country Family Reunion did a tribute to Bill Anderson, Bill asked Teea to sing "Walk Out Backwards." Her album had just come out, and here she was singing in a room filled with all the singers she'd been listening to for years. "I was extremely intimidated," she recalls
Teea is not a songwriter. She finds creativity and artistry in putting a new spin on old songs. "That's where I think the magic happens," she explains. "You hear them and you can sing along but it's not like the version you grew up with." She searches for great songs whereby "the older audience remembers them, and they mean something to the younger audience, too." She especially likes shuffles.
She has now released her third album, Memories To Burn, and it can be found on her website at http://www.teeagoans.com. She will be appearing this Saturday night, July 18, on the Ernest Tubb Midnite Jamboree with Jan Howard and George Hamilton V in a tribute to George Hamilton IV. She will also be on the RFD-TV shows, Country Family Reunion and Larry's Country Diner. "Kind of like a Teea overload this weekend," she jokes.
"I love to go out and do live shows and meet people and entertain," Teea says. She doesn't have a booking agent. She and Terry Choate, who is her manager, do the booking, and she invites people to contact her via Facebook or Twitter. "We do all different sizes and shapes of shows," she says, anything from an acoustic show with her guitar player to working with a complete band. She will be making her first trip to Canada in August.
She wants classic country fans to know "their voices have been heard. I know there are people out there that love that music. That's my mission. When they support traditional artists, we can make more music for them. I can't do it without them."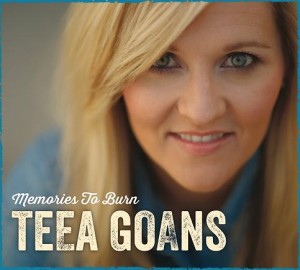 NEWS
Tim McGraw has given six mortgage-free homes to U.S. veterans this year and plans on giving away one house at each of the remaining stops on his 2015 Shotgun Rider Tour. He teamed up with Operation Homefront and Chase Bank to provide 36 homes free of charge to military veterans. Tim says on his website, "These families made an incredible mark on me, and I'm more grateful than I've ever been for the sacrifices they make every day to serve our country. I'm honored to be a part of this program, and I look forward to working with Chase and Operation Homefront to take it even further this summer."
Songwriter Red Lane died July 1, at age 76, following an extended illness. Hollis Rudolph DeLaughter of Louisiana picked up the pseudonym "Red Lane" while in the Air Force, when he didn't want his bosses to know he was playing music in nightclubs. He has been a member of the Nashville Songwriters' Hall of Fame since 1993. His 362 BMI songwriter credits include these BMI award winning songs: Miss Emily's Picture, Mississippi Woman, My Friend On the Right, My Own Kind Of Hat, New Looks From an Old Lover, Tell Me Something Bad About Tulsa, They Don't Make Love Like They Used To, and Till I Get It Right. He co-wrote "My Friend on the Right" with Faron Young and "Country Girl" with Dottie West.
The Forbes list of The World's Highest-Paid Celebrities includes Garth Brooks at Number 6, with $93M. He last appeared on the list in 1999. Taylor Swift is Number 8, with $80M. Other country singers are Toby Keith, Jason Aldean, Luke Bryan, Kenny Chesney, Tim McGraw, Florida Georgia Line, Zac Brown Band, and Miranda Lambert and Blake Shelton tied at Number 95. The runaway Number 1 is, of course, Floyd Mayweather with his $300M.
The Country Music Association has chosen Steven Tyler to announce the nominees for the 49th annual CMA Awards. The names will be revealed on Good Morning America on September 9. Tyler recently released his debut country single, and he wants "Love Is Your Name" to win a CMA award. [I received an email request to submit the song as my vote on the first ballot. But I nominated Randy Travis.]
The U.S. Postal Service is releasing a second Elvis Presley postage stamp. The first stamp was issued in 1993. The new forever stamp is in the Music Icons series and will be dedicated on August 12 at Graceland by Priscilla Presley and Postmaster General Megan Brennan, as part of this year's Elvis Week celebration. It features a black-and-white photograph, taken by William Speer in 1955, and the words, "The King of Rock 'n' Roll."
The Country Music Hall of Fame and Museum hosted a free outdoor concert to celebrate the release of the album, Dylan, Cash and The Nashville Cats: A New Music City. The concert featured Charlie Daniels, Kathy Mattea, Jeff Hanna, Michael Nesmith, and Charlie McCoy. The sky looked ominous during the opening song and, by the fifth song, "had to be postponed as the rain rolled in and the crew quickly threw tarps over the instruments on stage," says the Tennessean. The hour-long rain delay didn't deter music lovers.
The 2015 recipient of the Library of Congress Gershwin Prize for Popular Song is Willie Nelson. He will receive the prize in Washington, D.C., in November. The prize honors living musical artists whose lifetime contributions in the field of popular song exemplify the standard of excellence associated with George and Ira Gershwin. According to the Library of Congress website, these artists are honored for "promoting the genre of song as a vehicle of cultural understanding; entertaining and informing audiences; and inspiring new generations." Previous recipients are Paul Simon, Stevie Wonder, Paul McCartney, songwriting duo Burt Bacharach and the late Hal David, Carole King, and Billy Joel. Willie is the first country songwriter to be honored.
"I've always been a performer so building this whole other business on top of that has been a challenge but it's great to share my other creative outlet," says Janie Fricke about her Janie Fricke Collection. This line of fine home accents comes from fabrics personally selected and cut by Janie to create one-of-a-kind designs. The products include decorative pillows, throws, table runners, seasonal items, and a line of customized "bling" items she terms "ranch chic." Items are available at JanieFricke.com for retail and wholesale market buyers. Professional interior designers can go to janiefrickecollection.com.
At her recent concert in East Rutherford, New Jersey, Taylor Swift honored the U.S. women's soccer team by bringing the World Cup champions onstage. Four of them are from New Jersey. The team defeated Germany and then Japan to win the women's soccer championship for the first time in 16 years.
Ashley Campbell, daughter of Glen Campbell, told Rolling Stone Country that her dad is progressing into the late stages of Alzheimer's disease but is still physically healthy, although aphasia has robbed him of the ability to communicate. "He doesn't really understand anything that anyone tells him," she said. "At least he's not aggravated and scared and confused. He's happy and content and smiles most of the time. He still makes jokes and likes to play around, even though the jokes don't make any sense and it's gibberish; he goes through the motions and it's still him."
Seven-year-old Alyvia Lind will portray Dolly Parton in the upcoming movie, Coat of Many Colors. Dolly is the executive producer of the movie that tells how her mother sewed her a coat out of rags and told her the story of Joseph and his coat of many colors. Dolly's classmates ridiculed her when she wore it to school. The original coat is on display in the Chasing Rainbows Museum at Dollywood in Pigeon Forge, TN. Here's the announcement: /dolly-parton-surprises-coat-of-many-colors-young-dolly-actress/.
LETTERS
Les Leverett writes from Nashville, "Thanks for mentioning Mr. Schumacher's message wherein he mentioned how much he enjoyed the book written by my daughter Libby Leverett-Crew, entitled Saturday Nights With Daddy at the Opry. She was born the year I went to work for the Opry as photographer, 1960, and from the beginning my wife and I took her with us to the Opry just about every weekend. It was truly a magic time, and what I call the 'golden years' of the Opry. Mr. Schumacher should be interested, as a lot of truly country music fans, in knowing of a series of great CDs, issued in his own Germany by Bear Family Records, one for each year from 1945 through 1970, with the top 26-30 country songs in each, with each song carefully researched by Colin Escott, and including photographs to accompany every song. Magnificent work. It's called Country and Western Hit Parade. God bless you in your wonderful work."
Michael Roux of the University of Illinois Press answers the question, "How far have you traveled to see a band? In 2002 I drove with three friends from Champaign, Illinois, to New York City to see the Swedish band THE SOUNDTRACK OF OUR LIVES at the classic club CBGB. It was the band's first U.S. show. I think we drove 13 hours on a Saturday, saw the show Sunday night, and drove home Monday. Great show. I don't recommend the restrooms."
Mary Knapp writes, "Have done several over 200 miles. Have been going to Willcox, Arizona, several years to Rex Allen Days. I go to Willcox also for the "Tribute to Marty Robbins" usually twice a year. Have been to Yuma to see Leroy's Country Gold Tour concert; have seen them in Colorado, also. Less than 200, about 100 to Wickenburg, Arizona, twice. Saw Rhonda Vincent and Gene Watson; and once for Moe Bandy. I must get your book on Marty. He is one of my favorites. I go to several local jams here in the winter; so fun to get acquainted with several, i.e. Pete Byam, Ed Gary, Levi Mullens, J.D. Hoag, Marty Yeary, for a few. I go to all the concerts that come to this area IF they are old country. Asleep At the Wheel is coming in August. Love Bob Wills."
Bill Hyatt in good old Arkansas says, "I drove a bit over 500 miles to meet Laurie Lewis when she played at a tiny venue near Springfield, Ill. in 2006. Well worth the drive."
Kelly Henkins writes from Missouri, "The farthest I ever traveled specifically to see a band was 500 miles round trip to see James & Michael Younger in Macon, Missouri, for the Old Thyme Flywheel Reunion. Over the years, those former Texas guys became great friends and provided me with wonderful memories. Most recently, I planned a trip to Texas (2000 miles round trip) to be in the area when The Bellamy Brothers performed at Johnny's Outback Steakhouse in Salado TX. While in Texas, I met up with several other bands, musicians, songwriters."
Wayne Loudermilk in Oklahoma City says, "We've traveled to Branson and Dallas to see Don Williams. In Dallas he performed with the Dallas Symphony Orchestra, actually the Symphony went first, was an outside band shell and hot and humid as could be, in a place like that he could tell that his guitar had gotten out of tune so he handed it to then keyboard player Biff Watson to tune and told the audience to visit among ourselves or however the spirit moved us while he twirled the mike around by its cord. Wasn't the only time he did that, he gave a concert at a Church Of Christ (his religious denomination) University and I'm sure he did it for the school free but Biff had to come to the rescue again. We did see Marty Robbins at Springlake Amusement to the tune of 25 cents admission, saw Conway (AKA Harold Jenkins) at the same venue for the same admission fee. I'm reading Marty now, boy he had it rough didn't he? And I thought I came from a poor family. I read books from the library because if I bought every book I wanted I'd soon be broke and I just finished reading Faron's story and I'll read the other two sometime this summer. Hope you keep up the newsletter."
Larry Delaney wonders, "Seems like I have been dropped from your mailing list when you switched to Outlook service. Could you please add my email address again."
Doug from down in Orange Beach, Alabama, requests, "Please add me to your mailing list. I have been getting your newsletter through Jud McCarthy, longtime friend."
Tom Barton says, "Another person I would like to check in on is Joe Babcock. As you know, he played with the Glaser Brothers for years, and then with Marty Robbins. I was in touch with him a number of years back for a brief while, but then lost contact. He wrote a number of hits songs, as I recall. Anyway, I would like to know how he is getting on if you have any way to contact him."
Diane: Cowboy Joe Babcock is a regular reader of this newsletter.
QUESTION OF THE WEEK
Would you rather hear today's artists sing their new songs, other people's old songs, or a mixture of both?
SONG OF THE WEEK
"Left To Right Or Right To Wrong" is an album cut from Faron Young's 1972 Mercury album, This Little Girl Of Mine. I've always liked the song because of its clever lyrics. A man is sitting at the stoplight on his way home from work, and he wonders, "Will I go right to Mary's house or turn left and go home? Will I turn left to right or right to wrong?" Billy Arr and Faron wrote the song.