FEATURED ARTIST – JOE STAMPLEY
Joe Stampley is recovering from unplanned heart bypass surgery. He had just returned from a tour and was carrying a fifty-pound sack of corn out to feed the deer on December 21, when his chest started hurting enough to make him drop the bag off his shoulder. It was a warning, not an actual heart attack, and there was no damage to his heart. The doctors at first thought a stent would be sufficient. But further tests showed five blockages, with one artery 99 percent blocked, and they scheduled bypass surgery.
The morning after surgery, the staff already had Joe up and walking down the hall. He did that three times a day for the remaining six days he was hospitalized. He spent both Christmas and New Year's in the hospital, and went home January 4. He diligently follows his book of exercises, and he is up to three 18-minute walks per day. He will soon be starting rehab.
He told me during our telephone conversation, "I have a little pain once in a while in my chest." Not surprising, since his chest was cut wide open, and stainless steel staples are now holding it together. The bone will grow around the staples. When I commented about airport security, he told me he quit flying years ago. "You couldn't pay me to get on an airplane," he said.
Joe is 72 years old, and the last time he'd spent a night in a hospital before this was to have his tonsils removed at age six. He doesn't smoke or drink. His heart trouble is caused by hereditary high cholesterol. His father and grandfather had bypass surgery, as did several cousins, and his brother died of a heart attack at age 46.
"I'm worried about Mel Tillis," he told me. He was in the same hospital as Mel, who went in for colon surgery and has since been hit with an infection and double pneumonia. Joe says Mel is taking "high-powered antibiotics."
I asked Joe if the bypass surgery caused him to cancel any shows, and he said no. He's semi-retired, had already completed his 2015 schedule, and doesn't start his 2016 schedule until this fall.
He and Moe Bandy have a show in Branson on October 5. Then, they will be doing a Good Ole Boys Reunion show on the 2017 Country Music Cruise next January. Vince Gill, Charley Pride, The Oak Ridge Boys, Brenda Lee, Lee Greenwood, Tanya Tucker, and Jimmy Fortune are some of the other entertainers, along with Lorianne Crook as host. They will be traveling from Tampa to Key West, Cozumel, and Costa Maya. "I'm looking forward to that," Joe says.
"I've had three careers in the music business," Joe told me. He started at age 15 in Louisiana as a pop/rock singer, where he formed a band called the Uniques and recorded on Imperial Records and Paula Records. They backed Nat Stuckey on his recording of "Sweet Thang." I asked if Joe gets royalties, and he said they were paid $100 per person for doing four sides.
That career lasted from 1960-1970, and Joe became a country singer when Al Gallico brought him to Dot Records in 1971. He recorded "The Most Beautiful Girl" before Charlie Rich worked it up off Joe's album. Joe had his own share of hits, with "Soul Song," "Roll On Big Mama," and "All These Things" reaching number one in the 1970s.
His third career began when he hooked up with Moe Bandy, and they hit number one with "Just Good Ol' Boys" in 1979. Joe continued with top ten hits, both solo and with Moe, into the mid-1980s. He had 72 charted country records.
When Joe tours solo now, he is backed by the Jeff Griffith Band. "It's a real good band, and they know all my stuff," he says. When he performs with Moe, he is backed by Moe's band. Joe does a segment of his hits, Moe does a segment of his hits, and then they come out on stage together as Moe & Joe.
Not a user of email or the Internet, Joe does have a website to sell his merchandise.
He talked about his son, Tony Stampley, who wrote "Where's the Dress" for Moe & Joe. Tony has written hits for Randy Travis, John Anderson, and Hank Williams Jr., and he has two songs on Hank's new album, It's About Time. Tony's songs are "The Party's On" and "Club U.S.A."
Joe plans to spend the following years enjoying life–doing some hunting, going out for some shows, and having a good time.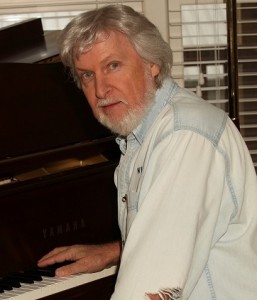 REMEMBERING FARON YOUNG
February 25 would be Faron Young's 84th birthday. I'm mentioning him early because I won't be publishing a newsletter that week. My next one will be four weeks from now. See you then. Happy birthday, Faron!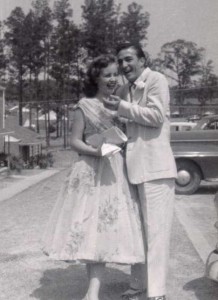 Faron and Hilda on their wedding day
NEWS
Merle Haggard, 78, is still recovering from the double pneumonia that sent him to the hospital in December. He canceled two concerts in New Mexico at the end of January, due to concern about his lung capacity and the high elevation. He tried to do his February 2 concert in Riverside, California, but was unable to perform the show, according to CMT News. He then canceled the remainder of his February tour dates, but was back onstage February 6 in Las Vegas and planning to play three more concerts the next week. A Beverly Hills show with Kris Kristofferson has been rescheduled from February 3. Merle told Rolling Stone Country he's lucky to be alive after his health ordeal, and he said life "becomes more precious, I think, as time goes by." Here's the article.
Mel Tillis, 83, who underwent colon surgery at Nashville's Centennial Medical Center on January 8, is having difficulty recovering. Rumors spread that he was in critical condition, then that he was recovering, then that he wasn't. Daughter Pam Tillis posted on Facebook, "Dad is not healing as quickly as we would like. We ask for your continued prayers." By January 31, she said he was feeling much better.
Unexpected hip replacement surgery has forced Don Williams, 76, to postpone his recently announced 21-city tour. It was scheduled to run February 17 – April 16, 2016.
Rick Wright, lead guitarist in Connie Smith's band, died in a car accident Sunday night. AKA Richard Fagel, he was 57 years old. "He always played with soul and passion behind her, and the onstage chemistry between the beloved vocalist and her longtime sideman was obvious," writes Michael Douchette on the Steel Guitar Forum. I remember seeing Connie on the Midnite Jamboree and being super impressed by her voice combined with that of the guitar player. I didn't want them to stop singing.
American Masters — Loretta Lynn: Still a Mountain Girl is a PBS documentary that will air on March 4. It includes home movies and performances of Loretta Lynn, now 83, as well as interviews with her and many friends. That is the same day she releases her first album in more than a decade–Full Circle.
In a recent interview with Dan Rather, Tanya Tucker talked about her career and how she overcame catastrophic life-changing events. In 2008, a botched dermal abrasion skin treatment caused second and third-degree burns on her face and in her nose and lungs. That and the death of her mother threw her into a deep depression. "I probably spent half a million dollars on doctors," she said. "I took medications, did shock treatments and tried everything with the exception of being put into a straitjacket. And yet somewhere in the midst of all this, I cut 10 tracks for a new album." The hour-long episode of "The Big Interview" with Dan Rather aired February 2.
According to tasteofcountry.com, Ronnie Dunn is restoring an Airstream and will present it as a gift to Reba McEntire. He posted the news on Facebook, saying, "There's not much left of this Airstream except bare walls, a floor, a toilet … and a faraway dream." Brooks & Dunn and Reba played so many sold-out dates at Caesars Palace in Las Vegas in 2015 that Reba, Brooks & Dunn: Together in Vegas has been extended into 2016.
CMT and Thinkfactory Media are partnering to adapt the musical Million Dollar Quartet into an eight-episode TV show. The series is timed to commemorate the 60th anniversary of the recording session where Elvis Presley, Johnny Cash, Jerry Lee Lewis, and Carl Perkins became the Million Dollar Quartet. Set in Memphis in the mid-1950s, Million Dollar Quartet will tell the story of the birth of rock 'n' roll, when hillbilly country was mixed with rhythm & blues to make a new sound. CMT has begun a nationwide casting search for actors to portray Elvis, Johnny, Jerry, and Carl, as well as B.B. King, Ike Turner, Elvis's girlfriend, Trixie, and others. Auditions will be held at the Humes Preparatory Academy Middle School in Memphis on February 13. (This is the former Humes High, where Elvis attended high school.) Those auditioning are asked to arrive in 1950s hair and wardrobe.
Two George Jones movies are being made, one by George's widow, Nancy Jones, and one by his daughter Georgette Jones. Nancy's movie, a biopic about George's life, was announced in May 2015 and is currently in pre-production. Georgette's movie will focus on the relationship between her parents, George Jones and Tammy Wynette. Saving Country Music reports Georgette's clarification: "Nancy is making a movie and I'm sure it will be good, but I'm also making a movie. The media keeps getting confused. My movie is about my Mom and Daddy. Hers is only about Daddy and titled No Show Jones. My movie has no title yet, but Josh Brolin (who my Daddy wanted) is playing my daddy and Jessica Chastain is playing Mom. I'm very excited and will update you more asap."
LETTERS
Lee Shannon (Country Music D.J. Hall of Fame, 1998) writes from Port Charlotte, Florida, "Thanks Diane for another of your fine newsletters keeping us all up to date. Sorry to hear about Curtis Potter. I just received a note from Larry Gatlin about how Curtis befriended him during Larry's early career. I'm sure there will be many, many prayers for Mel Tillis's recovery. When I was a deejay/Music Director at WIRE Radio in the seventies, we had Mel as the headliner for one of our "WIRE PICNICS" (outdoor Fan Appreciation show) at Indianapolis Raceway Park."
Rick Belsher says, "Sorry to hear of Curtis Potter's death. Really enjoy his singing with the Survivors, and he was part of the Ray Price Tribute last year. Also did a great job on the tribute song to Ray Price, and some of his covers of Ray's standards."
Mary Knapp says, "Happy to hear Mel Tillis is doing well. The first news out was sad. I just saw him last week of December in Laughlin. Great fellow. Wish him the best."
Richard Spooner writes, "I would love a copy of Mel's book. Not available here I guess. Sad to see he is now 83 years young and his health is a problem. For me one of the greatest all time singers of pure country music. Let's hope he gets well real soon."
Cowboy Joe Babcock writes from Nashville, "My album Trail Jazz is in the top five finals for album of the year with the Academy of Western Artists. I believe my song in that album, 'Everything's Gotta Swing In Texas,' is also nominated. The convention is March 11-12 in Ft. Worth. Really enjoy your newsletter."
Alan Potter replies to Dean Mann: "Dick Foran was Warner's 1st & only singing cowboy in 1936. Films included Song of the Saddle, Guns of the Pecos, and Trailing West."
Larry Delaney, editor/publisher of COUNTRY MUSIC NEWS (1980-2012), writes from Canada, "Really pleased you carried mention in your newsletter of Garth Brooks' upcoming sold-out show dates in Ottawa, Canada's national capital. Garth has since added a fourth show with a matinee on April 3. Here's a neat story about Garth Brooks. When he made his first concert appearance in Ottawa on October 5, 1991, the local media had not yet recognized his future as a country superstar, and my wife Joanne & I, representing our publication COUNTRY MUSIC NEWS, were the only media people to meet him prior to his show at the Ottawa Civic Centre. We had a great chat in his dressing room….and Garth wore a Country Music News baseball cap we gave him during part of his stage performance. The next time Garth came to Ottawa for a concert on November 13, 1993, there was about 450 media attending a pre-show press conference with tight security around him. We sat at the back of the room in total amazement at how things changed almost overnight for Garth."
Sharon Fickbohm asks, "Could I receive a newsletter?"
Angie Stewart writes, "I really enjoy the newsletter. Do you know what's happened to Marty Martel? I haven't seen any updates in a long time."
Diane: He's in poor health, with dementia and can no longer live alone, the last I heard. Perhaps one of our readers can give us an accurate report.
Rose Frisbee says, "There was a Marty Robbins tribute concert in Apache Junction, Arizona, on Friday, February 5 at the high school by the Wheel Drive Band."
Jean Earle sends this sad news from the United Kingdom: "Sir Terry Wogan has been hailed as a 'national treasure' after his recent death at 77 from cancer. Terry was known for his velvety, Irish voice on radio and TV and was loved by his million listeners. Sir Terry interviewed stars of stage, film and Country Music. He loved Dolly Parton and obviously enjoyed every minute they were in front of the cameras together. I think Dolly had a great time, too. He played tracks on his morning programme by Faron, Tom T. Hall, the Statler Brothers, George Jones, etc., and he always gave us such a happy start to our days. Sir Terry's career spanned more than four decades. He made all his listeners his friend…and made us feel very special. He was a radio legend. We are all very sad upon hearing of his passing. I know Sir Terry was 'our' DJ and broadcaster, but I believe he was so well known on both sides of the big pond. Someone in Nashville will also be missing Terry."
SONG OF THE WEEK
Another of my favorite Mel Tillis songs is "New Patches," written by Tommy Collins and recorded by Mel in 1984 (his last top ten hit). It has a great country classic sound and is a good dance tune. When an old friend tries to set him up with a date, the brokenhearted singer says, "You just don't put new patches on old garments. I don't want no one else on my mind." Tommy got the line from Jesus in Luke 5:36 – "No one tears a piece from a new garment and sews it on an old garment."