NEWS
Sonny James 1928-2016
Sonny James, 87, died February 22 in hospice in Nashville, Tennessee. James Hugh "Sonny Boy" Loden, born May 1, 1928, in Hackleburg, Alabama, received his first mandolin at age three. His father made it from a molasses bucket. He also learned to play guitar and fiddle, and became a teenaged fiddle champion. As a member of the Alabama National Guard, Sonny went to Korea with his unit in September 1950. After returning from the Korean War, he moved to Nashville in search of a music career. Chet Atkins, whom he'd met as a child when the Loden family was playing road gigs, introduced him to Ken Nelson. The Capitol Records producer suggested the easier-to-remember stage name of Sonny James. After a stellar career as the chart-topping Southern Gentleman, and a member of the Grand Ole Opry since 1965, Sonny retired in the mid-1980s because of vocal problems. He spent much of his retirement time pursuing his passion of fishing. Inducted into the Country Music Hall of Fame in 2006, Sonny James is survived by his wife of 59 years, Doris.
Joey Feek 1975-2016
Joey Feek, 40, died of cervical cancer on March 4 in Indiana. She and her husband, Rory Feek, made up the duo called Joey + Rory. Born in Alexandria, Indiana, in 1975, Joey Martin moved to Nashville in 1998 to pursue a musical career. She met and married songwriter Rory Feek. In 2008, the pair performed on Can You Duet, a CMT talent competition series. Their third-place finish resulted in a contract with Sugar Hill Records. Joey + Rory won the Academy of Country Music award for top new vocal duo in 2010 and top vocal duo in 2011. Their daughter, Indiana, was born in 2014, the year Joey was diagnosed with cervical cancer. She stopped treatment a year later and started planning her funeral. She requested burial in the family cemetery on their Tennessee farm, in a simple wooden box made from a tree there. The funeral will be private.
A recurring bout of double pneumonia has sent Merle Haggard, 78, back to the hospital. His concert dates for March have been postponed. Merle's publicist announced on March 1 that the Hag is in a California hospital, and his doctors want him to rest for at least another month before getting back on the road.
Bill Anderson is recording his first-ever instrumental album of songs, to be released later this year. While recording the audiobook for his new autobiography, Whisperin' Bill Anderson: An Unprecedented Life In Country Music, he asked Thomm Jutz, the project engineer and a musician, to add an acoustical guitar touch at the beginning of each chapter. Bill writes in his fan club newsletter, "They came off so well that we began talking about bringing in a few additional instruments and creating an entire instrumental album of some of my best-known compositions. Thomm and I selected the specific songs last week, and he is beginning to lay down the first tracks as we speak." He adds, "We are going to record the songs in such a way that if I want to go back into the studio at a later time and add vocals to the instrumental tracks it will be a relatively easy thing to do."
Kim Campbell talked with Channel 10 News in Tampa Bay, Florida, on March 7, about her husband, Glen Campbell. "He's healthy, he's content, and he's lost most of his ability to communicate verbally," she said. "But he still understands the universal language of smiles and kisses." Glen is in stage 7–the final stage–of Alzheimer's disease.
The Gentle Giant, Don Williams, 76, is retiring again. "It's time to hang my hat up and enjoy some quiet time at home" he said in a press release on March 1. "I'm so thankful for my fans, my friends and my family for their everlasting love and support." He had earlier put his 2016 tour on hold due to hip replacement surgery. Don was inducted in the Country Music Hall of Fame in 2010.
Cyndi Lauper will release a country album, Detour, in May. Emmylou Harris, Willie Nelson, Vince Gill, Jewel and Alison Krauss also sing on the album. "Funnel of Love," her country debut single, was a 1961 hit for Wanda Jackson. "A lot of songs on this record are from that period of country-western music right before rock & roll came along," Lauper, 62, told PEOPLE. "I studied a lot of singers, and Wanda Jackson was one of the original rock & rollers. I wanted this song to have that live sound, and it does."
Dolly Parton is embarking on her first major U.S./Canadian tour in more than 25 years. Performance dates for the 60 cities have not yet been released. In addition to her hits, the shows will include songs from her new double-disc album, Pure & Simple with Dolly's Biggest Hits.
CMT.com reports that Lana Meisner, wife of Eagles founding member Randy Meisner, died of an accidental gunshot wound at their home in North Hollywood, California, on March 6. "After a thorough investigation by Valley Bureau detective personnel and the Los Angeles Coroner's Office," the police report stated, "it was determined that Mrs. Meisner's death was accidental. Mrs. Meisner was moving a rifle that was stored inside a case in a closet. As she lifted the rifle in the case, another item within the case shifted and hit the trigger of the rifle, causing it to fire and fatally injure Mrs. Meisner." The Eagles' original lineup consisted of Don Henley, Bernie Leadon, the recently deceased Glenn Frey, and bass player Randy Meisner, who sang lead vocals on "Take It to the Limit." He left the group in 1977.
Carl Dean and Dolly Parton will celebrate their fiftieth wedding anniversary with a star-studded party on their 60-acre estate at Willow Lake near Nashville, Tennessee. They married May 30, 1966, in Riggold, Georgia. Carl runs an asphalt road-paving business in Nashville.
Randy Travis made a rare public appearance in Nashville on February 24 to honor Jim Ed Norman, recipient of the Bob Kingsley Living Legend Award. The annual event at the Grand Ole Opry House raises money for the Opry Trust Fund, which supports needy musicians. Norman was president of the Nashville division of Warner Bros. and Reprise Records when Randy Travis was one of its biggest stars. CMT.com reports the event also reunited Randy with his longtime record producer, Kyle Lehning.
Reba McEntire and Brooks & Dunn have announced nine additional July dates for their Together in Vegas residency at the Colosseum at Caesars Palace. Since last summer, they have performed 18 consecutive sold-out shows to over 75,000 fans. Their 10-piece backing band was created from both of their touring bands, and they sing more than 30 hits during their two-hour show. "This is not our last hurrah," Reba told The Boot. "This isn't going to be us going off into retirement. None of us are even ever thinking about retiring."
The all-star Nitty Gritty Dirt Band show filmed last fall at Nashville's Ryman Auditorium will air on PBS throughout March to commemorate the band's 50th anniversary. Lead singer Jeff Hanna told The Boot, "It's more taxing at this point in our lives to go out on the road than it was when we were kids. We could go days just getting sleep on a tour bus, and that was enough, and now you look forward to that hour nap in the middle of the day. We want to be on our toes and energetic when we hit the stage."
The Garth Brooks World Tour continues–with dates scheduled through July and more being added. Most recently announced is one stop in Iowa. Garth Brooks and Trisha Yearwood will perform at the Des Moines Wells Fargo Arena on April 30. Tickets go on sale on March 11, with a limit of eight tickets per purchaser.
Bringing It to You Personally is the newly released autobiography of Ronnie McDowell, written with the help of Scot England. "I have been able to work with and get to know just about everyone in country music. . .. My fans have been asking me to write a book for more than 20 years," he told The Boot. "I have always said it would probably not happen, but last year, I thought maybe the time was right to tell the real story of my life."
Real. Country. Music. is the title of the new Gene Watson album released last month. "These are songs that still have fiddle, steel guitar and, quite honestly, soul," Gene said in a press release. "I'm not one to bash what those younger artists are doing, but I can tell you a lot of what you hear nowadays isn't country." Writers of the 13 songs on Real. Country. Music. include Kris Kristofferson, Bill Anderson, Sharon Vaughn, Larry Gatlin, and Gene. He has show dates scheduled throughout this year.
CORRECTION: FEATURED ARTIST – JOE STAMPLEY
In my article about Joe Stampley, I erroneously said his brother died of a heart attack at age 46. Joe called me to say his brother isn't dead. Bobby Stampley turned 75 on Valentine's Day. He survived his massive heart attack, after triple bypass surgery. He has four stents and a pacemaker and is still going strong. He was a member of Joe's band, the Uniques.
LETTERS
Joel Bernstein writes, "I always enjoy your newsletter. Your piece on Joe Stampley reminded me of something I've been wondering about for many years. I have a record that was released in 1968 on Ronn (sister label to Paula, Joe's longtime label) by Little Duck & The Quackers doing 'Out Of Sight.' It's Donald Duck doing James Brown. The only clue to the artist's identity is that both sides were arranged by Joe Stampley. (The B-side was an instrumental). I would love to know whether Little Duck was Joe himself or if not him, then who. I hope Joe is doing well. I've been a fan of his since The Uniques."
Diane: Joe Stampley says to tell you a big hello. I started reading him your note, and he interrupted to say, "That was me!" They wanted to go on the Ed Sullivan show dressed in duck costumes with him as Little Duck and the Uniques as the Quackers. He said he's been able to imitate Donald Duck since he was a little kid."
Jean Earle reports, "We bought a copy of Country Music People, A LEGENDS SPECIAL….March issue. On page 50, Jack Watkins starts a five page write up about Faron Young which includes some fine coloured photographs. The main reason I am telling you this is because he quotes your name and your book several times. 'Diane's biography, while thin on the musical analysis, brings the man to life, full of accounts of his attention-seeking and his drunken escapades……….etc….Diekman provides a compelling picture of life on the road for country performers of the second half of the last century.' I think Jack Watkins gives a very fair account of Faron's life and career. Will look forward to your next newsletter."
Diane: Thanks for letting me know, Jean. It's neat to hear he talked about me. I don't do "musical analysis," I do people, and that's why my book is thin on what I'm no expert on. Based on what he said, I accomplished my goal as a writer."
Jean Earle adds, "Thank you for the latest newsletter. Interesting reading….very nice that you gave Faron a birthday mention. How the years have raced by….we are all getting sooooo old. I loved the little wedding picture you included of Faron and Hilda looking so cute and happy….we have never seen it before. I contacted Alana and she said she had not seen the wedding picture before either. I have already asked Alan to make me a print. Lovely happy times. . . . There is a new double CD by Faron, with a release date 11.3.16. Only trouble will be, we have all the songs already. But it is good that his name and songs will once again be available. Faron Young 51-62 Collection is on the Trapeze Label."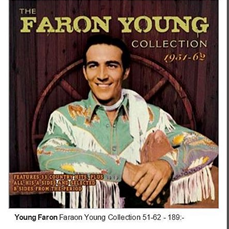 Jodi Weber says, "I really enjoy reading your newsletters, Diane. Keep up the good work and thanks for keeping us in tune with so many country music legends. Always a good read."
Jerry Overcast, Photographer to THE Stars, asks, "Could you add me to your newsletter?"
Tom Barish, son of Richard "Bass" Barish, writes, "I really enjoyed your book about Faron Young. My father spoke very highly of you and your book."
Richie Unterberger has a request: "I'm writing captions and doing research for an upcoming book of photos of artists on Capitol Records. Titled 75 Years of Capitol Records, this will be published by Taschen Books in late 2016, and will include a photo of Faron Young from the session for the cover of his My Garden of Prayer LP. We are trying to find out any information about the photo, especially the date and location in which it was taken, and the name of the photographer. Could a scan of the photo be emailed to you to see if you know any details about it, or know anyone who could be contacted for such information?"
Diane: I have the album, which says, "Cover photo by Don Cravens/Black Star." Perhaps one of my readers has some information on the actual session?
Terry Counts writes, "Loved the pic of Faron and Hilda…makes me feel ancient when I remember I was in high school when they married! And all the kids………grown and married! Geez. Great kids, I loved 'em. I checked on Marty Martel, and like your write-in friend, I miss him every dern day. He is not doing well and I pray for him every day. He went to his daughter's house in Denver, Colorado, and spent 10 days there and then wanted to come back to Nashville…I know all the ROPE members miss him, he was a GREAT ambassador of traditional music and I think all the stars and members love him. I don't foresee him getting any better… makes me wanna bawl."
Dave Barton writes from Nashville, "Marty Martel is living with his son Chris in Lebanon, Tennessee."
Richard Spooner in Great Britain says, "Just managed to get hold of a copy of Mel's book Stuttering Boy. Can't wait for it to arrive. Hope he continues to pull through."
John Dubay says, "I really miss receiving your newsletter."
Diane: I'm not sure how you got dropped, John. I've added you back to the list.
Shirley Coy requests, "I would like to be added to your list to receive your newsletter. I told several friends about your newsletter and suggested they ask to receive it. Hope they do. Thank you again."
Mary Knapp writes, "I, also, love 'New Patches.' Thanks for sending your newsletter out to us. Really appreciate the updated information you share."
Denny Sarver, bass player for the "3 Wheel Drive" band, says, "We did the Marty Robbins concert in Apache Junction, Az. last Friday. I saw the post from Rose Frisbee in your newsletter, and just wanted to correct the name of the band. We have been doing Marty Robbins tributes for almost 20 years here in Arizona in various locations, and at one time we worked with the Friends Of Marty Robbins and Ms. Juanita Buckley, but for the past 2 years we have gone out on our own doing Tribute shows and donating part of our funds to charities in the name of the Marty Robbins Foundation from our Remar Productions LLC. You can check us out on http://www.remarproductions.com. Thanks for your continued newsletter concerning all the stars in the Country Music field, and especially about Marty."
Ray Harrison writes from Arizona, "Your newsletter is superb. I am so glad you have such a healthy interest in CW music. I have played it all my life and also served 20+ years on active duty in the US Navy. I just discovered your letter through a friend of mine and certainly enjoy its content. If you are ever coming to the Phoenix or Tucson area, please let me know. I would enjoy meeting and talking music. I belong to a cast of musicians who perform Marty Robbins tribute shows and would love to have you as our guest sometime. Thank you for your energy and time spent for our benefit. Three Wheel Drive is the back-up band for our Marty Tribute shows. Denny Sarver is a great friend. I look forward to reading the great updates in your newsletter. Full Speed ahead."
Sharon Artz also writes from Arizona, "We saw another tribute to Marty Robbins on Jan 14 in Yuma AZ. It was presented by Jack Jackson at the historical Golden Road Runner Ballroom downtown. He presented the same material which I read about in your book."
Marilynne Caswell reports, "Once again, you have done a great job with your newsletter. Just wanted to let you know Sonny (Charlie Jr) Louvin died suddenly on January 27. He was Charlie and Betty's oldest son, and played guitar for his father. There was a celebration of his life on February 21. I have known Sonny since he was a young boy and was shocked to learn of his death. So sad."
HAWAII
We didn't find any live country music during our Hawaiian vacation, but we did meet up with former KXRB Radio deejay Ratt Reno and his wife, Laurie, in Waikiki. Perry and I visited Oahu, Maui, and Hawaii (the Big Island), spending four or five days on each island.