FEATURED ARTIST – BECKY HOBBS
I've been a fan of Becky Hobbs since hearing her songs on the radio while I lived in Oklahoma City in the late '70s. We're the same age, and I identified with her music. I've played All Keyed Up many, many times since the album came out in 1988. I finally got to meet Beckaroo at her show in Sioux Falls several years ago. She was inducted into the Oklahoma Music Hall of Fame last year.
When I called her at home in Nashville to catch up on what she's doing, she told me ninety percent of her time is devoted to her musical, NANYEHI — The Story of Nancy Ward. "I'm a Cherokee Nation citizen," Becky says, and Nanyehi [non-yay-hee] was her 5th-great grandmother. Nanyehi, who lived from 1738-1822, was first a Cherokee war woman and then a famous peacemaker known as Nancy Ward.
Becky started writing songs about her ancestor in the early 1990s. "The music was given me by the Creator," she says. Her plans for an album changed after meeting Nick Sweet in 2007, during the Oklahoma centennial celebration, when she performed in her hometown of Bartlesville. He suggested they do a musical together. They co-wrote the story and Becky wrote 18 songs. The actors/singers are local talent, Nick directs the shows, and Becky is the musical director. She plays "first keys" and her husband, Duane Sciacqua, is lead guitarist. Their sixth production in four years will be next month in Greenville, Texas. (See nanyehi.com for show information, history, and snippets of all the songs.)
Broadway is where Becky hopes to take the musical, with the ultimate goal of "getting it to Hollywood" and making a movie. She expects most of her songs would be replaced in a movie, but she would like to see them performed on Broadway.
Duane produced the CD of the Nanyehi songs. Becky considers her husband the best guitarist she has ever worked with. He played with Glenn Frey for sixteen years, and Glenn fined his musicians whenever they made mistakes. Becky and Duane attended his private memorial service in Los Angeles in February.
This Thursday evening, Becky will be participating in the John D. Loudermilk tribute show in Franklin, Tennessee. She will sing "Talk Back Trembling Lips," and she especially likes John's song, "Indian Reservation (Cherokee People)."
"I'm grateful to have been able to make a living making music–doing what I love," Becky told me. "I don't take one day of this life for granted, and I don't take one moment of making music for granted. It's a gift and meant to be shared."
And I'm grateful she shares her music with us. Don't miss her show if she's playing near you.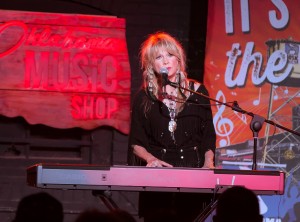 NEWS
RAY GRIFF (1940-2016)
Ray Griff, who wrote "Step Aside" for Faron Young, died March 9 from aspiration pneumonia following minor rotator cuff surgery. Born in Vancouver, British Columbia, and raised in Winfield, Alberta, Ray moved to Nashville as a teenager to pursue a singing career. He also became a prolific songwriter, with over 2500 songs to his credit, some 700 of them recorded by Nashville's top singers. His patriotic songs "Canada" and "Maple Leaf" are perennial items on radio playlists for Canada Day (July 1). He was inducted into the Canadian Country Music Hall of Fame in 1998. Ray, 75, had battled throat cancer in recent years. He and his wife, Trudy, lived in Parksville, British Columbia. When I contacted Ray while writing Faron's biography, he told me, "I recall a tour that Faron and I were on together, during the time of the gas shortage. Faron and I went to the booker and told him we would let him out of his contracts with us and leave the tour to help him make ends meet. We were the only ones. On another tour I discovered he liked sardines as much as I did. We ate sardines from Florida to Nashville, stopping at a complete stranger's house in the middle of the night to find out where the closest service station was that carried diesel. He simply knocked on their door and said, 'Hi I'm Faron Young.' I had an office in the Faron Young building. I can't begin to count the times he would stop by the office and we would sit and talk for hours." Thanks to Larry Delaney of Cancountry in Ottawa, Canada, for sending me Ray's obituary and photo.
Songwriter John D. Loudermilk will be honored with a tribute concert Thursday, March 24, at the Franklin Theatre in Franklin, Tennessee. Along with Becky Hobbs, some of the performers will be Emmylou Harris, Rodney Crowell, Bobby Braddock, and Tommy Emmanuel. Loudermilk's many hit songs include "A Rose and a Baby Ruth" (George Hamilton IV), "Then You Can Tell Me Goodbye" (Eddy Arnold), and "Indian Reservation" (Paul Revere & the Raiders). He is in the Nashville Songwriters Hall of Fame.
Surprise guest at Ray Benson's Birthday Bash on March 15 at SXSW 2016 in Austin, Texas, was George Strait. The Boot reports he showed up for a quick set with Ray Benson, 65, and Asleep At The Wheel. Another surprise during the South By Southwest festival was Sunday night's appearance by Willie Nelson at the Spotify House, where he performed an entire set.
A public memorial service was held for Joey Feek in her hometown of Alexandria, Indiana, in the gymnasium of Alexandria-Monroe High School, where Joey graduated in 1994. She moved to Nashville in 1998 to pursue her dream of being a country singer. Hundreds of fans and friends attended the service Sunday, March 13, one week after her death from cervical cancer. Us Weekly reports that Bill Gaither, a family friend, told stories about Joey's youth. Then he and Joey's husband, Rory Feek, sang one of Joey's favorite songs, "Lean on Me." Joey's mom, June Martin, sang "Close to Thee." On March 8, following a private ceremony in the Feeks' barn/concert hall, Joey had been laid to rest in the Feek family cemetery behind the farmhouse on their Pottsville, Tennessee, farm.
The Country Music Hall of Fame® and Museum is where Ronnie McDowell kicks off a five-month North American tour on Saturday, March 26. He will also be signing copies of his new autobiography, Bringing It To You Personally. "We're having a blast out there on the road and with the book," Ronnie stated in a press release. "I'm so thankful for those who've spent their hard-earned money to pick up a copy or come see our shows. We sure do appreciate you."
For the second time, Kenny Rogers, 77, has postponed his upcoming Tulsa farewell show due to health issues. The Kenny Rogers' Final World Tour: The Gambler's Last Deal was originally scheduled at the Hard Rock Hotel & Casino on January 28. Tulsa World reports it was rescheduled to April 7 due to his health, and the date is now July 14. Linda Davis will join him for that show. Kenny has not offered details on his health struggles.
The vow renewal ceremony Dolly Parton and Carl Dean are planning for their upcoming 50th anniversary on May 30 will be the wedding they never had. In 1966, Dolly's record company wanted her to delay her marriage for a year, even though she had already sent out wedding invitations. Fred Foster told her he wanted to get her started in the business and ensure he got a return on his investment. The couple drove to Ringgold, Georgia, and got married there so it wouldn't be in the Tennessee papers. "I missed having a wedding dress and all that," Dolly tells The Boot. "I'm being fitted up for that. He's looking for suits. We're going to take a bunch of pictures. Might even sell some to the rag mags and take the money and give it to the Imagination Library. That's my plan."
Songwriter Jimmy Webb is commemorating the 80th birthday (April 22) of his friend, Glen Campbell with a special edition of his national touring show, Jimmy Webb: The Glen Campbell Years. It is a multi-media concert that includes virtual duets and stories of how songs such as "Galveston" and "Wichita Lineman" were created. The pair shared more than 100 collaborative recordings. "I created this show to honor my friend and collaborator," Rolling Stone Country reports Webb as saying. "I know Glen would want us to concentrate on having a good time and enjoying the music." The performance will be May 3 at Nashville's City Winery, and three of Glen's children–Ashley, Shannon, and Cal–will be part of the show.
March 25 is the scheduled release date for the Hank Williams biopic, I Saw the Light. Tom Hiddleston, who plays Hank, tells Taste of Country how musical director Rodney Crowell gave him a key piece of advice: "Before you do anything else–before you think about sounding like Hank, playing like Hank–learn the songs. And learn them for yourself. Find out what they mean to you." Hiddleston says, "Essentially just to invest myself in the meaning of those songs, and then come see him again in a few months' time, and Rodney would work on modulating tone and rhythm. But initially, the simple work was actually just to mean it … because that was the only way I think I was ever gonna translate the power of his music to people."
The Florida Strawberry Festival in Tampa Bay had to do without Tanya Tucker this year. She was scheduled to perform on March 11, but was admitted to the hospital due to complications from bronchitis. "I never want to postpone or cancel a show," Tanya, 57, wrote on Facebook. "However, if I am going to perform for the fans who spent their hard-earned money on a ticket, I want to give them the best performance possible. Right now, I am just not able to do it." CountryRebel.com reported that John Anderson would take her place. The Florida Strawberry Festival has been an annual celebration for over 80 years. Tanya's hospitalization is of special concern because her brother died from pneumonia several years ago.
A new Lower Broadway establishment, Nudie's Honky Tonk, is expected to open this summer at 409 Broadway in Nashville. Bill Miller, who owns the Johnny Cash Museum and who has a license to use Nudie Cohn's personality rights, told the Tennessean, "When people walk into Nudie's Honky Tonk, they're going to feel like they're walking into a museum that happens to serve cold beer and food." Miller bought the former Lawrence Record Shop for $5.5 million, and the project will cost $10 million. With three floors and 12,000 square foot, Nudie's Honky Tonk will have three performance stages, several bars (one more than 100 feet long), and a kitchen that serves Southern-style food. Displays of Nudie suits from stars such as Johnny Cash and Hank Williams Sr. will decorate the interior, as will rare instruments and country music artifacts and memorabilia. Upon entering the building, patrons will see Cohn's personal $400,000 Cadillac El Dorado "Nudiemobile" suspended from the ceiling.
In her new self-directed music video for "Just Like Them Horses," Reba McEntire shows her natural curls and the lines around her lips. No glamorous hairdo or makeup. "I wanted it to be totally raw," she said. "This video had to be raw because the song was so raw–it opened up my heart and exposed it." The video was filmed in Chockie, Oklahoma, on the land where Reba was raised. The ranch is now owned by her nephews, as are the horses in the video.
The Life & Songs of Kris Kristofferson was presented at Nashville's Bridgestone Arena on March 16. Willie Nelson, Emmylou Harris, Reba McEntire, and Rosanne Cash were some of the 20 performers who honored Kris Kristofferson as he and wife Lisa sat on the stage. Kris joined Reba on "Me and Bobby McGee" and Willie on "Sunday Morning Coming Down," as well as a Highwaymen performance. More than 15,000 people attended the show. Proceeds benefited the T.J. Martell Foundation, a music industry foundation that funds medical research to find cures for leukemia, cancer, and AIDS.
The Ernest Tubb Record Shop at 2416 Music Valley Drive near Opry Mills in Nashville has closed due to declining sales. "If a store is costing money to open, you shut it down," store owner David McCormick told the Tennessean. "Music Valley is nothing like it used to be. It's a business decision. We're consolidating everything." The downtown (original) location at 417 Broadway is still open.
Down to My Last Bad Habit is the18th studio album for Vince Gill, 58. He co-wrote the songs and co-produced the album, which features his two daughters, Jenny, 33, and Corrina, 15. In a PopZette interview, Alanna Nash asked, "The guy in the title song is in a bad way. When you wrote it, were you really that down-and-out?" Vince replied, "I'm the happiest guy in the world. But I don't go to music for that. I go to music for melancholy. I've often heard you have to live something to write it, but I don't think that's true. I think writing fine songs is about having a good imagination, and being able to tell a story and paint pictures. Imagination is the biggest key for me."
LETTERS
Johnny Western writes from Mesa, Arizona, "Just finished reading the latest newsletter. Good stuff as always. We're so out of the loop of Nashville etc. Here in the Phoenix area, we count on you for the news. Hope you had a good time in Hawaii. Maui is our favorite of all the islands. Aloha."
Johnny Western also says, "There is a saying, in the Hollywood motion picture business, that deaths come in threes. Well, it has happened again. First, a few days ago, Academy Award winner, George Kennedy. Then Robert Horton, star of Wagon Train and Shenandoah TV series. Then Monday, Peter Brown of Lawman and Laredo fame. And so, it has happened again."
John "Schatt" Schattenberg, who was Faron Young's fiddle player in 1973, writes from Texas, "I recently retired from my day job as a chemist. I spend a lot of my time these days playing with the many artists with the Heart of Texas group in Brady, Texas. You should try to make one of the March anniversary shows sometime. I enjoy reading your updates."
Diane: I would love to attend those shows. Maybe next year . . .
Kate Davis of Bear Creek Productions in Medford, Oregon, writes, "Thanks for a REALLY newsy newsletter! Always enjoy the read. And I wanted to let you know Marty Davis's Legend of the Pioneers show will be appearing at the Sioux Empire Fair August 9-14, 2016. It's tales of the West, from the Silver Screen Cowboys like Roy, Rex and Gene to the real cowboys past & present ridin' the range. (Lots of Marty Robbins tunes, too.) Costuming by Nudie's Rodeo Tailors. Anyway, hope you'll come out & see the show."
Diane: I will plan to be there.
Dave Rogers, a retired naval officer on the East Coast, says, "Thank you so much for your wonderful news. I so appreciate it."
Mary Mitchell writes from Woodland Park, Colorado, "Marty Robbins was a very talented artist. Still miss him. Doug Davis told me Carl Smith's ranch has been sold. He had no idea who purchased it. I have and always will be a Carl Smith fan. He was my favorite. Now the book is closed and may Carl Rest In Peace."
Phyllis Sain says, "My friend Pat Deasy informed me of your newsletter. I would like to receive it. Thank you."
Albert Townley requests, "Please tell me how to sign up for your letter."
Ray Harrison in Arizona says, "Sure am glad I got onto the mailing list. I really enjoyed reading the newsletter and will be looking forward to receiving the next one. Fair Winds and Following Seas."
Mary Knapp writes, "Just enjoyed reading your March newsletter. Can you please give us an update on the wonderful Mel Tillis? Recently, somewhere I read he is still in the hospital."
Diane: I haven't heard anything on him in a while, and I don't know if he's home yet. I hope he is. Perhaps a reader knows?
John Morris writes from Peterborough, Ontario, Canada, "I wanted to make sure you had my current email address. I just didn't want to miss a newsletter and I think I have. I remember you saying there wouldn't be one for a few weeks and that was February some time. Is there any news on the new George Jones movie Nancy and a big producer are working on called No Show Jones? I can't wait for it."
Diane: No Show Jones is still in pre-production. IMDB.com lists Josh Brolin and Jessica Chastain in the roles of George Jones and Tammy Wynette, with Nancy Jones as executive producer. I earlier reported that Georgette Jones told Saving Country Music, "The media keeps getting confused. My movie is about my Mom and Daddy. Nancy's is only about Daddy. My movie has no title yet, but Josh Brolin (who my Daddy wanted) is playing my daddy and Jessica Chastain is playing Mom." So I am confused. I doubt if the same actors will be in both movies.
Jim Marshall sends this news from the United Kingdom: "Another new Faron CD. This is a 2-disc set due out towards the end of this month and selling for around £5.99. Nice cover isn't it? No songs we haven't already got."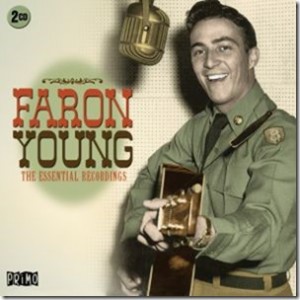 Jean Earle in the United Kingdom says, "Last night we watched an hour of Kenny Rogers….his story is very interesting. Next Friday we will be watching Loretta Lynn 'I am still a mountain gal'… this is to be followed by Country Queens and Dolly Parton. I am delighted that the BBC is at last showing us some good old country Music. Thank you for your most interesting newsletter and for your delightful holiday pictures….so pleased that you had a happy time. I was sad to read that the very popular Don Williams is in bad health. His many fans in in England have for a long time loved his gentle manner and fine songs. I think it was a warm mutual friendship that developed over the years. Please can you send him our best wishes."
SONG OF THE WEEK
My favorite Becky Hobbs song has always been "Are There Any More Like You (Where You Came From)." I've wanted to ask that question once or twice in my life. Her songs have energy and attitude, and she's a one-woman show with her voice and her keyboard. It's Oklahoma-style dance music, too.
SOUTH DAKOTA BANDS
This is my second mention of the Lonesome Rail band in Toronto, South Dakota. I first attended the Saturday night show two years ago. Rollie and Marie Trooien [troy' en] now have my sister, Lorraine "Kayo" Paver, in their family band. While the players vary by week, this past Saturday night saw Rollie on acoustic guitar, Marie on bass fiddle, granddaughter Mackenzie Trooien on mandolin, Jon Ruby on electric guitar, and Kayo on her new banjo. You can find them there most Saturday nights, from 7-9, in the Trooien tire shop along Toronto's main street.