CONCERT REVIEW – STEVE EARLE
The Deadwood Mountain Grand, a Holiday Inn Resort that overlooks Historic Deadwood, South Dakota, is the only hotel I can recall–and I've stayed in many of them around the world–that has no front entrance. We crossed the street from the parking lot and entered the casino, then took an elevator to the third floor and exited from the back side of the elevator to get into the hotel lobby. This made me curious to learn about the building's history.
It is actually two buildings. The Homestake Slime Plant, built in 1906, served as an ore processing plant for the Homestake Mining Company until 1973. It was almost forty years later before investors came forward to work with the city's Historic Preservation Commission to build a facility that combined historic preservation and entertainment. The slime plant became a casino, and the hotel was built on the mountainside behind and above it.
A Steve Earle & the Dukes concert was our reason for being there. Perry Steilow and I met up with my brother Ron and ate supper at Jacob's Brewhouse down the street before the concert.
I had listened to Steve Earle, 67, on the radio three days earlier when he followed Asleep at the Wheel to open Willie Nelson's Fourth of July Picnic at the Q2 Stadium in Austin, Texas. In an interview with Dallas Wayne on Willie's Roadhouse, he said they had a long drive ahead of them to get to Deadwood. He talked about his summer-long tour to promote Jerry Jeff, his new tribute album to Jerry Jeff Walker.
And now here we were to see him in person. We had excellent center-row seats near the front. There was no opening act and no introduction. At 8:00, the stage filled with musicians who quickly picked up their instruments, and the man in the middle started singing. That's the kind of low key, confident entrance I enjoy. Without much conversation, Steve sang until 9:40, including the encore.
He played a mandolin and a variety of guitars throughout the show. The Dukes consisted of a violinist who also played mandolin, bass player on both electric and upright bass, drummer, lead guitarist, and steel guitarist who also played accordion. Perry called them "a stellar group of musicians." Any singer would be proud to stand in front of that tight group.
We expected Steve would conclude the show with "Copperhead Road," but those familiar opening strains occurred about forty minutes into the concert. Ron liked that he put his biggest song in the middle of the concert, instead of leaving it for the closer. Not much familiar with Steve Earle music, I did recognize that song and "Guitar Town." Perry and I were disappointed not to hear "Hillbilly Highway." The room was full, and the crowd watched intently while listening to the music.
Steve's current passion is writing a musical. He and playwright Daisy Foote are turning Tender Mercies, the 1983 movie about a down-and-out country singer, into a musical. He told Rolling Stone he needs to write songs for the play's fictional band that sound like they could be heard on modern country radio. "I want a Broadway hit before I die," he says. "That's what I'm trying to do."
He recently sold his publishing portfolio and used some of the money to buy an apartment in New York City, where he's lived for almost two decades. "I sold everything," he says. "So I'm starting over, as far as being a songwriter and having royalties and income from copyrights. It was good money for me, and I was able to buy a place in New York. And I'm out of debt."
Steve was inducted into the Nashville Songwriters Hall of Fame in 2020. In 1987, he, Randy Travis, and Dwight Yoakam performed as the "New Traditionalists" on the 29th Annual Grammy Awards show. They were all nominated for Best Country & Western Vocal Performance — Male, along with Hank Williams Jr. and Ronnie Milsap, who won the Grammy for "Lost in the Fifties Tonight." Steve was nominated that first year for "Guitar Town."
After the encore, Steve concluded his concert with the message, "To all my fellow liberals–we have to take care of people. Peace."
NEWS
The Country Radio Broadcasters honored Trisha Yearwood as the CRB Artist Career Achievement recipient on June 30. Billboard lists previous recipients as including Keith Urban, Rascal Flatts, Vince Gill, Randy Travis, George Strait, and the Judds. Lauren Alaina sang "Walkaway Joe" and "She's in Love with the Boy." Earlier this year, when Trisha inducted Lauren as a member of the Grand Ole Opry, she noted that Lauren hadn't been born when "She's in Love with the Boy" came out.
Taste of Country reports the grave of Charlie Daniels, where he was buried two years ago at Mt. Juliet Memorial Gardens, has been vandalized. A dogwood tree sapling was stolen, and an expired military dependent ID was superglued to the marble edge of the grave marker that had been added in October 2020. Fans have been leaving items at his gravesite: ball caps, coins, painted rocks, stuffed animals. The family posted on social media that the ID belonged to a woman who had been divorced from her military husband, adding, "The family welcomes anyone leaving items, what they do not want is to have items glued to the marker, or have any trees that the family planted nearby (with the full consent of the cemetery owner) dug up and stolen. — TeamCDB"
Lacy J. Dalton will be awarded the 2022 Lifetime Career Achievement Award at the 8th Annual Josie Music Awards, the largest Indie award show in the country. The ceremony will be held at the Grand Ole Opry House in Nashville on October 23. According to a press release, "The Lifetime Career Achievement Award honors those who have made a profound impact in music through their creative contributions of outstanding artistic significance." Lacy's hit songs include my favorites, "16th Avenue" and "Black Coffee," along with "Crazy Blue Eyes," "Takin' It Easy," "Hillbilly Girl with the Blues," and "Hard Times." Lacy also recently received a Platinum Album Award for her work on Half Nelson, the 1985 duet album by Willie Nelson. Singing "Slow Movin' Outlaw" with Willie, she was the only female vocalist featured. The album's hit songs included Willie singing "Pancho and Lefty" with Merle Haggard, "Seven Spanish Angels" with Ray Charles, and "To All The Girls I've Loved Before" with Julio Iglesias.
It will be a mutual admiration society when Garth Brooks is honored with the Kris Kristofferson Lifetime Achievement Award at the 5th annual Nashville Songwriter Awards ceremony on September 20 at the Ryman Auditorium. CMT News reports Kris Kristofferson saying in a statement, "It's pretty damn embarrassing to give a man of Garth's stature an award with my name on it. I am truly humbled and honored that you have accepted this!" Garth said, "Kristofferson is known as the songwriter's songwriter…and he should be. My hope is that through time, the Garth Brooks name is worthy of such an honor." The Kris Kristofferson Lifetime Achievement Award, honoring "an artist whose work significantly contributed to the American songbook and inspired the career of others," has only been given three times–to Loretta Lynn, Bill Anderson and Willie Nelson.
The Prevost tour bus used by Dolly Parton from 2008 to 2022 can now be booked for nightly accommodations at Dollywood. Taste of Country reports The Suite 1986 Tour Bus Experience has a two-night minimum and starts at $10,000. A portion of profits from every stay will be donated to The Dollywood Foundation. The bus has driven Dolly more than 360,000 miles in North America, and she wrote dozens of songs in it. She and her sisters designed the entire vehicle, which features colorful decor. Fans who stay in the bus will see some of Dolly's personal items–shoes, jewelry, clothing, and wigs on display in a wig cabinet. "I have homes all over the United States, but my favorite place is the bus because that way I can just feel those wheels rolling," Dolly says. "I'm a true gypsy at heart."
While many Americans celebrated Independence Day with fireworks, Hank Williams Jr. fired off a 12-pound Napoleon cannon built in 1861. The Boot doesn't know how he acquired the cannon, but he says he got a permit from a federal judge to fire it. He posted a video of the cannon's boom echoing across the field, with the caption, "Original Civil War cannon. Grandkids and friends loved it."
Randy Houser recently told Taste of Country Nights that he is boycotting TikTok. Since its launch in 2018, CMT News reports, TikTok has become the fastest-growing social media application today. After musicians started using the platform to distribute new material and connect with fans, record labels began encouraging established artists to be active on TikTok. Houser opines, "Your label is too lazy to make you a star or get your music done. They're trying to take the easy way out and press you to do something else. Sorry." His sixth studio album, Note To Self, will be released November 11 on his own Magnolia Records.
Reba: Live in Concert is the title of the upcoming Reba McEntire arena tour that begins October 13 in Lafayette, Louisiana. The 17 dates running through November will feature Terri Clark as guest performer. Terri writes on Facebook, "It's not every day you get a call from your hero asking you to go on tour with her!! So excited to announce I'll be joining Reba McEntire this fall on the road."
A new Willie Nelson book is being released in September. Me and Paul: Untold Tales of a Fabled Friendship will explore Willie's many adventures with late drummer Paul English, according to Rolling Stone. Paul joined Willie's band in 1966 and stayed until his 2020 death at age 87. The pair already had enough adventures by 1971 for Willie to write his classic song, "Me & Paul."
Marty Stuart, 63, and Connie Smith, 80, celebrated their 25th wedding anniversary on July 8. They were married in 1997 on the Pine Ridge Indian Reservation in South Dakota. They first met when Connie performed at the Choctaw Fair in Philadelphia, Mississippi, in 1970. Marty told his mother he would marry Connie someday.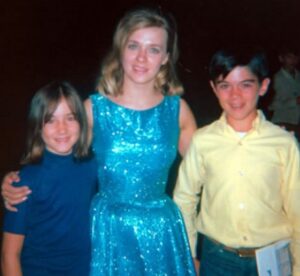 LETTERS
Jennifer McCarter writes from Murfreesboro, Tennessee, "I really appreciate you putting me in the spotlight…. especially after all these years!!! You did such a lovely job of capturing my spirit!!! I found a picture of us and Randy backstage at Nashville Now in 1986 right before we moved to Nashville in January…I was wearing braces on my teeth!!!! Warner Bros took us to that show because we would be doing it soon ourselves AND we loved Randy!!! Oh, one more thing….my son, Evan from heaven, is playing for the 1st time on the Grand Ole Opry this coming Wednesday night with TG Shepherd!!!!!!! He's only 21 years old!!! I have already cried with joy and pride for him. God is SO good!!!"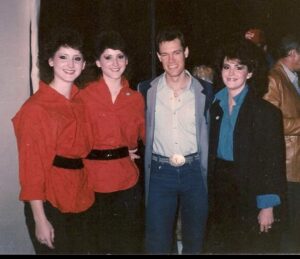 Mary Davis Travis says, "I learn so much from your newsletters. I wish news outlets would deliver the news as simply, pure, and factual as you do!! I knew the McCarters did some touring with Randy, and that he was always so fond of them and their talent. But I didn't know the Kyle Lehning and Martha Sharp connection—just love the rest of the story! Thank you for your passion to teach and to be uplifting—wish there were more like you."
Donald Ewert in Milwaukee, Wisconsin, says, "I have a comment about the Country Music Hall of Fame. I'm glad Keith Whitley is finally getting his honor. However, I feel there are many female singers who should also be so honored. The ones who come to my mind are Jeannie Seely (who should also be in the Songwriters HOF), Jan Howard, not just for music, but for her Support for Veterans. Also, Crystal Gayle, Bonnie Guitar, Martha Carson, Cousin Emmy, Wilma Lee with Stoney Cooper, Rose Maddox with her brothers, and Linda Martell. I'm sure there are others. It was reading your article about Jennifer McCarter that inspired me to order an LP on eBay by Jennifer & The McCarters."
John Mogen in Sioux Falls says, "Thank you so much for the shout out in your wonderful newsletter about my Lifetime Achievement Award from the South Dakota Rock and Roll Music Association Hall of Fame. I am truly humbled. Whatever talent I have came from the Lord. So many great musicians have received this award, so it is a great honor to be included with this group. Thank you again for mentioning this. The Induction Concert will be held at the Sioux Falls Ramkota Exhibit Hall on Saturday, September 24. Eight great bands and many other music contributors will be featured. Tickets are available at sdrrma.com."
Dallas Wayne writes from Bristol, Tennessee, "I so enjoy this newsletter… Every time it hits my in-box. Thank you for what you do so well."
June Thompson writes from Alabama, "Thanking you for another wonderful newsletter. I had wondered about Jennifer McCarter and her sisters. Their music was so very good. As ever, I appreciate all your hard work in gathering news for these letters. I hope you are having a wonderful summer and are able to be out and about as the virus has kept so many of us close to home."
Jean Earle writes from England, "Thank you for all of your news. We appreciate all the time you must take to gather all the information. So many sad tales. Do hope you are keeping free of the virus. We seem to be surrounded with news of new cases. Very upsetting. I hope keeping fingers crossed and being careful will see everyone through these trying times. Looking for something happier I found these cute pictures of our favourite Country Gentleman with Nipper."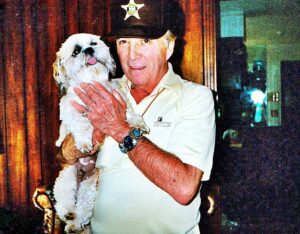 Joe Allen writes from Brookfield, Australia, "I have been reading your country music newsletter and would like to be placed on your email newsletter list."
Jon Philibert writes from the United Kingdom, "I'm sorry to report the passing of Tony Goodacre, aged 84, after a long battle with from myeloma. Tony was a stalwart and pioneer of the UK country music scene. In a long career he recorded 84 albums, played on the Grand Ole Opry and toured with George Hamilton IV in the UK and Europe."
Jean Earle adds, "In recent days I have heard of the death of one of our fine country singers. Tony Goodacre has been singing and entertaining for many years. He was popular and gained the name as 'Britain's Mr. Country Music.' He visited Nashville and may have made many friends there and with the artists from America, also during his appearances at the Wembley Festivals. The title of one of his top selling albums is Roaming Round in Nashville. One of his happiest songs. was 'Grandma's Feather bed.' Tony sadly died June 15th, aged 84 years. Tony was a popular Country music solo entertainer. He won awards in the Country clubs and as 'best solo singer at Wembley' in 1973. A Nice popular family man. He will be missed."
Carl Rollyson says, "This is a new music world to me. I love it."
Mike Johnson of Roughshod Records says, "Just a short note to let you know our Roughshod Records Web Store is back up and running and our two new 2022 CDs are posted:
1. Mike Johnson's 50 Black Yodels! Mike Johnson
2. Second Time Around! Mike Johnson
http://roughshodrecords.webs.com/apps/webstore Looking forward to your next newsletter."
Alan Delbalso says, "I was wondering if Ronny Robbins will ever complete the song 'The Mystery of El Paso City.'"
Duane Whitaker requests, "Sign me up for the newsletter. Loved the biography of Faron Young!"
Philip Davies says, "Thank you for another informative read."
Taylor Hagood, Professor of American Literature, writes from Boca Raton, Florida, "Thank you as always! Looking forward to reading this issue. Also, I am planning to recommend you and your newsletter in an email blast I am planning to do soon, so that may add a few readers for you. Thank you again for sharing Whisperin Bill's address. He was absolutely wonderful and generous and kindly shared some stories about Stringbean I was able to get into the book. And, I should add, it was an honor to me to be able to meet him. I always have loved 'Still' and 'Tips of My Fingers'."
Dominique 'Imperial' Anglares writes from France, "Another welcome and much appreciated letter. Great to know about Stringbean's forthcoming book. A welcome one. The cover art is just what I like, great looking and eye catching. Wishing all the best to Mister Taylor Hagood with that project. Books are great and faithful friends. Warmest Country regards from your French friend."
VIDEO OF THE WEEK
I ran across this hourlong TNN special on YouTube. It aired in 1988 after the Judds visited Guantanamo Bay for a Thanksgiving 1987 USO show. My sister, Kayo, and her husband were there. Kayo says, "Everybody always had to gawk at who got off the Freedom Flight twice a week." I took that flight twice to visit them while they were in Cuba and I was stationed at NAS Norfolk. It's so refreshing to see real Navy uniforms instead of the non-Navy cammies worn today. Why anyone would wear a ballcap with a dress uniform (summer white), though, I don't know. Naomi and Wynonna apparently had a busy schedule in the time they were there, doing a lot of touring.