IN THE SPOTLIGHT – JENNIFER McCARTER
The McCarters were a sister trio who recorded traditional country music for Warner Bros. in the late 1980s. Jennifer sang lead, with twin sisters Lisa and Teresa singing harmony. Their debut album, The Gift, produced two Top Five singles, the title track and "Timeless and True Love." When I called Jennifer McCarter several weeks ago, she told me she didn't think she'd ever sing again after the group broke up in 1996. She wanted her sisters' harmony and didn't like singing alone.
She now lives in Murfreesboro, Tennessee, and is married to Andy Hull, the drummer in Clint Black's band. They have one son, age 21, whom Jennifer calls Evan from Heaven. He plays guitar, bass, and drums, and he sings any part harmony. "God is so good," Jennifer says. "He knows I didn't want to sing by myself. If I ever go out now, Evan plays guitar and sings harmony with me."
Jennifer grew up in a family of six daughters in Sevierville, Tennessee. When she was seven and the twins were five, they started clogging. Six years later, they became regular performers on a local TV show, a clogging team wearing matching pinafore-type gingham dresses.
The three girls and their dad also played for several years in a band along the road at Pigeon Forge, outside the Silver Dollar City Theme Park, with the goal of drawing people to their friend's t-shirt and souvenir shop. They played seven nights a week, for five hours, throughout the summer months.
Close to Jennifer's 21st birthday, one of their fans, a man in his eighties, entered the sisters in a 12-week talent contest at Silver Dollar City. "At first, I was so angry," Jennifer remembers. "Because nobody asked, I don't like to enter contests, and I'm a bad loser. Mama said he thinks the world of you girls, and the least you can do is go over there and do that."
The contest ran six nights a week, with those six winners competing against each other on Sunday. The Sunday winners came back at the end of twelve weeks for the final competition. The McCarters, with Jennifer on acoustic guitar, won their first night and that Sunday. When they returned at the end of the contest to compete against the other eleven first-place winners, they were shocked to see a large circus tent, with people loading in pianos and all kinds of equipment. Three judges had been brought in from Nashville to choose the winners. There ain't no way they'll like us and my little guitar, Jennifer thought.
Immediately after their performance, Jennifer went home. She didn't want to hear she was a loser. Her mother called her from a payphone and told her to get back to the train station where the contest was being held. Jennifer returned just as the winners were being announced. Third prize went to someone else. "See, we didn't even get third," Jennifer grumbled. "See, we didn't even get second." And then the McCarter sisters were named the winner. They "went crazy," and the fan who nominated them had tears streaming from his eyes. In addition to $500, which they used to take their mother and aunt to the ocean because they'd never seen it, they won a contract to perform at Silver Dollar City the next year.
But by 1986, Dolly Parton had partnered with the Silver Dollar City owners, and the park was renamed Dollywood. The McCarters were called over for a planning meeting and then told they wouldn't be singing anywhere in the park because they were too country. After crying her eyes out, Jennifer got angry about the violation of the contract. "If I had a producer's name in Nashville, I'd call him and I'd go sing to him," she vowed.
Her favorite singer was the new sensation, Randy Travis. She acquired the phone number for producer Kyle Lehning and called every day until he returned her call and asked, "What can I do for you?" Jennifer had been raised by her mother to "never toot your own horn" and "don't ever brag on yourself, ever." But she had to get Kyle to listen to her. "I really had to think about what I was saying, because of my mama," she says. "I said we're really good; we're just as good as anything you might hear on the radio."
Kyle agreed to listen to them, and they drove to Nashville the next day. After listening to the trio with their acoustic guitar, Kyle said, "I have Dan Seals on Capitol Records, and I have Randy Travis on Warner Bros. and I don't believe either of those labels is looking for a sister act. I don't think I can do anything for you." He said they sounded too perfect and didn't sing with enough emotion. Jennifer, age 22, told him, "I listen to the radio day in and day out, and I am sick of hearing people go out of tune. Since I was 14 years old and they were 12, we've sung every day of our lives. We do it because we want to get better, we want to be good enough to be on the radio. That perfect singing is on purpose!" She thanked him for listening, and they cried all the way back to Sevierville.
The following Monday, Jennifer received calls from Terry Choate of Capitol Records and Martha Sharp at Warner Bros. They both said, "Kyle Lehning told me to run, not walk, to hear you and your sisters sing. Could you come down here and sing for me?" The sisters returned to Nashville to audition for both labels, and both offered a contract. The choice was easy for Jennifer: "We wanted to be on Warner Bros. Because of Randy Travis, and when I was younger, I listened to Emmylou Harris, and she was on Warner Bros. This was a dream come true."
Before moving to Nashville in January 1987, they made periodic trips to work with Martha Sharp and look for songs to record. "We thought Randy Travis was the greatest thing that ever breathed air," Jennifer says. She vividly recalls meeting him. Martha drove them to an outdoor location where he was being interviewed and waved him over to her car. She told him, "Randy, I want you to meet some ladies I'm working with." He walked around to the passenger side, squatted down, and looked in the window, telling Jennifer, along with the twins in the back seat, "I'm Randy Travis." As if they didn't know. He asked how they were doing and if they were finding good songs. "We tried to be as normal as whack jobs could act," Jennifer says. "Lord, he was the sweetest person ever."
When they returned to their hotel room, where their mother and a friend were waiting, they closed the door and start screaming, "We met Randy Travis!!" They jumped up on one of the beds, held hands in a circle, and bounced, shouting, "We met Randy Travis, we met Randy Travis!" Jennifer concluded that story by telling me, "I've learned to calm down since then."
She thanks God for the opportunity to travel and record. "I had been praying since I was fourteen to be on a major label," she explains, "and I wanted it to be Warner Bros. God has been so good. He's given me more than I deserved. I don't mean things, I mean dreams."
She later found something even better than music. Evan was born when she was 37. When Andy put her and the baby in the backseat to bring them home from the hospital on Easter Sunday, she asked him to turn off the radio. "I could not believe I had thought music or anything else was better than a human being," she explains. "I did want kids one day, but my dream was music, music, music. And then when I had that little human being, that was mine and my husband's, it was a miracle."
It was an enjoyable conversation. Jennifer and I agreed to meet somewhere during my next visit to Nashville.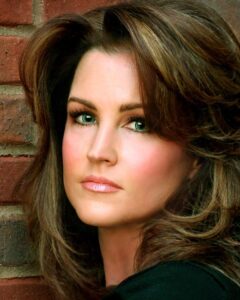 NEWS
Legendary Texas western swing and country music multi-instrumentalist Bobby Flores died June 23 from esophageal cancer. He had been admitted to the hospital after having trouble swallowing. His family posted on his band page that they fully expected him to go home, but he took a turn for the worse and was put in hospice, where he was kept comfortable. "For the first time in a long time, Bobby slept deeply and comfortably," the family post said, "and he passed away peacefully in his sleep with his family by his side." Bobby was a member of the Texas Western Swing Music Hall of Fame. He played with Willie Nelson, Ray Price, and Johnny Bush, and he won a Grammy in 2002 for his violin performances on Freddy Fender's album, La Musica de Baldemar Huerta.
Breaking news from MusicRow: "The 2022 nominees for the Nashville Songwriters Hall of Fame (NaSHOF) have been announced. Of the 12 nominees, three will be inducted at the 52nd Anniversary Nashville Songwriters Hall of Fame Gala on Sunday, October 30, 2022, at the Music City Center. The 2022 nominees in the Contemporary Songwriters category are Larry Cordle, Jim Lauderdale, Hillary Lindsey, Frank J. Myers, Gary Nicholson, Ronnie Rogers, Tia Sillers, and Tommy Sims. The 2022 nominees in the Contemporary Songwriter/Artists category are Kirk Franklin, Brad Paisley, Pam Tillis and Shania Twain. All nominees experienced their first significant songs at least 20 years ago. A total of two songwriters and one songwriter/artist will be elected from the contemporary categories by members of the Hall of Fame along with other professional songwriters and artists from a variety of genres who are prominently identified with Nashville and who have written/co-written at least one original and significant Nashville song. In addition, two more will be named to the Class of 2022. A separate body of veteran voters will elect a Veteran Songwriter and a Veteran Songwriter/Artist, both of whom experienced their first significant songs at least 30 years ago. As part of that process, nominees in those categories are not announced."
Oklahoma Music Hall of Fame member Ramona Reed, 91, died June 25. She was once a Playgirl in the legendary Western swing band, Bob Wills and the Texas Playboys. Born in Talihina, Oklahoma, and raised on a farm, she headed to Nashville in 1948 at the age of 17. She was hired to perform as "Martha" for Grand Ole Opry sponsor, Martha White Flour. She shared a dressing room with Minnie Pearl and spent two years as Martha before returning home. When the Bob Wills Ranch House opened in Dallas in 1950, Ramona auditioned for Bob Wills and the Texas Playboys. She reported in a 2020 Tulsa World interview that Bob told her, "You not only sound like I always wanted a girl singer to sing, you even look like I wanted a girl singer to look." She toured and performed with the Texas Playboys for two years before leaving the road to marry a decorated returning Korean War officer in 1952; they raised four children. Ramona occasionally reunited with Bob Wills over the years. She was inducted into the Oklahoma Music Hall of Fame in 2009, the same year as Carrie Underwood, who had learned to yodel by listening to Ramona. Carrie "was in awe of meeting Mother," said a daughter. Ramona told the Tulsa World that she cherished making people happy with her singing and yodeling.
The South Dakota Rock & Rollers Hall has named John Mogen as recipient of its 2022 Lifetime Achievement award. The Waubay, South Dakota, native grew up in a musical family and has spent his life performing and teaching music. He taught vocal music in South Dakota elementary schools for 34 years and has educated hundreds of piano students. Leading worship in church has been an important part of his musical and spiritual life. In 1978, he formed Mogen's Heroes, which today consists of John on piano, Dennis Gale on guitar, and Bill Hoffman on drums. This threesome was inducted into the South Dakota Rock and Roll Music Association Hall of Fame in 2018. John is a regular reader of this newsletter. Congratulations, John!
Shania Twain, 56, canceled at least one night of her Las Vegas residency at Planet Hollywood Resort & Casino's Zappos Theater after falling ill. CMT News reports her doctor placed her on a strict vocal rest until further notice. "I am sad to say I woke up this morning feeling unwell and with no voice," she explained on Twitter. "I am under strict doctor's orders to rest and not sing." Shania has a long history of health issues–and surgeries–with her vocal cords. She was diagnosed with dysphonia in 2014 and Lyme disease, which caused her to lose her voice.
The annual Bonnaroo Music and Arts Festival returned to Manchester, Tennessee, after a forced two-year absence. The Chicks, formerly known as the Dixie Chicks, headlined the Friday night show. Natalie Maines, 47, lead vocalist, along with instrumentalist/vocalists Emily Strayer and Martie Maguire, held to their image as "country music's most outspoken liberals," according to Rolling Stone: "The band broadcast messages supporting racial justice, bodily autonomy, and gun control across the stage's video walls, earning cheers from the tens of thousands of festivalgoers." During a performance of "Tights on My Boat," which contains the chorus, "you're gonna get what's comin' to ya," a wide screen behind the band showed an animated image of Russian president Vladimir Putin grimacing in horror as a construction-paper missile sinks his ship in a shark-infested ocean of lava. Two nights later, CMT News reports, the trio ended their Indianapolis concert 30 minutes into the set when Natalie lost her voice. Subsequent concerts have been postponed due to doctor-ordered vocal rest. "Indianapolis, we are so sorry we could not give you the show you deserved OR the show we wanted to give you," the Chicks posted on Instagram. "We will be back, Indianapolis!! Hold onto your tickets."
Dolly Parton, 76, has donated $1 million to pediatric infectious disease research at Vanderbilt University Medical Center (VUMC). According to CMT News, the pediatric infectious disease division conducts research to find how viruses and bacteria cause disease. Dolly's contribution will help diagnose and treat infections in children battling cancer, along with conducting research to understand the "impact of childhood infections throughout the world." She earlier provided $1 million to VUMC during the pandemic to fund research for the Moderna COVID-19 vaccine.
Randy Houser, 46, tells PEOPLE he and wife Tatiana, 28, will be having a baby in October. They have a son, Huckleberry, 3, and Randy has a son, West, 10, from his previous marriage. He has just released "Workin' Man," the first single from his sixth studio album, Note to Self, which will be out in November. "This career is not something I just decided to try out. This is what I do," he says. "It's feast or famine, and it's always been that way. It doesn't scare me not to be the popular kid on the block. I tour and I make a living for my family. I love playing music live and I love creating music, and I love recording music." His new album includes a song he wrote for Tatiana, "Still That Cowboy," and the one he wrote for himself, "Note to Self."
From July 1 through May 14, 2023, the Country Music Hall of Fame and Museum will honor Chris Stapleton with an exhibit, Chris Stapleton: Since 1978. According to CMT News, "It will highlight the steps of his musical career from his early days in Kentucky to his success as a Nashville songwriter and his rise as one of country music's most influential voices." Chris was born April 15, 1978, and raised in Johnson County in eastern Kentucky.
Scotty McCreery, 28, and his wife, Gabi, also 28, are expecting their first child in November. "We got a little man on the way," Scotty tells PEOPLE. They were shocked to learn they're having a boy. "I was the only boy on both sides of my family, the last McCreery boy out there," Scotty says. "Gabi's from two sisters in her family, so I just figured it would be a girl. But we got a surprise of a boy." The two are high school sweethearts who married in 2018; Gabi is a nurse.
Alan Jackson is proud to introduce Silverbelly Whiskey, a new premium spirit distilled exclusively for him and created in partnership with Silver Screen Bottling Co. & DSP-KY-10. Silverbelly takes its name from the color of his cowboy hat, which is technically "silverbelly," not white. "Crafted in honor of classic, bourbon style whiskey, Silverbelly tips its hat to the spirit at the heart of this country," says Alan's daughter, sommelier Mattie Jackson Selecman. "Silverbelly is as American as whiskey comes — a true taste of home." Alan is currently on his Last Call: One More for the Road Tour.
LETTERS
Mary Mitchell in Kansas says, "WOW, What a great newsletter. You don't miss a beat. I loved the story of the gentleman who wanted to be Carl Smith at such a young age. I loved Carl Smith for a long time and still consider him the best in that era. Truly enjoyed seeing Randy Travis. He was special, too. I had a tornado go over my home in Overland Park, Kansas, last week and what an experience I never hope to have again. Living in Colorado for so many years this was quite an eye opener. Thanks again for this great newsletter."
Jackie Allen Thomas in Sun City, Arizona, says, "Would like Mary Mitchell to know that Gene Burkhart mentioned her many times and her wonderful gesture of sending him all that great country music. Thank you, Mary, for bringing happiness into our friend's life. He was playing and singing good country music here in Arizona until the end. And thank you Diane for this wonderful newsletter bringing us all the latest country music news."
Larry Delaney of Cancountry writes from Ottawa, Canada, "I was absolutely delighted to see the mention in your June 14th Newsletter of my recent Impact Award presented by the CMA Ontario. I suspect my friend Whisperin' Bill Anderson alerted you to this news item, and I truly appreciate that you would both take time on my behalf."
Taylor Hagood, Professor of American Literature at Florida Atlantic University in Boca Raton, Florida, says, "Thanks so much for this newsletter. I have attached the cover art for the Stringbean book. When UIP started designing it and was asking me for ideas, I suggested your Faron Young cover as a guide, with the idea being that I wanted the cover to capture Stringbean's time just as your cover captured Young's. I am in the copyediting stage. Once again, thank you so much for this wonderful newsletter. I look forward to each one."
Sabrina McKiernan asks, "I am writing to enquire if I would be able to receive your newsletter for my country radio show I present every Tuesday?"
Doyle Grisham says, "I've had a few musician friends that saw the article you did on me and said they enjoyed reading it. Thanks for including me in one of your newsletters."
Leon Watson writes from Nashville, "I just read your article on Doyle Grisham. Excellent steel guitarist and was a member of the band I put together back in the '80s for Lynn Anderson."
John Buffington says, "Just found your newsletter on the Steel Guitar Forum and I would like to be added to your mailing list. I love the articles you publish."
Bobby Fischer in Nashville says, "Thanks for the multitude of musical updates we would miss a lot without them. Saw you mention Linebaugh's and Tootsies they were so important to us in the '60s. One time Jack Barlow and I came in from Moline, Illinois, to record with Buddy Killen. I had made a little cheap 45 record in Davenport. Tootsie called the jukebox man and had him come down and put it on her jukebox. That was huge for me. She was my pal. Also sorry about Al Cooley. Got to show him songs; he was very fair in reviewing. A loss for our music world."
David Markham writes from England, "You've done it again by writing more information on past and present Country Music Artists. They're drifting away slowly. If you talk to Randy Travis, tell him everything's going to be all right. He's young and still good looking and has a lovely wife. Tell him to think only country music, Vince Gill, Merle, Jim Reeves. Marvin Rainwater, before his time, ha ha, before his time, Bobby Helms 'Jingle Bell Rock.' Tell him country is my life. Jim Reeves is and always will be my number 1."
Ronnie Traywick writes from Marshville, North Carolina, "As always, your articles are a great read."
Nobuhiko Ogino writes from Japan, "Thank you very much, Diane!"
Dominique 'Imperial' Anglares writes from France, "Thank you very much for that new Country Music newsletter. It's gotta be time for a summer break so I like to wish you and all readers a nice vacation time. I've laid around and played around this old town too long and I feel like I gotta travel on."