IN THE SPOTLIGHT – DOYLE GRISHAM
Steel guitarist Doyle Grisham grew up wanting to be the next Carl Smith. Instead, after a long career as a musician, he is now a Coral Reefer with Jimmy Buffet. When I called him the other day, they had just returned from a two-week tour. At age eighty, he is "happy doing what I'm doing." Jimmy Buffet and his Coral Reefer Band tour about ten weeks a year, playing three shows a week. "We travel to a lot of neat places, and it doesn't take up a lot of my time, so it's a perfect job for me," Doyle says. "And the kind of music I want to play."
Born in 1942, Doyle was raised in Troy, Texas, 140 miles south of Dallas. "When I was a kid, 8-9 years old, I wanted to be a country star," he tells me. "I wanted to be another Carl Smith." He started taking guitar lessons at age eleven, with a great teacher, and learned music theory and how to read music. By age fifteen, he was playing in beer joints, working three to seven nights a week and going to school. "I was probably making more money than my daddy was, being a farmer and working a second job," he says.
Throughout our conversation, he frequently mentioned how lucky he's been, to be involved in music since his teen years, all the experience he's acquired, and all the jobs that fell into place as he needed them. "It all kind of tied together, I was very lucky in that sense," he says.
By the time he graduated from high school, he was touring regularly with Billy Western, a central Texas music promoter. Doyle was billed as a guitar player, until Western decided he needed somebody else to promote. He recorded a session on Doyle, who was then promoted as a singer instead of just a guitar player. "Even at that age, I knew I didn't have it," Doyle says, "so I quit singing."
He learned to play steel guitar at age 21, switching to that instrument several years before moving to Nashville in 1966. He was hired by Roy Drusky, who performed regularly on the Grand Ole Opry and had a day job at the SESAC office. "We would work five to eight days a month," Doyle recalls. "Even being single, I could just barely make a living on it." Drusky allowed him to pick up weekend gigs, including on Opry nights, to make extra money.
Linebaugh's was the musicians' hangout in those days. "You could go into Linebaugh's and have coffee and camaraderie with people that played in all different kinds of bands," Doyle says. "We'd all hang out at Linebaugh's, and then we might go over to Tootsies or one of the other places and have a beer or two. Sometimes we'd get in a car and go jam somewhere or at somebody's house." Whenever he needed a gig for the weekend, he'd put out the word at Linebaugh's, and "probably in a day or so," he reminisces, "somebody would line me up with Bill Carlisle or Grampa Jones or someone that needed a player for the weekend." He adds, "A lot of musicians hung out down there, and they kind of took care of each other."
Doyle became friends with Bill "Rip" Wilson, who played electric guitar in Faron Young's Country Deputies band. Wilson was in the National Guard and had weekend drills. He asked Doyle to fill in for him as lead guitarist for several weekends. Doyle was in the Naval Reserve; his drills were during the week. "It wasn't a lot, but it was enough to say I had played with Faron Young," Doyle tells me. "He was a great artist. I loved playing with him."
In the early 1970s, Doyle traveled with Tompall and the Glaser Brothers. At the Glaser Sound Studio, he met Kyle Lehning, an engineer who was producing private projects. Doyle frequently helped him by playing steel, acoustic, or electric guitar. "I guess he remembered that when he became the famous producer," Doyle says, referring to being hired to play steel on most of Randy Travis's recordings.
Doyle was a sought-after session musician for almost three decades. He played on many Jimmy Buffet recordings, beginning with "Come Monday" in 1974. Buffet didn't carry a steel player until 1999, when he decided to put a band together of all the favorite instruments he'd ever had on his recordings. By then, most of the singers Doyle worked with had moved on, and his work as a studio player had fallen. "About the time he offered me a touring gig is when I really needed something," Doyle explains, "so I took it, and that's how it worked out, as far as me touring with him."
His whole career has been like that, moving from one situation to another. "I've been real lucky in that sense," he says. "As far as a regular gig, I've been able to move from one to the other, and improve myself financially as well as professionally."
Doyle and his wife, Debbie, now live in Fairview, a little town thirty miles west of Nashville. He has a home studio where he produces projects for people who can't afford big studios. He also has a regular Saturday morning gig whenever he's in town. He belongs to a local band that plays on The Grinder Switch Hour, broadcast worldwide on the internet. Of course, I recognized the name. "Grinder Switch was just a railroad stop in the town of Centerville," he explains, "and Minnie Pearl took it as her hometown. It was really Centerville." He had first appeared on the show when one of the singers he was producing asked him to go with her when she was a guest performer. After hearing him play on her segment, the house band invited him to sit in with the whole band. They later invited him to join the band. "When I'm in town, I play that every Saturday morning," he says. "And I love it. They play traditional country music, Hank Snow, Ray Price, Carl Smith, that type of stuff. I wouldn't miss it if I'm in town."
Thinking back to the 1970s, when he was doing two to four sessions a day, he says the musicians always used to say, "We wish we could just phone our part in." That day has arrived, for him at least. Some of the Parrothead artists affiliated with Jimmy Buffet send him the tracks to their songs. He adds his steel and sends the files back to them. "They put it in their software and continue on," he says.
Doyle wrapped up our conversation by saying, "I stay busy. I've been real fortunate. I'm still healthy. I take care of myself like I'm supposed to do, and hope for the best."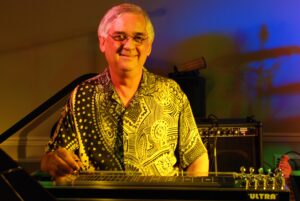 NEWS
The writer of the Kenny Rogers hit, "Lucille," has died. Hal Bynum, 87, died June 2, after a prolonged battle with Alzheimer's and a final stroke. He was born in Texas in 1934, attended Texas Tech in Lubbock, and served in the Navy aboard aircraft carrier USS Antietam. He moved to Nashville in 1968, where his songs were recorded by artists such as Ernest Tubb, Johnny Cash, Bill Monroe, Waylon Jennings, Jeanne Pruitt, Ralph Stanley, Little Jimmy Dickens, George Jones, and many others. In 1977, Kenny Rogers recorded "Lucille," a song Hal had begun writing in the Navy and finished with co-writer Roger Bowling. Johnny Cash and Waylon Jennings recorded "There Ain't No Good Chain Gang," which Hal wrote with Dave Kirby. His third number one came in 1990, when Patty Loveless recorded "Chains," co-written by Bud Reneau and Hal. Thanks to Lee Rector for sending me Hal's obituary.
Toby Keith, 60, announced on Sunday that he was diagnosed last fall with stomach cancer. He tweeted, "I've spent the last 6 months receiving chemo, radiation and surgery. So far, so good. I need time to breathe, recover and relax. I am looking forward to spending time with my family. But I will see the fans sooner than later. I can't wait."
Martha Alice Teague Owen, mother of Randy Owen, frontman and lead vocalist of Alabama, died June 2 in Fort Payne, Alabama, surrounded by family. She was 90 years old, reports Country Thang Daily.
A memorial concert for country guitarist Gary Adams will be held in Greenfield's McClain High School Auditorium on Saturday, June 18, The Times-Gazette in Hillsboro, Ohio, reports. Gary died January 7 at the age of 78, following a bout with COVID-19. He and brothers Don and Arnie were founding members of the George Jones touring band, The Jones Boys. Gary also played in the bands of Johnny Paycheck, Merle Haggard, Marty Robbins, and Ray Price. Musicians from Ohio, Tennessee and West Virginia will perform at the memorial concert. Gary, Don, and Arnie will be inducted with Johnny Paycheck into The Ohio Country Music Hall of Fame on Saturday, Aug. 20.
Deborah McCrary, the second oldest of the vocal group The McCrary Sisters, died June 1 at age 67, The Tennessean reports. With her sisters, Ann, Regina, and Alfreda, she has appeared on multiple ACM, CMA, and American Music Awards shows, as well as making regular appearances on the Grand Ole Opry. The McCrary Sisters have recorded with Carrie Underwood, Miranda Lambert, and numerous others, as well as releasing five of their own albums since 2010. They are the daughters of the late Reverend Samuel McCrary, a member of Nashville gospel quartet The Fairfield Four. Deborah worked as a nurse until her sisters asked her to join their singing trio in 2009. Her first show with them was at the Station Inn. "It felt like everybody was staring at me, and I swore I'd never get back up there again," she told The Tennessean. "But it was so much fun to be with my sisters, and after that it didn't take much convincing at all."
On her upcoming 43-stop Denim & Rhinestones tour, Carrie Underwood is dedicating one dollar of every ticket sold to the Tunnel to Towers Foundation. Taste of Country reports Tunnel to Towers is dedicated to taking care of veterans and first responders who have been catastrophically injured during their service. The foundation also helps Gold Star and fallen first responder families by paying off their mortgages. More than 200 mortgage-free homes were provided in 2021. The 2022 goal is to provide housing to more than 500 veterans, with an aim to end veteran homelessness.
Rascal Flatts guitarist Joe Don Rooney pleaded guilty to a DUI charge stemming from a 2021 incident in which he crashed his car into a tree in Williamson County. He will spend two days in jail with the remaining 11 months and 27 days of his sentence suspended, according to The Tennessean. He will lose his driver's license but is eligible for a restricted driver's license, provided the vehicle has a built-in breathalyzer. This was his first DUI, a Class A misdemeanor that carries a sentence of up to 11 months and 29 days in jail. He is also required to complete a DUI training. Rascal Flatts became known in 2000 with their debut hit "Prayin' for Daylight."
The Taco Bell musical Dolly Parton participated in—Mexican Pizza: The Musical—is on hold. That's because demand for the Mexican Pizza was seven times higher than when it had originally been on the menu. Whiskey Riff reports the Taco Bell website as saying, "We plan for the Mexican Pizza to come back to its permanent residency on the Taco Bell menu, expected this fall." The musical will be rescheduled to a later date.
The current passion for Steve Earle, 67, is writing a musical. He and playwright Daisy Foote are turning Tender Mercies, the 1983 film about a down-and-out country singer, into a musical. He tells Rolling Stone he needs to write songs for the play's fictional band that sound like they could be heard on modern country radio. "I want a Broadway hit before I die," he says. "That's what I'm trying to do." This summer, he is touring to promote Jerry Jeff, his new tribute album to Jerry Jeff Walker. He recently sold his publishing portfolio and used some of the money to buy an apartment in New York City, where he's lived for almost two decades. "I sold everything," he says. "So I'm starting over, as far as being a songwriter and having royalties and income from copyrights . . .. It was good money for me, and I was able to buy a place in New York. And I'm out of debt."
The 2022 recipient of the Country Radio Broadcasters Artist Achievement Award is Trisha Yearwood. Taste of Country describes the award as being presented to "an artist whose work has amounted to a significant contribution to the country genre and country radio." In addition to being a country superstar, Trisha is a noted philanthropist, the author of several cookbooks, the star of her Food Network cooking show, Trisha's Southern Kitchen, and the designer of an array of dinnerware, cookware, furniture, and rugs. She will receive her award during the Country Radio Hall of Fame Induction Ceremony in Nashville on June 30. Previous CRB Artist Achievement Award honorees include Keith Urban, Rascal Flatts, Vince Gill, George Strait, Randy Travis, and the Judds.
Whiskey Riff reports the nephews of two country music icons are squaring off to fight over the two wills in the estate of Billy Joe Shaver. Shaver's 2003 will declares his nephew, Terry Dwayne Rogers, to be his heir. A 2008 handwritten note leaves his estate to Fred Fletcher, the nephew of Willie Nelson (Bobbie's son). A judge recently rejected Fletcher's motion for summary judgment to throw out the 2003 will in favor of the 2008 handwritten will that says Fletcher should "continue to administer all my music business and to keep all profits." Fletcher was a former drummer in Shaver's band, and he founded Pedernales Records with his Uncle Willie in 1999. Rogers claims the 2003 will, which was done with the assistance of an attorney, is the proper will, and the 2008 handwritten will should be thrown out. The attorney who drafted the 2003 will has died, and the original handwritten 2008 will has been lost; only a photocopy exists. The attorney for Rogers argues, "Our position is this copy is not admissible as evidence. Therefore, they have no case."
Jeannie Seely won Song of the Year at the Arkansas Country Music Awards as the songwriter for "Yours," which was recorded by duo Joe and Diane (Joe Wade Smith and Diane Berry). During the ceremony, Jeannie sang "The End of The World" with Joe and Diane in honor of the Lifetime Achievement recipient, Floyd Cramer. He had played piano on the Skeeter Davis hit.
Two new members of the Grand Ole Opry were announced Saturday night. I was listening to the Opry while working on this newsletter, when Charlie McCoy finished his segment, and I heard Vince Gill talking. After a minute, he told Charlie, "I'm really out here because the Opry management asked me to come out and invite you to be the newest member of the Grand Ole Opry." There was long applause and cheering before Charlie (who is 81), said, "Oh, thank you so much. Thank you so much. I've had so many amazing things happen, but I want to tell you what, this is the icing on my cake." He first played the Opry in 1971. To conclude that segment, Vince asked him to play another chorus of "The Orange Blossom Special" on his harmonica. A later guest was Don Schlitz. He said something like, "You don't know who I am. I'm a songwriter." He sang two of the songs he'd written, "The Gambler" and "Forever and Ever, Amen," and Vince joined him. Vince then invited Don (who is 69) to join the Opry. Vince's segment came later. He said it was an honor to be asked to invite someone to join the Opry, and he'd never before invited two people in one evening. I don't recall there ever being two people invited the same evening to join the Opry.
The Country Music Association of Ontario (CMA Ontario) recently awarded Larry Delaney with its Impact Award. The Country Music News co-founder and publisher could not be present because of a recent pacemaker operation and other health issues, repots FYI Music News. For 32 years and 383 issues, the Ottawa-based publisher gave Canadian country musicians a national print platform to advance their careers. Larry and musician Neville Wells launched the monthly Capital Country News (its original name) in 1980 on a shoestring budget. "Neville and I would lament weekly about the terrible coverage in local newspapers," Larry, 79, recalls. A story on one entertainer would have a photo of someone else, so they joked, "Let's start our own newspaper." Larry coined the catchphrase "Cancountry." He now spends his days posting on Facebook. "I've posted over 25,000 photos of Canadian artists, and now I'm posting their CDs," he says. "It's just been an ongoing love of Canadian country music. I love what's coming out in Nashville, but my aim is to support Canadian country music." Larry owns 15,000 LPs and 10,000 CDs, and he reads my newsletter. Congratulations, Larry!
LETTERS
Zach Farnum writes from Nashville, "Thanks for including James and the Music of Randy Travis – and so much love for Mickey Gilley."
Bill Anderson writes from Nashville, "I was surprised….and pleased….to see the live 'Give It Away' video as part of your newsletter. I don't remember ever seeing a video in the newsletter before. So, thank you!! I trust all is well up your way. My album and my video with Dolly are coming soon so things are hoppin' in Whisperville."
Bob Jennings says, "My Wife and I went to Branson and saw Mickey Gilley in the fall of 2019–he put on a two-hour show. And what a show it was—he could sing as good as he always did. I met his son Keith Gilley in Houston on Valentines Night in 2016–Keith played Sax in a fine country band–the lead singer asked for anyone who wanted to do a couple of songs to come up–I did and he handed me his guitar and I said, let's do 'Your Cheatin' Heart.' The Pedal Steel Player gave a Don Helms intro and I sang the song and the band Members did the break; Pedal Steel, Lead Guitar, Fiddle, Sax—I also did Kaw-Liga–my Wife's Favorite Song. It was nice doing music with an excellent band."
Mary Mitchell writes, "I wasn't aware that Gene Burkhart went to meet the Lord. We were FB pals and we had several phone calls. I told him I had converted 240 LPs to CDs. I told him I cannot sell them, but if he had any he would like, I would mail some to him. It cost me 20 dollars and I sent him a hel- of a bunch. He was so happy and said I don't know where to start. That was several years ago. I am so glad I could help a country Fan have some Good old Country Music. May Gene RIP. I love Jamey Johnson. He will be the next Mr. Nashville. I can't say a thing about Bill Anderson that no one has already said. I know Bill personally and he is truly the roots of Country Music. XOXOXO to Bill."
Alexander Shannon asks, "If you don't mind me asking, how do people subscribe to your newsletter? I was forwarded a copy of your newsletter by a friend, and although I live in the UK, I'm a fan of country Music, as I spent 2 years in the USA in my early teens, and therefore developed an interest in Country Music. I'd be interested in receiving your newsletter. I have a couple of friends who may be interested in subscribing to your newsletter, one of whom presents a country-related radio broadcast on an internet radio station, and another who is a UK country artist. Am I correct in thinking that all prospective subscribers need to do to subscribe, is to send you an e-mail requesting to be added to the list, or is there a subscription link on a specific webpage?"
Diane: Anyone who wants the newsletter in their email inboxes only needs to send me a note with their name and email address.
Russell Turner writes from Australia, "Thanks for the big wrap-up, Don Holland. You are too kind. Love you Don."
Dave Barton in Franklin, Kentucky, says, "Bobby Fischer called me we talked forever he comes up to the horse track here in Franklin every Saturday so we're going to get together. I bet it's been 40 years since we've seen each other. Thanks for giving him my number."
Bobby Fischer says, "Your newsletter helped once again 'cause you forwarded the info on Dave Barton. We're back in touch. He's one of the good ones we spent some good times working our way through the music biz tangles through the years. Thanks a bunch, also, for running my little Moe @ Joe story. Great for all of us to have you in our corner."
Philip Davies writes from the United Kingdom, "Enjoying reading your excellent biog of Faron Young whilst listening to a UK 2cd of his Mercury sides. I have both your music biogs. Saw Marty in UK, met his son at Opryland, never saw Faron sadly. I read the recent newsletter about dear Mickey Gilley. I'm a retired school principal from Wales. I've been a music fan since seeing GI Blues in 1960. My country favs are Jerry Lee, Merle Haggard, and Hank Snow, most played as well. I collect the wonderful Bear Family boxes 'n CDs, the finest archivists in the world. My father was a young merchant seaman during WW2 on many Atlantic convoys as well as the infamous Arctic ones to Murmansk. He saw the scuttling of the Graff Spee at River Plate too. Saddened this week by loss of Ronnie Hawkins whom I saw and interviewed in mid '90s after a show in Wales. A truly hilarious guy. Lovely comments by his protégé Robbie Robertson last few days. An English friend wrote Hawk's biog and got President Clinton, a huge fan, to provide the foreword."
Tom Kaufman in Denton, Maryland, says, "For whatever reason, your newsletters are not getting to me via the usual way (am fortunate that I'm on a list where a good friend of mine posts your newsletters) but would like to continue to receive my own copy. Have checked my junk mail and still am not finding them…although I'll have another look in a minute; meanwhile, figured I would write to let you know what's going on, for I very much enjoy being able to receive your newsletters as you keep us up to date with what's going on with the more traditional country artists. Keep on sending out these good newsletters. As long as my friend keeps posting to the list I'm on, I'll still be able to read; am just hoping I can once again receive my very own copy."
Diane: I hope we got that problem fixed, Tom, and you're reading this newsletter in your email inbox.
Priscilla McPheeters writes from Lawrence, Kansas, "This is a wonderful newsletter. Each one seems even better than the last. I'm particularly gratified to hear about Wynonna's tour with her friends. That made me smile."
David Markham in England says, "Very sorry I've lost your email. Stroke is a terrible thing to get, but if you follow the doctor's advice and don't drink or smoke, get plenty of exercise and walk if you can and have a good partner who loves and takes care of you, you can't go wrong. I hope and pray God looks after you, as we need you and your information on Country Music. Please can you send another Country newsletter out? Thanks a million for all your hard work with your Pen."
Mike Johnson, owner of Roughshod Records, writes from Arlington, Virginia, "Just checking in to let you know I have been receiving and enjoying your newsletters. Except the obituaries. So sad hearing about all the great talents moving on to Hillbilly Heaven. I've been quite busy trying to meet the deadline for our label's 56th and 57th releases, Mike Johnson's 50 Black Yodels! and Second Time Around! The first one is done and the cover and liner graphics for both are ready to send to our printer. However, the second one has been a bit challenging since I haven't performed in a while. My voice wasn't ready, and I had to adjust to James' style since I'm using tracks he created for his releases. Been interesting but I'm getting there. More later from the man with the damaged thumb tendon… Take care."
Terry Burford of KZHE Radio in Magnolia, Arkansas, says, "I really enjoy your newsletters. I use them every show – – giving you credit of course- I'm going into my 60th year on the air- thanks for your support of traditional country music – so save your Hank Williams records – country music's gonna rise again."
VIDEO OF THE WEEK
During the 2009 season of American Idol, as reported by Whiskey Riff, the show hosted Grand Ole Opry week, where contestants paid tribute to present and past Opry members. Carrie Underwood, the American Idol winner in 2005, sang "I Told You So" with Randy Travis. You can see how impressed they were with each other. It must have been nerve-wracking for her to sing his song with him sitting beside her. Randy later said, "She's so far beyond me that it's ridiculous. She's an incredible singer."