IN THE SPOTLIGHT – JAMES DUPRÉ
Tickets go on sale today, June 1, for The Music of Randy Travis Concert at the Corn Palace in Mitchell, South Dakota. The show takes place Sunday afternoon, August 28, at 2 pm, to conclude the annual Corn Palace Festival. James Dupré will be singing Randy's songs, backed by Randy's band. Randy Travis can no longer sing, due to aphasia and aftereffects of his 2013 stroke, but he and Mary will be there. So will Jeff Davis, who has been Randy's tour manager for 35 years. I've talked to most of the group while doing my research for Randy's biography, and I'm excited to be able to meet them all.
The World's Only Corn Palace was initially built in 1892 on Mitchell's Main Street to prove to the world that South Dakota had a healthy agricultural climate. The present building was completed in 1921. It hosts basketball tournaments, concerts, graduations, and numerous other events. The Palace is redecorated each year with naturally colored corn and other grains and native grasses to make it the agricultural showplace of the world. Twelve different colors or shades of corn are nailed, ear by ear, to the Corn Palace exterior to create scenes. In 2018, I attended a ceremony to dedicate a mural of USS South Dakota (BB 57) as part of that year's theme, "Salute to Military." The theme for the murals this year is "Under the Big Top."
I called James Dupré last week to find out what he's been doing since our interview almost two years ago. James co-starred with Randy in the movie, The Price, released in 2015.
Filmmaker Kim Hughes had called James in early 2013 and asked if he'd be willing to play the son of Randy's character in a short film she had written for Randy. She said she'd seen his music videos on YouTube and thought he was right for the part. James told her he wasn't an actor but would love to give it a try. When he met Randy on the movie set, he was "super nervous," he told me, but Randy walked in with his guitar and started singing for James a song he'd just written. "I was looking around," James recalls, "and I was like, man, is this really happening right now? It was pretty surreal." Randy also gave James tips about the different scenes they were shooting.
They filmed in early 2013, and Randy's stroke occurred in July. Kim wanted people to see what a great job Randy had done in the film, but she knew most people don't watch short films, so she'd have to turn her 20-minute film into a feature-length one to make it marketable. She added more than an hour by rewriting the story line and making it about James entering a TV talent show similar to The Voice. I've watched the movie twice, and I thought James did a great job. Kim's seamless rewrite impressed me, too.
When The Music of Randy Travis Concert series was put together in 2019, James was the natural choice to sing Randy's songs. They wrapped up with a Ryman Auditorium performance after most of the shows were canceled due to the pandemic. Now, in 2022, there are six confirmed dates, with the Mitchell show as the last one, although more may be scheduled. They've already done one show, which was at Penn's Peak in Jim Thorpe, Pennsylvania.
James moved his family back home to Louisiana last summer, after living in Nashville for ten years. "During the pandemic," he says, "it was just kinda like, you know what, I feel like this is a good time to get out of here, a good time to go home." He built a house in Broussard, right outside Lafayette. He has four teenage sons from his first marriage and a two-year-old baby girl with his second wife. "A lot of great music happens here, it's a good music scene," he says, "so I've been doing a lot of local stuff, acoustic shows. That's basically what I've been focusing on–and being a dad to my kids."
He hasn't recorded anything since his 2020 album, Home and Away. He hopes it won't be too much longer before he heads back to Nashville for a recording session. Although there are good studios in the Lafayette area, he has his favorites in Nashville.
I asked if he does any acting. He says he's open to acting opportunities but hasn't been pursuing anything recently. He did a pilot for an NBC-TV show in which he was a lead singer in a bar scene. "Of course, the pilot didn't get picked up," he says, "so nobody ever saw it."
James reads my newsletter. "That's how I keep up a lot of the news," he says. "I'm not really on social media." You can learn more about James and his music at https://www.jamesdupre.com.
He has never been to South Dakota. "I'm very excited about going," he tells me. "I've always wanted to visit the Dakotas." I said I'd like to give the group a tour of Battleship South Dakota Memorial on their way back to Nashville if they're able to stop in Sioux Falls. "That would be cool," he says. "That's part of the joys of being on the road, getting to see all these different things."
James will be singing "all sixteen number ones and a few other favorites," he told me. "These are songs I grew up listening to." Which shows how young he is.
"It's going to be a lot of fun honoring Randy Travis and the great songs he put out," James says about the tour. "The band's excited, and Randy and Mary are excited about being on the road and heading up there. We're looking forward to seeing everybody."
We are looking forward to hosting The Music of Randy Travis Concert here in South Dakota.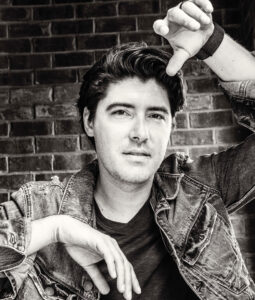 NEWS
One of the most prominent musical arrangers in Nashville's history, Bill Walker, 95, died May 26. MusicRow reports he was born in Sydney, Australia, trained at the Sydney Conservatory as a keyboardist, and was working for RCA Records in South Africa when he produced several recording sessions for Jim Reeves, who promised him a job in Nashville. He arrived the weekend of Jim's plane crash. Chet Atkins hired him to write string arrangements for Eddy Arnold, one of which was "Make the World Go Away" in 1965. Bill was musical director of the Johnny Cash Show on ABC-TV, where Johnny closed each episode with "Goodnight, Bill Walker!" In addition to leading orchestras for the annual CMA Awards Show, Bill worked on numerous Nashville television specials and was the music director of The Statler Brothers Show on TNN from 1991-98. In 2015, the Country Music Hall of Fame & Museum included Bill in its Nashville Cats: A Celebration of Music City Musicians, and the Nashville Musicians Union honored him for fifty years of service.
The Canadian Press reports that Ronnie Hawkins, 87, a brash rockabilly star from Arkansas who became a patron of the Canadian music scene, died Sunday morning, May 29, after an illness. He had been taken off life support the previous evening. The Huntsville native known as "The Hawk" was a hell-raiser who had minor hits in the 1950s. He ran a club in Fayetteville, Arkansas, where acts included such early rock stars as Carl Perkins, Jerry Lee Lewis and Conway Twitty. On the suggestion of Conway Twitty, who frequently toured in Canada, he went to Canada in 1958 to get away from the saturation of rockabilly performers in the USA. Drummer and fellow Arkansan Levon Helm went with him. They put together a Canadian backing band and toured together from 1961-63, until the Hawks outgrew their leader. They hooked up with Bob Dylan and became superstars on their own after renaming themselves as The Band. The Hawk himself became a permanent resident of Canada in 1964 and settled in Peterborough, Ontario.
Guitarist Thom Bresh, 74, biological son of Merle Travis, died May 23 in Nashville. "In addition to his dazzling instrumental skills, he was a fine humorist, a songwriter, an impressionist, a designer of guitars and a TV personality," MusicRow reports. Thom learned as a young man that Travis was his father, but he didn't reveal that knowledge until after Bud Bresh's death in 1987. His mother, Ruth Johnson, had married photographer Bud Bresh following her liaison with Merle Travis in 1947. In the early 1970s, Thom decided to follow in his birth father's footsteps and perform country music. He collaborated with Chet Atkins, Jerry Reed, Hank Thompson, Lane Brody and Steve Wariner.
When Tess Frizzell is referred to as being born into Country Music Royalty, the title fits. Her parents are Shelly West, daughter of Dottie West, and Allen Frizzell, brother of Lefty Frizzell and David Frizzell. Tess has released her debut single, "The Wrong One." A press release explains how the song was born from lyrics Dottie started on a yellow notepad in the 1960s. Bobby Tomberlin and Billy Lawson, with help from Tess, finished the song. She is especially honored to see her name listed as co-writer with her grandmother.
Singer/songwriter/multi-instrumentalist John Driskell Hopkins, one of the founding members of the Zac Brown Band, has been diagnosed with Amyotrophic Lateral Sclerosis (ALS), also known as Lou Gehrig's Disease, CMT News reports. He had been noticing balance issues and stiffness in his hands for several years. "Because my symptoms have been slow progressing from the start, we believe they will continue to be slow progressing going forward," he says in a social media post. "God willing, I plan to be rocking with these amazing people for many years to come." Zac Brown adds, "The technology and research around ALS treatments has been advancing, but we still don't have a cure." Nearly 5,000 people are diagnosed with ALS per year, with average life expectancy being two to five years. ALS is a progressive nervous system disease that affects nerve cells in the brain and spinal cord, causing loss of muscle control. Hopkins has launched the Hop on a Cure foundation. Those who wish to donate can text "Hop" to 345-345 to help fund ALS research.
When the Zac Brown Band learned that Randy Travis was planning to be in the audience at their show in Frisco, Texas, they included a tribute to him in their performance. Taste of Country reports, "They treated the crowd to a harmony-laden rendition of 'Forever and Ever, Amen,' a Travis hit from 1987." Frontman Zac Brown posed for photos with Randy backstage. The Zac Brown Band, one of the first major country acts to scrap an entire tour amid pandemic lockdowns, is in the middle of its its full tour since before the pandemic. The 2022 Out in the Middle Tour will last into mid-November. In 2021, the Comeback Tour was canceled after a few shows when Zac tested positive for COVID-19.
Nashville Women in Film & Television (WIFT) is committed to advancing professional development and achievement for women working in film, video, and interactive media in Nashville. At the recent WIFT ALICE Awards Ceremony and Gala Dinner, Jeannie Seely was honored with the Legacy Award. The WIFT ALICE Award is named after Alice Guy-Blache, the world's first female director. Other award recipients included Kelly Lang (Icon Award), Beverly Keel (Cornerstone Award), Gisela Moore (Leadership Award), and Mandy Barnett (Woman of Excellence Award). The WIFT ALICE Awards are part of the SWIFT Summit, which provides scholarships awarded by the Nashville Women in Film & Television.
CMT News reports Don McLean, Larry Gatlin, and Larry Stewart were the first to drop out of the Grand Ole Night of Freedom concert special at this year's three-day National Rifle Association (NRA) convention. The other artists on the bill were Danielle Peck, T. Graham Brown, Lee Greenwood, and Jacob Bryant. Don McLean said, "in light of the recent events in Texas, I have decided it would be disrespectful and hurtful for me to perform for the NRA at their convention in Houston this week." Larry Gatlin said, "I cannot, in good conscience, perform at the NRA convention in Houston this weekend. While I agree with most of the positions held by the NRA, I have come to believe that, while background checks would not stop every madman with a gun, it is at the very least a step in the right direction toward trying to prevent the kind of tragedy we saw this week in Uvalde — in my beloved, weeping TEXAS." Larry Stewart, former lead singer of Restless Heart, said, "Due to the tragedy in Uvalde with the horrific school shooting and children who died, I want to honor the victims, families, the town and our friends in the great state of Texas the best I know how. So I have made the decision to pull out as a performer for the NRA convention this weekend." Billboard reports that Lee Greenwood, T. Graham Brown, and Danielle Peck came next. Lee Greenwood said, "I was scheduled to perform at NRA's private event on Saturday with my band. After thoughtful consideration, we have decided to cancel the appearance out of respect for those mourning the loss of those innocent children and teachers in Uvalde." T. Graham Brown said, "Sheila and I grieve with the families, city of Uvalde, the state of Texas, and our nation. We are very sensitive to the feelings of the good people who lost loved ones, therefore I am opting out of the concert in Houston on Saturday." Danielle Peck, host of Y2Kountry on Sirius XM, said, "After much thought, as both a mother and out of respect for all of the families in Uvalde during the heartbreaking time, I have made the decision to not host or perform at the NRA Event in Houston this weekend." Jacob Bryant, the only remaining performer, later tweeted, "The show was canceled yesterday."
In a recent ceremony at Fort Sill, Oklahoma, Craig Morgan was inducted into the U.S. Field Artillery Hall of Fame for his 17 years of active duty. CMT News reports he was stationed there during his military service. The United States Field Artillery Association class of 2022 included 33 past honorees of the USFAA Music Tattoo and four living Medal of Honor Awardees who served in the Field Artillery.
Wynonna Judd has announced she will transform The Judds: The Final Tour into the ultimate girls' night out, CMT News reports, with the addition of Brandi Carlile, Faith Hill, Little Big Town, Ashley McBryde, Trisha Yearwood and more to be announced. Each night one of the women will appear with Wynonna on stage to help her sing the duo's classic hits. The 11-date arena tour will launch September 30 in Grand Rapids, Michigan, and continue through October before wrapping in Lexington, Kentucky. Faith Hill will join Wynonna at the new hometown show in Lexington. "What a full-circle moment it will be to end the tour in Kentucky where it all began," Wynonna says. "It means so much to have my sisterfriend, Faith, join me for this musical celebration."
The grand marshal for the Ally 400 NASCAR Cup Series race at Nashville Superspeedway on June 26 will be Kane Brown, The Tennessean reports. He will give NASCAR's top drivers the command to start their engines before the race. The Chattanooga native was recently named to the Time100 Most Influential People in the World List. In 2017, he became the first artist to lead all five of Billboard's main country charts simultaneously. Kane has had seven No. 1 hits on country radio, including the seven-time platinum hits "Heaven" and "What Ifs."
Blake Shelton served as this year's Grand Marshal of the 106th Indianapolis 500 at Indianapolis Motor Speedway in Indianapolis, Indiana, on Sunday. He gave the traditional command for drivers to report to their cars during the official pre-race ceremonies. Outsider reports he was recently the grand marshal for NASCAR's All-Star race at Texas Motor Speedway, where he played a pre-race concert.
The Ryman Auditorium has been designated as an official Rock & Roll Hall of Fame landmark by the Rock & Roll Hall of Fame, reports MusicRow. The presidents of Ryman Hospitality Properties and the Rock & Roll Hall of Fame presided over a dedication ceremony on May 26. A historic marker was unveiled to celebrate the milestone. The Ryman, currently celebrating its 130th anniversary, now joins 11 other rock & roll landmarks throughout the country, including Austin City Limits and Whisky a Go Go. The Ryman and the Rock Hall also announced a multi-year partnership, which will include a new daytime tour exhibit at the Ryman scheduled to open later this year featuring the more than 100 Rock & Roll Hall of Fame inductees who have performed on the Ryman stage over the years. Ten-time Grammy-winner and Rock & Roll Hall of Famer Bonnie Raitt performed a sold-out show following the ceremony.
"Kingsland, Arkansas, has a real Cash flow problem." That was the opening line for a THV11 newscast in Little Rock when the news broke about someone shooting a hole in the Johnny Cash silhouette on the town's water tower. Cleveland County Herald reports a 38-year-old Kingsland resident has been arrested and charged with criminal mischief (Class D felony) and impairing the operation of a vital public utility (Class C felony). If convicted, he could face up to $20,000 in fines and 16 years in prison. His bond was set at $5,000, with a hearing scheduled for July 2 in Cleveland County Circuit Court. Repair work was expected to cost more than $5,000, a great expense for a town of only 514 residents. The Kingsland mayor has been interviewed by all three Little Rock-based TV stations, as well as national media, from TMZ to the Washington Post. Social media posts abound, such as, "He shot a man in Kingsland just to watch him pee." The mayor says all the publicity is a mixed bag: "We let people know we're here but it's for a stupid reason. It's given us a lot of attention, but not the attention we wanted."
The CMA Music Fest (formerly Fan Fair) concludes each year with a Sunday Mornin' Country concert, sponsored by the Nashville-based nonprofit, Music City Christian Fellowship. The 40th anniversary show will take place June 12 on the Grand Ole Opry stage, with Brenda Lee once again serving as the show's host. The list of country music artists coming together to share their favorite Gospel songs includes Charlie McCoy, Cowboy Joe & The Babcocks, Dianne Sherrill, Joanne Cash Yates, John Berry, LuLu Roman, Stu Phillips, and T. Graham Brown, among others. "Sunday Mornin' Country is one of my favorite things to be a part of each year," Brenda says in a press release. "It reminds me of my childhood, going to church, being with old friends, meeting new friends and sharing the songs of my childhood."
The Grand Ole Opry held a Salute the Troops Opry performance at the Tuesday night Opry, MusicRow reports. Artists were Cam, Dailey & Vincent, Riley Green, Jake Hoot, Riders In The Sky, U.S. Army veteran Craig Morgan, and husband/wife duo The War And Treaty, both U.S. Army veterans. The Opry, its Humana sponsor, and the DAV invited U.S. military members, veterans and family members to walk the red carpet into the Opry House for the evening's special show. The performers greeted the guests at the end of the red carpet.
LETTERS
Jackie Allen Thomas writes from Arizona, "Sad to report that Gene Burkhart has passed away here in Arizona. Gene had played his great country music all over the country at one time but in his later years he played in Texas periodically but mostly here in Arizona. He loved reading your newsletter. He will be greatly missed by all who knew him and loved to hear him sing and play."
Diane: I'm so sorry to hear about Gene. He often wrote to talk about how he was still performing. One of Gene's relatives sent me this note from his email account: "Gene Burkhart, a well-known contributor passed away May 9th, 2022. He was 88 and had a stroke. He was singing until the very end."
Tony Byworth writes from the United Kingdom, "Reading Jean Earle's comment about Ferlin Husky, I'm pretty sure no one has written a book about this artist, though he's certainly well deserving having scored more than 50 chart singles in a career that combined music with comedy. Sadly, as time passes, so does the interest in many of the artists from earlier eras. Ferlin obviously liked to connect with his fans as I remember, when the British Country Music Association made its first trip to Nashville in 1969, he was part of the welcoming committee and spent time talking with many of the 120 members in the group."
Don Holland in Kissimmee, Florida, says, "I am promoting two people for the Country Music Hall of Fame: first of all, as I have mentioned before, you deserve to be in the Hall of Fame for your magnificent newsletter. You do more to promote country music than anyone else I know of. Second, I agree with Big Mal Coad, Slim Dusty should hang in the Hall of Fame like Hank Williams hangs in Tennessee. I have some great friends in Australia including the Turner brothers, Russell and Peter. Peter is a Vietnam veteran and Russell is an accomplished country music performer. They are some of the greatest fans of country music I have ever known, and they have taught me a lot about country music in the USA and Australia, which has an incredible culture and history of country music. The late and great Slim Dusty is recognized as the king of country music in Australia. The two of you would contribute a great deal of dignity to the Country Music Hall of Fame."
Diane: Thanks for the compliment, Don. If they ever start putting writers into the Country Music Hall of Fame, there are a few that would definitely go in before me. I bought Slim Dusty's CD when I visited Australia. He was recommended to me at the time, and I enjoyed his songs.
Dominique 'Imperial' Anglares writes from France, "Thanks for that nice Country Music newsletter and for the care given to Mickey Gilley and Jerry Lee Lewis. Not many know but Mickey Gilley had his first commercial release in October 1957 for Minor, a record label from Texas. In February 1958, he had a bright rockin' release on Dot. He worked hard his way to success and well deserved it. He was far more than Jerry Lee Lewis's cousin. It is not the End of the Road for Shorty … His records will be still played at The Drive In. Ooh Wee Baby!"
Andy Williford, Faron's boyhood friend, says, "My wife and I watched Coal Miner's Daughter last night and I am reminded how much my best friend Faron Young contributed to Country music during his lifetime. Hiring Kris Kristofferson when he came to Nashville, Roger Miller in his band, meeting Willie Nelson in a bar and recording a song written by Willie, that became one of the top Country Songs of all time. First Country Artist to record 'Sweet Dreams' and Don Gibson could have gone to anyone, but he went to Faron, First Country Artist to appear with Patsy Cline at Carnegie Hall in New York, Inviting Elvis Presley to open for him in Orlando, Florida, etc. The reason I am replying is that Faron Young is barely, if not at all, mentioned on Country Music's TV shows. It seems he is blackballed because of his behavior but is he the only one? I understand he was a pain, but my emphasis here is the key word 'Contribution.' Thank You Diane for a wonderful newsletter."
Diane: The reason I started writing Faron's biography was because I didn't want him to be forgotten. I felt as you do, Andy, and that was in the late '90s. I was so thrilled when he made it into the Country Music Hall of Fame in 2000.
David Markham writes from England, "The Late Mickey Gilley–Dead But Not Forgotten. Another great Artist is Gone to the cemetery. No more singing or dancing at Mickey's Club. It's a good job Jerry is hanging on! The King Elvis is waiting for all his buddies to join him on stage. Roy Orbison, another fine singer. Well Diane as long as you can still write your "Newsletters for All The Country Music Fans."
Nobuhiko Ogino in Japan says, "I always enjoy your newsletter!"
Bobby Fischer writes from Nashville, "Tom Bresh died. He sure was a talent. We're losing too many of the artists that made listening to our music worthwhile. Another story: I was at a radio seminar in Roanoke, Virginia, with Don Wayne a long time ago. I checked my messages and had one call, Ray Baker in Nashville. Didn't know Ray except to drop off my songs to try for a cut on Moe Bandy. He said he listened to one he really liked for Moe, 'The two of us are one of a kind.' I was managing Sonny Throckmorton and wrote it with him. Ray wondered about my share of the publishing and would I want to sell it. I said I didn't really need the money right now (fib). He said would you come and talk to me when you come back? Sure. I went to his office. I told Ray I would sell my part of the publishing if he recorded a song I wrote and published a hundred percent on Moe and Joe. They were hot in the charts with great country corny duets. He said he didn't know if Joe Stampley would go for that. I said that's my deal. He said what's the song? I said, 'Partners in rhyme.' He liked the title and said let's hear it. I said I'll go home and get it. He said OK. I went home and wrote it. I already knew in my head what the little story was from my title. And a simple melody. He liked it we made the deal. Our song 'One of a kind' on Moe was a single release and went up into the top national charts on Columbia Records. The 'Partners in rhyme' went gold and up on my wall. Ray was great to show songs to. He recorded several more of my songs on Moe and Joe and also a couple on Charley Pride. Those were great old country music days when music companies actually would listen to something they didn't own. It's not as much about the music now."
VIDEO OF THE WEEK
One of the best songwriting stories, in my opinion, is that of Bill Anderson, Jamey Johnson, and Buddy Cannon writing "Give It Away." Bill Anderson, laughing, tells the story: "We were struggling to find an idea, and Jamey finally said, 'Well, I'm going through a divorce.' And I said, 'If you're going through a divorce and you can't write a song about that, then you need to turn in your guitar. You're not a songwriter.' He picked his guitar up and started strumming along, and then Buddy Cannon came up with the idea of doing the little talking part." George Strait's recording of "Give It Away" in 2006 became his 41st #1 single, breaking Conway Twitty's previous record of 40. It won the 2007 Song of the Year award from both the CMA and ACM. One of my all-time favorite song lyrics is that of having "a lonely broken heart full of love, and I can't even give it away." Here's the video of Jamey and Bill singing "Give It Away" during Jamey's Grand Ole Opry induction ceremony on May 14. Although Buddy couldn't be there that night, his daughter was. Melanie Cannon is one of Jamey's backup singers.