CONCERT REVIEW – GENE WATSON
Gene Watson finally gave his concert at the Sisseton Performing Arts Center. He told us the May 7 show had taken so long to happen he didn't think they would ever do it. It was two years in the making. "We drove all the way up here from Texas," he said, "because we were determined we were going to make it this time."
He'd been scheduled for November 13, and he intended to fulfill his commitments in Iowa and South Dakota, even though he'd recently had bronchitis and pneumonia. When he told his doctor he was going, the doctor said no: "If you do, you'll never sing again." Gene stayed home.
He's still under restrictions. "If I wanted to get back on the road and work," he told the audience, he had to agree to no autographs, no pictures, no shaking hands, no hugging during his shows. That's a tough assignment for a performer who routinely signs autographs and poses for pictures. It's the way he shows how much he appreciates the fans; it's his "small way of saying thanks." He promised to get off the bus anywhere along the road to talk to fans who want autographs and photos.
It's been sixty years since Gene released his first single. He is celebrating 2022 with a yearlong 60th Anniversary Tour, which he kicked off on New Year's Day in Florida.
At age 78, Gene still sings as powerfully as ever. We could hear his shortness of breath when he talked, though. He takes a stool onstage so he can sit down and catch his breath between songs. He used the stool when he was talking but not while singing.
Gene told us how he learned of the pandemic. He and the Farewell Party Band were rolling down I-10 and excited about their upcoming three-day run in Georgia, planning for 2020 to be their biggest year ever. On their way to Valdosta, while at a truck stop, they saw the governor of Georgia on a TV press conference telling everybody over fifty to stay home. COVID had hit. "That pretty much put a cork in our bottle," he told us. "We made a U-turn and headed back to Texas." They stayed home for the next fourteen months.
One of the first songs of the evening was 1975's "Love in the Hot Afternoon." Gene included several songs from his album, My Heroes Have Always Been Country, which contains cover songs that pay tribute to the singers who influenced him. Gene describes himself as "sort of an ambassador for classic country music."
At one point in the show, he mentioned he'd quit drinking 45 years ago. After telling us he'd crawled out of more bars than most people walk into, he joked that Seagrams laid off one full shift when he finally quit. That led into a story of a woman he'd noticed one night sitting alone at a table and drinking shots. When she thought of a song she wanted to hear, she jumped up and miraculously slid down the aisle without falling, where she came to a stop in front of the stage. She looked up at Gene and announced, "You look good with nothing on." So he sang his 1980 hit, "Nothing Sure Looked Good On You."
Gene talked too fast for me to take notes (especially in the dark), and he packed too many words into his stories for me to remember them. I did get a few snippets. He was talking about touring one time with Johnny Russell, who would chastise Gene after the show for not mentioning him. Or something like that. Once, Johnny told Gene he would write him a hit song. Gene, being from Texas and experienced in recognizing lies, didn't believe him. Until the song arrived in the mail, and Gene knew it was a winner. When he started singing one of my favorite songs, "Got No Reason Now for Goin' Home," I wasn't surprised. Although I didn't know Johnny Russell had written the 1984 hit, it did sound like his style.
Talking about Johnny and other fellow performers, Gene said, "Pretty much everybody I know has cashed in." Then he added a bit of news that some in the audience probably hadn't heard yet: "It just killed me today when I learned about Mickey's death." We had heard shortly before the show that Mickey Gilley died that afternoon.
Gene talked about sitting on the bus one night and going through a box of demo tapes in search of a good song to record. Just as he was ready to quit, he came across a tape labeled, "From Dallas Frasier to Gene Watson." Nobody could get a demo from Dallas Frasier and not listen to it. As soon as he heard "14 Carat Mind," he knew it would be a hit. The single zoomed up the chart and had reached #2 when the charts were frozen for the Christmas holiday. Having a song hanging at #2 ruined his Christmas, and he was crabby to everyone. But January 1982 opened with "14 Carat Mind" at #1. And Gene was in a great mood.
In another story, Gene was shopping for a new truck. He wanted everything on it. He didn't want to find out later that somebody owned one with a feature he didn't have on his. He drove it out of the lot and was on his way home when he realized it didn't have a CD player. There was only a little hole that he thought must be a mistake. He made a U-turn on one of the busiest streets in Houston and headed back to the dealership. The salesman told him very few vehicles are sold with CD players anymore. "Everybody uses ABC ports now," Gene explained to us. Lead guitarist Chad Phillips corrected him to say it's a USB port.
Many artists don't ever find a career song, Gene told the audience, and he found his career song in fifteen minutes, when they had time to do one more cut to finish an album. The musicians all did a run-through, and then they recorded the song. The first take went on the album. By this time in the show, Gene and his band had been onstage for 90 minutes, and I expected this to be his final song. I was sitting there trying to figure out which song it could be. Which hit hadn't he sung yet? Well, duh, it has been his signature song since 1979. "Farewell Party."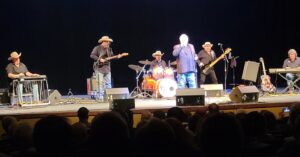 I can't end without mentioning Remington, the band that opened the show. Although we missed the family-friendly humor of Just Between Friends, we enjoyed the musicianship of the new band. It contains five of the nine original band members, plus two new ones, featuring Ron Kohl on bass and Wade Johnson on keyboard.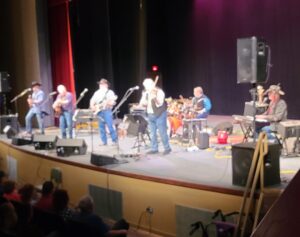 Upcoming shows at the Sisseton Performing Arts Center will be Janie Fricke on Friday, July 22, and the Bellamy Brothers on Saturday, September 17. I'll be there.
NEWS
Mickey Gilley (1936-2022)
Mickey Gilley, 86, died peacefully with his family and close friends by his side, on May 7 in Branson, Missouri. He had just come off the road, having played ten shows in April. The native of Natchez, Mississippi, grew up with his two famous cousins, Jerry Lee Lewis and Jimmy Swaggart. He opened his world-famous honky-tonk, Gilley's, in Pasadena, Texas, in 1971. His 1970s hits included "Room Full of Roses," "Chains of Love," "She's Pulling Me Back Again," and "Here Comes the Hurt Again." In 1980, he and his nightclub appeared in the movie Urban Cowboy. He was inducted into the Texas Country Music Hall of Fame in 2011. A celebration of life will be held May 27 at the Mickey Gilley Grand Shanghai Theatre in Branson, with live streaming available. More details will be posted on the Mickey Gilley Facebook page. There will be a public memorial this summer in Pasadena, Texas, a private one in Ferriday, Louisiana, and a public tribute celebration in Nashville.
The Country Music Association has named the newest inductees to the Country Music Hall of Fame. Brooks & Dunn made the announcements Tuesday morning in the Country Music Hall of Fame rotunda. Joe Galante, 72, former national president of RCA Records and former chairman of Sony Music Nashville, was named in the non-performer category. He follows Chet Atkins and Jerry Bradley into the CMHOF as RCA label heads. Keith Whitley is the modern performer. His widow, Lorrie Morgan, accepted his award. Jerry Lee Lewis, 86, is the veteran performer. He joins four Sun Records compatriots–Johnny Cash, "Cowboy" Jack Clement, Sam Phillips, and Elvis Presley–already in the CMHOF. He is also the fourth member of the ten original Rock 'n' Roll Hall of Famers (1986) in the CMHOF–Elvis Presley, the Everly Brothers, and Ray Charles. The three new members join 146 existing members of the Hall of Fame. A moment of silence honored three members who died this past year: Ralph Emery, Pig Robbins, and Naomi Judd.
Five first-time nominees were selected in the performer category of the Rock & Roll Hall of Fame class of 2022: Dolly Parton, Duran Duran, Eminem, Lionel Richie, and Carly Simon. Along with Pat Benatar and Eurythmics, seven were chosen from a list of 17 nominees. This year's induction ceremony will be held November 5 in Los Angeles at the Microsoft Theater. The Tennessean says, "Purists will continue the endless debate about which genres of music are legitimate entries into an organization created to showcase rock 'n' roll. The inclusions of country luminary Parton, rap titan Eminem and pop standout Simon will only exacerbate the argument."
A memorial service for Naomi Judd was held Sunday, May 15, at the Ryman Auditorium in Nashville. The live, public tribute–Naomi Judd: A River Of Time Celebration–aired on CMT. "We are sincerely privileged to work alongside Wynonna, Ashley and Larry to present this live celebration of life for their mother and wife Naomi," CMT producers said in a statement. Wynonna Judd announced she will continue The Final Tour 2022 in honor of her mother. "I will continue to sing," she said. "I made a decision, and I decided to share it on national television." The tour will come to the Denny Sanford Premier Center in Sioux Falls on October 7.
In an interview on Good Morning America, Ashley Judd told Diane Sawyer that Naomi Judd died by suicide. "She used a weapon. Mother used a firearm," Ashley said. "That's the piece of information we are uncomfortable sharing but understand that if we don't say it, someone else is going to." She said the regard in which Naomi's peers held her "couldn't penetrate into her heart, and the lie the disease told her was so convincing." Sawyer asked what the lie was, and Ashley answered, "That you're not enough, that you're not loved, that you're not worthy." She said Naomi had asked her to stay with her that day. When Ashley went upstairs later to let her mom know a friend had arrived, she found her mother dead.
Drummer Tom Wilkerson, 86, died April 7 in Clarksville, Tennessee. Born Richard Thomas Wilkerson in Gadsden, Alabama, in 1935, he was raised in Lubbock, Texas, the Gateway Funeral Home obituary says. He began playing drums in grade school, served in the U.S. Army, and moved to Nashville in 1964 to pursue his dream of being a professional drummer in country music. He toured throughout the U.S., Canada, and Europe with artists such as Tom T. Hall, Marty Robbins, and Tex Ritter. With Marty Robbins, he played the final show at the Ryman Auditorium in 1974 and the first show at the grand opening of the new Opry House. He joined the band of Sonny James and later played drums for and managed both Ed Bruce and The Kendalls. Tom is survived by six children. A memorial service was held May 7 at Christ Church in Nashville.
Maggie Peterson, best known as Charlene Darling on the Andy Griffith Show, died May 15, at age 81. She passed away peacefully in her sleep, surrounded by family and friends. In the past few years, she had several injuries and surgeries to her shoulders, which left both arms partially paralyzed and in pain. She had an undiagnosed weakness in her legs, which led to a series of falls that resulted in broken bones, a concussion, and more surgeries. She was the caregiver for her husband, jazz musician Gus Mancuso, who suffered from Alzheimer's disease until his death. Relatives are planning a private service for Maggie in the next few weeks.
The Two Mississippi Museums in Jackson, Mississippi, is currently hosting an exhibit entitled The World of Marty Stuart, reports WLBT-TV Action News 5 in Memphis. Marty Stuart, 63, a Philadelphia native, has been collecting country music artifacts for 50 years. "My mama named me after Marty Robbins, and that's Marty Robbins' boots," he says. "So many of the pieces that are upstairs on exhibit were rescue items." The treasures had wound up in thrift stores or private collections. The more than 350 pieces on loan each have a story. He shows the aqua blue sequined dress worn by his wife, Connie Smith, from the concert where he first saw her. "That's Connie's autograph I got that night," he says, pointing to the framed page next to the dress.
On May 14, Bill Anderson inducted Jamey Johnson into the Grand Ole Opry, as member #228 in the show's 97-year history. Jamey wore a new, custom jacket by Manuel as Bill handed him the Opry Membership statuette, a model of the Opry microphone stand. "I've been dreaming about this since I was a kid," Jamey said. "And I'm not a kid anymore, as you can tell by the gray in my beard. I prayed for it every day." Jamey sang six songs during the hour-long Opry segment, each with a story about what the song and the country music culture means to him. One was "Near the Cross," the first song his dad (who was in the Opry audience) taught him to play on the guitar. "When I started writing songs at the age of 16, I knew that, hopefully, Grand Ole Opry membership would be in the cards for me," Jamie earlier told the Tennessean. The evening also marked the 40th anniversary of the 1982 induction of Ricky Skaggs into the Grand Ole Opry. MusicRow reports Nancy Jones, widow of George Jones, arrived backstage in a wheelchair. She had been so ill with COVID that she died in the hospital twice and was revived. Her recovery has taken seven months and she is starting to walk again.
Taco Bell is celebrating the May 19 return of Mexican Pizza, a favorite menu item of Dolly Parton, by releasing a TikTok video that stars Dolly and rapper Doja Cat. Mexican Pizza: The Musical is a satirical musical that chronicles the "harrowing" story of Mexican Pizza enthusiasts who fought to bring back their favorite menu item. Entertainment Weekly reports, "The musical is inspired by Doja Cat's viral TikTok jingle about the menu item and digital creator Victor Kunda's hilarious response to it: An interpretation of what a Mexican Pizza musical rehearsal would look like."
"Callin' Baton Rouge" caused a small earthquake when Garth Brooks, 60, sang the unofficial alma mater song at his recent concert for more than 102,000 fans at Louisiana State University's Tiger Stadium. A professor at the college reported movement in the stadium registered as a small earthquake during the song. Ahead of the concert, a Twitter question asked if somebody at LSU would be running the seismograph for "Callin' Baton Rouge," and the official LSU account replied, "Actually…yes." According to PEOPLE, the concert marked Garth's first time to play Baton Rouge in 24 years.
Upon arriving at the municipal building early last week in Kingsland, Arkansas, birthplace of Johnny Cash, the city's water office manager discovered a hole had been shot through the tower tank. "But it does not appear to be a random shot," reports the Arkansas Democrat-Gazette. A silhouette of the hometown boy holding a guitar had been painted on the water tower during a 2021 renovation project, when a $300,000 grant paid for refurbishing its interior and exterior. Repairing the hole is expected to cost over $100,000, with the water pump running almost constantly until then to maintain proper levels. The last time someone shot a hole in the tank was in 1993; that person was charged with a class 3 felony and fined $11,000. There is speculation that it might not be a bullet hole, but that someone climbed the tower in the dead of night and drilled a hole in the selected spot. Kingsland has a population of about 400.
LETTERS
Ron Reagan says, "Yahoo is trying to mark your emails as spam for some reason. You might want to make sure everyone knows this so they can mark you as a 'safe' sender."
Bobby Fischer writes from Nashville, "Sure sorry to hear about Mickey Gilley. What a great talent. Don't know if I told you about the song he recorded of mine. I saw the movie, The Right Stuff, and was writing the next day with Rick Giles and Bill Haynes, who was screening songs for Gilley's producer, Norro Wilson. We demoed "The Right Stuff." Bill put it into the 'record' stack. He cut it on Mickey Gilley and Charly McLain. We went top twenty in America. Strange biz, huh?"
Carol Smith says, "Really enjoyed the article on T Graham Brown. Am definitely going to purchase one of his books. I have seen him many times in concert and/or Fan Fair – what a gentleman he is. Always has time to talk. Never rushes you thru an autograph line. He is a class act for sure. Thanks for all the wonderful information you pass on to all of us. "
Jean Earle writes from England, "I keep meaning to say a big Thank you for all your interesting newsletters. Some news is good to read …some very sad. You do a grand job of finding out all the news and we really appreciate all the time and effort you put into it. May I pick your memory? Some years ago, Alan and I asked if you knew of any written books about a lovely gentleman that we both very much admired. I am referring to Ferlin Husky. We were lucky enough to meet Ferlin several times and became friends. It seems such a shame that we cannot find any literature about Ferlin, but I feel sure somebody must have made a good record of his lovely songs and his shows and comedy. On our last visit to Nashville …many years ago…Ferlin treated us to a wonderful meal…and wonderful memories, at Red Lobster. I took the enclosed photograph of Ferlin with Alan. May I ask for your help in this search? We have lovely memories of our times spent with Ferlin. He was always willing to spend time talking with us. We also were lucky to meet with members of his family. They were very kind to two fans from England. The days when one can easily meet with the stars are long past…so much security nowadays has taken that privilege away, we know how fortunate we were back in the '70s and '80s. I wonder if you will have any news about Ferlin from your Faron Young book readers. Could be most interesting. We often spoke to Faron and to Ferlin about their friendship. They were the real 'good ole boys'! Miss them both very much."
Diane: Do any readers have information concerning a book written about Ferlin Husky?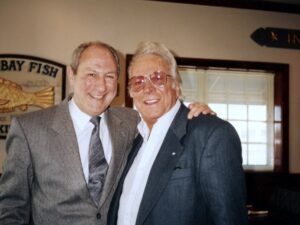 Douglas Starr in Sioux Falls says, "I get better information about famous people from Diekman's Newsletter than in any newspaper I read. She knows how to put a story together."
Taylor Hagood writes, "Thank you for this! I LOVE the newsletter. And thank you for editing and including that excerpt. I am so very happy to know you and your work."
Carl Rollyson, renowned biographer, writes, "Wonderful to see Taylor Hagood's letter. I know him from my work on Faulkner, who, by the way, liked to sing. A favorite: Water Boy."
Dominique 'Imperial' Anglares writes from France, "Thanks for the news and for the reader letters. Just in case you don't know, James Kirkland has passed on April 29 at his home in Athens, Texas. James Homer Kirkland was born May 15, 1934, in Linden, Texas. As teenager after trying his hands to guitar and fiddle, he played acoustic bass in clubs and was member of a band called The Bearcat Playboys. Recognized for his innovative bass playing, he worked with Bobby Lee Trammel, Dale Hawkins, David Houston, Bob Luman, Ricky Nelson before joining Jim Reeves in June 1960. Many Americans were able to see James Kirkland slapping the bass with James Burton for Ricky Nelson in the popular TV show Adventures of Ozzie and Harriet and movie Carnival Rock from 1957. Another good one has gone."
David Markham writes from Great Britain, "Once again thank you for your Newsletter. It's a sad day reading your letter on losing the mother of the Judds, Naomi Judd. 1946/2022. May she RIP. I'm sure Vince Gill will sing a fine Tribute Song about Naomi. I shall continue about myself being in the hospital after a nasty fall. I'm resting at home and upset on the sad news on losing yet another great country artist Naomi Judd. I hope you're not working too hard and we have more Good news from next News Letter."
Eric Calhoun says, "I am still, incredibly, in shock, upon the death of Naomi Judd. I will remember the Judds, and one of my favorite songs, still to this day, is 'Love Can Build a Bridge.' I really identify with this song. Finally, on Wendy Moten: Many people will know that she is from Memphis, frequents Memphis and Nashville, and has a lot of friends in the country music business. Among some of her credits include her solo smash, 'Coming Out Of the Rain,' and she has background sung for Tim McGraw and Faith Hill. She sang on Faith Hill's No. 1 song, 'It Matters To Me.'"