CONCERT REVIEW – MO PITNEY
Coteau Entertainment commemorated Veterans Day and the 100th anniversary of the end of World War I with a Mo Pitney concert at the Sisseton Performing Arts Center. The event began with a color guard and Wade Johnson singing the Pledge of Allegiance. The 45-minute opening set by Just Between Friends consisted of country hits by singers who were military veterans.
Mo Pitney, after spending the morning hunting pheasants with his brother, Blake, and their dogs, took the stage and sat on a stool with his acoustic guitar. I was disappointed at first that he didn't have his band with him, as I would have liked to see the whole group perform. But I was quickly enthralled–and not ready to stop listening when he ended his show after ninety minutes.
As a non-musical person, I don't know the words to describe the quality of his voice. His rendition of "Borrowed Angel" is possibly the best example–although the YouTube version won't be as good as hearing it live. He told us he'd first heard the song at age twelve, when his steel player dad took him to a steel guitar convention. An instrumental of "Borrowed Angel," which Mo calls the perfect steel guitar song, was playing everywhere. Because Mo was humming the tune on the way home, his dad stopped at a store to buy the Mel Street CD so Mo could hear the actual song.
Morgan Daniel Pitney is now 25, with several hit songs under his belt, and a great future ahead. He played a mixture of classics and his own songs, some already recorded and some from his upcoming CD. An excellent storyteller as well as an excellent singer, he talked as he tuned his guitar–sometimes going off on a tangent but always coming back to finish the original story.
One of his first songs was "Old Stuff Better." He considers it an introduction to who he is, because he likes the old stuff better. He wrote the song with Tim Nichols and Jimmy Yeary. "I know I was born with an old soul," he sang. "I like things with history; there's a story to be told."
After singing "Farmer's Daughter," which he dedicated to the farmers and their daughters here in South Dakota, he called for requests for other Merle Haggard songs. He sang his favorite Merle song, "Mama's Hungry Eyes." He then called for requests for other singers. After "Who's Gonna Fill Their Shoes," he did a medley of Roger Miller songs, Willie Nelson's "Angel Flying Too Close To the Ground," and Tom T. Hall's "I Love." Someone called out, "Keith Whitley," and he sang "Miami My Amy." His voice shows off best when he sings ballads.
He told us about the thrill of meeting Merle Haggard. After describing the meeting that took place at "two four two thousand thirteen four forty-five time of day," he sang "I Met Merle Haggard Today." He had been doing concrete work with his dad when a friend called to tell him to come down to the studio to meet Haggard. When he later told his songwriting partner about the experience, Don Sampson agreed to write a song as long as everything in it was true.
While I was waiting for him to talk about his first hit, written with Bill Anderson, he told us about his second: "Boy & a Girl Thing." Don Sampson was in an unhappy mood during a songwriting session with Mo, so when he said he wanted to write a song that began with "He's gross, she's got cooties," Mo agreed to go along with it for the time being. The line stayed in the 2015 release.
The BMI website shows Mo has written or co-written 302 published songs. As we listened to him tell his stories and sing his songs, it became clear that his songs are stories. "It's Just a Dog" and "Cleanup on Aisle Five" are two great examples.
To wrap up his show, he introduced his first hit, "Country," written with Bill Anderson and Bobby Tomberlin and released in 2014: "Country can be in the middle of a city, Country can be on a farm, Country ain't even a place on map, it's a place in your heart."
The final song of the day was a heartfelt tribute to his Lord and Savior, Jesus Christ. There could be no encore after such a powerful song. Mo walked off the stage. I looked at my watch and was amazed to realize ninety minutes had gone by.
Backstage, the Pitney brothers talked about family and pheasants and their hunting dogs. They are a joy to visit with. I look forward to seeing them at some future concert. Here's my August 22 interview with Mo.
If you ever get the chance to attend a Mo Pitney performance, don't miss it.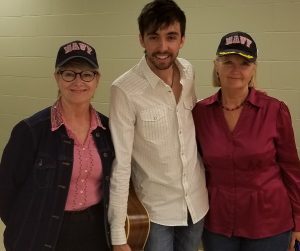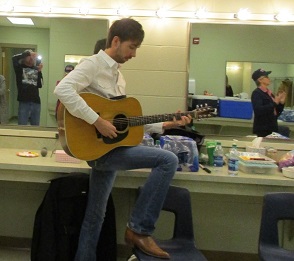 NEWS
For the second year in a row, the CMA Awards show follows a mass shooting of country music fans. Twelve people were killed last week at the Borderline Bar and Grill in Thousand Oaks, California. Some of those present had been at the Route 91 Harvest music festival in Las Vegas a year ago when 58 people were killed and hundreds wounded by a lone killer. The Country Music Association tried to keep politics out of last year's awards show by threatening to revoke the credentials of reporters who asked about ″the Las Vegas tragedy, gun rights, political affiliations or topics of the like.″ Brad Paisley was one of many who objected, calling the guidelines ″ridiculous and unfair.″ The CMA withdrew its threat. As for this year, The New York Times says the CMA declined to discuss its plans for tonight's show. Country stars traditionally make statements after shootings that send condolences to victims but avoid gun debate or calls for action. I read the current tweets of a few country artists. The theme is: "My heart is broken," "sending prayers," "sincere condolences," "praying," "thoughts and prayers," "senseless," "horrific."
When Garth Brooks debuts a new song on the 52nd Annual CMA Awards tonight, it will be a surprise to Trisha Yearwood, his bride of 13 years. He tells Sounds Like Nashville that the track isn't directly about her, but its message about strong women reminds him of his wife. According to Taste of Country, the CMA organizers initially rejected Garth's request to play his secret song, even though he's the reigning Entertainer of the Year. But an agreement was reached. With Trisha center-stage, Garth will perform solo with guitar. "I think this is a song every relationship can understand," he says, after admitting he could never have found the words to write such a song.
Brad Paisley and Carrie Underwood, longtime co-hosts for the CMA Awards, are taking politics out of their monologues and banter for this year's show. There won't be any parody songs in the fashion of "Obamacare by Morning" or "Before He Tweets." Brad tells Taste of Country, "I just don't find politics funny anymore. I want to do fun stuff. I don't want to talk down, I don't want to talk up . . . let's talk about things that everybody can agree can be funny." He says it's sometimes an artist's job to take an audience's mind away from current events. "I don't know that it's always music's job to [be political]," he adds. "It can be, but I also think sometimes it's music's job to get you away from some of these things."
Dave Rowland, lead singer of country group Dave & Sugar, died at his Nashville home on November 1, after suffering a stroke at age 74. Dave & Sugar, featuring Rowland backed by two female vocalists (beginning with Vicki Hackeman and Jackie Frantz), recorded hits such as "Queen of the Silver Dollar" and "The Door Is Always Open" between 1975 and 1981. He started a solo career in 1982.
Nominees for the 2019 Songwriters Hall of Fame have been announced. Eligibility requires they must have written hit songs for at least 20 years. Six winners will be inducted in New York on June 13, 2019. The Associated Press reports the performing nominees are Mariah Carey, Chrissie Hynde, Vince Gill, Mike Love, Jimmy Cliff, Jeff Lynne, Cat Stevens, John Prine, Lloyd Price, Tommy James and the Eurythmics (Annie Lennox and Dave Stewart). Non-performing nominees are Jack Tempchin, Dean Dillon, Jerry Fuller, Tom T. Hall, Roger Nichols, and Dallas Austin. Tom T. Hall in the "non-performing" category? Do these people not know about his seven Billboard #1 hits and 54 charted singles?
Real Country is an eight-part TV series debuting November 13 on USA Network. Filmed in Nashville this past summer, it will feature 21 artists competing to win $100,000 and a Grand Ole Opry appearance. Shania Twain, Travis Tritt and Jake Owen each chose seven contestants. Each one-hour episode will have three contestants, with the winner getting $10,000 and a Stagecoach Music Festival performance, as well as moving into the finals. The contestants perform past country hits that tie into a weekly theme. Travis Tritt tells Sounds Like Nashville he looked for confidence in choosing his seven: "You can see it. They exude it when they come onstage, and I think that carries them forward because they're able to deliver the song with a certain amount of authority, and their originality, that they would not have any other way." Shania tells Rolling Stone, "I'm looking for diversity, anybody who can sing their truth, who is a sincere artist who has a respect for the history of country music."
An all-star cast will pay tribute to Willie Nelson, 85, at Nashville's Bridgestone Arena on January 12, 2019. Willie: Life & Songs of an American Outlaw will be a concert that features Willie, George Strait, Vince Gill, Alison Krauss, John Mellencamp, Kris Kristofferson, Lee Ann Womack, Lyle Lovett, Sheryl Crow, and others.
Prior to next year's Grammy Awards, the 6,400-member Producers & Engineers Wing of the Recording Academy will honor Willie Nelson at its annual event in February. According to The Tennessean, his career and achievements will be celebrated. Past honorees include Quincy Jones, T Bone Burnett, Alicia Keys, and Neil Young.
Dolly Parton's Heartstrings is a new eight-show series expected to debut on Netflix in 2019. Each episode will feature a Dolly Parton song, with an introduction by Dolly to talk about the song. Each show will have a different cast, explains Sounds Like Nashville. The first one is Jolene, which will tell the story of a friendship between two women who become entangled in a love triangle. Julianne Hough stars as Jolene, a flirty free-spirit who wants to move to the big city and be a singer/songwriter. Kimberly Williams-Paisley will portray Emily, the president of the Coventry's Women's League. Dolly will make a guest appearance as Babe, the owner of the Baby Blues honky tonk.
Let's All Make the Day Count: The Everyday Wisdom of Charlie Daniels is a new book released last week by Charlie Daniels. His daily tweet, which contains inspiration and common sense, always ends with the phrase, "Let's all make the day count." He expanded the idea into a book, with a hundred topics that include stories from his own life, Taste of Country explains. They include "starting over after loss, how to stand your ground, learning to be successful, how to show people you care, choosing your words carefully and more."
In a recent interview with the Washington Post, Miranda Lambert talked about the disparity between her album sales and radio play. Her 2016 double album, The Weight of These Wings, went platinum in sales, but no singles reached the Top 10 on radio. This summer, she harmonized on Jason Aldean's single, "Drowns the Whiskey." She says, "It is interesting that I haven't had even a Top 20 in a long, long time. And then it goes No. 1 because it's a dude." She adds, "Yes, I had to sing with someone with a penis to get a No. 1. I do like this person, Jason Aldean, a lot … so it was a great song with an old friend."
President Donald Trump has named seven people to receive the Presidential Medal of Freedom, according to USA Today. Elvis Presley, Babe Ruth, and Supreme Court Justice Antonin Scalia will receive posthumous awards. Senator Orrin Hatch, former Dallas Cowboys quarterback Roger Staubach, Pro Football Hall of Famer and Minnesota Supreme Court Judge Alan Page, and philanthropist Miriam Adelson will also be honored in the November 16 ceremony. The Medal of Freedom was established in 1945 by President Harry Truman. President John F. Kennedy expanded the program. The medal can be awarded more than once. General Colin Powell has two Presidential Medals of Freedom, the second with distinction. Not an annual award, the honor can be bestowed whenever the President deems certain individuals "to have made especially meritorious contributions to the security or national interests of the United States," USA Today notes, "to world peace, or to cultural or other significant public or private endeavors."
LETTERS
Cowboy Joe Babcock writes from Nashville, "Sorry to hear the news about Freddie Hart. We, The Nashville Edition, recorded all those songs with him. On 'Easy Lovin',' Hurshell, my bass singer went up on Ricky Page's part (she sang soprano) and doubled it in falsetto. Gave it a unique sound. The other singers were Dolores Edgin and me. By the way, if anyone is interested, we sang on 184 No. 1 records. Freddie was a wonderful man and will be missed. I agree with you, the public should have been invited to the private show honoring the CMA inductees. I wasn't invited either but would have loved to go as I was a personal friend of Johnny Gimble."
Ron Hogan, former Country Deputy steel player, writes from Nashville, "Thanks again for your newsletter. Besides working for Faron, I worked for Freddie Hart as a Heartbeat for several years traveling with him on the Easy Lovin Express (Silver Eagle bus). He was a Jewel to work with. My years with Freddie were great ones. He was always a gentleman. It was always a pleasure to travel with him and the rest of the Heartbeats. I did meet my Wife of 34 years because of him, and she just happened to play Steel Guitar like me, so I knew I had to marry her. I have many stories of Freddie, from him talking on the bus as we had long trips to New England where he was very popular. He told of a time in his early days when Hank Williams befriended him. One night while Freddie was singing back stage, Hank came along and poured a whole bottle of beer in Freddie's guitar and said, 'Now that should sound better.' Or the time he was on a job washing dishes in New York City, when he heard one of the hits he wrote for Carl Smith. Probably 'Loose Talk.' Or the time Freddie hired a bus driver for the Easy Lovin express bus. We all wondered why the driver kept missing exits on the interstate. What we found out is, he couldn't read and that also kept him from reading a road map. Of course this was way before we had GPS units. Freddie would write new songs on the bus and try them out on us for hours on end. Most were just terrific and I would tell him who he needed to get it to. But he always said, 'I'm saving them for myself Pal.' I often wonder what happened to those tunes. If we were on the road and had a few days off in between, I would get a call from my hotel room and it would be Freddie. He'd say, 'Hey Pal, find the most expensive restaurant and make a reservation for all of us.' We would always have a ball with him when that happened. He showed his appreciation. Freddie would always get very nervous when we would cross over the Canadian border. The border guards would sense that and ask us, 'why is your friend so nervous?' Because of that, they took a crow bar to the bus tearing things apart. Of course they would never find anything. One time they asked Freddie to open the safe that was on the bus. Freddie had lost the combo 7 years before. So they broke into the safe and found a very nice turquoise bracelet. Freddie said, 'I'd wondered what happened to that!' I could go on and on. So many of these artists I have worked for the past 38 years have stories like this. They will all be lost if we don't tell them. I often thought about getting with all my Musician Friends to hear and record their stories. Once a year I try and get a party together with Steel guitarists. We sit in the round and each tell a story."
Bill Baker in Greensboro, North Carolina, says, "A thank you note and two questions. I always enjoy and appreciate your newsletters. Your report on Ricky Skaggs, newly named member of the Country Music Hall of Fame, raised two questions. He was invited to join the Grand Ole Opry in 1982 when he would have been about 28 years of age. If so, would he not have been older than Stonewall Jackson who reportedly joined the Opry at age 26? Second question involves a youngster from southeastern Kentucky who was billed as a member of the Opry in the 1930s-early '40s. He was either five or six when he and his father became Opry regulars. They were billed as Asher Sizemore and Little Jimmy. It may be that technically his father was a member of the Opry and, as a child performer, Jimmy was not. I thought you might know the answers or where to find them. Again, thanks for all you do for all of those who enjoy country music. Your efforts help all of us who enjoy and appreciate country music."
Diane: The bio on Ricky's website says, "In 1982, he became a member of the Grand Ole Opry, the youngest to ever be inducted at that time." I don't know the month, but with a birthdate of July 18, 1954, he was 28 if it happened after his birthday. Stonewall Jackson, born November 6, 1932, moved to Nashville in 1956. Soon after his arrival, his bio says, Wesley Rose set him up with an Opry audition and "he soon became the first entertainer to join the Grand Ole Opry without a recording contract." The AllMusic bio continues, "By early 1957, Jackson had signed a recording contract with Columbia Records and cut his first record, 'Don't Be Angry.' " So he would have been just barely 24 when he joined the Opry. As for Asher Sizemore, his AllMusic bio says he and his five-year-old son were hired by the Grand Ole Opry in 1933, "where they remained a popular act for about 10 years." It says, "Jimmy, at the age of five, allegedly had a repertoire of over 200 songs and understandably because of his extreme youth, his Opry and radio performances gained him a considerable following. He sang duets with his father but is remembered for his youthful renditions of numbers such as 'Chewing Gum' and 'The Booger Bear'." That sounds like he should be considered a full-fledged member, although you may be correct in your "technically" comment. I think Ricky needs to update his website.
Freddy Holcomb asks, "Wasn't Justin Tubb the youngest ever to become a member of the Grand Ole Opry?"
Diane: A bio on Justin Tubb says, "In 1955, when he was only 20 years old, Tubb joined the Grand Ole Opry."
Douglas Joe Guy, RMC, USN (RET), says, "Just received your, as usual, outstanding, newsletter. re: Freddie Hart–As a footnote to his Marine service, besides joining up as a 15-year-old, just some of the places he was shot at were the islands of Okinawa, Guam, and Iwo Jima. You can bet he had to see and do things that a 15, 16, or 17-year-old kid should never have to see or do (nor anyone of any age, for that matter). I'm a sailor through and through, but I sure admire Marines."
Lee Shannon, Country Music D.J. Hall of Fame Inductee (1998), writes from Port Charlotte, Florida, "So happy to see Dottie West is finally getting inducted into the Country Music Hall of Fame. A Sweet, Beautiful, Talented Lady. Long Overdue."
Dominique "Imperial" Anglares writes from France, "Thanks for that nice newsletter and for the mention about Freddie Hart and Tony Joe White. Another bad news has come with the passing of Herb Remington last week in Houston where he'd made his home since the 1950s. His legacy includes a number of ageless compositions and a distinctive approach to an instrument crucial to the sound of western swing. He played with Bob Wills and Hank Penny before settling in Houston and playing countless sessions at the famous Gold Star studio. He had many records by himself but also left behind instruments he designed that bore his name: Remington Steel Guitars. I had made a long post on my FB page."
Jenny Jones says, "As usual enjoyed the Newsletter. You always cover so much interesting Country News…and I try to save them, but not always successful. I must commend you for keeping up with all the news. Just wanted you to know how much I enjoy all the News and different articles you include…..You really keep me entertained and I look forward to each and every one you send."
Rockin' Lord Geoff Lambert in England says, "Can I just thank you for the music newsletter that you mail out to me here in the UK. Is there a link to your list of artists who have been inducted into the country music hall of fame?"
Diane: Here's the link. 
Ralph Grimes writes from Arizona, "Thank you for the Faron Young book. I am really enjoying it. And thanks again for the newsletter. The early era of country music from Jimmie Rodgers to the reign of Hank Williams, and all the great stars of the 1950s all the way to Merle Haggard was a magical time. Authors such as yourself who document and chronicle the period are very much appreciated."
QUESTION OF THE WEEK
Although I like "There's a Tear in My Beer" by Hank Sr. and Hank Jr., that's about my limit on adding new voices to old recordings. What do you think about "duets" with a dead person, such as Deborah Allen with Jim Reeves? Or Jim Reeves and Patsy Cline having a posthumous hit with "I Fall to Pieces," which they never recorded together? The question several weeks ago about updating Marty Robbins vocals with new music brought this to my mind. Isn't it like doctoring a photo and passing it off as an original? Or do you like these newer versions?