IN THE SPOTLIGHT – JUSTIN TREVINO
Justin Trevino doesn't remember his first public performance. He was three years old, sitting in a grocery cart while his mother did her shopping, when he belted out, "First time I shot her, I shot her in the side, hard to watch her suffer, but with the second shot she died." A shocked woman asked his embarrassed mother, "Ma'am, doesn't he know any nursery rhymes?"
"Delia's Gone" is probably the most gruesome song Johnny Cash ever recorded. Justin's dad "was into all kinds of traditional country music from the '50s and '60s," Justin says. Their house in the 1970s was filled with the sounds of "Carl Smith to Hank Snow to Johnny Horton to Hank Thompson, Johnny Cash, Charlie Walker, Billy Walker, all of that."
Justin was born in Brownsville, Texas, in 1973. While growing up in his music-filled home, he gravitated toward the singers with a good vibrato, such as Faron Young, Marty Robbins, Ray Price, Darrell McCall, and Johnny Bush. "Those were the guys that made me want to sing in the first place," he told me during our recent phone conversation. "It's a labor of love. I knew when I was thirteen years old, singing this kind of stuff, that I would never be mainstream."
He is named for Justin Tubb. His parents attended an Ernest Tubb dance while his mom was pregnant. His dad told Ernest, "If we have a boy, we're going to name him Justin."
"I have an album that ET autographed to me before I was born," Justin proudly says. But he has never actually seen the album. He lost his sight shortly after birth. Born three months premature, he'd been placed in an incubator with "some kind of light they put preemies under for their bodies to absorb the oxygen they need," he explains. The doctors told his parents he probably wouldn't live. "Y'all are young; go home, have another one," they said. Then, when Justin was hanging on, they said, "Well, y'know, don't be surprised–if he pulls through, at the very minimum, he'll be blind and he'll probably have severe brain damage."
At age seven, Justin began taking guitar lessons. By age thirteen, when the family was living in Austin, he had his own band, Sunset Country. His guitar player, Ray Holland, sang harmony. After a year or so, Justin gained the confidence to sing harmony when he called on Ray to sing a song. "There's nothing worse than a bad harmony singer trying to sing," says Justin. He credits his fifty-year-old guitar player with the patience and support that enabled him to become a harmony singer.
Now forty-five, Justin struggles with teaching other singers to comprehend singing harmony. "The best I've been able to do," he says, "I can show them the harmony parts, and say, just treat this like it was a melody unto itself, and here's the notes, now you sing it." He hasn't figured out how to teach them to find the parts on their own.
Justin was seventeen when he met his hero, Johnny Bush. He went to the Eisenhauer Road Flea Market in San Antonio one Sunday afternoon because he'd heard Johnny would be there. But he wasn't. It was a jam session. Justin got up and sang "Whiskey River." The owner of the flea market, Harry Weiss, told Justin he sounded a lot like Johnny Bush." Justin replied, "Well, it's no wonder; he's my favorite singer." Weiss asked, "Would you like to meet him?"
The following Sunday, after meeting Johnny, Justin sat in the audience when Johnny began his show. After one song, Johnny said, "I'm fighting a bad cold right now. I understand this young man knows all my songs. So with your permission, I'm going to ask him to sing and you can listen to him and look at me."
Justin recalls, "All of a sudden, I'm up here under the gun, with a guy I've looked up to so much, and he basically turned it over to me. We did 45 minutes like that, where he stood there and played lead guitar." Justin played bass because the bass player in that day's jam session didn't know the songs. Thus began a friendship that lasts to this day. When Johnny's bass player left his band several years later, Justin joined the Bandoleros for the next nine years. Johnny and Justin still routinely tour together.
In addition to recording and touring, Justin runs a recording studio in Brady, Texas, for Tracy Pitcox and Heart of Texas Records. He specializes in western swing, country gospel, and bluegrass. "If you want to make a contemporary Christian album or something," he says, "I'm willing to be your engineer, but you may need to hire a producer because I wouldn't know how to produce music I don't listen to."
For the past three years, Justin has been playing bass for Jody Nix and the Texas Cowboys when their schedules match. He calls it his moonlighting gig. "Jody's always kept a great band, and he loves to play the same kind of stuff," Justin says.
Justin has appeared twice on the Country Family Reunion show, in 2008 and 2018. He asked me, "What do you know about this young man named Josh Headley?" I said he has a great voice and good country songs. Justin agreed. They met in Nashville two months ago during the taping of the show. After Josh sang "Mr. Jukebox," Justin told him, "Man, I love what you're doing. Keep up the good work." All the other artists applauded for him. "The records I'm hearing sound really good," Justin says. "He may never be mainstream, but I sure like it."
One of Justin's regrets is that he never got to know Faron Young. "I wish I could have seen him perform," he says. "That was my favorite era, singing-wise, those Mercury records in the early '70s. But I love everything before and after."
Justin remembers when I called Dicky Overbey for an interview to talk about being a steel guitarist with the Country Deputies. "I never knew Faron, so I didn't have anything to contribute in that sense," he told me, "but I've always wanted to meet you. I'm glad we are finally speaking."
I told him I enjoy his music and I hope to get to Texas some day for one of his concerts. To learn more about Justin Trevino, his tour schedule, and his CDs, go to his website.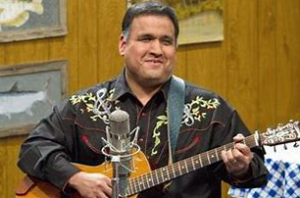 NEWS
Roy Clark (1933-2018)
Roy Clark, 85, died November 15 at his home in Tulsa, Oklahoma, after complications from pneumonia. According to The Tennessean, Roy Linwood Clark was born April 15, 1933, in Meherrin, Virginia. He was the oldest of five children in a musical family. He worked with Jimmy Dean in the Washington, D.C., area, before joining Wanda Jackson's band and opening her shows at the Golden Nugget Hotel in Las Vegas. Ken Nelson signed him to Capitol Records. Roy's first hit was Bill Anderson's "Tips of My Fingers" in 1963. Hee Haw brought lasting fame for Roy and his co-host, Buck Owens. In 1973, Roy was named the Country Music Association's Entertainer of the Year. He was inducted into the Country Music Hall of Fame in 2009. Roy twice toured the Soviet Union, once with the Oak Ridge Boys and later on his own "friendship tour." He was the first country star to open a theater in Branson, Missouri–the Roy Clark Celebrity Theater in 1983. Roy Clark's Celebration of Life was held November 21 at Rhema Bible Church in Broken Arrow, Oklahoma. Tulsa's KJRH-TV posted a 90-minute video of the ceremony on YouTube.
Robyn Young posted on Facebook on November 26: "R.I.P. Casey Anderson. Father of Lynn Anderson. Husband of Liz Anderson. A true gentleman. A soft-spoken friend. A visionary. A builder of beautiful homes. A man of class and dignity." I don't have any other details and haven't seen an obituary.
The Tennessean reports that Dierks Bentley has resigned from the Metro Nashville Airport Authority's board of directors, 19 months after being appointed. "When I lobbied for a position on the board, I believed I would be able to be a solid and contributing member," he said in a letter to the mayor. "But my work is just too time consuming and I am finding myself repeatedly unable to attend our meetings." His letter didn't mention that he refused to release his emails and text messages, as requested in an ongoing wrongful termination lawsuit. Former Nashville airport CEO Rob Wigington sued the airport authority for wrongful termination, claiming he was fired after he told the board about his illness. He wants to see emails and texts between board members to see if they talked about their reasons for firing him. The board says he was fired became of his job performance.
A kidney stone put Vince Gill, 61, in the hospital and kept him away from this year's CMA awards show. Keith Urban filled in for him to sing "Highway 40 Blues" with Ricky Skaggs. "To have Keith Urban here to sing Highway 40 with me — we've done that at the Opry, but not here," Ricky said backstage, according to Taste of Country. "He was sitting in for Vince Gill, who couldn't make it because of a little sickness." Vince was well enough to perform with Ricky at Roy Clark's Celebration of Life the following week. He has postponed scheduled performances in Alabama and Missouri.
Guest speaker at the annual Mad Hatter fundraiser for Nashville's Sexual Assault Center will be Ashley Judd. The $250-a-ticket event on December 1 will raise money to assist Nashville rape and sexual assault victims, reports The Tennessean. Judd, 50, a Middle Tennessee resident and the younger daughter of Naomi Judd, became a leader of the #MeToo movement after publicly accusing Hollywood producer Harvey Weinstein of sexual harassment. She says, "What can we do as a community to prevent this from happening and to better help victim-survivors when it does happen? The Sexual Assault Center has been answering that question in Nashville for four decades and I'm thrilled to play a role in supporting their work for women, men, children, adolescents, and the people who support them."
Jimmie Allen, 32, has made history as the first black artist to have a debut single reach No. 1 on country radio. The song he cowrote, "Best Shot," hit the top of Billboard's country airplay chart eleven years after he moved from Delaware to Nashville. "First I screamed, like, 'Thank, God. Finally! Finally, man,'" he told The Associated Press. "Then after that I'm filled with gratitude and motivated to work even harder. I realized just because you get here doesn't mean you get to stay here, so I try to wake up and be thankful every day." He adds, "It feels great to be some sort of figure that younger kids that look like me can say, 'You know what, Jimmie did it so maybe I can do it, too'."
William Campbell, Kelli Campbell, and Wesley Campbell, the three adult children Glen Campbell left out of his 2006 will, have ended their effort to contest the will that specifically excluded them from any inheritance. Glen died last year at age 81, after six years of suffering from Alzheimer's disease. His will left his estate to Kimberly Campbell, his wife of 34 years, and five of his eight children. The Tennessean reports the three siblings filed with Davidson County Probate Court to dismiss their fight. No reason was stated and no settlement made.
Michigan native Tegan Marie, a 15-year old Sweety High/Warner Music Nashville recording artist, rode on the Girl Scouts of the USA float in this year's Macy's Thanksgiving Day parade, reports Billboard. "It's a dream come true," she says. "I'm a Girl Scout, so it's an honor to be on the Girl Scout float in the parade." She performed a song she cowrote, "Keep It Lit." She hopes her example of working hard and overcoming obstacles will prove inspiring. Warner Music Nashville signed her in 2017 and is focusing on the internet rather than on radio airplay. Her first release was "I Know How To Make A Boy Cry." She has performed almost a dozen time on the Grand Ole Opry.
Universal Music Group has pulled Taylor Swift away from Big Machine Records, reports CMT.com. "I want to express my heartfelt thanks to Scott Borchetta for believing in me as a 14-year-old and for guiding me through over a decade of work that I will always be proud of," she wrote on Instagram. She had been one of BMG's flagship artists. She signed a new multi-year contract with UMG and Republic Records largely because of UMG's agreement concerning all artists. "That primarily means UMG will not be able to regain subsequent profits from its artists through any sale of Spotify shares," CMT.com explains, "and the artists will continue to collect." Taylor says, "I see this as a sign that we are headed towards positive change for creators — a goal I'm never going to stop trying to help achieve, in whatever ways I can." She will also own her master recordings.
"Got My Name Changed Back" is the first single from the recently released album, Interstate Gospel, by the Pistol Annies (Miranda Lambert, Ashley Monroe, and Angaleena Presley). "It's important for us to talk about stuff that we've been through in our lives with a spin of humor," Miranda tweeted. Ashley says in a video, "We wrote this song and I told them, 'Man, there's a lot of people going through divorces, and they can't find the silver lining, and they're going to be so happy when they hear this that they'll wanna dance, maybe smile for the first time in a while." Miranda adds, "To me it's celebrating reclaiming part of yourself. You, your name." Angaleena went through a divorce but is now happily married and pregnant with her second child, Taste of Country reports. Miranda is divorced from Blake Shelton. "The original last name is always important to a girl," Ashley says. "So it's like, 'Got it changed back. Back to myself!'"
The person arrested for stealing Little Big Town's trailer in July has pleaded not guilty. His trial is set for March in Cheatham County Circuit Court. The Tennessean reports he is charged with seven counts of theft of property, one count of aggravated burglary and one count of unlawful possession of drug paraphernalia. The stolen trailer and a $70,000 boat were recovered in August.
Prior to the 2018 CMA awards show, Gretchen Wilson talked to Taste of Country about her August arrest for a disturbance on an airplane. "I had to chew my tongue off because I was instructed not to speak about it," she says. "There was no incident on an airplane. None at all. There was some words between the state police and myself … that's where all of that came from." Her comment agrees with the police report, which said, "While interviewing the accused on the jetway, she (Wilson) became belligerent toward the troopers and caused a disturbance." As for the story of an argument about using the plane's bathroom, as reported by TMZ, Taste of Country says the other passenger never came forward and was never publicly identified.
In a recent interview with The Tennessean, Marty Raybon talked about his alcoholism and his band, Shenandoah. "I was raised right, I just didn't do right," he says. "From the time I started drinking until I was 31 years old, I probably spilled more liquor than most people my age had drank." While Shenandoah enjoyed hits such as "Two Dozen Roses," "Sunday in the South," and "Next to You, Next to Me," Marty was drinking. "I felt like I could die," he says about stumbling downstairs to get the case of beer he'd hidden from his wife. "I pulled that milking stool up, tore the cardboard open and had the audacity to ask myself, 'If I died, would I go to heaven?' And I realized the answer was I was going to bust hell wide open." That's when his sobriety began. Shenandoah stopped performing in 1997 and only recently reformed to make records with Jay DeMarcus of Rascal Flatts as the producer. Shenandoah headlined the 2018 Christmas 4 Kids Benefit at the Ryman Auditorium in Nashville. "The one thing I have learned more than anything else in the world," Marty says, "is that it doesn't make anyone a terrible person because they've gone through a bad time in their life. It's just that for some people, the potholes are deeper. It's just someone who needs a little more loving on."
A Facebook video shared with Taste of Country shows Randy Travis singing along when his recording of "I Told You So" was played during a wedding reception this past weekend. Randy attended the wedding of James Dupré, who has been a friend since 2013 when they met while filming a movie called The Price. Ashton Dupré filmed the video when he saw Randy perk up at hearing the song.
LETTERS
Tracy Pitcox of Heart of Texas Records says, "I always enjoy your newsletter. There was some discussion about the youngest male to join the Grand Ole Opry in your last newsletters. I believe that distinction still remains with Justin Tubb. He was twenty when he joined the Opry as a regular member. He was always very proud of that and mentioned it often during his personal appearances as well as during his hosting duties of the famed Ernest Tubb Midnight Jamboree. As a matter of fact, I believe Justin exceeded his dad's tenure on the Opry by about a year. Keep up the good work and thanks for all you do for Country Music!"
Janet Robbins writes from England, "Thank you so much for such a lovely feature in your newsletter; it's very much appreciated. I've been in the world of care-taking with my beloved Max for several months, but we're in the last days. He's a hardy soul and wants to experience as much life as possible so we take it day to day, which is I think, the wisest way to travel. I'm pleased with the progress of the book, rehearsals, and other components to rooting in here. It's my favorite time of year for all things soulful and creative."
Les Leverett reports from Goodlettsville, Tennessee, "Thanks once more for your wonderful newsletter, and keeping us up to date on the happenings and history of our wonderful industry. Let me add a sad note: Mark Bilbrey, 39, son of Keith Bilbrey, fabulous radio and TV airman, died in Nashville on the 6th of November in a car wreck. His memorial service, held at Nashville's Belmont United Methodist Church on Saturday, the 10th, was packed with family, friends, and music notables."
Dominique "Imperial" ANGLARES writes from France, "Thank you very much for that newsletter and for the care given to my words. We had just lost Roy Clark, a wizard of the strings. Not many may know but in his early days worked with Stringbean, Hal and Velma Smith, Jimmy Dean, and he played strong guitar parts for Marvin Rainwater and Wanda Jackson. Another day with Mr. Blues."
Erv Niehaus says, "Mo Pitney and pheasant hunting in South Dakota, it don't get any better than that."
Maheen Wickramasinghe writes from Sri Lanka, "I received my copy of the brand new Lefty Frizzell set and words cannot even begin to describe how over the moon I am. I have been a Lefty fan since the age of 14, when I heard 'I'll Never Go Around Mirrors.' It was one of his last recordings, but later, I began to hear his earlier works and I was immediately hooked. Lefty had such a unique voice, and he influenced many, many singers such as Merle, Randy, George Jones, Keith Whitley, etc. I have been blind since birth, and classic country means so much. I wrote on his brother's page, Mr. David Frizzell, about this box set, and I have officially started a new group dedicated to Lefty to pay tribute to this incredible legend in the history of country music. My Facebook page is called: An Article From Life, The Official Lefty Frizzell Fan Club. He deserves more recognition, and this box set proves it and my new group proves it. I want my page to be popular, because it is rare for a 34-year-old to be so hooked on such a powerful legend in country music. When I listened to David's audio book, I had tears in my eyes listening to some of the chapters. I laughed, I cried. His chapter about Lefty writing 'I Love You A Thousand Ways,' my gosh, I broke into sobs. It meant so much to me because I recently went through a difficult emotional breakup, so this chapter and this song speaks volumes. The demos are just outstanding and I love the way Lefty sings Hank's 'Last Night I Heard You Crying In Your Sleep.' Lefty sounded so much like Ernest Tubb on some of these rare demos from the '40s. I also plan on writing an article to get published in Sri Lanka in the local papers about Lefty. He shall always live on and on with his incredible legacy. David, thank you from the bottom of our hearts for keeping your wonderful late brother's name alive. We love you so much, and you shall always remain our heroes."
Betty McGlaun in Knoxville Tennessee, wonders, "My question is in regard to Mo Pitney. Is he related in any way to Gene Pitney? I am not a country music fan per se but love your newsletters. Thanks for your wonderfully informative newsletter, both my husband and I look forward to them each month."
Diane: I don't know the answer, but it's unlikely that the Illinois Pitneys are related to the Connecticut Pitneys.
Mary Mitchell writes, "Thanks again for the newsletter. I read the list of HOF members. I remember when Carl Smith was honored all they did was ask him to take a bow in the crowd. What a disgraceful way to honor such a great voice and entertainer. I believe it was Vince Gill that did the honors. I was told by someone that Carl stayed in his car till it was time for the announcement. Carl accepted it like he is–honest gentleman with tipping his hat and a big smile, then went home and had a beer. Waylon Jennings once said he would not accept the HOF before Carl Smith. Waylon said it should have happened sooner. I have often wondered why some are in there. How are they chosen? Another great voice that everyone has forgotten is Wynn Stewart. He will probably never be entered. Just forget the old and great. Today's Country is not Traditional anymore."
John Allen sends this answer to my Question of the Week: "Personally I hate hearing new singers added to old singers. It takes away from the original singer and I refuse to listen to any. Now if they want to do a solo remake, that is okay, but don't dub the old singer's song with a new singer."
Diane Jordan writes, "I enjoyed Ron Hogan's funny Freddie Hart stories, but wondered why he would capitalize Wife and then not give her name!"
David Markham writes from England, "Once again thank you for a very educational read as you always write. I'm saddened to read we lost 'easy loving' Freddy Hart. May I ask a simple question? As you may know I was close with Mary Reeves, Jim's wife for 36 years, I was the first British fan to phone Jim Reeves Enterprises on the death of Jim Reeves and friends with Jim's sister Ivy Sykes, brother O.D. Reeves, and Jim's mom as I used to phone them and we'd have a good talk about what a good son he was to his mom. They spent the day in my house. I picked them up from the Train Station from Crosby outside Liverpool, England, and took them back to Lime Street Stations here in Liverpool. Now we talk about country artists all the time, ones we love. But there's never much of a mention on Jim. It upsets me so much. I think it's time we did a Tribute on Jim and Dear Mary who inherently kept him and his music alive. Engineers used to say, 'How come we never hear that Reeves guy?' Yes, I think the Tribute has to be the love Mary Reeves had for Jim and his music. I'm 77 in a few days' time. I think to myself where's it all gone. I'd like to send our Condolences from England, Great Britain, to all the Folk in California and their loved ones who lost their homes in the fires, and lives. God bless you each and every week in all your country news."
Bob Rudy reacts to my Mo Pitney concert review: "I am forever thankful that we met (via telephone) when you were a part of my radio show The Time Machine on WIOV-FM (I-105) when I featured Marty Robbins one night. I look forward to your newsletters because your information on Classic Country artists is fresh, interesting, accurate, and up-to-date. I frequently share your bits of wisdom with my Time Machine listening audience on Saturday nights. Being the strong animal advocate I am, I was excited to discover Mo Pitney's song 'It's Just a Dog' in today's newsletter! What an awesome song! I can visualize every aspect of Mo meeting his new-found pup. I enjoyed the song so much, I immediately added it to the playlist on my personal Internet station, Pet Guardians Radio (www.mypetradio.com), within 30 minutes of receiving your newsletter. I also added the YouTube song link on my website under Favorite Videos. Mo Pitney is certainly a very talented singer/songwriter. Thank you for introducing me to his music. Keep up the great work Diane, you fill an information void that is desperately needed in Classic Country Music News."
Cal Sharp writes from Nashville, "I used to listen to Lee Shannon on WIRE radio in Indianapolis in the late '60s and early '70s when I was going to Indiana University. They played great country music in those days. I nearly ran off 16th Street when they played Johnny Bush's 'I'll Be There' and I heard Dicky Overbey's solo. One of my inspirations to play steel guitar."
IN THEIR OWN WORDS
Here's a new feature for my newsletter. I'll dip into my archives of interviews I've done over the years and bring you an excerpt each issue. The first one is from Ben Keith, who played steel guitar with Faron Young's Country Deputies from 1958-1963. He later toured and recorded with Neil Young and produced CDs for Jewel. In 2000, he invited me to his Gallatin, Tennessee, home for an interview about his days with Faron. Ben died in 2010.
Keith is my middle name. When I joined the union in 1956, I said my name was Bennett Keith Schaeufele and the secretary said Oh! You're not going to use that name, are you? Why don't you use Ben Keith, people will remember it better. I said oh sure. The rest is history.
Faron had a little 172 Cessna, and he used to start flying to dates and the rest of the guys would take the car. I flew a little back then. When I was growing up in Kentucky, I used to take flying lessons. Me and him would fly to several of the dates. He wasn't supposed to take any passengers because he was just learning himself. We started out one day, took off from the airport, and we were headed for Illinois. Pretty soon we got to looking at the landscape and we couldn't recognize anything. We were totally lost. We looked at the map and said, no, this is not right. We saw this town that had a water tower with the name of the town written on it, so we flew down and circled it and read the name of the town. We started looking on the map, and there was no town there by that name. Finally, we found out we'd went totally the opposite direction, we were down in Alabama somewhere. We started to land at this little field, to gas up and try to get home. We saw this guy out there just waving us off, and we took off and went around. We saw there was two fields there. One of them was a cornfield, and that's where we were starting to land, and this guy was waving us off. Parallel to it was the landing field, and it looked just like it. All the corn was cut.
Faron was in a thunderstorm, and they got him on the radios, and the tower said go ten minutes for 260 degrees and then make a right for 90 degrees. "Don't give me none of that degree shit," he said. "Get me in sight, and get me down out of here." So that's when they pulled his license. They pulled whatever they gave him—his learner's permit–some kind of permit to where you could fly solo, but you're not allowed to have any passengers. That's when I went with him all the time. He knew that I liked to fly, so we both got up there, and we went around everywhere—Texas a lot, Oklahoma, Louisiana.
"Country Girl" was a big hit, and we were up in Michigan one time. Me and Odell and a bunch of us were driving, it was after the show, we'd all had a couple of beers. I was driving, and I had lost one of my lenses to my sunglasses. I was pretty well looped anyway, and had them on cockeyed, and the cop stopped me. I looked at him with my lens out, and he said, "Well, I'm gonna have to arrest you. You're drunk." I said, "You can't arrest me. I played on 'Country Girl.'" He said, "I don't give a damn if you played on the 'Star Spangled Banner,' you're going to jail." He finally let us go. He let Odell drive, and I think Odell was in worse shape than I was.
Carnegie Hall was really a trip, cuz I'd heard of Carnegie Hall ever since I was little, and never expected to play there. It was a beautiful place, and the acoustics were just perfect. It was really something to see the sound guy down there with that little bitty thing—not like the equipment they have today. I remember they had microphones suspended out, on string or something, at a 45-degree angle, way out, like forty feet. The acoustics were so great you didn't need a mike to sing on, just about. It was really something. We played so quiet. It was definitely a trip to play there. After playing on "I Fall To Pieces" and now playing Carnegie Hall. Hell I thought, this is easy. DUHHHH!!!!! But we were really excited, and the sound was terrific. I'll never forget it.

Country Deputies: Ben Keith, Roger Miller, Darrell McCall, Odell Martin
SONG OF THE WEEK
My favorite George Jones/Tammy Wynette recording has always been "Two Story House." Their release didn't quite make it to number one in 1980. (Perhaps it got bumped by George's next single, "He Stopped Loving Her Today.") The song was cowritten by David Lindsey, Douglas Glenn Tubb, and Tammy. I like the double meaning of the lyrics, as well as the overall sound of their voices on the peppy dance tune. "We always wanted a big two-story house, back when we lived in that little two-room shack," the song begins. After becoming successful, the pair sings, "Now we live in a two-story house." Unfortunately, "I've got my story–and I've got mine, too. How sad it is, we now live in a two-story house." I recently heard a version just as good as the original, when Ron and Janeen Kohl performed it with Just Between Friends at the Sisseton Performing Arts Center.