Today we remember Faron Young and Marty Robbins on the anniversaries of their deaths. Marty died December 8, 1982, at age 57. Faron died December 10, 1996, at age 64. Both gone too soon. Both never forgotten.
IN THE SPOTLIGHT – NORMA JEAN
About the time I started watching The Porter Wagoner Show in the 1960s, Pretty Miss Norma Jean left the show and was replaced by Dolly Parton. Over the years, I enjoyed her music, songs such as "Let's Go all the Way," "I'm a Walking Advertisement (For the Blues)," and "I Wouldn't Buy a Used Car From Him."
It was a thrill for me to actually talk to her two weeks ago when we did a telephone interview. She lives in Brady, Texas, where she records for and tours with Heart of Texas Records.
She started her musical career at age twelve in her hometown of Oklahoma City, where a local radio station had contests for new entertainers. She won a contest in 1950 to have her own radio show on a station where Wanda Jackson and Leonard Sipes (better known as Tommy Collins) already had their shows. Norma was required to find her own sponsor, which she did, for her 15-minute show. "I stuttered a lot when I was a kid," she told me. "I wasn't worried at all about singing. It didn't bother me that I was going to be singing on the radio, but I was bothered by talking. I didn't practice my singing much; I just practiced my talking." She spoke into a little tape recorder to practice talking more slowly. "I was proud of myself, because I pretty much overcame stuttering. I probably wouldn't have worked so hard to overcome it if I hadn't had the show."
During her teen years, she worked with various acts in Oklahoma City. Then she was hired to join Red Foley on the Ozark Jubilee television show in Springfield, Missouri. Red thought her name of Norma Jean Beasler was "just a little bit hard." When the show's management wanted to change her name, Red said, "Oh, let's don't change it. Let's just call her Norma Jean." She thus became one of the first female entertainers to go by first name only.
When the Ozark Jubilee ended, Norma Jean moved to Nashville. She had previously worked a show with Porter Wagoner, and when he was given the opportunity to audition for his own TV show, he asked her to do it with him. They auditioned together for The Porter Wagoner Show. She doesn't remember that she even sang during the audition. "I think I was just there as his featured female singer," she recalls. "Everybody had one female singer, y'know. Never two, just one."
Porter started calling her Pretty Miss Norma Jean, a name she still uses. "Those early years I worked a lot," she says. "We toured almost every day. We hardly ever missed a day. If we did have a day off, we were in Nashville doing recording or taping a television show or doing the Opry. We were busy for seven years. It was fun, but it was hard work. Exhausting."
She left Porter's show and moved home to Oklahoma City when she married Jody Taylor, a divorced man who owned a furniture business and was also a singer. At age twenty-nine, "I became a mother of three, overnight," Norma says. Jody did local television around Oklahoma City, and she appeared on his shows. "He was always willing to go and do some shows if I really wanted to," she recalls.
She continued her Grand Ole Opry appearances for a while longer. "That was the years they insisted you work every other Saturday night," she explains. "I could not any longer do it, easily. I couldn't make it every other Saturday night." She considered the rule a bad deal for all Opry performers because, even though "we loved the Grand Ole Opry," its members made their living by going out and working shows. "We didn't make much money on the Opry," she says. "It was nineteen dollars a spot. If you do two spots, you don't actually get rich." Opry management was "literally taking away our livelihood, to work for nothing."
Jody, being a pilot, flew her back and forth between Nashville and Oklahoma City. One day she told him, "We're spending a thousand dollars coming here to make nineteen. That's not too smart, is it?" He said, "No, but we'll do it as long as you want to. If you get ready to quit, it's fine with me. But if you want to keep doing it, I'll do it."
The situation finally became too much. "I hated to leave the Grand Ole Opry," Norma says. "I really didn't want to, but I thought 'this is not right.' I was more willing to quit than I would have under other circumstances. It was almost crazy to keep doing it." She adds, "I enjoyed ten years on the Opry, so that was good."
She and Jody divorced after eleven years of marriage, and she returned to Nashville. She then moved to Branson, Missouri, to accept Jean Shepard's invitation to join the "Grand Ladies of Country" show in Branson.
While living in Branson, Norma started a cowboy church. "I needed to do something for the Lord," she says, "because I had been Christian for several years and had never done the things I wanted to do." She ran her cowboy church in Branson for ten years, until "I decided to come here and semi-retire."
She moved to Brady six years ago. Her long-time friend, Tracy Pitcox, encouraged her to make the move. "I could work when I wanted to and not work when I didn't want to," she says. "I'm pretty content here."
Her two elderly dogs, Belle Starr and Billy the Kid, were part of the reason for moving. "They had to climb a lot of stairs to get outside," she says. "Of course, I had to climb them, too. I had a two-story house in Missouri." She wanted a small house without stairs. "I found it here in Brady," she explains. "It was just the right size, and in pretty good shape, I didn't have to do a lot." Belle Starr died three years ago. "I finally had to put Billy the Kid down the other day," Norma told me. "I had him for fourteen years. He finally got so sick I couldn't bear to watch him suffer. He was such a good dog. We did everything together. I'm feeling a little lost."
Norma is recovering from a fall last year that resulted in a broken back. "I've always heard that old people die from falls, and I believe it," she says. "Every person I know my age has fallen at least two or three times. We just lose our balance. It's been quite a problem for me. I'm thankful I wasn't hurt any more than I was. They can fix broken bones now–it's just a piece of cake to fix broken vertebrae. I'm not quite as scared to break something now. I know they can fix me."
Since moving to Texas, Norma has recorded a gospel album and several country albums. Now that her health is improving, she's ready to go back into the studio. I asked if Justin Trevino would be doing the session. "I hope so," she replied. "He's done everything I've done so far here. He's excellent. He's so talented. Not only in singing. He's the best at the control that I've ever worked with."
When I asked if she had a message for my readers, Norma said, "I'm so grateful to the fans, because you won't make it without the fans. I always was extra careful to keep up with my fans and spend time with them and do all the autographing. I was very glad to do it. I really appreciated them supporting me all those years. Some of them come here to see me now."
Norma was leaving shortly for an upcoming "Great Ladies of Oklahoma Music Day" in Oklahoma City. She said it would be a gathering of 22 women in music. "They're not all country artists, but there's a lot of country artists coming," she said. "They're having a luncheon for us." She didn't tell me that ten of the women were being inducted into the Oklahoma Music Hall of Fame–or that she was already a member of that Hall of Fame.
"I kind of like being eighty," Norma says. "I don't like what happens to me, but I kind of like the age. It's an interesting time. I'm thankful I lived this long. A lot of my friends didn't."
I hope we'll have Pretty Miss Norma Jean with us for many years to come.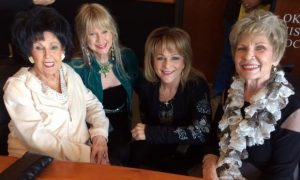 Wanda Jackson, Becky Hobbs, Susie McEntire, and Norma Jean in OKC. (Thanks to Becky Hobbs for the photo.)
NEWS
Clarence Selmer "Casey" Anderson, 92, died November 26. He was preceded in death by his singer-songwriter wife, Liz Anderson (2011), and his daughter, country star Lynn Anderson (2015). Casey co-wrote several of Liz's songs, including Merle Haggard's "The Fugitive." According to Classic Country Music, Casey was one of the founders of the Nashville Songwriters Association International (NSAI). He and Liz were board members until their deaths.
Floyd Parton, 61, of Sevierville, Tennessee, died December 6, 2018. A younger brother of Dolly Parton, Floyd "was a talented songwriter and composer," according to his obituary. Dolly recorded his "Rockin' Years" as a duet with Ricky Van Shelton in 1991. She also recorded "Nickels and Dimes" on a 1978 album; George Burns later recorded it. Floyd's surviving siblings are Willadeene Parton, David Parton, Denver Parton, Dolly Parton, Bobby Parton, Stella Parton, Cassie Griffith, Randy Parton, Freida Parton, and Rachel George. The family held a private service.
In front of the 1,200 guests at President George H. W. Bush's funeral at St. Martin's Episcopal Church in Houston on December 6, the Oak Ridge Boys performed an a capella rendition of "Amazing Grace." Joe Bonsall announced, "We first sang for him in October of 1983 on the lawn of the White House when he was vice president, and he said, 'Fellas,' he always called us fellas, 'Would you sing me a few songs, I'm a big fan.' For decades we have sang for him. And this is, again, a real honor to be here. What a lot of people may not know is he fancied himself to be a good bass singer–he was not. We'll sing for our president." Reba McEntire sang the "Lord's Prayer." Nash Country Daily reports her message on Twitter: "It was an honor and privilege to sing at President George H.W. Bush's funeral this morning. He was a great friend and leader and I will never forget the time we shared together."
Country Music Nation reprinted the typed letter from President George H. W. Bush to Billy Ray Cyrus, dated October 1, 1992. It said, "My sincere thanks for the autographed photo that I received during my visit to Opryland on Tuesday. Your kind words mean a lot to Barbara and me. Congratulations on your CMA award last night. I have a tape of 'Achy Breaky Heart' and agree with the judges — it's a hit!"
The Oklahoma Music Hall of Fame induction ceremony took place at the Oklahoma History Center in Oklahoma City on November 27. KOSU Tulsa reports that, for the first time, women made up the entire list. Previous inductees Wanda Jackson, Norma Jean, Becky Hobbs, and Jana Jae attended the ceremony. The class of 2018 consists of:
*Gail Davies was country music's first female record producer. The Broken Bow native started as a session singer for Neil Young and Hoyt Axton. Now 70, she tours with Marty Stuart and his Fabulous Superlatives.
*Jody Miller won a Grammy for Best Female Country Vocal Performance in 1966 for "Queen of the House," a response to Roger Miller's "King of the Road." Born in Arizona and raised in Blanchard, she is still performing at age 77.
*Gayla Peevey recorded "I Want a Hippopotamus for Christmas" in 1953 when she was ten. The Oklahoma City native is 75 years old.
*Kellie Coffey was named the Top New Female Vocalist from the Academy of Country Music in 2003. The Moore native graduated from the University of Oklahoma with a vocal performance degree. At age 47, she is recording and performing.
*Katrina Elam has co-written hits for Carrie Underwood, Rascal Flatts, and Reba McEntire. The Bray native, 34, has toured with Keith Urban and Rascal Flatts.
*Susie McEntire is part of Oklahoma's famed McEntire musical family, along with brother Pake and sister Reba. The Chockie native, 61, actively tours and performs.
*Lorrie Collins and her younger brother Larry formed the rockabilly duo The Collins Kids in the 1950s. Raised on a dairy farm near Sapulpa, Lorrie was one of the early leading women of rock and roll. She died in August at age 76.
*Molly Bee sang "I Saw Mommy Kissing Santa Claus" in 1952 when she was 13. She was a regular on Hometown Jamboree with Tennessee Ernie Ford. The Oklahoma City native died in 2009, at age 69, following a stroke.
*Gus Hardin won Best New Female Vocalist award from the Academy of Country Music in 1984. The Tulsa native died in a 1996 car accident at age 50.
*Evelyn LaRue Pittman wrote the opera Freedom Child about Martin Luther King Jr. The McAlester and Oklahoma City native died in 1992 at age 82.
The original Martin Guitar factory in Nazareth, Pennsylvania, has been named a National Historic Landmark in the National Register of Historic Places. It is listed under its official title, C.F. Martin & Co. The Martin Guitar website states, "C.F. Martin Sr. left his homeland of Markneukirchen, Germany, in 1833 and emigrated to the United States, where his family settled in New York City." He built and sold guitars there until 1839, when he moved his family to Pennsylvania. In 1857, he purchased a block of land at North and Main Streets in Nazareth and built his factory. The North Street plant was used until 1964, when the company moved to its current facility in Nazareth.
Two houses in Madison, Tennessee, were recently added to the National Register of Historic Places. The Rainbow Ranch on 312 East Marthona Road was the home of Hank Snow from 1950 until his death in 1999. The brick ranch house held his office, talent agency, and recording studio. The Smith-Carter House at 1020 Gibson Drive was built in 1925 and purchased by Carl Smith in 1952, shortly before he married June Carter. After their divorce, the Tennessee Historical Commission reports, June lived there until her marriage to Johnny Cash in 1968. The house has a low-pitched gable roof and a unique architectural style.
A new George Strait release, a song written with Bubba Strait and Dean Dillon, is called "Código." Although the music is great–and it sounds good as a commercial, which is what it actually is–there's not much song there. The framework is the singer talking to his new girlfriend ("Baby, just like you, it's something new") about the tequila. "I'll be singing to you all the way home. We'll make this our song," he sings. "I'm talkin' 'bout Código, I take it with me everywhere I go. Best tequila, baby, don't you know." Wow, how romantic. George invested in the Código Tequila Company in 2016, reports Saving Country Music, adding "Código is an ultra-premium tequila that was consumed privately by a small group of Mexican families for years before becoming commercially available." It sells for $50-$300 a bottle.
Patrons at Tootsie's Orchid Lounge last week were thrilled when Brad Paisley showed up to film a video for his new single, "Bucked Off." He played a 90-minute set, which included his songs and a few from George Strait, reports ABC Radio. George is referenced in the song as the perfect cowboy and entertainer, someone Brad could never emulate. He only gets bucked off.
For the first time since Billboard's Country Airplay chart began in 1990, there are no women in the Top 20. Carrie Underwood is at #22 with "Love Wins." Part of the reason, RJ Curtis of Country Radio Broadcasters told CMT.com, "there are simply more male artists signed by labels than females, at a ratio of almost four-to-one. Radio does not participate in A&R decisions; does not sign artists; does not record them." He says, "Where radio can play a productive and bold role is not simply playing all the music by all the female artists, but a lot more of the most impactful female artist and songs." Leslie Fram of CMT says, "Coming from radio — a male-dominated business, I found that women both on the business side and artists had to work harder to get their voices heard, earn respect and have the ability to grow." She adds, "Publishing companies are still signing women. Yet there seems to be a big disconnect with people who program music. The fact that there are no females in the Top 20 is criminal [because] the level of talent in this town is beyond astounding."
In the same week there were no women in the Top 20 on Billboard's Country Airplay chart, newly announced nominees for the 2019 Grammy Awards did include female country music artists. In many country categories, women are three of five nominees. In the four "general field" categories — Record of the Year, Song of the Year, Album of the Year and Best New Artist — women represent country music. "I find it interesting, and the whole situation a little disturbing, sometimes, in terms of country radio and the issues that women in country music are facing these days," Bill Freimuth of the Recording Academy tells The Boot. "I think our voters listen to the music with less bias in mind, and really felt that several of the female country artists this year made really fantastic records. And so they voted for them without thinking about whether or not [they are] getting radio play or any of those other factors." The 2019 Grammy Awards will be held at the Staples Center in Los Angeles on February 10.
Three months prior to the 52nd Annual CMA Awards show, CMT.com reports, Ricky Skaggs had arm surgery for a torn bicep tendon. He didn't let that get in the way of playing Bill Monroe's mandolin. As for being a new member of the Country Music Hall of Fame, he told CMT.com, "I've waited a long time. I didn't know if I was gonna have one foot in the grave or not! But I'm healthy, and at 64, I can enjoy it for a long time."
While most country music performers keep their opinions on gun control to themselves, Tyler Hubbard of Florida Georgia Line has decided to speak out. An avid firearms supporter, he wants to expand the National Instant Background Check System to close loopholes such as the ability to purchase firearms at gun shows without background checks. "You'd have to be hard-pressed to find somebody that thinks there shouldn't be background checks," he says. "It's not really as confrontational or controversial as one may think." He called on 34 fellow country artists — including bandmate Brian Kelley — to join him in the campaign. Dierks Bentley and Lady Antebellum immediately accepted. "We've been given a platform and a voice for a reason, and it's really time to start using that voice for more than just talking about our music and ourselves," Tyler told Rolling Stone Country. "Whether it's at a country bar or a country concert, every artist in our genre has been affected by gun violence directly or indirectly." He adds, "Before, I'd like to think I was probably a hard-ass who could dodge a bullet, which is not true. Now that I've got a wife and kids and family, I start to think about things from a different perspective and I want to start trying to make a change." Karen Fairchild of Little Big Town posted on Instagram: "I live in a house where we own guns. This isn't about taking away anyone's rights, it's merely about protecting our children, our fans and our rights."
Allie Colleen Brooks, 22, the youngest daughter of Garth Brooks, is gaining fans around the globe by posting her music on social media. According to Country Music Nation, her latest is a cover of a Maddie & Tae song, "Die From A Broken Heart," performed with an acoustic guitar. The singer gets into an argument with her lover and he leaves in a hurtful way. She asks in the lyrics, "Hey Momma, how do you get a red wine stain Out of your favorite dress? Black mascara off a pillow case?"
The Herald in Rock Hill, South Carolina, reported that a woman lost $160,000 to a social media scammer posing as Dierks Bentley. The woman told police she met the suspect over Twitter and exchanged text messages. For two years, she sent cashier's checks and gift cards, until her sister reported the scam to police. The legitimate Dierks Bentley Twitter site has more than 2.6 million followers. Nash Country Daily reminds readers of the public service announcement Blake Shelton spearheaded in June, when more than 20 country stars united in a message to combat imposters on social media. Look for the blue verified check mark next to the name of the country star on their social media accounts. And remember, these performers don't want or need your money.
A Golden Globe nomination goes to Dolly Parton for her new song, "Girl in the Movies," reports Nash Country Daily. The category is Best Original Song in a Motion Picture. The Netflix movie, Dumplin', is based on Julie Murphy's 2015 novel of the same name. It stars Danielle Macdonald as the plus-size daughter of a former Texas beauty queen (Jennifer Aniston). The daughter, a Dolly fanatic, competes in her mom's former beauty pageant as a protest. For the soundtrack, Dolly re-recorded six of her songs and wrote six new ones (with producer Linda Perry) to record.
When Dolly Parton, 72, guested on The Tonight Show Starring Jimmy Fallon to talk about the movie, Dumplin', she said this about producer/star Jennifer Aniston, 49: "My husband is crazy about her, and he was more excited that I was going to do a movie with her than he was that I got the chance to write all this music. I think he fantasizes, like, a threesome." She has been married to Carl Thomas Dean for 52 years. "My mouth just dropped," Jennifer Aniston told USA Today about hearing the comment. "That's Dolly. It was hilarious, I think it's flattering. And that's Dolly's sense of humor. No one in the world can get away with saying anything like that about their partner on live television, except Dolly. I mean, that is a quote."
Lady Antebellum, Brooks & Dunn, and Kelly Clarkson performed at the 2018 Kennedy Center Honors ceremony in Washington, D.C., to honor Reba McEntire. "I've been here three times before tonight," said Reba from the stage, as reported by Nash Country Daily. "Once for Dolly, once for Loretta [and] Carol Burnett, once for Lily. And I sat right over there, and I thought, 'Wow, how many people have been in this room?' I know that I was born an entertainer to help heal hearts–by singing, by acting, by letting people laugh. . .. I am very proud of this. This moves me beyond words. I'm very honored to be a part of this class, and a part of this idea that started many, many years ago. Thank you for this honor. Thank you for our friendship. And thank you for all the friends that I've made, and all the years that I've gotten to be a part of the Kennedy Center Honors. Thank you all with all my heart."
Friends recently joined Bill Anderson to film a video for his latest release, "Waffle House Christmas." The storyline is about a family who runs into problems with Christmas dinner, so the group heads to a nearby Waffle House. Gretchen Wilson and Jeannie Seely are waitresses, Kid Rock is the cook, and Tanya Tucker dines with Bill at the counter. Bill writes on his website, "We laughed ourselves silly portraying the take-over of a Waffle House restaurant by a rookie cook and a displaced family on Christmas Day." Tanya says, "I've never had this much fun at a Waffle House! Bill Anderson is one of my heroes and he's written some of the greatest songs of all time. Of course, only he could come up with such a clever song."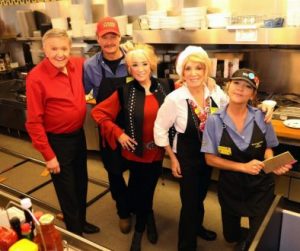 Bill Anderson, Kid Rock, Tanya Tucker, Jeannie Seely, Gretchen Wilson (Photo from Bill Anderson's website)
LETTERS
Carolyn Berry says, "I am so glad you featured Justin Trevino in this newsletter. I am blind also and it gives me encouragement to hear of other blind people doing great. Ronnie Milsap is another blind artist. Thanks for the great newsletter."
Marlene Nord writes from Camarillo, California, "All of that 'Heart of Texas' music is super! Those folks are expertly keeping 'Real Country' alive and kicking! So are you, by supplying us with your wonderfully entertaining and informative newsletters. Thank you so much for your efforts."
Justin Trevino says, "I love this, Diane! Thanks for sending and again, it was a pleasure visiting with you."
Margie Singleton Walton writes, "Your newsletter is so factual and enlightening. I really enjoy each one. Keep up the great work."
Lynn Brown says, "Great Article on Justin Trevino."
David Markham writes from Crosby, Liverpool, England, "Thank you for the nice happy and sad read losing Roy Clark R.I.P."
Lee Shannon, WIRE Radio (1968-80), says, "I thoroughly enjoyed watching the Celebration of Life for Roy Clark on YouTube. I devoted several pages to Roy Clark in my book, My 38 Years Between the Country Music Turntables. I also want to pass on a BIG Thank You to Cal Sharp, the former listener to my radio show on WIRE Radio in the late sixties & seventies. I spent one-third of my broadcast career in Indy."
Terry Beene writes from Branson, Missouri, "On October 7th the Branson Terry Music Awards held the 40th anniversary at the Jim Stafford Theatre in Branson. After 35 years in Ft Worth it moved to Branson ….. With a sold-out crowd it was amazing. Hosted by Chuck Hancock and Barbara Fairchild…. The opening act was the Temptations. The Platters and the Drifters followed my Country and Gospel. Also Lulu Roman from Hee Haw sang on the show. The 41st awards will be September 22, 2019, at the Beautiful Baldknobbers Theatre. Thank you for all you do for Country Music."
Gerald Walton in Oklahoma City says, "For you Gene Autry fans, I just read a good book by Holly George Warren, Public Cowboy No 1: The Life and Times Of Gene Autry." It is a very good book."
Larry Delaney writes from Ottawa, Canada, "Canada has a recently opened the CANADA MUSIC CENTRE (in Calgary, Alberta) with a mandate to collect and promote Canadian music memorabilia (all genres). While viewing some of their online coverage I came across a vintage video of Marty Robbins and Jerry Byrd."
Alan Potter in the United Kingdom says, "I just love your newsletter, it's full of info we no longer get in the UK & you are so knowledgeable. Keep up this important work you are a Godsend to us country radio DJs. Seems a long time ago since I sent you my info on Marty & Faron & thank you for crediting me in your books. Tell David Markham I play a Jim song almost every week on my radio shows."
Dominique "Imperial" Anglares writes from France, "Thank you very much to you and all the contributors for that welcome newsletter. Maheen Wickramasinghe's letter is a very interesting one and pay a fine tribute to Lefty. Music is a bird that fly all 'round that world bringing joys everywhere."
IN THEIR OWN WORDS
The female lead in Faron Young's first movie, Hidden Guns, was an unknown, also in her first movie. Angie Dickinson didn't even rate having her name on the 1955 movie poster, where a photo of her and Faron appeared. In my beginning days of researching Faron's life, I sent her a letter. One day in 2000, I came home from work and found this message on my answering machine: "I'm calling for Diane Diekman. This is Angie Dickinson. Please don't faint." She gave me her phone number and an apology for taking so long to respond. Here are a few of her comments from our later telephone interview:
I do remember that Faron was just very pleasant and very shy. Very respectful, that typical Elvis Presley good manners conduct.
I had a small part. I was brand new in the business. I didn't know about Faron Young, other than I took a part where this country-western singer had the lead.
Faron was very nice looking, and very shy, at least around us. My observation was that he couldn't have been nicer, and I do remember those good Southern manners. That's always impressive to a non-Southerner. I still love hearing and seeing it on Elvis. Faron had that air about him which was impressive, but to tell you the truth, I just don't remember any specifics.
I do remember when he died. I thought, 'Ohhhhhh, I did a picture with him.' It was a nice name, and a very different name.
SONG OF THE WEEK
One of my favorite Norma Jean songs was 1967's "Heaven Help the Working Girl." I enjoyed the overall sound while not identifying with those who had "spent nearly half my life in this little dim café." Hearing it now, I realize things haven't changed all that much: "Heaven help the working girl in a world that's run by men." Listening to Norma Jean songs on YouTube, I came across "You Changed Everything About Me But My Name." The video showed a picture of the 45rpm record. Songwriters were listed as Seely-Cochran. I thought, I know who they are! Jeannie Seely and Hank Cochran.
NAVY GREENSHIRT BOOK REVIEW
Although my Navy Greenshirt: A Leader Made, Not Born has been around since 2001, the Naval Historical Foundation only recently started publishing book reviews. CAPT Lee Duckworth, USN (ret), a helicopter pilot with numerous command tours in his long career, wrote this review.