FEATURED ARTIST – LARRY CORDLE
Before calling Larry Cordle last week for an interview, I checked his website. His bio said he'd spent four years in the Navy. When I asked him what he'd done in the Navy, he said, "I was an aviation electrician in a squadron called VP-16." I exclaimed. "I was in VP-16!" He'd been a P-3C flight engineer, and I was a maintenance officer. He left Patrol Squadron Sixteen in 1972, ten years before my arrival.
"I nearly stayed," he told me, "because I really loved my job. I always liked flying." But he wanted to go to college, so he left the Navy and used the GI Bill to earn an accounting degree. He graduated in 1975, after only three years, and started working for a CPA firm at home in Kentucky. "I tried to do that for a little while," he says, "but I knew I wouldn't be very good at it."
He attempted to rejoin the Navy but was a year too old. So he turned to music fulltime. "That's what I was supposed to do," he says. "God has a way of working things out." He'd had a small rock band in college and had started writing songs. "I didn't understand I could write songs until I was 26 years old," he told me. "Somewhere along the line I wrote a good song or two–what I thought were good." He showed ten songs to his boyhood friend, Ricky Skaggs, who was living in Lexington, Kentucky, and working with Emmy Lou Harris. "I don't know if any of these songs are any good," he told Ricky. Several years later, in 1982, Ricky called and said he was coming home and had something he wanted to give Larry. It was the recording of "Highway Forty Blues." The song became Ricky's fifth consecutive number one Billboard hit in 1983.
"Without that song, I wouldn't be where I am today," Larry says. "A year or two later, Ricky asked if I wanted to move to Nashville and be a songwriter. I've been here ever since." He plays at Nashville's Station Inn every Monday night, and he's had a bluegrass band for 25 years–Lonesome Standard Time. "I love bluegrass," he says. Larry has a gospel album coming out the third week in March, and he's starting work on another album. Still, he insists, 'I'm a songwriter, first and foremost. That's what I do."
He told me he had a "leukemia battle this past year. The chemo started in May and finished in November. It was not pleasant." He's in remission now, after two treatments per month during that period. "They can't cure it," he says, "but they tell me I'll be good for a while."
Larry told me, "I work as hard as I can possibly work. I create music." He says he is "still writing country songs. But I don't know if I'll find anyone to record them." He believes the name "country music" has been hijacked. After all, who else would write a song called "Murder on Music Row"?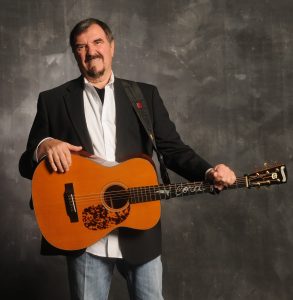 NEWS 
The road back from his 2013 stroke has been grueling, Randy Travis told The Tennessean during a February 7 interview in his upscale Nashville condo. When asked if he is happy, he searched for an answer and said, "Well … no." He added, "Damaged." He'd been diagnosed with walking pneumonia in early July, 2013. When his lungs filled with fluid, he returned to the hospital, where he experienced a stroke. He was transferred to The Heart Hospital Baylor Plano and put on life support. The Tennessean reports, "Travis remembers all of his song lyrics and can use his left hand to run the chords on his guitar neck. He's still regaining use of his right arm and leg. He says it feels good to sing again."
And sing Randy Travis did during the 1 Night. 1 Place. 1 Time: A Heroes & Friends Tribute to Randy Travis on February 8 in Nashville. CMT News reports, "The big moment happened in the finale after Garth Brooks handed him the microphone to sing the famous tagline to 'Forever and Ever, Amen.' Travis then took his wife Mary's hand, stood up from his chair on the side of the stage where he sat smiling from ear to ear the whole night and laid into four verses of 'Amazing Grace' with the night's all-star cast. His voice was clear and shook with emotion as he sang, like a gospel radio station coming in and out of the airwaves." The evening's tribute consisted of more than 30 acts performing Randy's hits, backed by the Randy Travis Band. Several performers, including Garth Brooks, admitted being nervous singing in front of him. Some of the proceeds went to the nonprofit Randy Travis Foundation, which supports stroke research and rehabilitation.
Willie Nelson, 83, will perform as scheduled at the San Antonio Stock Show and Rodeo tomorrow, his publicist told CNN. Willie canceled January and February shows in Las Vegas and California due to undisclosed health issues. He plans to complete the remaining 27 stops on his Willie Nelson & Family Tour. After all the up-and-down reports about whether Willie was at death's door, his publicist announced it was just a bad cold that Willie needed to recover from before being able to perform again.
"Nashville won big at the 59th Annual Grammy Awards in Los Angeles Sunday," The Tennessean reports, "as Music City-based artists racked up nearly 20 trophies and delivered some of the most memorable performances over the course of the recording industry's biggest night. . .. Nashville dominated the roots, country, classical and Contemporary Christian categories." A Sailor's Guide to Earth was named Best Country Album. "Six years ago, I was in Utah, working on a railroad, writing songs at night," Sturgill Simpson said in his acceptance speech during the afternoon pre-telecast ceremony. "My wife made me quit that job and move to Nashville. So thank you, babe. About two and a half years ago, our first son was born, right around the time my last record came out. I spent the first year of his life on the road, missing him and her. And if it hadn't been for them, I wouldn't have written this record. So I have to dedicate this to my family." Lori McKenna won the Best Country Song Grammy Award for writing the Tim McGraw hit, "Humble and Kind." The Best American Roots Song trophy went to "Kid Sister," the song Vince Gill wrote about Dawn Sears, who died of lung cancer in 2014. "I wish you all would have had the chance once in your life to hear the voice of the woman I wrote this song about," Vince said. "I encourage you to find her voice." The award for Best Roots Gospel Album went to Joey + Rory's Hymns. Rory Feek accepted for himself and his late wife, Joey Martin Feek. "My wife's dream was to make a hymns album," he stated. "So she sang her vocals in hotel rooms while she did chemo and radiation." Dolly Parton and Pentatonix shared the Country Duo/Group Performance Grammy for their collaboration of "Jolene."
When Loretta Lynn was nominated 50 years ago for her first Grammy, for "Don't Come Home a-Drinkin'," she lost to Jeannie Seely's "Don't Touch Me." This year, her Full Circle album was nominated for Best Country Album but lost to Sturgill Simpson's A Sailor's Guide to Earth. Loretta did not attend the ceremony. "I flew all I'm gonna fly," she told Rolling Stone Country. "The last time they called and told me they had me booked all over Europe, I said, 'I hope you all have a good time, 'cause I ain't goin' nowhere if I have to fly.' It's a scary thought right now."
Taylor Swift has been named by HillVets as one of the 100 most influential personalities on veterans' issues for 2016. The HillVets mission is to increase the number of veterans working in government and to widen public awareness of their challenges, reports Military Times. This is the advocacy group's third annual list of prominent former military members, current troops and community supporters who helped broaden public debate on veterans' issues. Taylor's charitable actions include "a recent private concert for a 96-year-old WWII veteran, a surprise appearance at an Army officer's wedding, and a phone call to the family of a fallen Marine to express her sympathy," states Military Times. HillVets organizers said she has a long-term pattern of "continued, humble and genuine service to the military and veteran community."
Kim Campbell posted about Glen Campbell on her Careliving.org blog: "Alzheimer's is one of the most feared diseases for many reasons: the fear of losing our memories, our dignity, our independence and our relationships, and perhaps most of all, the fear of losing ourselves! I have the same fear. I'm losing the person who completed me and am left to wonder who I will be without him. As his sense of self began to diminish, Glen's song, 'There's No Me Without You,' took on a deeper meaning for both of us. . .. Since Glen is no longer aware of Valentine's Day, I will play this song for myself as a Valentine from him to me. Although in many ways I feel alone, he will always be a part of me. There's no me without him."
When interviewed recently by Florida Today, Lorrie Morgan said her new album, Letting Go … Slow, is finally the album she always wanted to record. "I just always wanted to record those kinds of songs," she explained. "I also didn't worry about radio. I just wanted to make a record for my peers and my fans and not have to worry about whether or not radio would play this one or that one. I just wanted to sing songs I loved." Asked her opinion of current country music," she responded, "I really don't even know what current country music is anymore. I am not a fan of country today. Me and Pam Tillis are going to go into the studio soon and record a traditional country album."
Ryman Hospitality Properties is considering reviving Hee Haw, to follow the success of Nashville, according to CEO Colin Reed. He told the audience at a Nashville Business Journal event how the TV show, airing its fifth season on CMT after being canceled by ABC, is making a huge impact on the city's tourism. He cited a study that said one fourth of the tourists in downtown Nashville came because of the TV show, Nashville. He hopes a new version of Hee Haw would duplicate that success and drive demand for a broader country music industry. Reed said Ryman Hospitality Properties is also working on a Hee Haw-type play to run in New York City. [I have to wonder how huge Nashville's music industry might be today if the Opryland Park hadn't been destroyed for a shopping mall.]
COUNTRY FAMILY REUNION CRUISE REPORT by Dean Mann
"I took my granddaughter on the Country Family Reunion Cruise from January 28 to February 4, 2017.  We departed from Ft. Lauderdale with stops at Georgetown, Grand Cayman; Cozumel, Mexico; and Puerto Costa Maya, Mexico. The entertainers on board were Bill Anderson, Jeanie Seeley, Gene Watson, Rhonda Vincent, Leroy VanDyke, Daryle Singletary, Teea Goans, Malpass Brothers, Johnny Counterfit, and Mark Wills. They presented three 2-hour country shows during the cruise with half of them on one show and half on another. Then all were on the final tribute show. The first hour they paid tribute to 10 of the country music stars that have passed away since they started Country Family Reunion 20 years ago, and the second hour they sang one of their well-known classics that they are noted for. It was a great classic country music cruise.
"The stars stayed on the ship the entire cruise, and we could visit with them or take pictures anytime we wanted except when they were eating. The first night my granddaughter and I ate with Larry Black and his wife, Bill Anderson, and Bill Bass and his wife from Larry's company. My granddaughter and I were able to sit on stage during Larry's Country Diner show. For those of you not familiar with Larry's Country Diner and Country Family Reunion, it is on RFD-TV twice a week. Next year's cruise is January 28 through February 4, 2018. It's a western Caribbean Cruise leaving from Galveston, Texas. If you like good old classic country music, you'll love this cruise.
"A real highlight is Rhonda Vincent's Jam Sessions every night. Most of the stars show up and sing so many of the old country songs—their hits or someone else's and they sing back up or harmonize with each other. They just have fun and the music is great!! Also, fans can join them on stage and sing their choice. Some fans bring their own musical instruments on board and play with the stars.
"One thing I should mention is many of you are like me and not heard of the Malpass Brothers. They are the real thing. They opened for Merle Haggard for seven years, and now they are out on their own. They will be on next year's cruise. Man, can they sing!"
-–Dean Mann, Sioux Falls
LETTERS
Jerry Field writes, "Thank You again for your wonderful News Letter. I was going to help you straighten out the coin Flip at Clear Lake, Iowa. That night the Big Bopper was not feeling well and he asked Waylon if he would give up his seat so he could get to Fargo to a Dr. and Waylon said he would. So Waylon went to the vehicle to get his bag, and told Buddy he was giving up his seat to the Big Bopper. And Buddy told him well I hope you freeze your butt off on the Bus because it was so cold. And Waylon said well I hope your plane Crashes and for many years Waylon carried the guilt feeling he caused the crash. So Tommy was just living the Surf when Richie Valens approached him and asked if he would give up his seat to him and they both wanted to get out of there, but Tommy reached into his pocket and pulled out a 50 cent piece and said Call it. And Richie said Heads and it was. And the rest is History."
Jim Marshall writes from Brighton, England, "I have Jean Earle to thank for regularly forwarding to me your excellent newsletter and usually agree with almost all the views expressed by your many correspondents. In particular, I would second the opinion that Pete Fisher has presided over a miserable period of the Opry. OK, many of the performers are old timers, but most of the youngsters who get on the show nowadays tend to be winners or runners-up of TV talent shows with little knowledge of what country music is all about. There was a time when you had to have paid your dues before you were allowed to set foot on the Opry stage. There are dozens, perhaps hundreds, of younger country singers around who deserve to be considered, but Mr. Fisher seems to have ignored them. Take a look at the following show from YouTube. It's a rather sad reminder of days gone by, because all of those featured are no longer around, but it's an absolute delight. https://www.youtube.com/watch?v=J4mzQUPCPaY"
Jean Earle writes from England, "We found a new magazine in our local store. It is full of colourful pictures…30 pages. Cost £5.99…contains interviews…Vince Gill…write ups about Willie, Kris K, Johnny, Dwight Y…..and pictures of many of the new singers, male and female….mostly unknown to us…but interesting to see. The Editor is Ed Mitchell–ed.mitchell@anthem-publishing.com. The magazine comes from Piccadilly House, London Road Bath BAI 6PL."
Sue Zeune says, "Thanks for all the news that you put on your newsletter. Not too many of us old timers left, and I do enjoy hearing about those that are still with us."
Raymond Bishop requests, "Please add my email to receive your country newsletter. I saw one and fell in love with it. Well done! Thanks!"
John Pokoski says, "Sometime in the Nineties I went to see Bill Monroe perform at the Music Hall in Portsmouth, New Hampshire. I got there early to see Bill standing alone in the middle of the seats waiting to greet anyone who was interested. He was most polite. Now I know bluegrass players who want to shake the hand of the man who shook Bill's hand."
Bill Blough reports, "Still out here and still enjoying your newsletters. Must be a lot of work, and just wanted you to know I appreciate it!"
Dave Rogers says, "I love the newsletters! I met Garth Brooks after his show in Philadelphia. I am sorry Willie Nelson feels that way."
Ardith Anderson requests, "Would you be so kind as to add me to your mailing list? Thank you so much."'
Maheen Wick writes, "I absolutely look forward to reading your outstanding newsletters all the time when you send them. Great, fantastic work! George Jones has always been a favorite of mine and I am very, very excited to soon get the new Bear Family box set on him, Birth of a Legend 1954-1961. It contains all his Starday and Mercury recordings on 6 CDs. All fans should definitely check it out."
John Morris writes from Peterborough, Ontario, Canada, "February is a great month to be a George Jones fan and collector. I told you and your great readers about the great Bear Family box set. Now I will tell you about another new release: George Jones and The Smokey Mountain Boys on Rounder Records. Roy Acuff helps with a couple of the 12 unreleased tracks. I just got mine Saturday and it is fantastic and George does a great job with 'Blue Eyes Crying In The Rain' and 'Don't Make Me Go To Bed And I'll Be Good.' This is a must-have for any George Jones fan or Country Music fan. This was recorded around 1970 or 1971 although it doesn't say in the little write-up. If anyone knows when it was done could they please let you know so you can post it in the newsletter. Thank you, Diane, and keep up the great work."
Arthur Covey says, "I just read your newsletter, and I love it. I would like to receive it."
Bob Hippe requests, "Please send me future copies of your music letter."
Kate Davis of Bear Creek Productions in Medford, Oregon, says, "Oh, my! I hope Willie feels better soon and can continue with his engagements."
Joseph Thompson writes, "I'm a PhD student in US History at the University of Virginia. I'm working on a dissertation that analyzes the use of country music in military recruitment since World War II. My first chapter focuses on Faron Young. Your work has become a great resource for me, and I'm citing it extensively. Thanks for providing such a compelling and well researched story about Young and his career. Thanks for all your work on Young's unique life story."
SONG OF THE WEEK
"Old Hank wouldn't have a chance on today's radio," Larry Cordle and Larry Shell wrote. "The steel guitars no longer cry and fiddles barely play," because "murder's been committed down on Music Row." They'd finally found the words to express their feelings, and those words resonated within the country music world. When Larry Cordle and Lonesome Standard Time recorded the song as the title track of their 1999 Murder on Music Row album, Larry didn't think anyone else would ever record it. But Larry Shell told him it would be the song they'd be most remembered for. That's what happened when George Strait picked it up and sang it with Alan Jackson at the 1999 CMA Awards and 2000 ACM Awards shows and then recorded it for his 2000 album, Latest Greatest Straitest Hits. I recall hearing the original song first, so that must mean the country station in Los Angeles played it.
COUNTRY MUSIC HALL OF FAME – 1971 and 1972
The sole person elected to the Country Music Hall of Fame in 1971 was Arthur Satherly, who signed Marty Robbins in 1951 and handled his first recording session. Born in 1889 in Bristol, England, Satherly came to the USA around 1914. By the mid-1920s, as an employee of the Paramount record label, he had become an expert in "hillbilly and race music." In 1938, Columbia Records made him its A&R chief for those two genres. Although Satherley contracted and produced numerous country stars, the two he worked most closely with were Gene Autry and Bob Wills. His assistant and successor, Don Law, took responsibility for Marty Robbins. "Uncle Art" Satherley retired in 1952 and lived in Southern California until his death at 97 in 1986. The first show I missed since the CMA Awards started being televised was in 1972, because I'd recently arrived at U.S. Navy basic training in Orlando, and we did not have televisions there. Added to the Hall of Fame in 1972 was Jimmie Davis, a Louisiana sharecropper's son who became the state's governor. He started his recording career as a Jimmie Rodgers imitator and got into politics as the public safety commissioner of Shreveport. He was elected governor in 1944 and sang fulltime after that term. Although he gained fame as the writer of "You Are My Sunshine," he apparently purchased the song after he recorded it. He served a second term as governor from 1960-64 and lost his bid for a third term shortly before his Hall of Fame induction. Governor Jimmie Davis died in 2000, at age 101.