NEWS 
At the Grand Ole Opry on January 21, Loretta Lynn inducted little sister Crystal Gayle as an Opry member, fifty years after Crystal made her Opry debut. At age 16, she had sung the Marty Robbins hit, "Ribbon of Darkness." Loretta said, "It was the greatest moment of my life when they made me a member of the Grand Ole Opry in 1962. I know she is just as happy as I was then."
On a Facebook Live chat, according to Rolling Stone Country, Garth Brooks explained why he didn't perform at the recent Presidential inauguration. "It's always an honor to serve," he said. But his tour schedule was bringing him to Ohio that weekend, and he didn't know how many shows would be added. "Sure enough, Cincinnati did five shows, two weekends, and backed us up into it and we got knocked out of it," he explained. "I'll tell you what with this whole presidential thing, we've got one going out and I pray for him and his family," Garth said. "And for the President going in, I pray for him and his family to guide this nation. . .. I can't thank the Obamas enough for serving this country, and may God hold Trump's hand in the decisions he makes in the country's name as well."
Jim Casey of Nash Country Daily reports that only five country artists have performed the national anthem in the 50-year history of the Super Bowl: Charley Pride, Garth Brooks, Faith Hill, Dixie Chicks, and Carrie Underwood. This year, Luke Bryan will sing "The Star-Spangled Banner" when the Patriots and Falcons play on February 5.
Willie Nelson Facebook post: "We regret to inform fans that Saturday, January 28 and Sunday, January 29 performances of Willie Nelson & Family: Vegas On My Mind have been cancelled due to recent illness and will not be rescheduled. Performances on February 1, 3 and 4 are still scheduled to take place."
Gloria Mills Chapman, 27, the second child of Amy Grant and Gary Chapman, underwent surgery to donate a kidney to her best friend, Taste of Country reports. The couple married in 1982 and divorced in 1999. Amy married Vince Gill in 2000.
A Man and His Guitar — Live From the Franklin Theatre is a new Travis Tritt CD being released in November. Travis recorded it during an unplugged solo concert in Franklin, Tennessee. He considers himself an ambassador for traditional country music, as he told The Boot: "If it hadn't been for these people opening up the doors for people like me, you would never have a continuation of the music we've all come to love and respect so much over the years." He says it's his mission to preserve the traditional sounds that drew him to country music as a little boy in rural Georgia.
The National Music Museum in Vermillion, South Dakota, had been declared by a federal judge to be the legal owner of a guitar played by Elvis Presley. The Martin D-35 guitar was donated by collector Robert Johnson in 2013 and has been on display since then. When Tennessee-based collector Larry Moss insisted he was the rightful owner, the museum asked a judge in 2014 to declare it the legal owner. The London Daily Mail reports that the judge ruled Moss never owned the guitar, never paid for it, and didn't take any legal action during the 3-year wait. The judge determined the museum received the guitar's title in 2013 and is the legal owner.
The historic RCA Studio A will undergo a $500,000 renovation, reports The Tennessean, to make it look as it did in the 1960s. A replica of the RCA Victor sign that identified the building many years ago will be placed on the outside front. The renovation will occur mostly on the office side of the building, not the recording studio side. The tile floors inside the front entrance will be replaced with a 1960s terrazzo-style floor. The desk used by Chet Atkins is still in his third-floor office, but most other furniture will have to be replaced.
LETTERS
Diane Stewart, secretary to Anne Murray, writes in response to my note, "Thank you for your email to Anne Murray. Anne is now completely & happily retired from all things relating to her career, including interviews. She really appreciates your interest and wishes you well."
Cal Sharp, steel player in Faron Young's Country Deputies band, writes from Nashville, "We always had a lot of fun backing up Roni Stoneman. She was a hoot."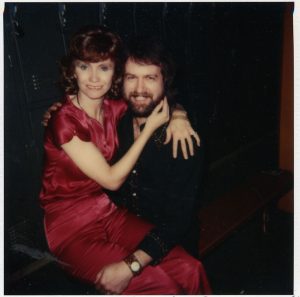 Dominique "Imperial" ANGLARES writes from France, "Thanks for that newsletter and thanks for the words about Tommy Allsup. I have met him in April 2012 and I really enjoyed his work on stage. He played a really great rendition of Buddy Holly's 'True Love Ways' that came bright cleaned from the Dick Jacobs' orchestra violins as recorded first by Buddy on October 1958. Another great Western Swinger has gone. He is now reunited with his friends Bob and Johnny Wills, Buddy Holly and Waylon Jennings to name a few. May he swing in peace and being remembered."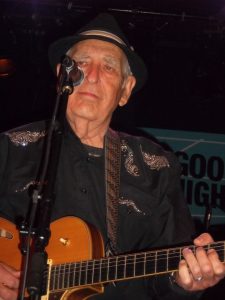 Terry Counts writes from White Bluff, Tennessee, "I am so glad you featured my friend Roni Stoneman. She is one of the most generous persons I've ever met. Once in Deacon's office, decades ago, I admired a gold and jade necklace she had on….before I knew whazzup she had whipped it off and gave it to me. I still have it and it's one of my treasures. I love you Roni!!!!! So sad to hear about Sam Lovullo…I worked dozens of shows with him and Faron and the gang…and if he didn't know for sure where an artist was he'd call me…I usually knew where they were, especially if Murrel was in the group…the last time he called and asked if I knew where Jones was I did…and I was at the taping with the ole man and as we were leaving he ran down the steps of his office and came over to the car and thanked me so much for helping him. I shoulda been thanking HIM for the pleasure and opportunity of working with a great man…I cried so when I heard he had died, but at least he's in HEAVEN now and probably gossiping with the gang. I was also saddened to hear of the death of Tommy Allsup, who was an old friend of Murrel's going back to the '60s…he was also one of the inventors of MSN steel guitars and sure knew how to make them sing. I hope your next issue brings more joy than this one did….Gawd I'll miss all of them so much….I thank God every day for letting me work for the Deacon and for Faron and the others…not many get to grow up and work for their lifetime idols."
Andy Muenich writes from Birchwood, Wisconsin, "Received your newsletter from a friend (Kevin Mincke) and really enjoyed the featured article about Roni Stoneman. Met and jammed with her several times in Nashville. I'm a bluegrass banjo player. Attached is a snapshot. Please subscribe me to your newsletter."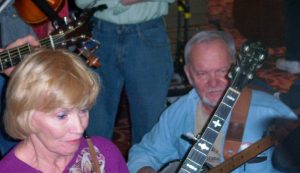 Fred Carter wonders, "I was always under the impression that the coin flip was between Waylon Jennings and The Big Bopper. I know Waylon played as a session guitarist for Buddy Holly. I also thought that in the Buddy Holly Story movie, there was a coin flip between The Big Bopper and Waylon, for the plane seat. There is also a line in one of the Waylon songs, 'Don't ask me who I gave my seat to on that plane.' Anyhow, thanks for straightening me out on the matter. Great newsletter. Thanks for all your hard work and please keep on with the letter!"
Diane: I've always only heard the Waylon story, too. Perhaps there were two coin tosses.
Sean Robertson requests, "My girl friend told me about your classic country music newsletter. I would love to be added to it."
Aileen Arledge wonders, "I was just reading in your newsletter about the various artists performing at the 2017 inaugural affair. My question is why was it necessary for Toby Keith to even consider apologizing for performing. Is there a problem? What or why was he thinking? It sounds like he is ashamed? I hope not. Otherwise, why the excuse?"
Diane: That's my fault for not telling the whole story. Entertainment Weekly said: "Toby Keith is responding to critics of his decision to perform for Donald Trump's presidential inauguration."
Delma Last writes, "I love reading your newsletters. I have a question please? I heard a song by Buck Owens, I don't know the title. Tt said something like you ain't gonna have old Buck to kick around, the last time was the last time. Any information about it? Thanks, and to let you know, I along with my husband, Hans Last, have a Google group called HomeAndMedia. I send your news letters to it, people on it enjoy reading them just like I do. So please for us all, keep up the great work you are doing."
Diane: Buck wrote the song, "You Ain't Gonna Have Old Buck To Kick Around No More." It reached number 13 on Billboard in 1972.
Priscilla McPheeters in Lawrence, Kansas, says, "GREAT newsletter, Diane!! I've really enjoyed the last two in particular."
Christine Diller writes from Maryland, "As always, I thank you for keeping us up to date on the happenings, both past and present, in the world of country music. Things have been awfully quiet on the Glen Campbell home front. Have you heard anything? Looking forward to your next informative article. Keep on keeping on!"
Diane: There seems to be no change in Glen's condition to report.
Tom Kimsey wonders, "Love your newsletter as always! Just my comment on Pete Fisher, first I'm no fan of his and I'm not alone, can't find anyone yet who's upset he's leaving the Opry. I am curious of your thoughts and his time with the Opry? We are annual visitors on the birthday weekend and have seen some attempts to show a great interest from the younger fans but 90% are fifty or older. I just wish the new management could have the past and new on the Opry each night. I had a conversation with Jimmy Dickens one night and he basically was afraid to voice his opinion for fear he would be fired. This was when they would not allow him to bring on his band, which was traditional. Anyway, we will see where this goes and thanks again for your monthly newsletters."
Diane: It's a conundrum. On one hand, you want to keep the traditions, but the traditionalists are dying and the new generations don't appreciate the same things. So you have to do stuff to get them interested, and that alienates us oldsters. What matters, I guess, is keeping the money coming in the door, or it will all die. I don't personally like the changes, but some are necessary.
Cam Lind in Sioux Falls says, "Another great newsletter. Regarding the fact people want you to write another book, I hear that about my writings also. I checked with a friend who wrote one and he still has 500 copies left. He told me, your friends tell you to write it…..then only one of them buys one and they pass it around. He said do not write it unless you can afford to lose at least $15,000.00."
Diane: He gave you good advice, Cam. That is pretty much true—and that doesn't include your time, only cash spent. We write for reasons other than money.
Gerald Walton reminds me, "Gene Autry was born just across the Red River in Texas."
Diane: Thanks for the correction. His birthplace was Tioga, Texas, and I've been there. Randy Travis lives there now.
SONG OF THE WEEK
I first heard "Blue Moon of Kentucky" as a square dance singing call. It was in the mid-1960s, and the neighbors met in the Gruener barn every Saturday night, as Earl Gruener taught us to how to square dance. It was one of my favorites, and hearing the song brings me back to those early years and fun memories. Of course, I've since learned the song is a Bill Monroe classic, written and recorded in 1946. It's been recorded by many artists, often straight country instead of bluegrass. It was the B side of Elvis Presley's first release, "That's All Right," on Sun Records in 1954. Elvis's rocker version was the song that gained him his first appearance on the Grand Ole Opry. Bill Monroe was also on the Opry that night, and Elvis feared his reaction. Peter Guralnick writes in Last Train To Memphis: The Rise of Elvis Presley that "many in the country field" considered Elvis's version a desecration, "and even Sam Phillips had heard that Monroe was going to take their head off for their untrammeled interpretation of his stately lament." But, Guralnick writes, "he came right out and complimented them. In fact, he told them, he had cut a new version of the song for Decca, due out next week, that followed their pattern."
BOOK REVIEW – THE TIME OF MY LIFE: A RIGHTOUS BROTHER'S MEMOIR BY BILL MEDLEY (WITH MIKE MARINO)
I reviewed Bill Medley's memoir, The Time of My Life: A Righteous Brother's Memoir, in my 9/9/2015 newsletter. I didn't talk about the rape and murder of his ex-wife, Karen O'Grady, in 1976, He described how he had picked up their son the day before, and how she had taken her younger son to school that morning. Her friends went to check on her when they saw her car in the driveway but she didn't show up for their breakfast date. Bill wrote in 2014, "The police have never solved the crime, and the case remains open to this day. Every few years it pops up again, like a kick in the gut." It popped up again this week, for the last time. The case has now been solved, thanks to a new investigative technique called "familial DNA." The killer was a sexual predator who had been a suspect at the time. He was killed in a shootout with police in 1982. Last year, investigators ran a DNA profile of one of his relatives who had committed a crime. According to the Washington Post, "This controversial technique was first implemented in 2011 as a way to search for 'close-to-perfect matches' among relatives of a convict." It is controversial because critics say it forces family members to become "genetic informants" without their consent. Bill said in a press conference he is grateful the killer is dead: "I thought I would want to look the guy in the eye and deal with him, but now I am just real grateful there won't be any court."
COUNTRY MUSIC HALL OF FAME – 1970
The Country Music Hall of Fame added its first women in 1970, when Sara and Maybelle Carter were inducted with Sara's ex-husband, A.P., as the Carter Family. A.P. and Sara had been performing as a couple in the Virginia mountains until Sara's cousin, Maybelle Addington, joined them in 1927, shortly after marrying A.P.'s brother, Ezra. The women provided most of the music, with Sara singing lead and playing the autoharp, and Maybelle singing harmony and playing her unique "thumb brush" style on guitar. A.P. found the songs, did the arranging, and sometimes sang harmony or played the fiddle. They began their recording career with Victor producer Ralph Peer in 1927, after traveling to his Bristol, Tennessee, session. Although they recorded over 300 songs, and their elegant arrangements created country standards still appreciated today, they never achieved financial wealth or crossover status. The trio broke up in 1943, while at the peak of their career. From then on, the active "Carter Family" consisted of Mother Maybelle Carter and her daughters, Helen, June, and Anita. A.P. never saw the Hall of Fame honor. He died in 1960, shortly before his 69th birthday. Maybelle died in 1978 at age 69, and Sara died three months later, at age 80.
Also inducted in 1970 was Bill Monroe, the father of bluegrass music. As the leader of the Blue Grass Boys, the Kentucky native developed and named a new musical style with his high lonesome singing and the mandolin as a lead instrument. He joined the Grand Ole Opry in 1939 and was soon grossing $200,000 a year. Two of his band members, Lester Flatt and Earl Scruggs, later became his competitors. Multi-day bluegrass festivals began appearing in 1965, and Bill started his own annual festival at Bean Blossom, Indiana, in 1967. He was acclaimed as the founder of the bluegrass movement. A stroke ended his performing career in 1996, and he died five months later, four days before his 85th birthday.