FEATURED ARTIST – RONI STONEMAN
Roni Stoneman is recovering from her October knee replacement surgery. All those years of carrying around a 30-pound banjo had damaged it. She was back on the stage for the first time on New Year's Eve when she and sister Donna hosted the Ernest Tubb Midnite Jamboree. After three months of physical therapy, her therapist had told her, "You don't have to come back anymore." When I called her last week, she was resting at home.
"I hadn't been picking for about three months," she said, until the band came to her house to rehearse for the show. Roni bragged about 17-year-old Blake Forrester, an excellent musician who plays guitar, mandolin, and banjo. She said he "walked around like Bill Monroe on a good day." She explained, "Bill had that prideful attitude. If you smiled on stage, Bill would fire you."
Roni and Donna like to always have young people in their show. Sometimes Randy Stoneman, son of their late brother Van, performs with them. During one performance in North Carolina, Roni held a contest and "got twelve young people up on stage."
Donna, 82, and Roni, 78, are the only two remaining of the 13 children in the famous Stoneman family. "We were hearing music before we were born," Roni told me. Patsy died last year at age 90. The Stonemans were named CMA Vocal Group of the Year in 1967. "Donna plays as good as she ever did," Roni says. "I'm so proud to hear her. She is so good." She added, "Me and her and a good upright bass player cook–we just cook."
She doesn't like traveling. Spending hours in a car "just wastes your time when you could be doing something else," she says. "I hated that highway. It was my worst enemy." Reminiscing about all those years of touring, she commented, "You don't know where you're going next because the manager doesn't even show you the contract, and you're too stupid to demand looking at it. You learn–and by the time you learn, you're broke."
Roni's maternal grandfather was her inspiration to learn the banjo. He played fiddle and banjo. He'd told her about being a little boy and watching a girl riding in a wagon and playing the banjo. He said, "You know, Roni, I fell in love with that little girl–because she could really play." Roni's reaction at the time was, "I'm going to play the banjo so Grandpa will really like me." Pop Stoneman, her dad, built her a banjo, and her brothers taught her to play it. "Don't play like a girl," they reprimanded her. "Play like menfolk."
Faron Young gave her a lot of work, she told me. She played with him and the Country Deputies off and on for three years. He called her Olive Oyl. "I loved him," she said. "Very, very much." She mentioned the recent death of Hee Haw producer, Sam Lovullo, and said she was getting phone calls asking for her reaction. "He was 88 years old and was such a long time in a wheelchair," she told me. "He was okay in his head–and his body gave out. He wasn't happy living like that."
I asked if she had stopped at five husbands or if she'd found a sixth. In her book, Pressing On, she'd said, "Daddy used to write songs about tragedies–natural disasters. My husbands are my natural disasters." She told me, "I have a husband now, and he's a good one. Tom Conner is from England. He is really talented. He's a fine man and I'm proud." Tom handles Roni's website at http://ronistoneman.com.
Knowing the Stonemans grew up in the Washington, D.C., area, I told Roni I'd lived in Upper Marlboro for eight years. She said, "That's where my brothers were known the best." She told me about Tom Mindte, who owns Patuxent Music in Rockville, Maryland. She said he'd sponsored a banjo and bluegrass show that honored her brothers.
Roni closed our enjoyable conversation by saying, "You're welcome to come here any time. The house is yours."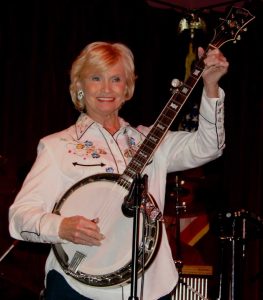 NEWS 
Sam Lovullo (1928-2017)
Sam Lovullo, 88, died January 3 at his home in Encino, California. No cause of death has been announced, but he suffered from heart disease. He was the co-creator of Hee Haw in 1969, and he produced the TV show for two years on CBS and most of its 21 years in syndication. He later wrote the memoir, Life in the Kornfield: My 25 Years at Hee Haw. Lovullo is survived by wife Grace and four children. Son Torey is the new manager of the Arizona Diamondbacks.
Tommy Allsup (1931-2017)
Tommy Allsup, 85, who once toured with Buddy Holly & The Crickets, died January 11 in a hospital in Springfield, Missouri, due to complications from a hernia operation. He'd recorded "It's So Easy (To Fall in Love)" with Holly before touring as his lead guitarist in 1958. When Buddy Holly hired a pilot to take the band from Clear Lake, Iowa, to Fargo, North Dakota, Tommy lost a coin toss with Ritchie Valens to fly on the plane. After the fatal plane crash on February 3, 1959, Tommy moved to Los Angeles for several years before moving back to west Texas. He became known as a western swing guitarist, a music producer who worked with Roy Orbison and Willie Nelson, and a session guitarist.
CMT News reports that Tanya Tucker is in a Texas hospital after she fell during her tour and suffered fractured vertebrae and injured ribs. She is also receiving breathing treatments for bronchitis. Three shows have been rescheduled.
General manager Pete Fisher is leaving the Grand Ole Opry after 17 years, to become chief executive officer of the Academy of Country Music (ACM) in California. No one has been named yet to replace him as the Opry manager.
"Mama Ruth" Jackson, the mother of Alan Jackson, died at age 86 at her home in Newnan, Georgia, on January 7. "She was about 16 when she got married," Alan told Country Weekly. "Dad got back home from the Navy and took her out of high school. They had a place near my grandfather's and that's where they lived. That's all she's ever known."
The Country Music Hall of Fame will open a Loretta Lynn exhibit on August 25, 2017; it will run for ten months. Exhibits featuring Jason Aldean (for six months) and Shania Twain (one year) have also been announced, as has a six-month exhibit featuring Tim McGraw and Faith Hill.
ABC is shooting the pilot of an hour-long TV show starring Reba McEntire as the sheriff of a small Kentucky town. That one episode of the yet-unnamed drama will be used to test whether the series will be picked up. According to Nash Country Daily, the "Southern Gothic soap opera" begins with a suspected act of terrorism at a Fourth of July parade, and a young FBI agent of Middle Eastern ancestry arrives to help the sheriff solve the crime.
Country music performers during inauguration festivities in Washington, D.C., this weekend will include Toby Keith and Lee Greenwood at the "Make America Great Again! Welcome Celebration," Darryl Worley at the Great American Inaugural Ball, Gary LeVox of Rascal Flatts at the Veterans Inaugural Ball Salute to Heroes, and Larry Gatlin at the Black Tie & Boots Inaugural Ball. "I don't apologize for performing for our country or military," Toby told Entertainment Weekly. "I performed at events for Presidents Bush and Obama and over 200 shows in Iraq and Afghanistan for the USO." Lee Greenwood previously performed at inaugural events for President Ronald Reagan and President George H.W. Bush.
LETTERS
Mary Knapp says, "Thanks for such an informative Newsletter. So happy to get the update on Mel Tillis. What a fellow! Saw him in December 2015 in Laughlin. Always a great show. Got to talk some with him before the show. I didn't think he looked well then. Sure hope he makes a full recovery. Thanks again for your efforts publishing this Newsletter."
Marius Swart writes, "I received a few of your country music newsletters, but somehow my address disappeared from the distribution list. I'm sending this message to ask that I be re-added to the list please."
Bill Hyatt in Arkansas says, "A note to Marshall Jordan: I was stationed at Langley AF Base in the mid-Fifties and found WRVA in Richmond along with WWVA and WSM. WRVA had a program on at midnight with Hank Williams one night and Mac Wiseman the next and I never missed a one in the two years I spent there."
A country music fan named Dale writes, "Thanks for Faron's Bio. Great Job! A Request if I may, Ray Price, probably the most underappreciated Great stars of all country music and one of best voices needs a Bio. I know that Faron and Ray were friends. And if you have any insight into Rays life, I am sure people would love to read about it.
Diane: Yes, Faron and Ray were good friends, and I agree Ray Price deserves a biography. He wouldn't have a large enough market, though, to even come close to recovering the cost of writing the book. The two biographies I've written left me in debt, and I don't want to do that a third time. although I have no regrets about Faron's and Marty's biographies. A biographer gains insight while researching a person's life, as I found in my two. I formed impressions of both Faron and Marty that I had no clue about until doing the research.
Dave Beaty writes from Mesa, Arizona, "My friends send me your letter – but only when they think of it. I would like very much to receive it. If you have room to add me to your emailing list, I would sure appreciate it. We know many of the same people it seems."
Sid Durham requests, "Could you please add me to your Country Music Newsletter."
John Morris from Peterborough, Ontario, Canada, writes, "First of all I want to wish you and all your readers a happy new year. I have fantastic news for George Jones fans. On February 24th, the Bear Family will be releasing a new box set on George. The title is The Birth Of A Legend The Truly Complete Starday Mercury Recordings 1954-1961. 6 CDs and 174 pages hard cover book and at least 20 alternate takes and unreleased songs. I can't wait for this one and just wanted to pass on the great news. Keep up the fantastic job."
BOOK REVIEW – PRESSING ON: THE RONI STONEMAN STORY as told to ELLEN WRIGHT
"This book is Roni Stoneman's view of her life," writes author Ellen Wright in 2007. "It is an oral history, written from seventy-five hours of taped interviews." Ellen shaped those interviews into a chatty first-person account, Pressing On: The Roni Stoneman Story. "I'll be able to tell you about some of the heartache in my life," Roni says in the preface. "Like that I was married five times, was beaten down physically and mentally. And that I was the sole support of my five kids, once did laundry by hand at one dollar a basket while performing music six hours a night six nights a week and caring for three babies, and at another time was turned down for jobs as a hotel maid (this was after Hee Haw!). But it won't be all Gloom, Despair, and Agony On Me. I also want to tell you some funny stories." In 1947, Ernest "Pop" Stoneman made instruments for his thirteen children, and the family entered a Connie B. Gay contest at Constitution Hall in Washington, D.C. Grandpa Jones was also there. The Stoneman Family won the contest, and Pop used the money to build a real roof on their house, replacing the tarp that had covered it. Roni later entered a contest that offered a store-bought banjo as the prize. She won, but the judges refused to give her the banjo because she was a girl. They announced her runner-up as the winner. When Sam Lovullo hired her to be on Hee Haw, he told her, "You are just what we need. We have all the pretty girls we want."
COUNTRY MUSIC HALL OF FAME – 1968 and 1969
Bandleader Bob Wills was the only person induced into the Country Music Hall of Fame in 1968 and Gene Autry the only one in 1969. Both furthered their careers as performers on KVOO Radio in Tulsa, Oklahoma. Bob Wills & His Texas Playboys developed and made western swing music the rage on radio stations and in dance halls across the southern quarter of the United States from the 1930s-1950s, with KVOO Radio as home base. Bob grew up in a family of Texas fiddle players, and he was ten when he played his first dance. The band was at its best in 1942, with 16 musicians, when World War II draft notices broke it up. Songs such as "Faded Love," "Maiden's Prayer," "Take Me Back to Tulsa," and "San Antonio Rose" are still popular today. A major stroke six months after his induction into the Country Music Hall of Fame ended his career. With the help of friends, he recorded one last album, For the Last Time, in 1973. Two years later, after several more strokes, he died of pneumonia at age 70. Gene Autry, the Singing Cowboy, started his career singing Jimmie Rodgers songs on KVOO in 1928. By 1937, he was the number one box office draw in western movies—with his horse, Champion. Hit songs included "Tumbling Tumbleweeds," "Take Me Back to My Boots and Saddle," and "Back in the Saddle Again." He served in the Army Air Corps during World War II, flying transport planes in the Pacific Theater. "Here Comes Santa Claus," "Rudolph, the Red-Nosed Reindeer," and "Frosty the Snowman" were million sellers after the war. In 1960, he bought the Los Angeles Angels baseball team. He died in 1998 at age 91.