IN THE SPOTLIGHT – LACY J. DALTON
The most incredible project Lacy J. Dalton, 72, has ever done in her life came from the recent three-and-a-half years she spent with an arts program at High Desert State Prison in Susanville, California. "It was a life-changing experience," she told me during our telephone conversation last week. When a friend called and asked her to join the program, she said she was too busy and didn't want to do it. He convinced her to give it a try. Dale Poune, her partner of ten years and a "fabulous guitar/mandolin/piano player," went with her. "From the minute I went into that prison, I never felt one moment of fear," she recalls. "Those men were so grateful. They had no programs like art or music or acting or anything in the arts. These are level four guys, twenty to life. I've never felt so loved and appreciated in all my life."
Every year, she and her class put on a show. One year it was a musical called America: The Pipe Dream. "We changed a lot of things, in the most positive way," she says. 'The officers knew it, the warden knew it, and the inmates knew it. Everybody was supportive." She credits the warden with being "one of the most enlightened guys you could ever imagine."
She taught songwriting and some guitar, while Dale focused on teaching the inmates how to play a guitar. Some of their students are now able to teach others. "Each one teach one," Lacy says. "That program is just amazing. One of the guys now is teaching a songwriting class. That was an amazing part of my life."
Although Dale continues to teach at the prison, Lacy recently pulled back from the project to devote her time to promoting her new CD, Scarecrow. "I have one more chance to really do this," she says, "to get this music noticed and to concentrate on some of this social media stuff–to be more of a promoter than I've ever been."
To illustrate her lack of promotional skills, she talks about the Americana CD she recorded thirteen years ago. Last Wild Place Anthology became the top Americana CD for 2019 when it received the Pete Huttinger Award for Music Excellence from Strictly Country Magazine. "Boundless Skies," a song on the CD, received the President's Choice award for best well written music for 2019. She hopes Scarecrow won't take that long to be recognized.
Her next recorded project, a video for Scarecrow, will be called Dust Bowl Resurrection. "I'm really looking forward to it," she says. "There's a song on there called 'It Takes an Earthquake Sometimes,' and that's what that song is about. What that is, is you know when you're hit with a powerful betrayal, it shakes your world." She speaks from experience about betrayal. "I was 59," she explains, "and I just got completely financially and emotionally destroyed." She has made her way back. "I'm very happy," she tells me. "You don't get strong spiritual muscles if you never get any challenges. I have a beautiful life."
Although she spent the decade of the 1980s on the Billboard charts, with songs such as "Hard Times," "16th Avenue," "Takin' It Easy," and "Hillbilly Girl With the Blues," she never focused on being a star. "That was not my motivation ever," she says. "If I can help one other human being in this world, that is why I do music. I feel that I have a calling." She realizes the value of stardom, saying, "the larger platform you have, the better way you can reach more people. I can only hope the Spirit is doing exactly what it wants to do with me."
It was her ninth Nashville album, Survivor, "where every song, I got to do almost a hundred percent of what I wanted," she recalls. "It took me forever in Nashville. It was always like trying to carve my career out of a granite mountain with a teaspoon. Because I was different. I'm still different. I'm never gonna not be different. It's just how I am."
Lacy lives in the Virginia Highlands of Nevada. During her financial difficulties, "the IRS came after me," she says. The woman who helped her save her home fought the IRS for a year and a half without taking any payment. She told Lacy, "About fifteen years ago, I saw you with Willie Nelson. I was in a terribly abusive marriage, and that day I had decided to go to the concert and then go home and shoot myself. You sang a song called 'Survivor,' and it turned my life around." To Lacy, that illustrates the Spirit at work in her life. "It took a long time and a lot of heartache," she says. "I expect to live here for the rest of my life."
Wild horses are a passion of Lacy's. She founded the Let 'em Run Foundation in 1999, a nonprofit organization in Virginia City, Nevada. It is dedicated to preserving, recovering, and providing sanctuary and homes for America's wild horses and burros. For almost six years, Lacy did a radio show every Wednesday to bring attention to the plight of the wild horses. "When I first started, people weren't aware," she says. "There are so many people involved now with the wild horses and so much going on with them that I think that's covered."
She talks about how Willie Nelson saved a herd of at least 3,000 wild horses near her home. The Virginia Range Herd is the largest contiguous herd in the country. When the Nevada Department of Agriculture planned to destroy the herd, Lacy notified the newspapers. She also recorded a public service announcement (PSA) and called Willie to ask if he would help save the horses. She requested that he make a PSA for SiriusXM. He told her he was leaving for Amsterdam and didn't have time, but he would publicize her PSA as endorsed by him. "He went to Amsterdam and got together with Snoop Dog and they both did one, and they both put them on the satellite," she reminisces. Phone calls from the public "shut down the governor's office here for about two weeks. Because of their thing, they saved the horses." The herd is now protected in a large industrial park, and Lacy hopes it will someday be a major Nevada tourist attraction. "Eventually, they'll be a wonderful reason for people to want to come and visit northern Nevada," she says. "That's always been my vision."
Lacy and Dale will be going on tour this summer. For financial reasons, she no longer carries a whole band. "We have a duo," Lacy says. "I really don't enjoy performing alone. It's not my favorite thing. I love interacting with other players because it's stimulating."
I said I hoped to meet her in August at their concert in Wessington Springs, South Dakota. "Oh, that's great," she says. "We'll have a blast."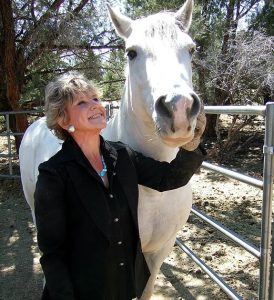 NEWS
The "Voice" of Bob Wills and his Texas Playboys, Leon Rausch, died May 14 in Fort Worth, Texas. He was 91 and had been seriously ill for several months. Born in 1927 in Missouri, Leon served as Bob's lead vocalist from 1958 until the early 1960s when he formed his own band. After Bob died in 1975, Leon rejoined the original Texas Playboys, who continued to record and tour until 1986. Until recently, Leon performed each year at Bob Wills Day, a festival held the last weekend of April in Turkey, Texas.
Randy Travis celebrated his 60th birthday with an appearance at the Saturday night Grand Ole Opry on May 4. When the cast sang his hit, "Forever and Ever, Amen," he sang the final "a-a-a-men." He has been an Opry member since 1986. A massive stroke in 2013 stopped his performing career.
Michael W. Smith, a 45-time Dove Award winner, was honored at Bridgestone Arena on April 30. More than 50 artists performed a three-hour show called "35 Years Of Friends: Celebrating The Music Of Michael W. Smith." They included Vince Gill, Amy Grant, Charlie Daniels, the Gatlin Brothers, The Oak Ridge Boys, Ricky Skaggs, Lee Greenwood, and Wynonna. Randy Travis walked out on stage with his wife, Mary, as his recording of Smith's "Above All" played. The Tennessean reports Smith stood and clapped as Randy slowly made his way across the stage. Charlie Daniels delivered an acoustic version of "How Great Thou Art." The evening included taped messages from Bono of U2, Franklin Graham, and former President George W. Bush.
Daniel O'Donnell was recently inducted into the Country Music Hall of Fame in Dublin, Ireland, during the Late Late Show Country Special. He and host Ryan Tubridy sang a duet of Roger Miller's "King of the Road." Evoke.ie reports he is only the second person to receive the award, following Big Tom, the late front man of the Mainliners, who was inducted in 2016. "I am truly honoured to receive this award and to follow such a great as Big Tom," Daniel said. "It means so much to me to be acknowledged by my peers here in Ireland."
Capitol Records and UMe are issuing a new version of a 2003 Glen Campbell box set that is currently out of print. The Second Disc reports that Glen Campbell: The Legacy [1961-2017] will be released June 21. It will include the first three CDs of the original box set, with a completely new disc four that replaces a live disc. Those 13 songs highlight the final chapter of Glen's career. The liner notes from the original set will be included.
The house where Dolly Parton lived from 1980-1996 is on the market for $1.1 million. The Tennessean reports the four-bedroom home at 3146 Glencliff Road in South Nashville sits on 2.4 acres and includes a guest house. The current owners used it as a bed and breakfast. They expanded the master bathroom and kitchen but left the second floor as it was when Dolly and Carl Dean lived there. The house was built in 1941. The property includes a four-vehicle carport and a paved drive that can accommodate eight tour buses.
A new mural on the side of Colonial Liquors at 2401 Franklin Pike in Nashville, where George Jones was a frequent customer, brings to life a story he told in in his autobiography, I Lived To Tell It All. He said his second wife, Shirley, had hidden the car keys to keep him from driving drunk. "But she forgot about the lawn mower," he wrote. The Tennessean reports the mural was painted by Nashville artist Shawn Catz. The cartoon design of George and his riding mower came from an episode of an animated TV series, Tales From the Tour Bus. Nancy Jones, George's widow, issued the following protest statement to FOX 17 News: "Have you seen that thing?? It is plumb ugly! It doesn't look anything like George. It is stupid, hideous, self-serving, NOT accurate and certainly not sanctioned by the estate or the museum. George was a great writer, a great singer and a proper mural should be about him and his music not a mischaracterization of him on a lawnmower!"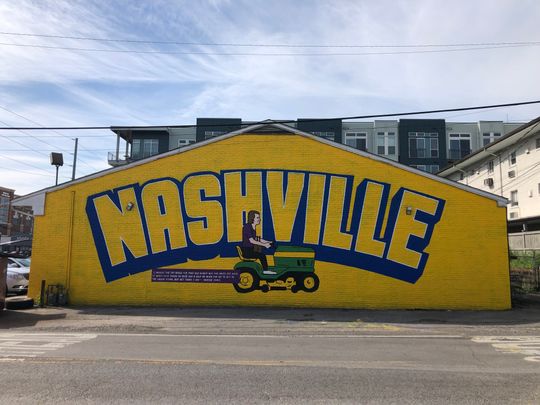 The Barker Family Band is currently playing its limited-engagement acoustic tour at City Winery in Nashville. Sara Evans and two of her three children, Avery, 19, and Olivia, 16, named their trio after Sara's husband, Jay Barker. Avery tours with Sara as the guitar player in her band. Sara tells The Tennessean the concerts are no-pressure fun nights packed with songs people will know. The family recorded a six-song EP on which Sara and Olivia alternate lead vocals. The Barker Family Band EP, initially a marketing tool for show promoters, is available for sale.
Taste of Country reports Vince Gill, 62, is going back to his roots when he releases a new album, Okie, in August. "I thought this was going to be a songwriter record, not a concept album," Vince says. "It wound up being more information than I'd envisioned." A friend told him the songs contain "just truth and your experience."
A Hit with a Bullet: A True Story of Corruption, Greed, and the Real Murder on Music Row is the title of book written by Sammy Sadler and being published next week. Thirty years ago, he was a young country music artist when he walked out of a recording studio with Kevin Hughes, an employee of Cashbox Magazine. Someone approached and opened fire on them. Kevin, 23, was killed as he fled down 16th Avenue. Sammy, 21, was shot but managed to run to a nearby building. With the murder unsolved until 2004, Sammy remained under a cloud as a possible conspirator. The killer was then determined to be Richard D'Antonio, also a Cashbox employee, who was trying to cover up a payola scheme at the magazine to inflate chart numbers. Saving Country Music reports the 336-page book, which took ten years to complete, begins with the murder on March 9, 1989, and covers the 13-year investigation.
Lorrie Morgan and son Jesse Keith Whitley hosted a star-studded memorial concert at the CMA Theater in the Country Music Hall of Fame and Museum on May 9 to honor Keith Whitley on the thirtieth anniversary of his death. He was 33 when he died from alcohol poisoning. Garth Brooks, Trisha Yearwood, Ricky Skaggs, Tracy Lawrence, Darryl Worley, and Joe Diffie were some of the performers who took turns singing Keith's songs. Garth joked, "This is the definition of greed, right here. You get to sing two Keith Whitley songs and all you can think about is wanting to sing other people's Keith Whitley songs." Mark Wills sang "Homecoming '63" and "I Never Go Around Mirrors." Lorrie gave him credit for the idea of turning their small annual event into a large memorial concert this year. Trisha Yearwood sang a song Keith wrote, "You Don't Have to Move That Mountain." Her 1992 recording of the song fulfilled her childhood dream, formed when she heard a Keith Whitley album, that she would someday record an album with those same musicians.
To publicize the release of his as-told-to autobiography Forever and Ever, Amen: A Memoir of Music, Faith, and Braving the Storms of Life, Randy Travis, 60, with his wife, Mary, and author Ken Abraham recently did an interview with Taste of Country. After the expected story of Randy's life and career, the final third of the book talks about his legal and medical troubles. He and Mary were shocked to learn he had no disability insurance; he'd thought his voice was insured by Lloyd's of London. They also learned he wasn't getting royalty checks from Warner Brothers because of the many draws advanced against his royalties. The book ends in March 2018, when they are in a court battle with Randy's ex-wife, Lib Hatcher.
Kaplan, Louisiana, honored hometown boy Sammy Kershaw on May 6. Mayor Michael Kloesel proclaimed Sammy Kershaw Day and announced changing the name of 2nd Street to Sammy Kershaw Drive. "It's just a total surprise," Nash Country Daily reports Sammy as saying. "I never expected it, but to me it's got to be one of the biggest honors your hometown can do for you." Sammy is currently touring with Aaron Tippin and Collin Raye on the Roots & Boots Tour.
While suffering from appendicitis, Kelly Clarkson hosted the Billboard Music Awards in Las Vegas on May 1. She walked the red carpet, opened the show with a medley, and sang her new song, "Broken and Beautiful." Immediately after the show, Nash Country Daily reports, she flew home to Los Angeles and had her appendix removed in the morning.
BELMONT AWARD
It's been six years since my Twentieth Century Drifter: The Life of Marty Robbins won the 2013 Belmont University Country Music Book of the Year award. To relive the event, here's the video of Don Cusic making the presentation: https://youtu.be/PRNQBKJb1QQ
LETTERS
Harris Spracher writes, "Thank you so much for what all you do. I particularly liked the Jim Glaser bit from a few years back. Two more giants have passed on and Jim was one of them. ETC was in fact the last giant I saw in person about ten years or so ago. Maybe I don't get out enough but anymore there is no real desire."
Jenny Jones from Texas says, "Such a newsletter makes me feel as though I have been on a journey around the world, just sitting here in my own house. This has certainly been a well-informed one, and somehow the photos appeared with the article. Sorry to hear we have lost more singers, and was sorry to hear about Hal Ketchum. You have certainly kept us up to date and I am sure everyone appreciates all the News, as much as I have. I wanted to tell you something that made my day this past Sunday afternoon. Thanks to some info from Dominique, a few weeks ago, I have located a dear friend that I lost touch with while we were in high school. That really meant a lot to me. She was BILLY WALKER Fan Club for quite a while. This seems to be getting long, but could I ask if you could pass along a request for me? I would love to hear from someone who might know the whereabouts of Kaye Myers who was involved in BILLY's Club. THANKS again for all the great news."
Dominique "Imperial" Anglares writes from France, "Thank you very much for that welcome newsletter. Always a great reading packed with interesting information about then and now. Nice to read Jenny Jones' words. She's a very nice Lady and I am glad to help her with some with my files. That story's just started and I will give you updates about that blossoming friendship. Thanks for your work. Warmest regards from your French friend."
Marius Swart says, "Thanks for keeping traditional country music alive with your newsletter."
Stacy Harris sends this from Nashville: "As I wrote in Stacy's Music Row Report back in December 2018:
"BOBBY RYDELL's autobiography of a couple years back was quite a sleeper, but those of us who read it know Bobby's BILLY "CRASH" CRADDOCK story- and now you do:
"In June, 1960 Rydell was booked on a show in Australia with THE EVERLY BROTHERS and other top rockers. Arriving at the Sydney airport, Bobby, Don and Phil Everly deplaned to a warm welcome they assumed was for them.
"Instead, the crowd rushed past America's rock royalty to get to some stranger.
"You guessed it: The welcome turned out to be for Craddock who, at the time, had the #1 hit there that week, Boom, Boom Baby.
"Another little-known fact of Rydell trivia; Bobby once played in a charity golf tournament with TENNESSEE ERNIE FORD."
Alan Potter says, "What a lovely write up about John Berry and his tribute show….a true gentleman and so friendly and down to earth I have interviewed at least 30-40 country stars and his interview was a joy…God bless him and his family."
Ray Rokita sends this note: "I have a suggestion for getting your book recorded in audio format. Audible is always looking for new books to have recorded. I am sure something could be worked out for you to get The Twentieth Century Drifter book on Audible. From what I understand Audible gets the author's permission to record the book. Audible finds the narrator to read your book. Chances are you'll have an audio book available through Audible faster than our national library service. I hope you can work this out. The blind and visually impaired readers would be honored to have your books available through Audible."
Diane: I'd love to have my books on Audible, but I would have to pay for the recording, and the return isn't likely to cover the cost. Both biographies have both been recorded for the blind, so I'm told, but not available to the public. I'll admit to not having done much research on this subject.
Ron Reagan writes, "If you don't mind sharing this to the list, I would appreciate it. When I was a kid, probably late '70s or early '80s, I watched Marty Robbins being interviewed on a special. He talked about dying in the hospital, going to Heaven and seeing Christ across the river, but He wouldn't allow Marty to come across because he wasn't saved. He then talked about giving his life to God that night after that happened. If you, or another Marty fan, can tell the story, I'd appreciate it. I'd love to find the special on YouTube if it's on there. My mother informed me earlier that my grandmother (my dad's mother) was Paiute in her heritage just like Marty. I've been playing Marty's music this evening and she's sitting in here listening with me."
IN THEIR OWN WORDS
It was July 2016 when I called Freddie Hart at his home in Burbank, California, to ask if he would be the featured artist in my newsletter. Johnny Western had put us in touch. We chatted for 18 minutes, after which he sent me an autographed tour booklet, "Presenting Freddie Hart & the Heartbeats." He died at age 91, on October 27, 2018, survived by his wife of 61 years, Ginger, and four sons.
Lefty Frizzell brought me to California in 1952 and I got on Capitol Records in 1953. I was working with him about three years on the road, at his biggest, y'know. He had five of the top ten. I was living in Phoenix, Arizona. We had a show at the Riverside Ballroom, which I think just about everybody's worked there before–Bob Wills and everybody. I was staying at the Adams Hotel in 1950, and I got in touch with Lefty, and he wanted me to go out to the Riverside Ballroom with him. So I went down there with him, and after the show, I sang him some of my songs, and he asked if I would go on the road with him, y'know. That was quite an honor for me to do that. I had no songs of my own at that time, so I'd sing other people's songs. Some of his songs even, if he wasn't going to sing them.
I was in the 3rd Marine Division. I went in in 1942. That's one of the greatest things that happened to me, really, I guess. My mother and dad signed for me to go in. Just before I was fifteen years old. That was a wonderful thing. I wish every kid now, of age, could go in the service for one year and come home. Go through boot camp. That would be a wonderful thing. I'm real proud of that. It was one of the best things that happened to me. It was just a wonderful thing. At the time, of course, everything was different. Really, it was a wonderful thing that happened to me. I never went to school. I went to the second grade in school; that's as far as I got. I come from a big family. There was fourteen or fifteen of us in the family.
When I was in the service, I always dreamed of being in country music. Being on the Grand Ole Opry, y'know. Sometimes I'd go out in the field, working in the fields, and I'd get up on a rock or something: "Ladies and gentlemen, here's a brand new star on the Grand Ole Opry." And I'd sing the old songs, Roy Acuff or somebody like that. Bill Monroe. Everybody's. I'd give myself different names. Just kind of daydreaming, y'know.
I love to paint, I don't know, it's just something I like to do. "Daydreams of Tomorrow" is on display in the Country Music Hall of Fame.
I do a lot of gospel things. I'm still writing. My songs are very real to me. I've been so blessed in writing songs. I guess one of my greatest awards was being in the Songwriters' Hall of Fame a few years back. I've been so blessed. I guess I received about every award you can get. I'm so thankful. People have been so good to me. Their hearts and their arms have been wide open to me, always.
I love country music, I really and truly do. It's been so good to me. I've traveled all over the world. My dream came true in 1971. Of course, I recorded a long time before that. But my dream came true with "Easy Lovin'." I'd had hit songs before, but not one you've been looking for and dreamed about, y'know.
I'd like to record another country album. People have been wanting me to do that. I have a song I just put out, called "This Old Church," a gospel song. It's beginning to break in. I do some shows in Missouri. I do special things. I don't go out much like I used to, of course.
I was born in '26. I'll be ninety come December. I don't feel it though. I feel great, really. I walk a couple miles every day. I can't get out and run like I used to, y'know. I've never been sick much. God's been so good to me, He really has, in so many ways. I went through the war, and everything.
Tell everybody that I love them. That they've been a blessing to me. I wish I could put my arms around all of them. And I got long arms, too, by the way.
SONG OF THE WEEK
Whenever I think of Lacy J. Dalton, the song that comes to mind is "16th Avenue." Although her unique and recognizable voice makes all her songs enjoyable, this one caught my attention because visiting Nashville was a distant dream of mine in 1982. I'd grown up listening to country music and the Grand Ole Opry and hearing about Nashville. I wanted to walk down 16th Avenue, see the people, and absorb the culture. It wasn't her first or biggest hit, and she didn't write it. The songwriter was Thomas James Schuyler, who wrote hits for Randy Travis, Earl Thomas Conley, and Kenny Rogers, among others. The BMI Award-winning song reached #7 on Billboard in 1982. I've been to Nashville many times since then, and the 16th Avenue of the song is mostly a memory, but being on that famous street still makes me think of this song.