IN THE SPOTLIGHT – LISA SUTTON
"I am kind of phasing out Lisa Sutton Music Services after fifteen years," Lisa Sutton told me during our telephone conversation last week. Lisa is the daughter of the late singer Lynn Anderson and songwriter Glenn Sutton. Her grandparents were songwriters Liz Anderson and Casey Anderson. How's that for country music royalty?
Lisa has spent her career in a different aspect of the music industry. "I always handled CD manufacturing and graphic design for album covers," she explains. "We could do short runs, long runs, I could put all the CDs together, drop ship them to all the different customers. But everybody's going digital. So I'm backing out of that one slowly, and I'm going to focus more on my publishing catalog."
And what a publishing catalog she must have. I'm not sure how many of the older songs she owns, but here's a small selection of the hundreds of songs written by her dad and her grandparents. Glenn's songs, many of them cowritten with Billy Sherrill, include "Almost Persuaded," "Bedtime Story," "I Don't Wanna Play House," "Kids Say the Darndest Things," "Lone Star Beer and Bob Wills Music," "She Still Comes Around To Love What's Left Of Me," "What's Made Milwaukee Famous Made a Loser Out Of Me," and "Your Good Girl's Gonna Go Bad."
Liz Anderson wrote the Merle Haggard hits, "From Now On All My Friends Are Gonna Be Strangers" and "The Lonesome Fugitive." Her daughter, Lynn, recorded "Ride, Ride, Ride" and "If I Kiss You." Faron Young recorded "Crutches." I also came across the song, "Lisa the Little Farmerette," which Liz wrote for and recorded with little granddaughter Lisa.
"I don't really know that I'm a good publisher, as much as I could be a good song plugger," Lisa says. "I think licenses from my family is going to be the way to go. Granny being a songwriter, Dad being a songwriter, Mom being a singer, we've got access to the songwriting, the publishing, the master, all of those things."
I asked if she could describe how it felt being a kid in the heyday of Nashville's music industry. "I still feel like I'm a kid in the heyday of Nashville's music industry," she replies. "I walk across the street and cut roses and take them to Brenda Lee. I still feel like my family affords me connections to anyone and everyone, and Nashville is really booming right now." She sees a resurgence of '70s and '80s country music. "They're going back and listening to old Reba McEntire and old Lynn Anderson," she says. "I'm excited about it. It's not just a fad."
Lisa lost both parents unexpectedly and at young ages. Glenn was 69 when he died in 2007. Lynn died in 2015 at age 67. They had divorced in 1977, after which Glenn bought the house where Lisa now lives. "I've been coming to this house since I was seven years old," she says. "That's the only place he ever lived. Dad was satisfied, and that's where he stayed."
She moved into the house after his death. "Sometimes I felt like a voyeur," she recalls. "You saw Dad's house. He was a collector–all this stuff, everywhere. It felt funny moving into Dad's den, a little bit. I love all that stuff. Mom's got cool stuff, too. My grandparents have cool stuff. I have kind of a museum archive. Dad's house is set up for it."
Lynn owned two houses at the time of her death. While she still had a home in New Mexico, she'd been living in Brentwood for three years, to be near Casey after Liz died in 2011. Casey died six months ago. Lisa cleaned out all three houses, sold the one in New Mexico, and rented the two in Brentwood. Being a landlord provides passive income as she transitions from her manufacturing and design work into whatever the future might hold. Her boyfriend handles the maintenance of the rental houses. As for the collection of family possessions, she says, "I'm not quite sure what to do with all of it; there's so much."
One of Lisa's major achievements is the Lynn Anderson Rose Garden at Woodlawn-Roesch-Patton Funeral Home and Memorial Park in Nashville, where Lynn and her parents are buried. When a Woodlawn director asked Lisa if she could get a few of Lynn's rosebushes to plant near the graves, she started making phone calls. Some years after Lynn's 1970 international smash hit, "Rose Garden," a company in California had developed a rose in Lynn's honor. It hadn't been grown in two decades, but the company began a two-year initiative in which the Lynn Anderson Tea Rose was re-grown for a limited run for family and friends.
The Lynn Anderson Rose Garden, dedicated a year ago, features 114 Lynn Anderson Hybrid Tea Roses. Lisa says, "I called to order a couple of roses, and now–it took me three years, but we've got a couple hundred of them." In addition to the garden at Woodlawn, she planted a hundred roses in her front yard. "It's kind of funny to have Mom's rose garden at Dad's house," she says. "I think that's neat."
She's also given or sold rosebushes to Lynn's fans and friends. "Those gardens are coming into bloom," she says. "They're texting me, they're emailing me, they're posting them on my Facebook page: 'Look at your mom's roses. Look. Look.' I think that is such an awesome way to honor Mom."
She would love to see the Lynn Anderson Hybrid Tea Rose back in circulation. "I think that would be neat, to see her back in rose catalogs again," she muses. "I look forward to getting her into the cowgirl and the western lifestyle stuff–I think that meant a lot to her." Most of all, Lisa says, "I'd love to see her go in the Country Music Hall of Fame."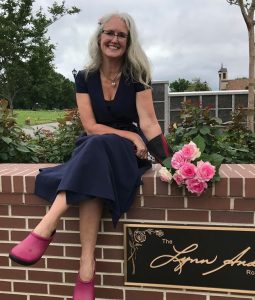 NEWS
"Have You Forgotten?" is a song that changed Darryl Worley's life. He first sang it on the Friday night Opry on January 10, 2003. He had recently returned from a trip playing for troops in Afghanistan, after which he called co-writer friend Wynn Varble to help him write a song to thank the nation's first responders. He taught the chords to his band in the backstage dressing room at the Ryman Auditorium before they went on stage. Their performance's thunderous applause earned an invitation to return the next night and sing it on the televised portion of the Opry. Over the next 24 hours, The Tennessean reports, the song went viral. By Monday morning, Darryl's personal website and that of his record label crashed due to traffic. Fans sent videos of his Opry performance to their local radio stations, who played that version for several weeks until Darryl could get the song recorded. It killed "Family Tree," the scheduled follow-up to his first No. 1 hit, "I Miss My Friend." He had been opening shows for country stars, but those opportunities permanently dried up when his song eclipsed theirs. "We couldn't buy another hit," he tells The Tennessean. "Radio would say, 'Oh yeah, it's an OK song but it ain't "Have You Forgotten?"' It was like, 'What, you want me to write one of those a month?' That's an inspiration I can't conjure up every day." It took "Awful Beautiful Life" to finally compete. He wrote that song with Harley Allen, who was dying of cancer. "Hindsight is 20/20," Darryl says. "I don't have any regrets. 'Have You Forgotten?' was a blessing and a curse. But would I trade it in? Heck no. I still love to sing it because it's just as relevant today as it ever was." He sang it this past Memorial Day weekend on the Grand Ole Opry.
Country songwriter Glenn Martin, 86, passed away Sunday, May 12, in Brentwood, Tennessee. The Georgia native served in the Air Force in Germany during the Korean War. He then opened his own furniture and music stores, in which he held weekly jamborees. The performers who attended his shows eventually encouraged him to move to Nashville. Glenn was an original member of the Nashville Songwriters Association International (NSAI), established to get writer credits on recordings. Glenn's many songs include Charley Pride's "Is Anybody Going To San Antone" and "I'm Just Me," as well as Merle Haggard's "It's Not Love (But It's Not Bad)" and "If We're Not Back In Love By Monday."
Violet Mozelle Lord, the widow of Bobby Lord, died March 6, at age 82. She met Robert "Bobby" L. Lord in Tampa, Florida, while she was in high school. Her obituary says they married when she was 19 and he was 21. They moved to Springfield, Missouri, where Bobby performed on the Ozark Jubilee for five years. In 1960 they moved to Nashville. Bobby joined the Grand Ole Opry and hosted his own TV show, The Bobby Lord Show. Mozelle was crowned Mrs. Tennessee in 1966; she was an accomplished songwriter, with many songs recorded by various recording artists. They returned to Florida in 1970 and raised their family in Stuart. Mozelle and Bobby had been married 53 years when he died in 2008.
Real-life best friends Ethan Hawke and Alessandro Nivola will portray Charlie and Ira Louvin in a new movie, Satan Is Real, a story of brotherly love and sibling rivalry. In an interview with Variety, Hawke and Nivola said they hope to achieve "blood harmony," the term that describes the harmonizing of family members who share the same tone in their voices. Their goal is to use the musical sequences to chart the brothers' deteriorating relationship. The two actors have already recorded some Louvin Brothers songs to intrigue financiers. They hope to sell the film to buyers at Cannes.
The American Accordionists' Association's 2019 AAA Lifetime Achievement Award goes to Joey Miskulin, known as "Joey the CowPolka King." Joey, 70, has been a member of Riders In The Sky since the late 1980s. He began playing the accordion at age 5 and was performing professionally by 11. He apprenticed with the late polka king Frankie Yankovic as a teenager. A press release states, "His contributions as a vocalist, multi-instrumentalist, and world-renowned accordion player stretch from polka to pop music, from bluegrass to the blues, from country to rock & roll." The Country Music Hall of Fame recently included him in its Nashville Cats series, saluting musicians who made historic contributions to Nashville's music. The American Accordionists' Association, which celebrates its 81st anniversary this year, will present Joey with the 2019 Lifetime Achievement Award during a ceremony in College Point, New York, in September.
At 3:30 a.m. on Saturday, May 18, a Jeep that was traveling in the wrong direction on Highway 22 near Myrtle Beach, South Carolina, crashed head-on into a Chevrolet pickup. "We were just involved in a fatal accident with a driver going the wrong way on Veteran's Highway as we were leaving Myrtle Beach," Travis Tritt posted on social media. He had performed at House of Blues in Myrtle Beach earlier that evening. His tour bus was sideswiped while trying to avoid the accident. According to Myrtle Beach Online, Cody Wade, 25, the driver of the Jeep, and Tonda Cross, 61, a passenger in the truck, were killed in the crash. The driver of the truck was hospitalized.
"One in a Row" is the latest Randy Travis release. He recorded the song before his stroke in 2013. Written by Buddy Jewell and Thom McHugh (not the Willie Nelson one), the song describes a man struggling to get over an old flame. "My songs were the stories of my life and I learned from those who listened," Randy said in a statement. "They were theirs too — my fans inspired me and continue to do so." The song's release follows his recently published memoir, Forever and Ever, Amen: A Memoir of Music, Faith, and Braving the Storms of Life.
Three performances of Don Williams: Music & Memories of The Gentle Giant will take place at the Schermerhorn Symphony Center in Nashville, October 31-November 2. Keith Urban will serve as the show's curator. "Don Williams and his music are strong threads in the tapestry of my life," Keith said in a recent press release. "I jumped at the chance to play even a small role in this incredible concert experience. There is no better way to celebrate him and his legacy than reliving those musical moments and I'm honored to be part of continuing to share his story and music." The concert is a musical journey through historical video performances of Don Williams, plus special guest singers live onstage, all accompanied by Don's touring band and the Nashville Symphony. "This style of show has never been done before in Country music and it's very fitting that we present Don and his music to the fans in this way," Don's long-time manager, Robert Pratt, says in the press release. "Don was a very quiet and private person who loved performing for his legion of fans. I am especially happy to bring his music back to the fans and premiere this new show in Nashville with the symphony and then take it on the road throughout 2020."
Lee Greenwood sang "God Bless the U.S.A." to over 1,800 guests at the 107th First Lady's Luncheon, held May 14 at the Washington Hilton in Washington, D.C., to honor Melania Trump and also celebrate Indiana's Hoosier Heartland. The Congressional Club Museum and Foundation presented the charitable event. "The President's Own" United States Marine Corps Band also performed, as did Michael W. Smith. "What an honor it was to be asked for a second year in a row to perform for some of the most powerful women in our nation's capital," Lee said in a press release. "I was overjoyed to sing at the bipartisan Congressional Club's luncheon for the First Lady, and to hear more about the great Be Best program she has launched to help children within our borders and around the world." The First Lady posted to social media: "Honored to take part in the 107th First Lady's Luncheon today hosted by the Congressional Club. A wonderful opportunity to come together w/spouses for a bipartisan event. Thank you for all you do & the generous donations you give that support & care for our communities. #BeBest"
Nash Country Daily reports Dolly Parton recently hosted the grand opening of Wildwood Grove at her Dollywood theme park in Pigeon Forge, Tennessee. The $37-million Wildwood Grove expansion is the largest capital investment in Dollywood's 33-year history. The 11 new experiences include a Dragonflier roller coaster that lets guests soar like a dragonfly, a Black Bear Trail where children can ride mechanical bears on a trail, and Treetop Tower, where guests in giant acorns shoot 40 feet into the air and spin around to see the Smoky Mountains. "When I was a little girl growing up in the hills of the Smoky Mountains, I'd often let my imagination just run away–something I still do now–dreaming these big dreams about what it'd be like to venture off with a family of bears into the woods or how fun it would be to hitch a ride with the butterflies and dragonflies," Dolly said. "All us kids would splash and play in the creeks and ponds around home and have these daydreams about the world around us, and that's what's so special about Wildwood Grove. We've been able to create a new area to allow families to experience some of those exact dreams we all had when we were little."
The Bell Buckle, Tennessee, Chamber of Commerce has announced that T. Graham Brown and his wife, Sheila Brown, will serve as the 2019 RC Cola and Moon Pie King and Queen during the annual RC Cola and MoonPie Festival on Saturday, June 15. The coronation of the royal couple will be held following the parade. The pair met while attending college in Georgia. Sheila, the daughter of an Air Force pilot, was born in Fort Benning, Georgia. The couple moved to Nashville after college so T. Graham could sing. Sheila says, "We decided we would go the 'Big Adventure' of the country music business together, and we're still on it." T. Graham says in a press release, "Being the 25th Annual MoonPie King, and Sheila being the Queen, is one of the highest honors to the Brown Family. Filling the boots of Waylon and Jessi will not be easy, however we shall give it our all. Come to historic Bell Buckle, Tennessee, to partake in the unparalleled hospitality and taste these classic treats. Long live the MoonPie and RC Cola!"
John Prine and Margo Price have joined the opposition concerning Alabama's recent abortion ban. They will collaborate on a new recording of Prine's "Unwed Fathers," with sales benefiting the Alabama chapter of the American Civil Liberties Union. The song, says Rolling Stone, "takes a caustic look at the way men get to navigate unplanned pregnancies and the consequences (or lack thereof) they face as a result."
On the sixth show of his first-ever stadium tour, Garth Brooks, 57, performed in front of more than 75,000 fans at Heinz Field, reports the Pittsburgh Post-Gazette. It was the biggest ticketed show in the history of Pittsburgh. The previous record at Heinz Field was the 2016 Pitt-Penn State game, with 69,983 tickets sold. The previous concert records were Taylor Swift's at 56,445 tickets in 2018 and the Rolling Stones at 55,970 tickets in 2015. Garth last performed in Pittsburgh in 2015, selling 100,000 tickets spread over six shows at the Civic Arena. His first performance was in 1989, when he opened for the Oak Ridge Boys at the arena.
BMG will soon release The Complete Health & Happiness Recordings. a rare collection of Hank Williams material recorded in October 1949. The Health & Happiness Show was a WSM radio show Hank Williams and his Drifting Cowboys recorded to promote a product called Hadacol. The eight separate shows included Hank's standard songs, as well as his only known recording of "The Tramp on the Street." Saving Country Music reports, "It was also the first recordings with Hank Williams backed by his Drifting Cowboy band, with fiddler Jerry Rivers featured prominently on multiple tracks." The release will present the unabridged shows, complete with introductions by WSM DJ Grant Turner.
Taste of Country reports that Hank Williams Jr. is offering a $6,000 reward for the return of his grandfather's shotgun. "Growing up, I spent a lot of time in South Alabama with my Granddad Sheppard," Hank says in a Facebook post. "Now I'm looking for his shotgun. I want to pass that old Remington down to my children and grandchildren." It is a Remington Model 11/48 16-gauge shotgun with the serial number ending in 58111. Addressed to "all my Cullman friends," the note says, "I'm willing to give the person who has it fifty $100 bills, NO QUESTIONS ASKED, no chance of criminal prosecution." Hank's attorney posted the note, adding a $1,000 finder's fee and stating, "There is no suggestion that the shotgun was ever stolen and NO RISK of any follow-up after a successful recovery."
A month after the "We All Come Together" benefit held April 23 at City Winery Nashville, John Berry and wife Robin presented Music Health Alliance with a check for $54,700. In a press release, John said, "I am so happy that Music Health Alliance is a recipient of all the love shown from the special night. MHA has been there for my family for several years, providing answers and assistance for all our health insurance needs." The star-studded country music concert raised funds to offset expenses for John's medical treatments not covered by insurance and to benefit the endeavors of Music Health Alliance to assist others in the Nashville music community.
LETTERS
Eric Calhoun writes, "A couple of comments, with regard to the May 14 newsletter: Diane, thanks for the update on Randy Travis. I'm glad to see he is once again performing. On Vince Gill: Glad to see he'll have a new album out in August. And 2 more comments: Lorrie Morgan is a class act. Keith Whitley left us too soon, and she found a way to eulogize a legend. Finally, Michael W. Smith is one, too."
Mike Johnson of Black Yodel No.1 says, "Really like those 'In Their Own Words' stories…" He adds, "Meant to thank you for the plug in your last issue on that rapper's seriously non-country song. Been busy tying up the loose ends on a music documentary about all of my releases since 1981."
Barry Milbauer says, "I met you years ago at a Chamber of Commerce mixer at the Holiday Inn in Brandon and I have been getting your emails ever since. I must admit I am not a big fan of country music as my roots are mostly in classic rock and the blues; however, I certainly do enjoy your emails and the history and behind-the-scenes information that you provide. I will be retiring at the end of the month and would like to continue receiving your newsletter. Please update my email address. Thank you keeping everyone up to date on the latest information, even us rock fans! I really am a lover of music and history, so I do appreciate your newsletters. And I'm a veteran, too, but of the Army and not the Navy."
Jackie Allen Thomas writes from Arizona, "Another great newsletter, thank you so much. Got to spend a little time with Lacy J Dalton, David Frizzell and Marty Haggard, when a group I was with presented them in concert, here in Surprise, Arizona. All three were much fun to be around and really down to earth people. Had an enjoyable time. Did not know about her work in the prisons and helping the wild horses, what a good woman. Thank you for spotlighting her. Always look forward to receiving these."
Pete Turner writes from Australia, "Thank you for your fabulous newsletter yet again. Loved hearing about Lacy J as I have all her records because I fell in love with that voice from the 1st moment I heard it. Such a great positive story about her & partner's work in the prison system. I will be on the lookout & purchase ANY new recordings she releases. The saving of the Wild Horses with the help of Willie was such a joy. In Australia, we have Wild Horses and even Wild Camels left over from the pioneering days. A Wild Horse here is known as a Brumby."
Dominique "Imperial" Anglares writes from France, "Thanks for that very nice newsletter and for Freddie Hart's memories. It is little known but in 1949, Sonny Burgess, then member of The Rocky Road Ramblers, had a show on KNBY radio station in Newport with Fred Waner, who became famous as Freddie Hart (real name Frederic Segrest). Sonny Burgess became leader of the Pacers and by 1956 one of the first rock 'n rollers at Sun records. The book We Wanna Boogie – The Rockabilly Roots of Sonny Burgess and The Pacers by Marvin Schwartz printed in 2014 is a nice one even if the title is completely inaccurate. Sonny and The Pacers never went rockabilly, they were definitively rockers with a rhythm & blues heart. Sadly, Sonny passed away in August 18, 2017, at hospital in Little Rock, Arkansas, after he took a fall at his home. I am very sorry to let you know about Jenny Jones's friend Kaye Myers Heard passing on December 15, 2016. My help came a little bit too late. Thanks to have bring me another precious friend. Your newsletter is more than words … that's a real bucket of fine Country friends."
Alan Delbalso asks, "Do you know why Marty Robbins was not a member of the Country Music Association? I guess that's why he never won a CMA award or named Entertainer of the year. How sad…"
Diane: As I recall, he wasn't interested in the politics of it.
Rosemary Eng writes, "Great informative newsletter, as usual. Glad to read Daniel O'Donnell was inducted into the Country Music Hall of Fame in Ireland. I remember Eddie Rabbitt saying, 'Country music is Irish music.' "
Ron Hogan in Nashville, Tennessee, says, "My years playing steel guitar for Freddie Hart I heard a lot of stories. He told me that he played a role on the Life Of Riley TV show on one episode with William Bendix. I would love to see that episode!"
John & Wanda Edmonson check in from Remar Productions in Sun City, Arizona: "We've been receiving all of your fabulous newsletters. We've noticed that you have included a couple of our closest friends and great music buddies, Jackie Thomas and David Grimes in your publications. Both of them are great supporters of our Marty Robbins shows and our monthly tribute evenings we hold in his honor. In closing, we want to send our most affectionate thanks and appreciation for keeping all of us (around the world) up to date with the latest happenings in the world of Traditional Country Music."
David Markham, former country promoter in England, writes, "What a fantastic entertainer Lacy gave us when she came over to the UK 1986. With Janie Fricke and the rest of the gang, when Country was Country. I've just had another mini stroke that's 3 up to now. Can't drive for a Month. I interviewed Bobby Bare with my younger brother in 1966. Thank you for another good read on our Marty–number one singer and a funny dude well missed by us all. I don't know what your thoughts are about today's country, but I dislike it. I have a live tape given to me from Juanita Buckley many years ago, of Marty talking to Bill Mack. Thanks again for your interesting Newsletter."
Alan Potter writes from the United Kingdom, "Congratulations on all these great write-ups & reports on your books. I am so pleased to be mentioned in the life stories of Marty Robbins & Faron Young for the information I gave you regarding these two greats. Hope you find time to write more great books of equally great artists…..you are a treasured individual in country music and long may you remain so."
IN THEIR OWN WORDS
I interviewed Marvin Rainwater when I met him at the Florida State Fair in Tampa in February 2000. Marvin was one of the acts hired by Ed Gregory for the Stars of the Grand Ole Opry show. When I called him with a question several years later, he told me he was getting royalties from Faron Young singing "I Miss You Already" in the Johnny Cash movie, Walk the Line. Marvin lived in Aiken, Minnesota, where he died at age 88 in 2013.
It was sometime in the fifties that I met Faron. I was trying to get in the business, and I didn't really want to be a singer, I wanted to be a songwriter. Like you, I want to be a writer. And nobody would record my songs. Nobody'd publish them, nobody would do anything with them. They threw me out. So I kept on writing songs. I finally wrote one about Hank Williams, and I sang it in a local nightclub in Washington, D.C. It was the night he died, the next night I wrote the song, and sang it. It got such good response, people wanted me to sing it again. So my brother run over to the telephone and called Red Foley, and said listen to this, Red. Listen to what Marvin's doing. He knew Red a little bit. Red said bring him down to my show. So I went down there, and struggled and strived, and got on the Ozark Jubilee, but I couldn't get started. Couldn't get a hit, couldn't get a hit, so my brother kept trying to book me, and he got me on a show with the Wilburn Brothers and Faron Young in Toledo, Ohio. That was the first show I ever did, professional. I got on the Arthur Godfrey show in '55. After we did this show in Toledo–it went over good, I did the Hank Williams song and they loved it–the promoter said let's take him up and get him on Arthur Godfrey. Well, that's easier said than done. We went up there and–now this is funny–they told Arthur Godfrey's talent scouts that I had been working at the Famous Club for over a year. They said, "Really? How come we haven't heard of him?" Well, maybe you haven't been listening. We had a lot of moxie. We forgot to tell them–that was a big nightclub out in Texas holds 2,500 people–and this club we're talking about holds about 18. We neglected to tell them that. Well, I got on the show, and I was so scared I almost fainted. I got the song that I wrote, and had a hit band and a leather jacket, and I went out there and did this song–and won! Just unbelievable, that I was on this show and everything. From then on, I got a lot of work with Faron. We got a lot of tours together, and I worked with him and the Wilburn Brothers all over the country, and we got to be real great friends.
My little wife just thought the world of Faron. He was a very misunderstood person. A lot of people thought–sometimes he'd get a little snippy with them, and arrogant, but it was just because he had a complex, I think. He was just the most marvelous person I ever met in my life, and we just loved him so much.
Off of one of these tours we came in, the Wilburn Brothers and Faron and all of us were sittin' there in a booth, and the tour was over. We'd worked about 20 or 30 days and we'd had a wonderful time, just great, and we're all sittin' there in Nashville in this big booth, and somebody said, "I miss you already and you're not even gone." Somebody said, "That would make a good song," and I said, "I just wrote it." I went home and immediately wrote that song. I took it back to Faron and I gave him half of it, for writing it, cuz he changed it enough to really make it good when he went up high. We did well on that song. When he went high on that bridge, that's what really made the song. I went in for a minor there, instead of going up in that big beautiful chord that he'd hit when he went up high, that's what made the song great. He might have changed some words, I don't know, but that was the main thing. That really gave it a flair there that it didn't have before. When you go into a minor you don't have any dynamics, but he went into this seventh and hit this dynamic sound–oh, it was great. Then Billy Joe Royal come along and cut it. He went to number one with it, and Faron and I made some money on that. He sang it just like Faron, exactly, only with his high voice. He copied Faron right to a T.
Ah, just think back of all the good times. We had many, many miles on the road. I wish he was here tonight. I wish Webb Pierce was here tonight. Webb Pierce was another one who would pull strange stuff on you….We did another tour, a year or so later, and he said, "Marv, come in the dressing room. I've got a present for you." Well, I thought he had a quart of vodka. I went in the dressing room, and he handed me this album, and he had put "Gonna Find Me a Bluebird" on it. That was very nice. And it shows you what a tender guy he was, too–stoppin' all this mean, tough guy stuff. Here he was so sentimental, to think that was my greatest moment in my life would be to have him cut my record, he went right in the studio and cut it, and put it on his album as the lead song. That was marvelous. As far as I'm concerned, that was the same kind of man that Faron was. They had the same kind of a hang-up there. Underneath, they were both puppy dogs. I just can't believe that the Lord took 'em away from us. Webb and Faron, they were the greatest. And Lefty, those three guys. Great buddies. I don't know how we're gonna live–we're losin' more all the time, too–I don't know how we're gonna live without 'em.
SONG OF THE WEEK
My favorite Lynn Anderson song has always been "If I Kiss You." The lyrics and melody show the distinctive writing style of her mother, Liz Anderson: "If I kiss you, will you go away, like in the game my mother used to play? You're so much hurt, I wish you wouldn't stay. If I kiss you, will you go away?" I like the double meaning and the catchy tune. The BMI Award-winning song was Lynn's first Billboard top ten hit, reaching #5 in 1967.
BOOK REVIEW
Ashley Judd's 2011 memoir, which I ran across in the public library last week, is not your typical Hollywood actor story. All That Is Bitter & Sweet, by Ashley Judd and Maryanne Vollers, talks very little about her acting career. Ashley focuses on her recovery from childhood neglect and abuse, along with the main story of bringing attention to the human rights issues of sex trafficking and the HIV epidemic in Africa and Central America. Most of the book talks about her visits to other countries and the abysmal situations she encounters. Stories of her childhood are interspersed throughout, with her being bounced from relative to relative and often left alone while her mother and sister, Diana and Christina Ciminella, were turning themselves into Naomi and Wynonna Judd. She was 15 when they hit the national charts. Part of the time she lived with her father. The dysfunctional Ciminella family repaired itself somewhat when both Wynonna and Ashley went through rehab in 2006 for depression and behavior disorders. The book ends when Ashley graduates with a master's degree from the Harvard Kennedy School of Government in 2010, at age 42. Her dad attended the ceremony, but her mother and sister did not. Ashley impresses me as a person who strives to help the helpless and make the world a better place.