CONCERT REVIEW – TRAVIS TRITT
The Sioux Empire Fair brought Travis Tritt to Sioux Falls last Friday evening. It was the first time I'd seen him in concert. There was no opening act, and he came on stage singing "Put Some Drive in Your Country." He then traded his electric guitar for an acoustic one, which he used for most of his 90-minute concert. He'd just come from three days in Sturgis, and he asked how many people had attended his concerts in the past. "I love repeat business," he said. "Thanks for coming back."
He told us, "I have to warn you — most of the songs we're going to do tonight have been around for a while." He said he's been playing music for a living for thirty years. Later in the show, he sang "Nobody to Blame," in recognition of his favorite of today's new artists, Chris Stapleton.
The stage was set way out in front of the grandstand, with a huge area for people to stand. By the end of the evening, that area was pretty much full. All those people would not have fit in the stands, I don't think. So I stopped grumbling about the stage being so far away. It was a pleasant summer evening, and enjoyable to see the countryside in the distance while watching the night fall. "Where Corn Don't Grow" seemed an appropriate song for South Dakota. ("Don't you ever dream about a life where corn don't grow?")
The music volume was about right for an outdoor concert, but it overran his vocals. The words were often difficult to hear. Because of flashing lights & shadow & distance, I couldn't tell how many musicians were on the stage. Travis introduced the Country Club band toward the end of the concert–fiddle (also guitar and mandolin), steel guitar (and dobro), bass (and harmony), drums, keyboard, lead guitar (a hometown friend who has been with him since his beginning).
In the middle of the concert, the band disappeared and Travis sat on a stool with his acoustic guitar. He sang "Outlaws Like Us," which he'd been thrilled to record with his "two favorite outlaws," Waylon Jennings and Hank Williams, Jr. After a slow ballad called "Love of a Woman," one of his favorite songs, I thought this would be a good time for him to sing my favorite song, "Can I Trust You With My Heart." But, alas, the band came back out, and he never did sing my song.
I'd guessed "Here's a Quarter" would be his final song, but he sang it in the first hour. That was followed by "Country Club," which he introduced as "the song that started it all." Near the end, he put on his hat to sang "Lonesome, Ornery, and Mean," and left it on for the remainder of the show. He isn't a hat act—he looked classier hatless. He switched to electric guitar and closed the show with "T-R-O-U-B-L-E."
If I get a chance to see him at an indoor concert, I'll do my best to be there.
NEWS 
Glen Campbell (1936-2017)
Glen Campbell was laid to rest in a private ceremony in his hometown of Delight, Arkansas, a day after his death on August 8, at age 81. He died in Nashville following a long battle with Alzheimer's disease. As a teenager, he'd moved from Arkansas to Albuquerque to play in his uncle's band. In the early 1960s, he was a Los Angeles session player and part of the famed Wrecking Crew. During his career, he released more than 70 albums and sold 45 million records. In 1967, he was awarded four Grammys, two for "Gentle on My Mind" in the country and western category and two for "By the Time I Get to Phoenix" in the pop category. Glen hosted The Glen Campbell Good Time Hour variety show from 1969-1972, and he received a Lifetime Grammy Award in 2012. He was inducted into the Country Music Hall of Fame in 2005.
This year's four inductees into the Nashville Songwriters Hall of Fame are Vern Gosdin, Walt Aldridge, Tim Nichols, and Jim McBride. The induction ceremony will be at Nashville's Music City Center on October 23. Vern Gosdin wrote his own hits of "Set 'Em Up Joe" and "Chiseled in Stone." Hits for others included "Today My World Slipped Away," "If You're Gonna Do Me Wrong (Do It Right)," and "That Just About Does It." He died in 2009. Walt Aldridge wrote "Holding Her and Loving You," "(There's) No Getting' Over Me," and "I Am a Simple Man." Songs by Tim Nichols include "Live Like You Were Dying," "(This Ain't) No Thinkin' Thing," and "I'll Think Of a Reason Later." Jim McBride's songwriting hits include "Chattahoochee," "Bet Your Heart On Me," and "Chasing That Neon Rainbow."
Variety reports that respiratory issues caused Willie Nelson to cut short a concert in West Valley City, Utah, a suburb of Salt Lake City, on August 13. He was performing in a 20,000-seat amphitheater with an altitude of 4,300 feet. "The altitude just got to me," he said in a statement. "I am feeling a lot better now and headed for lower ground."
Cherokee Meadows is the name of the proposed 15-home development that will be built on 17 of the 83 acres recently owned by Reba McEntire. Her Wilson County estate was sold in July for $5 million, USA Today Network reports. No plans have been announced for Reba's 12,816-square-foot house with seven bedrooms and five bathrooms.
A week-long trial between Taylor Swift and David Mueller is over. The Associated Press reported on Monday that the jury in Denver, Colorado, unanimously agreed Taylor had been assaulted in 2013. She will collect a symbolic $1 from the radio DJ for assault and battery. She was 23 and he 51 when they posed together during a routine photo op at a fan meet-and-greet. Taylor's mother, Andrea, testified at the trial that the family didn't want to cause a public uproar and therefore didn't call the police. They contacted Mueller's employer, who fired him. Mueller sued Taylor in 2015 for a false accusation and for getting him fired. When Taylor took the stand last Thursday, lawyer Gabriel McFarland suggested she should be critical of her bodyguard for not stopping the assault. Taylor responded, "I'm critical of your client sticking his hand under my skirt and grabbing my ass." When McFarland showed the photo of Mueller allegedly grabbing her from behind, he asked why the front of her dress wasn't out of place. Taylor said, "Because my ass is located in the back of my body." When asked about her role in getting Mueller fired, she said: "I am not going to allow your client to make me feel like it is any way my fault because it isn't. . . He and you are suing me and I'm being blamed for the unfortunate events of his life that are a product of his decisions, not mine." Slate reporter Christina Cauterucci writes, "For young fans of Swift's, hearing a beloved artist speak candidly about the emotional damage of sexual assault and stand up to a courtroom of men trying to prove her wrong could be a formative moment for their developing ideas of gender, sex, and accountability." Huffington Post opines, "We know what it looks like when victims are blamed for their own victimization, when a male perpetrator's lost 'potential' is mourned more than a female victim's fractured soul. We know these realities stop other victims from coming forward. It is a cathartic and powerful image to see a woman not only speak up but successfully resist being defined by these false and damaging narratives. And because that woman was Taylor Swift, the world was watching while it happened."
Billy Ray Cyrus will be inducted into the Kentucky Music Hall of Fame on May 11, 2018, as will the late David "Stringbean" Akeman. Honorees already in the Hall of Fame include Loretta Lynn, Bill Monroe, and the Osborne Brothers. Billy Ray is a native of Flatwoods, Kentucky, and his big break came when he opened for Reba McEntire in Louisville.
The International Photography Hall of Fame and Museum announced its first-ever Lifetime Achievement Award recipient, Kenny Rogers. The 2017 Awards and Induction Event will take place November 17 in St. Louis, Missouri. The International Photography Hall of Fame and Museum is a non-profit organization with the purpose of celebrating the achievements of inventors, pioneers, and pivotal artists throughout the history of photography.
Earlier this year, the Bellamy Brothers made history as the first country music duo to perform in Dubai. They are now preparing for the second half of their 2017 world tour, which will include Norway, Germany, Austria, and Switzerland. They also have a lifetime contract to perform annually at the Deadwood Mountain Grand Resort in Deadwood, South Dakota. They recently released 40 Years: The Album, which includes 20 new songs, as well as hits such as "Let Your Love Flow," "Redneck Girl," and "If I Said You Have a Beautiful Body (Would You Hold It Against Me)."
LETTERS
Bill Anderson writes from Nashville, Tennessee, "Just looking at the map and realizing we'll be semi-close to you on Saturday Aug. 26th when we play in Sisseton, S.D. I wanted to drop you a note and invite you to come up. We were there a couple of years ago and flew into Sioux Falls, so I know it's a bit of a drive, but it's closer than Nashville. I continue to enjoy your newsletters."
Diane: See you in Sisseton!
Les Leverett in Goodlettsville, Tennessee, says, "Hot dog, Diane. You've done it again! Masterful collection of stories of and from people in our business. I love to read the stories from Europe, because it reminds me that 'our' music is known and loved everywhere."
Dominique Imperial Anglares writes from France, "Many Thanks for that great newsletter and to have posted my words. There's plenty of interesting reports and letters. The folk versus country debate is very interesting. I will drop you some words about it when back at home. I am in Mexico facing a tropical storm. Heavy wind and much rain."
Larry Hill in Sioux Falls says, "Love it!"
Floyd Tidd in Arizona reports, "Didn't know if you received word that Mary Knapp had passed away. She wrote to you often. She was close friends with entertainers such as Rex Allen Jr., Ray Benson, Leona Williams and many others. She never missed a chance to attend a country music concert whether it was here in the Valley or somewhere within a hundred miles. She would often show up at our jam sessions here in Mesa and Apache Junction, Arizona, where she would video the jam session and then place it on YouTube. We will miss her smiling face."
Roy Bodden opines, "Real Country music has been dragged through the gutters since the 1960s, with the exception of a handful like Merle Haggard. People like Garth Brooks are amongst those who contributed to its demise. He's all show and that's all. I wouldn't go to one of his shows if you were to give me tickets free. But thanks to artists like The Sons of the San Joaquin, Don Edwards, Michael Martin Murphey and of course the latest edition of the Sons of the Pioneers and others, Western music is being kept alive, albeit without much publicity. The handful of artists that strive to keep real Country Music alive you never hear about."
Lloyd Clarke writes from Canada, "Reading your Newsletters on the singers both past and present and the musicians involved gives me great knowledge and reminds me of the past, it is stimulating and uplifting. I look forward to see your name come up on the screen. I know then I'm to be informed on the music industry. It's an industry giving employment to much of our society that's another reason to stand behind it. Keep Ol` Glory flying and God Bless America. I`m with you all up there or down there which ever direction you are from me. Bless you all. Love the Stars and Stripes also."
Dave Barton reports from Nashville, "I have been asked to speak at Steve Chapman's service…….here are my notes: Steve and I both go to town at the same time, December 5th 1964. We both started working for Billy Walker, Billy had a hit record 'Cross the Brazos at Waco' and it was in 3/Q time. I like to never learned how to play it. But Steve could no problem. . . . You know we have lost in the last 15 years over 40 country music artists and no telling how many great musicians. . . . There is one of the biggest guitar pullin' in Heaven that you have ever seen, this is what you got …… all the steel guitar players are over here, Buddy Emmons, Jimmy Day, Hal Rugg, Weldon Meyrick, Hank Corwin, Pete Drake and over here we got Floyd Cramer, Boots Randolph, Buddy Harmon, Grady Martin, and guess who walked in at 2:30 last Saturday, Steve Chapman with a guitar under each arm………..and he said, what you guys want to play Johnny B Good or Sally Goodin. That's just how good he really was he could play any style of music. It didn't matter you kick it off and he would jump in there.. . . Thank you Steve for being a part of our lives."
Rick Belsher writes, "Thanks to Dave Barton for the explanations of country, bluegrass, and western music. I call the so-called country of today, pop crap. I grew up with the REAL AND TRADITIONAL COUNTRY MUSIC of Ray, Faron, Mel. Bill Anderson etc."
Kristy Bruce says she posted this review on Amazon.com: "Diane Diekman's Live Fast, Love Hard: The Faron Young Story is what a biography should be. It provides an accurate look into the life of a very special person, one of country music's finest singers, Faron Young. It would be easy to take Faron's story and make him look bad; he was an alcoholic, a brawler, and a womanizer, with a vocabulary that could offend even those used to rough language. But for every bad thing about him, there was a good trait, or a reason for the bad trait. Diekman neither puts him down, nor disguises his faults, and I appreciate that. On the other hand, if you're a fan of Faron's music, but haven't read that much about his personal life, you might be disappointed. You have to expect a few swear words and rowdy tales. That's just part of the story of the man who could charm someone out of a fight as quickly as he could talk them into it. Faron hurt deep inside, consequently hurting those he loved. Whether or not you are a fan of country music, there are lessons to be learned from his life."
Alan Potter writes from the U.K., "Could you tell Kristy Bruce that if she sends me her email address I will send her my Legends show download copy on Faron Young. I do this show every week featuring a different legend & I'm up to legend 58 so far."
Elroy Severson says, "Sorry I haven't responded in quite some time, however, I still enjoy your newsletters. Country music is my favorite and I enjoy many of the performers. Your newsletters keep me up to date on their happenings. I'm sure you spend a significant amount of time preparing. I envy you going to Garth Brooks. My wife Deloris (deceased) and I went in 1997 and really enjoyed it. Didn't even try for tickets this time — seem to be sold out minutes after going on sale. Were you at the funeral of Clifford Falken in Toronto last Tuesday? If not someone surely looks like you. I had to leave early, so didn't have the chance to check it out. Deloris (Bren) and Clifford were first cousins."
Diane: Yes, I was there.
Jean Earle writes from England, "We were very sad to hear of the death of Glen Campbell. A popular man who will be missed. Condolences to his family. For many years we were happy to enjoy seeing and hearing our two favourite 'Country Gentlemen', Faron and Ferlin. Sadly we lost them both too soon. You have done a marvellous job of telling the 'Faron Young Story' BUT, we can find nothing about Ferlin Huskey. I recall that you once mentioned the idea of telling the life story of Ferlin but he said he wanted to do it himself? Have we missed it? or has his interesting life story still to be put into print? Faron and Ferlin both made the long journey to England where they were much enjoyed by their many British fans. Thank you for your always interesting newsletters."
Diane: I'm not aware of any biography on Ferlin. There are many whose life stories deserve to be told. The problem is the lack of a market. It is tremendously expensive to research, write, and publish someone's life story. The author must have passion because the payback certainly isn't in money. I ran out of passion after the years I devoted to Faron Young and Marty Robbins.
In reference to my Outlook problems, Norma Hossen says, "Thanks SO much. I am gratefully receiving (twice). I love your newsletter xx."
Ronnie Thorne writes, "Just read your newsletter and would like to be on your mailing list. Do some singing around our town and have a four-hour Radio show that goes to air Wednesdays at Noon till four pm. We are at Holbrook New South Wales, Australia."
Dean Mann in Sioux Falls says, "I just read your last two Newsletters, and as always enjoyed both of them. I would have loved to see Tanya Tucker and John Anderson, but I was tied up at the VA Hospital with a fractured knee for 10 weeks. I did see Tanya when she was in Flandreau a year or two ago. She put on an excellent show. I had tickets for Alan Jackson in Brookings on August 4, but I didn't think I would be recovered enough to go so I sold the tickets. He is one of my favorites, and I have been to his concerts a couple of times before. I did not try to get tickets for Garth Brooks. I have also seen him live a couple of times plus it's way too loud in the Sanford Center. I almost refuse to attend a show there anymore. I am going to see Kathy Mattea at the WJ Ranch in Nebraska on September 8. I would like to go the Branson the week that Larry's Country Diner is at the Starlight Theatre along with Gene Watson, Ronda Vincent, and others. Keep up the good work."
Priscilla McPheeters writes from Lawrence, Kansas, "LOVE the Garth Brooks story!!!"
Jo Wenger writes from Oregon, "Out of touch for a while. Please add my new email to your Marty Robbins news list. I made a darling craft house that looks like the old Marty Robbins Glendale Exhibit house that Juanita had on Myrtle. I wish the city would buy the house and bring her back from Willcox to run it. It was the perfect house, in the perfect place for a perfect Legend. Someone lives there now. No Marty reference at all. We had learned that Marty actually stayed there as a friend of his lived there and he would spend the night. If we had had a good mayor then in Glendale this Willcox mess never would have happened. I am in Oregon now but remember how hard everyone worked to get the house opened for Marty. Many people worked tirelessly to help get it opened in 2003. I hope the city will buy it and bring the Marty Exhibit back where it belongs. This house was made by me according to my recollection of the Marty Robbins house in Glendale. I give credit to God for this house as I did not know what I was going to make, then I was directed. Being a fan, I had lots of decals, stickers and photos. Hope you like it and that it will inspire others to make crafts for Marty."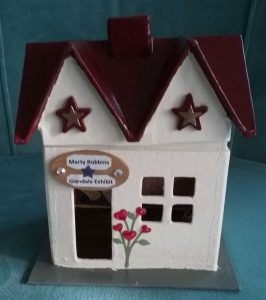 ENCYCOPEDIA BRITANNICA
Theodore Pappas, the Chief Development Officer and Executive Editor of Encyclopaedia Britannica, Inc., sent me an email that said, "I enjoy your books, and it would be a pleasure to count you among Britannica's contributors. You'd be in great company: Britannica has published more than 150 Nobel Prize and Pulitzer Prize winners. So if you'd like to contribute a short entry on Faron Young and Marty Robbins (we embarrassingly lack entries on either star), we'd be happy to immediately build your author profile page and begin highlighting your fine work." Here is my author profile page.
COUNTRY MUSIC HALL OF FAME – 1986
The two inductees into the Country Music Hall of Fame in 1986 were Wesley Rose and the Duke of Paducah (Whitey Ford). Wesley Rose, son of Fred Rose, joined Acuff-Rose Publications in 1945, following in his father's footsteps to become a top music publishing executive. He started as the business manager while Fred focused on music publication, production, and promotion. Their most important early client was Hank Williams.  After Fred Rose died in 1954, Wesley took on his dad's role, also. He was one of the founders of the Country Music Association, and he served on numerous boards in the music industry and the city of Nashville. He and Roy Acuff sold Acuff-Rose to Gaylord Broadcasting in 1985. Wesley Rose died at age 72, four years after being inducted into the Country Music Hall of Fame.
Benjamin Francis "Whitey" Ford was a country comedian known as the Duke of Paducah. His famous closing line was "I'm goin' back to the wagon, boys, these shoes are killin' me." With a third-grade education, he called himself a graduate of the "University of Hard Knocks." He joined the U.S. Navy near the end of World War I, at age 17, and served four years. He then played banjo in a Dixieland jazz group, performed on radio stations, and toured with Gene Autry. He joined the Grand Ole Opry in 1942. Hee Haw producers eventually bought his joke library, and he donated radio scripts and scrapbooks to the Country Music Hall of Fame Museum. "Whitey" Ford died at age 85, four months after being inducted into the Country Music Hall of Fame.