NEWS
Charley Pride (1934-2020): It is with great shock and sorrow that I report the unexpected death of Charley Pride on Saturday, December 12. His publicist said he died in hospice care in Dallas, Texas, due to complications from COVID-19. Charley, 86, made his last public appearance during the CMA Awards show on November 11, when he received the Country Music Association's Lifetime Achievement Award. He was still recording new music. I was thrilled in 2000 when friends Faron Young (posthumously) and Charley entered the Country Music Hall of Fame together. Charley Frank Pride, the son of sharecroppers, was born in Sledge, Mississippi, on March 18, 1934. He served in the U.S. Army and played baseball in the Negro American League before moving to Nashville to pursue a music career. Almost every single he released from 1967-1984 hit the top ten on Billboard, with 29 of them going to Number One. In 1971, he was named CMA Entertainer of the Year. Charley was admitted to the hospital in late November with COVID-19 symptoms.
South Florida Caribbean News reports: "In 1979 when RCA Records released Charley Pride's 'You're My Jamaica,' the song's island/reggae feel made it a novelty on country radio in the United States. It became an instant hit in Jamaica where the trailblazing singer had a following since early that decade. . .. A top player in baseball's famed Negro Leagues before entering music, Pride performed at the Grand Ole Opry in 1967 when the Civil Rights Movement raged in the US. Blacks had no place in country music, which had its audience in the South, a region that was still largely segregated."
A six-mile stretch of U.S. 129 near Robbinsville, North Carolina, hometown of Ronnie Milsap, 77, will soon be known as Ronnie Milsap Highway. Raleigh News & Observer reports the renaming of the highway was done at the request of the Graham County commissioners and with support of local tourism and economic development groups. Ronnie calls himself a "proud son of Graham County and the State of North Carolina." He was born blind and raised by his grandparents, who sent him to the State School for the Blind in Raleigh, now the Governor Morehead School. There he learned to play piano and eventually formed a band. He moved to Nashville in 1972 and was inducted into the Country Music Hall of Fame in 2014. The winding two-lane Ronnie Milsap Highway will begin several miles north of Robbinsville and follow the Cheoah River through a forested valley.
Steel player Jerry "J.D." Beckman, 60, died December 6 from complications of lung cancer and a brain tumor. Based in Fargo, North Dakota, he played in numerous bands, including two years on Penny Gilley's TV show. When he worked with the Howie Gamber Band, as much as I enjoyed listening to his steel guitar, he sounded even better when he strapped on his Telecaster and sang a Buck Owens song. He sort of brought Don Rich back to life.
The Southern Illinoisan talks about two former Cairo residents who now live in Nashville–Kyle Lehning, who produced all Randy Travis hits, and Don Dickerson, band leader for the Garage Band Revival, which raises funds for children's charities in the Nashville metropolitan area. They have been best friends since high school and were members of The Mods, a Cairo-based band popular in the 1960s. The band had been split up 20 years when they were asked in 1990 to play a reunion to raise money to repair a historic Cairo building. That reunion led to the formation of the Garage Band Revival, with five horns, a rhythm section, and four vocalists. "It's just a group of normal people, they teach school and work at a wide variety of vocations," Dickerson says. "A love of music brings us all together." The band once raised $440,000 in a single night. It provides its services free of charge.
Another Illinois native, Tim Atwood, played keyboards in the Grand Ole Opry house band for more than three decades. "It afforded me the opportunity to play with Garth Brooks, Carrie Underwood, Taylor Swift, Michael McDonald, Keb' Mo', just all kinds of people," he tells American Songwriter. "I left there in 2014 to pursue a solo career. I had sat back and watched everybody from the back for so long that I decided I wanted to get out in the spotlight, that somebody could look at the back of me for a while." He originally moved from Peoria to Nashville in 1976. "When I was 20, I was on my way to Florida and came through Nashville, and Faron Young had a club on 2nd Avenue called Faron Young's Celebrity Ballroom. I sat in and played three or four songs, and Faron motioned for me to come over. He said, 'Son, do you live here?' I said, 'No, sir,' and he said, 'Well, you need to move here. Nashville doesn't have enough piano players.' So that's how I got to Nashville. A big leap of faith. Two weeks later I was working with Mel Street, and later I started working in the house band on the Opry." Tim now tours on his own, and he recently released his fourth album, Who I Am. "These songs are pretty much my heart," he says. "I've collected them over the years, just songs that I liked, songs I wanted to do."
Oleda Mae Franklin, 85, mother of steel player Paul Franklin, died November 9. She and her husband, Paul Franklin Sr., residents of Madison, Tennessee, had both been hospitalized earlier with COVID-19 symptoms. Her obituary says, "She was the essential partner in the Franklin Steel Guitar Company. She put her heart and soul into all aspects of the company and was a beloved member of the steel guitar community." She was buried November 15 in Historic Spring Hill Cemetery on Gallatin Road in Nashville.
Walker Montgomery, son of John Michael Montgomery ("Life's a Dance," "I Swear," "I Can Love You Like That," "Sold," and more), was recently interviewed on CMT.com. He says having a famous singer as a father was normal to him: "It just so happened that instead of being a plumber, a doctor or a lawyer, my dad was a country music singer. And instead of working on the weekdays, he worked on the weekends." Walker says he respects his parents for the way they raised him. "Because obviously they knew I loved music," he says, "but they also surrounded me with all these other great things like sports, acting, and choir. And they let me find my own path to music." He had been enrolled for nine weeks at the University of Kentucky when the local radio station started playing his song, "Simple Town." He states, "So it wasn't the right time for college. It was the right time for music. Once that song was on the radio, my class attendance started to drop a little bit." He dropped out of college and moved to Nashville in 2018. However, he says, "Now during the quarantine I've spent most of my time up here in Kentucky on the farm."
I reported in early November that Steve Hinson, former steel player for Randy Travis, and his wife, Becky Hinson, were both fighting COVID-19. Steve was in the hospital ICU. Steve provided an update on December 2, saying, "Becky had allergy-like symptoms and seems to be fully recovered. I've been home for a month, trying to rest and regain some weight. I've pretty much called it a year, workwise."
With her song "Black Like Me," Mickey Guyton is the first black female solo artist to earn a Grammy nomination in a country category. Other nominees for Best Country Solo Performance are Eric Church, Brandy Clark, Vince Gill, and Miranda Lambert. Mickey's cowriters on the song were Nathan Chapman, Fraser Churchill, and Emma Davidson-Dillon.
The 15th annual Mission Possible Turkey Fry and Benefit Concert, hosted by Tracy Lawrence on November 24, raised more than $125,000 for the Nashville Rescue Mission. Held at Nashville's Wildhorse Saloon, the concert was livestreamed for free, but viewers were encouraged to make donations and bid in an online auction. The Country Daily reports Tracy and his volunteer crew fried more than 500 turkeys, which provided 3,000 meals to those in need. Over the years, this event has raised over $1 million and served 96,000 meals to the hungry. Governor Bill Lee declared November 24 as Tracy Lawrence Day, acknowledging his longstanding commitment to helping the homeless in Tennessee.
This is the 20th anniversary of "One Voice," the debut single of Billy Gilman, then 11, and a song that put a spotlight on teenage suicide, recalls CMT.com. Billy has recently been in Nashville making new music. "I had so much fun performing back in Nashville and catching up with old friends," he says. "I am really excited about this new music and to offer up this opportunity for fans to watch a concert during these crazy times we are living in." His Coming Home to Country concert was a one-hour special livestreamed from Nashville.
When Dolly Parton did a Zoom interview with RuPaul for Marie Claire, she told him, "I always stay ready–street ready, I always say. I have to keep my makeup on and keep my hair done. Like, when I'm in L.A., if we get an earthquake, I'm not running out in the street looking like you look now. I have to be ambulance-ready at all times, if I get sick or something." She adds, "I actually do wear high heels most of the time. They're not always as high as the ones I wear for show. But I'm little. I have to wear heels in order to reach my cabinets." Her Chasing Rainbows museum at Dollywood displays many of her clothes, with different sections for all her movies and all her awards. She tells RuPaul, "See, you're a drag queen. Those are like costumes to you. This is my living self. I am a living drag queen. You dress up just now and then, but for me, though, I like the wigs and I wear them almost every day. But I keep my own hair the same color and I just kind of pull it up in little scrunchies around the house." The project she is most proud of is her Imagination Library, which was inspired by her father, who was embarrassed at not being able to read and write. She recalls telling him, "Dad, I'm going to start this program. I want you to help me with this. It's where we give books to children. From the time they're born, they get a book once a month in the mail with their little name on it, until they start school." She hoped their little program would spread to neighboring counties, and then Governor Phil Bredesen got involved and made it a statewide program. "The next thing you know," Dolly marvels, "we went into Canada, and now we're all over the world. We've given away like 150 million books. And my dad got to live long enough to see it doing well."
In an exclusive interview, Sara Evans, 49, tells PEOPLE about her father's death. Jack Evans, 75, died November 24, possibly from pneumonia; he didn't have COVID-19. For the past three years, he has been in an assisted living home in Dallas, Texas, with early-onset Alzheimer's disease. "My stepmother was not able to see him much at all for the last three or four months and I think that definitely sped up his decline," she says about the ongoing COVID-19 restrictions. Remembering the family band of her childhood, she recalls, "He not only taught me how to sing, but he also taught me how to sing harmony." She describes her current emotions: "I'm letting the grief do whatever it wants. It can be very scary at moments. My way of grieving is, I mean, I'm a crier, but I also scream. I just want to scream because I'm so angry."
Taste of Country reports Blake Shelton and Gwen Stefani have not set a wedding date. They hope to find a time in the upcoming year when the pandemic allows for social proximity. "For now," Blake says, "we don't even have it planned when or anything because we're just like anybody else in the world. We have no clue what's coming, but hopefully it's getting better." The marriage will be his third and her second; she has three sons.
On December 19, Jeannie Seely will host the second annual Santa Paws is Coming to Town benefit on the Ernest Tubb Midnite Jamboree at the Texas Troubadour Theatre. Tim Atwood will be one of the featured guests, and Kenny Sears will be in the all-star band. The show will be livestreamed at 2 p.m. CT on the Ernest Tubb Record Shop Facebook page and will be taped for radio broadcast at midnight on WSM 650 Radio. Donations of pet food, toys, blankets, animal beds, cat litter, and cleaning supplies can be dropped off at the Texas Troubadour Theatre, 2416 Music Valley Drive in Nashville from December 12-20. "Not only do these wonderful little animals need and deserve attention," Jeannie says in a press release, "so do the wonderful people who care for them. They work so hard and it's more difficult when you don't have what you need to work with."
The long-awaited National Museum of African American Music will officially open its doors on Lower Broadway in Nashville on January 18, 2021, Martin Luther King Jr. Day. The Tennessean reports the museum will have a socially distanced ribbon cutting ceremony at the museum's entrance at the corner of Broadway and Fifth Avenue. NMAAM members will be able to tour the museum before it opens to the public on January 30.
A song written by Randy Travis and Paul Overstreet is sitting at the number two spot on the Tasmania and OZCMR Top 40 Country Chart in Scotland. "How Do I Wrap My Heart Up for Christmas" was recorded by Brandon McPhee, 24, a popular Scottish singer and accordionist who began performing at age 10. John O'Groat Journal and Caithness Courier explains, "OZCMR is an internet country music station with an emphasis of playing independent country music recordings by artists from Australia as well as overseas." Chart positions are based on radio airplay. "It is the first of my Christmas singles to make it into a chart and the first we have had in a Tasmanian one," McPhee says. "If only we could get that same airplay in the UK that would be even better."
The Country Daily reports Morgan Wallen is the first artist in the 62-year history of the Billboard Hot Country Songs chart to have two songs simultaneously debut in the Top 10. "Somebody's Problem" debuted at No. 3, with "Still Goin' Down" debuting at No. 8. His upcoming sophomore album, Dangerous: The Double Album, contains 30 songs, of which he co-wrote almost half. He is the CMA's current New Artist of the Year.
"You probably know me from my big hair, my shiny clothes and all that," Dolly Parton, 74, said in the introduction on her recent CBS-TV special, A Holly Dolly Christmas. She performed on a candlelit stage representing the "little house of prayer" where her grandfather had preached. "I grew up in a big ol' family, 12 of us kids, 6 girls and 6 boys," she told the apparently virtual audience. "We had a lot of fun growing up in the mountains. We didn't have a lot of stuff. Nothing that money could buy, anyway. But we had a lot of good stuff, things money don't buy. Things like love and kindness and understanding, and all that stuff you really need, that you can't put a price on, right?"
LETTERS
Jean Earle writes from England, "I was really sad to see the news of the death of Charley Pride. He seemed such a lovely man who shared his love of Country Music with fans all around the world. I hope his family gains support from all the messages his fans are sending. He was a much loved Country Gentleman."
Eric Calhoun says, "I've been quiet lately, sorry about that. I was sorry to hear of Hal Ketchum's passing, and Charley Pride's passing. Hal was a great singer, and I really liked 'Small Town Saturday Night.' On Charley Pride's passing, as someone African-American, I was glad to hear he was the first black gentleman to have been inducted into the Country Music Hall of Fame. May both rest in peace. Merry Christmas and Happy New Year, everyone!"
David Corne checks in from Great Britain, "Early Christmas greetings from the UK and thanks for your continued newsletters updating and informing fans of classic country music everywhere. Today sees the 38th anniversary of the sad passing of Marty Robbins and I can remember coming home from work on that cold December day to be told by my late wife that Marty had passed away. It was announced on the BBC early evening news and that his death was reported on that station was proof that Marty had earned considerable repute in Great Britain even though he was robbed of many chart hits over here because of covers by British artists and sheer negligence by his record label. Oh, by the way, I cried on hearing the news of his demise, I'm not ashamed to say. It was sad to hear the news that Hal Ketchum had passed away. I saw and enjoyed a show of his I went to see in London in the early '90s. What a voice he had, and he was a very handsome guy as well. RIP Hal."
Andy Williford writes, "I do not know if Eddie Fisher ever recorded 'I'll be home for Christmas,' but I do remember one year in Germany, he sang it for us in Wiesbaden."
Mike Johnson says, "Nice issue. Lately, however, I've been hesitant to open them right away because they're beginning to seem like an obituary. Guess that's just me facing my mortality. Sorry to hear about Razzy Bailey. I had the pleasure of meeting him in 2009 at the Old Time Country Music Festival in LeMars, Iowa. Fine musician and a very gracious fellow. I'll send some well wishes to the link you provided. That's my late friend Wayne Longtin in the background. He and his band the Sidetracks backed me up on a number of stages during the 2009 and 2010 festivals. There are a number of videos of us performing on my YouTube Channel. Miss him."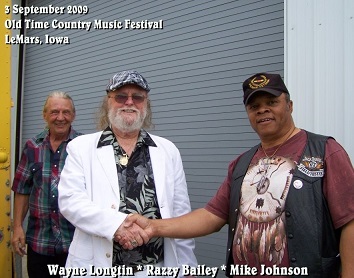 Stacy Harris, Publisher/Executive Editor of Stacy's Music Row Report, writes from Nashville: "So sorry to hear about Razzy Bailey- one of my best interviews and one of the kindest and most thoughtful country-music stars I've met- but let's all hope he is fully healed soon. Re: Kelly Junkerman. When Kenny Rogers decided to write his autobiography, Love or Something Like It(contrary to the subtitle indicating the book was a memoir), I noted in my review of the book that Kelly supplied some of the photos, for what turned out to be Kenny's last book, from Junkerman's personal collection. As I also noted in my review, 'When the book's first ghostwriter, Patsi Bale Cox died, literary agent Mel Berger, working with Kenny's friend, writer Kelly Junkermann (co-author of Kenny's book, The Toy Shoppe) and editor Lisa Sharkey, "found a guy named Allen Rucker" to complete the book.' BTW, I finally got around to reading Jimmy Dean's autobiography. As you know, Dean was not one to shy away from letting you know how he felt about something, especially if he brought the subject up, so I was surprised that he mentions no names when telling the story in the book about a falling out with someone who, based on Dean's blind item description, appears to be Ralph Emery. Just wondering if Ralph Emery reads your newsletter and if so, if he, you or any of your readers who have known the two can shed some light on this. By all accounts, Ralph and Jimmy were good friends for years. (Minnie Pearl, Ralph's NASHVILLE NOW 'Friday Night Girlfriend'- so-named because of her Friday evening weekly visits to the show- is referenced in Dean's account.)"
Diane: Ralph is a longtime reader of this newsletter. Perhaps he or other readers can address your questions, Stacy.
Elliot Mclanahan says, "Thank goodness for your newsletter. I've been catching up on them because I had a double bypass surgery October 29. Taking it slow. Was sorry to hear about the death of Johnny Bush, Jerry Jeff Walker, and the others you mentioned. On a better note, wishing you the best holiday season ever. Thanks again for the newsletters."
Jenny Lee writes from Texas, "Have meant to send along a note, telling how much I enjoyed the Newsletter. You always have so much great news. I would have written sooner but have spent most of my time looking out for word on our daughter. She contracted COVID 19 about a month ago. I am not sure when we will get to see her, tho she does try to check on her Dad and me once a week. Our son sees about getting our food and what we need. It is really good having them living in the same city. Once again, really enjoyed your note. Hope you are doing well."
Emilee Taylor writes, "I am the great-granddaughter of Jack Evins. I just came across your post in a Steel Guitar Forum from 2015, where you said you had interviewed him for your Marty Robbins biography. Ever since Grandaddy passed, it has been increasingly hard on my family, as he was such a light to all of us. He was particularly an inspiration to me, as I am the only one to have inherited his musical abilities."
Marvyl Strassberg says, "I certainly enjoy your newsletters. I am interested in your Marty Robbins and Faron Young books. I would like to be added to the email list, please."
Andrew Grooms of Ruidoso, New Mexico, says, "Really enjoying the book on Marty Robbins. I am at my Arizona winter spot now…so this hits really close to home. Lots of those Arizona spots mentioned in the book very close to where I am now."
Bob Rudy with Pet Guardians Radio in Lancaster, Pennsylvania, writes, "After nearly 40 years, I've been out of radio for the past two years (as of the end of December). I still try to keep up with what's happening in the world of broadcasting. I came across an article on the All Access website that I thought might interest you. However, you're so on top of all things Country, you probably already know about this: 'KNIX: The BUCK OWENS Years, written by former KNIX air personality JIM WEST, is a new book that traces the history of KNIX/PHOENIX from the time Buck Owens purchased it for $75,000 in 1968.' If you're not already signed up to receive the daily County news emails from All Access, this might be another resource of information for your excellent newsletters, which I still very much enjoy reading."
Kate and Marty Davis in Oregon say, "Thank you for yet another year's worth of memorable newsletters. All the best to you in 2021."
Dominique "Imperial" Anglares writes from France, "Thank you very much for that newsletter and for the care given to my words about my late friend Jimmie Dale. I enjoyed every piece and all the letters. I give a special mention to Dorothy Young's memories. Very interesting. My late friend Carolyn Babin was a close friend of the Young family. Here's a picture of her with J.D. Givens, Dorothy Young and Renee Crutcher in Shreveport in 1953. Carolyn should have reach 90 years old on November 21st if she has not passed on May 4, 2017. I miss my friend.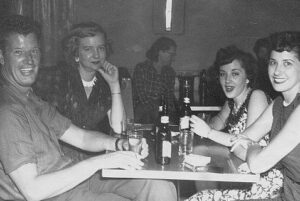 David Markham in England says, "Thank you for a most interesting Newsletter on Faron and Marty. They are both well missed by country fans. There will never be another two like Faron and Marty Robbins. I wish you a very happy Christmas and a Happy New Year for 2021."
Pete Cellini writes, "Always good to get your newsletter. I look forward to reading it. On somewhat of odd request, as you know, I own the Marty Robbins 1969 Dodge Daytona (NASCAR). I am looking to sell this car and thought you might know some folks that would be interested or could point me in the right direction. I believe the car would have the most value to a Country music Star with roots to NASCAR like Marty. If you know anyone or could pass the word, I would greatly appreciate it."
Diane: I can't offer any suggestions, but I can pass the word and post these photos.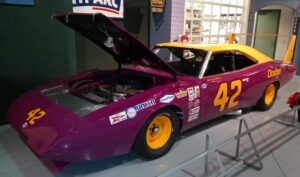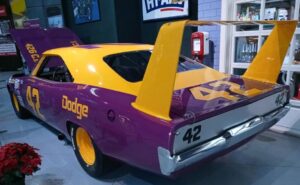 IN THEIR OWN WORDS
I connected with Goldie Hill Smith for a telephone interview in November 2000, to talk about Faron Young. I wanted to talk to Carl Smith also, but Goldie said Carl refused to be interviewed because Faron wasn't there to defend himself about whatever might be said. Goldie Hill had been one of the first women with a Billboard # 1 hit, when "I Let the Stars Get in My Eyes" stayed at the top of the chart for three weeks in 1953. Goldie died of cancer in 2005, at age 72. Carl died five years later, of a stroke at age 82.
Faron already had his own record deal when I joined Webb Pierce. He was on the Hayride, but he wasn't part of Webb's crew when Webb hired me. I worked with Faron on the Hayride, some, but I don't remember when he left the Hayride. I didn't join Webb until April '52. Webb left the latter part of '52, and I left in the last part of '53. I left to come to the Opry.
The only thing I can really remember about Faron on the Louisiana Hayride is one time–to go into the stage and the dressing rooms and backstage, they had a staircase on the outside of the building. You had to go up those stairways to get in, and he was walking up, and put his arm around me and said, "One of these days you're gonna tell everybody that you walked up these stairs with The Great Faron Young." I said, "And vice versa." That was one of the things I remember him saying, because he did go on to be successful. That's about the only thing I remember, other than working on the Hayride with him those two or three months.
Norm Riley brought me to Nashville. He was a manager–booking agent. He called me and asked if I would be interested in being on the Opry and coming to Nashville. I said, "Only if you can guarantee I can make a living." He said, "I think we can do that." I said we'll give it a try, and that's how I came to Nashville.
I lived in Green Hills, where we did all of our shopping at that time. Faron didn't live far from there, and I would pop in on them every once in a while, but it was just a quick visit, cuz I liked Hilda very well. Back then, everybody just got together at a party here and there, now and then. Everybody was young, and busy with their own families when they were in town. We'd get together at the Opry and do our visiting on Saturday night at the Opry. That was about it, except when we worked with each other on the road, that's when we'd do all our visiting. Then when we'd come into town, nobody wanted to go to anybody's house cuz they'd been with them all week already.
Carl is a real homebody. We had parties–after we got married in '57–like in the '60s, but the older you get, the less you do. We didn't have a lot of parties at the house. It was like somebody would have a special meeting somewhere, like for New Year's or Christmas. Faron was at one of my baby showers. Pearl Butler gave me a baby shower and it was for men and women both. That was a fun thing. We had a lot of people at our house, for our third child. It turned out to be a big party. And Faron did entertain us quite well that night.
He was always a lot of fun, and Carl and I both loved him dearly. Cuz you didn't get any fake. You got Faron, you got Faron.
SONG OF THE WEEK
One of my favorite songs is "New Patches," written by Tommy Collins (Leonard Sipes) and recorded by Mel Tillis as his last top ten hit. It has a great country classic sound and is a good dance tune. When an old friend tries to set him up with a date, the brokenhearted singer says, "You just don't put new patches on old garments. I don't want no one else on my mind." Tommy probably got the line from Jesus in Luke 5:36: "No one tears a piece from a new garment and sews it on an old garment." Charley Pride recorded the song on his 2017 album, Music in My Heart. Here he is singing it on the Penny Gilley show.
BOOK REVIEW
I was somewhere in an airport bookstore in 1996 when I spied Charley Pride's photo on a book cover. It was his autobiography, PRIDE: The Charley Pride Story, written with Jim Henderson, and it provided an enjoyable read for the rest of the trip. It later served as source material when I wrote Faron's biography, as I was never able to contact Charley. He talks about being manic-depressive and why he takes lithium; he learned his lesson about the importance of regular medication. He describes his transition from baseball to country music, and the racial discrimination he worked to overcome. "We're not color blind yet," he writes, "but we've advanced a few paces along the path and I like to think I've contributed something to that progress." He gives much credit to wife Rozene for his success. PRIDE tells the life of an amazing man, a story that classic country fans will enjoy reading.