NEWS
K.T. Olsin (1942-2020): The first female songwriter to win the CMA Award for Song of the Year, K.T. Oslin, died December 21 at age 78. She had been battling Parkinson's disease and was diagnosed with COVID-19. Kay Toinette Oslin was born May 15, 1942, in Crossett, Arkansas. She was 45 when she released her debut album, 80's Ladies, in 1987. The title track became her signature song. It also brought her a Grammy Award, in addition to being named CMA Song of the Year in 1988. She had four # 1 singles: "Do Ya'," "I'll Always Come Back," "Hold Me," and "Come Next Monday." She stopped regular touring in the early '90s and began a career as an actor, Rolling Stone reports. She was inducted into the Nashville Songwriters Hall of Fame in 2018.
Los Angeles Times reports the November 25 death of Jimmy Rabbitt, 79, a radio DJ who helped expose outlaw country music to Southern California. He died of natural causes. Born Dale Payne in 1941, he moved from Dallas to San Diego in 1968, and then to Los Angeles, where he was a popular deejay who mixed country into his rock playlists. He called it "outlaw music." Some of us are familiar with his name because of this line in David Allan Coe's 1976 "Long Haired Redneck": "She says Jimmy Rabbitt turned her on to my last album." The two were cowriters of the song.
Jimmy Snyder, leader of the Palomino Club house band in North Hollywood in the 1970s, died December 11 at age 86. He also lived in Nashville, where he performed in Printer's Alley and at Tootsie's Orchid Lounge. He mentored future stars such as Tim McGraw and Trace Adkins. Born in 1934 in New Brighton, Pennsylvania, he grew up in Wheeling, West Virginia, where he appeared on the Wheeling Jamboree. Saving Country Music suggests his "most lasting contribution was as a fixture in local clubs, playing classic country standards and originals, and often giving up-and-comers some of their first opportunities on legendary stages in both California and Nashville. He could play most any country song shouted at him from the crowd."
Label executive and record producer Joe Johnson, 93, died December 22 at the assisted-living facility in Hendersonville where he had been living since suffering a stroke in 2018. MusicRow reports he produced, published and/or promoted more than 150 hits, including "Y'All Come" by Little Jimmy Dickens in 1954, "Tequila" by The Champs in 1958, "The One You Slip Around With" by Jan Howard in 1960, and Jerry Wallace's "To Get to You" and "If You Leave Me Tonight I'll Cry" in 1972. He promoted and produced dozens of entertainers on Columbia, Challenge, Decca, and 4 Star Records. He co-published the first 15 songs written by Harlan Howard. Born in 1927 in Cookeville, Tennessee, he began working for Columbia Records in the early 1950s. When he urged Columbia to sign Elvis Presley, he was told to just replicate the music. That led to the 1955 Marty Robbins hit, "That's All Right." In 1964, Joe Johnson became a co-founder of the Academy of Country Music (ACM). He built the 4 Star Building across from the United Artists Tower on Music Row. He also launched a Nashville pro-celebrity golf tournament and continued to play golf until age 85.
Carl Mann, 78, died December 15 at Jackson-Madison County General Hospital in Jackson, Tennessee. The Huntingdon, Tennessee, native first appeared on the radio at age 10. A singer, guitarist and pianist, he had his own band by age 12. He began playing with W.S. "Fluke" Holland, drummer for Carl Perkins and later for Johnny Cash. Fluke arranged an audition at Sun Records with Sam Phillips in late 1958. The teenaged Mann hit the charts with a rockabilly cover of the Nat King Cole ballad "Mona Lisa." He toured with Charlie Rich, Johnny Cash, Carl Perkins, George Jones, and Loretta Lynn before being drafted into the Army in 1964. After his discharge, according to the Memphis Commercial-Appeal, he cut one single for the Monument label before leaving the music industry. He got married and went to work in his family's lumber business in Huntingdon.
Tony Rice, "the most influential guitarist and vocalist in the history of bluegrass music," according to Bluegrass Today, died December 25 at age 69. "Rice's contribution might well be compared to that of Earl Scruggs, whose banjo picking revolutionized the music when he joined Bill Monroe in 1945," the magazine adds. Ricky Scaggs, who reports the death occurred "sometime during Christmas morning while making his coffee," says "I knew I'd found a singing soul mate with Tony" when Ricky joined the group J.D. Crowe & The New South in 1974. In 1980 they recorded the album Skaggs & Rice, one of the best-selling bluegrass records of all time. Tony was inducted into the International Bluegrass Music Hall of Fame in 2013.
The Charley Pride biopic that was formally announced in 2006 with Terrance Howard cast as Charley, then re-announced in 2011 with Dwayne Johnson as Charley, is now scheduled for filming in the fall of 2021, Saving Country Music reports. That word comes from actor and producer Dennis Quaid, who has been involved in the development of the film for years. There has been no announcement as to who will star in the Charley Pride Story. The Grand Ole Opry debut of Dennis Quaid and the Sharks occurred coincidentally on December 12, the day Charley died. Quaid dedicated his song to Charley, after saying he and Charley had agreed to do the movie and the script was already written. Previous disagreements between producers and the Pride family over the approach to the film ended when scriptwriter Dianne Houston was brought in to work directly with Charley and Rozene, as they described his life and their 64-year marriage.
One of the cochairs of The World Games 2022 Birmingham is Randy Owen, lead singer of Country Music Hall of Fame group Alabama, The Country Daily reports. The Olympic-style sports experience will bring 3,600 elite athletes from more than 100 countries to the state of Alabama to compete for gold in 34 sports. The events, expected to generate $256 million in economic impact, will take place in 25 venues around the Birmingham metropolitan area, from July 7-17, 2022. This is the 40th anniversary of The World Games event, which was established by the International World Games Association.
During a recent episode of The Tamron Hall Show, LeAnn Rimes, 38, talked about checking into a facility in 2012 to undergo treatment for depression and anxiety. "It was the best gift I could've given myself," she tells Hall. "I constantly had people around me my whole life, whether it be parents, my ex-husband, a manager or agent, all the world's eyes were on me constantly. . .. It felt like somebody plugged me into a wall socket and left me on." She adds, "I had never been alone really until being in treatment for anxiety and depression." Concerning her earlier interview with PEOPLE about putting her psoriasis on full display, she marvels, "I didn't expect kindness and love like that from so many people . . .. We have this idea of this ideal human who we're supposed to live up to, and it's just impossible. I think for me, it was such a freedom from that ideal. I hope it was a permission slip for a lot of people, whether you have psoriasis or whatever you feel like you have to hide, to come out of hiding and to set yourself free."
When actor Brad Pitt turned 57 on December 18, Shania Twain, 55, tweeted "Happy Birthday to Brad Pitt, I'll make an exception for today." She was referring to the line, "Okay, so you're Brad Pitt; that don't impress me much," from her 1997 song, "That Don't Impress Me Much." She once told Billboard she wrote the song while a scandal was unfolding in the news regarding nude photos of Brad Pitt amid his split from Gwyneth Paltrow. "I just thought, 'I don't know what all the fuss is about.' I'm like, well that don't impress me much. We see people naked every day," she said. "I wasn't picking on Brad Pitt."
Retired hockey star Mike Fisher recently attended a cattle auction to purchase two cows for his wife, Carrie Underwood, 37, for their growing farm. In an interview with ET Canada, Carrie said she had asked for the cattle: "They're my favorite animal. I love them, they make me so happy. I don't want them for any purpose, just to love them." Taste of Country reports Carrie grew up on a cattle ranch, and she became a vegetarian after learning what happened to her father's cattle. Before sending her husband off to bid at a cattle auction, Carrie provided some guidance, which must have been adequate. She says he later told her, "We just raised our little paddle a couple times and next thing you know they're loading up two cows to bring home." Five-year-old Isaiah named the cows Brownie and Oreo.
On a recent Bobby Bones Show, Blake Shelton revealed where he hid Gwen Stefani's engagement ring until he found the right time to propose. "I had the ring in the compartment on the door of my truck for about a week," he said. "Digging in there looking for a flashlight or change, I kept thinking, 'Man, somebody's gonna hit the jackpot whenever I drop this thing out of my truck.' I wanted to keep it there all the time because I didn't know when I would have the exact, right moment. But thank God, I didn't lose the ring." Blake, 44, proposed to Gwen, 51, in October, while they were isolating at his ranch in Tishomingo, Oklahoma.
The mural on the side of Legend's Corner, at 5th and Lower Broadway and next to the Ryman Auditorium in Nashville, has changed. Page Six reports Taylor Swift was erased from the mural depicting 14 of country music's biggest stars. According to WZTV-TV in Nashville, artist Tim Davis added Brad Paisley and plans to add two more stars. The three remaining women in the mural are Loretta Lynn, Reba Macintyre, and Dolly Parton.
The Recording Academy has unveiled 29 recordings to be added to the Grammy Hall of Fame in 2021. Recordings can be either singles or albums; they must be at least 25 years old and exhibit qualitative or historical significance. The 1978 Kenny Rogers recording of "The Gambler," a song written by Don Schlitz, is one of the honorees. So is "Wreck of The Old 97" by Vernon Dalhart. Trio, the album recorded by Dolly Parton, Linda Ronstadt and Emmylou Harris in 1987, was a collaboration that produced four hit singles and won a Grammy. Linda Ronstadt has a second Hall of Fame entry in 2021, her 1987 album of Mexican traditional mariachi music, Canciones De Mi Padre.
"Missing You" is the latest single by Margie Singleton, released on December 16, in memory of her former husband, record producer Shelby Singleton. Her son, Stephen Shelby Singleton, wrote the song. "There are as many types of love as there are love songs," Margie says in a press release. "Shelby and I were married for 16 years. Life is funny though, and we went our separate ways. Our marriage produced two wonderful sons, Stephen and Sidney. I'm honoring them both today, by releasing this beautiful song, 'Missing You,' written by Stephen, on what would have been their father's 89th birthday."
Jack Blanchard posted on Facebook on Christmas Day, "Misty is too sick and weak to get up today. She feels guilty that she can't cook Christmas dinner. I told her I was hoping she'd rest today." Later, he posted that she had been taken to the hospital in an ambulance. She was scheduled for surgery the following Monday. Jack Blanchard and Misty Morgan are best known for their # 1 hit, "Tennessee Bird Walk," in 1970. Jack is a longtime subscriber to my newsletter. Sending good wishes, Jack, to both you and Misty.
Debby Campbell-Cloyd, daughter of the late Glen Campbell, filed a motion in Davidson Probate Court to question the amount of legal fees–$211,533–charged to Glen's estate by GT Law. She said one GT Law attorney was being paid $1,050 per hour. Kimberly Campbell, Glen's widow, insisted the fees were reasonable due to the firm's familiarity with the estate issues. "Quite simply, it would take years to replicate GT Law's background and familiarity with the estate's intellectual property assets," the Tennessean quotes the seven-page response filed by Kim's lawyers. Glen had a relationship with the law firm for more than 50 years, the filing states, and GT Law's efforts ensure a continuing revenue stream to the estate.
It was reported on Facebook that Red Steagall is in the hospital battling COVID-19. I haven't found any details.
The Annual Helping a Hero Gala raised over $500,000 in Houston for the Helping a Hero organization, MusicRow reports. The money will assist post-9/11 severely wounded warriors through the Wounded Hero Home Program. Lee Greenwood hosted the event and presented The Lee Greenwood Patriot Award to five individuals for their leadership and commitment to our wounded warriors: NASCAR Legend Richard Childress, GOYA Foods CEO Bob Unanue, South Dakota Governor Kristi Noem, U.S. Congressman Bill Flores of Texas, and singer Michael W. Smith. "I have been supporting Helping a Hero for a decade and I'm humbled by the work they continue to do to help our wounded warriors," Lee stated.
Country music producer David Malloy, who lives and works on Second Avenue in Nashville, was walking his dog, DJ, on Christmas morning, he tells WKRN-TV, when a police officer "was in the middle of the road on 2nd Avenue, walking towards me telling me to evacuate. I said, 'why do I need to evacuate' and then boom, the bomb went off." The blast injured several people but didn't kill anyone other than the suicide bomber. It caused massive damage in that area of downtown Nashville. Malloy has worked with many country stars, including Dolly Parton, Tim McGraw, Reba McEntire, and Kenny Rogers. He credits Nashville police with saving him and DJ.
Following the blast, Carrie Underwood sent this Tweet: "Merry Christmas everyone! And a huge thank you to all the brave first responders in Nashville this morning." Tim McGraw posted on Instagram: "Trying to find the words….but this is a tough one. Yesterday, on Christmas Morning, the world watched as Nashville was hit by another tragedy. It's been a year….but we will rise again. Grateful for the first responders who spent Christmas morning on one of our toughest years ensuring that no lives were lost."
LETTERS
Jon Philibert writes from the United Kingdom, "I was very interested in the mention of Tommy Collins' 'New Patches' in your most recent newsletter. My business partner Craig Baguley and I owned a short-lived country label Password Records and we cut an album with Tommy in Nashville called New Patches back in 1986. It was the label's first release. The album was reviewed most favourably by the Observer, a highly prestigious national newspaper here in the UK. I got to know Tommy during the recording, and I loved his funny and quirky sense of humour. He was also a serious and well-informed man and we discussed all manner of things outside the realm of country music. In 1986 Tommy later toured the UK with the album and each morning he would call me from his hotel claiming to be someone else, adopting an English accent. He nearly fooled me a couple of times. In a performance one night he dedicated 'New Patches' to me in the audience knowing how much I loved the song. It was a complete surprise and a very proud moment indeed for me. I must admit I didn't know the song's Biblical provenance until I read about it in your newsletter. Other than Mel Tillis and Charley Pride's versions, it has also been cut by Leona Williams, George Jones, Clinton Gregory, the Osborne Brothers and many others, but Tommy's own version will always have a special place in my heart. Tommy was a pastor and Craig and I attended church with him one Sunday though sadly Tommy didn't preach on that occasion. Excellent newsletter as ever. Thank you. Best wishes from the UK. I've attached a photo. Tommy is central flanked by Craig on the left and me on the right. I can't believe how young I looked!"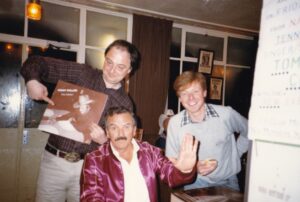 Ray Starr says, "I was very sorry to hear about Paul Franklin's mother passing. This year has been one of great sadness. Thanks again for keeping us informed on all the news."
Mike Johnson writes, "Charley's untimely passing was truly shocking and sad indeed. Yet another genuine country music artist gone to Hillbilly Heaven to join ranks with Haggard, Jones, Cash, and other traditional country artists who gave us the real deal. Saddest part of all is I don't see anyone currently capable of filling their shoes. I just finished reading your entire newsletter while transferring video & photo files and scanning negatives. You do a great job of keeping everyone informed. And thanks for the plug & including the photo of Razzy Bailey. Meant to mention that I have Charley Pride's very first LP still shrink wrapped the day it was released."
Debora Thomas from Peterborough, Ontario, Canada, requests, "I would love to get your newsletter. This is a very good newsletter. I think you do well at keeping track of all the information about our good singers you put a lot into the newsletter. Looking forward to your next one. I was sad to hear about Charley Pride. I was first introduced to Charley Pride's music when I was at a boarding school for the blind. Some of the Counsellors would bring their own records so we could listen to them just before we went off to sleep at night. And there were a couple of Charley Pride's records played quite a lot, and I enjoyed them so much. I went to a concert of Charley Pride in 1988 I think it was. I went with some friends. I am so glad I went, because that was the only concert I got to go to. It's good to hear about all the country artists and what they're doing and about their lives. Do you know how Loretta Lynn is doing? I love her and Dolly. My goodness, Dolly is a going concern, isn't she? So lively, man, I sure wish I had some of her energy. I had the privilege of reading her book and I loved that she was telling her own story. Good for you for keeping up with all the good memories of all the artists."
Martha Moore of So Much MOORE Media says, "Hope you and your family are staying safe during this crazy time. We have a mutual friend- Stacy Harris – who turned me on to your bi-monthly column. I am sure you are familiar with former Faron Young duet partner, hit singer/songwriter Margie Singleton. Wanted to make sure you knew about her new 5-song EP – NEVER MIND."
Dominique "Imperial" Anglares writes from France, "Thanks for that great newsletter and for the farewell given to Charley Pride. Today I have learnt we lost yesterday Carl Mann, a great artist from Jackson, Tennessee, who had action in 1959 with a rockin' cover of 'Mona Lisa' recorded for Sam Phillips. He was the last '50s artist from Jackson still with us. Greetings for Goldie's memories. She was a talented singer and a beautiful lovely Lady. The last but not the least thanks for the care given to my words. Carolyn shared with me wonderful memories of her time in Baytown (Tx), Nashville (Tn) and Shreveport (La) and her friends Faron Young, Tommy Sands, David Houston, George Jones, to remind few."
Alberta Hall requests, "I'd like to receive your newsletter. Somebody put it on a list and I really enjoyed it."
Mary Mitchell says, "Thanks for mentioning Carl Smith. I will love his music, personality, good looks and a great husband and father. May they both RIP."
David Markham writes from England, "Firstly what a great shock to learn the passing of one of the greatest names in country and western music, Charley Pride. My heart is broken, I used to stay in contact with him. He has a good country voice. I mean who thought Charley Pride would contact this murdering invisible virus? I will close and Wish You A Very Happy Christmas and a healthy New Year 21."
IN THEIR OWN WORDS
My telephone interview with lead guitarist Joe Wright in 2007 came about, he told me, because "my daughter called me and said you were looking for me. She'd been on your web site." He had plenty to say about his days with Marty Robbins and their friendship in later years. We had several telephone conversations and email exchanges. Joe died in 2017 at age 79. His obituary said he "was born August 15, 1937 in Rosine, Kentucky. His family moved to Goodlettsville in 1952, where he finished high school. Shortly after high school he started work in the country music business as original lead guitar player for Marty Robbins' Teardrops at age 18. He stayed in the music business as a songwriter and talent manager until the early 1970s. He later became President of Gray Stone Productions in Nashville."
I was with the original band, which was the Teardrops, which was me, Earl White, Hillous Butram, and Jim Farmer. Hillous and I roomed together the year I worked with Marty. Earl White played fiddle and bass, rhythm guitar and sang. Earl and I were amateurs together, known as the Kountry Kats. Earl called me and he said, "Marty Robbins is putting together a band, and he just hired me. I told him about you, and he wants to hear you play." I met him at the Friday Night Frolic, and I played for him, and he hired me right then. He already had Hillous, and Jim Farmer was a real good friend of his–played steel guitar, from Phoenix. We were the original Teardrops. He said if you can get in the union, I'll start rehearsal on a network television show Monday. This was on Friday. I got in the union on Monday morning, and we started rehearsing that afternoon. It was before Christmas, 1955. I was 18 when I went to work with him.
We worked Bremerton, Washington, and let me think–I think we worked Bremerton and Portland on that trip. I'll tell you one thing I remember. Here we had drove to Newark, New Jersey. We had drove straight across the whole country, 3000 miles, to Bremerton, Washington. And I think we worked Bremerton, Portland, and then drove 1500 more miles to get to Cheyenne, Wyoming, because it was winter and you couldn't go through Yellowstone National Park. You had to go around it. Instead of about a 500-700-mile drive, you had to go down to California and come around; it became a 1500-mile drive. On that trip, I think we were gone 16 days and in bed nine. We slept nine nights in a bed. We drove straight to Newark, straight to Bremerton, and then had to go that 1500-mile stretch without a stop to get to Cheyenne. Somewhere in there we worked a couple more show dates, because I believe Cheyenne was the last one on the tour. We did a matinee and a night show in Newark.
I was with him a year. He told us when he hired us, if any of us ever upstaged him, we were fired, cuz he was the star. And then, he was doing "Maybelline" and "Long Tall Sally," and we were drawing teenagers. He would have 25 really pretty women wanting his autograph after the show, and I'd have 150 little teenyboppers. I'd been an athlete and a gymnast in school, so when I'd do a ride on one of his songs, I'd do a backbend or splits or something. All those little girls really ate it up. Marty just saw the 150 over there getting my autograph. One day we were riding down the road, and he smiled at me, and said, "By the way, you're fired." I thought he was joking. He said, "This is your two-week notice." Well, two weeks later, we had a show to do at the Friday Night Frolic, and I showed up, and Jack Pruett was there. Jackie's a heck of a guitar player.
About six months later we literally went through about a year period where we ran around together all the time. Marty was an insomniac, and being as young as I was, I could stay up three days without it bothering me. It was nothing for him to call me at one or two o'clock in the morning. Like when I heard "El Paso," he called me between one and two, and I'd just gone to bed. He said, what are you doing? I said, what in the hell do you think I'm doing? I'm in bed. "Well, meet me at Bob Jennings at four o'clock." Bob Jennings had a radio show at four o'clock in the morning on WLAC. He said, "I want you to hear something." So I went down there, we went back to Studio A, and he sang me the entire Gunfighter Ballad album. He'd just finished it.
Marty and I always ran around. We had a ritual. Every time we checked in a hotel or a motel, especially a hotel, we'd meet–the first thing we'd do is throw our clothes on the bed, and then we'd meet in the hall and wrestle. I was young and thought I was strong, and he was 32 and was strong. And he whipped me every time. After I quit working with him, I started working out at a gym, lifting weights and stuff like that. We met in front of the Clarkston Hotel one day on the street, and he said, "I can still throw you." "No, you can't." And I busted him. I think from that time on, we ran around together.
That was in the fall that Marty fired me. I then became the second highest paid musician in Nashville. I quit working the road. I started doing television shows. I started working with Opry acts, doing everything they did in Nashville. I had a pretty good year. Him firing me actually turned out to be sort of a favor to me. Then I became a manager. Marty asked me several times to manage him, and I told him I'd rather be his friend.
Marty and I, we'd be out at night, and Ralph Emery had his show, came on at midnight. The National Life Building closed about five, I think. We'd call Ralph and he'd open the door–he was on the fifth floor–and we'd go up the fire escape, he'd open that door, and we'd go in, and spend 2-3 hours with him. We'd do that at least once a week. Sometimes two or three times a week. One night Ralph announced that Marty Robbins was going to be there. We went up there, and Marty wouldn't say a word. Ralph said, you people won't believe me; he is actually here. He was just doing it as a joke on Ralph. We were there over two hours, and Marty never said a word on the air.
One night I showed up at the Opry, and Bill Monroe's banjo player–he'd either fired him or something, because Bill changed musicians once a week. Bill's from the same town in Kentucky I'm from. He said, "Wright, can you play banjo?" I said, "Well, yeah, if you let me tune it like a guitar." I played five-string with Bill one night on the Opry, the only time I ever played banjo in my life. I sounded reasonably close to a five-string banjo.
You might be interested in how the system worked when Marty came to Nashville and why several people you mentioned were not actually members of Marty's band even tho they worked with him quite a bit. Money was not easy to come by and everyone helped everyone else make money. A singer like Marty who did not have a band would let someone like Lightnin' Chance (his first choice on bass) work all his radio and TV shows. But, if that musician was already on the show with someone else, the artist would use another bass man just to let him make the money. Marty might have Lightnin' on the first show on the Opry and Lester Wilburn or another bass man on a later show. One night after I left Marty, I was at the Friday Night Frolic which later became the Friday Night Opry. For some reason Marty's piano player wasn't there. Marty said, come on and play piano with me. I said, "Marty, I can't play piano." He said, "You can chord, come on and play rhythm." Easy $7.50 and the only time I ever made money playing piano.
I haven't read your Faron Young book, but I'm sure that some of the things in there probably aren't accurate. The last book I read–one of my brothers is a writer–and the first book he wrote, which was 1984, was the last book I read. I used to read every night before I went to sleep. I grew up reading. I might be reading nothing but scientific books for six months, and then I'd turn around and read Mickey Spillane. I wound up with a pretty good education from reading.
SONG OF THE WEEK
One of the most heart-wrenching story songs Dolly Parton ever wrote—and one of my favorite Dolly songs—is "Down From Dover." Dolly was riding on Porter Wagoner's bus as they drove past Dover, Tennessee. She looked out the window, saw a shadow sweep across a field, and sang, "And the sun behind the cloud just cast a crawling shadow over the field of clover." The next line in her mind was, "Time is running out for me and I wish that he would hurry down from Dover." She recalls thinking, "This is great and it's a pretty tune. What'll I write about? Who would live in Dover?" She apparently wrote the song on the bus, because in a new book, Unlikely Angel: The Songs of Dolly Parton, she says, "The next thing I knew I was writing about this pregnant girl. Anyhow it just came, and once I got into it, it was one line after another." The song was released as a single from her 1970 album, The Fairest of Them All, but radio stations refused to play it. Dolly says, "They wouldn't play it because it was so suggestive and it was about a pregnant girl and it was so against what country radio was at that time." She rerecorded it in 2001 for her Little Sparrow album.
BOOK REVIEW
Ken Nelson was Faron Young's record producer during Faron's Capitol years. Ken also recorded Buck Owens and Merle Haggard and many, many others. He was a founding member and president of the Country Music Association–and is now in the Country Music Hall of Fame. When I went to his California home in 2000 to interview him about Faron, he was busy writing his autobiography. A card file and yellow legal pads sat on his dining room table. He told me his goal was to get it published before he kicked the bucket. He eventually self-published My First Ninety Years Plus Three because mainstream publishers weren't interested in behind-the-scenes guys. The book covers years 1911-2004 and was published in 2007. He died January 6, 2008, thirteen days short of his 97th birthday. Although he suffered from shingles the last several years, Ken remained independent and living alone in his house. His contributions to the country music industry are much greater than he received recognition for. Read this autobiography and you'll be amazed at the energy of the man–even in retirement. He did more traveling after his retirement than most people do in a lifetime.