NEWS
Ed Bruce (1939-2021): William Edwin Bruce Jr., known as Ed Bruce, died January 8 of natural causes in Clarksville, Tennessee. He was 81 years old. The singer, songwriter, and actor grew up in Memphis and began his music career on Sun Records at age 17. He moved to Nashville to be a songwriter, with one of his first hits being "See the Big Man Cry" for Charlie Louvin in 1965. He is best known for the song he wrote with then-wife Patsy Bruce, "Mamas Don't Let Your Babies Grow Up to Be Cowboys," which was recorded by Willie Nelson and Waylon Jennings in 1978. Tanya Tucker had hits with "The Man That Turned My Mama On" and "Texas (When I Die)." Ed had his own #1 single with "You're the Best Break This Old Heart Ever Had" in 1982. His other recordings included "My First Taste of Texas" and "The Last Cowboy Song." He changed his focus from music to acting in the late 1980s, after costarring with James Garner in the TV show Bret Maverick. He also hosted two shows, Truckin' USA and American Sports Cavalcade. My condolences to Ed's wife, Judy, who receives this newsletter.
Singer/songwriter Jamie O'Hara, 70, died January 7 at Alive Hospice in Nashville after battling a very aggressive cancer. Born James Paul O'Hara in Toledo, Ohio, in 1950, he signed a publishing contract in Nashville in the mid-1970s and began a songwriting career. A decade later, he and Kieran Kane formed the O'Kanes and recorded three albums on Columbia Records. They hit #1 with "Can't Stop My Heart from Loving You," and they co-wrote "Grandpa (Tell Me 'Bout the Good Old Days)" for The Judds. After the O'Kanes broke up in 1990, Jamie pursued a solo career and continued writing songs, including #1 hits for Ronnie McDowell ("Older Women") and Gary Allan ("Man to Man"). He also wrote songs for Randy Travis, George Jones, Tim McGraw, Tanya Tucker, Trisha Yearwood, and many more.
Misty Morgan, 75, died on New Year's Day, only a few days after being diagnosed with cancer and going into hospice care. Her husband, Jack Blanchard, had taken her to the hospital on Christmas Day. Jack sent an email that said, "I was sitting in the hospital room watching Misty sleep and she died." The couple is best known for the #1 hit, "Tennessee Bird Walk," in 1970. They also had hits with "Humphrey the Camel" and "Somewhere in Virginia in the Rain." Jack wrote all three songs. Misty was born Mary Donahue in Buffalo, New York, in 1945. Although she and Jack had been born in the same hospital, they didn't meet until 1963 when they were both living and performing in Florida, Jack as a comedian and Misty as a lounge singer and pianist. They married in 1967. I talked to Jack in 2016 to feature the couple in my newsletter: Diane Diekman » Blog Archive » Diane's Country Music Newsletter — 9 November 2016
A musician who lost everything in the Christmas Day bombing in Nashville is back to work, WKRN-TV reports. Buck McCoy escaped from his 2nd Avenue apartment when the blast went off, but his car and all his belongings were destroyed. He was shown on TV being reunited with his cat, Molly, who had disappeared in the blast. Brad Paisley saw him on TV and called him. During their half-hour conversation, Brad said he would send one of his new guitars so Buck and his band could get back to work at Legend's Corner. Brad also offered unlimited groceries at his "The Store," which provides free food to those in need. When the guitar arrived, it contained Brad Paisley's autograph and a note that said, "Buck, twang on pal. Glad you're still here."
An update on Red Steagall: He returned home January 4, after ten days in the hospital with COVID-19.
AFM 257 Life member Hugh X. Lewis, 88, died December 29 due to complications of COVID-19. Born Hubert Brad Lewis in Yeaddiss, Kentucky, he worked in a steel mill before moving to Nashville in 1963, where he quickly had his first songwriting success: "B.J. the D.J." for Stonewall Jackson. He wrote 10 more songs for Stonewall; Mac Wiseman and George Morgan also recorded his songs. He played guitar, bass, and keyboards, and recorded a Top 40 hit in 1964, "What I Need Most." In the 1970s, he had a club in Printers Alley and a TV show called The Hugh X Lewis Country Club.
Legendary fiddler Kenneth "Little Red" Hayes, 86, of Jasper, Texas, died December 31 in Jasper. He was called Little Red because he was the little brother of Joe Herman "Red" Hayes, who died in 1973 in England while on tour with Faron Young as one of Faron's Country Deputies. Red was born in 1926 and Little Red in 1934, both in Garden Valley, Texas. According to KJAS in Jasper, Little Red was a brick mason in addition to his fiddle career. He started playing the fiddle at age 15, and he worked with Hank Thompson. Jim Reeves, Ray Price, George Jones, and Mel Tillis. He is survived by his wife of 65 years, Nina Hayes of Jasper, and their two children. Little Red and Nina met at a fiddling contest when he was 13 and she was 12.
Rockabilly Hall of Fame member Stan Beaver, 71, died January 2. He hosted The Stan Beaver Show in Chattanooga and had a hit record with "I've Got A Rocket in My Pocket" in 1963. His first public appearance was on his father's TV show in Atlanta at age 5. He played guitar, bass, and harmonica and was a life member of AFM Local 257 in Nashville. He also worked as an engineer on the road and was studio engineer for Tom T. Hall's Toybox Studio in Brentwood. He was buried in Turtletown, Tennessee.
Jeff Lisenby, 65, died at home in Nashville of COVID-19 complications on January 6. The Missouri native earned advanced degrees in music at the University of Missouri at Kansas City (UMKC). The Tennessean reports, "His established career was expanded and diversified on the Nashville music scene over the past 35 years, to include composition, arranging, performing, studio recordings, college teaching, and directing musical shows on Broadway and on cruise lines."
Steel guitarist Tony Farr, 83, of Nashville died January 7 from complications of COVID-19. Born Anthony Fardella in New Orleans in 1937, he landed his first steel guitar job at age 15. He also played piano, rhythm guitar, and dobro. He performed on the Big D Jamboree in Dallas before being hired by George Jones as one of the Jones Boys. He later worked at the Flame Cafe in Minneapolis, Minnesota, and on the road with Jeanie C. Riley, Tommy Overstreet, Claude Gray, Jerry Wallace, and others. He did session work in Nashville and recorded at least one steel guitar album, Plays the Farr Out of It.
Banjo player Bill Runkle died January 7, on his 82nd birthday, due to COVID-19. Born in 1939, the Pennsylvania native grew up surrounded by music, reports Bluegrass Today. His sister taught him to play a guitar when he was eight years old, and he switched from guitar to banjo in 1959. He played in numerous bands and, for 25 years, hosted a Saturday bluegrass radio show on WGCB in Red Lion, Pennsylvania. He toured and recorded with Del McCoury for eight years in the 1970s. He sang baritone, switching to lead on duets when McCoury moved to high tenor. In 2017, the Pennsylvania House of Representatives honored Bill with a tribute that recognized his contributions to bluegrass music. He was also a classic automobile enthusiast, with a service station in nearby Collinsville.
The latest Blake Shelton song, "Minimum Wage," is stirring controversy because of lyrics like these: "Girl, your love is money. Yeah, your love can make a man feel rich on minimum wage." Country Music Nation reports social media complaints that the song is "incredibly tone deaf to our country's current state." Someone else said it "just cements the fact that rich people have absolutely no clue." However, one poster defended Blake: "Country music is typically written from the point of view of the common man. Singing about minimum wage is no different than singing about dirt roads and cheap beer in solo cups." Ronnie Dunn tweeted that he grew up poor, saying, "Most country singers pay dues and go through things to become successful that no sane human being would." He added, "Read the full lyrics to Blake's song. Hell, I wish I'd written it."
In a new exhibit, the Country Music Hall of Fame and Museum honors the Station Inn, former home of The Time Jumpers. The Station Inn: Bluegrass Beacon will run throughout 2021. The Station Inn opened in 1974 and moved in 1977 to its current home at 402 12th Ave South. It was founded by a group of bluegrass musicians who served as the first house band: Marty and Charmaine Lanham, Bob and Ingrid Fowler, Jim Bornstein and Red and Bird Lee Smith.
A new studio album from Loretta Lynn, 88, will be released in March by Legacy Recordings, the Tennessean reports. Still Woman Enough contains 13 songs and is billed as a "celebration of women in country music." Loretta announced the new release on the 50th anniversary of her Coal Miner's Daughter album. The title track, written by Loretta and daughter Patsy Lynn Russell, features Carrie Underwood and Reba McEntire. Tanya Tucker duets with Loretta on "You Ain't Woman Enough" and Margo Price helps sing "One's on the Way." Covers of two older classics are included: "Keep on the Sunny Side" (The Carter Family) and "I Saw the Light" (Hank Williams). John Carter Cash and Patsy co-produced the album at Cash Cabin studio in Hendersonville.
In a recent PEOPLE interview, Ricky Skaggs, 66, talks about how he had known for more than six months last year that something was wrong with his health. He found himself getting winded easily, there was a tightness in his chest, and a shortness of breath would hit him unexpectedly. Following his six-month checkup (the same day his sister-in-law, Cheryl White Jones, had a mini-stroke) and a CT scan of his heart last June, his doctors ordered an angiogram to better address his symptoms. Four days later, Ricky underwent a quadruple bypass at Centennial Medical Center in Nashville. "I have thanked the Lord hundreds of times that I wasn't out in the middle of Texas on a tour bus, miles away from a hospital," he says. "It was a major blessing I didn't have a heart attack." He spent four days in the hospital, with wife Sharon and daughters Molly and Mandy close by. He feels 150% better than he once did, and he is working to strengthen his heart muscle. He returned to the Grand Ole Opry to perform in September.
Eja D'Angelo Lange, 19, the only child of Shania Twain, recently paid $1.8 million for a "starter house" in Los Angeles, reports Variety. The 2,034-square-foot home has three bedrooms and 2.5 baths on three floors. Built in 1961, the house was extensively updated in 2014. It appears as a single-story cottage from the street, but the steep hillside allows for three full floors in the back. Shania, with a net worth of reportedly $400 million, lives in Corseaux, Switzerland, in a villa overlooking Lake Geneva. She also owns an estate in the Bahamas and a lakefront cottage in Canada.
LETTERS
Moragh Carter in the UK writes, "I was so very sad to learn of the death of my friend, Misty Morgan, Jack Blanchard's wife. The surgery she underwent on Monday 28th December confirmed that she had cancer. Just four days later, while Jack was visiting her at the hospital, he was sitting, watching her sleeping, when she passed from this life. I was so glad he was able to be with her when she passed, but he is absolutely lost without her now. He has my love and prayers, and I thank all their friends and neighbors, and their many fans, for all the support they are giving him at this sad time. Apart from their big hit, 'Tennessee Bird Walk', they have so many other wonderful songs, of which too many have sadly gone under the radar. 'Shadows of the Leaves' and 'Just One More Song' are particularly poignant at this time."
Eric Calhoun writes from Los Angeles, "I'm saddened to read that LeAnn Rimes went in for depression. She has well been someone I love listening to. One thing that still sticks with me today is the song, 'Light in Your Eye.' She is talking about spiritual sight. Jack, I have a message for Misty, and it goes like this: Misty, I'm sorry you've had to go through surgery. God bless you for a full recovery. Deborah, welcome to the newsletter. I've enjoyed Diane's newsletters for 3 years. Finally, the tribute for Jimmy Rabbit. He was on several radio stations here in Los Angeles, and he even rose the ire of several Program Directors. But the guy was funny, according to an article I read in the Los Angeles Daily News. In closing, it was sad to hear about the Nashville bombing Christmas morning. WSMV, which is a source I look to for news, also reported it. Very sad. Hope all will have a Happy New Year."
Pat Jenkins says, "Thank you so much for your country newsletter. Always informative and entertaining. My favorite section has become 'In Their Own Words.' Thanks again…and keep up the great work."
Cal Sharp writes from Nashville, "Jimmy Snyder was a good one. Here we are at the Pal in '81: https://youtu.be/qgQCrytSCA8"
Mike Johnson of Roughshod Records writes, "Yet another informative issue of good and emotional news. Sad to hear that another talented musician friend, Jimmy Snyder, has passed on to Hillbilly Heaven. He was a very fine musician and entertainer. I suppose he and another friend and Tootsie's headliner, Zack Taylor, are just a picking away in the clouds. Following my first professional recording session at Globe Studio in 1981 in Nashville, I became a Lower Broadway regular throughout the '80s & '90s, and had the pleasure of meeting and interacting with numerous Music City people; John & Lois Shepherd, Norma Boyle, [owner of Dusty Road], Bobby Leeds, Jim Stanton [Rich-R-Tone Records & Champ Studio], Tommy Boyle, Ronnie Root [Hank impersonator], the Lawrence Family [owner of Lawrence Record Store], Tequila Rose, Robert Moore [founder of Robert's Western Wear], Terry Smith, Bill Johnson [steel guitarist], and many others. January 2021 will mark the 1st anniversary of the passing of my friend and early co-writer, Leo Maimone. Yesterday I posted all the songs from my last CD album Covering James Adelsberger [2017] on my YouTube Channel. 'Liquid Hell,' about a moonshiner, is a Mike Johnson-Leo Maimone co-write: https://www.youtube.com/watch?v=A3WbQuX6mRI. Here's a photo of Jimmy Snyder I dug out of my archives.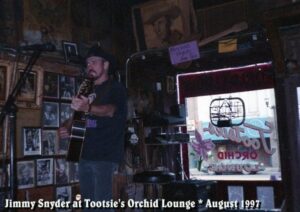 Priscilla McPheeters in Lawrence, Kansas, says, "Love it! Such a great newsletter. So newsy, informative and inspiring. Love the story about Carrie Underwood's cows, LeAnn Rimes and her struggle with depression and her skin disorder, which my niece also struggles with. Also love the story of Shania Twain and Brad Pitt and her song."
Howard Ernst requests, "I would like to receive your newsletter."
Gene Burkhart writes, "Thank you for such a great newsletter about so many great country stars. It is so sad to lose so many of them. I became ill in 2019 and I so look forward to each monthly newsletter."
Gerald Walton says, "Just wanted to wish you a Happy New Year from Oklahoma City and tell you how much I enjoy your newsletter."
Dominique "Imperial" Anglares writes from France, "Thank you very much for that newsletter, the last for 2020. Let's welcome 2021 for more news and memories. Thanks for the words about Carl Mann and for Joe Wright's memories. I enjoyed John Philibert's memories. Very interesting. Just been told by my friend John Burton that Dave Barnes passed away on December 21, 2020. Dave owned B.A.C.M. (British Archive of Country Music) in Dover, UK. Dave put so much into getting Country music to the masses for many years and had issued plenty of incredible recordings. Dave offered me to contribute to some notes for CDs but it will not happen now. Here are some of his words from November 2018: 'I am Dave Barnes who ran Country & Western Record Review back in the late '50s early '60s, now putting out CDs on the BACM label with over 600 to our name so far, but at 82 I'm not sure how long we can exist.' Now the story is told. That's a real sad lost for our little Country world.
Bob Jennings writes from Southern Indiana, "Please add me to your Newsletter list. I am a Traditional Country Music fan and steel guitar music lover. I am from Minnesota originally and had a rewarding Civil Service Career with the Department of Defense as a Key Inspector for the 4.2 Mortar for the Army and then Mechanical Time and Point Detonating Fuzes for the Navy. I took assignments in Minnesota, Wisconsin, Illinois and Indiana. I retired in 1994 and took up Outdoor writing for a hobby. Wrote a Column for Muskie Magazine for 4 1/2 years. I've authored six books on Muskie Fishing, Upland Bird Hunting and Fictional Humor. I am still writing and now revising one of my earlier books. I'll be 84 this month. My Wife is 83 and we are still active and healthy. I served my Military Duty with the Army in 1958-60, getting training as a Radio/Teletype Operator and was stationed in Germany. The first Country Music Show I went to was Webb Pierce; I think it was in 1951. Country Music was not popular up in Minneapolis but the place was packed with people, including ones I had talked to at school who said, 'Why would anyone want to see a Country Music Show.' Webb Pierce came back two more times to Minneapolis and did good shows with his band. The Wilburn Brothers were part of his band at the time. My stepdad took me to see a package show in St. Paul in about 1954–Carl Smith, Marty Robbins, Jim Reeves, Hank Locklin headlined the show. The last package show I went to was here in Indiana in Bloomington in 1992–Leroy Van Dyke, Bobby Helms, Melba Montgomery, Dick Curless, Ferlin Husky, and Sheb Wooley. What a show they put on and just like in the olden days, they all signed autographs. I got to have a nice talk with Sheb Wooley—When it was my turn to get his autograph, there was nobody behind me so I asked real seriously, 'You got them glossy autographed prints for a dollar?' He said, "When was your last time at a Country Music Show?" I answered, 'Saw Webb Pierce in 1952 up in Minneapolis,' then smiled and we both had a good laugh. My Wife and I have been to several shows in Branson and Renfro Valley. Went to Pigeon Forge on our Honeymoon in 1997 and got tickets to see Jim Ed Brown. Herby Wallace played steel guitar for him. We visited Herby Wallace's steel guitar shop and he asked if we were going to see a show. We said maybe but don't know which one. He gave us tickets to see Jim Ed Brown. I read your latest Newsletter–excellent information. When this Pandemic is over, maybe there will be some package shows again–with the Traditional Sounds of Country Music–the singer and his Martin Guitar, Doghouse Bass Player, Fiddle Player. Non- Pedal or Pedal Steel Player and Lead Electric Guitar Player playing a hollow body Gibson; no fireworks, no flashing lights–just good Country Music. I like the Steel Guitar but not the fancy, speed picking–just Bud Issacs, Sonny Burnette, Little Roy Wiggins, Jimmy Day, Don Helms, James Farmer, Johnny Sibert style of smooth simple steel guitar enhancing the singer and soloing nicely. My Wife and I went to some steel guitar shows that featured Don Helms. I got to talk with him –also met Herb Remington and Herby Wallace. You are doing a fine justice to the Traditional Country Music singers and musicians with your writings and books."
Mary Lorefice wonders, "Whatever happened to Charly McClain and Neal McCoy? I thought 'Wink' and 'They're Playing Our Song' were good. 'Radio Heart' was among my favourite Charly McClain songs. Keep up the good work."
Diane: I didn't find any current information on Charly McClain, and no website. She retired from the music business in the early 1990s. She is 64 and has been married to Wayne Massey, 73, since 1984. Neal McCoy, 62, is still active, and you can learn about him on his website: Neal McCoy – Country Music Legend
Doreen Brown writes from Canada, "Thanks for your wonderful support of all country music, so much appreciated. Lotsa Country Cheers for the New Year."
IN THEIR OWN WORDS
I called Ed Bruce in October 2015 for a conversation, after Jean Earle in England asked if I would feature him in my newsletter. We talked for 20 minutes. Ed didn't use email, and I communicated with his wife, Judy, to set up the phone call. It was sad news to hear of Ed's death on January 8, at age 81.
Well, I have written a few hit songs. That's what I came to town to do. I worked fulltime to the point where I was a dedicated musician songwriter. I came to go to work in the music business, writing. I didn't write "Sheila" [for Tommy Roe]. The song I wrote was on the B-side of "Sheila." Which sold just as many copies.
No, I haven't switched to gospel music. I'm doing Christian music because I have been born again. I don't write the country music that they're calling music today. Pickup trucks and drinking beer and all that kind of stuff. I don't have any–I got a pickup truck, and there's a beer in the refrigerator. But, y'know, everything sounds alike. It's partying on the tailgate. So I was–March 26, 1997–I was born again, and I began to write some Christian music, but I haven't forsaken what I call country music, but I write mostly Christian music.
I'm pretty much retired. I'm 75 years old. I've done this a long time. I cut out the long trips. At times I do a long trip with a day or two in front and back of it, so I can take my time getting there and take my time getting back home. And relaxing. Maybe spend some time with some friends. It's got to be, just about anywhere I go, I've got some friends.
We are on the western edge of the Cumberland Plateau, which goes into the Appalachian chain, y'know, the Smokies. We're about halfway between Nashville and Knoxville. It's pretty hilly. Nice simple mountains, not like the Rockies. It's a lot older, too. This range in here is much older, and smoothed off a little bit–worn down.
I'm still involved in doing voiceover work for commercials, and whatever comes along that they want my voice on. Documentaries, several projects I've done for NPR, and commercials, I'm still fairly actively involved in doing that. I've got maybe some film work in the offing. A screenplay that a friend and I wrote. Without going into any detail, there's a Hollyweird producer who has expressed very positive interest. I've been involved in acting for quite a few years. They have discussed, relative to this project, that I might do some of the directing. I don't know how that would work. I don't know if you co-direct with somebody. I don't know, but possibly some music for some of it. I'm open to anything that's honest. Anything that my kids could see.
I used to tour Europe a good bit. I've been to Australia and New Zealand. I've done concerts in the Netherlands. In fact, the first time I ever went to Europe, I think it was to the Netherlands. That would have been back in the early '80s. That was quite an experience, going over there. We had soundcheck in the afternoon, before the concert, and there was these fans showing up at soundcheck. I was told that when it was announced, it was sold out in no time. Very quickly. They liked the traditional cowboy stuff. There were people from everywhere. Of course, Europe is not that big, when you compare it to the United States. So I'm in the Netherlands, and people are there from Italy. I worked in Denmark, I worked in Switzerland, Sweden, Germany, of course, England, Ireland. That was interesting, the first time I went to Ireland. I've been to Ireland a couple of times. But when I went to Ireland, we stayed in a hotel which at the time was the most bombed hotel in the world. When we pulled into the lot, there was a fence, and a guard shack by the gate, around this hotel with razor wire at the top of the fence. I never got out of the hotel except to go to soundcheck and do the concert.
What else do you want to know about? Just tell your readers I'm slowing down, I'm pulling back a little bit, but that I thank them and I love them for their support over the years. Probably the most current photo would be one of the pictures from the Christian CD session.
SONG OF THE WEEK
When Dolly Parton married Carl Dean in 1966, as she often tells the story, he didn't ask if she'd had sex with anyone. "We were married for eight months, happy as we could be," she says, "and all of a sudden he decides to ask. I told him the truth, and it broke his heart. He could not get over that for the longest time. I thought, 'Well, my goodness, what's the big damn deal?'" So she wrote "Just Because I'm a Woman" to challenge the double standard: "Now a man will take a good girl/ And he'll ruin her reputation/ But when he wants to marry/ Well that's a different situation." She reminds him, "My mistakes are no worse than yours/ Just because I'm a woman." The song was recorded as the title track of her second album, released in 1968. Although not a top ten hit, it has become one of her standards, and it's always been one of my favorite Dolly Parton songs.