IN THE SPOTLIGHT – HOWARD BELLAMY
When I called Howard Bellamy for a chat, he was enjoying the 70-degree weather and the sunshine in Florida while I was waiting for a blizzard in South Dakota. He told me we Dakotans should come to Florida. He lives on the Bellamy family ranch near Darby, just north of Tampa. About forty years ago, he and younger brother David both built houses on the ranch. Their nephew lives in the original house where the brothers grew up, and that's also where they have their offices.
It's a working ranch with several hundred acres, home to purebred Brahman cattle and quarter horses. They are back to just the homeplace now, but in previous years they owned cattle operations in other states. The Bellamys host a reality TV show, Honky Tonk Ranch, which airs on the Circle Network. Each episode shows their unpredictable adventures as they balance their touring schedule with running their family ranch.
The Bellamy Brothers, Howard and David, were in the middle of a tour with Blake Shelton almost a year ago when the coronavirus hit. The Friends and Heroes Tour was canceled, and with everyone at home during the pandemic, Howard says he's extremely grateful to live on a ranch and have plenty of room. They have begun touring again, and their website (https://Bellamybrothers.com) carries a steady schedule for this year, including one European tour in June and another confirmed for 2022.
They have had a strong international presence ever since "Let Your Love Flow" in 1976, followed by "If I Said You Had A Beautiful Body (Would You Hold It Against Me)." That single was their biggest Billboard hit. It reached number one in the spring of 1979 and held the spot for three weeks. I told him it has always been my favorite Bellamy Brothers song.
David wrote the song, and Howard says the title came from Groucho Marx: "He'd say, 'If I said you had a beautiful body would you hold it against me?' and shake his cigar and raise his eyebrows. Our family always had a weird southern sense of humor and they'd use that line a lot. So it just came one day that it'd be a great song title." David wrote, "But daddy always told me 'Don't make small talk.'/ He said, 'Come on out and say what's on your mind.'/ So if I said you had a beautiful body/ Would you hold it against me?"
Howard, 74, and David, 70, now have their own marijuana line. Florida's medical marijuana law went into effect in 2017. Howard told me he was checking out the products one day, being someone with years of expertise, and he noticed Jimmy Buffett had his own brand–Coral Reefer cannabis. Howard decided right then the Bellamys should have a brand called Old Hippie. He and David partnered with the Florida-based medical marijuana company, Trulieve, which is one of the three top companies in the business. After several years of political back-and-forth, they launched Old Hippie Stash, which is now available in Florida, Connecticut, and California. Howard's philosophy is: "Alcohol is manmade, but God made marijuana. So that should tell you which is better for you." He says since he and Willie Nelson are both still alive, that shows marijuana is a good thing.
NEWS
Carter Alexander "Corky" Howard, middle son of Jan Howard and Mearle Wood, died January 11 at age 71. He is survived by his wife of 50 years, Pamela, and their two daughters and families. Following his service in the U.S. Army as an Airborne Ranger in the 101st Division, "Screaming Eagles," Corky moved into real estate management as owner of The Carter Company, Inc. His mother, Jan Howard, who had divorced her sons' father in 1953, died last year at age 91. Jan's eldest son, Jimmy Howard, died in combat in Vietnam in 1968, and her youngest son, David Howard, died of suicide in 1972. When Jan wrote her autobiography, Sunshine and Shadow, in 1987, she dedicated it to Corky.
Jimmie Rodgers, sometimes confused with "Singing Brakeman" Jimmie Rodgers, died January 18 at age 87 in Palm Desert, California. According to Best Classic Bands, no cause of death was reported. Born in 1933, the Washington native served in the U.S. Air Force and was stationed in Korea in 1952. While singing in local clubs after being transferred to Seward Air Force Base in Smyrna, Tennessee, he learned the song "Honeycomb," written by Bob Merrill. In 1957, Roulette Records recorded him singing "Honeycomb," which became a number #1 pop song and country top ten. "Kisses Sweeter than Wine" followed. His career was derailed by a brutal beating in Los Angeles in 1967. He published his autobiography, Dancing on the Moon: The Jimmie Rodgers Story, in 2010.
Randy Parton, younger brother of Dolly Parton, died of cancer on January 21, at age 67. "Randy was a great singer, writer, and entertainer," Dolly wrote on Facebook when announcing his death. "He sang, played guitar and bass in my band for many years. He headed his own show at Dollywood since it opened in 1986. He's had several chart records of his own, but his duet with me on 'Old Flames Can't Hold a Candle to You' will always be a highlight in my own career." Randy appeared on Dolly's 2020 Christmas album, A Holly Dolly Christmas, singing with Dolly on "You Are My Christmas." Dolly tells the Tennessean, "He was born around Christmas time and he was our Christmas baby. We always called him 'Christmas' just for fun. … I just thought, well, I'm gonna write a song for him to sing with me." Randy was born December 15, 1953, in Sevierville, Tennessee, one of 12 children of Avie Lee Owens Parton and Robert Lee Parton, Sr.
Dr. Jill Biden invited Garth Brooks to perform at the Inauguration Day ceremony on January 20. According to the Tennessean, Garth described his acceptance of her invitation as "how I get to serve this country." He said at a press conference, "This is not a political statement. This is a statement of unity." He told the media, "You are all welcome at a Garth Brooks concert, and the whole mission of a Garth Brooks concert is for the people that come watch the show to leave the show lovin' each other more than when they came in. That's never going to change for me." Standing on the stage at the West front of the U.S. Capitol building on January 20, Garth removed his hat and sang "Amazing Grace" a capella. Before the last verse, he told the audience, "I'm going to ask you to sing this verse with me. Not only the people here but the people at home, those at work. As one, united." After his song, he shook hands with President Biden, Vice President Harris, and former Vice President Pence. He hugged former Presidents Obama, Clinton, and Bush, and the former First Ladies. Newsweek reports some viewers complained that he ignored social distancing guidelines, even though everyone on the platform had twice tested negative for COVID-19. Others complained that he turned down the invitation to perform at Donald Trump's 2016 inauguration. He had been booked that weekend for sold-out concerts in Cincinnati.
A new bill in the Tennessee State Legislature, filed by Representative John Windle, would require Tennessee's State Capitol Commission to develop and execute a plan to erect a statue of Dolly Parton on the Capitol grounds and facing the Ryman Auditorium. According to the Tennessean, the commission was created by the legislature in 1986 to oversee the restoration and preservation of the Capitol Complex. The bill would create the "Dolly Parton Fund" to raise private funds for the design, construction, and maintenance of the statue. The public could offer suggestions for the statue's design. "Is there a better example, not just in America but in the world, of a leader that is kind, decent, passionate human being?" Windle asks. He has not spoken to Dolly about the bill. "The only connection Dolly Parton and I have is that we are both hillbillies," he says.
AXS TV presents The Big Interview with Dan Rather on January 27 at 7 p.m. CT, with Randy Travis and his wife, Mary, appearing via Zoom as the guests. A press release reports one of the topics discussed will be Randy's surprise rendition of "Amazing Grace" at the 2016 Country Music Hall of Fame induction ceremony. Two years earlier, he had worked on the song in physical therapy. It took two months of effort to form the letter 'A,' with the following letters coming much faster. When they started preparing for his performance, Mary recalls, "We spent probably six hours a day running through that song, trying to get through all four verses and learning the words."
When the Supreme Court refused in December to hear a case to throw out Pennsylvania votes and overturn Joe Biden's victory, music journalist Adam Gold sent a tweet to ask if John Rich (of Big & Rich) was still confident Donald Trump would be sworn in for a second term. John replied, "VERY confident! Let's make our bet official. We both put 10k into an escrow account and if Biden is sworn in as POTUS, I lose my 10k, but you have to DONATE it to @FoldsOfHonor. If Trump wins, I'll donate your 10k to a charity of your choice. Deal?" Immediately following the inauguration ceremony on January 20, John Rich tweeted, "It's a good day for @FoldsofHonor as they are receiving a $10,000 donation to fulfill the charitable wager made between myself and a Biden supporter. #FoldsofHonor puts kids through college who lost a parent in combat, and it's the #1 military charity organization in America."
R&B star Jazmine Sullivan and country singer Eric Church will sing "The Star-Spangled Banner" before Super Bowl LV in Tampa, Florida, on February 7. It will be a live, not virtual, performance. Previous country stars who sang the national anthem at the Super Bowl include The Dixie Chicks, Faith Hill, Garth Brooks, and Charley Pride. Most recent were Carrie Underwood in 2010 and Luke Bryan in 2017.
Recipients of the 2020 Kennedy Center Honors will be Garth Brooks, 58, actor Dick Van Dyke, 95, choreographer and actress Debbie Allen, 71, singer-songwriter Joan Baez, 80, and violinist Midori, 49. The 43rd annual national celebration of the arts was postponed from December until this May because of the COVID-19 pandemic. Garth is a member of the Country Music Hall of Fame, seven-time CMA Entertainer of the Year, and the best-selling solo artist in music history.
Ashley McBryde tells The Country Daily what inspired her at age twelve to want to move to Nashville. It was Lacy J Dalton's "16th Avenue," written by Thom Schuyler: "God bless the boys that make the noise on 16th Avenue." She asked her mother, "Where are they going with everything they own tucked up underneath their arms? Where is that? …they will walk away from everything they know to go there." Her mom told her 16th Avenue was in Nashville, Tennessee, and she said, "Then that's where I'm going to go. That's what I want to be."
President Trump awarded the National Medal of Arts, the nation's highest award for the arts, to eight people during a closed press ceremony. Toby Keith and Ricky Skaggs were two of the recipients. Ricky's award was delayed almost a year because of the COVID-19 pandemic. MusicRow informs readers the National Medal of Arts is the highest award given to artists and arts patrons by the United States Government. A White House statement said Toby was honored "for making extraordinary contributions to American music. Rising from humble beginnings in the oil fields of Oklahoma, Toby Keith has become one of the preeminent songwriters of his generation." Ricky was honored "for his contributions to the American music industry. A virtuoso of the mandolin and fiddle, Ricky Skaggs creates and produces bluegrass music that preserves the musical legacy of the most talented artists of his generation."
Willie Nelson and his wife, Annie, got their COVID-19 vaccinations at a drive-up clinic in Cedar Park, Texas, on January 13, after registering online. "We're lucky," Annie tells Rolling Stone. "We made sure [he] wasn't cutting anybody — in fact, the healthcare workers were kind of angry that we had waited so long, because he is 87 years old and has COPD." Willie's sister and piano player, Bobbie Nelson, 90, also received the Moderna vaccine.
Grand Ole Opry: 95 Years of Country Music will air on NBC on February 14, reports Sounds Like Nashville. Brad Paisley and Blake Shelton will co-host the two-hour television special that commemorates almost a century of uninterrupted Opry broadcasts. The tribute will showcase original performances and rarely seen archival footage, with modern artists shown alongside film clips of classic heroes.
MusicRow reports that Larry Willoughby, former Vice President of A&R at Capitol Records, died January 14 at age 70, after contracting COVID-19 while battling Alzheimer's disease. Born in Houston, Texas, in 1950, he married his high school sweetheart, Janet Howard Willoughby, before moving to Nashville to be in the music industry. Last year they celebrated 50 years of marriage. He once served as tour manager for Rodney Crowell and Rosanne Cash and, in the 1990s, was Director of A&R at MCA/Universal Records. While Vice President of A&R for Capitol Records Nashville, he worked with Keith Urban, Trace Adkins, Eric Church, Dierks Bentley and Luke Bryan. As a songwriter, he saw his songs recorded by Waylon Jennings, Rodney Crowell, Eddy Raven, the Amazing Rhythm Aces, the Oak Ridge Boys, and others.
According to the Phoenix New Times, the former Grand Avenue country music nightclub known as Mr. Lucky's is for sale. The 20,865-square-foot property sits on land valued at $489,700. Mr. Lucky's was opened in the mid-1960s, and Waylon Jennings, Glen Campbell, Wanda Jackson, Charley Pride, and Marty Robbins were some of the stars who regularly performed there. The building became a furniture store in 2015 and has now been vacant for several years. It has been listed for sale several times without buyers. Mr. Lucky's towering neon sign still stands outside, depicting a jester-like harlequin above a large marquee that once advertised the entertainers scheduled to perform at the club.
The keynote speaker for the South by Southwest (SXSW) Conference and Festival Online will be none other than Willie Nelson. MusicRow reports SXSW Online has announced fifty featured speakers and over 230 sessions during the March 16-20 conference. "No individual has had the cultural impact on, or been more synonymous with, the creative vibrancy of Austin than Willie Nelson, and we are incredibly honored to have him as a SXSW Online 2021 Keynote," says Hugh Forrest, Chief Programming Officer.
The Advocate in Baton Rouge, Louisiana, recently interviewed singer-songwriter James Dupré, 36, who grew up in the area. Despite his French heritage and the Cajun music influences, he preferred country music. His favorite singers as a child were Randy Travis and Vince Gill. James became an EMT paramedic, like his father, and practiced songwriting and guitar. In 2007, he filmed himself singing Tim McGraw's "If You're Reading This" and posted the recording on Myspace and YouTube. His YouTube debut got a great response and he continued to make videos. They resulted in him being selected in 2013 to play the role of Randy Travis's son in the movie The Price. He appeared on NBC's The Voice in 2015 and was named in 2016 by Rolling Stone as one of "10 Country Artists You Need to Know." He is looking forward to the return of in-person concerts, once the COVID-19 pandemic ends.
Randy Travis has received a shout-out from Texas, in the form of a Saving Country Music article. Randy was born and raised in North Carolina, made his name in Nashville, and now lives in Texas. He moved in 2010 to the Chrysalis Ranch in Tioga, north of Dallas. He and his wife, Mary, regularly appear at venues in the Dallas/Fort Worth area to support the music community. "Randy Travis wasn't born or raised in Texas, nor did he launch his career from the state like so many of country music's finest," the article says. "But he's in Texas now, and the state couldn't be more proud."
For anyone who wants to listen to hours of classic country music, I highly recommend Country Legends Jukebox, a weekly radio show hosted by Jay Dean in Aberdeen, South Dakota. All 200 two-hour shows are archived at https://countrylegendsjukebox.com, with the first one dated April 2, 2017. Episode 199 from this month contains an excellent tribute to Ed Bruce and Jamie O'Hara. Thanks to brother Keith for telling me about Country Legends Jukebox.
LETTERS
Jean Earle writes from England, "What sad news you have sent to us. Ed Bruce has died …Oh dear, it gets worse and worse. Can I ask you to please send on our condolences to Judy, his lovely wife. WE have played his songs, and enjoyed them for so many, many years…and all those other deaths. This wretched illness. Please ask your readers to take the vaccinations, it's the only way we can hope to stop the spread. Alan and I had our injections today…. painless… and with the help of the lovely medical staff…we hope we have tried to halt the 'bugs' progress. We are grateful for your most interesting newsletter and we look forward to hearing all your GOOD news. Don't give up!! things have got to get better!! After reading your write up about Ed Bruce we took out our collection of his albums. I had not realised Alan had stored so many in his den. It has been wonderful playing them again. Such a great voice, good songs, lovely stories in the songs…some beautiful, some sad…i.e. 'The Last Cowboy Song.' The end of some of the things that made America great. Plus, he was a very good-looking guy. I took pictures of some of the albums ….may come in useful one day…..maybe, when you write your book on Ed Bruce…..!!?? Seriously Diane, could you write a book about Ed Bruce? He deserves to have his life and times put into print."
Diane: Yes, he deserves a biography, but I won't be the one to write it. I expect Randy Travis to be my final project. Writing a biography takes an amazing amount of effort and plenty of money. Judy Bruce receives this newsletter and should see your message to her.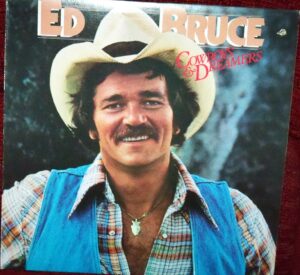 Mike Johnson says, "Nice issue. Sad news about Ed Bruce. Can't count the number of times I've performed 'Mamas Don't Let Your Babies Grow Up to Be Cowboys' and 'Texas When I Die' over the years. The latter was particularly popular when I performed a number of Oprys in the Santa Fe, Texas area during the 1990s. Jack Blanchard and Misty Morgan are good people. I know Jack is taking it hard. My condolences to him. Not much happening on this end except editing some videos to post, and formatting another novel for publishing."
Jackie Allen Thomas writes from Sun City, Arizona, "I have passed your newsletter on to other musicians who have signed up and they truly enjoy this. So sad this time to read of all the deaths, so much music left unsung with the passing of these great songwriters. Keep sending out this great newsletter with country news that we so seldom hear about in any other media. Thank you so much."
John Krebs in Texas says, "Such a sad newsletter with all the Covid 19 victims and I'm so sorry to hear about Misty. They're such nice people and Jack has been very accommodating answering questions through YouTube comments with me. The question from Mary Lorefice about Charly McClain reminded me that back in the mid '80s I installed the alarm system in Bill Kenner's house in Pasadena Texas and I vividly remember looking over his Paradise Tonight awards he had displayed. We put the alarm system in Mickey Gilley's house too. P.S. HEY,, Cal Sharp,,, share some hilarious Faron road stories with us already."
Larry Wilson requests, "I would appreciate receiving your 'Diane's Country Music Newsletter.' Thank You so much…a friend told me about your newsletter."
Marty Rimpau writes from Oakland, California, "One of your subscribers, Nancy Lynn, sends your newsletter to a list, primarily for the blind, the Our Place list, and I thought I'd make a small correction, if you don't mind. 'See the Big Man Cry' by Ed Bruce came out around Thanksgiving of 1963, and bubbled under at 109, apparently on the Billboard chart, but since I have the Whitburn reference files, I couldn't find any of Ed Bruce's songs in there, at least up to 1975. This information came from Topshelf Oldies, and the Hi Five Party with Tim Tilson from 8 to 11 pm East Coast time on Monday night. Please add me to the Diane's country music newsletter."
Diane: Ed Bruce wrote "See the Big Man Cry," and Charlie Louvin had a #7 hit with it in 1965. I wasn't aware that Ed recorded the song; his singles first hit Billboard in 1967.
Tommie Ray from Alabama says, "Thanks for this letter. I grew up with country music. The first song I ever learned was 'Amazing Grace,' which Carl Smith made a recording of in the 1950s. I remember all the old singers like Lefty Frizzell, Webb Pierce and Marty Robbins. I believe my favorite country song was 'El Paso.' My mom used to call the song Elapaso. Has Tommy Collins died? I remember him also."
Diane: Tommy Collins (Leonard Raymond Sipes) died in 2000 at age 69.
David Markham writes from England, "Sad news about Ed Bruce, at least he died of natural causes. R.I.P. Ed. Sad news about Misty Morgan they were well known in the world of country music and the UK. R.I.P. Misty. The O'Kanes were great singers lovely sound and fantastic Vocals from them both. I have one of their new LPs out of 3. Thank God Red Steagall is home and doing well."
Dominique 'Imperial' Anglares writes from France, "Thank you very much for that newsletter sadly carrying a lot of bad news. Time is nobody's friend and that nasty Covid-19 really kills among our troops. Anyway, thank you for breaking the news, bad or good. Thanks for the space given to my words and those of Bob Jennings and Edwin Bruce. Keep the good work going on all through 2021."
Bob Jennings says, "Newsletter full of good info that is excellent reading. Thanks for inserting my tales about me and my visits to country music shows, etc."
IN THEIR OWN WORDS
When I started my research for Faron Young's biography, I did a phone interview in 2000 with Ray Young (Harlan Ray Young, Jr.), Faron's older brother. He and wife Katie lived in Crowley, Louisiana. Ray died in 2005 at age 77.
We were raised poor. Old man never did have too much of a job. My mother didn't have any education–third grade education. She couldn't earn money other than washing and ironing. She did take in washing and ironing for a while. In the 1940s my daddy went into the dairy business. So we moved out of town. When we first went in the dairy business, Faron was too young to go down to the barn and milk. I had another brother named Oscar. He was just one year older than Faron. Oscar, me and my sister, and my oldest brother would do the milking. My oldest sister never did go to the barn to milk. As time went on, Faron got a little older, and he had to come to the barn. But he had a talent when he was real young, to sing. He sang all the time. He sang more of them popular songs, not western ones.
We stayed in the dairy business, which was a very, very poor business. It was a tyin'-down business, twice a day milkin'. We lived in a house that didn't have any bathroom, drinking water, any water, it did have heat. It was just a two-bedroom home, no bathtub, no nothin'. That's how we lived for a long time, running that dairy. My oldest brother finally went off to war, fighting Japan. That left me, bein' the oldest one in the dairy. Faron started coming to the barn. So it was me, my youngest sister, my brother next to Faron, and Faron in the barn. That was something to see. We fought over the water buckets to wash the barn down every day.
We had Longhorn, and Big Cow, and the Wilson Cow. We had one named Mussolini; it looked like that Mussolini. We named all the cows. We had one called Bob Tail. We had one called Third Cow; it had the third stall. We had one we called Wild Cow, because we couldn't hardly milk her. When she had a calf, you couldn't take it away from her, she was so mean. We had about a hundred head of cattle. In the dairy business, you'll have cows coming fresh in the wintertime–you gotta to keep your milk production the same the year around. It's a poor life, I tell ya. It's no life at all. You gotta get up at 3:30 or 4 in the morning; you get through and you had to get going and catch the school bus about, oh, I guess, 7:30, maybe 6:30, after milking all them cows. Then you had sick cows to doctor, you had fences to fix, the board of health was constantly on you, about milk quality, manure too close to the barn, you never did know when they would come.
I was about sixteen, I went off from home, and went to the oil field, right out of Lawton, Mississippi, a little field called Heidelburg Field. Faron and them stayed and milked for the longest. Faron would go off–people'd come get him and carry him to sing. He'd sing in all the plays at Fair Park, grammar school was at Warner Park, and he'd sing at all–he got mixed up with some guy named Coach Floyd, he had a hillbilly band. They played all over Shreveport. They couldn't play in any honky tonks on account of Faron's age. People was after him to sing. Faron come to see me one time, I was living in Columbia, Mississippi. He had run away from home, and he came over to live with me a while–worked in a drug store. We finally talked him into going back home and finishing school. I went to school eleven years, which was all that was required. Faron dropped out for a while, but I told him how important education was. I was working for contract oil field workers, and they were rough. I didn't want Faron have to live through that. He just wanted to get away from that dairy. We all hated the dairy, our whole life.
They finally moved the dairy way out on old Jefferson Highway, right out of Shreveport. Faron was still milkin'. Daddy hired an uncle to come live there. Him and Faron was the only ones left there. Our other little brother got killed, the one just older than Faron, in an auto wreck, comin' back from a football game in Gladewater, Texas. Faron stayed there and milked cows a long time with his uncle, and him and his uncle couldn't get along. So anyhow, Faron went ahead and finished high school. Doin' all that music, goin' to high school, but he was real popular, singin' different country-western songs and popular songs. He'd sometimes sing so loud the cows would come up out of the pasture. He sang all the time. We even liked to hear him sing. We'd ask him to sing a certain song that we liked, popular or country-western.
Faron went to work one time, before he was singing, he was selling siding and windows, I can't remember what time that was, but that didn't last long. Just during the summer, he sold windows and stuff, trying to make a little money. I think he still had to milk, too. He was a good announcer, now. I tell you, he could talk. And when he got in that music business, you could not tell him nothing. When he got a little older, married, you couldn't tell him nothing. He didn't listen to nobody. But he always had a good joke to tell, or keep you laughing. He loved to entertain.
When we first had a radio, it was operated by a car battery. It was what they call an old Philco radio. It had a big metal box, the outside cabinet was metal, about two and a half foot long and about eight inches high. It had a separate, big old speaker. A big old oscillating fan set behind it. It run on a battery. Sometimes late at night, you'd hear the heavyweight championship fight. It was hard to get, it was way off. In the daytime we could get Shreveport real good on it. Then we got electricity, and we could use electric radio. We used to get Eddy Arnold, Corina show in the daytime, we had Bob and Joe and the Sunshine Boys, they had Jimmie Davis on KWKH. Bob and Joe Shelton, they was a hillbilly band there in Shreveport, over KWKH.
We never had alcohol in our house. I never seen a beer, any kind of alcohol in my house, they didn't have the money to buy it. For a long time we didn't have a refrigerator, we had an icebox. But there was never–when I was a kid at home, with Faron, that I know of–that they had any kind of alcohol in the house. When he went to Nashville is when he started drinking. Every one of them drank. I went to Nashville one time to see him, and he took me around to every big recording studio they had. And every door we'd go in, somebody'd offer us a drink. I got almost drunk. I'm talking about RCA and Capitol and whatever. They was always celebrating, and they'd hand you a drink wherever you went. It's not hard to be an alcoholic in Nashville, I don't think.
I never will forget that house on Seymour Street. A fellow by the name of A.J. Spain had a big lumberyard, and he had several houses he rented. That was the name of the guy we rented the house from. It wasn't but $18 a month. My uncle rented a house from him down on Hoadly Street. Faron was born on Hoadly Street. Faron, Oscar and Louise all was born at home. We had a doctor named Dr. Whittington, and he smoked cigars. He'd come to the house, and he smelled like a cigar. I'd get right up close to him where I could smell the cigar. I loved to smell somebody smoking a cigar. Now I don't even smoke. We lived in the Hoadly house and then moved to Seymour. I think the rent was $5 cheaper.
Faron learned how to cuss when he could understand language. My daddy cussed every other breath. My ol' man never did use a sentence without a cuss word. My daddy was mean. He was mean to Faron, too. Mama loved him, though. Mama would let him do anything. But Daddy, boy, he was strict, strict, strict. To us, a penny looked like a hubcap on a Cadillac. We never did have any money. That's the reason I run away from home. I just couldn't stand no more of it, and I went to the oil fields. Now I'm retired from Exxon. I had 33 years with Exxon. I bought a house, I got a dadgum good retirement, and I invested in the stock market, and we just making a good living. Drawing good Social Security. I'm 72 years old, I'll be 73 in September. My wife will be 73 in May. We've been married, it'll be 55 years in May we've been married. I'm getting to be a old man.
SONG OF THE WEEK
"Just because I'm blonde, don't think I'm dumb. Cuz this dumb blonde ain't nobody's fool." Doesn't that sound like something Dolly Parton would write? Well, she sang it, but she didn't write it. Curly Putman wrote "Dumb Blonde," which was Dolly's first single to appear on the Billboard chart, in early 1967. She recorded for Monument Records before Chet Atkins signed her to RCA on the recommendation of Porter Wagoner. Dolly celebrated her 75th birthday last week, on January 19.
BOOK REVIEW
I recently reread Boxcar Willie: My Life Story, published in 1995 by Boxcar Willie AKA Lecil Travis Martin. He talks directly to the reader while telling his story in a series of individual paragraphs separated by blank lines. "My wife tells me I am a little bit different from other people," he writes, "so why not make my book different and not have chapters." He also doesn't use dates; I had to refer to the bio on his website to learn when major events happened. From 1949 to 1976, the native Texan served on-and-off as an Air Force flight engineer, alternating with being a deejay and singing in bars, as well as various other jobs to feed his family and try to stay above the poverty level. Waiting at a railroad crossing one day for a train to go by, he saw a hobo sitting in an open boxcar, and the man looked like an Air Force friend of his. He said, "My god, there's Willie in a boxcar." He pulled over to the side of the road and wrote a song called "Boxcar Wille." Several years later, he debuted his Boxcar Willie act at the Yellow Rose in Corpus Christi, Texas. (That is the nightclub where I saw performers such as David Allen Coe and Asleep at the Wheel). His first fame came from a performance on TV's The Gong Show. He was a major star in Great Britain before he became a star in the USA. He worked on Boxcar Willie: My Life Story for ten years and published it while he owned BoxCar Willie Theater in Branson, Missouri. A year later, he was diagnosed with leukemia. Lecil Travis Martin died in 1999 in at age 67.