IN THE SPOTLIGHT – NARVEL FELTS
When Narvel Felts, 82, called me last week, after Dallas Wayne arranged our phone interview, I asked what he's been doing to stay busy. "Right now, I'm pretty close to the house," he said. He goes to the grocery store and Walmart once a week. He and his wife, Loretta, receive a weekly visit from their daughter, Stacia. "Every few days, on a pretty day," he told me, "I'll take Loretta for a drive. I enjoy driving Miss Loretta." They will celebrate their 58th wedding anniversary on April 30.
Narvel was performing regularly until the pandemic hit. His last show was at the Surf Ballroom in Clear Lake, Iowa, on February 1, 2020—the annual show to honor Buddy Holly, Richie Valens, and the Big Bopper. Performers that night were Marty Stuart, Linda Gayle Lewis, Narvel, Sonny West, and Albert Lee. Among previous shows in 2019, he had done several with Leroy Van Dyke's Country Gold packages. He is waiting for the pandemic to end so he can start performing again.
"This would be my 65th year in the music business, of working steady and making our living that way," he says. "I've been getting my guitar out once a week, and I'll stand and sing for an hour, and play, to keep myself in shape to do it again when they come back." He's had several offers, but he tells the promoters he'll see them the other side of the pandemic. His only performance currently on the books is a tentative date the first week of December in Spartanburg, South Carolina.
"I had already been in the business seventeen years when 'Drift Away' was my first big hit," he recalls. "It came along in '73." It was his first Billboard charting song, rising to number eight. He then moved from Cinnamon Records to ABC/Dot and "had a good run for the rest of the '70s." His streak included "All in the Name of Love," "Reconsider Me" (his highest, at number two on Billboard), "Funny How Time Slips Away," "Somebody Hold Me (Until She Passes By)," and "Lonely Teardrops." Although his last hit was "Everlasting Love" in 1979, he continued to chart on Billboard through the 1980s.
Narvel started his recording career in 1956, at age 17, recording for Sun Records and then Mercury and Pink and numerous other labels. Music rescued him from chopping cotton. "I was thankful when it came along," he says. "I haven't had to pick another boll of cotton since I was sixteen, in 1955." He spent much of 1959-60 touring in Canada, after being recommended by Conway Twitty, who was playing a Canadian circuit before "It's Only Make Believe" came along. Narvel's 1970s hits in the USA were also hits in Canada, and he returned to Canada to appear on national country TV shows such as The Tommy Hunter Show, Grand Ole Country, and Funny Farm.
"About the time my country hit streak was going away," Narvel remembers, "I had a call wanting me to come to England. Of course, I had been going to England and Germany and New Zealand and different places doing my country hits." A promoter wanted to book him in Cardiff, Wales, to do '50s rock 'n' roll. Narvel asked him, "Do you mean 'Great Balls of Fire' and 'Johnny Be Good'"? He said, "Oh, no. We want you to sing your songs." There was a rockabilly revival in the European countries. Thinking of his '50s recordings, Narvel says. "I thought all those records were something that didn't happen at the time, and then all of a sudden an audience across the ocean wanted to hear them. It was quite a surprise."
For years after that first show in Cardiff, until 2017, Narvel headlined festivals from Finland to France, from Sweden to Spain, from Italy to England. At the 2017 festival in Hemsby, England, near Great Yarmouth on the North Sea, he told the promoter he didn't think he wanted to make that long trip again.
Narvel was part of Slim Whitman's farewell tour in England, Scotland, and Northern Ireland in 2002. "We did twenty shows in thirty days," he says. "I had always been a Slim Whitman fan. To get to go out and travel and do all those shows with him was nice. He was 79, and he hit every note, every night."
I asked what message Narvel had for my newsletter readers. He answered, "Thank you for liking my records and for accepting me as an artist all these years, and I miss seeing all of you. I've enjoyed touring all over the United States and several countries around the world, and getting to meet a lot of wonderful people. I still consider a lot of them my friends, that I've met through the years." He invites Facebook users to check out "Narvel Felts (Official Facebook Page)," which daughter Stacia runs. "I don't have a computer myself, so I don't see it," he says, "but she shows me things on her phone when she comes over."
When he mentioned that Dallas had told him I'm a retired Navy captain, he asked, "In the Navy, a captain is a lot higher than in the Army, right?" I said it's the same as a full-bird colonel, and he responded, "Well, I need to be saluting you over the phone here then." That told me he'd been in the Army. I asked about his service, and he said he'd spent six months in the U.S Army, in 1961, and six years in the National Guard unit at Poplar Bluff, Missouri. "I did the drills and the summer camps from '61 to '67," he said. "I had to rework my schedule around the summer camps, but I did. The Berlin crisis came along late in '61, and some of the people got activated, but we didn't." Nor did they get activated for Vietnam.
Narvel concluded our interview by saying, "To each and every one of you that will be reading this, hello to you and thank you."
NEWS
A press release has announced that Kris Kristofferson, 84, officially retired last year, after a 55-year career. His son, John Kristofferson, now oversees the family's businesses, in conjunction with his longtime PR director, Tamara Saviano, and management representation by Morris Higham Management. There will be continuing projects. Kris gave his final performance a year ago on the 2020 Outlaw Country Cruise, with his final song being "Please Don't Tell Me How the Story Ends."
Jesse Donald Tucker, 76, brother of Tanya Tucker, died January 12 in Nashville, of COVID-19 and dementia. Tanya posted on social media that she went to see "big brother Don" in the hospital. "He didn't recognize me," she said. "I hadn't seen him in years, but I felt like it might be the last time I'd see him. He was frail and I knew his time was near. We sang and I told him stories hoping to jog his memory." She added, "I feel sorry that we didn't have the relationship we should have had, but all is forgiven just like I wrote and sang on 'Bring My Flowers Now.' All that came between us was now so very unimportant and small." Don is survived by sisters LaCosta and Tanya, along with three children and their families.
It's been fifty years since Loretta Lynn topped the charts with "Coal Miner's Daughter," which was added in 2009 to the National Recording Registry of the Library of Congress. On February 27, PBS will air a documentary, Loretta Lynn: My Story in My Words, which will include new and old interviews, along with classic performances. CMT.com reports the documentary will chronicle her journey from a one-room log cabin in Kentucky to her becoming one of the most-awarded musicians and songwriters of all time.
A Warner Brothers biopic, Elvis, is currently shooting in Australia. Austin Butler stars as Elvis Presley, Tom Hanks as Colonel Tom Parker, and Olivia DeJonge as Priscilla Presley. Deadline reports director Baz Luhrman is "adamant about mixing big music stars and up-and-coming talent to create authenticity and sincere cultural engagement." Gary Clark Jr. will play American blues singer-songwriter Arthur "Big Boy" Crudup and Yola will play Sister Rosetta Tharpe. Kelvin Harrison Jr. has been added as B.B. King and Alton Mason as Little Richard. The story focuses on the relationship between Elvis and Parker, which lasted more than 20 years, against the backdrop of the evolving cultural landscape of the United States.
The new Apple Fitness+ Time to Walk program includes Dolly Parton as one of the stars sharing stories, photos, and songs that users can walk along to, reports PEOPLE. Dolly invites them to "take a walk down memory lane with me and we can all feel a little more freedom taking the time to walk together." One of the stories she tells is about her father and the statue erected of her at the Sevier County Courthouse in Sevierville, Tennessee. "I remember myself being so proud of that statue," she says. "I thought, 'A statue of me in the courthouse yard? That's usually reserved for presidents and people that have done really great things like that.' I went home and I said, 'Daddy did you know, they're putting a statue of me … down at the courthouse?' And Daddy said, 'Well yeah, I heard about that.' And he said, 'Now to your fans out there you might be some sort of an idol. But to them pigeons, you ain't nothing but another outhouse." Dolly then describes how he would take "a bucket of soapy water in the back of his pick-up truck" to clean the statue at night. "That touched me so much," she says.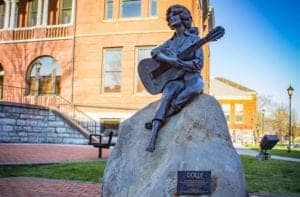 The new Bellamy Brothers music video, "No Country Music for Old Men," features John Anderson and mourns the loss of some of country music's greats: . "Kenny Rogers passed away on March 20, and I wrote the song that night," David Bellamy tells The Boot. While writing it, he kept hearing John Anderson's voice singing the lines in his head. So he asked John to collaborate on the track. "I've known David and Howard for over 40 years," John says. "I have always been a fan and loved their music and their style. It's an honor to work with them." The song appears on the Bucket List EP.
"On Tuesday morning," the Tennessean reports, "Morgan Wallen celebrated his third week with the No. 1 album in the country. By day's end, radio programmers were scrambling to get his music removed from the airwaves." He had been country music's biggest new star, following in the crossover footsteps of Taylor Swift, and named CMA New Artist of the Year. But his label, Big Loud Records, suspended his contract, iHeartMedia took his songs out of rotation on its 800-plus stations, and streaming services scrubbed him from their playlists. The CMA, cable network CMT, and ACM disassociated their organizations from him. What caused all this? It was a video posted Tuesday by TMZ, which showed Morgan, 27, being dropped off at a house and telling someone to "take care of this pussy-assed n**," apparently referring to another friend. The Tennessean opines, "The backlash is the most widespread, consequential stance the country music industry has ever taken against racism. And that's not a flattering fact. On the other hand, the actions against Wallen may be a sign that Music Row is ready to build a more inclusive future." Female artists, often left out of the country radio format dominated by white men, were among the first to respond. Mickey Guyton, the first black female solo artist to receive a Grammy nomination in a country category, tweeted, "The hate runs deep." While some singers suggested the video didn't reflect Nashville and country music as a whole, Maren Morris argued, "It actually IS representative of our town." Jimmie Allen tweeted, "We all must be held accountable for our actions. Looking over my life and my mistakes I remember the consequences I had to face, but I also remember the people that didn't give up on me and were willing to help me DO better." Morgan later acknowledged in a statement, "I used an unacceptable and inappropriate racial slur that I wish I could take back. There are no excuses to use this type of language, ever. I want to sincerely apologize for using the word. I promise to do better." Rolling Stone reports this opinion by industry attorneys: "I can't imagine an indefinite suspension is anything other than the label needing to issue a statement for PR purposes."
After an 18-week climb, "Fool's Love Affair," the 2020 Randy Travis release, has broken into the Top 5 on the Texas Regional Radio chart, a group of country stations focused on "red-dirt" traditional music. Randy, who now suffers with aphasia and cannot record, sang the song as a demo in the 1980s. It was produced by Kyle Lehning and written by Keith Stegall, Charlie Monk and Milton Brown. It sat in storage for decades until Charlie Monk discovered the tape last summer. According to a press statement, the single went viral after its release, and "Fool's Love Affair" continues to rack up over 20,000 streams at digital platforms every day. The New York Times calls the song "a reassuringly sturdy jolt of traditionalism."
Darius Rucker, 54, unexpectedly made national news when he bought everyone their Sunday morning breakfast at his hometown IHOP. He tells Taste of Country, "I really just thought about the economy and it's been a tough year, and I was walking out and saw my friends that I see all the time when I'm in there and I said, 'Hey man, how long will it take you to calculate everybody's check.' He said, 'About a minute.' I did it — I tipped the waitstaff and I left. I didn't think it was going to be newsworthy." But local South Carolina outlets and national hard news outlets covered the story. Darius was on his way to play golf with his son, who beat him that day.
Nashville Songwriters Hall of Fame member, Jim Weatherly, 77, died at his home on February 3. The Tennessean reported no cause of death. He wrote songs such as "Midnight Train to Georgia," "You're the Best Thing That Ever Happened to Me," and "Neither One of Us Wants to Be the First to Say Goodbye." He was a former star quarterback at the University of Mississippi, ASCAP's 1974 Country Songwriter of the Year, and a member of the Mississippi Musicians Hall of Fame and the Ole Miss Alumni Hall of Fame. Artists who recorded his songs included Garth Brooks, Kenny Chesney, Glen Campbell, Neil Diamond, Kenny Rogers, and Ray Price.
On a Today show interview, Dolly Parton explained why she declined the Presidential Medal of Freedom offered by the Trump administration. "I couldn't accept it because my husband was ill and then they asked me again about it and I wouldn't travel because of the COVID," she said. She's already heard from the Biden administration, but she is unsure about accepting the medal. "Now I feel like if I take it," she said, "I'll be doing politics." She added, "It'd be nice but I'm not sure I even deserve it. But it's a nice compliment for people to think I might deserve it."
Terri Lynn Watson Wear, 58, daughter of Gene Watson, died February 2 at Paris Regional Medical Center in Paris, Texas. The Paris News reports her survivors include husband Chris Wear, daughter Madison Helm, her parents, Gary Gene Watson and Mattie Watson, and brother Gary Wayne Watson.
In a series of tweets, Miranda Lambert, 37, describes a recent mishap. She and her husband, Brendan McLoughlin, were returning to Nashville after visiting the Carolinas and Georgia. While pulling an Airstream, they were driving through Atlanta, she writes, when "a small car w/ temp plates was driving erratically & tried to squeeze between us & a semi-truck going 70 on I-20W. It hit the Airstream & sent us into the left lane." She says nobody was hurt, and the vehicle and trailer were drivable, so they filed a police report and went home.
When Jeannie Seely invited Rhonda Vincent last February to become an official member of the Grand Ole Opry, no one expected it would take "343 days, seven hours, three minutes and five seconds," as Rhonda said when her induction finally happened. The scheduled March 24 date was canceled because of the pandemic. Last Saturday night, February 6, Opry member Dierks Bentley inducted Rhonda into the Opry. "This is a night I will never forget and will cherish the rest of my life," she said. "I am proof that dreams really do come true."
LETTERS
Roxane Atwood writes from Nashville, "As I have told you before I look forward to your newsletter every month. I wanted to share with you a press release about a Memorial bracelet that Tim Atwood was fortunate enough, with the help of the Huckabee show, to return to the family of Capt. William Grimm. This bracelet has been on a 30-year journey. Tim's song, 'You First' from his new album Who I Am, pays tribute to Gold Star families. It was an honor for Tim to perform the song in tribute to the Grimm family this weekend. You can hear the song by clicking on the link in the press release. I thought this might be a feel-good piece for your newsletter. Goodness knows, we can all use more good news. Keep up the excellent work. I'll be following along as I always do."
David Corne in England says, "Sorry to read of another death of one of my favourite singers, Jimmie Rodgers. Apparently, he was met at the Pearly Gates by his namesake 'The Singing Brakeman' who asked him if he was done using his name. For the life of me I could never understand why Jimmie 2 couldn't have changed his first name to something else to avoid the confusion over the years; perhaps Will, Buck or Roy, if you get my meaning. It did use to irritate me how many times both Jimmie Rodgers crossed over, so to speak, when I was looking up anything about either singer. Actually, Jimmie 2 was ripped off by his record company so what with the assault his career was not without its dark days. Regarding 'God making marijuana' as quoted in your newsletter, he must also have made tobacco and that didn't really do the world any favours, did it?!"
Tom Merrill writes from Fuquay Varina, North Carolina, "I always look forward to receiving your great, informative newsletter each week. Thank you for what you do to stay in touch with real music and news. I especially appreciated the post informing us of https://countrylegendsjukebox.com. I am really enjoying listening to the shows. Even at 72, I still hear stuff I never heard before. Just heard 'Don't Be Angry' by Stonewall Jackson. The only version I remember was done by Charley Pride."
Jay Dean in Aberdeen, South Dakota, says, "Absolutely AMAZING newsletter. You have the same passion I have for classic country. I'm so VERY impressed by this. Keep them coming. I cannot wait to sit down and visit with you sometime."
Dominique "Imperial" Anglares writes from France, "Thanks for that welcome and much appreciated Country newsletter. Thanks for the very moving Harlan Ray Young's words. Times were mighty rough before the Nudie's and Turk's clothing. I think the sentence 'To us, a penny looked like a hubcap on a Cadillac' tells it all."
Dean Mann in Sioux Falls writes, "Another excellent and informative Newsletter. Thanks for all you do for real country music fans. You probably have the story of when Randy Travis competed on a Country Music Contest Show on TV and he didn't win. Shortly after that show, he was popular. I don't have the details. All I know is I watched the show. As an aside, I saw him perform at the old Arena probably back in the late '80s. It was a full house, and I thought a great show. He did not get a very good review from the Argus Leader staff writer. I certainly did not agree with her. Good fortune on your book on Randy."
Debora Thomas says, "Poor Dolly. I feel bad for her over the loss of her brother. I remember she talked about Randy in her book. I know she will miss him. If you are able, please give our love to her."
Don Ewert writes from Milwaukee, Wisconsin, "I've just read your latest newsletter while listening to an old album by Dottie West & Don Gibson. This was my introduction to country music at the age of 12, my mom had this LP and I ended up playing it more than she did when I was in my bedroom. After that I just had to have more Dottie albums. I used to buy extra copies and give them to other people. She found out and started calling me her #1 Fan. At a show here in Milwaukee, Dottie asked me to stand and I had a spotlight on me as she told the audience about me telling others about her & giving her records to others. I'm looking forward to a book about Dottie coming out, maybe this year sometime. I'm glad to be mentioned in the book."
Jud McCarthy says, "I really enjoyed reading the note by Faron Young's brother Harlan Ray Young. The family reminded me of the tough life of milking."
John Harris says, "Thank you so much for your newsletter."
Bob Jennings writes, "Several years ago I asked Herb Remington if he would make me an 8-string non-pedal steel guitar: single neck on a double-neck frame with a pad. He said he would and did. He told me it was the only one he ever made like this and he put a plaque on it for me. I believe I have a one-of-a kind steel guitar. I do a little playing with it but I am just a wannabee steel player, but it is nice to have this custom-made steel guitar."
IN THEIR OWN WORDS
When working on the NASCAR portion of my Marty Robbins biography, I was put in touch with Charles "Charlie" Wright of Hueytown, Alabama. We did a telephone interview in 2006. His obituary says he served in the U.S. Navy in World War II. I wish I'd known that when I interviewed him; I'd have asked if he and Marty ever talked about their Navy days. Charlie died in 2017 at age 89.
I worked two races with Marty, one in Talladega and one in Texas. We was setting at a restaurant one evening in College Station, Texas, and we was having dinner. Some little kid came in, he must have been 18-19 years old, and he looked over at Marty, and he said, "Has anybody ever told you that you look like Marty Robbins?" Marty said no. He said, "Well, are you Marty Robbins?" And he said, "Yeah, I'm Marty." He said, "My dad has every record you ever made." Marty says, "Well, I'd just like to meet your dad." And that kid said, "Are you serious?" Marty said yeah. He said, "Well, wait just a minute." He came back in a few minutes, and he said, "You want to meet my dad?" Marty said, "Yeah. We don't have anything to do." So we followed the kid out to his dad's house, and Marty went in, that kid introduced him to his dad, and went out and gathered up some neighbors, and Marty set in there in the den, and they brought him a guitar, and he played and sang, and that man sat over there in a rocking chair, and it looked like he had a halo over his head.
I had a service station, and the Allisons–Bobby and all the racing people around this area, they traded with me. And I got to know them well. At that time, Bobby–his shop was crewing Marty's car. Eddie, Bobby's brother, was chief mechanic on the car. Marty wanted to run Talladega and needed some help, so Eddie asked me if I'd go to Talladega and help him. And I said yeah. Then his next race, it was in College Station, Texas, he called me and asked if I would be available to go to Texas with him and help on his car, and I said yeah. I went out there with him, and we got there three or four days early, before the qualifying for the race. Each night, he and ol' Don Winters–that was my buddy. Don and I roomed together in Texas. He and Marty, every evening after dinner, they'd go out by the pool. We stayed at the Holiday Inn, and they would sing, and just have a concert out there.
Yes, that was the one at Talladega where Marty had come up with some kind of an epoxy glue, and glued some bushings in the intake, and over a period of time the gas turned the glue loose, and the little inserts fell down and opened up that carburetor. It went from, say, from a 750 to a 1400 or something like that. They was gonna award Marty the rookie of the race, but he wouldn't accept it, because he had cheated. But he told them that he did; he came out and confessed to the deal. They didn't find it out through any inspection or anything like that. I think the whole deal in a nutshell was he wanted to pass Richard Petty on the racetrack. That was one of his goals.
I have one of Marty's uniforms, and I wouldn't take a gold nickel for it. It's a purple jacket with the gold number 42, his number, on the back of it, with Marty Robbins. And the white pants and the shirt. What we wore in Texas. I'd like to get it in the museum, but I would never sell it. Pit crew uniform, it wasn't a driving uniform. It was what we wore in the pits.
That's the only two races I got to work. Right after that I started working fulltime with Bobby. Then I worked with Bobby on up until December 1979. Marty, he kinda held a special place for us. He loved his fans. That deal out in Texas I'll never forget that. He was a fantastic person. I called him a superstar–but he never did let that interfere with friends. And the fans, he always had a few minutes to stop and talk to a fan.
We used to run Nashville on Saturday night. After the race was over–Marty was always the last performer at the Grand Ole Opry on Saturday, and we'd try to get through with the race as early as we could, and we'd go to the back door of the Opry, and Marty would let us in. We'd stay on the stage while he performed. After, he would go out and sit on a column on the front of the Opry, and sign autographs. I had on an old pit uniform, and I slipped up behind Marty, and I kissed him on the cheek, while a friend of ours took a picture. She had it enlarged and gave it to me. I gave that up to Marty to have him autograph it, and he put on there, "I wanted to say 'with love,' but this looks bad enough."
MOVIE OF THE WEEK
While most people were watching the Super Bowl this past Sunday, I re-watched one of my favorite movies: A Few Good Men. In this 1992 movie, Tom Cruise and Demi Moore are U.S. Navy lawyers defending two young Marines charged with murder at Guantanamo Bay, Cuba, where the commanding officer is a U.S. Marine Corps colonel played by Jack Nicholson. In addition to a well-written screenplay, two things have always impressed me about this movie. Tom and Demi wore their uniforms correctly, and there was no romance between them. I can remember watching the movie for the first time and dreading when it would be ruined by the obligatory romance; that never happened. They were allowed to maintain a professional relationship. I recently read Demi Moore's 2019 memoir, Inside Out, and was surprised that she commented on the same two aspects of the movie. "I managed to fit into that tight uniform," she wrote, "but not without herculean effort." As she talked about her daily exercise routine, I wondered why she couldn't simply have worn a uniform one size larger. She said what she admired most about A Few Good Men was the originality the producers showed by bucking the expectation that "if an attractive woman showed up on film, it was only a matter of time before you saw her in bed with the leading man." When one studio executive was told there would be no sex scene, he responded, "Well, if Tom and Demi aren't going to sleep together, why is Demi a woman?" Demi writes, "I loved that my character didn't rely on her sex appeal. . .. They presented a woman who was valuable to her colleagues—and to the story itself—because of her competence."
BOOK REVIEW
The University of Illinois Press sent me a copy of the newest Dolly Parton book and asked me to review it for my newsletter. It's easy to write a review on a book as good as this one. Unlikely Angel: The Songs of Dolly Parton is not a biography. Although it includes information from other books and from interviews with Dolly, the focus is on the songs themselves. Dolly has written over 3,000 songs, with more than 450 of them recorded. The author, Lydia R. Hamessley, spent ten years delving into Dolly's catalog and analyzing 200 of her recordings. Because Hamessley is a professor of music, much of what she says is way over my head. I have no idea what a flatted third is, or a major tonic chord. But I enjoyed the stories behind the songs themselves, and how they fit into Dolly's life. You can find my complete review on the Internet Review of Books website.