IN THE SPOTLIGHT – LLOYD GREEN
When I read on the Steel Guitar Forum that legendary steel guitarist Lloyd Green was home recovering after major heart surgery, I decided to give him a call. It was good timing. He answered the phone, I asked how he was doing, and he said, "Today's one of the first days I've been able to actually talk. This is the first time I've answered the phone when it rang."
The surgery, which took place three weeks earlier, had been scheduled as a routine repair of his mitral valve. It didn't turn out that way. The valve had to be replaced rather than repaired, and Lloyd developed atrial fibrillation that was difficult to stop. "Just obstacle after obstacle," he says. "I didn't think I was ever going to get out of that place. It was a nightmare for me, and it's going to be a long time just to get my energy back. But at least I got a sound heart. And my body's healthy."
The surgeon who did the procedure was the chief cardiac surgeon at St. Thomas Hospital. When he first came into Lloyd's room, he joked, "Oops, wrong room, this can't be right. This guy's too young." He said, "I'm going to tell you, I've never seen an 83-year-old as young as you." He told Lloyd, "I can give you twenty more years." Lloyd said he didn't want twenty years; he only wanted eight or ten.
Lloyd tried to keep his hospitalization as secret as he could, because he knew a lot of people around the world would start calling and emailing. "The only three people I've talked to during this period are my daughter, my son, and Saundra Steele, my sweetheart," he says. "Other than that, I haven't been able to talk; I've been just so exhausted." Not being a social media person, he acknowledges, "I've got to respond at some point to all these social media things, through somebody, to say I appreciate the love and the caring, but I just haven't been able to respond."
His daughter, a nurse practitioner, is taking care of him for a week, and then his son will come for the next week. "I'm being treated royally here," he says. "She fixes meals for me every day, really great stuff. She's taken this week out of her life, and I appreciate it."
Lloyd and Saundra have been together almost four years. "We chose not to get married; it's just too complex," he explains. They both have their own money and their own houses and didn't want to deal with pre-nuptial agreements. "We travel, we do things, but I got to get well again," he says. Saundra recently recovered from stage four ovarian cancer. "She's cancer-free, and she's a real trooper and real fun, real smart, and just a great joy to be with," he says. "We do what we want to do, but we keep our lives as separate as we can. This will be my last adventure with a lady in this lifetime."
For the past three years, Lloyd has done occasional shows in Nashville, usually at the Station Inn, during which he shared his knowledge of what happened on the recording sessions of those legendary songs. "I didn't know how it would go over," he recalls about deciding to tell stories, "if it would be boring and they'd say just play, don't talk." But his young audiences were amazed that he had been part of such history. "They all seemed to love that knowledge and information I passed," he muses, "of somebody playing those songs, who actually was there and could tell you how they were cut, and the ambiance of the sessions, and what was going on in that period in the '60s, during the social upheavals in Nashville and around the country. I had it down to a real science, and I was going to do that more, but the COVID thing hit."
Last March, Lloyd played on Dolly Parton's new album, A Holly Dolly Christmas. "When somebody like Dolly wants me to cut, since I've recorded with her since she was eighteen, and we've been friends forever," he says, "that was a joy to do that again. It may be the last thing I ever record."
A week after finishing Dolly's album, Lloyd headed to Dallas for the Texas Steel Guitar Jamboree, which he had promised he'd do one more time. He had played it once before, at their biggest show ever. "This was going to be the biggest show they'd ever had, this past year," he comments, "and the virus hit just about the time I got there." Only 500 chairs were placed in the room. "So 500 souls showed up, and nobody got the virus from that one," he says, "but I was kinda terrified I would get it, and didn't."
He praises the Dallas steel show by saying, "They have a strong country music foundation down there. They've learned the stuff we recorded, and they've learned it authentically, and they're really good players. Really great players. They take it seriously, I mean religiously. I finally said I would do it, three years ago, and it was really, really good."
When I asked his permission to share our phone conversation in my newsletter, he agreed. "I read vociferously your stuff every week. I think it's wonderful," he told me. "I know everybody appreciates what you do, but I really personally do, and I think you do a great service for people who have no other source of information for the kind of music we love."
After these rough past weeks, Lloyd is optimistic about his future. "I'll be back," he promises. "I feel like I came out of the cocoon today. It's like I've been in a cocoon for a month or so, and I feel like I actually can survive now."
NEWS
International Business Times reports Ashley Judd, 52, daughter of Naomi and younger sister of Wynonna, is recovering at an ICU trauma unit in South Africa after shattering her leg in the Democratic Republic of the Congo. She was with a group researching Bonobos, an endangered great ape species, when she tripped over a fallen tree due to a faulty headlamp that lessened her vision. Six men carried her out on an improvised hammock, walking "for 3 hours over rough terrain" to the nearest means of transportation. From there, two men took her on a six-hour motorbike journey. "Didier drove the motorbike. I sat facing backwards, his back my backrest," she wrote on Instagram. "Maradona rode on the very back of the motorbike, I faced him. He held my broken leg under the heel and I held the shattered top part together with my two hands. Together we did this for 6 hours on an irregular, rutted and pocked dirt road that has gullies for rain run off during the rainy season."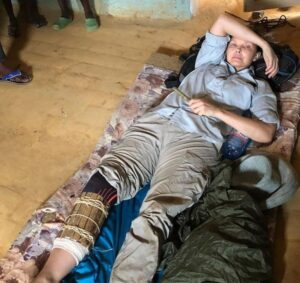 One of the originators of modern bluegrass banjo died February 19, reports Bluegrass Today. Curtis McPeake, 93, passed away at his home in Mt. Juliet, Tennessee, after a brief hospitalization. The western Tennessee native began playing guitar at age nine with his father, who played banjo and fiddle. He switched to banjo at age 18 after hearing Earl Scruggs. He was hired by Lester Flatt in 1956 to substitute for Scruggs, who had been injured in an auto accident. He worked for Bill Monroe several times and appeared with him on the Grand Ole Opry package show at Carnegie Hall in New York City on November 29, 1961. (I mentioned that concert in my Faron Young and Marty Robbins biographies, as they were both there.) In 1966, McPeake invented the 10-string banjo. He spent the 1960s as the first staff banjo player at WSM and touring with Wilma Lee and Stoney Cooper. He then played banjo with Danny Davis and the Nashville Brass for 18 years. He said he'd switched from bluegrass to country because he wanted to feed his family and put his daughter through college. He established McPeake's Unique Instruments, which sold vintage instruments, and moved it to Mt. Juliet in 1977. He remained active into his 90s, participating in various Tennessee Banjo Institute and fiddler's conventions.
Richie Albright, longtime drummer for Waylon Jennings, died February 9 at age 81. Born in Oklahoma and raised in Arizona, he joined Waylon's band, The Waylors, in 1964 and moved to Nashville in 1966. According to the Tennessean, "He encouraged Jennings to adopt rock & roll principles, and his drumming helped shape rock-tinged outlaw songs that still inform songwriters today. During his more than five decades in music, Albright worked with Willie Nelson, Johnny Cash, Johnny Rodriguez, Billy Joe Shaver, Jessi Colter and more." After Waylon died in 2002, Richie performed with Waymore's Outlaws, a group of Waylon's former band members.
I chose not to watch NBC's Grand Ole Opry: 95 Years of Country Music special after repeatedly seeing the ad in which Blake Shelton said, "Brad Paisley's like a brown-nosing cousin that I never wanted." While that might pass for humor on The Voice, it was certainly disrespectful of the Opry. The show was hosted by Brad Paisley and Blake Shelton on February 14. Music Mayhem Magazine reports that Darius Rucker invited Lady A to become the newest members of the Grand Ole Opry. "Well, that was the most unexpected surprise, we are so honored, speechless truly, and Randy Travis we hope we do you justice on this one," Hillary Scott said before she and trio partners Charles Kelly and Dave Haywood sang "Forever and Ever, Amen" to honor Randy Travis. Later, Randy tweeted, "Great job on 'Forever and Ever, Amen' to the newest members of the @opry @ladya! I'm proud to officially welcome you into the Grand Ole Opry family, though you've been a part of it for years."
Music Mayhem Magazine also reports that Brad Paisley paid tribute to women of the Opry when he sang his latest single, "Off Road," during the 95th anniversary special. "A lot of Opry history has been made by a lot of female artists who refused to stay in their lane," he said. "I wanted to sing this tonight for all of the women of the Opry, past and present, who've made this and the world such an interesting place. Roadblocks never stopped a country girl, I'd say." During his performance, photos and clips of numerous female country stars flashed on the screen.
During the annual Country Radio Seminar, Luke Combs acknowledged there was no excuse for his past use of Confederate flag imagery. "I would never want to be associated with something that brings so much hurt to someone else," he said. The Tennessean reports his comments came during a discussion with Maren Morris on "accountability and the future of country music." Combs would welcome more diversity in his band and on the country charts, saying, "I'm not diminishing anyone else's accomplishments. I worked my ass off to get where I am and so did Maren. But like she said, it's impossible to not say we've had it easier than our black counterparts, or I had it easier than Maren and my female counterparts. It's undeniable."
The Country Music Association awarded Charlie Monk with the Joe Talbot Award during the Country Radio Seminar. Charlie was one of the founders of Country Radio Seminar in 1969, and he still hosts radio shows on SiriusXM. A press release says he is the only person who has attended every CRS since its inception. The Joe Talbot Award recognizes "outstanding leadership and contributions to the preservation and advancement of Country Music's values and traditions." Charlie is the ninth recipient since the award was first presented in 2001. The others are Janette Carter, Kitty Moon Emery, Merle Haggard, Alan Jackson, George Jones, Louise Scruggs, Marty Stuart, and Joe Talbot.
A recent Fansided article commemorated the 20th anniversary of Dale Earnhardt's death in a Daytona 500 crash by stating there might not have been a famous Dale Earnhardt if not for Marty Robbins. It told the story of the 1974 crash at Charlotte Motor Speedway when Marty avoided a pileup by steering his car, at 160 miles per hour, into the wall. Richard Childress, a driver who later founded Richard Childress Racing and employed Dale Earnhardt, credits Marty with saving his life that day. When I interviewed Richard for Marty's biography, he told me, "Somehow I got turned around on the front stretch and was sliding, and Marty turns right and goes into the wall instead of hitting me."
CBS News reports that Dolly Parton asked Tennessee lawmakers not to consider the bill to erect a statue of her on the Capitol grounds. The bill, introduced by State Representative John Mark Windle, was passed by a state House committee February 9. Dolly issued a statement that said, "I don't think putting me on a pedestal is appropriate at this time." She added, "I hope, though, that somewhere down the road several years from now or perhaps after I'm gone if you still feel I deserve it, then I'm certain I will stand proud in our great State Capitol as a grateful Tennessean."
Wide Open Country reports on a YouTube video posted by Knoxville-area film archivist Matthew Reeves, in which 14-year-old Dolly Parton is performing at an outdoor event organized by Cas Walker. It took place in Fountain City, Tennessee, in the gas station parking lot at the corner of Essary Road and Broadway in 1961: https://youtu.be/NnT1PXIkWvE
In a United States District Court case, Dwight Yoakam is suing Warner Music Group for failing to return the copyrights to his songs from the 1986 album, Guitars, Cadillacs Etc., Etc. As explained by Saving Country Music, Section 203 of the Copyright Act of 1976 states that after 35 years, original authors can reclaim copyright grants signed away to others. Dwight notified Warner Music in 2019 that he intended to regain his copyrights. In 2020, he submitted his own copyright notices to the United States Copyright Office. Warner has not responded to his requests, and he sent a final notice threatening to sue. Section 203 has been a long-debated portion of copyright law and the subject of numerous lawsuits.
Nashville writer and music historian Stacy Harris appeared on the program, Southern Jewish Music: Jews and Country, which can be viewed on the ISJL Virtual Vacation website: https://www.isjl.org/virtual-vacation.html. A press release states, "Although the Jewish community doesn't necessarily play a dominant creative role in Nashville's Music Row or in contemporary music production, Jews have substantially contributed to the genre, illuminating broader themes of assimilation and acculturation in southern and American Jewish history." Stacy will be posting recently learned historical information on Stacy's Music Row Report concerning "a little-known member of the search party following the plane crash that killed Patsy Cline, Cowboy Copas, Hawkshaw Hawkins and Randy Hughes."
Jesse and Noah, sons of David Bellamy of the Bellamy Brothers, have released a new single and video, "The Vision," about a cowboy chasing his prize mare that has gone off to run with wild horses in the Badlands. "We wanted to write a 'cowboy song' that would fit our style," explains Jesse in a press release. "Our uncle Howard helped us out, adding third part family harmony, and giving us a little extra cowboy authenticity." The story is told across three generations, and the video features a modern "biker cowboy" driving through his ancestral home, reflecting on the story told in the song. The brothers grew up on a fifth-generation cattle ranch in Darby, Florida.
Online music platform Amazing has announced a new North American senior team as it expands Amazing Radio USA, reports MusicRow. Longtime Nashville music business leader Shelby Kennedy had been named President, North America. The son of famed music producer Jerry Kennedy, he formerly served in Entertainment Relations for TuneCore. His team will work with artists and labels, hire new DJs, and grow the re-vamped CMJ brand, including CMJ Music Marathon. "I've known about Amazing for almost ten years," Shelby says. "What it does for artists has always been exceptional, in terms of offering promotion and a route to a real career. Now, with the enhanced service offerings, new benefits, and more outlets for content, it's time to 'ramp up.' My colleagues and I are excited to support America's emerging artists, bringing their music the attention it deserves."
Editorial Comment: This isn't about country music; it's about a sad fact of life in these United States. Can you imagine driving across the country and worrying about whether you will be allowed to purchase gas and food along the way and whether you will find a safe place to spend the night? That has been the reality for many of this nation's citizens throughout the decades. It's the reason Victor Hugo Green published The Green Book from 1936 until his death in 1960. Please read this eye-opening article.
LETTERS
Mary Davis Travis writes, "We enjoy your newsletters, every month. So much information—unknown and known! Randy always likes the details—he knows so many I don't, so we have a good time reading through it."
Jean Bedee writes, "I have spent the last few days reading lots of your interviews etc with country stars. They are wonderful. I would like to be added to your email list to receive your newsletters. Dallas Wayne assured his listeners we would not be disappointed, and I believe he is correct. Thank you for your work, I really enjoy it."

Ken Englishman says, "I heard about you on Dallas Wayne show today. I wasn't sure the spelling of your name but being of Dutch ancestry I decided to search it the way it would be spelled if it was also a Dutch name and it worked. Thank you very much I look forward to seeing the newsletter."
Norma Myers writes, "I have been trying to find an obituary for Kenny Dale without any success. He was my favorite country singer. He had such a beautiful voice and should have been a big, big star. I am interested in where he is laid to rest to pay my respects, or the funeral home where I could light a candle or something. I met him once early in his career and would like to honor him in some small way. If you have any info you could share, I would be very grateful."
Diane: Kenny Dale, 68, died July 15, 2020, at a hospital in San Antonio, Texas, three days after being admitted with breathing complications related to COVID-19. He lived in San Antonio. Kenneth Dale Eoff was born in Artesia, New Mexico, in 1951. I didn't find an obituary here in the USA. Kenny "was endearingly popular in New Zealand," reports Mark Walsey News in New Zealand. You might try checking San Antonio newspapers.
John Krebs writes from Texas, "Thanks so much for the heads up on the Loretta Lynn PBS documentary. I had NO idea. I made myself a reminder to set my DVR in 5 days when it'll be on the guide." He adds, "The February 27 PBS documentary, Loretta Lynn: My Story in My Words, is NOT listed. It's probably my Xfinity being goofy but if you get any new info, please let the mailing list know. My Xfinity guide shows Loretta Lynn My Story in My Words on 03-02. 02-27 is a Dolly Parton special. Of course, I have no idea which one if either is right or not."
John Dubay says, "The Bellamy Brothers just hit it out of the park. Thanks for the 'heads-up' Capt."
Jed Osborn requests, "Please add us to your newsletter. Thank you for your work."
Gene Burkhart writes, "I read Don Ewert's words about Dottie West. I was on the Landmark Jamboree and Dottie was the headliner I was the opening act I was on the show several times. The show was in Cleveland Ohio the late '50s. I am now 87 and still remember that experience. DJ Tommy Edwards was the MC. Please keep these newsletters coming every month. They are great."
Donald Ewert says, "I'm remembering Penny DeHaven who passed away from cancer Feb. 23, 2014. Penny was a special friend, in fact she called me a few months before her death. Penny had great records such as 'Mama Lou,' 'The First Love,' 'Down in the Boondocks.' as well as a big hit with Del Reeves, 'Landmark Tavern.' Her songs are on YouTube for anyone who wants to listen to one of the best female singers in my opinion. Penny was the last duet partner of Porter Wagoner who she performed with on the OPRY. They also had a great CD out, Porter & Penny."
Dominique "Imperial" ANGLARES writes from France, "Thank you very much for that newsletter. Very nice to read about Narvel Felts, a highly talented singer and a very nice gentleman. That's always a great pleasure to get a postcard with season wishes from Narvel and Loretta. Lovely people."
Bob Jennings says, "Thank you for posting my Remington steel guitar info and photo. Your newsletter gets better with every issue. You do a lot of research finding valuable information for the Country Music People."
Priscilla McPheeters writes from Lawrence, Kansas, "Thank you for this wonderful newsletter. One of your best ever!!!!! Do you mind if I share your newsletter on my Facebook page? There are so many inspiring stories."
IN THEIR OWN WORDS
I did a telephone interview with Bill "Rip" Wilson in 2000 when I was first tracking down Faron Young's Country Deputies. By the time of the book release party for Live Fast, Love Hard in 2007, I'd lost touch with him. A Facebook post says "Rip passed away quietly in his sleep" on March 5, 2011.
I played lead guitar 67-68, part of 69, I think it was. Between Wahoo and Charlie Murphy, who is dead now. If you put my name in your book, put down Rip Wilson, because that's what everybody knows me as.
I first saw Faron when I was a teenager, I guess about 16 or 17 years old. He came to my hometown, which is Ashville, North Carolina, and done a show. At that time I was trying to learn how to play guitar, and he had a guitar player named Odell Martin, who played the style I was trying to learn, which is that Chet Atkins/ Merle Travis style. Odell was one of the best. We got to be friends, and over the years, when I found out where he was going to be playing, I'd come to see him and try to learn what licks I could off of him. When I moved to Nashville, I went into the Army reserves for about six months, and I come back out, and I was looking for a job. I'd been here maybe a year before that. Odell had worked with Faron, and he called Faron up, or he knew Faron was looking for a guitar player. I think Leon Sutton had just left. I was trying to play that style of a guitar that Faron liked at the time, which is that thumb style, Chet Atkins style. So Odell called him, or called somebody in the band anyway. I got the job, no problem. Kinda started from there. I could also fit into the uniform, which back then was one of the main things. If you hired somebody new, you didn't have to buy a whole new uniform. I fit the uniform, and I kinda fit the style guitar playing he wanted, so that's the way it started. I think it was early '67.
I remember one time I had a car that I'd been out in the snow and wrecked the front end, and Faron went out and helped me get a car. He signed for me. I paid for it, of course, but he loaned me some money to get the car. Of course, he brought it up every time he got drunk.
Drinking was the way of partying back then. Faron just overdone it. He never did get into pills or anything like that, but alcohol was his main thing. I don't think I ever seen him take one pill. Back then that was the drug of choice on the road, taking uppers. Faron was always in alcohol. I mean when he got to drinking, he was just crazy. He'd pick a fight with anybody or do anything. He was a different guy. But he had a good side to him. If you kept him straight, if you needed help and you was down–especially if you didn't work for him. Now if you worked for him, it was hard to get money out of him. He was real tight. In fact, that's the reason I left him. Five years later I could have went to him and borrowed five hundred dollars right off the bat. And I love Faron, you know. A lot of things I didn't agree with–he was tight on money–but if he'd a needed some help, and I could have helped him, I would have.
It was definitely a love-hate thing. He'd make you so mad you'd want to kill him. He'd do something or say something, or maybe even hit you, or anything. You never knew what he was going to do. He was just off the wall, he'd do any thing at any time. I remember one time we was working a thing down in Texas, and we stopped at a little drive-in where you'd go up to the window and order a sandwich. I was standing in line before him. I ordered a fish sandwich or something, so I got mine first, and he come off the bus, and he'd been drinking. As soon as I got my sandwich, he said, "Rip, let me have a bite of that." So I handed it to him. He took a bite of it, he didn't like it, so he threw it on the ground and stomped on it. He was wild, I'm telling you. At times he was meaner than hell. But you couldn't help but like him. He done a lot of things that was funny, too. He'd do anything. I mean stuff you'd never expect a grown man to do. He was one of a kind.
The reason I left Faron was on account of money. When I first started with Faron, scale in Nashville was like 35 a day, pretty low for back then. He had a running joke–any time I'd ever ask him, he'd say you stay with me six months and learn the show and I'll give you a raise. Well, after the six months was up, I kinda hit him up, well I've learned the show, it's been a little over six months. He kinda laughed and made a joke out of it, well, you ain't learned the show yet. It went on for like a couple of years. Scale went up to 40 a day, and he was still paying 35. He said, "I ain't gonna pay it. I ain't gonna pay nobody 40 a day." Me and a couple more left around that time. I think Darrell McCall, Jimmy Crawford probably, maybe Red Hayes, we all left about the same time.
For one thing, he had a complex about being so short. I had a lot of hair back then, and his was going out on the side, his hair was thinning out. He always said, "A damn sideman's got all the hair." I was big and tall and had a lot of hair and he always resented that. He'd get in front of a crowd, "Look at that SOB, he got a lot of hair," he resented it. Most men that are short, they're cocky as hell. And he was definitely that. Me and him never got into a fight. But I've seen him get into fights. He's fought with Darrell and Cootie big time. They'd stop the bus and get out and wrestle around on the ground. He had guns on the bus. It's a wonder he didn't kill somebody.
He was wild. One of the wilder ones. There was a lot of them back then would get drunk or get high or something, but he was just rambunctious as hell. He had fights with George Jones, Mel Tillis, you name 'em. I've seen him in a bunch of 'em. He didn't care who it was or how big they were. When he got drunk, he didn't care for anything or anybody. I mean it's like he was crazy. He really was at that time. I never seen another one like him. He was definitely original. He had more talent than he had sense. Catch him when he ain't drunk and he's a great guy. I wouldn't say anything bad about him that I didn't know for sure. If he was here, I'd still say the same thing. Of course, I ain't told everything that I know–and I won't. I'm just telling you what everybody knows, that knows him. They know he's wilder than hell. Knows he'll get drunk at the drop of a hat.
Faron was a very talented guy. When he was sober and doing a good show, nobody could beat him, in the country field. He was as good as anybody. He was funny, and he could sing good, and always dressed nice. That alcohol just took it away. Faron was the kind of guy you couldn't tell him anything.
SONG OF THE WEEK
One of my favorite newer Willie Nelson songs is "Still Not Dead," which Willie wrote in 2017, with Buddy Cannon, as a response to various online stories about his death. "I woke up still not dead again today," the song begins. The melody is a fast two-step that would be wonderful for dancing. "The news said I was gone to my dismay/ Don't bury me, I've got a show to play," Willie sings. He adds, "They say my pace would kill a normal man/ But I've never been accused of being normal anyway." It's a song I can listen to repeatedly.
BOOK REVIEW
I recently read Olivia Newton-John's 2018 memoir, Don't Stop Believin'. Her goal in life is to find a cure for cancer. She talks about her three bouts with cancer and her relationship with the Olivia Newton-John Cancer Wellness & Research Centre in Melbourne, Australia. She was born in Cambridge, England, in 1948. Her Welsh father was a college professor, and her German mother was the daughter of Nobel Prize-winning physicist Max Born. The family moved to Melbourne, Australia, when "Liv" was a little girl. Although she returned to England in her teens to kick off her singing career, she seems to identify only with Australia, frequently referring to herself in the book as an Aussie. She lives mainly in the United States, with homes also in Australia. She moved to the USA in 1974 because she had hit songs here with "Let Me Be There" and "If You Love Me (Let Me Know)." When "I Honestly Love You" came out, she was named the 1974 CMA Female Vocalist of the Year. She acknowledges her win caused controversy. "I didn't really understand the separation of country and other music," she writes, "since I believe music is music and just naturally crosses over. Some CMA members resented it so much, they split from the organization in protest and formed their own chapter. I felt terrible about it but not bad enough to return the award!" She is referring to the group of country stars who met at the home of George Jones and Tammy Wynette and formed the Association of Country Entertainers (ACE), which eventually faded away. Because this memoir is more topical than chronological, the timeline is sometimes hard to follow. From filming Grease with John Travolta in 1978 to performing at the opening ceremony of the 2000 Summer Olympic Games in Sydney, Olivia leads a busy life, balanced by her passion for rescuing animals and time with her husband. "Five decades in show business have taught me to have staying power," she writes. "My will is iron-strong because I still have so much to do."