IN THE SPOTLIGHT – RON HOGAN
Steel guitarist Ron Hogan is one of the plankowners of my newsletter list. He has been there since its beginning in 2005. I had interviewed him about his brief stint, during the summer of 1981, as one of Faron Young's Country Deputies. While we've had email exchanges over the years, we caught up this past weekend during a phone call. He works for Cerner Corporation, the biggest medical software company in the world, as an "electronics guy" who maintains medical equipment in hospitals. He also plays two steel guitar gigs per week, working in three different bands in Nashville.
In his early days as a road musician, Ron realized he needed something to fall back on, "just in case," he explains. "I didn't want to be 65 and washing dishes somewhere." He works out of his house and sometimes feels like the Maytag repairman when few service calls come in. "It's like a dream come true," he says. "I'm able to practice and all that stuff. I'm not complaining."
He described for me what a typical service call might be. Nurse's stations at all the St. Thomas hospitals have secure towers that contain pharmaceutical drugs. A nurse puts in a password, a drawer slides out, and a pocket opens to allow the drug to be removed. The hospital can identify the last person who opened a particular tray. If an electronic board fails, Ron is called in. He is always escorted and watched while he does the repair. "They don't want me stealing the drugs," he jokes. "You know how us musicians are."
One of the bands he works with plays the Nashville Palace about three times a month, sometimes as a trio and sometimes as a whole band. There are numerous little clubs and bars on the outskirts of Nashville that hire bands, and most of the musicians know each other. Ron's philosophy is that if he gets called for a low-paying gig with good musicians, he might accept. But if it's a terrible band that pays a lot, he might turn it down. With gratitude, he says, "I can be more picky now."
Some of the musicians he knows have left Nashville and moved back home because of no touring during the pandemic and not enough gigs to support their families. "My heart goes out to them," he comments. "In the '80s when I was playing with Faron and Little Jimmy Dickens, if this had happened to me, I don't know what I would do. I wouldn't have been able to make a living."
Two weeks after Ron left Faron in 1981, he got a job with Mel McDaniel and stayed with him for a year. Then he joined the house band at the original Nashville Palace, playing five nights a week. Daryl Pillow and the Pillow Gang consisted of Daryl on lead vocals, Jeff Jared on guitar, Dale Pillow on drums, Bobby Green on bass, and Ron on steel. The dishwasher would come out of the kitchen every evening to sing a few songs. "The Nashville Palace was 75 percent tourists," Ron recalls, "and for them to see a guy come out of the kitchen, who had a million-dollar voice, they probably sat in their seats and said, 'Why is this guy washing dishes?' But we all start somewhere; we all start that way." And we all know where Randy Travis went from there.
Ron's next job was five years with Freddie Hart. "It was a perfect gig for a steel guitar player," he recalls. "Freddie was such a gentleman, he had his career going, he had a bus, he paid us salary, and he was just a super, super nice guy. I can never say enough good things about Freddie Hart. He never even cursed." Freddie said, "Anyone that curses has nothing to say."
During that period, Lib Hatcher called to ask if Ron wanted to go on the road with Randy, who was putting together a band and starting to tour. "I kick myself in the ass now," Ron says. "I turned it down, because I enjoyed working with Freddie so much." And of course, Freddie the established artist carried his band in a Silver Eagle bus, while Randy, just getting started, was traveling in a van with a trailer.
Although Ron regrets never working with Randy Travis, he says, "Being a musician in town you hear who the good guys are to work for, who the bad guys are to work for, and I always heard good things about Randy. You look at what musicians have stuck with what artists for years, and that tells you a little bit about what it's like to work for that person."
Thinking back over the last forty years, Ron reminisces, "I wouldn't give up all that work I did, with so many stars over the years, and I feel like I've lived three lives. I just turned 65 last month, and I'm still playing, I'm still in good health." He's concerned about the stories that are lost forever when musicians get older and die: "All kinds of stories get lost if people don't hear. You can't tell all the stories because they might be risqué, but there's great stories that musicians have."
He told me, "Writing your biographies, you capture all these great stories and histories. I often said I wished you would have written a book on Little Jimmy Dickens. He had so much history, he knew everything, he used to tell us stories." Ron considered Jimmy a great guy to work for and they had a lot of fun. Everybody loved Jimmy. Ron still plays gigs with guitarist Jeff Jared, who also worked with entertainers from Dottie West to Daryl Worley. "To this day," Ron says, "we still tell Little Jimmy Dickens stories and laugh about them. He's 65, so we still have those great times."
And then there's Lisa. "Because I worked with Freddie Hart," Ron offers, "I met my wife of 36 years. She was singing and she played steel guitar. It wound up being good for us because she knew what it was like being a musician." Five years ago, Lisa gave Ron a surprise birthday party and invited twenty steel players. During the party, Ron arranged the group in the round and they went around the circle telling road stories. When I said I hoped he'd recorded it, Ron said no. Those still employed were hesitant to tell stories about their bosses. "It was so much fun," he adds. "I'm going to try to do it again."
Ron once appeared on Bill Anderson's Fandango show as a contestant. "I've had country music in my heart since I was a kid," he says. Now he has the best of both worlds, a steady career to pay his bills and "I still get to pick. I get to see my musician buddies and make a little money to use as play money."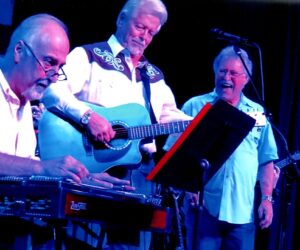 NEWS
CMT has been airing music videos for 38 years. The first one was shown at 6:19 pm CT on March 5, 1983. It was a clip of Faron Young singing "It's Four in the Morning." He begins by turning to one of the Deputies and asking, "Are you ready, lovely?" CMT.com reports, "Though he's addressing a bandmate, in retrospect, it feels like he was also addressing a generation of country music listeners who were ready to experience their favorite music in a whole new way–through sight and sound." Watch it here.
Katherine Aryah Jennings, great-granddaughter of Waylon Jennings, was born February 24 to Whey and Taryn Jennings. Country Music Nation reports Waylon had six children, the oldest being son Terry, born when Waylon was 19 years old. Terry dropped out of school at age 15 to travel with Waylon. Terry's son, Whey, is a singer who often sings Waylon's songs to help keep his grandfather's legacy alive. Waylon died in 2002 at age 64 and Terry in 2019 at age 62.
Trisha Yearwood, 56, has contracted COVID-19. She and husband Garth Brooks, 59, have been quarantining together at their home after a member of their team tested positive. Garth has twice tested negative. PEOPLE reports they were forced to wait a week after their initial exposure to the virus for testing because of severe winter weather. Garth says, "We're very lucky she is currently under the greatest care in the best city for treating and healing singers." Late breaking news: Taste of Country reports she finally tested negative for COVID-19, after four weeks of illness and worry.
The newest album by Carrie Underwood, My Savior, is a collection of gospel hymns she grew up singing in church, reports CMT.com. The classic hymns include "Just as I Am," "Great Is Thy Faithfulness," and "How Great Thou Art." Carrie considers "Softly and Tenderly" particularly meaningful, after she sang it during the "In Memoriam" segment of the 2017 CMA Awards. "I felt like at the time, that song brought a lot of healing into the room," she says. "I wanted to include it on this project to have it in a more 'done' way. Hopefully it'll continue to bring healing to people who need it." The album is a companion to her Christmas album, My Gift, released last September.
The forthcoming Sammy Sadler album, 1989, consists of country music covers from the year 1989, along with duets from stars of the era. The cover of "The Church on Cumberland Road" features Marty Raybon, lead singer of Shenandoah, who had their first No. 1 hit with that song in 1989. Sadler was getting ready to release his debut album in 1989 when he was wounded in the murder of Cash Box Magazine chart director Kevin Hughes, 23. The pair had stopped by Nashville's Evergreen Records to make a phone call, Fox17 Nashville reported, when a masked gunman seriously wounded Sadler and then chased Hughes down the street before killing him. Richard D'Antonio, a former record promoter, was sentenced to life in prison in 2003. Prosecutors said he killed Hughes to avoid exposure of a Cash Box Magazine bribery scheme to get artists on the record charts.
When Keith Urban recently attended a Sydney Opera House performance with wife Nicole Kidman and her mother, they had a shocking experience, according to Country Music Nation. In a radio interview on Australia's The Kyle & Jackie O Show, Keith explained he and Nicole had never attended an opera before, and they were unfamiliar with appropriate etiquette. At the end of the performance, they stood and clapped along with several other cheering guests. A man sitting behind them whacked Nicole with his program. "I think I just looked at him," Keith recalls. "I said, 'It's a standing ovation!'" Although he didn't know standing ovations were inappropriate at the opera, he acknowledges, "At the same time, I get it. Where there's a tradition or thing that says you don't do that, I respect that, but I was also going by a lot of other people who were standing."
Set in Stone is the first full-length Travis Tritt album of original songs since 2007, CMT.com reports. Dave Cobb is the producer. Travis co-wrote 8 of the 11 songs and says he is "getting back to a no-frills classic outlaw-country sound." The first single is "Smoke in a Bar," written by Jeremy Bussey, Derek George, and Tim Montana.
During a live-stream Q&A for the annual Country Radio Seminar, Brad Paisley, 48, described the moment last March when he first felt the weight of the upcoming pandemic. He was at the Nashville airport, on his way to Los Angeles for a TV appearance, and he realized he couldn't go. Instead, he went back home, walked through the door, and broke down sobbing. He told his family, "I think a lot of people are going to die." In the opinion of PEOPLE magazine, "Perhaps no other country artist has worked harder than Paisley to bring some light to these dark times. . .. Over the course of the past year, Paisley has connected with fans and lifted spirits through new music, drive-in concerts, Zoom happenings and livestream performances." He performed his first virtual show a week after his last live concert in March. He's accepted about a hundred Zoom invitations, following that first one when a group of nurses invited him to join their virtual after-work happy hour. The video of Brad's latest hit single, "There Is No I in Beer," contains snippets from many of the Zoom events. Although the song was written before the pandemic, Brad says, "The line of the song that's important in the chorus is that 'we're all in this together.'"
For the second time in the history of Billboard's Hot Country Songs chart, an artist has revised an earlier No. 1 hit and brought it back to the top. First was "I Will Always Love You" by Dolly Parton, a No. 1 in 1974 and then again in 1982 when she rerecorded it for the movie The Best Little Whorehouse in Texas. CMT.com reports Taylor Swift rerecorded "Love Story," which hit No. 1 in 2008, as "Love Story (Taylor's Version)," and it has debuted at the top of the Hot Country Songs chart. This is her eighth No. 1 on that chart overall.
Loretta Lynn has rerecorded "One's on the Way," her No. 1 hit from 1971, this time featuring Margo Price. The Shel Silverstein song was the title track from her 1972 album. The new version will appear on Loretta's upcoming 50th studio album, Still Woman Enough, whose 13 tracks include collaborations with Reba McEntire, Tanya Tucker, and Carrie Underwood. "I love the way she sings — it's so powerful," Margo Price says, "but it is what she's saying and how she's saying it…those story-songs gave me the blueprint, as a country artist and just as a writer in general."
In an interview with CBS This Morning, Vince Gill, 63, talked about country music being a "white man's genre" and that he wished he knew how to solve the inequality problems. About Morgan Wallen using the N-word, Vince said, "It's derogatory and hurtful. It doesn't have a place." He added, "Most people perceive that country music is extremely conservative and I'm not sure if that's true. Maybe the audience might be predominantly conservative, but I don't know that the artistry is–that the community is." PEOPLE reports he sang an unreleased song, "March On, March On," about the fight against racism.
Willie Nelson's Letters to America is a new Willie Nelson book to be published by Harper Horizon on June 29. As the title states, it is a collection of letters from Willie to his readers about what it means to be a citizen of the USA. A press release says the book reminds readers of the "endless promise and continuous obligations of all Americans — to themselves, to one another, and to their nation — to stand with unity, resolve, and faith." Willie also includes thoughts on family, leadership, and music, along with song lyrics. He wrote the book with Turk Pipkin, a contributing editor at Texas Monthly, who also joined him to write The Tao of Willie in 2006.
"Where Did Our Country Go" is the first in a series of new songs being released by Jonathan PayCheck, son of Johnny PayCheck. As a youngster, John worked with his dad on the road, moving up from roadie to road manager; he also played in bands. He is now a combat veteran and small business owner, with a Bachelor of Science degree in Computer Information Systems and a master's degree in Military Strategy and Diplomacy. He flew helicopters and fixed-winged aircraft and worked for IBM, according to Saving Country Music. Donald Eugene Lytle legally changed his name to Johnny PayCheck; therefore, the real name of Johnny's son is Jonathan PayCheck.
Bill Anderson writes in his fan club newsletter: "Starting on Saturday, March 20th, which just happens to be the first day of Spring, I am going to begin a series of live Facebook chats with you and fans like you all around the world. I want to do one of these every month while I'm not on tour just so we can stay in touch. We'll have more information headed your way shortly, but meantime mark March 20th at 2 p.m. Nashville (Central) as the time for our first get-together, and plan to join us if you can. We'll visit and talk about all kinds of things."
A bill introduced into the Tennessee General Assembly has proposed making "Amazing Grace" by Dolly Parton the official hymn of Tennessee, reports WVLT/Gray News. Dolly's version is among the "songs of historic significance that have influenced this State," according to a bill introduced in both houses, by Rep. Mike Sparks and Sen. Raumesh Akbari. The bill details the history of clergyman John Newton, who is credited with writing the original hymn. The bill was referred to a Senate State and Local Government Committee.
Jeannie Seely has released "If You Could Call It That" to radio off her highly acclaimed Curb Records album, An American Classic. Dottie West started the song in a notebook before her death in 1991. It was finished by Steve Wariner, who toured with Dottie, and Bobby Tomberlin. Jeannie Seely, a close friend of Dottie's, recorded the song with Steve Wariner.
Ray Herndon, Terry McBride, and Billy Thomas have announced they are getting McBride & the Ride back together. The Boot reports the band, which has been on and off over the past 30 years, is adding tour dates every day. Ray Herndon has been Lyle Lovett's lead guitarist since 1985 and has had numerous songs cut by country artists. Terry McBride has written major hits while touring as bass player with Brooks & Dunn through most of their biggest years. Billy Thomas has been Vince Gill's drummer since 1987, also joining Vince in The Time Jumpers band.
In a video published last week, Dolly Parton received her first dose of COVID-19 vaccination–the Moderna vaccine for which she donated $1 million to Vanderbilt researchers. She also sent an Instagram post that read, "Dolly gets a dose of her own medicine." She received her shot on-camera from Dr. Naji Abumrad, a Vanderbilt physician she met after a car wreck in 2013. Their seven-year friendship led to her donating to vaccination research. She says in the video, "I just wanna say to all of you cowards out there: Don't be such a chicken squat, get out there and get your shot." She also sings to the tune of "Jolene": "Vaccine, vaccine, vaccine, vaccine, I'm beggin' of you, please don't hesitate. … 'Cause once you're dead, then that's a bit too late."
For the second year in a row, CMA Fest (formerly known as Fan Fair) has been canceled by the Country Music Association. The festival will return June 9-12, 2022. Sarah Trahern, CMA Chief Executive Officer, explained in an email: "Unlike many other music festivals that take place from a single location, CMA Fest has a rather large footprint that spans across the entire downtown Nashville area, including Nissan Stadium, Ascend Amphitheater and Music City Center. We know that many of our performers and attendees will ask why we cannot reschedule our event to take place later in 2021, however, to produce CMA Fest at the scale we normally do requires a significant amount of advance planning and production. Given the length of our production window, it was simply impossible to find an available window later this summer or into the fall."
Nan Kingsley, widow of Bob Kingsley, who died of cancer in October 2019 at age 80, has donated to the Country Music Hall of Fame and Museum an archive containing 3,200 Kingsley interviews with country singers and industry insiders. It includes roughly 700 episodes of "Bob Kinglsey's Country Top 40 Countdown." The Hall will preserve these audio archives for future museum and third-party use, according to a press release. Kingsley's career spanned six decades. He entered the Country Radio Broadcasters Hall of Fame in 1998 and National Radio Hall of Fame in 2016.
LETTERS
Ivan Salinas writes, "HAPPY BIRTHDAY FARON. R.I.P"
Diane: I must have been publishing this newsletter for too long. Or the months are just going by too fast. It completely slipped my mind to mention Faron's birthday in my last newsletter. I did post a memory on Facebook on February 25.
Elliot Mclanahan says, "Another wonderful newsletter as usual. I was so sorry to hear about Lloyd Green's heart surgery. Having been through one myself back in the latter part of October, I can only imagine how rough it was for him. I am only 69. Lloyd, if you read this newsletter, I am sending prayers, and best wishes. Thank you, Miss Diane. Keep the marvelous newsletters coming."
Bob Jennings writes, "Nice to hear about Lloyd Green but not what happened to him. However, I was glad to be reading it. He is the Father of the Lloyd Green Style pedal steel guitar–single neck on a double neck frame with a pad. That is why I wanted the Remington 8 string non pedal steel to be like and Herb Remington built it for me. It's nice to have a piece of Lloyd Green History in a steel guitar."
Bill Sutton writes, "I read your phone conversation with Lloyd Green posted on the Steel Guitar Forum. I'm glad to hear Lloyd is doing better. Lloyd is very special to me…though I never met him…I've heard about all his recordings. Lloyd's touch on Steel Guitar speaks for itself. There are certain tunes that he plays so Beautiful I just get lost in his music. He is the only Steel Guitar picker that when I hear him play…I go straight to my Guitar and try my best to play what he plays…But that is hard to do. Lloyd is not an easy man to copy…His approach to Steel Guitar is different than any other picker…But I love his style. Lloyd wrote and recorded a tune called 'Venus Moon.' When I heard that beautiful music that only Lloyd can play…I went to work trying to copy him…and with the help of a Forum member named Jan Jonsson and tab that he wrote, I got somewhere close to what Lloyd was doing. I was so proud of it that I posted it on YouTube. Well, some guys heard it and somehow sent the link to Lloyd…And being the Great person Lloyd is…he liked it and through the guys that sent him the link…he got word back to me…and gave me the best comment I ever got from anyone. He said it was the best he heard other than the original. I love Lloyd very much…and pray for him every day. And I hope that one day I will get to meet him…and shake his hand and tell him face to face what a super picker and a wonderful person he is. God bless you Diane for all that you do to get news out about great folks like Lloyd Green. He is my Steel Guitar Hero. I am 69 years old…and still trying to play like Lloyd Green. I would like to be added to your newsletter."
Dale Veile in Columbia Falls, Montana, says, "I was shocked to hear about Lloyd Green. Great to hear he is on the mend. I'm a fellow steel player, so as you can imagine, I'm a big fan of him. If you speak to him, let him know he is in my prayers for a speedy recovery. Hope to get to see him play some day. Keep up the great work, I really appreciate all you do!"
Gary Sill writes from Mt. Zion, Illinois, "I would appreciate it if you would include me on your email list for your newsletter."
Randy Mckee says, "I had the opportunity to read your newsletter as well as a bit of the information on your site. I would like more information regarding receiving your newsletter."

Alan Pagliere writes, "I only just today learned of your website, blog, and newsletter. Amazing. A treasure. I read about your interview / phone call with Lloyd Green with great interest, being a pedal steel player myself, and therefore of course being as huge a fan of Mr. Green's as any steel player. Would you please add me to your newsletter email list?"
Bruce Bouton says, "Just read your article about Lloyd. Thank you! I actually talked with him today. I would like to subscribe to your newsletter."
Dominique Anglares writes from France, "Another welcome newsletter. Warmest Thanks for the 1961 video link showing Dolly in Fountain City. Amazing. The last but not the least great to hear 'Making Believe', a song written and first recorded in 1954 by my late friend Jimmy Work who passed on December 22, 2018."
Scott Stafford writes, "I saw your post on the Steel Guitar Forum, and would like to subscribe to your newsletter, also I purchased Live Fast, Love Hard and loved reading it. Got to do a couple shows with Faron, one in the 1970s in Nebraska, he had Ray Emmett, Richard Bass, Ernie Reed and Cootie, then again in the 1980s when I played drums in the house band at Billy Bob's Texas in Ft. Worth. He still had most of those guys with him."
Cal Sharp, former Country Deputy, says, "Rip nailed it with his recollection of Faron. Ha. My thoughts exactly."
Nobuhiko Ogino writes from Kobe, Japan, "I always enjoyed your newsletter. Rip Wilson's interview is very hard for me to read. But I love Faron forever…"
Dave Rusk in Lincoln, Nebraska, says, "Thank you so much for your hard work putting this together. Writing this newsletter is harder than it looks!!!! I look forward to reading it. My buddy, Larry Wilson, and I used to go to Package Shows at the old KRNT Theater in Des Moines. We saw all greats of that time including George Jones, Porter Wagoner and Faron Young. Looking forward to your next newsletter."
Gene Burkhart says, "Thank you for the newsletter it is always so informative. It's great to read about all my heroes."
Paul Potter writes, "I'm writing a book about Dottie West and I noticed your reader Gene Burkhart sent you a letter about Dottie West. Is there any way you could get in touch with Gene as I would like to interview him about Dottie for my book? The Cleveland era of Dottie's life is so important to document."
Nick Stubbington says, "My friend gave me your number and I am very interested in your newsletter. I have been in country music for many years and have been to USA many times."
Sherry Ford requests, "Please sign me up for the newsletter. I really enjoyed reading some of the past newsletters last night. Classic country is my favorite, so it was great to read about some of my old favorites. I particularly like the Statler Brothers music and the late Mel Street."
Marc Covington says, "If possible, I would like to be added to your list of subscribers to your newsletter."
Jerry Fletcher asks, "Please put me on your biweekly newsletter list."

Elroy Severson writes, "I haven't responded to you for quite some time —- nevertheless, I enjoy your newsletters. I'm from near Watertown and grew up in the Gary area. Now spend the winters in Arizona. I admire you for all the work you must do in providing the newsletters and the result is great, I'm sure. It keeps a lot of people updated on what's happening in the Country Music World. Especially enjoyed more about Faron Young, and the video of Dolly Parton"
Doug Taylor requests, "Please sign me for your newsletter. I really enjoyed reading this."
John Krebs says, "Another important newsletter! I'm so glad to hear Lloyd is doing ok. I was just thinking about him when someone posted Charley Pride's cover of Buck's 'Above and Beyond' on YouTube the other day and the second I heard the steel I knew it was Lloyd. Lloyd did 99% of Charley's sessions up until mid-1970 I think, then Gene O'Neal took over for a few years. Another great steel player but the Lloyd Green sound is my favorite. Lloyd's intro of Faron's 'Give A Lonely Heart A Home' is my favorite piece of steel work ever."
Susie Reed requests, "Please sign me up for your newsletter."
Stacy Harris writes from Nashville, "Thanks for the mention. Also appreciated that in your item about Charlie Monk, you refrained from using the 'Mayor of Music Row' designation. Charlie is so accomplished I will never understand why he has refused to disavow a designation that has never properly been bestowed on him. Just as there is only one 'King' and 'Queen' of country music (though you've seen those titles given to just about everyone with a string of hit records who is topping the charts at any point in time), there is only one 'Mayor of Music Row.' And I can't tell you how much it hurt Charlie Lamb (whose greatest dream in life was to be inducted into the Country Music Hall of Fame- an honor he so richly deserved, but has, even posthumously, yet to receive) that the recognition he did receive was misappropriated. Re: the Opry's 95th anniversary special, I was pleasantly surprised by how much it got right and really enjoyed the historical footage and stills—some I had not seen before. But I understand how you feel about Blake Shelton….  Thanks to Jim Sharp, everyone on the Music Row party circuit knew about Blake before anyone else did, yet Blake conveniently left Jim behind, never to publicly acknowledge Sharp's tireless work on Shelton's behalf (Blake rarely even mentions Mae Boren Axton anymore), once he got his major label deal (on the condition that he work with the label's choice of a manager). Looking forward to your Randy Travis book."
IN THEIR OWN WORDS
I don't remember who told me a member of the rock band Buffalo Springfield had been one of the first Country Deputy drummers. I tracked down Dewey Martin in Sylmar, California, for a phone interview in 2004. He told me he'd moved to Nashville from Ottawa, Canada, to make it in the music business. Dewey died at age 68 in 2009.
I played with Roy Orbison, and Patsy Cline, and Charlie Rich, there's a whole bunch more I can't think of. I was in Nashville, and there was a club in Printers Alley that was open in the daytime. There was one jazz guitarist, Hank Garland. He was sitting in a place and he was just playing his guitar, on one of those stools where you cross your legs, y'know; really good players play like that. I went up and played with him, and I didn't have anything but a set of combs. Hank asked me, "Are you working?" No. He said, "You should be." He said, "Have you got any drums?" I said, "Yes, but they're in Canada." "Oh, never mind. He's got drums, that's right." Roger Miller had unexpectedly left Faron Young, and that's how I got the job. We went out the next day. No rehearsals or anything. I believe it was in '61. Whenever he had "Hello Walls" out, that's when I was with him. Whoever got a job by just playing with a set of combs, and unrehearsed, or anything? The guy was a hot guitar player, Hank Garland. He got me that job the very next day. He said show up here. So I showed up. I can't remember where we went the first time.
I was playing with other people, too. I might have only been with him a little over a year. It's hard to tell–there was so many people, so many things happening, I was so young, and not as bright as I am now. I didn't know the games they play in the music business, and how you get paid and all that, so I was really naïve.
I left because I wanted to play big band style, so I went and worked with Leon McAuliffe, the "Steel Guitar Rag" guy. Then I came back to Nashville and played some more, and then–I remembered in California it was beautiful. With the palm trees, it was just perfect. I loved it so much I just packed my drums in my Buick Riviera and headed off. I had one connection there–the drummer at the Palomino was in the house band. He would get me work.
Darrell McCall, Odell Martin, Big Ben, who else was in the band? One, two, three, four, it was bigger than a four-piece band. What about Johnny Paycheck? When did he die? I didn't play with him when he was singing with Faron. What's Darrell McCall doing?
We were out in the desert, and we stopped at an oasis place; they sold about everything. That's when Faron had his Flexible bus, and there was bunks in it, and everything. I was asleep, and I woke up, and I went in to get something. There goes the bus down the road, west, to the mountain range. So I chartered a plane. It cost me fifty bucks to charter it, and Faron wouldn't pay for that. I think he should've. They thought I was still sleeping; that would not have been done purposely. I got there and beat them. I was sitting on the stage when they rolled in. It was like an old, old Greyhound or Trailway bus, and it had a big slanting back like a Volkswagen. It sloped down in the back. They called it F-L-E-X.
I loved working with Faron. He was a good guy. I don't know what was messing him up in the end, whether it was not getting any work–Big Ben told me about it. Faron was a stand-up guy. I don't like people calling me their drummer, but I guess I was his drummer cuz he was paying me. When you're in a band, that's five guys in, nobody should call any other member–should call them that, I don't think. One night, a guy was standing there, I said, "I'm my own drummer."
Playing the Opry was great–just played it with a snare drum and brushes. I can't think of much more. Do you have enough? I remember it clear as a bell, playing with him, and all that.
When I was learning how to talk, I couldn't say Dwayne, so I said Dewey instead. That's been my name since I was 16. I changed it to Martin because nobody could pronounce Midkiff. I hate that name. There was a bass player in a band in high school whose name was Martin, and it was easy to remember. That's why I did it.
I got a mountain house, but it's so far to go out–two hours in a car for me anymore is a long time. It's hard on my back. But I've got a place a couple hours out there in Palm Springs. I'm getting ready to put it up for sale because I never go there.
ALBUM OF THE WEEK
It's been thirty years since Willie Nelson released his double cassette of The IRS Tapes: Who'll Buy My Memories? I was one of those who did. When I pulled out the cassettes the other day to listen to the songs, I found a copy of the newspaper article and the phone number I'd used to order the set to help Willie with his IRS troubles. Willie sings the 24 songs with the sole accompaniment of his acoustic guitar; there is no band. It's mellow listening music, not dance music. To summarize the history, the IRS seized his assets in 1990, claiming he owed $16 million in back taxes, due to bad investments and his accountants not paying his taxes for years. The IRS eventually collected $3.6 million from sales of the album, in a unique profit-sharing agreement. Willie paid an additional $9 million over the next five years, which satisfied the debt.
BOOK REVIEW
One of the country music books in my library is My Memories of Jim Reeves . . . and Other Celebrities, written by Joyce Gray Jackson and published in 2009. Jeannie Seely and Kitty Wells wrote forewords for the book. It is "In Memory" of Leo Jackson, Joyce's ex-husband and longtime lead guitar player of Jim's Blue Boys band. I was surprised to learn Marsha Basore, widow of steel player Stu Basore, is one of Joyce's sisters. To begin the story, Joyce writes, "Jan. 28, 1958 is a date that changed my life. That was the day that Gentleman Jim Reeves hired me to become his secretary." Following 30 pages devoted to Jim Reeves, the remainder of the book brings in other artists, with several pages or paragraphs for each one. The table of contents, titled "Joyce's Who's Who," lists the names and page numbers of 90 artists she discusses. Then come lists of "Artists I Met, But Didn't Know" and "Artists I Wish I Could Have Met." She includes numerous photos throughout, as well as lyrics of songs she wrote. The back cover tells us Justin Tubb wrote "Take a Letter, Miss Gray" about her; he took the song to #6 on Billboard in 1963. I enjoyed this book as a refresher of things I already knew and learning a lot I hadn't known.