NEWS
The Texas Rangers paid tribute to Charley Pride by naming a field at their spring training complex after him, reports Rolling Stone. "Introducing Charley Pride Field! You are greatly missed," the team tweeted after unveiling the "Charley Pride Field" signage at the spring training site in Surprise, Arizona. Charley died December 12 from complications related to COVID-19. He was part of the ownership group that purchased the Texas Rangers in 2010, and he frequently visited the team at the spring training facility. He sang the National Anthem last July at the first game on the Rangers' new Globe Life Field in Arlington, Texas. The stadium was empty due to coronavirus restrictions.
Larry Gatlin tested positive for COVID-19 on March 8, soon after receiving his second vaccination. "I made it 361 days without getting the virus," he told Fox News. "Then I finally get it four days after getting my second dose of Moderna. What are the odds?" On March 18, he told MusicRow, "I had some slight body aches, but at 72 I have slight body aches every day. I had no headache. At the worst it felt like a slight chest cold and it was gone in three days. . .. I'm now 100% good to go and feeling great. Thanks be to God." His father, William Wayne "Curley" Gatlin, died in November. "My 93-year-old Marine daddy died of COVID or with COVID," Larry says. "His body had begun to shut down long before he contacted COVID, so our family is not sure exactly what happened. What we are sure of is that the old Marine is with Mama and Jesus and he does not have COVID now." Gatlin encourages fans and industry members to stay vigilant in avoiding COVID: "Be careful and above all else, pray for your race: the human race."
Family and friends recently gathered at the Jerry Lee Lewis ranch in Nesbit, Mississippi, to celebrate the ninth wedding anniversary of Jerry Lee and Judith, who wed on March 9, 2012. Donnie Swaggart presided over a wedding vow renewal where the two exchanged rings and repeated vows that reaffirmed their love. Jerry Lee's daughter, Phoebe, had hired Judith Coghlan to help as his caregiver in 2010. The two discovered they had many things in common, and they fell in love. They originally met thirty years ago in Las Vegas, when Judith was engaged to Jerry Lee's cousin, Rusty Brown. They saw each other over the years, but nothing romantic. DeSoto Times-Tribune reports evangelist Jimmy Swaggart, Jerry Lee's cousin and Donnie's father, couldn't attend the ceremony because he'd broken a rib. Jerry Lee's song to Judith was his own "I Love You Because." Judith chose "As Far as I'm Concerned," a Faron Young song recorded by Jerry Lee.
Asleep at the Wheel bandleader Ray Benson turned seventy on March 16. He always celebrates his birthday with a fundraiser for the Health Alliance for Austin Musicians (HAAM), an organization he co-founded to help provide health care for indigent musicians. The fundraiser, normally part of the South By Southwest festival, will be virtual this year. Variety reports Asleep at the Wheel will celebrate the band's 50th anniversary with an all-star show in Austin this fall. The title of the band's upcoming album is Half a Hundred Years.
Texas native Matthew McConaughey hosted a virtual benefit concert, "We're Texas," to raise money for Texas winter storm relief. He called it "a virtual revival where we can all come together to help Texas recover from the winter storm. Join me, Camila McConaughey, Just Keep Livin' Foundation, and an ALL-STAR Texas lineup." Whiskey Riff reports the March 21 event aired on Matthew McConaughey's Youtube channel, with 100% of donations going to benefit organizations on the ground now and in the months to come. The lineup included George Strait, Willie Nelson, Miranda Lambert, and many others. Country Music Nation reports, "The last time George Strait picked up a guitar and sang for his fans was on February 1, 2020 at T-Mobile Arena." George joined the March 21 event virtually, after McConaughey introduced him by saying, "Up now is a Texan who, number one, sent me to go get my own cowboy hat." He showed a dark brown hat with a decorative feather and then said, "He really needs no introduction. He is a man who is a testimonial to the Texas gentleman." George sang "Troubadour" in a recording studio with three musicians and his own acoustic guitar. He wore his black cowboy hat, blue jeans and a crisp button-up shirt, and sat on a stool. By the next day, the We're Texas benefit had raised more than $266,000 to aid Texans impacted by winter storms. The next scheduled George Strait concert is July 31 at US Bank Stadium in Minneapolis, Minnesota.
Stacia Felts Stone posted on Facebook that her mother, Loretta, wife of Narvel Felts, fell early morning on March 11 and broke her hip. They did surgery that night. I haven't seen a recent update on her condition.
The four country-music-specific categories at the Grammys are: Best Country Album, Best Country Song, Best Country Duo/Group Performance, and Best Country Solo Performance. During the 2021 Grammy Awards show on March 14, Country Music Nation reports, the award for Best Country Album went to Miranda Lambert for Wildcard. It was the first time in Grammy history that all five nominees for Best Country Album were women. Best Country Duo/Group Performance went to Dan + Shay with Justin Bieber for "10,000 Hours." The Highwomen won Best Country Song for "Crowded Table." The award for Best Country Solo Performance went to Vince Gill for "When My Amy Prays." Dolly Parton won Best Contemporary Christian Music Performance/Song for the second year in a row. Last year it was "God Only Knows" with for KING & COUNTRY. This year, she won for "There Was Jesus" with Zach Williams.
In other Grammy news, the Tennessean reports Taylor Swift won Album of the Year for Folklore. She is the first woman to win the award three times. Beyoncé made history with her 28th win, replacing Alison Krauss as the Grammys' most-awarded woman. John Prine earned two posthumous Grammys for "I Remember Everything": Best American Roots Song and Best American Roots Performance. The Best Roots Gospel Album went to the Fisk Jubilee Singers, receiving their first Grammy Award 150 years after originally forming at Nashville's Fisk University and bringing "negro spirituals" to the world. Celebrating Fisk! (The 150th Anniversary Album) was recorded live at the Ryman Auditorium. The Recording Academy featured several independent venues that hung on through the pandemic. One in Nashville was The Station Inn. Others showcased were The Apollo Theater in New York City and two Los Angeles clubs, the Troubadour and Hotel Café.
The Grand Ole Opry is releasing a limited-edition vinyl called Unbroken | Empty Room, Full Circle, available June 24. According to MusicRow, the record honors the Saturday night Opry shows that continued for 29 weeks after live shows were halted on March 14, 2020. WSM radio broadcast the Opry performances, and the Opry Live television broadcast was viewed by more than 50 million people from more than 100 countries. The album includes performances from Vince Gill, Brad Paisley, Reba McEntire and many more. Marty Stuart leads off the collection with "No Hard Time Blues" from the March 21 show.
PEOPLE reports Naomi Judd, 75, called Watch What Happens Live to give an update on daughter Ashley Judd, 52, who is recovering from an accident in the Democratic Republic of the Congo that shattered her leg. "She's very courageous and she's healing," Naomi said. "She lives next door, so I'm gonna go up and take her stitches out when we're done. I used to be a nurse before I became a singer." Naomi's other daughter, Wynonna, 56, lives nearby. She had to look up "how to wash hair for someone who's lying down in bed," she said, after Ashley texted her the request. Ashley provided her own update, in which she thanked those who had physical therapy before her: "Thank you. I am only at [the] beginning and the combination of drowning in trauma and addressing the physical body is a lot. Yet you have done it, and so will I."
Rodney Crowell reminisces on Facebook about one of my all-time favorite albums by one of my favorite singers. I still have the cassette I bought back then. "Once upon a time," Rodney says, "twenty-eight years ago, I, and some very talented musician types, made an album called Diamonds & Dirt. I remember the recording sessions as if they happened yesterday: Barry Beckett's hair flying while he played the piano solo on 'Crazy Baby,' Michael Rhodes and Eddie Bayers dog piling me during the playback of 'She's Crazy For Leaving,' Russ Kunkel softly counting off the intro to 'I Know You're Married' and recording engineer, Steve MarcAntonio, describing how he'd just finished putting away the multi-track tapes from John Lennon's last recording session when the phone rang with news that the ex-Beatle been shot and killed. These things come to mind. The five number one singles, the Grammy and the never-ending tour seem less important than the human interaction that brought the record to life. Which confirms my longstanding belief that the process is the artist's true reward."
Highland Rim Speedway, where Marty Robbins ran his early Nashville races, is still operating but with a different name and surface. Smokey Barn News in Greenbrier, Tennessee, reports March 20 as opening day at Veterans Motorplex at the Rim, a ¼-mile oval asphalt track located off Exit 104 on I-65, 20 minutes north of Nashville. It was built in 1961, a dirt track called Highland Rim Speedway.
Time Life has signed a deal with Exile, Kentucky Music Hall of Fame members, to reissue four of their albums: The Garage Tapes, Exile Hits, Live at the Franklin Theatre, and People Get Ready. For the first time ever, the albums will all be available on all digital platforms. With a career spanning nearly six decades and eleven number one songs, Exile continues to tour and create new music. An Exile reunion concert in 2008 reunited the original five members of the band. A press release states, "Their longevity will be ongoing as the pop/country crossover hit-making band continues to tour, performing their greatest hits, fan-favorite on-the-road songs from over the years, and plan to announce new dates later in 2021."
Longtime owner of The Station Inn, Earl JT Gray, 75, died March 20 of pre-existing medical conditions. The Station Inn opened in 1974 in Nashville and moved to its current home at 402 12th Avenue South in 1978. It was founded by a group of bluegrass musicians who also served as the house band until Gray took over in 1981. A musician raised in Corinth, Mississippi, Gray moved to Nashville in the 1970s. According to the Tennessean, Gray "transformed the club from a self-described 'coffee house' room with come-as-you-please jams to Nashville's undisputed home for the world's best pickers." Ricky Skaggs, The Time Jumpers, The SteelDrivers, Sturgill Simpson, and John Prine are some of those who played there. Gray presented Miranda Lambert with the Best Country Album honor on last week's Grammy Awards show. He was inducted into the Bluegrass Hall of Fame last year.
The Chillaxification Tour by Kenny Chesney has been scrapped, according to Rolling Stone. After being postponed from 2020 until 2021, the stadium tour will now take place in 2022. A press release says, "All of the stadiums on the 2021 itinerary will still host Chesney's 2022 tour. It will be a completely new show with a new name, new line-up, lots of new music and plenty of the songs people come to hear." Kenny, 52, told his No Shoes Nation fans in a letter, "We have waited, and we have hoped. Talked to medical experts, stadium people, local officials across the country. I hate what I'm about to tell you. With all the progress being made around the pandemic, there is still too much unknown."
On Easter Sunday, Carrie Underwood will perform her new album during a virtual concert entitled "My Savior: Live From The Ryman." The concert will stream live on her official Facebook page at 11 a.m. CT on April 4 and will remain on Facebook for 48 hours. The free event will benefit Save the Children, a nonprofit that works in over 100 countries to ensure that children grow up healthy, educated and safe. Carrie, 38, tells PEOPLE she wanted to release the gospel album, My Savior, as a way to spread positivity because "I just want to do positive things."
On the one-year anniversary of the death of Kenny Rogers, his family paid tribute in a social media statement from "the Rogers Family & Team KR." It began, "It's so hard to believe it's been a year since Kenny left us. As you can imagine, some days are better than others, so we wholeheartedly thank you for your thoughts, prayers and support over the last year." PEOPLE reports on the Recording Academy's tribute during the 2021 Grammy Awards to honor musicians who died in the past year. During the In Memoriam segment, Lionel Richie, 71, honored Kenny by singing his love ballad "Lady." Others who received tributes were Bill Withers, Betty Wright, K.T. Oslin, Tony Rice, Eddie Van Halen, Mary Wilson, Bonnie Pointer, Mac Davis, Helen Reddy, McCoy Tyner, Charley Pride, and Charlie Daniels.
Sounds Like Nashville recently interviewed Suzy Bogguss, who has been busy while at home during the COVID-19 pandemic. She and husband Doug Crider have been recording an album while homebound. "We have a studio over the garage, so we don't have to leave the house," Suzy says. "One part was actually recorded in our dining room and then we moved over to the laundry room." She began the album by playing every instrument herself. "I was bored out of my mind," she says. "I decided to bring in some other musicians like Chris Scruggs, who really can play anything." She assures readers that social distancing rules were followed: "We were masked. We had our coffee breaks outside, we ate outside, did everything safely. It's been kind of an experiment." Suzy also runs a fan subscription service called the Inner Circle, for $10 a month. She conducts Zoom calls with members and gives them access to videos and new music. "Some of these are behind the scenes videos, where fans can watch Doug and I mixing a song, or see how tracks are sent from one city to another," she explains. "They get things most people are not privy to. They are basically funding the project and they get the content before everyone else." Suzy is seeking a publisher for her new cookbook devoted to soup recipes. Every year on her December 30 birthday, she livestreams a soup recipe demonstration, and she throws a party for which she makes vegetable soup. "Every year I challenge myself to do something wild along with the vegetable soup," she says. "The cookbook will have some of my recipes and some I have collected over the years. There will be recipes for Texas chili and lentil soup that I've picked up from some of my artist buddies."
Jeni's Splendid Ice Creams has announced a new ice cream flavor in partnership with Dolly Parton, 75. The flavor for the limited-edition pint has not yet been released, but it is "specially made for Dolly Parton." Sales will benefit Dolly's Imagination Library — the nonprofit she founded in 1995 that sends free books to children from birth until five years of age. According to PEOPLE, "While the flavor won't be announced for a few weeks, you can be one of the first to hear what it is by signing up for notifications at http://jenis.com/dolly/."
Gary LeVox, lead singer of country trio Rascal Flatts, is going solo. He has released a Christian-oriented single called "The Distance" and is working on a Christian music album and a solo country album. When the group announced its retirement in January 2020, the plan was to conclude with the 17th headlining concert tour in 20 years. But the novel coronavirus pandemic postponed and then canceled those dates. "Flatts aren't going to go back on the road this year. But I'll be on the road for sure," Gary tells Billboard. "I have 17 No. 1s with Rascal Flatts, plus there's my new stuff. I'll be covering all bases." Saving Country Music reports bass player/singer Jay DeMarcus started Red Street Records in late 2019 and has signed several artists to the Christian-oriented label. Guitarist and high harmony singer Joe Don Rooney is enjoying a private life. Gary LeVox and Jay DeMarcus, second cousins from Columbus, Ohio, were singing in a nightclub in Nashville's Printer's Alley in 1999, when guitarist Joe Don Rooney from Oklahoma joined them one night. The headlining trio was born.
Clint Black Cowboy Coffee, a dark-roasted blend inspired by the favored drink of cowboys everywhere, is a new product from Clint Black, reports Sounds Like Nashville. It is roasted in Texas and available in ground or whole bean, with K-cups coming soon. Clint created it with the intent of being "really strong without being bitter," he says. Helped by a friend who is in the coffee business, Clint initially made his own blend as gifts for friends and family. Their positive reactions encouraged him to expand the brand, he says, when he "lost his day job to COVID-19." The coffee, available at https://clintblackcoffee.com, comes in a white bag with black lettering and has a drawing by Steve Wariner on the back.
MusicRow reports Linda Ronstadt has sold her recorded music assets in a partnership with Irving Azoff's new venture Iconic Artists Group, in which her catalog will be marketed and her legacy preserved in the digital era. The partnership will introduce her music to new generations of fans. Linda is a 2014 Rock and Roll Hall of Fame inductee and one of the world's best-selling artists. She just won her 11th Grammy–for Best Music Film for her documentary Linda Ronstadt: The Sound of My Voice.
LETTERS
Jean Earle writes from England, "Thank you for your latest newsletter. May I say I am sorry you missed Faron's birthday date….but in the present circumstances it is quite understandable. We remembered his special day over here and sent our request to our local BBC 'Radio Tees' station for a song and a reminder to his fans over here in England. Our DJ, Colin Bunyan, played 'City Lights' and said some nice words about ole Faron. It was much appreciated. I have days when my memory lets me down too. Could be age.?. .could be the weather.. ?..or just so many things to distract us in everyday problems. Now, have I sent you this picture before? My son found this Treasure in a local shop and was pleased to buy it for me. I have it on my wall….great picture with so many happy memories. I always look forward to your news. Take good care of yourself."
Andy Williford, boyhood friend of Faron Young, writes from Texas, "I read about Dewey Martin, the drummer, and maybe most people do not know Faron was close friends with DJ Fontana, HOF, Elvis's original drummer. They grew up together in Shreveport and attended school together. I also knew DJ very well."
Bill Sutton writes, "Just want to brag on your Newsletter…it is great. I read things that I didn't know. The story about mister Ron Hogan is one I didn't know. I see Ron's name on the Forum a lot…and I think I talked with him one time or another by email…but never knew he played steel for those famous singers like Freddie Hart… I love Freddie Hart…He was an awesome singer…wow that is great. Another great singer was mentioned…Randy Travis. I'm from North Carolina…and so was Randy. My cousin was the drummer for Randy back in the 1980s. They played a lot around Marshville and Monroe NC. My cousin's name was Donny Poplin. Randy was a little on the wild side back then…but him and Donny were very good friends. I think Randy bought a horse for Donny…and Randy's dad boarded the horse in his barn. Wow what a great friend. Randy is one of my favorite singers…and Donny is one of my favorite cousins. Donny was president of Poplin & Sons Machine Inc. Donny took over when his dad Ted Poplin passed away. If I needed a steel guitar part…Ted would make it for me…Ted…Donny…and me were very close. Donny passed on December 20, 2019. Him and Randy were great together. Thank you Diane for all you do to get out news about real Country singers like Randy Travis. You're a special person and I'm sure you're loved by many."
David Markham writes from Great Britain, "A very, very long read, after being in country since 1947 at age 7. I've never heard of those steel guitarists or most of the artists you mention. I've been with your newsletter for two years and very disappointed as I've sent you lots of true information from the horse's mouth. I did an interview with Bobby Bare and his wife in Liverpool, my home 1966. That was a great story, that wasn't printed. Then I did one on my two greatest singers Jim Reeves and how I met Mary Reeves who invited me and my wife over to Jim Reeves Enterprises in Joyce Lane Madison Tennessee. I gave you long stories on how I became friends with all the Reeves Family and you never even printed them. Joyce Jackson was my friend with The Jim Reeves Family for 36 happy years. I tried to tell you this but you just didn't think it was important enough to print. You ask Joyce Jackson about my name, David Markham friends with Mary Reeves, sending gifts to Joyce and Darla at Jim Reeves Enterprises. There's nothing anyone can tell me about Joyce and Leo Jackson Jim's lead guitarist and the Blue Boys."
Dominique 'Imperial' Anglares says, "Thank you very much for that welcome newsletter. Keep these coming, always much appreciated. Warmest regards from your French friend."
Bob Jennings writes, "Here's a photo of the guitar my parents bought for me in 1952; I was fifteen years old. I did some music waaaay back then–rhythm mostly. I thought readers may like to see a nice vintage Gibson L 50 Guitar. I have a DeArmond Pick Up on this guitar and ran it through a Fender Champion all tube amp. I still have this guitar and it plays and sounds as good as it did back then."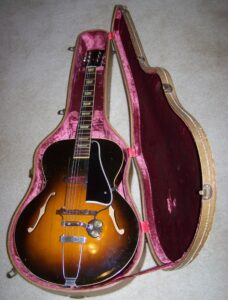 Bev Carnes sends this request: "I would like to receive the Country Music Newsletter."
Gerald Walton in Oklahoma City, Oklahoma, wonders, "Just a note about how I enjoy your newsletter and a question as I am a Hank Thompson fan. Did you ever meet him or interview him?"
Diane: I'm a Hank Thompson fan, too. I never saw him in person and never interviewed him. I just enjoyed hearing his music.
Nobuhino Ogino writes from Japan, "I'm looking forward to your monthly blog. Take care of your health. The attached photo was taken when I went to Fan Fair on my honeymoon in 1982."
Larry Jordan writes from Florida, "In your comments about Joyce Jackson's book, you note that she dedicated it to Jim Reeves' lead guitarist, Leo Jackson, and then described Leo as her ex-husband. Technically that's true, but they were only married from November 16, 1964 to December 3, 1964 as court records confirm. Leo's fiancée, Nell, went with him but waited in the car, and after the ceremony, Joyce and Leo went their separate ways. They got divorced as soon as the law would allow. Leo married Nell in 1965 and they were together until his death in 2008 — about 44 years. I think it's very sad that so many fans think of Joyce as Leo's 'wife' when they never lived together, and married only at the behest of Mary Reeves and pressure from Joyce herself. Joyce was pregnant at the time Jim was killed, and Mary was afraid people around Nashville would think the baby was his. (It wasn't, as even Joyce confirms.) Mary (whom I knew for 33 years) was eager to avoid scandal and preserve her late husband's image and hence his marketability as 'Gentleman Jim.' So Mrs. Reeves put heavy pressure on Leo to marry Joyce to give her baby a last name. None of this would be anybody's business except the participants involved EXCEPT that Leo is no longer alive to set the record straight. I have many, many hours of Leo on tape as he was an invaluable source for my 672-page book, Jim Reeves: His Untold Story, and he addressed this whole matter. Until the day he died he was remorseful about how he had hurt Nell by going along with this scheme. I am willing to post audio excerpts from those tapes in which Leo explains these unusual circumstances if anyone challenges my account. BTW, Nell Jackson has many stories to tell about the Nashville stars and I can assure you, if she writes a book it will become a 'must read.'"
IN THEIR OWN WORDS
I first met Stu Basore when he came to the Country Deputies reunion I set up as a research tool at the Hall of Fame Quality Inn in Nashville on January 7, 2000. Then, when Ray Emmett put together the Country Deputies band for the book release party of Live Fast, Love Hard: The Faron Young Story at the Ernest Tubb Midnite Jamboree in 2007, Stu was the steel player. Stu died in 2018, at age 80, from Lewy Body Dementia complications.
We played golf one time. He'd quit drinkin', so I decided I wouldn't drink any beer that day. He said, "Hell, no, it don't bother me. Go ahead and drink your goddamn beer." It was a new golf course, called Windtree. Bob Browning, a singer and bass player around town, his son works there. He was behind the counter, and he told me, "Sometime you want to come out, we'll comp the green fees." So I called the Sheriff. I said, "I've got a nine o'clock tee time. What they're gonna do is comp the green fees." So I got out there, and the Sheriff had got there at least a half an hour before me. He'd give 'em autographed albums. He'd not only got the green fees comped, which is the only thing I could do, but even got the golf carts comped. He said, "Give me a sleeve of them goddamn balls there." Here I thought I was doing good to get the green fees comped, and he had it all. "Here, Sheriff, sign this," whatever. By the time we were done, it didn't cost us a dime. But fun deal. It was fun to play with Faron. That was the only time I got to play golf with him, but I thoroughly enjoyed it.
When I went to work for him, it was in like '94. I was talking to my wife, "Emmett wants me to take the gig with Faron. I don't know if I want to do that. I haven't been on the road in years." Her statement next was, "Well, you've always liked Faron." And I've always respected him. It was really one of the most fun times of my life. We're all getting long in the tooth, I don't want to work the road, but that was a fun gig. The Sheriff is who he is. He'd get on the stage, and I'd set there and get cold chills, because–goddamn–he sang.
My daughter was getting married. I'd only been in the band, like six months or whatever it was. Well, Emmett told the Sheriff, "Well, I'll just have my July Fourth party. I think I'm gonna miss Florida, too." Sheriff says, "Stu's daughter is getting married. Hell, he's been planning it for years. I ain't gonna excuse you." It evolved into Lynn Owsley went in my place and Darrell went in Ray Emmett's place. Faron, because he was able to get Darrell, it kind of saved Emmett's ass. I told Faron when I started the gig, there's one weekend–July 6 my daughter got married–if there's something there, I can't make it.
When he was right, what a joy to play with him. Faron was magic.
SONG OF THE WEEK
One of the songs on Dolly Parton's 1973 album, My Tennessee Mountain Home, described her arrival in Nashville. "Down on Music Row" recreates the experience many stars remember from their early Nashville days: "Down on Music Row/If you want to be a star/ That's where you've got to go." She talks about getting into Nashville early in the morning, "Sleepy, hungry, tired and dirty," and "I waited there 'till eight o'clock/ When office doors became unlocked/ Then I started walkin'/ Down the streets of Music Row." However, "They said that I could leave a tape/ But they'd suggest I didn't wait." Finally, though, she sings, "Chet and Bob at RCA/ Well, they listened to my songs that day/ And they both told me that I was on my way."
BOOK REVIEW
Another of the country music books in my library is Buck Owens: The Biography, written by former Tennessean editor Eileen Sisk in 2010. I enjoyed reading Buck's story and remembering times past. I thought the information from the interviews was well balanced, although several unverified gossipy anecdotes could have been deleted. The book's credible sources convinced me this is the person Buck really was. Rather than a definitive biography, it seems a story of the Buckeroos and Buck's women and their opinions. Family members apparently declined to contribute. I'm glad the sidemen received credit for their roles in making a star. The main distractor for me was the use of unattributed quotes. Comments such as "Lord knows" and "the guys had a hell of a band" are quotations, not narrative. All in all, this book plays an important role in preserving the history of country music.