HEART OF TEXAS COUNTRY MUSIC FESTIVAL
For more than a decade, I've wanted to go to Texas to attend a Jody Nix dance. That finally happened when Kayo and I flew to Dallas and drove to Brady for Tracy Pitcox's 32nd Heart of Texas Country Music Festival. We attended the final four days of the nine-day festival, which drew a crowd of 3,800 people from 19 states. We arrived in such a downpour I could barely see the lines on the road while driving into town. Someone later thanked us for bringing the rain, because it had been so dry.
At the Brady Civic Center on Wednesday night, Jody Nix and his Texas Cowboys followed Jeff Woolsey and the Dancehall Kings. I didn't take any photos that evening. I'd first heard Jody's music played on XM Radio's Willie's Place 15 years ago. I met him when his band came to Washington, D.C., in 2008 to represent Texas at the Smithsonian Folklife Festival. I profiled him in my newsletter in 2015.
Two other dance bands played the next night –Bobby Flores and the Yellow Rose Band followed by Jake Hooker and the Outsiders. All four bands had steel and fiddle, and the dance floor stayed full both evenings. It was agonizing to sit though all those hours of wonderful dance music and not have anyone to dance with.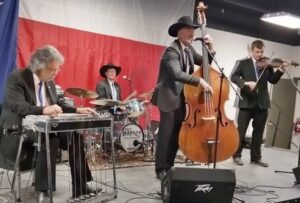 Jody Nix and Jeff Woolsey both kicked off their shows with Faron Young's "Wine Me Up." Jake Hooker also played "Wine Me Up," and Bobby Flores sang "It's Four in the Morning." I only recall hearing one Marty Robbins song all weekend; Bobby sang it. The weekend was filled with steel and fiddle and lots of Faron Young. Johnny Bush was possibly the most performed artist of the weekend. He had been scheduled to open the festival, but after his death last October, his opening night show was turned into a tribute. This was before we arrived. Justin Trevino was everywhere. He played electric bass in the house band and at the jam session, and he had his own segments. (Here's my spotlight conversation with Justin in 2018.)
The Thursday afternoon jam session was hosted by Sharon and Roger Kenaston from Nebraska. Kayo and I met Dennis Francis from Pasadena CA. Born in 1994, he plays guitar and is learning to dance. He was as shocked to learn I'm Faron's biographer as I was to hear he'd read the book. I later mailed him a bookplate, so he'd have my autograph in his book. I also talked to steel player Tim Hamilton and his wife Misty from Georgia. When I mentioned my recent phone conversation with Lloyd Green, Tim said, "Lloyd is my hero. He's the reason I play." We met Maria Parisi from Fort Worth. She will be hosting the Birthplace of Western Swing Festival in November.
A woman told Kayo she'd met a man named Kayo at the festival, and she would try to find him. She returned with Kayo Strickland. Kayo asked him, "How long have you been called Kayo?" He said, "All my life–72 years." His grandmother had nicknamed him Kayo at birth, and he legally changed his first name to Kayo at age 21 when he changed his last name to his stepfather's name. Both Kayos were named for Kayo Mullins in the comic strip "Moon Mullins," but he did not sleep in a dresser drawer as both Kayo Mullins and my sister did.
We set up in the Heart of Texas Country Music Museum on Friday and Saturday mornings to sell my books. One of the people who came by introduced herself as Ronda Williams and said she was the daughter of Phyllis Powell, Faron Young's secretary, whom I'd interviewed for my Faron biography. I'd also interviewed her stepfather, Don Powell, for my Marty Robbins biography.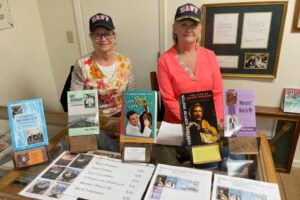 We talked to the mother of Jack Phillips, a 15-year-old who played fiddle in the house band and steel for Bobby Flores. She said he was eight when he told her he thought he could play a fiddle. Soon after they got the right fiddle, he and his teacher parted ways because she wanted him to learn classic violin. He'd only been taking lessons three months when he joined a Bob Wills fiddle contest, played "Faded Love," and won third prize. The next year he won first prize and that was enough for him; he wanted to be in a band, not in contests. Bobby Flores and Hank Singer both gave him periodic lessons. A year or so ago, he was playing fiddle in a band and watching the steel player. He decided he wanted to play steel, and now he is the steel player with Bobby Flores. I'd gotten some of that history from Tony Booth, whom I'd noticed Thursday evening, wearing a ball cap and standing near the kitchen. He said he didn't think anybody would recognize him. He'd just gotten into town, and he stopped by to see "the prodigy" who was playing steel with Bobby Flores. Tony told me Jack was an excellent fiddle player who decided last year he wanted to play steel, and now he's in Bobby's band.
Tony Booth opened the Friday evening show, with songs such as "The Key's in the Mailbox" and "Cinderella." Headliner TG Sheppard brought out his wife, Kelly Lang, for a few songs. (Here's my Tony Booth spotlight.)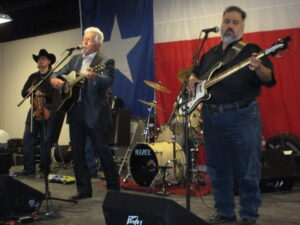 Both the Saturday afternoon and evening shows contained the same long list of entertainers, most of whom are on the Heart of Texas record label, with Johnny Rodriguez as the headliner. The afternoon show was a concert, with the dance floor full of chairs. When Kayo and I walked in before the general admission crowd and started setting up a table to sell my books, a woman came over and asked what we were doing. I told her Tracy had given me permission to sell books, and she said, "I'm Tracy's mother." The she joked, "He doesn't tell me anything." It was a nice surprise to meet her.
I regretted not being able to meet Norma Jean. Although on the schedule to perform, she stayed away because of coronavirus concerns. I'd spotlighted her in my newsletter in 2018.
Dottsy told me she and Johnny Rodriguez had been friends for almost fifty years, after having the same manager for seven years. Her hits from the 1970s include "After Sweet Memories, Play Born to Lose Again" and "I'll Be Your San Antonio Rose."
I said hello to Darrell and Mona McCall, whom we'd last seen in Nashville in 2007, when Darrell fronted the Country Deputies on the Midnite Jamboree during the book release party for Faron's biography. They had individual segments during both Saturday performances.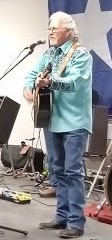 Tayla Lynn, granddaughter of Lorette Lynn, has just released her first Heart of Texas Records CD, Tayla Lynn Sings Loretta Lynn. Trey Twitty, grandson of Conway Twitty, joined her on stage to sing "Louisiana Woman, Mississippi Man."
While we were selling books before the afternoon concert, a couple came by and picked up Faron's book. They were discussing what songs he would sing, and I asked if he was performing that afternoon. He said he was in Johnny Rodriguez's band. He was David Reynolds, the frontman. He told us he would sing "Wine Me Up" for us.
After all the Heart of Texas performers (including Darrell McCall, Mona McCall, Dottsy, Tony Booth, Justin Trevino, Amber Digby, and more) sang two songs, backed by the house band, there was a break to change bands. Tracy Pitcox introduced the Johnny Rodriguez Band, and David Reynolds sang his first song while playing keyboards. Then he picked up his fiddle and said, "Here's 'Wine Me Up.' For those in the back."
While David was singing his third song, Johnny Rodriguez walked onstage with a hand towel over his shoulder and a water bottle in his hand. He set them down, strapped on his acoustic guitar, and started playing. When David finished his song, Johnny greeted the audience and began his show. We didn't get to meet him, because he didn't stay for autographs, but we certainly enjoyed his singing. Kayo and I have been Johnny Rodriguez fans since the beginning of his career. I have his first album, Introducing Johnny Rodriguez, from 1973. I pulled out the LP and listened to it while working on this newsletter. He played lead guitar in Tom T. Hall's band at the time, and the pair wrote some good songs.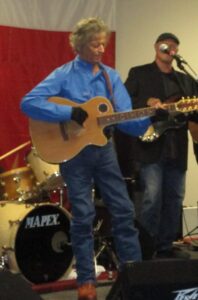 Saturday evening began with Johnny Rodriguez's set. He left the stage after about four songs, and the band took over the singing, until Tracy announced that Johnny was ill and Justin Trevino would finish his show. Justin sang a collection of Johnny's songs before the break to change bands. The Heart of Texas entertainers provided the music for the remainder of the dance.
Thanks to Tracy Pitcox and wife Charla for such a great festival. Tracy has done a lot to support his hometown of Brady, Texas, and the community supports him in turn. Kayo and I talked to a few of the many volunteers during our time there. Clyde and Sue McCarley volunteered at the dances. Kayo's engineer cap started Clyde reminiscing about his days as a railroad engineer. Sue gave us a bit of history about the Pitcox family and Brady. Linda King, a museum volunteer, described the weeks-long process of installing new flooring in the museum. They all made us feel welcome.
NEWS
The 25 recordings added to the National Recording Registry of the Library of Congress for 2020 include Connie Smith's recording of Bill Anderson's song, "Once a Day." Recorded in 1964 at RCA's Studio B in Nashville, it was Connie's biggest hit and became her signature song. Bill writes in his fan club newsletter: "This is an incredible honor for a little three-chord country song that I wrote in the front seat of my car at a four-way stop in the Nashville suburbs almost 60 years ago. And it came from the very first recording session Connie Smith ever had on her way to a Hall of Fame career. And now to think that it will be resting alongside compositions from George Gershwin, Irving Berlin, Bob Dylan, Hank Williams, and others. It was the only country song selected for 2020, and I am highly honored and thrilled." All 25 can be found here. They have been selected as audio treasures worthy of preservation for all time based on their cultural, historical or aesthetic importance in the nation's recorded sound heritage. The newest list, chosen from 900 public nominations, brings the number of titles on the registry to 575, which includes Gunfighter Ballads and Trail Songs by Marty Robbins in the 2016 group.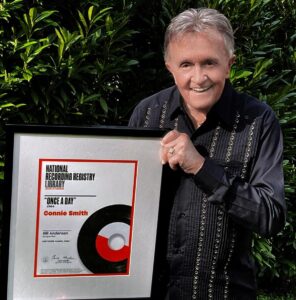 B.J. Thomas, 78, issued a statement revealing he has been diagnosed with stage 4 lung cancer. "I wanted to take this unique opportunity to share my gratitude to Gloria, my wonderful wife and my rock for over 53 years, my family, friends, and fans," he said. "I'm so blessed to have had the opportunity to record and perform beautiful songs in pop, country, and gospel music, and to share those wonderful songs and memories around the world with millions of you." PEOPLE reports he remains optimistic that he will be able to perform his upcoming tour dates beginning April 17 in Everett, Washington.
Saving Country Music reports how a Joe Diffie fan in Old Hickory, Tennessee, commemorated the first anniversary of Joe's March 29 death (the first high-profile COVID-19 death of a musician). The fan climbed the town's water tower and painted "Billy Bob + Charlene" in John Deere green. Lyrics from Joe's 1993 hit song, "John Deere Green," include: "They climbed upon the water tower Stood on the rail and painted a ten-foot heart In John Deere green . . . He wrote 'Billy Bob loves Charlene' in letters three foot high."
Drummer John "Smiley" Reynolds died unexpectedly on March 26, bringing shock to performers at the Heart of Texas Country Music Festival. Justin Trevino dedicated a segment of his show to Smiley. Tracy Pitcox said, "We all knew and worked with Smiley for years." Darrell McCall considered Smiley his favorite drummer. I haven't yet found an obituary.
Strawberry Pretzel Pie is the name of the new limited-edition ice cream flavor designed by Jeni's Splendid Ice Creams to honor Dolly Parton. It has a cream cheese ice cream base with salty pretzel streusel and strawberry sauce, reports Taste of Country, and is "a throwback to the Southern summer treat that traditionally consists of strawberry Jello, whipped cream cheese and Cool Whip on a pretzel crust." The approximately 10,000 pints from the single run can be purchased online or by the scoop at Jeni's locations.
"I'll Be Seeing You," a song written in the 1930s and recorded by Frank Sinatra and Bing Crosby before Willie Nelson included it on his 1994 album, Healing Hands of Time, has new life. Willie rerecorded the song for a sports-themed public service announcement that encourages Americans to get their COVID-19 vaccinations so sporting events can once again draw capacity crowds. Over a dozen sports leagues and organizations contributed footage to develop the montage of unforgettable sports moments and crowd reactions to them. "I'm happy to be part of this new campaign with the Ad Council, COVID Collaborative and these sports organizations to empower millions more to get the answers they need and feel confident in getting vaccinated, like I did," Willie says. At the end of the clip, white lettering across the screen reads, "The COVID-19 vaccines are here. We'll see you soon." The Boot calls it "a simple message encouraging sports fans — and everyone else — to get their COVID-19 shot when it's their turn, in order to bring back sporting events and other aspects of pre-pandemic everyday life as quickly as possible."
Connie Bradley, longtime head of ASCAP Nashville, died March 24 in Fort Myers, Florida, at age 75. She had retired from ASCAP in 2010 after 34 years with the organization, The Tennessean reports. The stars she helped develop include Garth Brooks, Reba McEntire, Rodney Crowell, George Strait, Alan Jackson, Dierks Bentley, Rascal Flatts, Brad Paisley, and many more. Connie served on numerous boards in Nashville and was the Country Music Association Board of Directors president and chairperson in 1989-90. She received the CMA Irving Waugh Award of Excellence in 2019. She is survived by her husband, Jerry Bradley, who was inducted into the Country Music Hall of Fame as a non-performer in 2019, and two stepchildren, Clay Bradley, a BMI executive, and Leigh Jankiv.
Country Rewind Records has released another album as part of its Western Heritage Collection: Tex Williams – Smokin' Country Swing – The Lost Tracks. "This Tex Williams album is a rare and special treat for fans of Western Swing Music, by one of the genre's greatest artists," Executive Producer Tom Gramuglia says in a press release. "These lost tracks have been updated to make the album more modern sounding by adding instruments and blending it into the original recordings." Tex Williams was a Western swing performer who helped electrify country music in the 1940s and make it more danceable. "Smoke! Smoke! Smoke! (That Cigarette)," written for him by friend Merle Travis, set his style of hot Western swing music and deep, easygoing narratives.
The children of Patsy Cline and Charlie Dick, Julie and Randy, continue their father's efforts to make sure the world never forgets their mother. Wide Open Country reports that Julie served as a producer on the Lifetime biopic, Patsy and Loretta, about the friendship between Patsy Cline and Loretta Lynn. Julie also participated in the opening of the Patsy Cline Museum on the second floor of the Johnny Cash Museum in Nashville. She donated artifacts her father saved, including items from Patsy's childhood home in Winchester, Virginia. Randy, whose full name is Allen Randolf Dick, was once a drummer for a rock band in Nashville. While attending the 2012 opening of the Patsy Cline exhibit at the Country Music Hall of Fame and Museum, he said he was blown away that people still care so much about his mother' life.
The San Antonio mansion built by Norma and George Strait in 1995 is on the market for $7.5 million. Their daughter-in-law, Tamara, has the listing. She tells the Robb Report they are selling because they want to get away from the city, but they still love the house. The 7,925-square-foot house on a hilltop surrounded by 12 acres is part of the gated community of the Dominion Country Club. It comes with access to the golf course, tennis courts, pool, fitness facilities and restaurant. When the Straits bought the land in the mid-1990s, they hired architect Bill Tull, who moved his entire crew from Arizona to San Antonio for the two years it took to build the home. It has 14 hand-sculpted fireplaces, a copper-topped bar, custom tiles and sconces, and custom carved refrigerator doors. Tamara has visited many times since marrying Bubba Strait, who was 14 when he ceremonially laid the first adobe brick. Tamara says, "If Bill Tull weren't deceased, I'm sure they would have engaged him again for a new home."
Lead singer for the group Confederate Railroad, Danny Shirley, suffered a broken back after a freak accident at his home March 30. I haven't seen any updates, other than that he was in the hospital, heavily medicated but with no paralysis. Confederate Railroad, known for "Queen of Memphis" and "Trashy Women," made news in 2019 when several state fairs canceled contracts because of the band's name.
One of the fan letters Bill Anderson printed in his latest newsletter was this: "Does your son sing? I've heard some songs by Merle Haggard's sons and they sound good." Bill responded, "No, my son doesn't sing. The only time he's behind a microphone is when he tells his passengers on Delta Air Lines to fasten their seat belts and to enjoy their flight."
Singer/songwriter Allie Colleen, 24, has released the first single, "Playin' House," from her debut album, STONES. The bio in her press release doesn't mention that she's the youngest daughter of Garth Brooks. She had promised him she would earn her college degree before pursuing a career in music. She is now a Belmont University graduate.
The annual Volunteer Jam that was headlined by Charlie Daniels for 47 years will return to Nashville on August 18 at the Bridgestone Arena. The mega-concert will be a posthumous tribute, with the Charlie Daniels Band performing in honor of their late leader, who died of a hemorrhagic stroke last July at age 83. MusicFest News reports the following list of entertainers: The Marshall Tucker Band, Alabama, Randy Travis, Ricky Skaggs, Trace Adkins, Mickey Gilley, The Gatlin Brothers, Cece Winans, Lorrie Morgan, Exile, Johnny Lee, and many more.
The Bluegrass Music Education Center at Glenville State College in West Virginia is the new home for the music library and memorabilia of Eddie Stubbs, 59, longtime WSM broadcaster and voice of the Grand Ole Opry. Eddie drove a rental truck from Nashville to Glenville last week to deliver boxes upon boxes of vinyl records, CDs, posters, memorabilia, furniture, and other artifacts he acquired over his long career in bluegrass and country music. He initially joined The Johnson Mountain Boys as a 16-year-old fiddling sensation in 1978. I first heard of him when I listened to his Sunday afternoon radio program at WAMU in Washington, D.C. Although I was disappointed when he moved to Nashville in 1995 to join WSM, that later worked for me. I appeared on his radio show to promote my Faron and Marty biographies. Eddie retired last summer. "The Bluegrass Program has many hours of work ahead, cataloging and preserving all the music and memorabilia in the dozens of containers they unloaded," reports Bluegrass Today.
TidalWave Comics has released a 22-page Dolly Parton biographical comic book, as part of its "Female Force" series that focuses on women who make an impact around the world. According to the Tennessean, the series previously featured the lives of Mother Teresa, Kamala Harris, Tina Fey, Betty White, Michelle Obama, Barbra Streisand, Cher, and Gloria Steinem.
CMT.com reports that Vince Gill has partnered with Nashville's Gruhn Guitars to sell several of his guitars. The collection includes electric guitars, lap steels, a mandolin, one electric guitar emblazoned with Predators hockey team logos, and a white Gibson guitar that commemorates Vince's longtime golf tournament.
In his recent "Ask Sonny Anything" column in Bluegrass Today, Sonny Osborne comments on brother Bobby's new cover of a Merle Haggard classic, "White Line Fever," just released on Alison Brown's Compass label: "If Bobby makes his next December 7 birthday, he will be 90 years old. How many 90-year-old singers still sound good? Well, he does. This is not the Bobby I'm used to hearing for over 50 years, but who is? I haven't picked a lick since 2003, so I don't reckon I have much room to have an opinion one way or the other." Sonny recalls the Merle Haggard era, in which the Osborne Brothers opened his shows for four years. They wanted to play venues in larger cities, which had audiences of 10,000-20,000 per night. They played Madison Square Garden, the White House, Harrah's in Lake Tahoe, and Fort Worth with Bob Wills in the audience. Sonny remembers Merle as "the biggest star in country music, worldwide, but he didn't act like it. Very few get that popular and stay down to earth."
LETTERS
Mary Lorefice in Toronto Canada, wonders, "What is Lionel Cartwright doing these days? His song 'I Watched It All on My Radio' resonates with blind folks, and anyone who lived through the radio-under-the-pillow era. Please let him know how much we love that song. For Toronto Blue Jays fans who are blind, we're being denied baseball games broadcast on this medium. The corporation that owns Sportsnet 590 The Fan has opted to do away with a dedicated radio booth. Instead, they'll simulcast the TV feed. Isn't that a hoot?"
Diane: According to his website (http://www.lionelcartwright.com/), Lionel Cartwright, 61, is a busy guy: Songwriter, singer, composer, and keynote speaker. He also still does concerts.
Ann Salazar says, "I have read your newsletter about country music and love each issue. I have decided I would like you to add me to your list. Thank you and have a wonderful day!"
Pejay Mirtschin writes from Nathalia, Victoria, Australia, "Great to receive your March Country Music Newsletter for me to catch up on the latest Country Music news, I really enjoy reading your newsletter about all that's happening with the Country stars, Great to hear that Charley Pride has been honoured as we love that man and all he has done for traditional Country Music over his recording career. Also catching up on Kenny Rogers, Dolly, Linda and the rest. Please keep up the great work."
Ron McBride requests, "Please add me to your mailing list to get a copy of your newsletter."
Jenny Lee writes from Texas, "Really enjoyed the Newsletter and catching up on all the News. Hope this will find you doing well. We are still having lots of cases of the COVID 19 in Texas, so I am still staying indoors. My husband got our 1st vaccine almost a month ago, our next one comes the 12th and the 13th of April. Our daughter has been taking care of things like those for us. She & our son see that  we are taken care of anything we need. The letters you send along catch me up on all the COUNTRY news. I am reading Loretta Lynn's book, Me & Patsy Kicking Up Dust. My Library sees I get my books. I call in the Books I would like to read, & they deliver them to me. Then I look forward to your Newsletter each month, and hearing from Dominique with News of BILLY WALKER, that he finds for me. I must mention my longtime Pen Pal, Shirley Johnson, whom I have for quite some time. All of you have really helped me during times, especially during this COVID 19 time. MY BEST TO ALL OF YOU."
Jim McQuisten, a fellow American Legion member in Sioux Falls, says, "Amazing writing and reporting. So much information."

Laurie Matheson, Director of University of Illinois Press, writes, "Terrific issue of your newsletter, Diane! I hope all is going well."
Diane: That it is, Laurie. I'm planning my next Randy Travis research trip in two months or so.
Nobuhiko Ogino writes from Kobe, Japan, "Thank you for using my photo. Stu Basore's interview is great!"
Eric Calhoun says, "I'd love to see Suzy Boggess's cookbook in Braille sometime. I am indebted to Kenny Rogers. One of my favorite songs, that went non-country, is 'When You Put Your Heart in It,' and is basically the story of my life. I just celebrated my 47th birthday on March 21. And the advice in that song says to 'keep on believing.' I know now. I miss Kenny Rogers. Lastly, my thoughts going out to the Texas Rangers on their new field, Charley Pride Field, in Surprise, Arizona. I've never been to the field yet, but I have been in the Phoenix area."
Jim Shaw writes from Bakersfield, California, "First, I must say I'm a huge fan of your letters… read them top to bottom! But, 🙂 I wanted to reach out after reading your review of the Eileen Sisk Buck Owens book. I'm a long-time member of the Buckaroos and have strong feelings about her book. I request that you read Buck's own autobiography, Buck 'Em. I hope you might mention Buck's bio as a balance to Eileen's book. I've been a member of Buck Owens' Buckaroos for 47 years. I started playing piano on Buck's records in February of 1970, joined the band in June of that year, and since then have worn various hats in Buck's organization, working for and beside him until his death in March of 2006. This book made me incredibly sad. As I read it, I quickly became aware that the author had an agenda and had found about eight people who were happy to go along with it. This book was filled with second-hand insinuations and innuendo, riddled with factual errors, but mostly it was just mean-spirited. As the author says in her acknowledgement, after providing her with many interviews, Buck decided she was not the writer he wanted for his 'authorized' book. It's obvious she was unhappy with this decision. It's not my intention to try to write a point-by-point refutation of her stories. I'd rather address the main theme of this book: that Buck Owens was a cruel, evil, ruthless human being. Could Buck be a jerk?? Absolutely! He was an intense, driven, workaholic who used those attributes plus his creative genius to build an amazing career and a large conglomerate of businesses. Like many successful artists and entrepreneurs, he was mercurial, demanding and not always pleasant to be around. He was tough on his co-workers and employees because he expected and demanded the same work ethic and love for the music (and its business) that he demanded from himself. Amazingly, the end result of his expectations is that his employees often became the best at what they did. Buck was very aware of his foibles. I and my co-workers had our patience tested hundreds of times, but Buck also later apologized to us an equal number of times. He rewarded that patience in many ways. It's too bad the author didn't talk to the hundreds of friends, associates, and employees who were recipients of his loyalty and generosity. Maybe she would have heard of the cash gifts and bonuses, the help with medical bills, plane tickets to out-of-state funerals, etc. She would have found he gave cars to many employees. He often paid for catered bar-b-ques at lunch, provided all employees a full-size professional gym, showers and saunas at each of his offices. And for decades he gave back to Bakersfield with celebrity golf tournaments, rodeos, Toys for Tots shows, and more. Why have three Buckaroos, many secretaries, administrative staff, disc jockeys and radio staff been with the company over two, three and four decades? Why would so many people stay so many years with the monster portrayed in this book? There are dozens of artists and songwriters that were advised and nurtured by Buck. Why didn't Ms. Sisk want to talk to them? A good book about Buck Owens will not be a fluff-piece. It will present the man as he was… flawed and human. But it will have balance and fairness, and also speak of the body of work he left behind… the music that is still loved around the world. Sadly, this is not that book."
Diane: I'd considered reviewing the two books together, for balance, but ultimately decided to do them in separate newsletters. See below for my comments on Buck 'Em. Since I haven't talked to anyone about Buck, and I don't personally know where the truth lies, I appreciate hearing from someone who was as close to him as you were, Jim.
BOOK REVIEW
In the late 1990s, Buck Owens recorded a hundred hours of memories by talking into a tape recorder in preparation for writing his autobiography. After his death in 2006, his heirs provided biographer Randy Poe with the boxes of cassette tapes. Poe put Buck's ramblings into proper order and produced 2013's Buck 'Em: The Autobiography of Buck Owens. From my perspective as a biographer, I think Poe did an amazing job of turning these taped memories into a completed book. The 135 chapters are short because they consist of snippets as Buck recalled particular events. It's an enjoyable read; I can almost hear Buck talking. The story begins with Buck's birth and childhood memories, tells of his music and business careers and his personal life, and ends with his 70th birthday at the end of the century. The book concludes with an afterword that recounts his last performance and his death the following morning at age 76. This is Buck's life story, told the way Buck wanted it to be told, in his own words. Buck 'Em is an important addition to the bookshelf of any reader interested in preserving the history of country music.