FEATURED ARTISTS – JACK BLANCHARD & MISTY MORGAN
"Things are kind of quiet with us right now," Jack Blanchard told me last week over the phone. "We're not doing any traveling." Jack and his wife, Misty Morgan, are best known for their 1970 hit, "Tennessee Birdwalk." They aren't touring right now because they haven't found an agent to put together a tour that would bring in money. The many requests they get are usually for single shows and at too far a distance to make the trip worthwhile.
"We have 5000 people on our Facebook page," Jack says, "and I try to keep them entertained." He is currently working on a book, a compilation of the columns he's been writing since 1967. He has 600 columns he's trying to arrange and edit. "We're trying to whittle it down to what Misty and I think are the best ones," he says. When he's finished, the book will be "funny and deep and spooky, and mixed in will be our biography." I forgot to ask if he has a title.
I asked him what Misty does to stay busy. He said she "sits at that piano of hers," writing songs and preparing for future concerts. They are remixing and remastering many of their original recordings, and they are also planning to go into the studio in January to record new music. While Jack is good at the technical aspects, Misty "has a much better ear than I do," he says. When they were recording for a major label, she always had the last word on mixing.
Jack does his improvising as he writes. He plays his songs the same way every time, unless he decides to change something in a practice. Misty, however, is a jazz musician, and she improvises. "She never plays the same song the same way twice," he told me. I asked, "How does that affect the two of you working as a duo?" He replied, "It makes it interesting." And he added, "We have sort of an ESP after all these years."
Misty and Jack were both born in Buffalo, New York, but they didn't meet until they were in Florida. They married there in 1967 and still live in central Florida. They were inducted into the Buffalo Music Hall of Fame in 2010, and you can learn more about them and their music on their website. Also, join them on Facebook.
"We enjoyed the Dakotas," Jack told me. "We were up there quite a bit." He talked about Mitchell and Pierre and Eagle Butte. He reminisced about being in Minot, North Dakota, on one of their first jobs. "We were there one broke Christmas," he said. They pulled a tarp-covered trailer that carried their equipment, and the car had a bad battery. They had to plug it in with a cable through their hotel window every night. They played at the American Legion, and he remembers the friendly people. "They were raffling off turkeys, and they made sure we won several," he said. "This was before we had any records—or thought we would."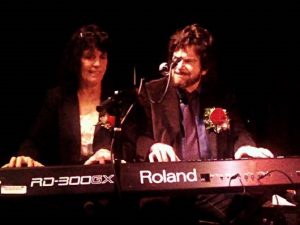 Misty & Jack at The Buffalo Music Hall of Fame in 2012
NEWS
Curly Putman (1930-2016)
Claude "Curly" Putman Jr. died October 30, following a lengthy illness, three weeks before his 86th birthday. A native of Princeton, Alabama, he left home to join the U.S. Navy. He was assigned to aircraft carrier USS Valley Forge, and he learned to play steel guitar while in the Navy. After moving to Nashville, he met Roger Miller and was then signed by Buddy Killen to a songwriting contract at Tree Publishing. He wrote Dolly Parton's first hit, "Dumb Blonde," Porter Wagoner's "The Green Green Grass of Home," cowrote "My Elusive Dreams" with Billy Sherrill, and cowrote "D-I-V-O-R-C-E" and "He Stopped Loving Her Today" with Bobby Braddock.
Edna Perry died October 30 at age 80. She and her husband, Ted Perry, lived in Star, Mississippi, and were married 59 years. They had two sons, Wesley and Steve, and they adopted an infant they named Audrey Faith Perry. She is now Faith Hill, married to Tim McGraw and with daughters Gracie, Maggie and Audrey.
A kitchen fire at the Gaylord Opryland Resort October 26 required the evacuation of hundreds of guests and employees. The fire began on a stove in the Old Hickory Steakhouse and extended up into the ventilation and roof. The Tennessean reports, "The smoke also spread into the atrium and the Garden Conservatory. Shortly before the fire was out, firefighters cut a hole in the roof to allow the smoke to billow out." The smoke heavily damaged the plants and everything else in the atrium.
The Musicians Hall of Fame and Museum held its annual induction ceremony and concert at the Nashville Municipal Auditorium. New members are Garth Brooks and The G Men, Ricky Skaggs, Eagles guitarist Don Felder, Jerry Reed, and the Sigma Sound Studio Rhythm Section. The Tennessean reported, "Few moments encapsulated the evening's spirit quite like the rousing standing ovation that greeted four recording engineers: Lou Bradley, Mark Miller, Ron Reynolds, and Joe Tarsia. Brooks' longtime producer Allen Reynolds, was also inducted. It's a field that never makes the Grammys telecast, but according to the honorees, the work was its own reward."
Vince Gill posted this photo on Facebook on October 31, with the caption, "a dressing room full of history."
Ben Haggard, Charley Pride, Roy Clark, Clint Black, Randy Travis, Charlie Daniels, Ricky Skaggs, Vince Gill
Alison Bonaguro of CMT.com wrote such an excellent summary of the opener at the CMA Awards show that I'll quote it here: "In a medley that started with Vince Gill performing a Merle Haggard classic and ended with Randy Travis singing the last 'amen' in his 'Forever and Ever, Amen,' the artists in the crowd served as everyone's background vocalists as they sang along to the familiar tunes from the past decades of country music. Gill had Merle Haggard's youngest song Ben as a sideman while he sang Haggard's hit from 1968, 'Mama Tried.' Then Brad Paisley took over, with Buck Owens' 'I've Got a Tiger by the Tail.' Backing him on the banjo was the legendary Roy Clark, the late Owens' longtime co-host of TV's Hee Haw. Next up was Carrie Underwood singing just enough of Tammy Wynette's 'Stand by Your Man' to get the crowd in the classic country mood. So by the time Charley Pride got his 'Kiss an Angel Good Mornin" started, with Paisley backing him on guitar and vocals, everyone was ready. Next up was Alabama, singing their own hit 'Mountain Music.' . . . Charlie Daniels rosined up his bow after that, to play his 'The Devil Went Down to Georgia.' Paisley didn't take his eyes off Daniels' fiddle for a second. When Reba McEntire joined in with her hit version of 'Fancy,' Dierks Bentley and Miranda Lambert were both seen singing along from their spots in the audience. Dwight Yoakam was next with his 'Guitars, Cadillacs,' and Tim McGraw and Garth Brooks knew every word. As the group of singers on stage grew bigger and bigger, Clint Black came out for 'Killin' Time,' with Underwood and Reba standing behind him like true background vocalists. Ricky Skaggs joined everyone there for 'Country Boy,' and . . . Alan Jackson started singing 'Don't Rock the Jukebox.' . . . Paisley and Underwood stood beside [Randy Travis] to sing the 1987 CMA song of the year, 'Forever and Ever, Amen.'"
The 50th annual CMA Entertainer of the Year is Garth Brooks, who won for the fifth time in his career. Taylor Swift, who has won the title twice, presented him with his award. "I want to thank God for this. I want to thank the CMAs," he said. "We are so damn lucky to be a part of this thing called country music." And of course I'm glad he won–I voted for him.
The latest on the Denver court battle between Taylor Swift and disc jockey David Mueller is his response to her request to have his case against her dismissed. Confusing? It began when he sued her last year for slander, after she claimed he reached under her skirt during a meet-and-greet in 2013. He blamed her for getting him fired from country radio station KYGO. She then sued him for assault and battery. The request from her legal team to dismiss his case, Billboard reports, states his firing was the result of KYGO's internal investigation, and not any action by her management. His legal team responded by saying it "defies credibility" that such an action could have happened with photographers and security personnel present. Taylor had asked to have the files sealed, but the judge only agreed to seal the photos. leaving other exhibits and materials available to the public. This includes the transcript of Taylor's deposition, in which she had to describe the incident in detail, much to her embarrassment.
Nashville will be going to New York, in the form of Opry City Stage, a new four-level establishment with fine dining that is being built on Broadway in Times Square. A retail area on the ground level will offer Nashville brands. The fourth floor will house a "world-class listening room and private event space," Taste Of Country reports. Colin Reed, chairman and CEO of Ryman Hospitality Properties, said in a press release, "We believe that once our Opry City Stage guests get a taste for all the Grand Ole Opry and Nashville have to offer, they are going to want to visit Music City and experience it for themselves." April 2017 is the scheduled opening date.
Special guest advisor and mentor on NBC's The Voice on November 14 will be Garth Brooks. Countryrebel.com reports he will advise and mentor the "Top 12" contestants with their coaches.
LETTERS
Jeannie Seely writes from Nashville, "Great newsletter again Diane! As I read the paragraph about how recordings are made track by track these days, I wanted to tell you that my new CD was recorded the old way….with all of us in the studio at the same time. Of course I had all of the same guys I get to work with on the Opry all the time….there aren't any better musicians around. I am inspired by the musicians and there are just magic moments when it seems everyone is feeling the same thing…and the recording shows it. I'm really proud of how this turned out…I think some of the best work I've done in a long time. It's called Written In Song featuring 14 songs I have written through the years which have been recorded by other artists. I list on the CD who recorded each one."
A reader answers my question about how much technology is acceptable in a recording: "My answer is very very little technology and artificiality is acceptable except in special cases, like the Cash stuff. You go back and listen to the stuff that came out Hollywood, Nashville etc. in the mid '50s to the mid '60s with 3 or 4 tracks and everybody in the room together. Unless it was just poorly engineered or produced it usually sounds amazing and it always sounds more real because it is."
David Corne writes from the United Kingdom, "You asked an interesting question regarding 'ghost' recordings and I think I had one of the first ever which was the combination of Hank Williams Senior and Junior. Just a ploy by the record label to exact more money in my opinion. Same way with Elvis and Martina McBride, solely done for financial gain. Then of course, Marty Robbins had Michael Martin Murphy duet with him posthumously and one could question the ethics of the rights and wrongs of these kind of recordings, same as in the Patsy Cline/Jim Reeves duets. Thanks for the newsletters by the way, they are informative, interesting and invaluable."
Ernie Reed, fiddle player extraordinaire with Mel Tills and Faron Young, writes from Nashville, "What a Great paper this month. I hope all is well with you and yours."
Cowboy Joe Babcock sends this from Nashville: "Enjoy reading your newsletter and I remember the good times we had at the release of your book on Marty. Just found out my western swing album Trail Jazz has been nominated for the western swing album of the year by the Western Music Association. We'll be going to Albuquerque for the convention in a couple of weeks. Thanks for keeping us up on all the news."
Priscilla McPheeters in Lawrence, Kansas, says, "Best newsletter yet,"
Dale Wiggers requests, "Would you please put me on your mailing list?"
Chris Drewell writes, "Please add me to your Newsletter mailings. I was lucky enough to see both Marty (twice) and Faron in concert in England in the '70s and '80s, great artists sorely missed. I have read both your books about these country greats and enjoyed them immensely. Thanks for keeping us English country fans informed of all the happenings on your side of the pond."
Kate Davis of Bear Creek Productions in Medford, Oregon, writes, "As always, thank you for a great newsletter. We look forward to it every month and appreciate the hard work involved."
Joe Bollard writes, "I'm Joe, living in the Republic of Ireland and I would really like to be subscribed to the newsletter. I'm a big country music fan, ever since I first heard Hank Williams when a child. I'm now eighty-one and love the older style of country music, although I do like some of the contemporary country. God bless, travel safely."
Jeanene Fortin writes from Cary, Illinois, "I am sending this message to you from the far northwest suburbs of Chicago … I live about 50 miles northwest of Chicago. I really do enjoy your columns. You always do a great job. So sad to know how ill Holly Dunn is – I am hoping and praying for a full recovery for her, though not sure of that for her, I'm sorry to say. I think of Joey Feek, another very tragic situation. Please add my email address to receive your blogs. Sometimes I don't see your FB columns at all or it's days after they are posted. I don't know why that is."
Chiela Rae Munkvold says, "Thank you for the country music newsletter. Enjoy reading it very much."
Diane Jordon reports the speech given by Seidina Reed at the recent induction of her father, Jerry Reed, into the Musician's Hall of Fame: "Daddy was unique, one of a kind, an innovator. And I think he was always about 10 years ahead of his time. He could do it all and he did it well, but his first and greatest love was playing that guitar. Thank you for recognizing his genius tonight, his contribution to humanity."
Pam Sell, wife of Faron's frontman George Owens, writes from Nashville, "I love your letters, because there is always something in there that I have missed & felt I needed to know. We always discuss your letters. We both sit here on our own laptops & your letter comes in & we go 'have you read it yet?' Anyway, I saw this & didn't know if you had seen it or not. Brian White used to open for Vince Gill when George first started working for him. He seems to be a super nice guy & to my knowledge is still trying to work on his career in the business. I hate this for him & his family." October 5 news from KSWO in Snyder, Oklahoma: A man is dead after being hit by a car in Snyder. The victim, 63-year-old William "Bud" White, is the father of country music singer and Snyder native Bryan White. He left a convenience store and stepped into the path of an oncoming vehicle.
Jean Earle in England says, "I was grateful that you were able to include the awful news of Mervyn Conn in your latest newsletter. We all thought he was doing such a wonderful job to promote country music here and in the USA. We have HIGH regard for people like Jeff Kruger 'EMBER' and Billy Deaton and for all the fine work that they did for the artists and C.M. You are doing a fine job Diane, keep up the good work."
June Bourke writes about the death of her father: "Thought you might like to read some news of the old Icons of Country Music, here in New Zealand. Venton Bai of the Hillbilly Pals passed away, on 25 9 2016 peacefully. Ven was aged 96. The Hillbilly Pals started performing in the early 1940s with Traditional Country Music, to which, after 50 years of performing throughout New Zealand, were presented with two awards, one for the promoting of Country Music and the other for their recordings of songs Venton penned, such as 'The lofty Bluegum Tree' and 'Memories of Home.' Their daughter, June, and husband still perform through New Zealand, and one of her sons, also a guitarist. Written by Daughter June Bourke. We really enjoy the emails, love catching up with what is going on in your part of the world."
Wendy Williams of WTSB Radio writes, "I have been checking Mr. Carl's email for your newsletters. I can't find them. Can you add my email to the list? Can't wait to see all your info on the 50th CMA Celebration."
Delma Fordham Last writes, "I am enjoying your letters, nice to hear and learn more about the real country singers I listened to as a child and still do even today. I hope he will read this or someone will share it with him. I am talking about a singer by the name of Mr. Ricky Skaggs. Back in the '80s when I was still living at home he was on a radio show, I called and called and could not get through while the show was on the air. Finally, about the time the show went off, I got through. Mr. Ricky Skaggs risked missing his plane and came on the phone and said a few words to me. Wow I almost fainted. Being from a very small town in Alabama, and being blind also, and very few friends if any. Then he had them give his fan club address out again, I recorded where we talked and the address. He told me to write to the fan club. I did my best to do this, how on earth they could read it, only God knows. Then one day I got some mail from the Ricky Skaggs Fan Club. He had made me a member of his fan club for a year and sent me some other things. One is a photo of him, which I still have today. So Dear Mr. Ricky Skaggs, if you read this, please know I am still a Fan of yours and I wish to personally say a very Big Thank You for doing that for me. It meant and still does mean so much to me. I still live in Alabama, and have since lost both of my Parents."
Jim Kyle says, "I was a CT in the Navy and worked with Al Lewis onboard USS Newport News, CA-148. We were based in Norfolk, VA, at the time. Where did Al settle after he left Faron's band?"
Diane: Al still lives in Nashville, the last I heard. He came to my Country Deputy reunions.
QUOTE OF THE WEEK
When I interviewed songwriter Joe Allison in 2000, he was bedridden and on oxygen. He invited me to his house to talk about Faron Young and his hit song, "Live Fast, Love Hard, Die Young." (I didn't know at the time that would become the title of my book.) Joe's wife showed me into the bedroom, where Joe sat on one side of his king-sized bed. I plopped the recorder in the middle of the bed and sat on the other edge. Joe said, "I'll tell my friends I was in bed with a Navy captain this morning."
SONG OF THE WEEK
My favorite John Anderson song has always been "Wild and Blue." It was John's biggest hit, staying at number one on Billboard for two weeks in 1982. The lyrics, about a man wishing his cheating woman would come home, don't do anything for me. But it's a great waltz. Hearing "Way across town a phone rings off the wall" always makes me want to be whirling around the dance floor.
COUNTRY MUSIC HALL OF FAME – 1962
Only one person was inducted into the Country Music Hall of Fame its second year, 1962. Roy Acuff changed the Grand Ole Opry focus. Until he became a member in 1938, it had showcased instrumental music. But he was a singer. He had intended to play major league baseball, but sunstroke and a nervous breakdown in 1930 turned him to music during his recovery. Opry management gave him the slot of headlining its televised segment, the Prince Albert Show, and he toured the country as an Opry star. In 1942, he and his wife, Mildred, joined Fred Rose in forming Acuff-Rose Publications. After his stardom waned, he participated in the 1960s folk music revival, appeared frequently on Hee Haw and other country music TV shows, and remained a regular performer on the Opry until the late 1980s. When Opryland opened in 1974, the Grand Ole Opry complex included a house for the Acuffs. Roy lived there until his death in 1992 at age 89.