CONCERT REVIEW — JOHN ANDERSON AND TANYA TUCKER
The Orpheum Theater in Sioux City, Iowa, was the place to be on Friday, July 7. John Anderson and Tanya Tucker both put on fantastic shows. A person forgets how many hits a singer has had, until listening to one recognizable song after another for over an hour. With both shows, the band kicked off and the singer appeared. No openers or introductions, just the star singing a well-known song. The acoustics were great, the sound level just right, and the intimate theater setting enjoyable. Having third-row, center-aisle seats helped, too.
John Anderson's show focused on the music. Every song contained an extra-long instrumental break, with John's rhythm guitar leading the seven-piece band. He showcased fiddle player Joe Spivey, who has been with the John Anderson Band since 1986 and is also a member of the Time Jumpers. The live show illustrates the way John makes records. He says on his website, "I want that record to be about that song. I play it just how I want it, and then me and Joe would figure out who would take the solos and the fills."
We heard my favorite John Anderson song, "Wild and Blue" (and I now have the T-shirt), and all his other hits, until the finale of "Seminole Wind." There was no time for an encore, as the stage was cleared for the next show.
Tanya Tucker's powerful voice and stupendous showmanship left me in awe. At age 58, she hasn't lost any of her energy or connection with the audience. She punctuated her song lyrics with body moves, just as when she was fifteen and critics complained about her Elvis-like moves being too suggestive. The power in her voice reminded me of Connie Smith, and she later mentioned how much she'd admired and copied Connie Smith.
For almost 75 minutes, Tanya talked and sang non-stop. Her rendition of "By the Time I Get to Phoenix" brought the song to life. I never sensed that level of emotion in Glen Campbell's version.
She talked about how difficult Merle Haggard was to get to know. She said she never runs out of words, so she would keep talking while he sat and looked at her. They eventually became great friends, and she told us she would sing a Haggard song. She asked, "Which one do you want to hear? I know them all." She sang Perry's request of "Farmer's Daughter."
If you ever get a chance to see John Anderson or Tanya Tucker in concert, don't miss it.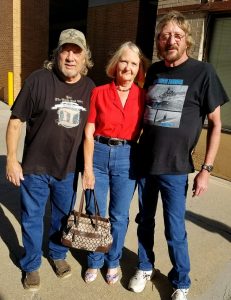 John Anderson, Diane Diekman, Perry Steilow
Tanya Tucker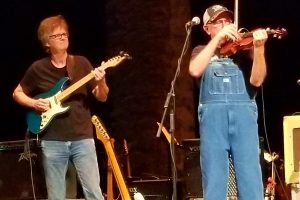 Coleman Murphy and Joe Spivey
Coleman, John, Joe
NEWS 
A 30-year member of Hank Snow's Rainbow Ranch Boys, steel guitarist Kayton Roberts died July 13 in Nashville. Born and raised in Florida, he played in his father's country band and then on radio and TV stations in Gainesville and Jacksonville. Chubby Wise, fiddle player for the Rainbow Ranch Boys, introduced him to Hank Snow. He was inducted into the Steel Guitar Hall of Fame in 2012. He died at age 83, following a stroke.
Rusty's Country Cavalcade, a supergroup of session musicians, played at the Station Inn on July 12. The group consisted of steel guitarist Lloyd Green, steel guitarist Russ Pahl, guitarist Billy Sanford, and bass player Dennis Crouch. Charlie McCoy, Leona Williams, drummer John Gardner, and young country singer Logan Ledger joined them. Lou Bradley was the sound engineer.
Steve Wariner reports, "It's with great sadness I bring you the news of my father's passing. Roy Wariner died July 7." Steve considered his father his greatest musical influence. He said Mr. Roy could play any instrument that had strings, with a special love for lap steel.
Loretta Lynn posted on her website that her new album, Wouldn't It Be Great, which was originally scheduled to come in August, will be postponed until next year. "This record is so special for me," she says. "It deserves me at my best and I can't wait to share it. I want to thank everyone for hanging in there with me. I am getting stronger every day and can't wait to get back out there with all of you. I'm just letting everybody know that Willie ain't dead yet and neither am I, and I can't wait to see all of you on the road!"
Trick Pony is embroiled in a legal dispute over the trademark to its name. Heidi Newfield, Keith Burns, and Ira Dean formed the trio best known for its 2000 hit, "Pour Me." They disbanded and when they reformed in 2014, they realized the Trick Pony trademark had lapsed. It had been reregistered to their former manager, Herbert Graham. Newfield and Burns (Dean left the group to pursue a solo career) filed a federal trademark dispute. Graham's new corporation, PGP, LLC, is now suing them. The Tennessean reports, "PGP claims that that Graham decided to apply for the trademark because he wanted to form a band with the same name and recoup money he says he lost supporting Trick Pony through the years. The application came during a period when Trick Pony was broken up, according to his lawsuit."
Nashville Lifestyles' 4th annual Women in Business event will include Trisha Yearwood. The luncheon at Schermerhorn Symphony Center on August 10 will feature a keynote Q&A where locals have an opportunity to ask about her success. The $65 tickets include lunch.
Each year, from September to June, Lacy J. Dalton and band leader Dale Poune teach songwriting, along with beginning and advanced guitar, to inmates at High Desert State Prison in Susanville, California. She wants to give them a sense of purpose and help integrate them back into society when their sentences are completed. The program is called Arts In Connections, supported by the non-profit William James Association in her hometown of Santa Cruz.
Forbes reports, "In order to create our list of the world's highest-paid country music acts, we evaluate touring numbers from Pollstar and record sales data from Nielsen while performing independent research on outside business ventures and endorsement deals. Our estimates represent pretax income from June 1, 2016 through June 1, 2017." For the third consecutive year, Garth Brooks tops the list, with $60 million in pretax income, most of it from his world tour. Kenny Chesney at No. 2 earned most of his $42.5 million on the road, but he also has endorsement deals and his own rum. Luke Bryan is number three with $42 million and Dolly Parton number four at $37 million. Toby Keith and Florida Georgia Line tied for number five at $34.5 million.
The U.S. House of Representatives voted unanimously to rename the post office in Bakersfield, California, as the Merle Haggard Post Office Building. Rolling Stone Country reports the resolution was brought forward by House majority leader Kevin McCarthy, who represents the Bakersfield area. Before the building can receive its new name, the resolution must by passed by the U.S. Senate and signed by President Trump.
The tour buses of Merle Haggard and Loretta Lynn have recently been offered for sale. I don't know if either one sold. Bidding on Merle's custom-designed "Super Chief" tour bus started at $150,000, with an automatic buy out at $250,000. San Antonio Auto Auctions was offering personal tours. The white 12-year-old bus contains many of the Hag's personal items. Loretta Lynn's 1977 Eagle tour bus was for sale on eBay. The auction ended July 7, and the highest bid I saw was $29,200. The 40-foot bus was previously owned by Faron Young and Sugarland, among other entertainers. "Coal Miner's Daughter" is still on the front.
Nashville Business Journal reports that Reba McEntire has sold Starstruck Farm for $5 million. The 83-acre property, with its 12,816-square-foot home, was listed in August 2016 at an asking price of $7.9 million. It's located on Old Hickory Lake in Lebanon, Tennessee, 30 miles northeast of downtown Nashville.
The Brad Paisley Road Worn Telecaster is a new signature Telecaster guitar created by the team of Fender Musical Instruments Co. and Brad Paisley. "The best thing about having a Fender Signature Telecaster is the unwavering quality associated with the brand's legacy and confidence that I'm introducing a great guitar at an incredible price point," Brad told Nash Country Daily. "I set out to create a guitar that was accessible for the vast majority of young people out there, who I hope to inspire to change the world with musical dreams." The $1,199.99 guitar has "silver sparkle Road Worn lacquer finish and aged hardware," along with "custom clear pickguard with black and silver paisleys and a cowboy hat insignia on the headstock."
LETTERS
Ron Hogan, former Country Deputy, writes, "Great news and history as always. I always enjoy it. You made me remember back when I toured with Tater playing steel guitar and he brought the band to Nudie's brother-in-law, Manual, while we were in Hollywood. He had us measured and fitted for stage clothes, jeans specifically, that were expensive back then. The first night doing a show with Tater at the Palomino club, I ripped the jeans. That was the end of us wearing those on stage. Tater was a ball to work with. Jeff Jared was on guitar. Tater told us we were his best guitar team in years. That was something to be proud of."
Dominique "Imperial" ANGLARES writes from France, "Thanks for that great newsletter with the much appreciated contribution of Bill Mack remembering Lefty. The posts about 'El Paso' done by Ken Johnson and Tom Kaufman are really impressive and much welcome. I dig it! Keep the good work going on. I wish you had a great fourth of July celebration. God bless America. Warmest regards from your French friend.
Lloyd Clarke says, "Thanks ever so much for the News Letter. Well appreciated, very informative. Keep ol` Glory a flying and God Bless America."
Richard Spooner writes from the UK, "Thanks for the email, Diane I always enjoy reading it–so many many stories. Do you have any news on Mel Tillis? It's gone quiet over here in the UK. Hope he's doing better. I was listening to some of his live albums today my oh my what a performer. I never got to see him live one big regret not sure if he ever travelled to the UK. I know some guys who toured Germany with him back in the late '60s. I got to hear many stories of just what a fun guy he was to be around."
Diane: I've heard nothing in a while about Mel Tillis. Do any readers know how he's doing?
Roy Keith Trawick says, "My heart goes out to Steve Earle and his child. Oh you do understand that these modern hits that are topping the charts are different from Leroy Van Dyke's hit…..it's a new world today….and the statistics are meaningless."
Jeff Chandler, former Marty Robbins band member, says, "Just finished your latest newsletter, and as always, it was a great read. Just wanted to say regarding the 'missing verse' of El Paso… the 3 1/2 years I sang with Marty and Don, we ALWAYS included that verse."
Lee Shannon says, "Back then, we deejays referred to records like 'El Paso' and 'Big Iron' as our 'Bathroom Break' records."
Ross, PROUD father of a US Veteran, writes, "Although you/we've been having a big furor over the differences in Marty Robbins's song, 'El Paso,' I haven't seen a word yet about 'Big Iron.' That song also exceeded 3 minutes [basically, maximum time a station would allow for songs to be played in that era.] Did they [Columbia] ever issue a cut version of 'Big Iron' – such as they have done with 'El Paso'? Both songs being on one album, could've been both cut or both uncut, or could it be that stations I listened to played the Uncut version of 'Big Iron' rather than the cut [edited] version of 'El Paso'?  (We're talking 5 different stations here — NOT all by one station. Nor were they all in 1 city.)"
Alan Delbalso says, "Marty rides again, great newsletter."
Rick Belsher, in Edmonton, Alberta, writes, "Very interesting to read the background about El Paso. Have always only ever heard the full version, and cannot imagine El Paso without it. Also, hopefully will be in Havre, Montana, end of July, stay at a hotel, and use their computer to download to Ipod, 'traditional' country music from Itunes. Have been led to believe that we in Canada only get half of, if that, selection that Americans do. There are many Ray Price, Faron Young, and Mel Tillis, to name just a few, songs that I find on You Tube, that are not available on Itunes, here in Canada."
Marilynne Caswell says, "Another great newsletter. Never had the privilege of meeting Bill Mack, but we used to listen to him on WBAP in Texas from our home in London Ontario Canada. Great DJ. Les Leverett became a good friend back in the '60/'70s.  Loved him and his beloved wife Dot. Enjoyed daughter Libby's book, Saturday nights with Daddy. Fun read. He told us he took the first professional photo of Loretta Lynn.  About the beloved Grant Turner…..he interviewed me on the stage of Ryman in the early 1960s. What an honor to get to know this magnificent gentleman. We got to visit him in our home town of London, Ontario, when he was here MCing a show. He was tickled to see where we lived. Finally in the middle of October l991 while visiting backstage at the Opry House, and where Grant had done his job of EMcing the Opry, I wanted to introduce him to a friend, however he looked very tired and I didn't do it.  Grant passed away the next morning about 6AM. What a loss to the Opry and the whole Country Music World."
Priscilla McPheeters writes from Lawrence, Kansas, "Love this newsletter Diane!! Thanks so much for sending it to me. Shania Twain is one of my favorites. I'm wondering if you have read her autobiography. It's so well written and really fascinating."
Susan Ulmer requests, "I would like to enroll on your online newsletter."
John & Wanda Edmonson check in from Arizona: "Very nicely done. I've personally penned a few newsletters so I can appreciate your dedication, hard work, and special attention to detail and correctness. We didn't expect to see our correspondence in your newsletter, but it was nice of you to include us. We have roughly 350 e-mail recipients on our Marty e-mail distribution list, which we'll be forwarding your newsletter to. Like us, I know many of our followers (and others) will appreciate the opportunity to be stay abreast of traditional country news and information relating to our wonderful by-gone years. Thanks again for doing what you do and for connecting us to like-minded people." This is the note they forwarded: "See the attached Diane's Country Music Newsletter.This publication and our personal introduction to Ms. Diekman has just recently appeared on our radar. This magnificent publication; provided by celebrated author, Diane Diekman, has been a vital country music connection to the masses for many years. We hope you enjoy the read and want to continue staying up to date with the latest happenings in traditional country music news and related topics."
Shirley Temple, an Edmonson subscriber, writes, "Thank you so much. Oh, how I enjoyed reading your newsletter. It was late but just had to read all of it. I've always loved country music. In fact, for a long time, I didn't know there was any other kind! It is so relaxing to me, both in the car when I play my tapes and anywhere else I can find good country music. There are many good bands in our area and try to attend as many as I can. Will look forward to the upcoming newsletters. I've loved country music all my life, being born and raised in north central Pennsylvania. My husband and I would go to every country music festival we could find. His parents had a dinner house and would have live square dancing with band there every Friday and Saturday night. When I drive to Palm Desert, California, I put a Marty Robbins tape in and listen to it all the way. Gets me there safe and sound. I just turned 86 and doing great."
Jackie Allen Thomas writes from Sun City, Arizona, "Just received my first copy of your newsletter from my good friend, John Edmonson. I really enjoyed your newsletter very much and would like to start receiving a copy if I could be added to your email list. Would really appreciate it. Here in the Phoenix valley, classic country music is very much alive. I am on the board of the West Valley Country Music Association which was started up by Happy Anderson who is the President. Our goal is to keep classic country music alive. I also forwarded a copy of your newsletter to her in case John hadn't. Thank you for what you are doing and I look forward to reading the next newsletter."
John Edmonson says, "Earlier this year Mary Knapp and I shared bits and pieces of our personal history with each other via e-mail. In view of Mary's recent passing I thought you might have some interest in it. I feel it captures the personal depth and sincerity of this wonderful lady."
Tom "Road" Blair writes, "Someone sent me your newsletter and I enjoyed it. Please put me on your e-mail list. I believe you called me for some questions on a book you were writing some years back. (Since I had Marty Robbins's old guitar player in my band at the time.) I had two songs out on Decca records and one out on Dot records back in the '60s and traveled the US and Canada. Here's my website with the free book I wrote, videos of my rock and roll and country days. I think you might enjoy some of the country videos and maybe some of the stories in my book. Which is free to read online on my site. All true stories."
Ronnie Allen has a question: "I enjoy reading your newsletter so very much and I hope you're having a wonderful year. It's been a while since I contributed anything so I'd like to submit the following information which you can share with your readers if you'd like. A website called American Radio History has almost all back issues of Billboard and Cash Box online in PDF format. I am looking at the December 5, 1953 issue of Cash Box when they announced the winners in their latest popularity poll. The Best Country and Western Artists of 1953 were:
Hank Thompson
Jim Reeves
Skeets McDonald
Pee Wee King
Jean Shepard
Ferlin Husky
Rex Allen
Slim Whitman
Mitchell Torok
Rusty Draper
George Morgan
Jimmy Wakely
The Best Folk Artists of 1953 were:
Webb Pierce
Hank Williams
Carl Smith
The Carlisles
Hank Snow
Eddy Arnold
The Davis Sisters
Ernest Tubb
Johnny and Jack
Kitty Wells
Red Foley
Tennessee Ernie Ford
Homer and Jethro
Lefty Frizzell
I am hoping, Diane, that either you or perhaps some of your readers can explain to me the difference between 'Country and Western' and 'Folk,' as it was back in 1953. Rusty Draper was considered a country and western act but the Carlisles were not. Jean Shepard was considered a country and western act but Kitty Wells was not. I assume some person or persons at Cash Box made the decision to have two separate categories. I say this because each of the names listed above received several thousand votes but each recording act was assigned one category or the other. I am not sure whether the assignment was done before the start of the voting or well into the voting. I have lots of questions but no answers. I am hoping that maybe you or some of your readers can tell me if there might be a rhyme or reason to what I have presented here. P.S. We have a message board at the Jersey Girls Sing website and often there are messages about country artists."
COUNTRY MUSIC HALL OF FAME – 1984
The architect of the famed 1927 Bristol Sessions, Ralph Peer brought Jimmie Rodgers and the Carter Family to lasting fame. Born in 1892 in Kansas City, Missouri, Peer grew up as the son of a merchant. In 1919, he moved to New York for employment with OKeh Records. He took credit for the terms "race music" and "hillbilly music" when he recorded artists such as the Hill Billies, the Stoneman Family, and Vernon Dalhart. He joined Victor Records in 1926, offering to work for nothing if he could control the copyrights of the music he recorded. After his discovery of Jimmie Rodgers and the Carter Family in Bristol, Tennessee, he became their manager as well as producer. Peer died at age 67, in Hollywood, California, in 1960.
The son of a sharecropper, Floyd Tillman grew up in Post, Texas. When he died in 2003, at age 89, his songwriting catalog included more than 1,000 songs, with an estimate of 50 million copies of his songs recorded. He began singing in 1934, and he played lead electric guitar in a western swing band. During World War II, he was a radio operator at a military base near Houston. His radio and club work during and after the war helped make Houston a country music center. Tillman's best-known songs, recorded by himself and others, include "It Makes No Difference Now," "I Love You So Much It Hurts," and "Slippin' Around." He retired while at the top of his career, with occasional recordings and appearances in later years. He was able to enjoy the double honor of being elected to the Nashville Songwriters Hall of Fame (1970) and the Country Music Hall of Fame (1984). He recorded his final album, The Influence, in 2002.