NEWS 
The last surviving member of Roy Acuff's Smoky Mountain Boys has died. Alden Johnny "A. J." Nelson, age 94, of Hendersonville passed away June 22. He had served in the US Navy during WWII, and he performed on many USO tours during the Vietnam war. In addition to being an entertainer, he was a craftsman of stringed instrument repair.
Rock This Country, the new Shania Twain exhibit at the Country Music Hall of Fame and Museum, opened last week in Nashville. Shania gave a speech in the Hall of Fame rotunda, in which she credited Buddy Cannon, Harold Shedd, and Norro Wilson with being her first supporters when she arrived in Nashville from Canada. CMT News reports her as saying, "I had no parents to call . . .. I had no one to fall back on. And my new family was the future and whatever I made of that future." She talked about walking through the exhibit and looking at the story of her life. "The baby picture, the singing as a child and then I saw where my parents fell away from the story," she said. They died in an automobile accident in 1987, when Shania was 21. "My only regret in all of it is that my parents are not here to see it."
One of 34 names to be added to the Hollywood Walk of Fame in 2018 will be that of Carrie Underwood. The Hollywood Chamber of Commerce announced its list last week. Others in the "Recording" category include Harry Connick Jr., Weird Al Yankovic, Snoop Dogg, and Petula Clark.
In a recent interview with The Guardian, Steve Earle, 62, said, "Autism is the centre of my life, apart from recovery. They are the two things that control my life." His autistic seven-year-old son, John Henry, is largely non-verbal and not easily controllable. Earle and his sixth wife, Allison Moorer, the mother of John Henry, split up five years ago. They both live in New York to provide their son with the best schooling. Earle told The Guardian, "I think [the autism] was the straw that broke the camel's back, but I think she was going to leave me anyway. She traded me in for a younger, skinnier, less talented singer-songwriter." He is recording a new album, So You Wanna Be an Outlaw. The songs draw on his relationship with his ex-wife. "This isn't the first time I've gotten dumped," he said. "And I've left people too, which has its own set of lows and guilts. This record is more about coming to terms with loss." In the late 1980s, the Guitar Town and Copperhead Road performer lost all his possessions–bikes, cars, guitars, jewelry. "I sold them to buy heroin," he said. "I lost everything but my house. The house in Tennessee I still own, though I don't know how. I guess it's because I couldn't figure out how to put it in the car and take it to the pawn shop." He has now been sober for two decades.
In an exclusive interview with Closer Weekly, Herman Webb (82) gave an update on his sister, Loretta Lynn (85). She is receiving rehabilitative care in a facility near Nashville, and she uses a walker to get around. "Her left side was kind of paralyzed," Herman said. "She can talk, and Loretta told me she thought she's going to be okay." He said making music has been therapeutic, adding, "It's all she lives for. She seems to be coming along pretty good."
The longest command by a solo artist on the 59-year-old Billboard Hot Country Songs chart has been broken. Leroy Van Dyke's "Walk On By" has held the spot since 1961. Its 19-week run at No. 1 was bested by Sam Hunt's "Body Like a Back Road," which just hit its 20th week. The longest run overall goes to a duo, Florida Georgia Line, whose "Cruise" spent 24 weeks at No. 1 in 2012-13. The chart blends airplay, sales and streaming data. Because it began in 1958, songs such as Hank Snow's "I'm Movin' On" (21 weeks at No. 1 in 1950) are not included.
During the recent CMA Music Festival in Nashville, Randy Travis held a meet-and-greet for 200 people at the Country Music Hall of Fame and Museum. People Country reports, "No autographs from this artist, and no more than a tentative 'hello' or 'thanks.' A handshake? Yes, but only from the left hand, not the right." The fans were thrilled simply to sit next to him and have a photo taken. Randy also appeared on stage with Michael Ray during an outdoor concert. He sang the final "Amen" during Ray's performance of Randy's signature song, "Forever and Ever, Amen."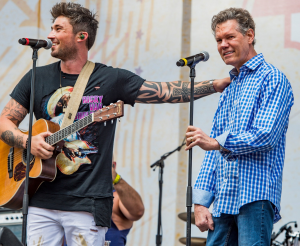 Erika Goldring/Getty Images
LETTERS
Bill Mack writes from Fort Worth, Texas, "I realize my notes may be becoming a habit, but I just had to send you another to thank you for your absolutely great column that I just finished reading. Your coverage of recent events in country music always grab my attention. Then, there are those assorted personal bits that add so much to the value of your columns for me and others. I noticed my old friend Les Leverett sent you a note. Les, a fantastic photographer, was one of the first people I met during my initial visit to Nashville. He took the time to show me around the city, introducing me to various artists and allowing me to feel genuinely welcomed to Music City U.S.A. Les will always be a very special person to me and to everyone who has been blessed by meeting him. Then, there was the mention of Grant Turner. To me, Grant was the Big Daddy of Nashville radio. His voice on the Opry and the Ernest Tubb Record Shop programs was the authentic sound of country music. His dynamic voice could never be duplicated. Grant also became a personal friend. In closing, your reference to Lefty Frizzell was so perfect. I was one of the first disk jockeys to interview Lefty. He, too, became such a strong, personal friend to me. Lefty set the perfect sound in country music for others to follow. Wynn Stewart and Merle Haggard both gave him credit for providing a singing style that they copied a bit during their beginning years as country singers. They retained a bit of that Frizzell styling throughout their amazing careers. So many of us appreciate your amazing talent, Diane. God bless you."
Larry Cohn says, "So sorry to hear the news about Norro Wilson's passing. I knew him when I was the head of CBS/Epic, c.1969-72. He was pals w/Glenn Sutton and Billy Sherrill and whenever I had occasion to visit our office in Nashville, I would invariably run into him. A super nice, very talented guy. RIP."
Ken Johnson explains the "El Paso" conundrum: "Regarding two Marty Robbins songs mentioned in your latest newsletter. The 'El Paso' recording was issued in three different versions. The original Columbia 45 was a mono version that ran 4:38. It contained a verse that begins at 1:28: 'Just for a moment I stood there in silence shocked by the foul evil deed I had done. Many thoughts raced through my mind as I stood there, I had but one chance and that was to run…' That version was also issued on the MONO version of Marty's Gunfight Ballads and Trail Songs album [Columbia CL 1349].
An edited version of El Paso was issued on the STEREO release of the Gunfighter Ballads and Trail Songs album [Columbia CS 8158]. That version was mixed in STEREO but deleted the verse quoted above, reducing the length of the recording to 4:20.
A third version of El Paso was issued as the B side of the 1959 Columbia promotional 45 sent to radio stations. Fearing that some stations would not program a long recording, an edit was done to trim the time to about 3:00. As you can hear, editing destroyed the continuity of the story. This version has never been reissued.
Most radio stations played the full-length version and that is the one that became the #1 country and pop hit.  For many years the only way to purchase the full length mono recording was to find an original copy of the 1959 Columbia 45, an original copy of the 1959 MONO version of the Gunfighter Ballads and Trail Songs album or purchase the song on a Columbia Hall of Fame 45 RPM record [the other side was 'A White Sport Coat']. The Hall of Fame series was created by Columbia to reissue back-to-back hits on 45 RPM records for jukeboxes, radio stations and consumers. For many years Marty's "Greatest Hits" or "Best Of" compilation albums exclusively re-issued the edited STEREO version. The full version was not available on LP. Finally, during the CD era, the full-length hit version of El Paso was reissued. I believe that Time/Life was first to re-issue the song on the 1959 volume of their Country U.S.A. series in 1989. Columbia issued it two years later on the two-CD set, The Essential Marty Robbins 1951-1982 [C2K-48537]. Since then the full version has been included on several other compilations, including the Columbia/Legacy 1999 CD re-release of the original Gunfighter Ballads and Trail Songs album [CK 65996]. Both versions of 'El Paso' are on that CD.
The continuing mystery is why hasn't a stereo version of the full-length recording been issued? Was the tape lost or destroyed? And why did they edit the song for the stereo album release while the mono LP had the full version? To date, no one from Columbia has ever offered an explanation and sadly Marty is not able to reconstruct history for us.
Lefty Frizzell's excellent 1958 recording of Marty's song 'Cigarettes and Coffee Blues' earned him a #13 hit in early 1959. Marty recorded the song on January 7, 1963, and Columbia released it as a single the following month [Columbia 4-42701 b/w Teenager's Dad]. The record entered the Billboard country survey in March and peaked at #14 during the first week in May. The single fared a bit worse in Cashbox peaking at #17. Like many of Marty's other singles from that era it was never issued on an album at that time. The song remained in the Columbia vault until Bear Family issued it on the 1985 vinyl LP, Rockin' Rollin' Robbins Vol. 3 [BFX 15184]. Six years later, Columbia included it on the two-CD set, The Essential Marty Robbins 1951-1982 [C2K-48537], released in 1991. Bear Family re-mixed the multi-track tape and issued a stereo version on their 1995 box set, Marty Robbins 1960-1966 [BCD 15655]."
Diane: Thanks for that super-thorough explanation, Ken. I completely missed Marty's #14 on Billboard when I was searching for it. I knew it wasn't in his album discography.
Tom Kaufman writes from Denton, Maryland, "Just finished reading your latest newsletter, which I enjoyed very much as I always enjoy them. But there was one thing I ran across that really grabbed my attention: if I understood you correctly, you said the extended verse in Marty Robbins's 'El Paso' is not on the Gunfighter album. Aw…but it certainly is. I still have an old copy of that album that was given to me around 1965. I dug out that old Marty Robbins LP Gunfighter Ballads and Trail Songs (CL 1349) (underneath it says 'unbreakable'– not that anyone would want to try and break it) but here's what I found: as you said, first cut on Side 2 is 'El Paso.' Definitely does contain 'just for a moment I stood there in silence; shocked by the foul evil deed I had done. Many thoughts raced through my mind as I stood there; I had but one chance and that was to run.' Now my copy is in mono, so if your copy of this LP is in stereo, this might be the difference, for I have found that if I hear a stereo copy of that ole tune, it does indeed have that line missing. I also have a copy of the 45, which am pretty sure has that verse. Now here's something I don't hear: the version that Columbia chopped up. What I DO hear now and then is the stereo version (this never has that verse) but I've heard from other people that when 'El Paso' came out, Columbia (in an effort to make it more radio friendly) chopped out a good bit of that tune. Apparently, the full-length version started getting played and people loved it; I also hear tell that Marty was most unhappy with Columbia's decision to chop it up. I was only six years old or so when 'El Paso' was released, so don't really have a memory of how the original 'short' version sounded. Thanks for putting out these newsletters; look forward to when they come out and I do circulate them around in an effort to spread the news. Keep up the good work. I can't thank you enough for producing such a good newsletter. I look forward to the next one."
Diane: Yes, I have the stereo version. And I always thought it WAS the original.
John Morris in Canada says, "Great job with your newsletter as always. Marty's full version can be found on the Bear box set Under the Western Skies. It is also on the mono version of the 1959 original Columbia album Gun Fighter Ballads. His western material was my favourite and his Country recordings as well."
Craig Johnson of Virginia Beach, Virginia, who started the whole "El Paso" thing, jokes, "Wow! My name in print! I'm famous! Thanks, Captain."
Johnny Western writes on June 27, "My Facebook posting today was about Marty and me in 1964. You can bring it up on my timeline at jonjohnnywestern. We just got back from 10 days in Wyoming, where the temp was 72 degrees. It was 119 when we landed at sky harbor in Phoenix. Hope all is well in South Dakota."
John Edmonson writes from Sun City, Arizona, "My wife, Wanda and I own Remar Productions (ReMaR "Remembering Marty Robbins"), an LLC we formed in 2015 to introduce and entertain as many people as possible and to do our part in keeping Marty's memory alive. This amazing journey has blessed us with countless, long lasting, friendships. In reference to your Twentieth Century Drifter: The Life of Marty Robbins, Wanda and I are very much interested in having a copy. Additionally, we would be more than happy to introduce you and your publications to our dedicated following. For some reason, we missed your 2012 book signing in the Plaza, but a close friend of ours attended and met you. She loaned us her copies of Navy Greenshirt and The Faron Young Story. You have an open invitation to any of our events if you ever return to the cactus patch. We'll accommodate you with a space for book signing and sales at any of our events. We cherish the thought of associating with anyone who wants to help preserve Marty's memory. Let's stay in touch, there's not too many of us die-hard Marty Robbins and traditional country music lovers left in this old world. There are a handful of talented youngsters out there like Mo Pitney who are plugging away at it, but I'm concerned that even he may have to resort to doing some cross-over material to stay active and pay the bills."
Roy Bodden checks in from The Cayman Islands: "A friend of mine, Stu Weiss, sent me your monthly newsletter. Terrific! Please add me to your email listing. I now live in The Cayman Islands. For many years I had a radio program in Tampa-St. Petersburg-Clearwater on three different radio stations in the areas. The program was called Country Music Memories. The programs were devoted to C/W music from the 1920s to the early '60s. Even though there were artists after those years who were singing and playing 'real' country music, I made sure they were also heard on the programs (i.e. Asleep at the Wheel, sons of the San Juaquin, Allison Krauss, and any number of blue grass artists). My wife Reva and I were also the founding members of The Society for the Preservation of Early Country & Western Music in the Tampa Bay area. The society is still active with meetings and jams every Tuesday night in Seffner, Florida. The society got started in 1985 and is now in its 32nd year of activity. Lefty and Marty are my two favorite C/W artists. Marty was the most versatile artist in the history of C/W music."
Roy Bodden adds, "You should have mentioned in your short bio of Roy Horton that his brother was Vaughn Horton, a,k.a. George Vaughn, who was the composer of 'Mocking Bird Hill' and hundreds of other country and pop songs. Vaughn also played steel guitar with the Pinetoppers while Roy played upright bass. Vaughn was a personal friend of mine. He was also a very private person, but I was able to do a video interview with him shortly before he died in 1989. I never met Roy in person, but spoke to him many times on the phone. I have a series of song books of hit songs published by Peer International and Hill and Range that Roy sent me. They cover the years 1940 – 1952. Vaughn was to be on my radio program on WRFA in Largo, FL in February, 1989, but died that very week on Feb. 29th. I had to do a tribute to him with Merv Shiner since Merv had known Vaughn since 1949 and Vaughn was instrumental in getting a Decca recording contract for him. It was through Merv that I met and befriended Vaughn."
Cam Lind in Sioux Falls says, "Diane, great job once again. I appreciate your work."
Alan Potter tells Mary Mitchell, "If you send me your email address again, I will send you a copy of my Bill Anderson legend show. A great writer & singer. I've been playing MY OLD ARMY HAT regularly since my friend Johnny Counterfeit kindly sent me it."
Gerald Walton from Oklahoma City says, "So glad to get your newsletter. I would like to ask your readers if they knew what a Twitty Burger was? It was a hamburger with a pineapple. In the '60s Conway had a small café on Western Avenue in Oklahoma City and he sold a lot of them."
Brenda Scheetz requests, "I'd love to be subscribed to your list. I heard one of your letters. A friend of mine let me hear one of them and I thought 'Wow! This is sure interesting!' She gave me your address so I could subscribe. My friend and I have been friends ever since school. We went to school together starting in 1959 and have been friends ever since. Thanks for keeping us informed as to what's going on in the world of country music."
Mary Knapp's daughter, Irene Owens, sends this sad note: "Mom is very sick and is not able to use her computer any longer. Please take her email off your list. I will try to keep you informed as much as possible."
Diane: I'm sorry to hear this, Irene. Mary has been a loyal reader since she sent me a note two years ago to say she'd found my newsletter site. I last heard from her in January, when she wrote, "Thanks for such an informative Newsletter. So happy to get the update on Mel Tillis."
Jenny Simpson writes, "Thanks for sending me your newsletters and thank you for including me in the issue when I released my single. It is approaching the 4th of July again and was wondering if you would like to share my song again, 'I Became An American'. I also have a website now."
Delma Last in Heflin, Alabama, writes, "Love your newsletters. I have a question please? What is the most recorded country song, and who did it? Here's a small note to the great singers of yesteryear: I still love your singing and collect it. I don't turn on the radio much anymore, just to hear the weather and if something happens in the news I want to hear about. Only a few of my favorite singers are left on earth, but through their music they live on in my heart. Some of my favorites still here include Ricky Skaggs, Loretta Lynn all-time favorite, Bill Anderson, Charley Pride, and more. Now when they sing, this old girl, who will be 50 on July 5th, sits up and listens and really enjoys herself."
SONG OF THE WEEK
Possibly the best "new love" song ever written is "Can I Trust You With My Heart." It's one of my all-time favorites—and one of my theme songs—ever since Travis Tritt's number one hit in 1992. It definitely deserved the BMI Award he and cowriter Stewart Hamill Harris received. Travis does a great job of singing every word: "When you meet that certain someone you've been searchin' hard to find…" The lyrics are perfect throughout: "I don't want to go too far without knowing just one answer, can I trust you with my heart?"
COUNTRY MUSIC HALL OF FAME – 1983
James Cecil Dickens, better known as Little Jimmy Dickens, was born in 1920 in Bolt, West Virginia. He first appeared on the Grand Ole Opry in 1947, after Roy Acuff heard him in Cincinnati, Ohio, and brought him to Nashville. He signed with Columbia and joined the Opry in 1948. Hank Williams nicknamed him Tater, after his hit song, "Take an Old Cold 'Tater (and Wait)." The 4-foot-11 performer brought Nudie suits to the Opry in 1949, when he wore his first suit designed by Los Angeles clothing designer Nudie Cohn. He introduced rhinestone suits to country music the following year. Along with writing and recording hit songs during his many years of touring, he performed regularly on the Opry for almost seven decades. His last performance was December 20, 2014, while celebrating his 94th birthday. He suffered a stroke on Christmas Day and died January 2, 2015. I wonder if any member of the Country Music Hall of Fame will ever be able to match the length of his career after being inducted.