NEWS 
Norro Wilson, co-writer of "The Grand Tour," "A Picture of Me (Without You)," and other classics, died June 8 at age 79. "Over the course of his career," The Tennessean reports, "he was involved in nearly every aspect of the music business, working as a performer, a songwriter, a song plugger, a publisher, an A&R rep and a producer." The son of a Kentucky factory worker, Wilson Norris "Norro" Wilson sang in a barbershop quartet in high school. He gave up his solo-recording career in the early 1970s to be a songwriter and music executive. He was a passionate advocate for songwriters. Bobby Braddock remembers, "When I was a dumb new kid in town in 1966, I had a record deal with MGM and Norro was my producer. I have marveled at him for over fifty years. Great singer, great producer, and writer of many hits. He was one of Music Row's greatest characters, maybe the funniest." Dave Barton adds, "What a great guy, we're going to miss him!"
As part of the Ryman Auditorium's 125th anniversary, new bronze statues created by sculptor Ben Watts were unveiled to honor two country music legends. WSM disc jockey Bill Cody emceed the June 7 event. The statue of Little Jimmy Dickens, who died at 94 in early 2015, stands outside the Fourth Avenue entrance to the Ryman. Rolling Stone Country reports that Brad Paisley and Jimmy's widow, Mona Dickens, dropped the gold curtain from Jimmy's statue. A statue of Bill Monroe, who died in 1996 at age 84, is on the Fifth Avenue side of the building. Ricky Skaggs and Bill's son, James Monroe, unveiled that one.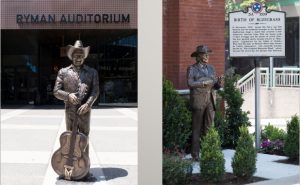 Photos by Steve Lowry for Ryman Archives
The fight by Randy Travis and his lawyers to prevent public release of a 2012 police video of his DUI arrest has failed. The Texas Supreme Court, without comment, denied his petition for a review of the 2016 ruling by the Texas 3rd Court of Appeals, which said dashboard camera video is a public record that must be released. The Court of Appeals ruled that the video didn't fall within the state law's medical exemptions and that privacy protections don't normally apply to actions in a public place. According to the Austin American-Statesman, Randy's lawyers had asked the Supreme Court to reverse the ruling, saying it would infringe on the privacy rights of people with mental health and medical issues. "The public may be entitled to know that he broke the law, but it is not entitled to gloat over his mental breakdown and embarrassing condition," the lawyers told the Supreme Court.
Loretta Lynn Ranch's Tennessee Motorcycle and Music Revival marks the first new show announcement by Loretta Lynn since her stroke in May. She will be hosting her own motorcycle event September 28 – October 1, after almost 40 years of hosting the American Motorcyclist Association (AMA) Amateur National Championship. Taste of Country reports that motorcyclists are invited to the ranch for four days of live music and camping. "We've been having motorcycles here forever with the AMA, and all year long thousands of people riding in to camp at the Ranch," Loretta said in a press release. There will be 22 motorcycle rides set up throughout Tennessee, culminating with a concert at the Ranch. Loretta will be one of the performers. It is a fundraiser to benefit Mission 22, an organization that raises awareness on veteran suicide and offers treatment programs for PTSD and traumatic brain injury.
LETTERS
Les Leverett writes from Goodlettsville, Tennessee, "Thanks so much for the Vernon Dalhart story. I also first heard 'The Prisoner's Song' from a 78 rpm on my parents' Victrola, and it is also my very favorite country song. And thanks for the story on my old friend Grant Turner. I worked around him from 1960 'til his death. He was almost like a father to me. I loved him dearly. I was the Opry photographer from March of 1960 'til my retirement in March of 1992. Your newsletters are a vital part of my keeping up with our business."
Jean Earle writes from England, "I think I am going to need your help. Back in 1975, Alan and I made our first happy visit to Nashville. We met some wonderful people and made some lifelong friends. Our first excitement was to meet Faron in his office. We later called on him at his home and met his lovely wife Hilda and their children…..back in those days it was lovely to be able to meet the STARS without all the fuss of security and body guards…we could just say Hello and enjoy wonderful conversations with them….how LUCKY we were. One person we met and made great friends with was a lady who worked in Billy Deaton's office…Terry Counts. We always made a point of calling in at the office on Pine Street and Terry would do her best to arrange for us to meet Faron or any of the other great artists that were in her file. WONDERFUL! Recently we have had one or two rather worrying messages from Terry. I have tried to email her and Alan has tried to phone ……no results. Alan spoke to Hilda Young today….and it sounds as though something might have happened to Terry. I wonder, have you heard any news of Terry?"
Diane: I hadn't heard from Terry in a while, so I checked her Facebook page, and saw a note from a Teresa Pentecost, who said Terry will be missed. I sent Teresa a message, and here's her response: "Yes ma'am she passed May 29th. We have decided to take her remains to the beach with us and spread them over the ocean. She will be missed for sure."
More from Jean Earle: "I very much appreciate your sending us the latest news on Terry. Please send our thoughts to Teresa…..we will be able to have some last minute thoughts about Terry and think of her setting off on her last journey. The beach will be a wonderful place for her to spread her wings and fly. I realise it will be difficult to know about Terry's last few days but I do hope she was not alone…and suffering. I have spoken to Jim Marshall about Terry….and he and I agree that she was known and loved by so many people in Nashville that we expect there will be many kind things said about her and possibly a remembrance service."
Connie Johnson asks, "Would it be possible for you to resend the last newsletter? I hit something and lost it before I had a chance to read it. When I get mine I run copies off for some of my friends that don't have computers. I don't know what happened that was the first and I sure hope the last."
Judy Cowart says, "Somehow I missed the newsletter with your article about Leona Williams. I was wondering if you could send a copy of that newsletter to me? Always love to read your news. Keep up the good work."
John Allen writes, "Thanks so much for these newsletters. Sorry to hear about Olivia Newton-John getting breast cancer again. I hope the cancer doesn't spread and they are able to treat the cancer again. Olivia has such an awesome voice. Many songs once a singer sang I don't like, but Olivia's song that was done by John Denver's 'Country Road' is awesome. Can't wait to hear Hank Williams Jr. on Monday night football. Love his singing. Love the NFL especially on radio. TV announcers forget there might be blind listening and will say, 'Wow!  Did you see that pass?' or 'Wow! Did you see that catch?' And of course I sit there yelling at the TV announcers to explain, but they never do. Smile. Radio though explains all. I even run my own NFL list, which will be for the eighteenth season. Thanks again for the newsletter."
Dave Rogers, RADM USN (Ret), writes, "Thank you for this wonderful letter. Our paths crossed briefly in the Navy and you taught me to understand and love Country Music and your monthly letter keeps it going. Please keep it going!"
Craig Johnson of Virginia Beach, Virginia, wonders, "Thanks for the updates. I really enjoy them. I am an avid record collector but have yet to find the Marty Robbins extended recording of 'El Paso.' I have seen it on YouTube, and occasionally on Pandora. The Pandora picture is of the 1959 Gunfighter (Mono) red album cover. The Stereo version doesn't have it. Do you have it? Any ideas? This version is rarely played. I consider it a treat when I hear the extra verse…
'Just for a moment I stood there in silence,
shocked by the foul evil deed I had done.
Many thoughts raced through my mind as I stood there,
I had but one chance and that was to run…' "
Diane: I was surprised to learn in researching your question that this verse is not on the Gunfighter album. Marty always sang it, and I didn't realize the original recording doesn't include it. I think if you check any of Marty's live performances, you'll hear the missing verse.
Carolyn Berry says, "I love getting the newsletter. Conway Twitty was my favorite singer. I plan to buy Charley Pride's new album."
Scott Anderson writes, "I feel almost embarrassed to say this Diane, after having been Facebook friends with you and discussing country music for many years, but I just now got around to reading your bio of Faron Young. Wow…. honestly kinda shocked, bordering on saddened with a side of deflated to know some of the intimate family secrets and stories I never knew….He truly was a troubled soul….I feel sorry for his kids and Hilda for having to put up with so much for so long…. I can't say I think less of one of my fave childhood heroes and fave singers, but I sure do look at his legacy a little different than I did before……A great read tho… albeit a bit disheartening to know about his dark side in detail…..There were so many utterly fascinating things in the book I never knew…his short foray into small planes, yet never holding a license…and the car wreck with the two identical Continental Mark IIIs…. I collect and restore old Lincolns and have had several…. Mark IIIs were always a fave…. I was at the CMHOF in Nashville a few weeks ago and picked up your book in their store there…should have looked for the Marty Robbins book too while I was there. You could have a field day writing the life story of Jones or Paycheck or Pierce…. But I'd imagine the work is exhausting. They sure would be good reads tho…. especially Paycheck…I always felt he was one of the best singers in Nashville ever but such a train wreck in his personal life, almost from day one."
Mary Mitchell writes from Woodland Park, Colorado, "Through you, I have a friend in the UK. His name is Alan Potter who sent me a CD of a radio show he did with Wynn Stewart Songs. It is great. I can't fail to mention a dear friend of mine Bill Anderson. He told me he is the biggest fan of Wynn, not true, I am. I have known Bill and his band for many years. I was a rep for Bill. He has written so many songs, however I truly love the THE PAPER. I have searched for this song and am unable to find it. Bill and I will be friends until my last breath. Thanks Bill for the many laughs we have had and the many great concerts I had the privilege to attend. Best to you and your band and family."
Lee Shannon, Country Music D.J. Hall of Fame (class of 1998), says, "Thanks for another informative newsletter. Back in the seventies when I was a deejay at award-winning WIRE Radio in Indianapolis, I also served as the Talent Coordinator for the Little Nashville Opry in nearby Brown County. One weekend when Faron Young was the headliner, he took a liking to the table in the artists' lounge area. It was a round glass-topped table made from a red wagon wheel. As a thank you for his outstanding performance, Rick Hawhee, the Opry owner, presented Faron with that table. It was loaded in their bus and headed south to Faron's house. Perhaps you may have seen it on one of your visits to Faron's house."
SONG OF THE WEEK
I hadn't realized Lefty Frizzell and Marty Robbins were inducted into the Country Music Hall of Fame at the same time. Whenever I see their names together, I immediately think of "Smokin' Cigarettes and Drinkin' Coffee Blues." Marty wrote it, and Lefty recorded it in 1958 under its alternate title of "Cigarettes and Coffee Blues." Marty also recorded it but never released it or put it on an album. Both versions are great, with Lefty's a bit faster and Marty's more contemplative. It's a perfect honky tonk song. Although I've never had that type of blues, I could listen and dance–time and again–to either artist's recording.
BOOK REVIEW – LEFTY FRIZZELL: THE HONKY-TONK LIFE OF COUNTRY MUSIC'S GREATEST SINGER by DANIEL COOPER
One of my first purchases at the Ernest Tubb Record Shop, when I started my Faron Young research, was Lefty Frizzell: The Honky-tonk Life of Country Music's Greatest Singer by Daniel Cooper. I didn't know much about Lefty (other than his music) until I read this 1995 book. What a sad waste of a wonderful talent. The book certainly shows the importance of management and public relations for an entertainer. Considering Lefty's influence on future generations, he should never have ended up singing in dives for a pittance. He tried to make a recording comeback in 1972, with Glenn Sutton as his producer, but Columbia Records dropped him from the label. This is a well-written biography, other than for two omissions. Not talking about his siblings made for an incomplete family picture, and the book lacks Lefty's voice Although his wit and humor are mentioned, there are no quotes to actually show us his personality.
COUNTRY MUSIC HALL OF FAME – 1982
William Orville "Lefty" Frizzell picked up his nickname when he hit a school bully with a left hook. The son of an oil field worker, he grew up in oil towns from Arkansas to East Texas. By age twelve, he knew he wanted to be a professional singer like Jimmie Rodgers. He was 17 and a radio entertainer when he married in 1945. Two years later, he was jailed in Roswell, New Mexico, for statutory rape. During his six-month sentence, he wrote "I Love You a Thousand Ways" to convince his wife not to leave him. In 1950, he signed with Columbia Records, and both sides of his first single hit #1: "If You've Got the Money I've Got the Time" and "I Love You a Thousand Ways." After a tumultuous period of hit records, heavy drinking, and poor career direction, he recorded his final #1 record, "Saginaw, Michigan," in 1964. He suffered a stroke on July 19, 1975, and died that night, at age 47. He was posthumously inducted into the Country Music Hall of Fame seven years later.
Country music promoter Roy Horton grew up in the Allegheny Mountains of western Pennsylvania. He was a member of the Pinetoppers, the band that had a hit with "Mockin' Bird Hill" in 1951. His music publishing career began when he joined Peer-Southern Music in the 1940s. He worked there for more than forty years. Even though he lived in New York, he was instrumental in establishing the Country Music Association (CMA) and Country Music Foundation (CMF). He helped raise funds to build the Country Music Hall of Fame and Museum. During its dedication in 1967, he participated in the ribbon-cutting as the CMA board chairman. He was later elected as CMF president. He died at age 88, in 2003, at his home in Connecticut. He'd had a stroke two years earlier and was battling diabetes and congestive heart failure.
Martin David Robinson was born in the desert outside Glendale, Arizona, in 1925. He became Marty Robbins, the singer, when he returned home after US Navy combat in the South Pacific during World War II. He followed Lefty Frizzell to a contract on Columbia Records, and both men worked with producer Don Law. As Marty's biographer, I find it difficult to summarize his life in one paragraph. When I picked up my new car last week, I turned on the radio and dialed in Willie's Roadhouse. The first sound to come through those brand new speakers was the voice of Marty Robbins singing "Big Iron." That was the opening song on his famed album, Gunfighter Ballads and Trail Songs, released in 1959 and still popular today. Marty received the Man of the Decade Award from the Academy of Country Music (ACM) in 1970. He was an entertainer, recording artist, songwriter, song publisher, producer, and NASCAR driver. Even after his heart attacks, he returned to driving. His love for racing conflicted with his commitment as a country music entertainer, and he tried to give up driving but could not do so. At age 57, he was inducted into the Country Music Hall of Fame on October 11, 1982, two months before he died after having a fourth heart attack. He ran his final NASCAR race a month before his death.