FEATURED ARTIST
Johnny Seay hit the Billboard charts with "Frankie's Man Johnny" in 1959 as a Louisiana Hayride regular. He moved to Nashville, recorded for Capitol Records, and toured under the management of Hubert Long for the next decade.  In 1967, he costarred with Tex Ritter, Al Hurt, and Faron Young in Leroy Van Dyke's movie, What Am I Bid? Realizing he wanted more out of life than what the music business provided, he moved to Texas and, over the next forty years, proceeded to do everything he wanted to do in his life. In addition to raising a family, he worked as a cowboy, railroad conductor and steam locomotive engineer, flew as a Civil Air Patrol pilot, commanded the 131st Air Search and Rescue Squadron, and became an award-winning painter, sculptor and gun engraver. He still loves flying crop duster aircraft and says it's the only job he never tired of.
I interviewed him over the phone while researching my Marty Robbins biography, and we've stayed in email touch since then. When I contacted him the other day for an update, here's what he said, "I'm still Crop Dusting and will be as long as my health holds out. So far, I have no health problems and at 73, that's pretty good I think. I have a little over 16,500 hours flying and hope to make at least 20,000 before I hang it up. Still having fun flying crop dusters after 34 years of doing it. There is nothing new in my life except grand kids."
"I have hoped Bear Family would do a box set of everything I've recorded over the years, so I would not have to do it. There are still a lot of tracks that haven't been released on CD. Some that haven't been released, period," he says. "Nothing as far as music to report except my reunion a week ago with my band from my Louisiana Hayride days. My lead guitar player, Gerry McGee, and my Bass player, Pee Wee Moore, and I got together after fifty four years apart. It was great visiting about the old days and telling stories of the fun times we had."
John told me, "I could write a book, but not as well as you or I would already have done so. I have been giving it some thought and have a few pages written but very rough. Just memories in random." Stories and photos can be found on his website at http://johnnyseay.com/. Here's a publicity photo and one of John and his sons.
NEWS
Mel Tillis was released from the TriStar Centennial Heart & Vascular Center in Nashville last Friday, after spending a week there recovering from heart surgery. He was given a certificate proclaiming him a member of the "Tristar Centennial Heart Zipper Club."
The Grand Ole Opry House in the former Opryland turned forty this past weekend. Many of the current-but-seldom-seen artists showed up to celebrate, along with regulars such as Bill Anderson and Jeannie Seely. Bill and Jeannie were also present on March 16, 1974, when Roy Acuff served as host to welcome President Richard Nixon to the stage. Marty Robbins closed the show at the Opry's new home that night, just as he had closed the final Opry show at the Ryman the week before. Bill Anderson described the recent celebration: "Saturday night, tradition was evident once again as the entire cast gathered on stage to sing the opening song in tribute to Roy Acuff…his signature 'Wabash Cannonball.' Mr. Roy had performed that song forty years before, segueing from a 1940′s black and white film clip into his live performance as the 'big red curtain' rose for the first time. Led by the Opry's newest members, The Old Crow Medicine Show, we segued from a recording of Mr. Roy's 1974 performance right into a live 2014 version. Veterans like Little Jimmy Dickens, Jean Shepard, Bobby Osborne, Jeanne Seely, Connie Smith and myself stood alongside Blake Shelton, Miranda Lambert, Josh Turner, Clint Black and others, some of whom weren't even born in 1974." (http://billanderson.com/wired/march-17-2014/)
The final recordings of Ray Price will be released next month on a 12-track CD, Beauty Is . . . It will be sold through Walmart, Cracker Barrel, and online retailers beginning April 15. Ray had called his friend, Fred Foster, in 2012 and asked him to produce it, saying, "I think I have one album left in me; I'm not well, you know, I want to do one last one, and I want you to do it with me." A three-song EP is already available digitally. It contains "Beauty Lies in the Eyes of the Beholder," a duet with Vince Gill, "This Thing of Ours," and "I Wish I Was 18 Again." Martina McBride also sings with Ray on the CD.
Craig Morgan spent time as an EMT, paramedic, fire fighter and police officer before his first country music hits.  He told The Boot that his emergency training and experience is "probably a bigger part of who I am than country music. I think I have a career because of it. That stuff definitely impacts my music because that's the lifestyle." He is teaming up with Kidde, a manufacturer of residential fire safety products, to donate 5,000 smoke alarms to fire departments in the cities on his 2014 the Journey Tour.
Last month, Dolly Parton crossed Australia on her multi-city "Blue Smoke" tour, covering both east and west coasts. After the Melbourne show, reviewer Hayley Travis wrote, "Tipping her own hat to Keith Urban and Olivia Newton John, Dolly made it clear that although she had many adoring fans, she was an adoring fan herself. Covering songs by Bob Dylan, Collective Soul and Bon Jovi, her talents stretch further than first imagined. Easily picking up the sax, harmonica, guitar, organ and a multitude of other instruments, her fans were left in total awe." Here Dolly is in Melbourne on Valentine's Day (photo credit Callum Broom):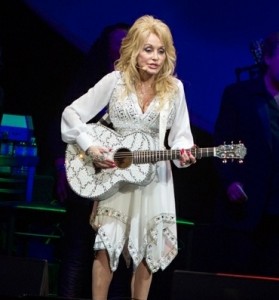 LETTERS
Dominique "Imperial" ANGLARES writes from France, "The question of the week is very interesting and not easy to answer but I definitively think an artist had to bring something more than only his songs while on stage. If the matter is to listen to songs, records or radio should fit perfectly. If the matter is to see the artist, TV should fit perfectly … Why would you drive long distance and pay for entrance if you ain't got nothing more than music and songs if you're common people? Of course, a devoted fan will go with everything but they are few. . . . Bill Haley & The Comets as well as Elvis broke 'cause they bring a show, not only their music. I know a few teenagers who came to see Elvis in 1955 'cause they heard … he was breaking guitar strings on stage. Bill Haley and The Comets were pure crazyness in 1954/1954 with saxman playing lying on the floor while the bassman was jumping on his doghouse bass. Jimmy Lee Fautheree and his partners (Country Johnny Mathis or Lynn Fautheree) bring a hot visual act with impersonations. Johnny Cash and Faron Young made great impersonation of Elvis and the little Larry Collins (brother of Lorrie Collins – The Collins) won warm cheers playing his guitar boppin' all around. Jerry Lee Lewis wrecked piano, Chuck Berry was doing his famous duck walk, Wanda Jackson wore beautiful homemade fancy dress and shaked these hips, Janis Martin throw away her shoe to sing 'Barefoot Baby,' Ferlin Husky bring along 'Simon Crum' to crack jokes … They all were loved by the crowds from Boston to New Orleans."
Alan Potter writes from the U.K., "To each his own. I know people who go see Garth & Carrie for their energetic shows as well as their singing. I go to hear my favourite songs by my favourite artists. Don Williams, Slim Whitman, etc., just sat & played & I loved it. Marty Robbins entertained with humour as well as great songs. The Possum just had to sing to win me over…no gimmicks. However, I admit Garth & Carrie can certainly sing too. It's good to have a talking point like this. Keep up the fantastic work. No matter what happens, the 40s to the 80s will always be country's golden era for me."
Mike O'Neill says, "The people in the country music Business say that if you can play an instrument, write hit songs and can sing, you're a full package. Being an entertainer is more like being a showman. Was Elvis an entertainer? or a great singer. I feel that a one-man show like a comedian is on stage alone no music he must perform or he dies on stage. Minnie Pearl was a country entertainer."
Bob Hamburg writes, "I have had the pleasure of seeing both Bill Cosby and Elton John at an AARP convention. Both are known as 'Entertainers.' The Cos sat on a folding metal chair and told stories. Sir Elton sat at a piano, no back up, and played and sang. Everyone was entertained and enjoyed the shows. The only thing we wanted was more of the same. On the other side was Pete Seeger and Arlo Guthrie who sang, played guitar and banjo, told stories, had audience sing-a-longs and more. Were they any more entertainers than the first two? I don't think so. Each entertainer does their own thing. Donnie and Marie Osmond put on a great show. Only the individual audience goer can say which they like best. I like them all."
Marge Hemsworth in Nova Scotia says, "As for entertainers: you couldn't beat Marty and Faron, not everyone has the ability to be talented, entertaining AND funny! I can play their songs ANYTIME, but when I pay to go to a show, I want to be 'entertained' and know a little more about them than when I went there . . .  going to see Conway and just have him stand there and sing . . . . afterwards, I'd think did I see him or did I just play a CD? Hank Snow also believed the audience deserved to see a person dressed up on stage and be entertained. Thanks, Diane, for another interesting newsletter with all the good positive country music news!"
Jane Seymore suggests, "I would love to hear from Little Jimmy Dickens. I know that he has had some serious health issues and wander how he is doing. He is a great entertainer and we owe him because he discovered Marty Robbins."
Tom Kimsey says, "Funny you brought up Garth Brooks, I didn't really think too much of his TV show but it was interesting. My only experience with him has been seeing him in concert, WOW what a show, he had the audience in his complete control. He didn't have to sing and they were screaming. So who can say. As always Thanks for all you do."
SONG OF THE WEEK
Since the late '70s, when I first heard "In the Mood" played on the steel guitar, it's been one of my favorite songs. Maybe because it was the signature song of a steel player I liked. I didn't know much about Glenn Miller at the time, other than his mysterious death in World War II, and the Sal Mineo movie about Gene Krupa. I purchased a Glenn Miller Greatest Hits album, which I still have. Today's bands occasionally play "In the Mood," and I enjoy dancing to it. I'd like to hear a steel guitar version again.
QUESTION OF THE WEEK
Which country singer (living or gone) would you most like to meet, and what would you do or say during that meeting?