CONCERT REVIEW – BRAD PAISLEY
Brad Paisley came to Sioux Falls last Friday night. It was my first opportunity to see him in concert. I've been a fan of his since before I was introduced to him backstage at the Grand Ole Opry. That was probably in 2000. An internet search tells me he recorded his first album in 1999. He was born October 28, 1972. I remember that period of my life; it was my first month of US Navy basic training. Brad's current net worth is $95 million.
And it all began when his grandfather gave him a guitar for Christmas in 1980; Brad wanted Star Wars gifts. [See my review of Brad's Diary Of A Player in my 4/4/18 newsletter.] I was reminded of Brad's story when he gave a guitar to a small boy at the edge of the stage Friday night. He said, "You better learn how to play it, little buddy," adding, "I'll be opening for you the next time I come here."
Brad's opening acts were Chase Bryant, with a 30-minute set, and Dustin Lynch, with 40 minutes. Chase, a Texan who grew up on country music, asked several times, "Are you ready for some country music?" But I never heard any. His definition of country music doesn't match mine. Dustin Lynch began his set with a country-sounding "Cowboys and Angels," before he launched off into stuff like "Small Town Boy."
Brad came on at 9:15 and sang nonstop for an hour and a half. He played to a full house at the Denny Sanford Premier Center, going from one song into another without waiting for applause. He said he didn't know much difference between the two Dakotas, except that we must be the warmer one. "Other than that, you'll have to educate me," he said. "Is this the better Dakota?"
The music often drowned out the vocals throughout the evening. Dark shadows and flashing lights prevented the musicians from being seen. We did once hear a keyboard and once a steel. The fiddle was routinely featured. It was too much guitar music for me, but what would you expect at a Brad Paisley concert?
I love his songwriting and sense of humor. He sang songs such as "Online." "Celebrity," and "Ticks" while the videos played on the large screen. The song called "Manstration" I hadn't heard before. It probably doesn't appear on any of his albums: "Guys, we deserve our own time period once a month." He said his wife thinks he's a jerk once a month — for 28 days. He dedicated "Mud On the Tires" to "all you South Dakotans who can't keep your trucks clean."
Chase came out for a guitar duo and to help sing "American Saturday Night." Dustin joined Brad for "I'm Still a Guy." They are definitely talented.
Brad said, "Thank you so much for giving us your night," and launched into "I'm Gonna Miss Her." I thought that would be his last song, but he ended with the romantic "The Rest of Your Life," after telling us, "I don't know about tomorrow."
His encore song was a long version of "Alcohol," with Chase and Dustin joining him on vocals and guitar. Other than not being able to find my car on the distant side street where I'd parked, it was a great evening.
NEWS
Randy Scruggs (1953-2018)
Randy Scruggs, 64, the middle son of Earl Scruggs, died April 17 after a brief illness. He first appeared on the Flatt & Scruggs TV show at age 9, The Tennessean reports, and made his first recording at 13. More than 100 of the songs he wrote have been recorded. He played guitar on hundreds of recordings, including the Nitty Gritty Dirt Band's "Will the Circle Be Unbroken" and Rosanne Cash's "Tennessee Flat Top Box." He played with his father and brothers in the Earl Scruggs Revue for over a decade, until he decided to devote his time to session work and songwriting. He was named CMA Musician of the Year in 1999, 2003 and 2006. There will be a memorial service at a later date, but no funeral.
Jerry Jeff Walker, 76, is now cancer free, reports Saving Country Music. He was diagnosed last year with throat cancer, and he developed both pneumonia and a blood infection while going through chemo and radiation. As well as once again scheduling tour dates, he is releasing his first new album in a decade. It's About Time features 11 new tracks, along with covers of classics. Jerry Jeff and Chris Gage produced the album, with Lloyd Maines appearing on dobro, steel guitar, and ukulele.
"El Paso" by Marty Robbins has been in the news lately. A recent collaboration between comedian Bill Murray and internationally acclaimed cellist Jan Vogler combined classical European music with American literature to create beautiful new melodies, reports Houston Culture Map. Their New Worlds tour began in Houston on April 16. Murray opened the concert by reading an excerpt from an interview where Ernest Hemingway admitted to playing the cello badly. Vogler then played a masterful cello solo. Throughout the evening, they blended art forms. Murray broke into a talk-singing song several times, Houston Culture Map reports: "Accompanied by piano, violin and cello, his take on Marty Robbins's 'El Paso' gave an almost operatic depth to the cowboy standard." After their performance the next night, the Milwaukee Journal Sentinel reported, "A cover of Marty Robbins' 'El Paso' ended tragically, as expected, with the narrator shot in the chest, and the goodbye kiss from Felina." Their North American tour ended in Portland, Oregon, on April 23. Portland's Press Herald reported, "In one of the most surprising numbers of the evening, Murray sang the Marty Robbins classic 'El Paso' and really belted it out, holding notes when he had to, as he sang the dramatically tragic love song."
Singer/songwriter Joshua Hedley, 33, gave his first performance on The Grand Ole Opry last week, the same day his debut album was released. The Tennessean reports, "Mr. Jukebox, released on rocker Jack White's Third Man Records, is a treat for fans of late country legends like Faron Young, Ray Price and Merle Haggard. Nine of the record's 10 songs are originals, rooted in the classic sounds of 1960s country — Hedley's favorite era — and sung in a rich baritone." Hedley has the chord changes for "Swinging Doors" tattooed on his knuckles. The Opry crowd gave him a standing ovation. Connie Smith approved, too. "He's really good and really genuine," she said. "To see him walk out in a rhinestone suit and sing a really country song did my heart good. I loved it."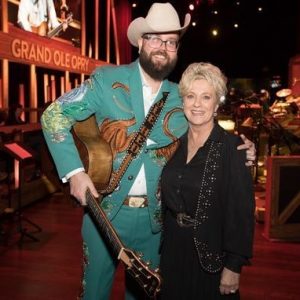 The News & Observer of Raleigh, North Carolina, reports the poster for a show on May 19, 1955, recently sold at auction for $42,500. It was expected to sell for about $20,000. The poster advertises a concert in Raleigh that headlined Hank Snow, followed by Faron Young and seven other acts. Third from the bottom was "Elvis Presley with Bill and Scotty." The poster was made by the Nashville-based Hatch Show Print and is believed to be the only one in existence. Both the seller and the California buyer prefer to remain anonymous.
This is the week Charley Pride celebrates his 25th anniversary as a Grand Ole Opry member. Although his Opry debut occurred in 1967, he became an official member in 1993. WSM Radio is planning "Country Pride Weekend" to celebrate the anniversary. Deejays will play his hits, rebroadcast programs from the archives. and take listener requests.
The house Marty Robbins built in Brentwood, Tennessee, is now for sale in Franklin. It was moved there in the late 1970s. The home at 4276 Pate Road is listed for $875,000. The property covers five acres and holds a five-bedroom, 4,582-square-foot house, a barn, recording studio, and swimming pool. Marty, with wife Marizona and daughter Janet had moved in 1975 from their farm to their newly built brick home on Holly Tree Gap Road in Brentwood. They paid $140,000 for the spacious luxury home, which immediately started sliding down the hillside. Cracks appeared, the porch pulled away, and gas and water lines disconnected. Janet, who was 17 at the time, says she felt guilty for convincing her parents to buy the house. Marty sued the builder, who had no idea he was building a house on "colluvial soil." Marty won the lawsuit to rescind the contract, but he had to pay rent for the time he lived there, and he was awarded no damages. In my research on Marty's biography, I hadn't heard the house had been moved. It was apparently taken apart and moved in sections.
LETTERS
Mary Mitchell writes in response to my Question of the Week: "NO ONE. How can you replace Carl Smith, Ray Price, Bill Anderson, Merle Haggard and too many to mention. Wake up Nashville if you want Country to survive. They all sound the same and too much ROCK in their music. As George Jones stated: Who's gonna fill their shoes? Enjoyed Bill Mack's video. It certainly explained Ray Price's opinion on the subject of Carl Smith and the HOF intro. Thanks to Ray. Enjoy your interest of Country Music."
Dean Mann in Sioux Falls says, 'In answer to your question, I would have to say Gene Watson. I have seen many of his performances, on the cruise and at various venues, and he is strictly traditional country and western. He recently recorded a CD entitled All my Friends are Cowboys, where he sang 12 songs originally recorded by former country legends. 'The singers singer' has to be number one."
Judy Bezjak in Lemont, Illinois, has a different opinion: "I think Rex Allen, Jr. on www.truckersmusic-radio.com is doing the best job of presenting traditional country and western music. He also regularly records new songs which are played on the station, as well as relating interesting stories about the performers with which he has worked. There is also a segment that includes life stories of real-life cowboys who are featured in the Cowboy Hall of Fame in the Rex Allen Museum in Rex Sr's. hometown of Willcox, AZ. Several years ago I met you in Windmill Park next to the Rex Allen Museum during Rex Allen Days."
Bill Baker writes from Greensboro, North Carolina, "Difficult to choose one artist/group that is most promising to carry on the great tradition of country music. I believe JOSH TURNER is proving himself to be one who deserves that recognition. Thanks for asking for comments, and thank you for a great newsletter!!!"
Kristy Bruce says, "One of my favorites of today's artists is newcomer Emily Ann Roberts. I like the way she balances traditional and new, while still keeping her own style. But as far as true western music goes, the Sons of the Pioneers are still performing, and it doesn't get any better than that. I love the idea of asking questions in your newsletter, and I look forward to seeing other folks' answers."
Ed Guy writes, "Thought this info might be of interest to your readers: The Jimmie Rodgers Museum is closing this week and will be relocating to its new home at 1805 Front Street in Meridian, Mississippi. Plans are being made to open at the new site in the Fall. The JR Museum has been located in Highland Park in Meridian for years. It is certainly a positive step to move Jimmie's Museum down at the Railroad Station in the middle of Meridian……….where it belongs!"
Ray Rokita wonders, "Recently there was a tribute to Daryle Singletary at the Ryman. Do you know if this tribute is available for audio streaming?"
Diane: I don't know. Perhaps our readers do? The Daryle Singletary tribute concert was held March 27 at the Ryman Auditorium.
Dave Barton of Franklin, Kentucky, requests, "In your next Newsletter can you mention something about the ROPE June show? We have a great line up of artists: Leona Williams, Ron Williams, Dickey Lee, Charlie Mc Coy and Dallas Frazier. The Luncheon with the Stars runs 10 to 2 PM on June 6 at The Nashville Palace, 2611 McGavock Pike, Nashville, Tennessee. Tickets are $35.00."
Beth J Petty, Director of the Hank Williams Museum in Montgomery, Alabama, says, "I would be so happy to receive your emails about country music. Please add me to the list. Thanks for all you do."
Dominique "Imperial" Anglares writes from France, "Good to start my day reading your newsletter. Just like life, it is made of joys and sadness. Very great to read about the Les Leverett exhibition and let's hope some of the stuff should be published. Les was an important witness of the time. About today's singers, we had plenty but my vote as Better Male Country Performer goes to my friend Charlie Thompson from UK. [See photo below.] The most authentic Hillbilly and rock-a-bill singer you could find. He goes brightly on Faron Young, Johnny Horton, Jimmy & Johnny, Dave Rich, Ernest Tubb, George Hamilton IV's, Tibby Edwards' repertoire. I welcome all your readers to enjoy his work on YouTube. As Best Female Country Performer my vote goes to Miss Mary Ann, from Holland, who often works with Charlie. Their voices blend perfectly and as solo act she really gives justice to Janis Martin, Patsy Cline, Charline Arthur. If we talk about groups, the vote for that pool goes to The Doel Brothers, also from UK. As I mentioned Tibby Edwards, just know his complete musical journey with plenty of press clips was studied in American Music Magazine, issue 147 (April 2018). 22 fully illustrated pages about a Cajun artist that deserves to be remembered. He was a Louisiana Hayrider for several years. The last but not the least I had to let you know about '50s Imperial recording artist Laura Lee Perkins' passing on April 6, 2018. She was a great little Lady and a wonderful friend."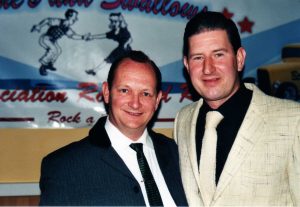 Dominique "Imperial" Anglares and Charlie Thompson in 2012
Stacy Harris, Publisher/Executive Editor of Stacy's Music Row Report, writes from Nashville, "Just want to let you know Dan Rather's interview with John Fogerty airs on AXS TV (OAD 1/12/16) this week. Hope you have 'access' to AXS TV. If not, perhaps you could request a transcript or copy of the video from the network. Looking forward to your next newsletter,"
Kate Davis of Bear Creek Productions in Medford, Oregon, says, "As always, thank you for a wonderful, informative newsletter."
John Krebs responds to Jessica Gonzales: "Hey Jessica, I AM a HUGE Faron fan but really only for his 1966-1973 hard country stuff. I actually don't care for any of Faron's Capitol output including Sweet Dreams and Hello Walls,,,,,,, it's too smooth for me ,,,   please don't be mad… As far as being educated in country music it all started in 1984 when I bought 4 BIG boxes of 78rpm records at an estate sale here in Houston for $12 and there was ONE record (In The Jailhouse Now) by this guy with an unusual name I'd never seen or heard of,,,,,, Webb Pierce. I was in my classic rock phase at that time but I'd NEVER heard anything like Webb, My initial impression was that he was terrible and awesome. Weird huh?? I listened to that 78 for DAYS,,,,,,, anyway,,,  that started a very difficult, as it turned out, search for Webb's stuff. I've been slowly educating myself on all classic 51' – 74' country music since then and when I got online in 1999 that process really took off and I've filed away tons of info since then. Your Faron question seemed an interesting one and a challenge and I had fun compiling it. Webb started it all though."
Jon Philibert asks, "Would it be possible to add Sam Harris to your lists. He's a veteran radio broadcaster who has interviewed countless great country stars over the years from his base in the Middlesbrough and the West Midlands here in the UK."
Jackie Allen Thomas wonders, "Haven't received an issue from you since February. Hope all is okay and you just haven't finished the next one. I miss getting it, always great news."
Bob Rudy writes, "I just found the information about your book on Marty Robbins on the web. I'm a DJ at WIOV-FM in Pennsylvania currently filling in on Afternoon Drive (2:00-7:00 PM) Monday-Friday, plus I host an all-request Classic Country show every Saturday night from 6:00 to Midnight, called The Time Machine. Each week I promote a particular artist, group, or theme. This week, I'm featuring Marty Robbins. Would you have any interest in doing a phone interview with me? I usually play 1 or 2 songs at the top and bottom of each hour. I figured you would be a wealth of information to my audience, plus, you could push your books if you desire. The show gets pretty intense. It's #1 with adults in two different ratings markets, and my request lines don't stop ringing for the entire 6 hours of the show."
Diane: I appreciated being your guest, Bob, and talking about Marty. I'm glad the timing worked for both of us. I enjoyed listening to your show and the way you wove everything together.
COUNTRY MUSIC HALL OF FAME – 2005
In four decades (1977-2017), Alabama charted 43 #1 singles, including 21 consecutive #1s, and won over 179 CMA Awards, Grammy Awards, and ACM Awards. The band also has a star in the Hollywood Walk of Fame. Alabama was unique as a country band, being a self-contained unit with no additional sidemen. Professional musicians were used in the recording studio but not on the road. Jeff Cook and Randy Owen played guitar, Teddy Gentry played bass, and Mark Herndon was the drummer. The three Fort Payne, Alabama, natives formed a band as teenagers: Jeffrey Cook (born in 1949), Teddy Gentry (born in 1952) and Randy Owen (born in 1949). They changed the name from Wildcountry to Alabama in 1977 and hired Mark Herndon (born in Massachusetts in 1955) as drummer. Alabama announced its retirement in 2002. The original three members have reformed the band and are once again doing show dates.
DeFord Bailey was country's first African American star, and one of the Grand Ole Opry's first stars. Born to a Tennessee farm family in 1899, he grew up in a musical family who played string-band music that was shared by rural musicians, both black and white. He moved to Nashville in 1918, where he worked as houseboy, drugstore helper, and elevator operator while learning to play jazz, blues, and pop music on his harmonica. Dr. Humphrey Bate, harmonica player and string-band leader on the WSM Barn Dance, arranged for Bailey to appear on the show. George D. Hay dubbed him "The Harmonica Wizard." From 1926 until 1941, Bailey was one of the Grand Ole Opry's best loved and highest paid stars. When WSM's power jumped to 50,000 watts in 1932, Bailey's audience included amateur and professional harmonica players from the Rocky Mountains to the East Coast. In the first major label session ever held in Nashville, he recorded for Victor Records in 1928. He also toured with other Opry members throughout the South. WSM fired him in 1941, when a licensing conflict with ASCAP prevented him from playing his most popular songs. He gave up professional music and spent the rest of his life shining shoes and renting out rooms in his home to make a living. He continued to play the harp not in public. DeFord Bailey died July 2, 1982, in Nashville, at age 82.
Born in 1936 in Delight, Arkansas, Glen Campbell became known for his proficiency on guitar while still a child. He escaped the life of a sharecropper and moved to California in his early twenties. From 1962-1967, he was in great demand as a session guitarist and backup vocalist with Capitol Records. His own recording career finally took off when he recorded John Hartford's "Gentle on My Mind" in 1967. Then came "By the Time I Get to Phoenix" in 1967. He hosted The Glen Campbell Goodtime Hour on CBS from 1968-1972. He starred in several movies, including True Grit with John Wayne. He switched to MCA Records in 1987, with hits such as "The Hand That Rocks the Cradle" (with Steve Wariner) and "She's Gone, Gone, Gone." In 2011, he was diagnosed with Alzheimer's disease. He kicked off a farewell tour, with his final performance in Napa, California, in 2012. A 2014 documentary, I'll Be Me, dealt with the disease. Glen Campbell died in 2017, in a Nashville memory care center, at age 81.