NEWS
Merle Haggard (1937-2016)
Merle Haggard died at his Palo Cedro ranch in California on his 79th birthday, April 6. His youngest son, Ben Haggard, 23, posted on Facebook at 1:07 pm: "A week ago dad told us he was gonna pass on his birthday, and he wasn't wrong. An hour ago he took his last breath surrounded by family and friends." This newsletter has been keeping you posted on the Hag's pneumonia and show cancelations, and we all hoped he would recover and perform those shows he expected to do in May. Born on April 6, 1937, in Oildale, California, to parents who migrated from Oklahoma during the Great Depression, Merle lived with his family in the abandoned boxcar his father converted into a home. He was nine when his dad died of a stroke. A youthful troublemaker, Merle was sent to San Quentin in 1957 on a burglary conviction, after he'd gained a reputation as an escape artist in his previous arrests. He was paroled in 1960, and Governor Ronald Reagan granted him a full pardon in 1972–because, by that time, he was a major star. He went into the Songwriters Hall of Fame in 1977 and the Country Music Hall of Fame in 1994. He wrote two autobiographies, Sing Me Back Home and Merle Haggard's House of Memories, which I profiled in my 11/4/14 newsletter. The Bakersfield Californian reports his private funeral was held on Saturday, April 9, at his ranch in Shasta County. There was a flower-lined stage, 15 rows of plastic folding chairs, the Silver Chief tour bus, and weather that was overcast and windy. Marty Stuart officiated. He, Connie Smith, Kris Kristofferson, and others sang Merle's songs. Marty Haggard, Noel, and Ben (Merle's three sons) closed the service with "Today I Started Loving You Again." Fans stopped along Silver Bridge Road to say goodbye and leave flowers.
Country Rebel reports that Merle Haggard left behind a massive collection of songs. In a telephone interview with Broadway's Electric Barnyard, Merle said, "I've got probably 300 to 400 songs that I haven't released that I've collected over the years. We call it 'The Archive.' When I get unable to record or sing anymore, or get killed or something, well, they'll probably put it out. The family owns them."
GMH Productions is planning to make a movie on the life of Merle Haggard. The company has optioned the completed script for Done It All and is beginning the search for actors and directors. According to Deadline Hollywood, producer Donald Kushner had been talking to Merle about a movie of his life, and Merle assigned friend Carl Cooper to help screenwriter Cliff Hollingsworth (who wrote the Cinderella Man screenplay) develop the movie. Done It All will begin in childhood and follow the Hag's career.
Part of Texas State Highway 21, east of Nacogdoches, has been renamed the Bob Luman Memorial Highway. The ceremony took place on April 15, Bob's 79th birthday. He died from pneumonia at age 41. Melissa Luman-Phillips performed two tribute concerts in her father's memory, and she sang her favorite Bob Luman hit, "Lonely Women Make Good Lovers." Special guests included James Kirkland, one of Bob's first band members, and Jake Penrod and his Million Dollar Cowboys. When David Stallings was thanked for his efforts in organizing the Bob Luman Memorial Highway Dedication/Bob Luman Day & Tribute to Bob Luman Concerts, he said, "Lots of Nacogdoches folks got behind this effort, helped financially and in other ways, and made it happen."
A Patsy Cline museum is being planned for downtown Nashville, near the Johnny Cash Museum and the Country Music Hall of Fame. Bill Miller, founder of the Johnny Cash Museum, expects the project to begin construction in June. Sounds Like Nashville reports that Patsy's children and the Miller family are working together to make this a world-class museum.
Whiskey Jam, a Monday night event at Winners Bar and Grill in Nashville, had a surprise recently when local singers were joined by Denver Broncos' quarterback Peyton Manning, singing "Rocky Top" and "Folsom Prison Blues." The Super Bowl 50 winner had once played college football at the University of Tennessee.
The Tex Ritter Award was presented to Dolly Parton during the 51st Academy of Country Music Awards on April 3. She said the award was even more special because she had known Tex Ritter. Katy Perry introduced Dolly, and the pair sang a medley of Dolly's songs.
In an interview with the Morning Hangover, George Strait said, "When I was in the Army and stationed at Schofield Barracks in Hawaii, Merle Haggard came there and he played. I remember I was playing an NCO club that night, and before my little gig I got to run over there, and I kind of snuck in and saw Merle. It just blew me away. That's what I wanted to be like. I wanted to be like the Hag. I can't tell you how big of an influence he was on me. Just huge."
When Vince Gill became a board member of the Country Music Hall of Fame and Museum, he was appalled at the lack of support by country music artists, the Tennessean reports. He challenged all performers to donate money from one show. That idea turned into an annual all-star fundraiser called "All for the Hall." It is organized by Keith Urban and has raised more than $2.6 million for the Country Music Hall of Fame and Museum since 2009. This year's event, entitled "Mashville: The Music City in 2016," was held April 12 at Bridgestone Arena. Keith and Vince played in the backing band, for performers such as Luke Bryan, Peter Frampton, Florida Georgia Line, and Emmylou Harris. Keith explained the lineup by saying, "I was trying to highlight how diverse Nashville has become. Country has become incredibly diverse, but the town has become more diverse." There was also a tribute to Merle Haggard. The concert raised approximately $500,000 to support education programs at The Country Music Hall of Fame and Museum, such as the Words & Music program that pairs local students with professional songwriters.
LETTERS
Holly Dunn requests our support: "I so look forward to and enjoy your newsletters. I have some unfortunate news to report, and I do so only because I believe in the power of prayer and hope to stir up more prayer warriors on my behalf. I was recently diagnosed with stage 3 ovarian cancer. I am currently recovering from surgery and the doctors feel they removed all they could find. I will have to undergo 6 months of chemo treatments just in case they missed something. I start the treatments in about a month or so. I would appreciate any prayers and positive thoughts that my music family can send my way! I am truly learning what that old phrase means…'Life happens when you're busy making other plans.' I praise God for His grace and mercy, and look forward to having this chapter of my life behind me like a bad speed bump in the highway. Thank you, Diane, for keeping us all connected."
Diane: Our prayers are with you, Holly. Readers, Holly's mailing address is P.O. Box 70, Placitas, NM 87043.
Jeff Chandler (former Marty Robbins guy who played guitar, sang, and tried to stay out of his way) writes from Arkansas, "Thank you for writing your newsletter. It's always a joy to read and catch up on what's happening. You are doing a great job and please know that I appreciate you."
Gary Presley, my writing buddy in Missouri, says, "That was some mighty fine praise of your Faron Young biography. Johnny Depp's the man to play Faron. Tom Hanks, 'Mr. Everyman,' is too old. You wouldn't have put Charlie Daniels in the Hall of Fame? Oh, no. He deserves it. He's not the George Jones, Marty Robbins, Buck Owens, Faron Young type of country music, but he is 'American' music, and for my money, he's the link between the Hank Williams originals of the 1950s like Pierce and Frizzell and southern rock–Allman Brothers, Marshall Tucker Band, etc.–that evolved into groups like the Eagles. Neither country music nor American pop music would be the same without the influence of Charlie Daniels. And that reminds me. One of the local radio stations has switched over from classic rock to what they call 'Americana' or 'red dirt country,' and they feature a lot of the bands out of Texas and country music acts (George Strait, for example) that haven't gone to the stadium-style pyrotechnics and special effects concerts. The station live streams if any of your newsletter readers are interested in that genre."
Sherwin Linton writes from Minneapolis, Minnesota, "Thanks again for a super newsletter. I enjoy reading about Bill Mack. I met him briefly years ago at the DJ convention in Nashville. back when they had DJs that actually played country music records of their choice. I enjoyed Bill very much on WBAP as we would listen to him while driving all night from show to show in our tour bus. He may or may not remember or know my name but I just want him to know that he is so very special to me and millions of others. I loved his opening on his XM show, always playing a Mills Brothers record, and then his Sunday Gospel program. My wife Pam recorded a strong version of a Gospel song he wrote, 'Clinging To A Saving Hand.' On my way back from the Rio Grande a couple of years ago we stopped at the studios of Willie's Place on XM in Austin TX and visited with Dallas Wayne. I had known Dallas since the 1970s when we both played a venue near Chicago, 'The Nashville North.' Dallas does a great job on Willie's Place, but I sure miss hearing Bill Mack. God Bless you Bill. You are Country Music! And, Diane, I hope you'll be a guest again on our Centennial Stage at The South Dakota State Fair in September."
Bill Mack responds, "This, to me, made my day. My thanks to Sherwin. Also, thanks to his wife, Pam, for recording my song, 'Clinging To A Saving Hand.' I needed this special message after spending most of the day fulfilling interviews from the media pertaining to the passing of Merle Haggard. Merle was not only a super singer/song-writer/performer; he was a personal friend for over 50 years."
Terry Counts writes, "Gosh, I'D LOVE TO SEE A FARON YOUNG movie, especially showing the kind and considerate side of Faron…not only a superb singer but a great guy to work for…and ya know, in 20 years in the offices, I NEVER once saw him show up drunk or drinking. I was so sorry to hear about Sonny James…I remember when 'Young Love' came out…sigh…I was a junior in high school. My My…where have the years gone. Keep up the GREAT work."
Andy Williford, Faron's childhood friend, writes from Texas, "Robert Downey Jr. would be perfect, because he has been through it same as Faron. I would be happy to offer extremely important info to the movie, info that only I and his 8 personal group would know. Also, Faron, I and two of my friends played golf at Northwood Country Club in Dallas and I just remembered that Faron had asked Bill Mack to join us."
Terry Counts then sends this note: "I am stunned to learn that Uncle Merle Haggard died today, on his 70th birthday…how incredibly sad…we don't have many super legends left and I have so many wonderful memories of my time working with and for him…there'll never be another like him…I know we will all miss one of the greatest voices in our business."
Jean Earle writes from England, "I was very sorry to read of the death of Merle Haggard. He has always been a favourite of mine….so many great songs. Sad, sad, sad."
Mary Knapp says, "As always, enjoyed this month's Newsletter. So very sad about Merle. Happy I saw him in concert several times. Condolences go to all of his families. I pray for Mel Tillis to be well."
Aileen Arledge wonders, "I just heard that we lost Merle. When did this happen and what do you know about it? So sad. We lost another great one."
Les Leverett writes from Nashville, "Thank you once more, Diane. I'm still trying to get over the passing of Merle Haggard."
Sheree Homer says, "Thanks for the posting within your newsletter. Maybe someone will come forward with suggestions."
Dominique "Imperial" ANGLARES in France says, "Thank you very much for that newsletter coming on Merle Haggard's birthday. Kool! I bring my best wishes for success for her forthcoming book to my friend Sheree Homer. Warmest country regards from your French friend."
Diane: Your note came in shortly before Merle died.
Lee Shannon writes, "As usual, another interesting & informative newsletter. I am certainly relieved that I did not mention names in my most recent reply when I wrote…'At least four DJs, plus an owner, of KFDI in Wichita are members of the Country Music DJ Hall of Fame.' I was only half right. They are, in addition to Johnny Western, co-owner Mike Lynch and (in alphabetical order), Terry Burford, Mike Oatman, Frank Page, Billy Parker, Larry Scott and myself. Possibly more to follow from a GREAT Country radio station, that is no more. On the subject of DJs, is Bill Mack now retired from all those years behind the mic? A true friend of Country Music."
Diane: Bill Mack will answer your question in my next newsletter; he is scheduled to be my featured artist.
Craig Johnson writes from Virginia Beach, Virginia, "Captain, thanks for the great news letters. Would you have any idea of how I could get a letter to Dolly Parton? Manager, publicist, agent? Thanks for the pointer. Keep up the great service for friends of Marty."
Diane: Here is Dolly's promotion company: http://websterpr.com/dolly-parton
Priscilla McPheeters in Lawrence, Kansas, says, "Love this, Diane! Thanks for being so faithful to write it. Also interesting and thought-provoking as well. I did not know about Randy Travis's stroke. LOVED Dolly's comment about the 'boobs' in the White House."
Captain John Paron, one of my Navy buddies, writes from Virginia, "Having fans is nice, but having fans all over the world!? Wow! That is something special. Randy Travis's induction into the Hall of Fame is wonderful. I have very fond memories of when I hosted Randy's USO visit to Naples, Italy, after our USO building was blown up by a terrorist's car bomb. He put on a great show that really boosted our morale. Ask him if he still has the Navy flight jacket I gave him. Randy once sent me a picture of him wearing the jacket and he had a huge smile. He also gave me a gold record (I don't remember which one), but we hung it in the Naples USO. Wonder where it is now. Randy Travis could find no one better qualified to bring his story forward without turning his current health issues into his whole story. I hope Randy can stay strong. Keep up the great work, Captain D."
Ray Harrison in Arizona says, "As always, a great newsletter. Another artist who recorded 'Drinkiin Champagne' was Jim Ed Brown, I'm not sure if he did it before or after Cal, but Jim had it on his Barrooms and POP a Top LP from 1967, I believe. Thanks for all your efforts to keep us informed."
Bill Hyatt writes from Jacksonville, Arkansas, "I am almost 83 (May 20) and remember listening to Bill Mack on KDFI for several years as he played the best Country had to offer. I think he knew about all of the top stars of the time. Then he hosted a Gospel program produced by the Southern Baptist folk. Glad to hear news about him."
Dave Rogers says, "I so appreciate your newsletter. It keeps me in touch."
Sue Zeune in Ohio says, "Thanks for the newsletter. I think it is wonderful."
Linda Bishop requests, "Please add me to your newsletter list."
June Thompson writes, "Thank you for your wonderful newsletter. I really enjoyed your article on Becky Hobbs. My favorite song by her is 'She Broke Her Promise' from the All Keyed Up album."
NANYEHI: THE STORY OF NANCY WARD
Nanyehi, who earned the title "Beloved Woman of the Cherokee," lived in Tennessee from birth in 1738 until she died in 1822. Five generation later, long after the Trail of Tears march from Tennessee to Oklahoma in the 1830s, descendant Becky Hobbs was born in Bartlesville, Oklahoma. Becky has honored her distant grandmother–who became Nancy Ward when she married her second husband–by writing a musical that keeps the important Cherokee story from being forgotten. Becky invited me to come to Greenville, Texas, for opening night of the Texan Theater's presentation of NANYEHI–The Story of Nancy Ward. The cast of Greenville locals was led by Britnie Rosenbalm, whose magnificent voice brought Nanyehi to life. The Texan Theater has been beautifully remodeled into a classy dinner theater, and my sister and I enjoyed dinner and drinks as we watched the onstage action. Becky wrote all the songs, and she and husband Duane Sciacqua provided the music behind the actors. What a tremendous amount of work goes into such a production. Congratulations, Beckaroo, on this major achievement!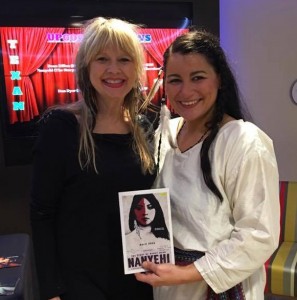 Becky Hobbs and Nanyehi (Britnie Rosenbalm)
Kayo Paver with Duane Sciacqua (guitarist & musical conductor)
LOOKING FOR RANDY TRAVIS
My sister, Kayo Paver, went with me to Texas last week to try to find Randy Travis. I want to talk to him about writing his biography. We found his ranch, but no one answered the buzzer at the front gate. We didn't see any people, just horses in the distance.

I'd like to give a shout out to Sandy & Jim Cooper and Marsha & Randy Gantvoort—thanks for putting us up as we traveled through Kansas.
I SAW THE LIGHT
The new Hank Williams movie, I Saw the Light, came to Sioux Falls, and I saw it during its brief stay. The movie is based on Colin Escott's Hank Williams: The Biography, which has been on my bookshelf for years. As with most movies, the story was easier to comprehend if you'd read the book. It was sometimes a bit choppy because of trying to cram in so much information, and a few of the scenes confused me. I've been following the reviews, and all reviewers agree that Tom Hiddleston and Elizabeth Olsen did an excellent job as Hank and Audrey. Other than that, most reviewers were negative. Some said the movie was boring because of its documentary style and they complained about the lack of music. Others grumbled that Tom didn't sound like Hank or look like him. My goodness, folks, it's a movie. Hank himself is dead. I didn't have any trouble seeing Tom as the Hank Williams character. The opening was great, with the star sitting on a barroom stool and singing "Your Cheatin' Heart" a capella. The scene then moved to a rainy early morning when Hank and Audrey got married by a justice of the peace in an auto mechanic shop. I also liked the closing three scenes, in contrast to reviewers who thought more film should have been devoted to Hank's death. There was no soundtrack, which kept the movie crisp and uncluttered. For me, it contained the right amount of music, enough to get across the image of Hank Williams without being an imitation. My hope is that people will seek out actual Hank Williams recordings and listen to the real sound.