FEATURED ARTIST – BILL MACK
"I'll never, ever want to retire," Bill Mack told me when I called him the other day. He was sitting in the studio he'd built in his Fort Worth, Texas, home in 2001 when he joined XM Satellite Radio. He'd spent three decades as the Midnight Cowboy on WBAP Radio in Dallas before becoming the Satellite Cowboy on XM. He stayed there for ten years. "I still do freelance radio," he said. Radio stations call him at least weekly for interviews about other personalities. And he gives all kinds of speeches–for trucking companies, schools, conventions, and various events.
He has tapes of almost all the interviews he's done over the years. "I can't think of anybody I've not interviewed at some time or other," he said. "After all, you're talking to someone who's been doing this for sixty years."
"Bob Wills was the first artist I ever met," he reminisced. Bill had a radio show in his hometown of Shamrock, Texas, while in high school. Bob and the Texas Playboys were eating at the Corner Café, and Bill decided to get an interview. He sat down next to Bob and shoved a microphone in the singer's face. Bob graciously did the interview and told Bill, "Now, boy, you did a pretty good job." So the teenaged Bill, considering himself a bigshot now, asked, "Mr. Wills, do you ever need an announcer?" Bob told him he didn't but would call if he ever needed one.
Fifteen years later, in 1963, Bob Wills called and said, "I told you in Shamrock that if I ever needed an announcer, I'd call you. And I need one." Bill announced many shows for Bob Wills in the following years, and he has the tapes of all of them.
Bill has been writing a monthly column, "Hot Mike," for Trucker's Connection for 25 years. "Sometimes it's hard to remember, did I ever write about that," he said, and then asked if I have that problem. I said yes, and that's why I keep a spreadsheet of major topics I've covered in my newsletters. He responded, "I'm not that organized." But, he added, "Memory sometimes fails. I'm going to start me a spreadsheet. Thank you for that."
I asked if he's heard how Mel Tillis is doing, and he said he recently talked to Bobby Bare, who had been to visit Mel. Bobby was told Mel would soon be moved into a rehab facility. "I have Mel's private number and his IPhone number," Bill said, "and nobody answers them."
Bill hasn't yet seen the new Hank Williams movie, I Saw the Light, but my question made him think of Your Cheatin' Heart in 1964. He said Audrey Williams had asked him who should play Hank and he said, "Tony Perkins. Look at his eyes." Audrey called later and told him George Hamilton had been hired for the Hank role. "George Hamilton, the Fourth?" Bill asked. "No," she said, "the actor." Bill attended the premiere in Nashville, and he says, "I've never seen such a bad movie in my life. Too much Audrey."
As for biographies, Bill likes the ones I wrote on Faron Young and Marty Robbins. "I knew both Faron and Marty so well," he said. "You captured them. Marty was basically a shy person but he did have a temper. Not many people knew that. I love it when you tell that. What you're doing–your work is needed." He added, "I look forward to reading your columns–every one of them."
Bill concluded our conversation by saying, "I want to reemphasize that I don't plan to retire. My health is good, and I have various activities going on. I miss the daily and nightly shows, but the time comes when it's time to let others come in. I was so fortunate to have been blessed to be with the Hanks. You don't find many Hanks anymore. Or Leftys."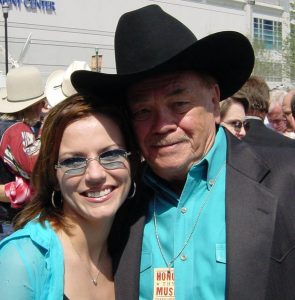 Martina McBride and Bill Mack
NEWS 
Blake Shelton headlined the Off the Rails Country Music Festival in Frisco, Texas, on April 23, and he saw Randy Travis sitting in the audience. According to Taste of Country, he grabbed Randy by the hand and brought him on stage. Randy stood there and smiled as Blake talked about his influence on Blake's career. The band began "God Gave Me You," and Blake urged the crowd to cheer for Randy.
The new Las Vegas venue T-Mobile Arena recently hosted the opener of the Strait to Vegas concert series. The sold-out crowd of 19,222 fans watched and cheered as George Strait sang for over two hours, doing more than 30 songs. The format was the same as on his pre-retirement tours, with the stage set up in the center of the arena and microphones on each of the sides. George sang a few songs on each mike and then walked to the next one as he moved around the stage. Annie Reuter wrote for Sounds Like Nashville, "There were no fireworks, confetti or pyrotechnics set off throughout the evening, just a man, his songs and a guitar which is exactly what everyone came to see." Needing no introduction, he sang three songs before his first words: "Thank you Las Vegas!" Later in the show, he said it was "so sad we'll never get to see Merle perform live again. His music will live on forever. We're going to do a tribute to Mr. Merle Haggard right now." King George and his Ace in the Hole Band then performed a medley of Haggard hits.
According to the Muskogee Phoenix, the Oklahoma Music Hall of Fame has received approval for a project that's been five years in the making–to build a monument to Merle Haggard on the north lawn of the Muskogee Civic Center, where he recorded the album Okie from Muskogee. The original plan called for a bronze sculpture of the Hag sitting on a bench with a guitar case and a hat, and visitors could take photos of "Old Glory down at the courthouse." Now the memorial may be expanded to include a piece Merle was having made to go on his California ranch. He designed it himself and asked an Oklahoma artist to create it.
Heart of Texas Records issued a report that Darrell McCall has been diagnosed with shingles. "I have been in severe pain and have been battling the shingles during the last few days," Darrell said on April 22. "My doctor has put me in house arrest while I get over this." His wife, Mona, reminds Facebook readers, "If you have not had the vaccine for shingles please ask your doctor if you should get it. This is a horrible thing! There should be way more emphasis on this disease. Once you see someone suffer with this awful thing you will want to tell the world."
The Pure & Simple Tour will make its scheduled June 3 stop in Greensboro, North Carolina. Many entertainers have canceled gigs in response to House Bill 2, the controversial "bathroom law" that requires people to use restrooms that match their birth sex. "I have no plans to cancel the show," Dolly Parton said in a telephone interview with the Winston-Salem Journal. "I believe everybody ought to be treated with respect, but I feel we will serve better from the stage. I don't like to get caught up in controversial issues. I will address whatever I need to from the stage."
An April 26 report from Dennis Pratt, band leader for Mel Tillis, says Mel is in a rehab facility and his condition is still serious. He is progressing slowly. The rehab unit is a more aggressive physical type 0f rehab. Mel walks every day and is doing well. His recovery is slow but he is recovering.
On April 29, Pam Tillis posted on Facebook about Mel Tillis: "It bears repeating how much your prayers mean to our family. While his recovery is taking a little longer than we'd like, his spirits are high, his sense of humor is very much intact, and he has been surrounded by family since this all started. We'll keep you posted if there is any change, but right now we're just trying to fatten him up and get him strong."
The 2.5-mile Johnny Cash Trail being built in the city of Folsom, California, is scheduled to be completed by summer 2017. It will include a 40-foot steel statue of Johnny Cash, fake guard towers, 7-foot guitar picks, and a sculpture made of giant guitar necks. The path through oak-covered hills will provide scenic views of Folsom Prison, the 136-year-old penitentiary with 2,300 inmates behind its granite walls. The mayor of the city of 77,000 reminds people, "Our city is much more than a prison that Johnny Cash played and sang at." There is a zoo, historic downtown, and other attractions. During the planning process for the park, the Wall Street Journal reports, someone suggested a statue of Johnny on horseback and wearing a cowboy hat. The idea was scrapped after his daughter, Cindy Cash, explained, "I don't think he was comfortable in hats. And he was terrified of horses."
To celebrate his 50th anniversary as a recording artist, Charley Pride will be touring in the USA and Canada during the next seven months. This includes the Grand Ole Opry in June. "I feel blessed that I'm still going strong after 50 years," Charley said in a press release. "I've always loved to sing for audiences and that's never going to change."
A new Western movie starring Kris Kristofferson will be released in June. He is a bartender in Traded, which takes place in Kansas in 1883. Trace Adkins is the villain and Michael Paré (Eddie Wilson of Eddie and the Cruisers) comes to town in search of his kidnapped daughter and his son's killers. Rolling Stone Country reports the film will move into the on-demand streaming market later this summer.
LETTERS
Becky "Beckaroo" Hobbs says, "Thanks for the newsletter and the great plug! Am so glad that you and your sister got to come to see Nanyehi. Hope that something works out for you and Randy Travis. God bless and rock on!!!"
Dominique "Imperial" ANGLARES writes from France, "Thanks to have posted my words and these of Sheree Homer. That's a twist of fate that you get my words about Hag shortly before his passing. When I got the news the next day I couldn't believe it. I fully agree with your words about the Hank Williams movie. There's something wrong in some minds … How could we complain to have a movie about a major Hillbilly artist? Maybe folks are overfed with YouTube and not enough hungry for a such movie? I knew years of starving when everything about '50s on fuzzy video tape was more than welcome and much appreciated. I have been raised and teached by my folks to be happy with what I got 'cause if I complained, on the next round it should be nothing. Probably some old Country rules? If some fat dogs don't like that movie they can move it on over and let the skinny dog enjoy the biopic about the Hillbilly poet from Alabama."
Alan Potter in the United Kingdom says, "Always full of information & great comments. Bill Mack & Terry Counts are 2 people who have been very helpful in my radio career & Becky Hobbs is a talented lady & a wonderful friend. I will be praying for the beautiful Holly Dunn."
Mary Mitchell writes from Woodland Park, Colorado, "Great letter. I just want to mention Merle. I saw him last Fall in Colorado Springs. What a performance. Merle was a humble man. This is proven as his Funeral was no big hoop-la as so many do. He just went home to the Lord. I am proud of the fact. He knew in his heart that he was one of the best, however mentioned how great he was. I will miss him so much. Just like Carl Smith, greatest singer and never believed he was. May Merle and Carl RIP."
Jody Nix in Big Spring, Texas, says, "Great reading my friend."
Mary Knapp says, "Thank you for keeping us informed about the Country Music musicians. Prayers for Holly Dunn and please keep a positive attitude during this treatment process, Holly. You can conquer this."
Marie Kugler requests, "Please add my name to your list to receive your newsletter."
Kate Davis writes from Bear Creek Productions in Medford, Oregon, "As always, thank you for an outstanding newsletter."
Dave Conkling wonders, "Is this the correct address to get on your mailing list for your newsletter? I just read a copy of one and really loved it."
Steve Jeffris writes, "I've been reading your site and really enjoy it. I'm a full-time entertainer with an interest in country music history. I'm particularly interested in country artist Dave Dudley. Do you know if there are any surviving members of his old band, The Roadrunners? I was too late to email Richard Barish."
Diane: I don't know. Readers?
Cal Sharp (a former Country Deputy) writes from Dickson, Tennessee, "Faron's old duet partner, Margie Singleton, contacted me out of the blue and asked if I could do her a website. So I did, and it's here."
Bill Mack says, "As I re-read your book on Marty Robbins, I realize … again … that you capture the subject. You're one of the very few who has this very special talent. Proud of you. Any so-called super star should consider your willingness to do a biography on them and their works as being a supreme compliment."