SPECIAL PROMOTION – E-BOOK SALE
The University of Illinois Press is running a special promotion that includes a sale on the e-book versions of Twentieth Century Drifter and Live Fast, Love Hard.
NEWS 
Johnny Seay (1940-2016)
Johnny Seay, 75, was killed Saturday afternoon, May 14, in a crop-dusting plane crash near West, Texas. His crop duster hit a cell tower guide wire, according to good friend Bill Mack, and he was ejected from the aircraft. He was pronounced dead at the scene. Johnny told me two years ago, when I interviewed him as one of my first featured artists (19 March 2014), "I'm still Crop Dusting and will be as long as my health holds out. So far, I have no health problems and at 73, that's pretty good I think. I have a little over 16,500 hours flying and hope to make at least 20,000 before I hang it up. Still having fun flying crop dusters after 34 years of doing it." Johnny Western reports the burial will be on the family ranch near Glen Rose, Texas.
Ned Miller (1925-2016)
Ned Miller, whose biggest hit was "From a Jack to a King," died March 18 in Medford, Oregon, at age 90. His May 3 obituary in the New York Times said his wife, Sue, only recently announced his death. He grew up in Salt Lake City, graduated from a local high school, and served as a U.S. Marine during World War II. Ned suffered from extreme stage fright, which cut short his performing career. He preferred being a songwriter rather than a singer. I can remember, from my childhood, him singing "Do What You Do Well" and "From a Jack to a King." Although Ricky Van Shelton did a great cover, "From a Jack to a King" was to me always a Ned Miller song. I didn't know the reason we never heard from him again was that he stopped recording in 1970; he said he was relieved to be through with the music industry.
Guy Clark (1941-2016)
Guy Clark, 74, died May 17, 2016, after several years of battling cancer and other health problems. Born in Mohanans, Texas, he lived in Houston and Los Angeles before moving to Nashville. The famous songwriter is known for songs such as "Desperados Waiting for a Train" and "L.A. Freeway." He wrote Number One hits for many singers, such as "Heartbroke" for Ricky Skaggs. Of his own recordings, "Homegrown Tomatoes" achieved the greatest success. "He had taken to walking with a cane," Rolling Stone Country says about his last years, "but he still frequently invited friends and collaborators down into his basement studio to write, smoke cigarettes and play guitar, even though he was no longer able to stand long enough to craft the instruments himself." Saving Country Music reported on May 1 that he "is currently in a nursing home facility, but remains in stable condition."
More than sixty historic properties on Music Row may be added to the National Register of Historic Places, Channel Five News reported, following unanimous approval by a Tennessee state review board. This includes recording studios, publishing houses, and other businesses that contributed to Music Row and Nashville growth. The list will now go to the Department of the Interior for final approval. If the buildings are added to the National Register, they can still legally be purchased and demolished, but those who are trying to preserve Music Row hope its history will prevent that from happening.
Nancy Jones hosted a surprise 57th birthday party for Randy Travis at the George Jones Museum in Nashville on May 4.
Randy Travis with Nancy Jones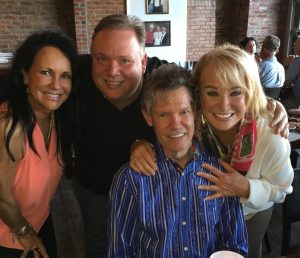 Mary Travis, publicist Kurt Webster, Randy Travis, Tanya Tucker
On her sixtieth anniversary of first performing in Las Vegas, Brenda Lee is appearing at the Golden Nugget on May 13 and on December 5. She first headlined the Flamingo Hotel when she was 12 years old. "Now a member of the Rock and Roll and Country Music Halls of Fame," the Tennessean reports, "Lee has performed in that city several times since her 1956 debut, but Lee credits those early years in Vegas with kick starting her transition from child star to mature performer."
The Cecil Scaife Visionary Award was presented this week to Harold Bradley at the Musicians' Hall of Fame. According to MusicRow.com, the annual award is given to someone "whose life and work has made it possible for future generations to realize careers in the music industry." The most-recorded guitarist in music history, Harold, now 90, built five Nashville recording studios with his brother, the late Owen Bradley, including the Quonset Hut on Music Row. This year marks the 70th anniversary of his first recording session. He is a member of the Country Music Hall of Fame and past president of the Nashville Association of Musicians, Local 257 of the American Federation of Musicians. A scholarship in Harold Bradley's name will be given to a senior at the Mike Curb College of Entertainment and Music Business.
Taylor Young, grandson of Faron Young, graduated Magna Cum Laude from Memphis Theological Seminary with a Master of Divinity Degree. Proud father Robyn Young posted on Facebook on May 15, "He will be fully ordained in the Cumberland Presbyterian church next weekend. He has worked very hard and accomplished all of this in a record setting time."
Taylor and his dad, Robyn Young
A new compilation album, Orthophonic Joy: The 1927 Bristol Sessions Revisited, is now for sale. Rolling Stone Country reports the two-disc project was a collaborative effort by more than two dozen artists, including Dolly Parton, Marty Stuart, Brad Paisley, Steve Martin, Emmylou Harris, and Vince Gill. Carl Jackson produced the album, and Grand Ole Opry announcer Eddie Stubbs narrated song stories between the tracks. The 37 songs were chosen from the 76 originally recorded during the 1927 Bristol Sessions, which made stars of Jimmie Rodgers and the Carter Family. Ralph Peer of Victor Records spent two months in the Tennessee-Virginia border town of Bristol, recording 19 different artists at a makeshift studio inside a warehouse. As a result, Bristol became known as "the birthplace of country music."
When a schoolteacher arrived at the Garth Brooks concert last week in Grand Rapids, Michigan, she didn't know why she was being escorted backstage before the show. According to FM 106.1 Milwaukee, she was introduced to Garth and Trisha Yearwood, and she learned she had bought the four millionth ticket to a Garth Brooks show. Garth and Trisha gave her a red Corvette, a black Jeep Cherokee, a $5,000 shopping spree, a Las Vegas trip for four, and the payoff of her student loans.
Bill Haslam, governor of Tennessee, signed the Campbell Falk Bill into law on May 16. The new law is designed to prevent abuse of the system and protect wards of the State and those who have conservators controlling their life and finances. Glen Campbell is the "Campbell" in the title. The Daily Banner gives credit to two of Glen's children, Travis Campbell and Debby Campbell-Cloyd, as well as Catherine Falk and Senator Rusty Crowe for getting the bill passed. Debby and Travis filed a petition against their step-mother, Kim, over a year ago. They claimed she prohibited them from visiting their father and participating in his care, CountryRebel.com reported.
LETTERS
Holly Dunn sends this update: "I made it through my 1st round of chemo with minimal side effects, for which I'm very grateful. I keep reminding myself that this is a marathon and not a sprint, but so far so good. I have been overwhelmed by the outpouring of love and concern from far and wide. I'm so touched and humbled by the countless numbers of people praying for me and it lifts my spirits greatly! Thanks for checking in on me."
Bill Mack says, "Still getting good response from your column, thanks again for the honor." 
Tony Byworth writes from the U.K., "Just thought you might like to know Morello Records (in the UK) have released two Marty Robbins' Columbia albums, Today + Don't Let Me Touch You, on a new CD – and there'll be another double, MCA albums All Around Cowboy + Everything I've Always Wanted, scheduled for release later in the year. Each CD has a booklet with reprints of the original LP front and back covers, plus two pages of notes by yours truly. Best wishes and keep up the good work."
Tommy Cash says, "Love your newsletters. I look forward to receive it every month."
Patricia Rich in Amarillo, Texas, writes, "Bill Mack just forwarded your newsletter to us and we loved the article about Bill Mack. He's a great guy and really helped us a lot in our career. My husband and I have a band called Kickshiker Band and Bill played us numerous times on Sirius radio. We would love to receive your newsletter."
Bob Everhart says, "Just got your last newsletter, very well done.  I appreciate all you do with traditional and classic country music. I Saw The Light wasn't bad, but if you aren't really knowledgeable about Hank, you would miss a lot. The moment when he met Billie was strange since she was dating Faron Young at the time, but Hank brushed him off rather strangely."
Joan Brooking of Stuart, Iowa, says, "Bob Everhart mentioned you and your writing in his newsletter. I would enjoy hearing from you."
Ann Larson writes, "A friend forwarded your newsletter to me and I enjoyed reading it very much! I would greatly appreciate it if you would add me to your mailing list."
Connie Johnson wonders, "Would it be possible for you to put an address in your next newsletter where we can send get well cards to Mel Tillis? I for one would like to send one and I am sure many others would like to as well."
Diane: Great idea, Connie. I've had no luck so far in getting an address.
Dominique "Imperial" ANGLARES writes from France, "Greetings for that newsletter and thanks to have given room to my words. Good to read about Bill Mack, you left me eager for the next newsletter."
Mario Munoz sends this request from Fresno, California: "I am sort of a 'scout ant' for Mr. Bill Miller who is the owner of the Johnny Cash Museum and the soon-to-be Patsy Cline Museum. Mr. Miller is looking for items pertaining to Patsy and has asked me to help with the task. There are a few photos with Patsy and Faron together at shows. Do you happen to know if any of his family would be willing to discuss loaning his suits for display? Also, Mr. Miller is building a Honky Tonk dedicated to Nudie's Rodeo Tailors and will feature suits worn by Country Music legends on stage. Mr. Miller would be interested in preserving and sharing those suits in display cases. I am trying to find things that can be shared by various folks associated with Nashville and the great music it created. Thanks so much for your assistance; anything that could get the ball rolling would be greatly appreciated."
Diane: Readers, do you know of anyone who has access to those Nudie suits?
SONG OF THE WEEK
My favorite Billy Ray Cyrus song is "Some Gave All," and it's certainly appropriate as Armed Forces Day and Memorial Day approach. It's a song that became a classic without having been a hit. Billy Ray wrote it in 1989 in honor of a Vietnam War veteran he'd met. The man told him, "All gave some; some gave all." Billy Ray rerecorded the song after a visit to Afghanistan: "If you ever think of me, think of all your liberties and recall, some gave all."