IN THE SPOTLIGHT – GARRY ROBBLE
Willful Shadows: The Account of SONNY JAMES and the Southern Gentlemen is the title of a book being released May 1. Gary Robble, who cowrote the book with Barb Day, told me about it in a recent phone conversation. "Our book on Sonny is not about all the artists we performed with," he said. "It's about the process–of how he almost became a one-hit wonder. And then how he found a second career. He found it by meeting the acapella church quartet. And a bass player who grew up in northeast Texas. It's a great story of how it all came together."
That one hit was "Young Love" in 1957. When no others followed, Sonny James (born James Hugh Loden) and his wife, Doris, moved back to his hometown of Hackleburg, Alabama. Then Capitol Records called him again to Nashville and asked him to find a song to fill a certain niche. He found and recorded "The Minute You're Gone," which reached the top ten in 1963.
The following year, upon hearing the Grand Ole Opry quartet that replaced the Jordanaires, he asked them to sing with him. "Our vocal group had been together for five years before we met Sonny," Gary says. "We were in a church college in Quincy, Massachusetts, and sang acapella. We ended up transferring colleges to Nashville–not knowing anything about country music." The group consisted of Lin Bown as 1st tenor, Gary as 2nd tenor, Duane West the baritone, and Glenn Huggins the bass singer. Milo Liggett played bass guitar.
Two weeks later, they cut "You're the Only World I Know." It was Sonny's first song to hit the top since "Young Love." Within four months, Sonny James and the Southern Gentlemen were appearing on Jimmy Dean's TV show.
"After we joined him on August 15, 1964," Gary says, "he put an article in Billboard magazine that we had joined him. He never told us. I never saw that article until forty years later. One of the researchers found it." It was one of the few times the very private Sonny James publicly commented on his band.
"We were with Sonny from 1964 to 1971," Gary recalls. "In our seven years with Sonny, we cut 182 songs. Three of the albums were specialty albums, not intended to be singles: Christmas in My Hometown in 1965, the religious album, and one called Number One. He was doing other artists' number one hits. Other than those songs, we cut 140-150 songs, looking for singles." They recorded 19 number one Billboard hits, 16 of them consecutively during the years 1967-71.
"We had no lead guitarist, we had no steel, we had no fiddles," Gary explains. "Near the end, we had piano on a couple, Charlie McCoy played harmonica on a couple. It was a very simple sound. Basically, Sonny's sound was Sonny, his Martin D-28 guitar, and vocal background."
Gary remembers a question from Porter Wagoner at one of their shows. As they walked offstage, Porter asked Milo, "Where's the rest of the band?" Milo said, "Well, this is it." Porter said, "It sounded like that, and that's all you had?"
The era ended in 1971, for a variety of reasons. Sonny started having voice trouble, he changed labels, he lost his writing partner, Carole Smith. "We recorded forty songs that Sonny and Carole wrote together," Gary says. "Some of them were number one country songs." She stopped writing to spend more time with her husband. Another loss occurred when bass player Junior Huskey, who had replaced Milo, died in September 1971. The Southern Gentlemen quartet also left. "When we left," Gary notes, "we peeled away slowly near the end, one at a time to where it wouldn't be a big drop. I was the last one to leave, in mid '71."
For the next 18 years, Gary says, "we didn't have much to do with each other. He was still on the road, traveling, I was building an insurance business, two of our guys had moved to Colorado. In 1981, Duane West became the baritone of the Jordanaires."
Beginning in 1973, Sonny produced Marie Osmond's first three albums. He chose "Paper Roses," which sold five million copies worldwide. "Sonny was so smart," Gary says. "His contract with MGM was that thirty percent of the songs on her albums, he would have written and published."
In 1989, the Southern Gentlemen got together to celebrate the 25th anniversary of when they started with Sonny and the 30th anniversary of their original quartet. They invited Sonny to join them at the restaurant. In 1994, the quartet traveled to Pueblo, Colorado. In 1999 and 2004, they–and Sonny–met in Nashville.
In 2002, Bear Records began production of a Sonny James box set. Gary served as go-between while writer Dave Samuelson worked on Sonny's biography. Upon seeing the finished product, Gary was shocked to realize how much he didn't know about his former boss. That's when Gary Robble became a Sonny James historian.
In 2003, Gary's son, Greg, a professional website developer, worked with Sonny to develop a website. "In 2006," Gary recalls, "when it was mentioned on ABC by Kris Kristofferson that Sonny would be the next inductee in the Hall of Fame, Sonny came out and made a 34-second speech, thanking everybody and 'my Southern Gentlemen.' Following that, in a month the website got 487,000 hits."
During the 2007 Country Music Hall of Fame induction ceremony, Gary reminisces, "we walked the red carpet with him. Bands didn't walk the red carpet. An artist walked by himself. Sonny asked us to walk the red carpet, to ride the limousine, and to do all the vocal background on all four songs of his that he sang. Nobody ever had their band go up. You had professional guys up there. He wanted us to sing." In front of 180 peers in a full theater, Sonny strayed from his prepared remarks to say, "And my Southern Gentlemen. They gave me that key, identifiable sound that you heard on my records."
Once he accepted his role as Sonny James historian, Gary got to work. "I have three different things under the Sonny James umbrella," he says. In addition to Greg's website, Richard Custer has developed a YouTube site that contains every song Sonny recorded, all the TV shows he was on, every video they could find. "Richard Custer on YouTube has 965 subscribers," Gary says. Terry Dillard set up the official "Fans of Sonny James" page on Facebook; it has 250 members.
After Sonny's death in 2016, at age 87, a fan from Massachusetts posted on the "Fans of Sonny James" page, "I wish he'd written his memoirs." Gary contacted her, and Barb Day is helping him write the soon-to-be-released book. He struggled to find the right title. Then Greg called one day and said, "I found it! The phrase is willful shadows." Gary explains, "It fit what we were talking about. Sonny willfully hid everything from everybody and didn't tell anybody anything. Though he was the finest man that ever was."
One of the chapters is called "Splitting the Difference." It refers to a 1973 article in which Sonny is quoted as saying, "The people I know, I tell them just enough. I split the difference between my professional side and my personal side. I don't want them to think I'm an oddball, but I split the difference."
At the end of the book, Gary does a chapter on Hackleburg. He quotes the lyrics from their 1965 Christmas recording, "Christmas in My Hometown," which say, "I'd love to spend this Christmas with the folks in my hometown." Gary explains, "It's after Doris died. They'd been married 58 years and seven months. I wrote, 'So now and forevermore, Sonny and Doris will spend every Christmas with the folks in his hometown.'"
Willful Shadows: The Account of SONNY JAMES and the Southern Gentlemen is being published by Clovercroft Publishing. It includes a complete discography, along with Sonny's itinerary. You can find ordering information at sonnyjames.com.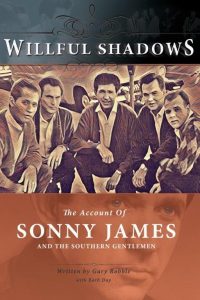 NEWS
I watched the livestreaming of the announcement of the 2019 Country Music Hall of Fame inductees on Monday. Bill Cody, Grand Ole Opry announcer and WSM Radio deejay, introduced the winners. As he described the life and credentials of the awardee in the Non-Performing category, I couldn't think who it might be, but the person certainly sounded worthy. When Jerry Bradley came onstage, he was so overwhelmed he had to ask Bill to finish reading his speech: "I'll be proud to take my place in the Hall of Fame along with my dad Owen and my uncle Harold." Bill then began the story of the Veteran Performer awardee. I guessed his name at "Ahab the Arab" and confirmed it with "The Streak." Bill called Ray Stevens "the most successful comedy recording artist of all time." Ray said, "It's almost too much to take in, to tell you the truth, to be recognized as being worthy of joining this group of folks." Bill mentioned "duo" in his second sentence when introducing the Modern Era Artist inductee. So I knew it would be Brooks & Dunn. Bill called the pair "the most awarded CMA duo of all time." Ronnie Dunn said, "It's beyond an honor to be here. It hasn't soaked in to me; it probably will, sometime when I'm off by myself." Kix Brooks said, "The faces on this wall, I would never consider my peers, most of them. I idolize them. The fact that I can share a little space on that wall, it's hard to describe how that makes you feel." Although there certainly are others worthy of being in the Country Music Hall of Fame, especially women, I couldn't argue with this year's choices.
I've been waiting to hear who would be named by the Academy of Country Music (ACM) as Artist of the Decade. Would it be Brad Paisley? Carrie Underwood? Blake Shelton? All are universally known and have contributed significantly to country music. Marty Robbins received the initial award as Man of the Decade for the 1960s. The name was changed when Loretta Lynn won it for the 1970s. Alabama followed in the 1980s, Garth Brooks for the 1990s, and George Strait for the first decade of this century. Well, the Artist of the Decade award for the 2010s goes to . . . Jason Aldean. "This is probably one of the coolest awards I've ever been given," he said in a statement. That comment alone is enough to take the award away from him and give it to someone deserving. Adding to my disgust, the award has been renamed the ACM Dick Clark Artist of the Decade Award, for the show's longtime producer who died in 2012. What did he have to do with the careers of the above-named entertainers? The ACM has lost all credibility. Don't expect to find it mentioned again in my newsletter.
Nash Country Daily reports John Anderson has released a new 40-song album, 40 Years and Still Swingin'. As well as new versions of hits such as "Swingin'," "Black Sheep," "Wild and Blue," and "Straight Tequila Night," the two discs include previously unreleased songs that didn't make it onto past albums. John says, "I feel great and am enjoying this part of my 40-year career more than any other time I remember." He has more than a dozen upcoming tour dates and is featured in the Country Music Hall of Fame exhibit, American Currents: The Music of 2018.
The Country Music Hall of Fame® and Museum recently held an invitation-only event to reveal the new American Currents: The Music of 2018 exhibit. Jeannie Seely is included. "Anytime I can see Jeannie Seely and 'current' in the same sentence I'm thrilled!" she says in a press release. "Each year," the press release explains, "American Currents carefully examines the previous year in country music, defined broadly to include country-related styles such as Americana and bluegrass music, and offers rich detail about the noteworthy figures and events in country music's recent past." The 2018 class is composed of artists, songwriters, and broadcasters. The exhibit runs through February 8, 2020.
The Texas Country Music Hall of Fame is inducting three new members in 2019, according to The Panola Watchman. Jeannie C. Riley, 73, is best known for 1968's "Harper Valley PTA." She was the first woman to hold the Number One slot on both pop and country charts at the same time. Claude Gray, 87, is best known for the 1960 hit "Family Bible." His other songs include "I'll Just Have a Cup of Coffee (Then I'll Go)" and "My Ears Should Burn (When Fools Are Talked About)." He is still performing and recording. Rodney Crowell, 68, released his second album, Diamonds & Dirt, in 1988. I've played that cassette many, many times. It produced five Number One singles, including my favorite, "I Couldn't Leave You If I Tried." As with Clint Black's four #1s off his debut album, I doubt if that achievement has been matched. Rodney won a Grammy for "After All this Time." His second Grammy came in 2014 for Best Americana Album with Old Yellow Moon.
When Trisha Yearwood celebrated her 20th anniversary as a Grand Ole Opry member, reports The Tennessean, she wore a necklace that once belonged to Patsy Cline. Porter Wagoner had inducted her on March 13, 1999, calling her "one of the greatest singers of our time. I would rate her with Patsy Cline." At the time, Patsy's husband and daughter, Charlie Dick and Julie Fudge, gave her one of Patsy's silver necklaces encased in glass. Trisha broke the glass and wore the necklace for her anniversary celebration. "For me, it's a full circle thing," she said. Hearing Patsy when Trisha was a child, "that's what started the ball rolling for me," she said. She celebrated by singing duets with husband Garth Brooks and with Ricky Skaggs, who had given her the invitation twenty years earlier.
Six-year-old Harvey Strait joined his grandfather, George Strait, during the final performance of the 2019 RodeoHouston event on Sunday night. George introduced him by saying, "This is my grandson and he's going to sing with me." They performed "God and Country Music," a cut from the new Honky Tonk Time Machine album; Harvey also sang on the recording. Other special guests during the show included Lyle Lovett and Robert Earl Keen. George has performed at the rodeo for 22 years. Taste of Country reports he broke his previous attendance record (80,020 in 2013) with 80,108 tickets sold this year.
When Brad Paisley headlined the Saturday night RodeoHouston show, two empty seats in the front row were reserved for the late George H.W. Bush and Barbara Bush, long-time RodeoHouston supporters. Barbara's chair held a bouquet of flowers wrapped in pearls. "Every year at @rodeohouston I would have lunch with 2 of my very, very dear friends before they would go to the big event," Brad wrote on Instagram. "My heart was heavy this year thinking they wouldn't be there. Turns out, I guess they were."
The face of Cosa Salvaje, a new tequila, is Tanya Tucker. "I've had some friends that drink vodka and now they're on the tequila," she tells PEOPLE. "I try every tequila I can and I've done several blind tastes with my friends and every time mine has won — every time." Cosa Salvaje translates from Spanish as "wild thing." To Tanya, that's perfect, "because that's what everyone thinks of me as. It was a totally-meant-to-be deal."
Rolling Stone Country reports Jerry Lee Lewis, 83, has been moved from a hospital to a rehabilitation facility for further treatment after last month's minor stroke. His neurologist expects a full recovery, according to a press release. A spokesperson says he "can't wait to get back onstage and into the studio to make his gospel record."
Jeannie Seely, 78, posted this photo on Facebook on March 13. The caption reads, "What a privilege to celebrate Jan Howard's 90th birthday with her and the amazing Rose Lee Maphis, who is proud to be 96 years young!!"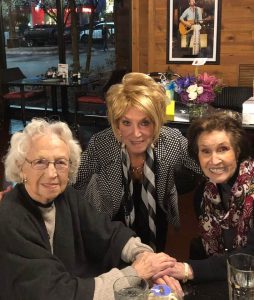 The CMA Foundation, the philanthropic arm of the Country Music Association, is presenting its fourth annual Music Teachers of Excellence Awards on April 30 in Nashville. The Tennessean reports Dierks Bentley will host the invitation-only event. Thirty music teachers (10 local, 10 state, and 10 from across the nation) will be recognized for dedication to their music programs and students and for the impact they've made on their schools. "These teachers have gone above and beyond in their classrooms to really bring music to life," Dierks said in a statement. "Every child deserves the chance to feel the power of music and it's not possible without supporting these teachers." Honorees will receive $2,500 from the CMA Foundation for their individual music programs and $2,500 for personal use.
A new weekly television series premiered last week on RFD-TV. Live at Billy Bob's Texas will highlight music from artists who have performed in the world's largest honky tonk over the past 20 years. A press release explains how Smith Music Group gathered a collection of cuts that include exclusive interviews and intimate backstage acoustic performances. Merle Haggard, David Allan Coe, Willie Nelson, The Charlie Daniels Band, and Shooter Jennings are a few of those featured. "Billy Bob's has been around for decades and every single week we showcase some of the biggest and brightest new artists on the scene to perform on our mainstage," says Pam Minick, Billy Bob's Texas VP of Marketing. "Now, for our record label partners Smith Music Group to partner with RFD-TV to bring the Billy Bob's experience into the homes of music lovers is going to allow them to see what people have been talking about for so many years."
According to TheWrap, CMT is planning 10 episodes of a new game show to be shown this summer. Nashville Squares is a spinoff of VH1's Hip Hop Squares. Both are similar to the famous TV show, Hollywood Squares. Contestants rely on musical celebrities to help them win a giant tic-tac-toe game.
Charlie Daniels and Travis Tritt have teamed up for an Outlaws & Renegades Tour that begins March 8 in St. Augustine, Florida. The 40-plus dates cover states from the East Coast to the West Coast and some between.
The MuttNation Foundation, an organization started in 2009 by Miranda Lambert and her mother, Bev Lambert, is celebrating its 10th anniversary. "Music and rescue animals are the two driving forces in my life," Miranda tells Nash Country Daily, "and I'm so fortunate that the success I've had with my music allows me to help shelter animals more than I dreamed possible." With the mission of ending animal suffering and homelessness, the foundation has raised millions of dollars to help build animal shelters and encourage pet adoption. MuttNation is celebrating its anniversary by giving $150,000 in surprise grants to 50 animals shelters as part of its Mutts Across America initiative. "Just in this past year alone, we helped 1,776 shelter pets find their forever homes," Miranda says.
Plans to open a string of Rascal Flatts-themed restaurants have been canceled, according to Taste of Country. Rascals Flatts signed a licensing agreement in 2012 to allow a developer to use the band's name, logo, and image to build restaurants in cities across the country. The company hired to oversee the project belonged to Frank Capri. It's been discovered Frank Capri is the new identity for gangster Frank Gioia Jr., who entered the Witness Protection Program in 1999 after testifying against more than 70 mobsters. His criminal record included drug dealing, gun running, leg breaking, and murder. His name doesn't appear on documents related to the Rascal Flatts restaurants, but an investigation by The Arizona Republic found Capri controlled key aspects of the projects before they collapsed. He collected the money and didn't pay the contractors. Remember my news blurbs several years ago about Toby Keith's I Love This Bar and Grill restaurants? Now we know what happened to them. The Arizona Republic reports, "Capri's Phoenix companies built 20 Toby Keith restaurants beginning in 2009 and announced plans to build 20 more that never opened. By 2015, all but one had closed. Allegations of fraud and theft followed."
Clips on Instagram of Sara Evans singing with her son and daughter drew such rave reviews from fans that she scrapped her plan for a solo album and recorded instead with Avery (19) and Olivia (16) as the Barker Family Band. Both teens are looking forward to solo careers. The Boot reports that Sara got her start in the Evans Family Band, a trio with brother Matt and sister Lesley; they are still part of her touring band. The Barker Family Band EP contains six songs, one of them written by Olivia and Avery. A one-week acoustic tour, The Barker Family Band's Bloodline Tour, is scheduled for May.
A movie being filmed on location in Nashville this month honors the friendship of Patsy Cline and Loretta Lynn. Patsy & Loretta will air on the Lifetime network later in 2019. They were friends from the time Loretta arrived in Nashville in 1960 until Patsy died in a plane crash in 1963. Julie Fudge (Patsy's daughter) and Patsy Lynn Russell (Loretta's daughter) will be co-producers, with Neil Meron the executive producer. Callie Khouri, who wrote Thelma & Louise and was involved in the Nashville TV show, will direct the film. Megan Hilty and Jessie Mueller will star as Patsy and Loretta. According to Saving Country Music, Hilty appeared in the music drama series Smash. Mueller won a Tony Award in 2014 for portraying Carol King in a Broadway musical.
Rolling Stone Country recalls fifty years ago when Capitol Records released Glen Campbell's thirteenth album, Galveston, on March 17th, 1969. Jimmy Webb, songwriter for Glen's earlier hit, "By the Time I Get to Phoenix," also wrote "Galveston." The lyrics are about a soldier fighting in Vietnam. "She was 21 when I left Galveston," he sings. "While I watch the cannons flashing, I clean my gun and dream of Galveston. . .. I am so afraid of dying Before I dry the tears she's crying." By the following year, the song had sold six million copies, Rolling Stone Country says, "having been cut by 27 different artists, from fellow country star Faron Young to jazz great Dizzy Gillespie."
LETTERS
Sam Wellington of The Four Guys responds to a request from Ken Burke: "Saw in Diane's Country Music Newsletter that you are interested in acquiring additional information on Gary Paxton. I/we had the distinct pleasure of working with Gary on two album projects in the '70s and late '80s. He was sole producer of THE FOUR GOOD GUYS and THE FABULOUS FOUR GUYS MAKIN' WAVES albums. We met Gary in the late '60s when he and The Four Guys were doing studio work for the late Pete Drake. I was always impressed by his work in the studio and feel he was the only producer – and we worked with many of the top guys in Nashville – who understood the ways and means of a vocal group. He could not only tell group members their harmony parts but could sing them as well. I just happened to walk in the studio one day when he was laying down instrumental tracks for music on the GOOD GUYS album using a full string section. For a moment, I wondered where Gary was. Looking further, I quickly noticed he was in the studio (not in his producer's chair) conducting the string section…baton in hand and all. During these times, Gary regularly visited us at our Harmony House Theatre-Restaurant. Heads would turn when he would say, aloud, a blessing before dining. He didn't mind saying if there was a problem with that, it certainly wasn't his. I found him to be a very religious and caring human being and one whose word was his bond. He always signed his name as GARY S. PAXTON and always reminded folks to not forget the 'S' because it was one third of his whole name. Gary lived in Branson, Missouri, during the last years of his life. His passing was a sad day for those of us who knew him well. There is not enough that can be said of his many musical talents. Thank you for your efforts to call attention to this truly great man's career."
Jon Philibert comments, "Thanks as ever for your March 6th newsletter which, unfailingly, continues to inform and entertain. I was touched by your lovely story about Georgette Jones and how Ireland changed her life – it has echoes for me as my partner, Marge, is Irish. I wonder how many of your US readers realise that Ireland is a great territory for country music where, by and large, they have resisted the onslaught of rock, pop and rap influences and continue to produce good, traditional country music. As a songwriter I have managed to obtain quite a few cuts by Irish singers such as Trevor Loughrey, James Lynas and the great Mick Flavin. These and many others are definitely worth checking out."
Dean Mann in Sioux Falls says, "Another interesting newsletter. I enjoyed reading the article on Georgette Jones. She really has changed her looks with that black hair and eyebrows. When she used to appear on Country Family Reunion, she had lighter hair and eyebrows. I enjoyed her singing. A group of children of former stars used to travel and perform. I can't remember the exact title of their group. Something like 'Children of the Stars.' It was Georgette, Robyn Young, and others. As a side note, I saw Georgette when she was a baby. George was performing in Sioux Falls at the old Coliseum, and Tammy carried Georgette out on stage wrapped in her baby blanket. I can't remember if Tammy performed that night or not. We were all wondering if George was going to make it. That was back when he got the name 'No Show Jones.' I remember a great performance that night by George. I recall when Loretta Lynn performed at the Sioux Empire Fair in Sioux Falls shortly after her twins were born, and she carried them out on the stage one on each arm. Good memories."
Sam Duvak requests, "Please add me to your list for the newsletter."
Jenny Jones writes from Texas, "You were great including all my letter. Seems I get started, and memories just flood. My special pen pal, Shirl, in Iowa really enjoys your Newsletter. Keep up the great work. I got to see Billy just about a year before his fatal death. Does anyone happen to have any of his Records? I missed getting several, while my husband was traveling in the Navy. If anyone knows of Jimmy and Dorothy Blakley whereabouts, would love to hear."
David Markham in the United Kingdom says, "I became good friends with Darlene Iona Collins and Joyce Collins. From 1982-3 Darlene was married to Redd Stewart. Our friendship was quite interesting, we talked about Redd and her working in the Soup Kitchens for their church as they all were members of Evangel World Prayer Centre. Darlene died July 26, 2003, age 62-3. I have private letters and signed photographs from the girls. As time transpired, I was reading my old country letters and came across theirs. If there's any way you can help to get in touch with The Collins Sisters families, I'd be grateful. Having two strokes I've not lost my memory on Country. I was close with Joni Harms 7-8 years. I'm coming up to 78 this November 2019. I have a memory full of country music artists. No doubt you won't print this, but I'm really wanting information about The Collins Sisters and Pee Wee King."
Robert Cochran requests, "Please add me to the mail list for the newsletter."
Pat and Tom Hand ask, "Please add our email to your list. Would love to get your newsletter."
Don Holland reports, "I stumbled across this story of The Hadacol Caravan on the internet and found it intriguingo. Paul Schrader is a very successful screen writer who has a great resume. I found a copy of this script he wrote about Hank Williams and the Hadacol Caravan: Eight Scenes From The Life Of Hank Williams (https://www.weeklyscript.com/Eight+Scenes%20From%20The%20Life%20Of%20Hank%20Williams%20(Unproduced).html). I have now read it three times.  I hope you enjoy it as much as I did.  Mr. Schrader sure did a great job of capturing the heart and soul of Hank Williams."
Robert MacMillan in Arisaig, Inverness-shire, Scotland, says, "Thanks for your continued stream of country news – greatly appreciated. Perhaps one of your newsletter recipients will be able to answer the following query: I recently discovered a rather unusual and strange (to my ears anyway) recording of 'Utah Carol' which is featured in the Motion Picture Sound track album, Daltry Calhoun. Josh Leo's mash-up contains elements of 'Utah Carol' performed by Marty Robbins and elements of 'A Better Tomorrow' performed by Wu-Tang Clan. Can anyone explain the purpose or background to this recording?"

IN THEIR OWN WORDS
It's been ten years since steel guitarist Bill Johnson died. He worked with Marty Robbins from 1960-1974, except during his two years in the Army. Bill was one of the major contributors to my Marty Robbins biography. Our first phone conversation occurred in 2006, after which he sent me copies of newspaper articles and other documents. News of his death on March 17, 2009, at the age of 70, came as a shock. I included him in my dedications for Twentieth Century Drifter: The Life of Marty Robbins. I'd so looked forward to meeting him at the book release party.
Marty's first heart attack was in August of '69, when we were on the way to Warren, Ohio. We were about forty miles east of Elyria, Ohio. I was sitting up in the front of the bus, and here came Marty up the aisle, kinda holding his chest. I knew something was wrong. He spoke to Okie Jones, the driver, and Okie floorboarded the bus. There was a card table on the bus, and he sat down there. He turned kind of an orangeish color. We were rubbing his hands and forearms and talking to him, but he was in distress. By the time we got to the hospital in Elyria, he walked off the bus under his own power into the emergency room. We called ahead and canceled the afternoon matinee show. I think they were gonna give Marty an EKG. I recall that seemed to have been the conversation. They had given Marty something to ease him, and he got to feeling better. So he decided we were going to go on and play the night show in Warren. I got off to the side with the head nurse and I said, "You ought to take him on to Cleveland in an ambulance." She said, "We can't make him do what he doesn't want to do." We got back on the bus, and it was pretty late afternoon by then, and we went to Warren, Ohio, and started doing the show. He cut the show short. It all happened pretty quick. I would say we were about one half to three-fourths through the show. He had a nickname for Jack Pruett — Bandy Wong. When it came time for "El Paso," he would always holler back to Jack, "Head for the pass, Bandy." That was the cue to play the intro to "El Paso."
We went to Cleveland, and I guess we got there about 11:30 or so, and he walked into the emergency room there. They put him in a wheelchair and took him back into the facility. We waited out front. It was probably an hour, and they rolled him–I think he rolled back out in the wheelchair–and the indication was that he had had a heart attack and was in the process of another. We were supposed to go to South Carolina for the next night, and I've forgotten who called ahead and canceled that. We asked did he want any of us to stay, and he said no, head on back to Nashville. I guess that was about 2:00 AM Saturday morning.
He and I had gone over to O'Charley's for lunch, from the office, and we were talking. It was after the open-heart surgery–that surgery was fairly new then. Dr. Thomas Frisk, who was the father of Dr. Bill Frisk, had done the surgery. Dr. Thomas Frisk did the surgery on Marty, and his son, Bill Frisk, is also a heart surgeon of renown, but is now the Speaker of the House. After the surgery, it had to knit back together. They had cut the breastbone, and it was giving him a lot of trouble. He made the remark, "I'm not gonna do that anymore." He said another thing, too. He said it would last about 13 years, and that's just about how long it did last.
The last session he did for Columbia in 1971–I wrote the A side of the last release on Columbia, "The Best Part of Living Is Loving You." That was his last single release for Columbia, until he went back to Columbia in 1975. At the time I wrote "The Best Part of Loving You," I was recovering from the flu. I was at home, and out of the pure blue, practically, the idea popped into my head, and I wrote it.
I left in 1974. My baby boy was on the way, and I was pretty tired of the road. I liked to play the shows, but I got tired of the traveling. Kats Kobayashi took my place playing steel.
I remember one good poker game. We started playing in the parking lot–we were on the bus–here at the office in Nashville, just before we were getting ready to head on out. We played all the way to Los Angeles. Taking turns–some would play awhile, then sleep awhile. That game went on practically the whole trip across the United States. We never played for high stakes; it was more or less for something to do.
Marty pretty much traveled with the band. We had a few flights when we all flew, that were kind of scary. I remember one flight from Chicago to Buffalo, New York, was rough, and I'm telling you it was rough. I remember a flight from St. Louis to LA, and then we were going from there to Japan. We got out to LA, and the airport was fogged in. We had to circle that valley for over an hour–way over an hour. Finally, there was a little bit of a break and we got to land, but things like that would get your attention. But for the most part, Marty rode on the bus with us.
[Package show at Carnegie Hall in 1962:] There was a long alley, and you had to unload at the front of the Carnegie Hall, and there's a narrow alley from the street, back to the side of the building, to the stage. Little Jimmy Dickens was on the show. The incident that really sticks in my mind is, during the unloading process, Jimmy was traveling in a car, and he was pulling a good-sized instrument trailer, and his stage clothes were hanging in the trailer. We were all back and forth unloading, down that alley. He left the doors open on the back of the trailer, and somebody–and it didn't take them long, because we were busy going back and forth–had reached in and grabbed some of his stage uniforms. When he realized what had happened, he made the remark something to the effect, "Just wait till they try to put on Mighty Mouse's uniform." He was pretty ripped about it, but he was able to make a joke about it. I don't know whether they ever recovered them or not. They were pretty expensive.
Grady Martin, playing lead guitar, was the one that played the riff in "Don't Worry." It was his amp. I've heard two stories. One, that something went wrong in the board, and another, that something went wrong in his amplifier. I tend to think it was something in his amplifier. Mort Thomason and Selby Coffeen were the engineers on that session. I wasn't there, but I know the history. They figured out electronically what occurred. They drew up a schematic, and I believe they eventually sold the rights to the schematic to Gibson. In musician's vernacular, what we would call that is a blown–either a tube or a speaker–but I believe it was an electronic malfunction of Grady's amplifier that caused it. Electronically speaking, it caused what is called a square wave. We had no way to recreate it on stage. On some shows–Jack and I were not too far apart on stage–I would just lean back when it came time for that instrumental break and I'd put my fingernails very lightly against the back of the speaker, and made it rattle–made it distort. We did it that way some, but it didn't thrill Jack too much. So that didn't last long. Eventually, a gadget came out on the market, that would make that distortion sound. Jack didn't particularly want to do that, using the gadget, so I did it on the steel. It was a tiny electronic gadget, and it was easy for me to plug it in and out of my steel. It had an on-and-off button, but after I'd do the break, play that part, I would unplug because it slightly affected the tone if it stayed plugged in, even though it was shut off. That's just a musician's preference there.
Moseright guitars out in California made one. In fact, I think I used that first. It's a Moseright Fuzz-Right is what it was called. I went over to the factory when we were out there. They gave me one, and then Jordon Electronics–I mean Bosstone, which was part of Jordon Electronics–came out with one a little smaller, that was–in my opinion–was better, and I started using it. I've still got both of those. I don't know whether they gave us both one, or whether when Jack didn't want to do it, he just gave it to me. That could be; that could very well be. It did all right, but I preferred the one that Jordon Electronics made. It was much smaller, and it fit right into the guitar. I didn't have to punch a button with my foot in order to kick it in.
The only time I ever used the fuzztone on a record was when Marty cut "Twentieth Century Drifter." Which was a song about a race car driver. I made it sound like a car engine on the record. I just remembered, there was one other record I used that on. It was "No Tears, My Lady," Kinda sounded like a trombone. I used it on those two records.
SONG OF THE WEEK
I recently saw the new Clint Eastwood movie, The Mule, which included a very pretty song toward the end. Film credits listed"Don't Let the Old Man In" as written and sung by Toby Keith. A comment on YouTube says Toby asked Clint Eastwood, 88, "What keeps you going?" Clint responded, "I get up every day and don't let the old man in." Toby wrote the song for him, and Clint included it in the movie. The lyrics include, "Try to love on your wife and stay close to your friends, toast each sundown with wine, don't let the old man in."