IN THE SPOTLIGHT – DAVID BALL
The first time I saw David Ball in concert was when he opened for Alan Jackson in the mid-1990s at the US Air Arena in Maryland, east of Washington DC. I lived in Virginia and had to drive halfway around the beltway, into unfamiliar territory, to get to his show. The second time was two months ago, when my sister and I were in Nashville; we went to see him perform at Honky Tonk Tuesday Nights. That, too, was unfamiliar territory, but only three miles down the road from our hotel.
After David's 45-minute set, I introduced myself and asked if he knew Randy Travis. He looked awestruck at the name and said Randy's first record changed his life. He agreed to let me call him later for an interview. Back in South Dakota, I pulled out my CD of Thinkin' Problem and played the familiar songs.
When I called David, who is 66, I asked how a South Carolina boy ended up in Texas. He was still in high school when he joined Uncle Walt's Band, with Walter Hyatt and guitarist Champ Hood, who "could really flat-pick a big old acoustic guitar," he said. "All three of us sang; we had real good harmony. We did western swing, we did a lot of Doc Watson, finger picking, a lot of harmony. It was a lot of fun." Both Walt and Champ have since died.
After David graduated from high school, the band was booked to play Austin, Texas, in the early 1970s. "We wanted to play live; that's what that band wanted to do," he recalls. "We played all the time, in and around Texas. There were the remnants of some folk clubs. There was a place in Dallas, a big folk club, and a place in Houston." With so many Texas gigs over the next ten years, they moved there for a while.
By 1986, David was back in South Carolina, with a wife and daughter. "Music was not as big a deal down there as it was in Texas," he says. "I was kind of a fish out of water. There's a lot of water down there, but I was a fish out of it. I missed Texas, y'know, and all the music and stuff."
Then he discovered Randy Travis. "I was sitting at a stoplight in Mount Pleasant, South Carolina," he recalls, "and on the radio I heard 'On the Other Hand.'" David was planning to move to Nashville at some point, and when he heard Randy Travis, he said, "That's it. We're going." He wanted to get close to that type of music and learn how to do it–the songs and the record-making aspect. "I just wanted to get in there in the middle of it," he remembers. Coincidently, he signed with Randy's label, Warner Brothers, in 1992. His first tour was with Sawyer Brown and Toby Keith. He wanted to go to Texas, but "the powers that be" sent them up to the Northeast.
I enjoyed listening to David's forthright opinions of the music business: "Once you go behind the curtain, you see all the duct tape and safety pins; you see how it works." He asked me, "You know what a click-track is?" I didn't. He explained it as a sound the drummer listens to with headphones, to get the tempo. "I will never listen to another click-track when I record," he says. "I know where the groove is. Why would I play music if I couldn't play in time? That's like being a carpenter but you can't hold a hammer."
David is currently on his Thinkin' Problem 25th Anniversary Tour, with a commemorative reissue of his 1994 album. He mixes those songs with his new music. His 2001 recording of "Riding with Private Malone" became his biggest hit. As had "Thinkin' Problem" in 1994, it reached #2 on Billboard. "We put that out on a little independent record label," he explains. "We didn't really have to do a whole lot, because for some reason, the Clear Channel stations picked it up. They just started playing it. The song itself drove it."
David's albums and tour schedule can be found at https://davidball.com/home.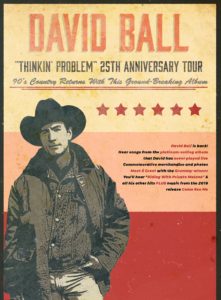 MO PITNEY AND NEW RIVER RISING IN SISSETON, SOUTH DAKOTA
Coteau Entertainment brought Mo Pitney back to South Dakota for an acoustic concert at the Sisseton Performing Arts Center on November 17. The opening act was New River Rising, a young bluegrass/bluegrass gospel band from East Tennessee. The six players ranged from ages 18-26 and had never been so far from home before. During their 28 hours on the road, they posted on Facebook, "Still a good ways to go but having all the fun we could in a van pickin' and grinnin'." They arrived in a large white van, saying the next time they come to South Dakota, they will fly. In addition to bandleader Travis Wright, who sang lead and played acoustic guitar, the others played mandolin, banjo, fiddle, upright bass, and acoustic guitar. The night before the concert, they jammed with Mo and his brother, Blake Pitney, at a local restaurant. Look for an interview with Mo Pitney in an upcoming newsletter.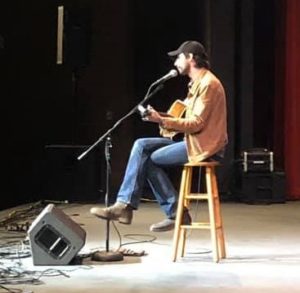 NEWS
During the American Society of Composers, Authors and Publishers' (ASCAP) Country Awards show on November 11, Randy Travis was presented with the ASCAP Founders Award. He has been an ASCAP member for forty years. Carrie Underwood sang "Promises" in his honor, and Garth Brooks sang "Forever and Ever, Amen." Randy helped both Garth and Carrie in their careers. Randy invited Carrie to join the Grand Ole Opry in 2008; their duet of his song, "I Told You So," was a hit in 2009. Garth said, "I was lucky enough to get to say this at your Hall of Fame induction and I'll say it again tonight, . . . it is 100 percent my belief, this man saved country music singlehandedly, and brought it back to traditional country music. I've gotta tell you, I would not be standing here if it were not for Randy Travis." Variety reports, "Travis walked the red carpet before the show, shaking hands and communicating thanks with his eyes but leaving the speaking to his wife, Mary."
The music of Faron Young lives on. Kacey and Jenna Thunborg, 14-year-old twin sisters, recorded "Yellow Bandana" on their first CD, Simply Western, which was released in September. They perform the music their father enjoys. "We kind of grew up on it," Kacey told the Albuquerque Journal. They and four other teens performed last week at the Western Music Youth Showcase in Albuquerque, New Mexico, during the annual gathering of the International Western Music Association. Founded in 1988, the organization of a thousand Western musicians, cowboy poets, and people who love the music, puts effort into developing young talent. Their website is westernmusic.org.
KFGO-AM in Fargo, North Dakota, reports Kris Kristofferson surprised customers at Dempsey's Public House when he showed up there after performing at the Fargo Theatre. The band 32 Below had taped a request on his tour bus door, offering to buy him "a beer or five" if he came to their gig. While there, he sang "Me and Bobby McGee." From Fargo, he came to Sioux Falls. My next newsletter will feature a review of his show here. No, I didn't get to meet him.
Continuing his tour, Kris Kristofferson, 83, played a show at the Adler Theater in Davenport, Iowa, on the night of the 53rd annual CMA Awards show in Nashville. Sheryl Crow and Dierks Bentley sang "Me and Bobby McGee" in his honor at the Bridgestone Arena, when he was awarded the Willie Nelson Lifetime Achievement Award. Rolling Stone notes, "While Kristofferson was off on tour, Nelson was making a rare appearance at the CMAs, performing 'Rainbow Connection' with Kacey Musgraves." It was his first performance on the show since 2012.
Following the CMA Awards show, Loretta Lynn, 87, visited Willie Nelson, 86, on his tour bus. She posted a photo to Instagram, saying, "I had the best time at CMA Country Music Association Awards last night. It was so good to see so many of my friends. I loved catching up with my buddy Willie Nelson!"
Here's the link to the "Women of Country Performance," the opening segment of the 2019 CMA Awards show: https://youtu.be/zPacGAykVQg. Performers include cohosts Dolly Parton, Reba McEntire, and Carrie Underwood, along with Terri Clark, Sara Evans, Crystal Gayle, The Highwomen, Martina McBride, Jennifer Nettles, Tanya Tucker, and Gretchen Wilson. Loretta Lynn is in the audience.
The first woman to ever win a CMA Award for Musician of the Year is Jenee Fleenor (maiden name Keenor), fiddle player for Blake Shelton and a member of The Voice house band. She is also the first female ever nominated for the category, which was created in 1988. She tells The Tennessean she's long felt like an equal, although she faced skepticism in the early days when she'd walk into a session. Her response was, "The proof is in the picking." She counts her fellow nominees as "my buddies that I work in the studio with on a daily basis. They're my heroes and friends."
The CMA Entertainer of the Year title went to Garth Brooks–for an unprecedented seventh time. Fox News reports Carrie Underwood fans were outraged that she didn't win. She was the only female nominated, as she had been in 2016, when Garth also won. "This is such a slap in the face," wrote one fan on social media. "Not only to Carrie, but to the women of country music in general. So much for celebrating women tonight, but you're going to continue giving these awards to mediocre men." Another said, "@carrieunderwood got robbed of Entertainer of the Year. This award is beyond sexist for some insane reason. No reasonable person would believe she didn't deserve it." No woman has been nominated since 2016, and the last female CMA Entertainer of the Year was Taylor Swift in 2011.
Stella Parton has called out her sister, Dolly Parton, for posing for pictures with former publicist Kirt Webster, who was accused of sexual assault and harassment in 2017. He has repeatedly denied all claims. He told Fox News he attended the CMA Awards as a guest of Janie Fricke. "I have noticed new photos from backstage at the CMAs last night and Kirt Webster the publicity person who had dozens of sexual assault allegations brought against him was front and center," Stella wrote on Facebook. She added, "These predators feel entitled to do the horrific things they do and even superstars like my sister, Billy Ray Cyrus, Tanya Tucker and others that he represented won't say a word."
The annual Nashville Regional City Veterans Day Parade featured Jeannie Seely and LTG (ret) John Castellaw, USMC, from Alamo, Tennessee, as Co-Grand Marshals. Jeannie said in a press release, "I am very proud to continue the tradition of my friend Jan Howard, who held this position for many years as a Gold Star Mother. I honor her today along with all who served in the military and those who sacrificed at home. God Bless the USA!" The parade celebration traces back to 1918, the end of World War I.
In spite of temperatures in the mid-teens, CMT.com reports, BMI held its annual awards show in BMI's normally unheated parking garage. Dwight Yoakam received the President's Award, and the famous Felice and Boudleaux Bryant song, "Rocky Top," earned the new Evergreen Award. Del Bryant, current BMI president and son of the songwriting team, accepted the award with his brother, Dane. Ricky Skaggs and Kentucky Thunder performed a breakneck rendition of the anthem the Evergreen Award honors as "those one-of-a-kind songs that have left an unforgettable imprint on our lives."
Companions for Heroes is a charitable organization that provides animals from shelters to serve as companions to active duty and military veterans, first responders, spouses and children, and Gold Star Families. Easton Corbin is donating $1 of every ticket sold at his concerts this year to go to Companions for Heroes. He has a new single called "Raising Humans." Easton told CMT.com, "Our veterans and active duty military put everything on the line for us and I want to give back in any way possible. Companions for Heroes is great because it helps not only veterans but also service dogs. It really is saving two lives and that is so powerful."
Billy Ray Cyrus joined the a cappella group Voices of Service for a special halftime performance during the Titans-Chiefs football game at Nissan Stadium in Nashville. They sang his "Some Gave All" in recognition of Veterans Day. The song was inspired by a real-life encounter he had with a Vietnam War veteran named Sandy Kane in the late 1980s. Voices of Service, a quartet based in northern Virginia, was a natural fit, Billy Ray tells Rolling Stone Country: "My dad was in a gospel quartet and it was all about four-part harmonies. When I heard Voices, I was turned on because it was just so reminiscent of that four-part, Southern gospel harmony that is so much a part of my past, present, and future. Then when I learned about their message and what they stand for, the hope and the therapy and the goodness of making music for your soul, for your mind, for your spirit — I just thought it was a beautiful thing."
Saving Country Music reports that the Nacogdoches County Sheriff's Office has identified the person who threatened to shoot multiple people at a Cody Jinks concert last month. A 45-year-old inmate in the Texas State Prison hid a contraband cell phone in the door frame of his prison cell and used it to monitor his girlfriend on Facebook. He called in the threat when he learned she would be attending the Cody Jinks concert. He has confessed to making the phone call and has been formally charged with a third-degree felony of making a terroristic threat. He has been in prison since 2006. The concert at the Nacogdoches County Civic Center is rescheduled for January 25.
A press release announces Janie Fricke, 71,is celebrating the 35th anniversary of three #1 hits from 1984: "Let's Stop Talking About It" (written by Deborah Allen, Rafe Van Hoy and Rory Bourke), "Your Heart's Not In It" (written by Tom Shapiro, Michael Garvin and Bucky Jones), and "A Place To Fall Apart," a duet with Merle Haggard (written by Merle Haggard, Willie Nelson and Freddy Powers). The two-time CMA Female Vocalist of the Year presented at the 53rd Annual CMA Awards show last week.
Dolly Parton has a temporary SiriusXM satellite radio channel. According to a press release, Dolly Parton's Heartstrings Radio launched this week on SiriusXM channel 62 and will continue until November 27. The station is playing her hits and providing "exclusive insights and stories from Dolly Parton and artists she has influenced." This is in conjunction with the release of her Netflix series by the same name.
LETTERS
Doreen Brown writes from Canada, "Thank you for forwarding all these very interesting articles; much appreciated; trust all is well with you; have been very busy since coming home. Just made up a 4-page article for an upcoming page in Our Canada magazine and sent it in. The scheduled date is Apr/May issue, but that could change, may be sooner; just had a writeup in our local paper re my trip to Nebraska and my Awards; am so appreciative; had a great time and it's always nice to meet new people, like yourself. Better scoot now and have breakfast, was up about 5 a.m. and wanted to get my article sent in and finished."
Tom Kaufman in Denton, Maryland, says, "As usual, another fine newsletter. You mentioned your favorite Doug Stone song is 'Fourteen Minutes Old'; mine is the same! The sad part (to me) is that I never hear it played, but they'll play things like 'In A Different Light' and others (good songs) but I don't hear 'Fourteen Minutes Old' nearly enough; wonder if maybe it is considered 'too country'? But that's okay; country music (the real kind) is what I like. Take care and keep those good newsletters coming."
Jo Western writes from Arizona, "Just a note to tell you how much we enjoy your newsletter. My husband, Johnny Western, suffers from macular degeneration, I read your newsletter to him every month. We love reading about so many of our friends."
Lisa Sutton in Nashville says, "I got tears this morning .. love seeing Mom and Dad mentioned in your newsletter… thank you!"
Rick Belsher in Edmonton, Alberta, Canada, writes, "Have written before, and want to say again, how interesting, and informative, your newsletters are. One of the things that strikes me is, how down to earth most country artists and people involved in country music, are. They have problems like everyone, but sure seem to be approachable, and give back. I often wonder if all the other entertainers not in country music give back and are as approachable. Probably not."
Bob & Sheila Everhart in Iowa say, "Thank you so much Diane for that very interesting and delightful 'review' of your experience at the Fremont Festival. We will always have a table with your name on it any time you want it. Thanks again, greatly appreciated."
Sheree Homer writes, "I thought you'd like to tell your readers about my book that has just been released. It's called Under the Influence of Classic Country and features 36 artists. A few of the singers profiled are Bill Anderson, Loretta Lynn, Ray Price, Charley Pride, The Oak Ridge Boys, Faron Young, Ernest Tubb, Waylon Jennings, and Jeannie Seely. Amazon has it for sale. It was recently named as one of the Top 40 country books of all time."
Dominique "Imperial" Anglares writes from France, "Thank you very much for the music newsletter and to have bring to us Charlie Walker's memories. I was very glad to find your name in the Acknowledgments section of Sheree Homer's new book, Under the Influence of Classic Country, published by McFarland. It is Sheree's fourth book and each one seems to be better than the previous one. Here thirty-six performers are profiled, including Faron Young, Ernest Tubb, Ray Price, Mickey Gilley, Jerry Reed and many others. Drawing on original interviews with artists and their associates, that book is essential for all the Country music buffs. An absolute need for all of us who support these artists who mean so much to us. Life wouldn't be the same without these Country cats."
Delma Fordham in Heflin, Alabama, says, "Thanks again for yet another great newsletter. I would like to wish one of my favorite singers a late Happy Birthday. Mr. Bill Anderson, I hope you had a great Birthday. And thank you for all the great songs you sing. I have a lot of them."
Lenore Koszalinski writes from Texas, "I enjoy your magazine. I send it to many people. Keep up the great work."
Moragh Carter writes, "Good to read your newsletters, even though I sometimes have to do catch-up with them. There is always so much news in them to read. I was interested to read Terry Smith's contribution in this one. Whenever I see his name I keep wondering if it's the same Terry Smith I met at Tom T. and Miss Dixie Hall's home in May 2014. Peter Cooper had kindly taken me there to meet Tom T. who had written a blurb for my biography of Jack Blanchard and Misty Morgan, 'In Harmony'. I do remember him saying he had a brother, Billy, with whom he recorded a bluegrass record that I had a copy of.
Dianne Harmon in Shreveport, Louisiana, says, "Great newsletter, as always. Would you please add Kent Gill to your newsletter email list? Kent toured with David Houston for many years and played on the Louisiana Hayride."
IN THEIR OWN WORDS
I don't remember who put me in touch with Tommy Overstreet, except that I called him for a telephone interview in 2014. He sounded cheerful and busy at his home in Hillsboro, Oregon. He died nineteen months later, on November 2, 2015, at age 78.
Oregon is my wife's home state. We were living in Branson. We love it out here. We've been here since 2001. Five years ago, I had a cardiac arrest. My lungs were bad. I used to smoke. I quit 22 years ago, but it came back and bit me. I've got emphysema. If your lungs are bad, it can cause a problem with your heart, or if your heart's bad, it can cause a problem with your lungs.
I've been writing an awful lot. Of course, I've been writing songs ever since I was sixteen years old. I'd written an autobiography several years back, and it just bored me to tears. I didn't like it. I've never published it. It's in the archives. My wife, Diane, gave me an idea. She says why don't you write about people you worked with over the years, and the stories you have. She said you've got a thousand of them or more. I said that's a good idea. So I sat down, and in a little over a year, I wrote about 65,000 words. A Road Less Traveled: A Memoir is out. It tells a little inside stuff on a few celebrities. It was good to do. I enjoyed it very much. I wrote it all–every word.
And I had a children's book that's out. Dale Vest was my cowriter. We wrote a few hundred songs together. He passed away in September of 2006–and we'd been writing songs together for about 38 years. We wrote this children's poem back in the '70s. I always viewed it as a possible animated film. But after he passed away, I said, y'know, maybe it's a book. I have an artist friend out here in Oregon, Jesse Anderson, and he's a wonderful artist, and he said he would do the illustrations. So we did the illustrations on the book. It's a hardcover, and it's just a beautiful little book, 33 pages, and I'm really proud of that book. It's called The Graham Cracker Kid and the Calico Girl.
I'm working on two new albums. One is an acoustic album we've been working on for a while. I can still sing. I just don't tour. It was time to quit. I'm 76 years old.
I had four buses in my career. The last bus, I bought brand new, off the assembly line, sold it seven years after I bought it, and it had a million 350 thousand miles on it. That bus is still on the road. Most of those buses, if they're well-taken care of and they don't have a wreck, they'll be on the road forty to fifty years. I sold one to Charlie Daniels; I sold one to Tommy Cash.
I've had a wonderful career. I've been very blessed. I'm a Christian man, I believe God knows best, not us. I had 26 top ten records, 7 number one records, and recorded 75 albums. I certainly reached all the goals I set for myself before I left Texas and went to Tennessee. I worked really hard. Never got into drugs or alcohol. My dad was a smoker, and it ended up killing him. I guess it's going to end up killing me. Unless they find a cure. I still believe in miracles. Maybe the Lord will heal me, I don't know.
Marty Robbins was a good friend. We did two or three major concerts together. He was a delightful guy to be around. He loved to play practical jokes. I did two performance on the NBC show they used to have, called Midnight Special, hosted by Marty Robbins. He was so funny. When he introduced me on the first show, he says, "Here's a friend of mine that sings only about girls." He said, "He's going to be singing about one of them." My hit was "Gwen, Congratulations," and then I had "Ann, Don't Go Runnin'" and "Jeannie Marie." He says, "Will you welcome Tommy Oversexed, I mean Tommy Overstreet." I started to sing, and it was just so funny, I said after the show, "You ornery guy." He just laughed. He thought that was so funny.
Music is wonderful, it's something we love, it's what we do, love the writing of it, the singing of it, the recording of it, and it's just wonderful. But the business end of it can be absolutely devastating. I think the record labels carry three sets of books–one for the board of directors, one for the IRS, and one for the artists. I'm not bitter at all, believe me. I was with Dot Records for nearly twelve years and had a wonderful run–a successful run–and I was treated very well. Unfortunately, they just never paid me. I mean, with the number one records–on "Heaven Is My Woman's Love" I had four gold records and never got paid for it.
My final concert in Texas was quite a show. It was for the Texas Country Music Hall of Fame. There was Gene Watson, Joe Stampley, Barbara Fairchild, Ed Bruce, Ronnie Prophet, and me all on the show. I told the audience when I came onstage, "My career started 62 years ago in Houston, Texas, and it ends tonight in Texas."
Don't be a stranger–if there's anything I can ever do to help, or you have any questions about our crazy racket of a business. It's been good visiting with you, dear. Take care of yourself.
SONG OF THE WEEK
Another story from Glenn Sutton's 1993 book, Crazy Verse: "Bedtime Story was written especially for Tammy Wynette. Billy Sherrill wanted to do something completely different, so he said let's write a modern-day bedtime story and put the three bears to rest forever. So armed with that in mind I went to a local book store and bought a ton of books on bedtime stories and fairy tales–then over the period of about a week we put a few lines together each day until we had a real live bedtime story for Tammy."