CONCERT REVIEW – DOUG STONE
My sister, Kayo Paver, went with me recently to Sisseton, South Dakota, to see Doug Stone at the Sisseton Performing Arts Center. We talked to him briefly before the show. I told him my favorite song of his is "Fourteen Minutes Old." He and his wife, Jade, had just driven in from Sturgis. He mentioned that he has been playing guitar since age five.
While waiting for them to arrive, we visited with the members of opening act Just Between Friends. Bass player Ron Kohl entertained the group with his stories. He said he now gets a good night's sleep after starting to wear a CPAP–and something about a firehose in the morning instead of drip-drip. I won't describe the gestures that went with the story.
John Seiber, who books the shows, has lined up New River Rising to open for the Mo Pitney concert on Sunday, November 17. John and Mo both love bluegrass, and John wants the South Dakota crowd to hear some genuine bluegrass, so he's booked a bluegrass band from his hometown of Caryville, Tennessee.
Doug Stone, 63, came onstage at 8:10 and performed a one-hour solo act with his acoustic guitar. Dressed neatly in black, he looked tall and classic. After his first song, he said, "You like this jacket? You've seen it, right? I can take it off now?" Removing the jacket showed a plain black t-shirt underneath.
Eight minutes into his show, Doug said, "We got a request for this backstage, so I'll do it for her now." He launched into "Fourteen Minutes Old," which definitely thrilled me! (It had been his second Billboard chart hit, reaching #6 in 1990.)
To introduce "More Love" (which reached #6 on Billboard in 1994), he said, "I wrote this song and then it came true. Now I'm writing one about the lottery." He didn't explain how the song came true, and I couldn't figure it out from the lyrics.
"I want to do my favorite song for you," he said when introducing "In a Different Light." He told us, "When I heard it, I thought, boy I wish I'd wrote that. It was my biggest record." It was also his first Billboard #1, in 1991.
While singing his second #1, "A Jukebox with a Country Song," he let the crowd sing the chorus to him. His set included his other two #1s, "Too Busy Being in Love" and "Why Didn't I Think of That."
Between songs, the crowd sat quietly, its full attention focused on Doug as he tuned his guitar. That seemed to make him nervous. Having played a bar in Sturgis the previous night, he commented on the change. "God, you are so quiet," he said. "Talk to each other or something."
When he said, "I live in a little house, about 1800 square feet–cuz I'm building my mansion in heaven," I thought a gospel song would follow. But it was "Little Houses (#7 in 1994): "Love grows best in little houses."
Doug introduced his final song by saying, "This is a depressing song." When he recorded "I'd Be Better Off (In a Pine Box)," he was told, "You're advocating suicide." He said, "No, I'm not. The key word is I THINK, not I'm GONNA." He was referring to the line, "I think I'd rather die, and go to hell and face the devil . . ." in the chorus. The release of "I'd Be Better Off (In a Pine Box)" gave him his Billboard debut, with the single reaching #4 in 1990, and beginning a 4½-year string of 14 consecutive top ten hits.
Join us in Sisseton, South Dakota, on Sunday, November 17, for Mo Pitney's acoustic concert, with New River Rising hitting the stage at 7 pm.
And if you ever get a chance to see Doug Stone in concert, don't miss it.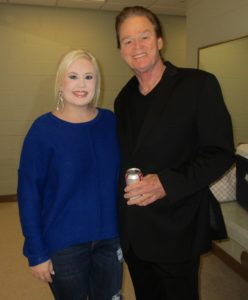 NEWS
Omnivore Records has released An American in Texas, an album containing the music of Uncle Walt's Band from the 1970s, which features David Ball as a ten-year member of Walter Hyatt's band. An expanded 25th anniversary reissue of Thinkin' Problem follows on Nov. 15. David co-wrote his biggest hit, "Thinkin' Problem," with Stuart Ziff and Allen Shamblin. These days, he enjoys playing the Nashville Palace and American Legion Post 82, home of Honky-Tonk Tuesdays. "It's people that are there to hear the music," David tells Wide Open Country. "If you play a show in Nashville, you're usually going to get an industry crowd. They try, but they're not a lot of fun. They stand around and look at what the other guy's doing and what his reaction is. I don't know if they teach that at Belmont–how to be like a bowl of oatmeal when you are listening to music. Have no emotional connection to music whatsoever. I have to start tapping my foot if I like it." Stay tuned for my next newsletter when David Ball is IN THE SPOTLIGHT.
Luke Combs caught up with Shania Twain. His debut album, This One's For You, spent 50 weeks at the top of Billboard's Top Country Albums chart, thus tying Shania's 1997 record for Come on Over. Two months ago, he passed the record for top male artist, which had been held by Randy Travis since 1987 for Always and Forever.
The 2-year-old granddaughter of late country legend Chris LeDoux tragically choked to death on October 20, reports Taste of Country. Paramedics were called to the family home in northeast Kansas but could not resuscitate Haven LeDoux. Her parents are singer-songwriter Ned LeDoux, 42, and his wife of 11 years, Morgan.
Raleigh Davis Beougher, stepson of Randy Travis, was arrested last week for assaulting his girlfriend. After being charged with domestic assault with bodily injury, false imprisonment, and vandalism, he was released on $8,000 bond. According to Scoop Nashville, neighbors called the police about a domestic disturbance at a West Nashville residence. Raleigh, 23, and his girlfriend had argued at a party about him using drugs. She says he pushed her on the ground and stomped her face with his foot. The police report said his green shoe left a green residue on her face and arms. After several people pulled him off her, the couple left the party and went home. The assault continued until police arrived. After being released from a 12-hour domestic violence hold, Raleigh ordered a drink in a bar and posted on Instagram, "Been a long day, give me energy."
During a city council meeting, Memphis Mayor Jim Strickland and the Memphis City Council presented Deborah Allen–singer, songwriter, producer and performer–with a resolution acknowledging her 40-year contribution to country music. October 15, 2019 was officially declared "Deborah Allen Day" in Memphis, Tennessee, according to a press release. "When I was just a little girl confiding to my mother my dreams of becoming a singer, an entertainer or an actress, she took me and my dreams to heart," Deborah said. "I was mesmerized by the deep sense of Memphis heritage she planted in my soul. I am so proud to be from Memphis and extremely honored to be recognized in such a special way."
Saving Country Music reports that Cody Jinks canceled his show in Nacogdoches, Texas, after the Nacogdoches County Expo Center received a telephone threat via an online app. The FBI, Texas Rangers, and Texas Department of Public Safety are working with the Nacogdoches Country Sheriff's Office to determine who made the threat and why.
A press release announces the appointment of Lee Greenwood to the John F. Kennedy Center Board of Trustees for a five-year term. He also serves on the National Endowment of the Arts' National Council on the Arts. He has met or performed for nine United States Presidents.
Martin Scorsese's new movie, The Irishman, opened in theaters November 1. It stars Robert De Niro, Al Pacino, and Joe Pesci. The 20-cut soundtrack, to be released November 8, contains classics from the 1940s and '50s, including "A White Sport Coat (and a Pink Carnation)" by Marty Robbins. Soundtrack.net describes The Irishman as "an epic saga of organized crime in post-war America told through the eyes of World War II veteran Frank Sheeran, a hustler and hitman who worked alongside some of the most notorious figures of the 20th century. Spanning decades, the film chronicles one of the greatest unsolved mysteries in American history, the disappearance of legendary union boss Jimmy Hoffa."
Grace Pauline Kelley, 23, daughter of Wynonna Judd and Arch Kelley, is being released from prison five years early, reports RadarOnline.com. She was granted parole on October 15 and will be released November 8. She has been in the West Tennessee State Penitentiary since March 2017, when her probation was revoked and she was sentenced to eight years in prison. Charges included meth manufacture, possession of meth, evading arrest, and being a fugitive from justice.
Chely Wright, 49, has revealed she suffered a stroke a year ago. CNN Entertainment reports she is urging women to know the signs of the disease. After three days of a migraine, she dropped her sons off at school and drove to a hospital emergency room. Doctors performed tests and confirmed she'd had a stroke. "I sort of knew it," she recalls. "What I had been experiencing with that headache and leading up to that headache was different. I'd even said aloud to myself in the bathroom mirror, 'Did you have a stroke?'" Now she tells women, "Pay attention to your body and encourage your loved ones to do the same."
A press release describes the premier of Don Williams: Music & Memories of The Gentle Giant at the Schermerhorn Symphony Center: "As the show opened, those in attendance gazed at the 25-foot wide video screen, which flashed album covers, photos and footage highlighting Don's nearly 50-year career in country music all while the Nashville Symphony performed a specially crafted overture. Keith Urban, who made a surprise appearance on Saturday night to watch the show he curated, popped up on the video screen to explain the concept of the show." Don's touring band, consisting of Mark Johnson (bass), Mike Noble (guitar & band leader), John Gardner (drums), Chris Knoll (keyboards & accordion), and Steve Peavey (guitar) joined the Nashville Symphony to perform 25 of Don's hits. Video footage from Africa, Ireland, and Branson–from the 1980s to 2014–highlighted Don's massive international appeal.
Famed harmonica player Jelly Roll Johnson is playing in a sold-out tribute at the Bluebird Cafe tonight to encourage people to register as organ and tissue donors (www.BeTheGiftToday.com). The Tennessean reminds us that 22 people die every day while waiting for life-saving transplants. Only 58% of Americans are registered as organ donors, with only 40% of Tennesseans registered. Jelly Roll received a liver and kidney transplant in late July 2017. He suffered from a hereditary disorder, polycystic kidney disease, that killed his father. He was diagnosed in 1981, after being tested as a potential organ donor for his father, who died in 1988. Jelly was touring with Con Hunley during this period, and his session work included playing harmonica on more than 50 gold and platinum albums. When Jelly's organs begin to fail, his liver grew to 15 pounds, he underwent eight surgeries, and spent every night on a dialysis machine. In the two years since his transplant, Jelly says, "I think about the donor and his or her family every day. I'm grateful, and at the same time I realize they've had a tragedy."
Bill Anderson reports in his latest newsletter to his fan club: "October was a great month here in Whisperville, starting with the Dottie West birthday bash on the 9th. Jeannie Seely, who puts these events together every year to remember her longtime friend, Dottie, chose to honor me this time, and what an array of talent she rounded up. There's no way I can list everybody who came, but so many of my friends and co-writers showed up to play songs I had a hand in creating. Even better, the event raised almost $30,000 for the Musicians Relief Fund." He adds, "On October 11th, former President Jimmy Carter and his wife, Rosalyn, honored us with their presence at the Opry, on the 12th we honored Dolly Parton on the occasion of her 50th Opry anniversary, and on the 14th I inducted my friend and co-writer, Sharon Vaughn, into the Nashville Songwriters Hall of Fame. On October 21st and 22nd we gathered at the Mansion Theater in Branson to celebrate another Country's Family Reunion with fans and friends. I had to go on the road on my birthday to get some rest!" Bill celebrated his 82nd birthday on November 1. "For what may have been the first time ever, I worked a concert on my birthday, and the folks in Scottsburg, Indiana, couldn't have been nicer," he says. His favorite greeting was, "Happy Birthday young man!"
Nash Country Daily reports that Kris Kristofferson will be honored by the Country Music Association with its 2019 Willie Nelson Lifetime Achievement Award. A special tribute will be performed during the CMA Awards show on November 13. The award recognizes an artist "who has achieved both national and international prominence and stature through concert performances, humanitarian efforts, philanthropy, record sales, and public representation at the highest level." Previous recipients include Willie Nelson (2012), Kenny Rogers (2013), Johnny Cash (2015) and Dolly Parton (2016). This is not to be confused with the Kris Kristofferson Lifetime Achievement Award presented during the Nashville Songwriter Awards show, won this year by Loretta Lynn for "contributions to the American songbook and inspiring the careers of others."
LETTERS
Jeannie Seely says, "Great newsletter as always. Sorry I missed you in Fremont for the festival …. thanks for the mention again."
Cowboy Joe Babcock writes from Nashville, "Enjoyed your comments about Bob's festival in Fremont, Nebraska. I couldn't make this one because of my wife's health problems. However, I wanted to let you know I have been inducted into the International Western Music Hall of Fame and will try to make it to Albuquerque in November. Always enjoy your newsletter."
Richard White sends this information: "I read your newsletter every time it is released and enjoy it very much. I noticed a misprint in it this time. The Opry moved from the Ryman March 16, 1974 and not in 1984 as you had printed. Interesting tidbit about that circle they revere so much – it came from behind the backdrop at the Ryman and not out front so not many people outside of stagehands prior to recent years ever walked on that piece of wood. Also, it is not the first circle they cut for the Opryland location. It is actually the second one. The first one in 1974 did not take and they had to cut a second circle to replace it next to the first one from behind the backdrop. They put plywood down to cover the hole between times. It has also been moved from its first location in the new stage in 1974 five different times – the Opry artists sang very close to the edge of the stage in 1974 and were moved further back several times beginning in the 1980s. The bulk of that circle sat in front of the performing artists originally. Just thought you'd like to know some background on that circle of wood."
Andy Williford says, "We just had our High School Reunion on October 19 and you can imagine all the Faron Young stories, because we have a ton of them. Just a few of his inner circle left. Glenn Flesher, who taught him the guitar, Patricia Colby, Betty Rothenberger, Marvin Young, Dorothy Bagley, and me. Your newsletter is great, and I appreciate you sending it to me."
Larry Jordan writes, "Your newsletters are a welcome respite from all the stress we are experiencing these days. I don't know how you gather so much information on all matters related to country music and the various personalities, but you do. I was interested to read your interview with Johnny Seay. He appears in the color home movie Okie Jones shot during the search for Jim Reeves' plane — a film which I now have in my possession. The two of them went out looking for the plane, as did a couple of thousand volunteers. Johnny is wearing a cowboy hat as they search the countryside. Then you see the actual Reeves crash site. (I edited the video to omit any upsetting scenes. Over 643,000 people have viewed this video). It was so ironic and tragic that about five decades later, Johnny himself became the victim of a plane crash on May 14, 2016. You should watch a video of a song Mr. Seay wrote and recorded called 'If.' https://youtu.be/eTgBuoEs5fs"
Jenny Jones sends greetings from Texas: "Once again a well-written Newsletter. Enjoyed all the great news, that kept me busy… I have connected with Debbie Blakley and we caught up with a lot of information about the family…Wish I had a recorder, about the family since I left them so long ago. We are going to keep in touch, and I am looking forward to many more words from her. Her youngest brother, that I took care of all those years ago, now lives in Nashville. I am looking forward to getting some of Jimmy and Dorothy's records off YouTube. Dominique has put a couple songs from Mercury…Starday on there for me."
Mary Mitchell writes, "Great News Letter. I just want to mention Bill Anderson. He truly is Mr. Nashville. I have known Bill for several years and his great band. I also listened to his DJ presentation. Bill, don't give up what you are doing so well. Bill has a pet name for me 'Pars.' That was created when I was a Rep for his Fan Club. Les Singer is a fun guy to be around. What great Talent he has. Thanks for mentioning him. Another mention is David Frizzell. He has some really true Country Songs. There is so little true Country Music on radio anymore. I really have no one at this time that can fill their shoes. I haven't heard Clint Black in years–then to think HOF surprises me. Guess choices are slim and none. Just my opinion for what it's worth. Hard for me to believe Marty Robbins could hold a grudge. However, he could hold the high notes. Miss him and always will."
Dominique "Imperial" Anglares writes from France, "Thanks for that long and very interesting newsletter with great memories by Johnny Seay. A welcome reading to start that day before spinning some '50s Country music."
Grant Heywood in Canada says, "I would appreciate receiving your Country Music Newsletter. I know the work involved firsthand, in putting together news & stories in such a venture. Please add me to your list. Thanks from your Canadian friend."
Lisa Sutton sends this information about Lynn Anderson Day 2020: "I want to be sure that anyone who wants a rose, gets one. And anyone who wants to come to the events next summer, gets on the queue. Please follow this link and ask to be included in the email: SIGN UP FOR THE LYNN ANDERSON NEWSLETTER There is lots of information on our new website: LynnAndersonRoseGarden.com"
Terry Beene writes, "My 42nd Branson Terry Music Awards will be September 20, 2020. I would love to have you as our VIP Guest next year. If it's something you might like to do, we would be honored to have you there. We have a mutual friend Tracy Pitcox he hosted it for 10 years in Texas also he came to Branson this year."
Diane: I'm honored, Terry. This sounds wonderful, and I accept. See you in September.
IN THEIR OWN WORDS
I interviewed Charlie Walker for both my Faron and Marty biographies, the first telephone call to his Hendersonville, Tennessee, home in 2001 and the second in 2006. Charlie had moved to Nashville from Texas and joined the Grand Ole Opry in 1967. He died September 12, 2008, at age 81.
The Old Barn, in San Antonio, six miles east on Highway 90, on the road to Houston, was a honky tonk, a bar of mine. I booked everybody. Hank Williams, Sr., and Ernest Tubb, Hank Snow and Bob Wills, everybody played there. You could put about 7-800 in there. I booked everybody in the business at that time; if they were in country music from '51 to '65, I booked them in San Antonio. Somebody called me and I said, "How much do you want?" He said, "$75 will get him." Marty Robbins had one record that was doing pretty good. He came and played the deal, and he was so timid he wouldn't even talk to the audience. I told him, "You don't have to stand up there and sing for four hours. Everybody comes and sings 30-40 minutes, gets off." He said, "Yeah, but I don't know what to say to them." Three months later, after he went to Nashville and joined the Grand Ole Opry, the Opry manager called and asked if I'd like to book him again. I said, "Yeah, how much do you want?" He said, "$300." I said, "You just charged me 75, the last time." He said, "Yeah, but he's a member of the Opry now." In those days, once you hit the Opry, boy.
When Marty came the next time, he told me, "You're gonna see a different guy this time, than you did last time." I said, "What do you mean?" He said, "I've learned how to talk to the people," and so forth and so on. And then of course he went on to become one of the better-known stars in our business. He wrote some good songs, and he was a great singer, that's for darn sure. He didn't carry a band in those days. There wasn't too many of them carried bands. Couldn't afford it; it cost too much money. You carry musicians if you need them, and if you don't, you go by yourself. Depends on where the place is. I came up here and joined the Opry myself. I played every place in the United States that's any size at all, over the years, after I had hit records of my own. I can remember when Johnny Cash was the first guy to make a thousand dollars a night, with him and two musicians. And, hell, they won't even take their guitar out of the case now for that.
I was the best golfer in the music business, period, and one of the first ones from country music that got into golfing. I'd taken it up seriously back in the early '50s and worked with pros and everything. I played in the Jackie Gleason tournament, and they had every celebrity in the nation down there–ballplayers, the President was always down there, and I took Faron. This was about the time country music was starting to really get into the mainstream, and a lot of people that hadn't been familiar with it before began to hear about it a lot. So one of the directors of the golf tournament told me, "Charlie, if you would like to bring one of your friends down with you from Nashville, somebody from country music–go ahead and do that next year, and we'd be glad to have him." I asked Faron–we used to play a lot of golf together around here, and I'd known him from the time he got started in the business. A lot of people down there, like Mickey Mantle and some of these guys, they were big country music nuts. Mantle's all-time favorite song was a record I had, called "Pick Me Up on Your Way Down." He told me he carried a little record player with him, and when he and his buddies would get back to the room after a game, he'd order up a couple six packs of beer, and he'd put his little record player on. He had my records and Ernest Tubb's, Bob Wills, and I think maybe Faron and Jim Reeves. Anyway, he got a kick out of meeting Faron. I think Faron went with me twice to the Gleason tournament. Gleason got out of it when they changed sponsors, I think. But I went from the time it started, six or seven years.
I was the guy came up with the idea for [the pro-celebrity tournament in Nashville]. Faron, naturally being interested in golf, was one of the guys that got involved with it. It was during our disc jockey convention. I was with Columbia Records at that time. We approached Columbia with the idea of sponsoring it, and they said, ah, I don't think there's enough people want to play golf, we won't fool with it. So we had to do it on our own. We got some people to sponsor it, and got the Tennessean involved in it, and of course WSM. It became a very big thing. It lasted about ten years and then kinda fizzled out. I don't know what happened. But it was a big thing and raised quite a bit of money for charity. We had 2-3 charities that was getting the money out of it. Faron was involved in that.
Faron was a good businessman. For any faults that he had, and we all have faults, and I won't get into that, but he was a very good businessman. He was a guy that when he made money, he invested it, wisely. So many entertainers make a lot of money, but by the time they get through buying Rolls Royces and two million-dollar homes, they end up at the end of their career with no money. Faron was one of those guys that, even though he spent a lot, he still invested. He did very well–got in the publishing business, and some other things. He was a good businessman. I liked him–thought a lot of him.
His agent that he had all those years, Billy Deaton, was kinda like a protegee of mine in Texas. He used to come around, hang around, and watch me broadcast, and I'd go out on the weekend and work a club or something, and he'd go along with me–help me drive, and things like that. He was wanting to be a singer. I said, if you want to get to know some of these guys, why don't you talk to the guy at the NCO club there, and see if he'll book some of these acts. So he went and talked him, and I helped him get Ernest Tubb for his first act at the NCO club. Then he got to know Ernest, and then he brought Faron in, and Faron liked him, cuz he was clean-cut. Finally Faron decided he wanted to start his own booking agency. He had gotten to know Billy pretty good, so he talked him into moving to Nashville and running his own booking agency. So that's how Billy came up here. He and Faron had, as far as I know, a good relationship all those years.
We all miss Faron, and he was really–I thought–a very nice person when he had his wits all together, and I thought the world of him, and hope the book is very successful. I think there will be a lot of people enjoy reading about him.
It's good talking to you. If I can help you again, just give me a call.
SONG OF THE WEEK
A story from Glenn Sutton's 1993 book, Crazy Verse: "In 1966 Billy Sherrill and I had just started writing together. Billy was the head of Epic Records and had a number of artists he was recording at the time–one of those being Charlie Walker. We were at his house one night working on a song and we had a couple of verses but still had no chorus or real hook–we sat for hours trying to think of one with no luck–we were just about to call it a night when Billy was settin' at the piano thumbin' through an old hymn book–he came across a title that caught his eye and thus 'Almost Persuaded' was born. We finished it in about an hour. Charlie Walker was on tour at the time and Billy had David Houston recording the next week so he cut it on him–we really didn't think too much of it at the time so a song called 'We Got Love' came out as the 'A' side. Thanks to a D.J. in Atlanta named Mack Curtis who played the 'B' side on his morning drive time show and got over 100 phone calls–our lives were changed forever. To this day when I see Charlie Walker, he still reminds me that 'Almost Persuaded' was written for him–but, like they tell that tuna in that commercial—'Sorry, Charlie.'"