MUSIC FESTIVAL IN FREMONT
Bob Everhart invited me to come to Fremont, Nebraska, to talk about and sell my books at the 44th National Old Time Country & Bluegrass Festival. Bob and his wife, Sheila, who operate the nonprofit National Traditional Country Music Association, moved their festival from its previous location in LeMars, Iowa. The event covered four days (October 3-4-5-6) and three stages, with more performers than I could count.
The Christensen Field House was an excellent venue for the festival. In addition to stages in two smaller rooms, the main hall held the main stage, a kitchen, plenty of room to roam around, and display tables on three sides of the hall. An ongoing jam session in the entryway added to the musical variety.
I missed Jeannie Seely, who had been there Thursday night. Sharon Kenaston, with the Kenaston Family band, sang Jeannie's "Sometimes I Do" and said she might put it on her next CD. The Kenastons, as usual, put on a great show, with their music and the beautiful harmonies of Sharon and Vanessa.
One singer performed Bill Anderson's "Old Army Hat." The crowd stood for the whole song, and many of them uncovered and placed their hands over their hearts, as if it were the "Star Spangled Banner." I later noticed they responded that way to every patriotic song. To me, that detracts from the importance of our National Anthem. My opinion obviously isn't shared by everybody.
Dale Eichor of KWMT 540 in Iowa, and a member of the DJ Hall of Fame, introduced himself to me as a reader of my newsletter. It's always great to meet online friends in person. Cynthia DiMarco told me she'd bought my books in LeMars in 2013, when I was there to be inducted into America's Old time Country Music Hall of Fame as a biographer. She is now a newsletter subscriber, as is Don Joy from Missouri. He and his partner performed classic county music as Don Joy and Melanie Lynn.
Terry Smith, writer of "Far Side Banks of Jordan," gave several performances. We had a nice chat, too. I bought his The Second Time Around CD and listened to it all the way home Saturday night, on my three-hour drive back to Sioux Falls.
At the table to my right was a pair of sisters from Canada. Doreen Brown was on the program as a singer; Donna White came to the festival with her. They told me about their travels, and they both signed up for my newsletter.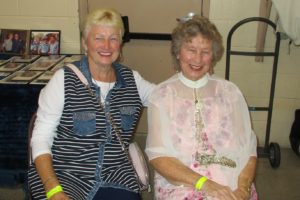 Lindsay Waddington from Australia had the left side of my table. He and Ken Lindsay, known as Chainsaw, played beautiful guitar music. A steady stream came to the table to buy CDs, and buyers were uniformly amazed to learn Lindsay was giving away his CDs. He autographed them all, and I never saw any money exchanged. Someone explained that he had to declare them as giveaways to avoid paying customs charges.
Gail Davies was the headliner Saturday night. During the day, people asked me if I was Gail. I'd say, "No, I'm Diane," and point to the books in front of me, and then to the empty spot to my right, where a sign read GAIL DAVIES. I compared our photos in the program and could see a similarity in appearance. When Gail arrived and set up her CDs, I sold them for her while she wandered around the room. We were continually asked if we were sisters: "It's obvious you're sisters; you look so much alike." The questioners were disbelieving when I said we'd never met before.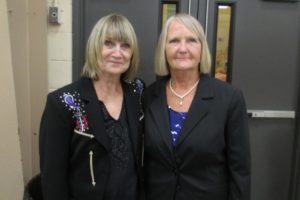 Bob Everhart introduced 12-year-old William Lawson who sang and played his guitar. "Don't forget," Bob said, "Alison Krauss was on this stage when she was 12 years old. And where is she now?" Gail Davies went onstage and sang harmony on a few songs. Someday, when William Lawson is a star, I'll be able to say I heard him when he was only twelve.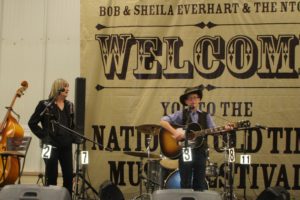 NEWS
Bob Kingsley, 80, died October 17, at his home in Weatherford, Texas, shortly after being diagnosed with bladder cancer. His 60-year radio career resulted in his induction into the Country Music DJ Hall of Fame and the National Radio Hall of Fame. He began hosting American Country Countdown in 1978. He and his wife, Nan Kingsley, started Bob Kingsley's Country Top 40 in 2006. He received the first Bob Kingsley Living Legend Award, presented in 2014 at the Grand Ole Opry House; the annual event benefits the Opry Trust Fund. According to Nash Country Daily, a celebration of life will be held November 14 at the Country Music Hall of Fame and Museum in Nashville. In lieu of flowers, the family requests donations to the Country Music Hall of Fame and Museum or the Grand Ole Opry Trust Fund.
Pedal steel guitarist Sonny Curtis, 83, died October 11, after suffering from Alzheimer's disease. He lived in Somerset, Kentucky, with his wife, Barbara. A longtime sideman for George Jones and Tammy Wynette, Sonny joined the Jones Boys in 1964. Tammy came into the show when she married George in 1969. After their 1975 divorce, Sonny stayed with Tammy's band until 1980. During those 16 years, he backed dozens of performers on package shows. The Tennessean reports he recorded with George in the 1960s, and he released his own album, Reflections, in 2002.
When Clint Black was inducted into The Music City Walk of Fame this week at Nashville's Walk of Fame Park, he played a harmonica instrumental, "Fox Chase," which had been made famous by fellow inductee, the late DeFord Bailey. Bailey's daughter, Dezoral Thomas, 85, accepted her father's star. The other inductees were Lady Antebellum, musician and songwriter Mac McAnally, and the late Chet Atkins. Nashville Mayor John Cooper, according to The Tennessean, compared Chet's long wait for his star to Gandhi not receiving the Nobel Peace Prize. Steve Wariner accepted the award.
Barry Carpenter, 67, of Watertown, South Dakota, died unexpectedly on October 17. He was the drummer for the Red Willow Band, a South Dakota institution since the band's 1974-1982 heyday. The group still draws a crowd for reunion shows. The Red Willow Band was inducted into the South Dakota Rock and Roll Hall of Fame in 2015.
To celebrate Talladega Superspeedway's 50th anniversary two weekends ago, the Aero Warrior Reunion displayed 200 vintage race cars, including four that competed in the initial 1969 Talladega 500. They were Richard Petty's No. 43 Plymouth Superbird and three Dodge Daytonas: No. 71 of Bobby Isaac, No. 22 of Bobby Allison, and No. 42 of Marty Robbins. Motorious reports that rain sent the vintage racers to covered garages, which resembled the garages from the 1969-1970 NASCAR seasons. The 500-mile race was delayed until Monday afternoon. Ryan Blaney, driver of the #12 Dent Wizard Ford, took the checkered flag.
The 24th Medallion Ceremony took place October 20 in the CMA Theater to induct the newest members of the Country Music Hall of Fame: Ray Stevens in the Veterans Era Artist category, Brooks & Dunn in the Modern Era Artist category, and country music executive Jerry Bradley in the Non-performer category. The Country Music Hall of Fame now holds 139 members.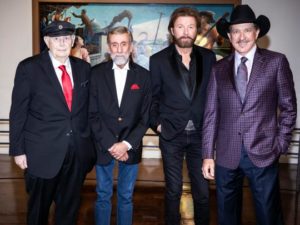 BMI announced that Dwight Yoakam will receive the President's Award during the 67th annual BMI Country Awards event, which will be an all-star salute at BMI's Nashville headquarters November 12. Past BMI President's Award recipients include Kenny Chesney, Harlan Howard, Brooks & Dunn and Billy Sherrill. According to Variety, the award honors "songwriters who have distinctly and profoundly influenced the entertainment industry." A new honor, the Legacy Award, will recognize a song that's endured in the public consciousness. The first recipient will be "Rocky Top," written by Felice and Boudleaux Bryant.
The Grand Ole Opry celebrated a special 50th anniversary on October 12 with two sold-out shows. Dolly Parton became a member of the Grand Ole Opry on January 4, 1969. "I'm so thrilled to be celebrating my 50-year anniversary with the Grand Ole Opry," she said in a statement. "I'm also excited that NBC wanted to share in this milestone with me. Together we hope to entertain a broader audience on what the Grand Ole Opry is and what it means to me." Special guest performers included Dierks Bentley, Emmylou Harris, Chris Janson, Toby Keith, Lady Antebellum, Margo Price, Hank Williams Jr., and more. Dolly performed her hits during both shows (7 and 9:30). Every song received a standing ovation. The Tennessean reports she introduced "Joshua" by saying, "It's about an ole boy I fell in love with back there in the Smokies. . .. I've been writing songs since I was a little ole bitty thing. . .. I'd write stories and paint pictures, and I'd sing them to my family. We felt like we were going to the movies. Some of them are true. Some of them are false, and some of them are based on a thread of truth — like this one." When she finished singing "Jolene" and an audience member yelled, "I love you, Dolly," she shot back, "I told you to wait in the truck." Famed banjo player Buck Trent joined her onstage to sing Porter Wagoner's biggest hit, "Carroll County Accident." She closed her set with "I Will Always Love You." Between shows, Tennessee Governor Bill Lee presented Dolly, 73, with a proclamation declaring October 12 as Dolly Parton Day. A two-hour special, Dolly Parton: 50 Years at the Grand Ole Opry, will air on NBC-TV on November 26.
Award-winning producer/engineer Ed Cherney, 69, died October 21 of an undisclosed illness, reports Pro Sound News. Two of his Grammy Awards were for Willie Nelson albums: Summertime: Willie Nelson Sings Gershwin (Best Traditional Pop Vocal Album, 2016) and My Way (Best Traditional Pop Vocal Album, 2019). His first Grammy came in 1994, when he recorded and mixed three of the five albums nominated for Best Engineered Album – Non-Classical. Bonnie Raitt's Longing in their Hearts won.
Saving Country Music reports the Opry Entertainment Group will launch a television channel in early 2020 with the help of Atlanta-based Gray Television. The new network will be called "Circle," in reference to the wooden circle on the current Opry House stage that came from the Ryman Auditorium stage when the Opry moved in 1974. The new network promises a weekly broadcast of the Grand Ole Opry. Whether it will be a live broadcast hasn't been announced.
The third annual Dottie West Birthday Bash brought a sell-out crowd to 3rd & Lindsley in Nashville for an all-star concert hosted by organizer Jeannie Seely and introduced by Charlie Monk. In addition to celebrating Dottie's birthday and memory, the event also honors another musician or artist who has made an indelible impact on country music. Bill Anderson received that award. He and his Po Folks Band performed, as did Tim Atwood, Jamey Johnson, Jon Randall, John Schneider, and numerous others. According to a press release, this year's event raised over $28,300 for the Nashville Musicians Association, all of which went to the Musician's Emergency Relief Fund.
Hundreds of Habitat for Humanity volunteers from across the country recently joined the Carter Work Project, during which former President Jimmy Carter and Rosalynn helped build 21 homes in the north Nashville neighborhood of Park Preserve. The couple worked on every house, the former president with a drill and nail gun and the former first lady with a paint brush. Trisha Yearwood and Garth Brooks, who have been Habitat volunteers for 15 years, worked with them. Trisha told WKRN News 2, "I was the youngest in my family and my mom used to let me . . . take all the doorknobs, all the knobs, off the kitchen cabinet and put them back on. She let me do that, so I think I've just always really liked to do this kind of thing. It's fun, and the joy it brings us as volunteers to help somebody else have a house for themselves you can't even describe." On Friday night, October 11, reports The Tennessean, the Carters attended the Grand Ole Opry as guests of Garth and Trisha. WSMV News 4 reported on the lunchtime music that inspired and motivated the volunteers. Suzy Bogguss, one of the entertainers, said, "Everybody was wonderful and seemed to be happy to have someone to come out and entertain." Riders in the Sky performed, as did songwriter Don Schlitz, who sang his Randy Travis hit, "Forever and Ever, Amen."
Billboard reveals that Tony Conway, manager for Randy Travis, was the person who came up with the idea for "The Music of Randy Travis" tour, after watching the Nashville Symphony perform the music of Led Zeppelin. He hired James Dupré, who'd portrayed Randy's son in a 2015 movie, to sing Randy's hits, backed by Randy's former band members. Although most of the tour dates were later canceled because of production problems, the remaining ones provided an opportunity for Randy to meet the public. As Billboard explains, "Travis, a revered artist of the 1990s with seven Grammys to his name, hasn't given up on a seemingly impossible conundrum: how to perform when you physically can't."
Rex Allen – America's Last Singing Cowboy is the latest release by Country Rewind Records and the first in a new Western Heritage Series, proclaims a press release. Rex Allen was a singer, songwriter, Western movie star, television actor, and narrator of Disney movies and TV shows. Rex Allen Jr. says the songs "are just gorgeous pieces of Western material with the Sons of the Pioneers singing background vocals. It is absolutely magical. The world needs to hear these songs."
When the October 31 performance of Don Williams: Music & Memories of The Gentle Giant takes place at Nashville's Schermerhorn Symphony Center, Don Williams will become the first country artist to tour post-death; he will appear via special technology while his touring band performs live. "It has taken us over a year to get this show together," says his longtime manager, Robert Pratt, in a press release. "Fans will experience something that is truly remarkable as they will see performance footage of Don that has rarely been seen and all of Don's vocals were taken from live recordings as they were performed around the world." The music will be accompanied by the Nashville Symphony, and Keith Urban will serve as the show's curator. Don's 1971 M CI tour bus, 'Gypsy Lady', will be on display, as will his Country Music Hall of Fame medallion, his cowboy hat and jean jacket, and several guitars and Gold records. Don Williams, nicknamed The Gentle Giant of Country Music, was inducted into the Country Music Hall of Fame in 2010.
The $2,000 reward promised by Junior Brown after the theft of his guit-steel guitar, "Big Red," and his wife's acoustic guitar has been increased to $3,000. "My wife and I are both veterinarians here in Monahans, Texas," Trey Armstrong writes on Facebook. "I've been a big fan of Junior Brown since the first time I heard 'Highway Patrol.' I would like to add $1,000 to the reward money being offered ($2,000 by Junior Brown) for the safe return to his guit-steel and his wife's Martin guitar."
KVIA-TV in El Paso, Texas, reports that police were called to the Las Cruces, New Mexico, hotel room of Gretchen Wilson at 3:30 on a Sunday morning, because of noise. The hotel staffer who made the call, after numerous visits to the room, said, "She said she was a celebrity, but I forgot to get her name. Apparently, Gretchen something. She just played in the Country Music Festival." Gretchen later posted on Twitter: "Was a guest in Las Cruces NM yesterday & had a blast w/ the people there. However, you should all band together to put Hotel Encanto out of business. Had to wait 2 hrs for breakfast. Then they sent police to kick me out in the middle of the night for no reason. I complied. Home early."
The second annual "Frizzell and Friends LeftyFest Music Festival" will be held in Corsicana, Texas, on November 2 at the Palace Theatre. David Frizzell organized the tribute to his late brother and serves as host. According to the Corsicana Daily Sun, "The special evening of music will include an insightful Q&A on the life, music and enduring legacy of Lefty Frizzell with David Frizzell and younger brother, Allen Frizzell." Lefty, who was born in Corsicana in 1928, was inducted into the Country Music Hall of Fame in 1982. He died in 1975, after suffering a massive stroke at age 47.
Nash Country Daily reports Trace Adkins, 57, married actress Victoria Pratt, 48, in New Orleans on October 12, with Blake Shelton serving as wedding officiant. The couple met on the set of a 2014 movie, The Virginian, where they both had starring roles.
Rolling Stone Country recently interviewed Martina McBride about her new podcast, Vocal Point. The first episode, which aired September 27, featured Garth Brooks, who gave Martina her first big break. She says, "I'm sort of an introvert so I was like, 'I don't know if I'm going to be any good at this. I don't really want to sit down and talk to people.' But I'm enjoying it." She plans to release new episodes weekly; 26 episodes are planned for the podcast's first season. "The listeners will hear a different side of these artists, and they'll hear a different side of me as well," she promises. Upcoming guests include Brenda Lee, Runaway June, Pam Tillis, Dustin Lynch, and Rosanne Cash, to be a mix of country history and its present and future.
Josh Turner won his first Gospel Music Association Dove Award on October 15, reports Nash Country Daily, when he was given the trophy for Bluegrass/Country/Roots Recorded Song of the Year. His cover of Hank Williams's hit, "I Saw the Light," appeared on his first album of gospel music, I Serve a Savior, released in 2018.
A two-hour Songwriting With Soldiers concert recently took place at Nashville's War Memorial Auditorium, reports Sounds Like Nashville. It featured performances by songwriter-artists such as Radney Foster, Beth Nielsen Chapman, and Mary Gauthier, who performed selections off her 2018 album, Rifles & Rosary Beads, which earned a Grammy nomination for Best Folk Album in 2019. All eleven songs were written with veterans and their families. Before singing "Bullet Holes in the Sky," she invited co-writer Jamie Trent, a U.S. Navy veteran, to join her. She told the audience she had the idea for the chorus but not the rest of the story, until Trent gave her the opening line: "It's the 11th of November / Down in Nashville, Tenn. / Free breakfast at the Waffle House / If I show 'em my ID." Songwriting With Soldiers (SW:S) is an organization co-founded in 2012 by Darden Smith and Mary Judd to pair professional songwriters with active military members to express their combat stories through songwriting. Smith's idea for a program that brings soldiers and professional songwriters together occurred during a trip to Germany, after his performance for military members felt awkward because of his lack of experience interacting with them. Then, a Marine named Fred Cale changed his life by telling him, "Underneath every uniform is a human being." Those words motivated Smith. To date, SW:S has hosted more than 30 retreats around the country. The Songwriting With Soldiers concert special will air this Friday at 9 p.m. CT on PBS.
The Nashville Songwriters Hall of Fame inducted six new songwriters this past Monday during an annual gala at the Music City Center. Their songs were performed live by friends such as Garth Brooks, Vince Gill, Brooks & Dunn, and the Oak Ridge Boys. Prior to the ceremony, the six inductees spoke to The Tennessean. "I feel a bit as the foster child, because my career was spent on the West Coast," Dwight Yoakam said. "But I was allowed to be marketed and taken to the world's ears through the Nashville music community." Larry Gatlin said, "Dottie West brought me here in 1971, and encouraged me. If she hadn't? I was in law school in Houston and didn't have any idea how to get to Nashville. If it weren't for Dottie West, I'd probably be a very bad lawyer in Houston, Texas." Rivers Rutherford, whose songs include "When I Get Where I'm Going," said he felt embraced by those on Music Row even before he was a success: "My daughter had meningitis when I was a hitless songwriter in 1995. She was in the ICU at Vanderbilt hospital, and the people in Music Row just showed up en masse. Nobody knew who I was–and didn't care. They heard there was a songwriter that had a sick little girl, and they came. I've always felt like I was part of the family." Sharon Vaughn came to Nashville 50 years ago this month and learned the importance of "the bones of the song" as a session singer. Her hits began in 1976 when Waylon Jennings cut "My Heroes Have Always Been Cowboys." Marcus Hummon, whose songs include "Cowboy Take Me Away," "Born To Fly," and "Bless The Broken Road," said he got his first paying gig at age 11: "My mom got tired of me picking up the guitar and kind of noodling and singing under my breath. She'd been a musician herself, and she said, 'I'll tell you what. I'll give you a dollar. I want you to sing that Michael Martin Murphey song that you love so much, but you have to do it from the beginning to the end and really perform it.' And so, I sang 'Geronimo's Cadillac.'" Kostas Lazarides, known professionally as Kostas, wrote the Patty Loveless hit, "Timber, I'm Falling In Love." He said he and Marty Stuart were on their way to Fan Fair, driving down 16th Avenue, when "all of a sudden, 'Timber' comes on the radio, and that was the first time I heard the song. And it took me a second to realize, 'Wow, that's my song!' I just started laughing, and he started laughing and honking the horn." The Nashville Songwriters Hall of Fame, established in 1970, has more than 200 inductees. Its Hall of Fame Gallery opened at the Music City Center in 2013.
Coming to Sisseton, South Dakota, this weekend is Doug Stone, best known for "I'd Be Better Off (In a Pine Box)," "In a Different Light," "A Jukebox and a Country Song," and "Fourteen Minutes Old." He will be at the Sisseton Performing Arts Center at 7 p.m. on Sunday, October 27. Just Between Friends is the opening act. See you there!
LETTERS
Jeff Chandler, formerly of the Marty Robbins Band, writes, "As always, your emails are a bright spot. One thing I would like to share. We were working a date. And the Robbins band was sitting around backstage, waiting to go on. The opening girl was singing a Patsy Cline song. I looked at Jack Pruett and said, 'Jack, was Patsy really that good or is it all hype?' He replied, 'Nobody has come along that could touch her. Not even close.'"
John Krebs writes from Houston, Texas, "Awesome as per usual Diane, it's so cool that Jim Reeves would always listen to Marty. I've got my signed Faron book on a HIGH shelf and I'm getting near that point of reading it again, again,,, again. The Ken Burns documentary was very enjoyable, I learned some new stuff, and I fully expected Webb Pierce to get short shrift, but to give Webb a total of about 5 seconds shocked me. I expected very little and got much much less. Webb sold more records and had more hits than any other country singer in the 1950s, was doing it right in the thick of the Elvis onslaught, and was a Nashville hitmaker for a solid 15 years all together, but in the Ken Burns Superdynawhoppin Country Music Extravaganza,,,, NOTHIN'… Just wow."
Dale Eichor in Fort Dodge, Iowa, says, "It was nice to meet you in person at the Fremont NE NTCMA Festival. Thanks for coming. I have your Marty Robbins book and am glad to learn you are going to be doing a book on Randy Travis. I am retired from fulltime but still do fill-in live shifts at True Country 540 KWMT Fort Dodge IA summer & fall. Go to www.yourfortdodge.com and look for the KWMT Listen Live button. And they have me pre-recording (voice-tracking) weekend shifts, Saturday 10 – 2 and Sunday afternoon 12 – 6. I prefer live shifts during the week when I can program my own music. I enjoy doing MCing and some performing at country & bluegrass festivals in Iowa & surrounding states during the summer. As I told you, yes, I get a lot of my 'Nashville Notes' that I use on the air from Sioux Falls SD and your newsletter. Two honors I treasure are being named CMA DJ of the Year in 1974 (small market) at KWMT along with 2 of my radio heroes Billy Parker KVOO Tulsa (medium market) and Grant Turner WSM Nashville (large market). And of course being inducted into the Country DJ Hall of Fame in Nashville in 2001."
Terry Smith writes from Nashville, "I wanted to tell you that Lisa Sutton is one of my longest-running and truest friends in the music business. She has done the designing of each of my fourteen CDs, even the two I recorded before I knew her. Those two first appeared on 33 1/3 record LPs, but when I converted them to CDs, I got Lisa to revamp the artwork for the conversions. Her grandparents, Casey and Liz Anderson, really liked my song, 'Far-Side Banks of Jordan.' Lisa played it at Liz's visitation before her funeral service, and I sang it live at Casey's funeral last December."
Howard Traxler says, "My e-mail address has changed. Thank you very much for your newsletter. Sure do enjoy it; wouldn't want to lose it."
Dominique "Imperial" Anglares in France says, "Thank you very much for that Country music newsletter. Great information and letters as always. Keep it Country."
Rick L D Wayne says, "I enjoyed reading your information it's awesome!"
Chris Drewell writes from Essex in England, "Just had to tell you about my recent trip to Nashville, an ambition I've had for over fifty years. I was able to enjoy a show at the Grand Old Opry, tour the Ryman Auditorium, shop at Ernest Tubb's Record Store and celebrate the many achievements of all the superstars of Country Music at the Country Music Hall of Fame. I was a little disappointed to see so little recognition of the great Marty Robbins, someone who I believe to be the greatest, most versatile performer that ever walked onto a stage. I did, however, stand quite emotionally in front of his plaque in the Hall of Fame, remembering how lucky I was to see him twice in concert in England during the late '70s and early '80s – there will never be another! Thanks for keeping the great man's memory alive through your excellent biography and regular newsletters."
Larry Delaney of Cancountry sends Sad News: "Canadian Country Music Hall of Fame Inductee DALLAS HARMShas passed away, Saturday October 12, 2019, in Hamilton. He was 84. A recent feature on DALLAS HARMS was published in the monthly Newsletter issued by the Country Music Association Ontario: https://cmaontario.ca/newsletter/ontarios-country-music-pioneers-dallas-harms/
Jenny Jones writes from Texas, "As usual the Newsletter was great. Great news covered and so much news. I believe the only time I got to meet Ray Price in person was when he and BILLY WALKER were Inducted in the Texas Hall of Fame in Carthage, Texas. I got to spend time with both of them backstage and had a great visit with them…..The Ken Burns PBS on COUNTRY MUSIC documentary was outstanding, and I was glad that they repeated the shows….Am looking forward to the Patsy Cline and Loretta Movie on LIFETIME this weekend…..Dominque passed along a note to me, that JIMMY AND DOROTHY BLAKLEY lost their oldest son, Jimmy Lee in 2016. I took care of him, his sister, Debbie, and Ron, for Jimmy and Dorothy. If anyone knows how I might reach Debbie or Ron, I would appreciate if they would pass along word to you. I had word that Jimmy Lee lived near Post, Texas, and his wife, Sheila, was in Post. Debbie Eaton last lived in Albuquerque, New Mexico, and Ron Blakley lived in Nashville. Thank you for Your help."
David Markham, country music promoter since 1964, writes from England, "Thank you for an interesting newsletter mostly on Randy Travis. Randy had the stroke that nearly killed him and set him back for some time. I've not long had 3 strokes and a blackout while driving my car. But God helped me on my way no damage to me or my wife or the car. Randy is young he'll come through all right. Bless him. Thanks for keeping me and others in touch and all your hard work."
Larry Panning in Sioux Falls says, "Truly enjoy these well-written newsletters. Are you aware that Mark Wills is the singer in Parker on November 2?"
Diane: Yes, here's some additional info. The Turner County Charity Youth Pheasant Hunt is proud to announce that Mark Wills, one of the newest members to the Grand Ole Opry, is coming to Parker SD on November 2, 2019, at the Parker High School at 7PM. The money raised from this event will be given to McCrossan Boys Ranch.
Eric Calhoun wonders, "I hope the biography of Randy Travis will be available to those of us who are blind or visually impaired. I can't wait to read the book."
June Bourke writes from New Zealand, "Just a note to say we thoroughly enjoy all the news you send out around the world. It's exciting to read about your catch ups with different people and their stories. I wonder if any of your musicians or readers can answer a query for me please. I have an Ibanez guitar, it is very old, but has a white dove on the scratch board. I have been told by our older guitar players that there is a story to it. Something along the lines of two guitar companies going to court over the emblem on the scratch board. If this is correct, could I get some feedback? I live in Hope…a big thank you….keep the emails coming. We would be lost without the knowledge you bring to us all."
BIOGRAPHY/AUTOBIOGRAPHY/MEMOIR
Several people have asked why I'm writing about Randy Travis so soon after a book just came out. His recent book, Forever and Ever, Amen: A Memoir of Music, Faith, and Braving the Storms of Life, is a memoir. Mine will be a biography. Allow me to explain the difference. A biography is an account of someone's life written by someone else (in third person). An autobiography is an account of someone's life written by the subject (in first person). Both tell the complete story of a life, while a memoir consists of stories from a life. It's a collection of memories, usually written in first person by the individual who lived them.
When I read John Fogarty's Fortunate Son: My Life, My Music, it made me want to write his biography. I would have loved to research the things he talked about and give an objective perspective of the events of his life. His book would have been source material for me, which is how I'm using Randy's book.
Most celebrities use professional writers to help tell their stories. Some do their own writing, as Bill Anderson did with Whisperin' Bill: An Autobiography and Jan Howard did with Sunshine and Shadow: My Story. Merle Haggard's two autobiographies used co-writers. Sing Me Back Home: My Story took him up to 1982, and My House of Memories continued his story until 1999. Several years ago, in an email exchange with one of his attorneys, I said I was considering writing Merle's biography. The attorney told me Merle "had two biographies as of the date of his death." When I said they were autobiographies, not biographies, he said he found my comments argumentative. That goes to show how these different aspects of telling a person's life story are misunderstood.
IN THEIR OWN WORDS
John Allan Seay, Jr., professionally known as Johnny Seay (or Johnny Sea), gave up the music business in the late 1960s and moved to Texas. There he was a cowboy, railroad conductor, steam locomotive engineer, Civil Air Patrol pilot, award-winning painter, sculptor, and gun engraver. Flying crop duster aircraft was the only job he said he never tired of. In 2014, he told me, "I'm still Crop Dusting and will be as long as my health holds out. So far, I have no health problems and at 73, that's pretty good, I think. I have a little over 16,500 hours flying and hope to make at least 20,000 before I hang it up. Still having fun flying crop dusters after 34 years of doing it." He was killed two years later in a plane crash near West, Texas. His crop duster hit a cell tower guide wire, and he was ejected from the aircraft. We did this telephone interview about Marty Robbins in 2007.
I first met Marty, I guess, in about 1960. It was a great surprise because I had just come from the Louisiana Hayride, and I'd decided to come to Nashville and try my hand on getting on the Opry. I was probably 20 years old at the time; I'd been on the Hayride a couple years. I was coming out of the building there, the old Life & Casualty, where WSM had their studios. Marty was coming up the steps to the building, and I ran into him as I was coming out the door. He had that big smile on his face, and he stuck his hand out. "So, Johnny Seay, howya doing? Good to see you in Nashville." I could not believe that he knew me. Because he was God to me.
I don't remember when, exactly, but I moved out to Franklin, and I leased a 40-acre place out there. At the time I leased it, Marty did not own the farm that it was on. It was on Wilson Pike, if I remember right. That's where I moved with my wife and kids. It was really great to be out in the country; I had horses and needed a place for them. A few months after I acquired this place through a lease, Marty bought the whole farm, and built a house out there. So I became his neighbor. I really saw him a lot then. I was there for a couple years, and then I moved on the other side of Franklin, in the Big East Fork area.
He was a kind of guy that was always kinda lighthearted, but you always got the feeling you were never really close to him. He'd joke with you and be friendly, but he never was buddy-buddy. Like Okie Jones and I were buddies, but Marty always–there was just a little distance there, and he seemed to be that way with everybody. He didn't let you get too close.
Once I wrote a song for him, which was–I don't know what made me think I could write a song for Marty Robbins, but I did. It took me months to get the nerve to ask him to sit down and listen to it. We were in his studio one day, and he was goofing around with the steel guitar or something, and I said, "Marty, I got a song I've written, that I'd like for you to hear." So I sat down and got the guitar and I sang it to him. When I finished, he said, "Man, that's great. You need to record that." So I guess I didn't present it to him the right way.
I was in his office the day Kennedy was shot. We all were coming out of his office, and we went out on the sidewalk, going down to the street, and a couple of guys came up, and I believe Bobby Sykes was one of them. We were all going to go down to a restaurant that wasn't far from his office and eat lunch, and they said, "Did you hear about Kennedy?" Of course, I had not. I've never forgotten that day. We were all in shock. Everybody kind of went into a state of depression, which I guess the whole country did.
I looked at Marty as a genius. It's hard to find fault with somebody like that. But he was kinda hard to get along with. I never had any trouble with him, but I noticed a lot of people had trouble getting along with him. In particular, Tompall Glaser. He and Tom–and Tom, when he came to Nashville, he worshipped Marty Robbins. I think all the Glaser brothers did. But he and Tom did not get along, and I never knew why. Cuz I thought a lot of both of them. I thought Tompall was a great writer and entertainer. But for some reason he and Marty just could not get along.
I enjoyed talking to you, and I wish great luck with your book. I'm really looking forward to your book on Faron. And I can't wait for the one on Marty. If there's anything I can do, just let me know.
SONG OF THE WEEK
A story from Glenn Sutton's 1993 book, Crazy Verse, about writing "The Outlaw's Prayer": "Billy Sherrill called me one day about noon and said, 'I'm cutting Johnny Paycheck at 6:00 p.m. and we need one more song. Since Paycheck is known as one of the outlaws in this business, I have this idea for a recitation that's an outlaw's prayer–see what you can come up with and meet me at Ireland's Bar at 4:00 p.m.' I mapped out a story line and put it down and met Billy at 4:00 on the nose. We had a drink or two and he added some lines and we finished it up about 5:30. At 6:00 p.m., Paycheck put his brand on it in the studio. This is still one of my favorite songs that Billy and I have ever written."