IN THE SPOTLIGHT – KENNY SEARS
"I'm kind of in a new phase of enjoying my old age," Kenny Sears told me during our telephone conversation last week. "I'm learning to do a pretty good job of it. I've learned to lay on the couch some." Kenny, who was inducted into The National Fiddler Hall of Fame in 2017, plays the Opry with Jeannie Seely, plays Monday nights with the Time Jumpers, and does occasional recording sessions.
"It's not like we have hit records that we need to be out there touring and promoting," he says about being a member of the Time Jumpers. "It's not like we're 25 or 30 years old and we're trying to build a career. Everyone in the Time Jumpers has already been there and done that, and so the fun factor plays a bigger role in our decisions than anything else." The western swing band started in Nashville in 1998, a group of professional musicians getting together to have fun. They've since issued three albums and won a Grammy.
While Vince Gill and Ranger Doug Green might be the two best known members of the group, the person most missed is Dawn Sears, Kenny's wife, a beautiful vocalist who died of cancer. "It will be five years in December that Dawn died," Kenny says. "I spent two or three of those years grieving, hard. But I'm at a good place now in my life." After losing her, he realized he didn't have to work all day and night, as he had in the past. "I came to the conclusion that life is so short," he says, "and precious, and if I don't enjoy some of what I've worked for now, then I'll just die and miss it. Or I'll be too old to enjoy it."
I first met Kenny while I was writing Faron's biography. Kenny had been one of Faron's Country Deputies. He also worked two different times with Mel Tillis and the Statesiders, as well as with Ray Price and others. He was in the band at the Nashville Palace when Randy Travis worked in the kitchen.
Kenny explains his philosophy of country music being a tree, with a big trunk consisting of names like the Carter Family and Hank Williams. "The branches go in all directions," he says. "At the time Randy Travis came along, there was a huge limb coming out in the pop direction. Looking back, I think the pop branch was about to collapse under its own weight. Here came Randy, trying to make it on a tiny twig, close to the trunk. No frills, no nonsense, just sing the song and let it be what it is, with fiddles and steel instead of all the strings." The musicians at the Nashville Palace, as much as they liked Randy, didn't have a lot of faith he would make it in that atmosphere. They thought the odds were against him. When he hit, Kenny says, "We were all very happy for Randy–tickled to death for him."
When I asked if he had a message for my newsletter readers, Kenny said, "My note to the readers would just be, let's collectively thank Diane for doing this." He said he looks forward to each newsletter and always makes sure he has enough time when he sits down to read it. "It's a great service to all of us," he concluded about my writing. "If it weren't for you, we would just tell the stories and then they'd be forgotten. Or changed."
The Time Jumpers don't currently have any plans for touring or recording, although neither is out of the question. "We're just kind of enjoying where we're at," Kenny reiterates. "It's a fun place to be, and I feel very blessed. Because it's a lot of pressure to feel like you've got to get out and do something, or else you might lose your foothold in the business. It's so nice not to have that. That we can just enjoy the music. That's where I'm at, in my world. It's a nice place to be."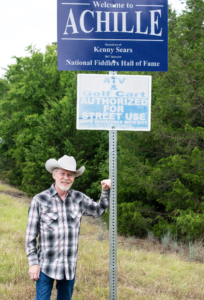 NEWS
I'm disappointed to learn from Billboard that Randy Travis is canceling nine of the twelve dates of his upcoming The Music of Randy Travis tour. We were planning to attend the Minneapolis show. The three remaining dates will be in Evansville, Indiana, Gulfport, Mississippi, and Nashville's Ryman Auditorium. "Production and content issues" were given as the reason for the cancelations. Another tour is expected sometime in the future.
The legendary "guit-steel" guitar of Junior Brown was stolen on Sunday, October 6. Junior and his wife, Tanya Rae Brown, were in North Attleboro, Massachusetts, near Providence, Rhode Island, to visit relatives. "We usually bring the guitars into the hotels, and we've been a little careless lately, and that's what happens when you're careless," Junior told Saving Country Music. "They broke a window and got into our rental vehicle, took my guit-steel and Tanya's guitar." Tanya's is a Martin-brand Shenandoah acoustic guitar. Only two primary guit-steel guitars exist, according to Saving Country Music. The original guit-steel, "Old Yeller," is on display at the Museum of Design in Atlanta. The second, "Big Red," was the one stolen. "Old Yeller" is being shipped to Houston so Junior will have it for his next show, which is October 10 at the Mucky Duck. Anyone with information about the stolen guitars should call the North Attleboro Police Department at (508) 695-1212.
Cracker Barrel Old Country Store has named Loretta Lynn as its 2019 Cracker Barrel Country Legend Award recipient, to honor her for blazing a trail for women in country music. The Wilson Post reports that Trisha Yearwood presented the award to Loretta at her home in Hurricane Mills.
Hit songwriter and producer Michael James Ryan, 43, known professionally as "busbee," died September 29. He was diagnosed several months ago with glioblastoma, an aggressive form of brain cancer similar to what took the life of Senator John McCain. A California native, busbee moved to Los Angeles in 2000, according to PEOPLE. He made a name for himself writing songs for American Idol and X Factor stars, before moving to Nashville and creating hits for numerous county artists. Busbee produced the debut album, Hero, of Maren Morris.
Billboard reports sales numbers for songs featured in the Ken Burns PBS documentary, Country Music. Patsy Cline's "Crazy" had more than 4,000 downloads, the largest count of any song. It was also the only song to reach 2,000 downloads the first week. Hank Williams, Johnny Cash, and Dolly Parton each had several songs go over 1,000 downloads. Thanks to the Bank of America ad that played before every episode, "Wagon Wheel" brought in 4,000 downloads for Darius Rucker's version of the song and 2,000 for Old Crow Medicine Show's original. "Pancho & Lefty" by Willie Nelson and Merle Haggard, along with Vince Gill's "Go Rest High on That Mountain," were two of the songs with more than 2,000 downloads. One non-country song made it into the 1,000-download club: Janis Joplin's "Me and Bobby McGee," written by Kris Kristofferson. The Kristofferson catalog, as a whole, was a winner, with 2,000 downloads for "Why Me" and 1,000 downloads for both "Sunday Mornin' Comin' Down" and "Loving Her Was Easier."
CMT News reports Garth Brooks has been named the next recipient of the Library of Congress Gershwin Prize for Popular Song. Given in recognition of the songwriting team of George and Ira Gershwin, the award will be presented at an all-star tribute concert in Washington, D.C., in March. Previous recipients are Paul Simon, Stevie Wonder, Sir Paul McCartney, songwriting duo Burt Bacharach and Hal David, Carole King, Billy Joel, Willie Nelson, Smokey Robinson, Tony Bennett, and Emilio and Gloria Estefan. Garth is the youngest songwriter to ever receive the prize.
The 2019 inductees for the Music City Walk of Fame are Lady Antebellum, Clint Black, Mac McAnally, Chet Atkins (posthumous) and DeFord Bailey (posthumous). The induction ceremony will be held October 22 at 2 p.m. at Nashville's Walk of Fame Park. The event is free and open to the public. The Music City Walk of Fame was created in 2006 to recognize artists of all genres who have made a significant contribution to the music industry and are connected to Music City. According to Nash Country Daily, "Sidewalk medallions line the one-mile stretch with the names of the inductees etched in a star and guitar design."
This year's CMT Artists of the Year special will air live from Nashville's Schermerhorn Symphony Center on October 16. Honorees include Carrie Underwood, Dan + Shay, Kane Brown, Luke Combs and Thomas Rhett. The Artist of a Lifetime award will be presented to Reba McEntire. Previous recipients are Loretta Lynn (2018), Shania Twain (2016), Kenny Rogers (2015), and Merle Haggard (2014).
The Country Music Association and the ABC network have announced an upcoming Brad Paisley television special called Brad Paisley Thinks He's Special. It will be recorded at the War Memorial Auditorium in Nashville, with Brad as Executive Producer. This comes after the CMA removed Brad from his long-held position of co-hosting the CMA awards show with Carrie Underwood, so that Dolly Parton and Reba McEntire could join Carrie and put more emphasis on women. "Dolly Parton and Reba McEntire are stellar hosting personalities, will do a great job, and it's exciting to see these country legends get greater face time," opines Saving Country Music. "But if you want to 'support women,' do the stuff behind the scenes to make sure they're given equal opportunities."
A new Country Music Hall of Fame and Museum exhibit, We Could: The Songwriting Artistry of Boudleaux and Felice Bryant, opened September 26. It honors the legendary husband-and-wife duo who moved to Nashville in 1950 to pursue a career as songwriters. Boudleaux was born in Shellman, Georgia, in 1920. A classically trained violinist, he and Matilda "Felice" Scaduto eloped just days after meeting in her hometown of Milwaukee, Wisconsin. Their first songwriting success came when Little Jimmy Dickens recorded "Country Boy." Their many classics include "Rocky Top," "You're the Reason God Made Oklahoma," and "Wake Up, Little Susie." Sons Dane and Del Bryant were impressed by the standing-room-only crowd that attended the opening. "The Ken Burns documentary has really put mom and dad front and center this week," Del told Sounds Like Nashville. The exhibit includes 16 ledgers with original handwritten lyrics and music.
A&E will present a two-night biography of Garth Brooks on November 24-25. Garth announced the show, Garth Brooks: The Road I'm On, during a Facebook Live event. He said A&E traveled to his hometown in Oklahoma during the year-and-a-half spent making the documentary. His wife, Trisha Yearwood, his ex-wife, Sandy, and his three daughters were interviewed.
During the two weeks prior to the Country Music Hall of Fame inducting its newest members (Jerry Bradley, Brooks & Dunn, and Ray Stevens), the full Hall of Fame membership will be recognized. A special ritual, Road to the Hall of Fame: Rite of Remembrance and Salute, will take place daily at 1 p.m., October 6-19, to honor the 136 members of the Country Music Hall of Fame inducted from 1961 to 2018. The museum's Circle Guard will read biographies of each Hall of Fame member in the museum's Rotunda. During the daily presentation, the Circle Guard member will wear a special stole, designed by couturier Sandi Spika Borchetta, and featuring symbolic connections to country music. The ceremonial stole will be on display outside of the Rotunda, except when removed by a Circle Guard member to wear while conducting that day's ceremony.
LETTERS
Andrew Means writes from Arizona, "Thanks for the mention of our birthday anniversary celebration for Marty Robbins in Sunnyslope, Arizona., which included live music by Ted Newman. As described in Jim West's book, The Phoenix Sound, singer/guitarist Newman had national success in 1957 with a single entitled 'Plaything.' There's still lots of interest in Marty here, and some of the attendees at the Sunnyslope Historical Society and Museum knew Marty from schooldays and his early career in the Phoenix area. Just down the road from the museum is the site of a house where Marty's younger brother Charlie was living at the time of a 1970 fire. According to the Arizona Republic newspaper, the Marty-owned house was destroyed. No one was injured, but most of the family's photo collection was lost in the blaze."
Blake Hutchison says, "I just finished your book about Faron Young. The last chapter was very hard to get though. Faron is one of my favorite artists ever. Thank you for writing the book about him. There were many times I laughed out loud. He was a firecracker. I bought the Bear Family box set years ago. I really wish they would put out a box set of his Mercury records."
David Corne checks in to say, "Congratulations on the Randy Travis projected book and hope that you can still do your newsletters, I'm sure you will. Kind Regards from a wet and windy London. Just realised! Must give Marty Robbins a mention; that voice will never be bettered as well as his all-round talent."

Mike Embree says, "Great newsletter. I think your personal story in quest of Randy and Nashville made this unique. Love the personal touch. Thanks for making it personal to us."
Sharon Artz reports, "I am at present time reading Randy Travis book Forever and Ever, Amen."
Dominique "Imperial" ANGLARES writes from France, "Thank you very much for that Country Music Newsletter coming on Marty Robbins' day of birth. Glad to know about your forthcoming book about Randy Travis who is a real great and true Country artist. His Storms Of Life and Old 8×10 CDs stand among my favorites. Greetings for your care. Warmest regards from your French friend."
Cal Sharp writes from Dickson, Tennessee, "I had a thought about Del (who lived in DiCKson, TN) a few years ago: http://steelguitarmadness.com/insanity/del-reeves/
Bob Becker says, "Great Newsletter I received today. Thanks & Keep them coming."
Kate and Marty Davis write from Oregon, "Best wishes on your upcoming biography of Randy Travis. What a wonderful undertaking. Looking forward to it as we've enjoyed the other two. Thanks again for a great newsletter."
Jenny Jones says, "Greetings from Texas, and Thanks ever so much for the great Newsletter…You always include so much info, and everything is interesting. A lot of artists news was included this time, and I was so thoroughly wrapped up in all of the News. Know you must have enjoyed your trip, going through all of Randy's COUNTRY. I am looking forward to reading your book. Thanks for the forward in the note to my friend in Iowa. She and I have known each other for great number of years. Looking forward to your next letter."
Terry Beene reports from Branson, Missouri: "The Branson Terry Music Awards were September 22, with a full house at the Famous Baldknobbers Theater. The Farm & Ranch TV Channel picked it up and will air sometime in November. Thank you, Tracy Pitcox, for attending the show. The Terry Awards are 41 years old. I will start a one-hour TV show every week called Branson Showcase with Terry Beene on the Farm & Ranch. We will showcase shows & entertainers from Branson."
Ron Hogan writes, "I was in the house band at the Palace back in the 1980s when Randy was a dish washer and he would get up on stage in his dish washer outfit and do a couple tunes. Later on while I was working several years with Freddie Hart, Lib called me and asked if I'd like to go to work playing steel for Randy. I turned it down and that is one of my biggest regrets. At the time, the Freddie Hart gig was comfortable, steady, and Freddie was a great guy."
Pete Turner from Australia says, "As always, your newsletter has so much info. Took me ages to get thru it. (I Ain't Complaining mind you.) No wonder your recent trip 'Aged' you a year as you said. Thank you for all you do & I am so happy you are going to do the definitive bio of Randy Travis. So many different things I have read about him in the past that I doubted, so I will now get the truth via you. Loved your extra Faron stories. Must mention, one of the longtime friends I am visiting in Florida is ex-Navy Marine Don Holland, who I believe gets your newsletter. I am a Vietnam Vet myself & travelled to Vietnam with our APCs via HMAS Sydney back in 1966. I salute you, Green Shirt."
SEARCHING FOR A VIDEO NEWS CLIP
Randy Travis writes in his memoir about announcing the nominations for the 1986 CMA Awards during a televised press conference at Opryland Hotel. It was the late summer of 1986; I don't have the exact date. I've been trying to track down the video of that televised press conference. The CMA office doesn't have it, nor does the Country Music Hall of Fame, nor do NewsChannel 5 and WSM-TV (channel 4) in Nashville. Would any of you readers possibly have recorded it those many years ago? If so, I'd love to get a copy.
IN THEIR OWN WORDS
I called Leo Jackson on January 11, 2008, to ask about his memories of touring with Marty Robbins. He told me Jim Reeves and Marty were "friendly rivals." Leo had been a teenager when Jim hired him in 1954. He was the only lead guitar player ever in The Blue Boys band. Leo died at home in Goodlettsville, Tennessee, on May 4, 2008, from a self-inflicted gunshot wound. He was 73.
This particular time we were in Jacksonville, and we were working a football stadium. Huge place and it was packed. We'd pulled up first, and then about five minutes later Marty pulled up right beside us, and hollered at Jim, "I hope you know I'm the star of this show. So I get to close it today." Of course, he didn't; Jim closed the show. Every time we worked with Marty, Jim–Marty was a big star, of course, but Jim back then really was considered bigger than Marty. We did a lot of things with Marty. Package shows–we did a lot of things together. Marty and Jim were always saying, "I'm going to get to close this show."
Jim–I guess all the artists did it–would be traveling, and he had to have the radio, and he'd be going back and forth across the dial trying to see if anybody would be playing his songs. The only time he would stop and listen to somebody else sing, it would be to listen to Marty. Once in a while he'd listen to Patsy. If he was in the mood to hear a girl sing, he would listen to Patsy. They were good friends, too. But Marty–he always stopped. I don't care how many times we heard Marty sing, he'd always stop and listen to Marty sing. To me, that was a lot of respect. He did have a high opinion of Marty.
Marty was hyper on stage. He couldn't keep still. There was something moving all the time. He was just a blast to watch. The crowd loved him, as usual. It was just Marty being Marty. He was always fun to watch. He had nicknames for all the guys–like Jackie Pruett, he had a Chinese name for Jackie Pruett. That used to kill me; that knocked me out. But he was always doing stuff like that, just walking around the stage–running around the stage sometimes. Just hyper, is the only word I can think for it. And he was that way all the time.
I've been having some chest pains and I've been thinking about going to the doctor, and that's worrying me.
SONG OF THE WEEK
Glenn Sutton self-published a book of his songs in 1993. Crazy Verse contained his hits and many unpublished songs. His daughter, Lisa Sutton, gave me a copy when we visited her last month. She told me, when I asked, "Please share Dad's Crazy Verse stuff. I'd love for people to hear the stories." Although I've previously repeated the story Glenn told me about writing "What's Made Milwaukee Famous (Has Made a Loser Out of Me)," here is that story in his own words: "Al Gallico, who was my publisher and the best friend a song ever had or will have, heard that Jerry Kennedy was cutting Jerry Lee Lewis in a few days. Jerry Lee had just come off his first #1 country hit, 'Another Place, Another Time.' Al called me and said I want you to write a song for Jerry Lee Lewis and so I said, 'Sure, I'll get right on it.' Over the period of several days, Al would call every day and ask me about the song for Jerry Lee. I would tell him, 'Don't worry, I'm working on it.' Truth is, I really had nothing, but I couldn't tell him that. Finally, the day before Jerry Lee was to cut, Al called me and was in the old Studio 'A' at Columbia doing a mix on something when I took the call. Al said, 'Have you got the song on Jerry Lee or not?' I said, 'Yes, I've got it. I'll take it to Jerry in the morning.' Well, Al being the publisher he was, said, 'What's the title of it, so I can call Jerry and tell him?' Well, as fate would have it, I looked down on the floor and someone had left a newspaper lyin' there, and it was open to a full page ad on Schlitz beer. So I said, 'It's called What's Made Milwaukee Famous.' Al said, 'Kid, I love it.' So that night I went home and wrote the song and took it to Jerry the next day and they cut it. I'm glad Al was so persistent. Other than 'Almost Persuaded,' it's been my biggest money maker."